Hewago "Ace" Oea is an AFL inspiration in PNG - and a dream realised for an Aussie football pioneer
The inspiration behind Hewago "Ace" Oea's AFL debut didn't live long enough to see the dream realised, write SHANNON GILL and DANIEL CHERNY.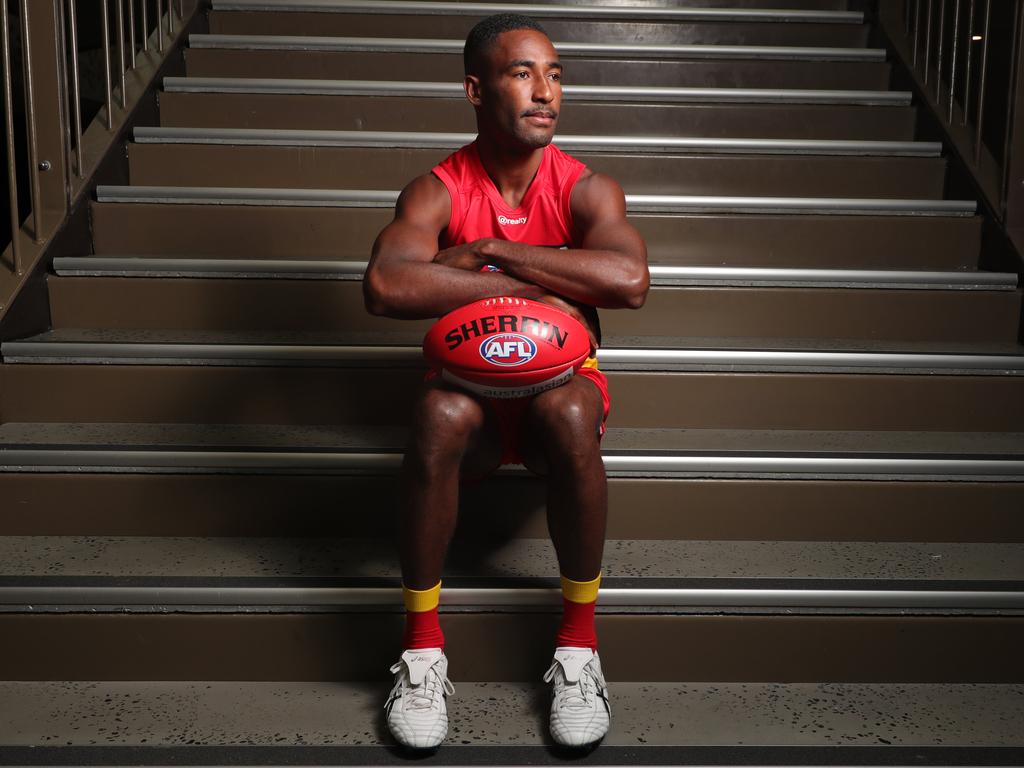 PNG hero Hewago Paul Oea has begun his AFL journey. Picture: Glenn Hampson
Amid the frenzied final seconds of Gold Coast's defeat of Richmond last Saturday, you might have missed the deft little touch that released the ball for Nick Holman to attack the goalmouth.
Hewago Paul Oea followed his debut game and goal last week with another goal in his second, but it was his role in a chain of desperate efforts that best symbolised his journey.
Many have had a hand in helping "Ace" to an unlikely AFL debut from his native Papua New Guinea. And they have all enjoyed the landmark of what is believed to be the first senior AFL player to first play and learn the game in competition outside of Australia.
But they have also reflected with some sadness that the person who drove that dream for 20 years didn't get to see it.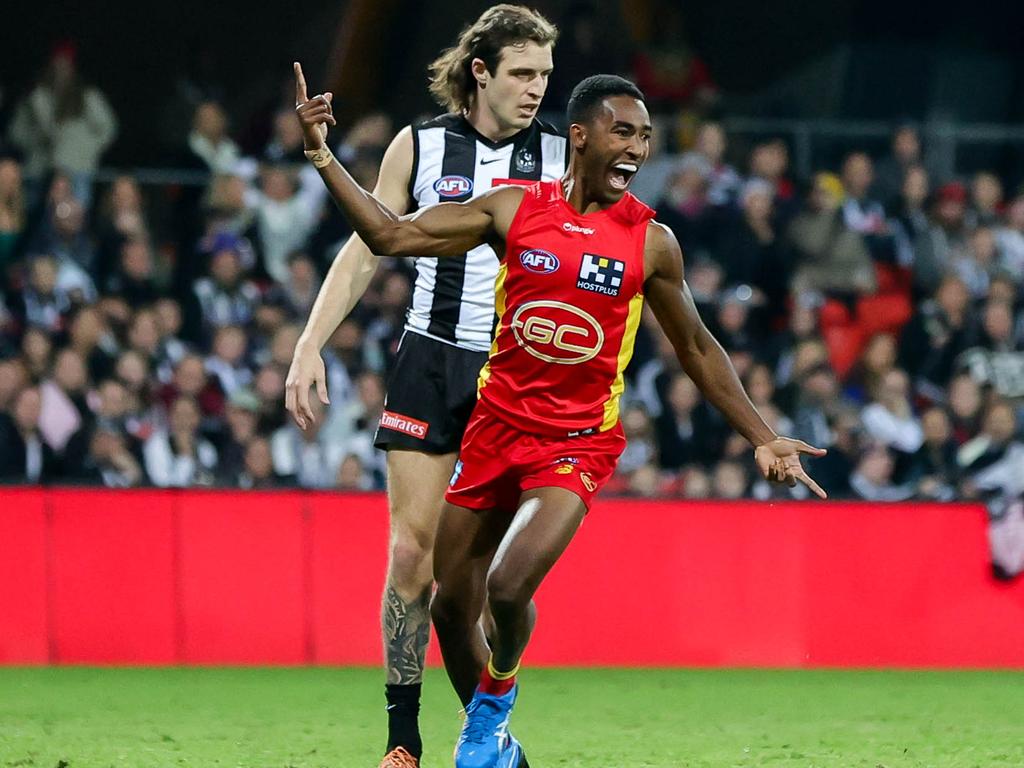 Hewago Paul Oea celebrates his first AFL goal. Picture: Russell Freeman/AFL Photos via Getty Images
*****
Scott Reid was a lawyer from Melbourne and a footy fanatic. He first moved to Samoa and got involved with a fledgling Australian Rules competition in the mid 1990s before relocating once more to Papua New Guinea.
He found that footy had a strong legacy there. It had flourished in the 1960s and 70s as teams and players travelled to Australia for a taste of the big league experience, but the sport had gradually fallen from prominence after independence.
This was a challenge made for a dynamo like.
And it crystallised when he saw a certain player.
"He watched Overa Gibson play," says AFL International Development Manager Ben Drew.
"Overa was tall, athletic, and he did everything that AFL players do. He was our guy and the catalyst for Scott's dream."
Gibson was in his early 30s so there was little prospect of him playing AFL football. Still, Reid was of the unwavering belief that, if Gibson had had an opportunity in his teenage years, he would have made it. Such was the impact he made.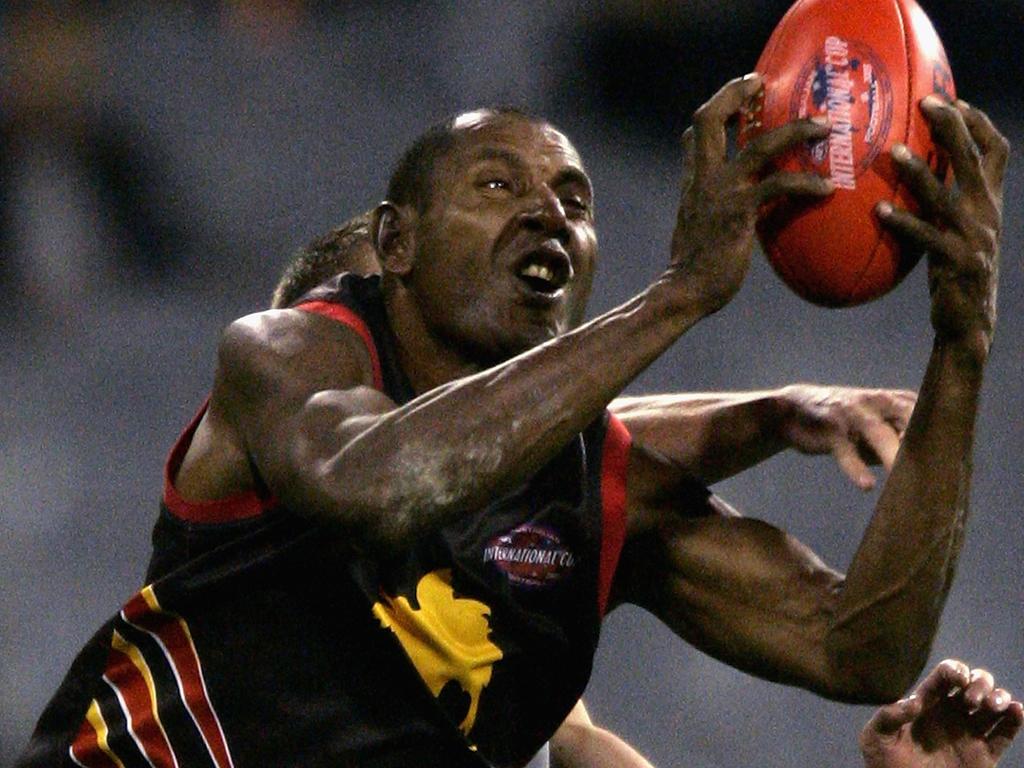 Overa Gibson takes a mark for PNG in 2005. Picture: Kristian Dowling/Getty Images
"Scott thought if we can teach players from a young age they will get better through the generations and we will find another Overa Gibson," Drew says.
"Ace is our Overa Gibson."
Longtime PNG Mosquitoes coach and former Gold Coast SUNS AFLW coach David Lake describes Reid's ambition more succinctly.
"It was his life's work," he says.
Lake coached Oea and every other promising PNG player over the last decade, and worked closely with Reid. He says Reid's driving force was "PNG to the MCG".
"He'd write emails titled that," Lake continues.
Impressed with Gibson, the talent throughout the local league and the community's interest in the sport, Reid got to work. The first step was contacting the AFL and lobbying them to take what was happening over the Coral Sea seriously.
In 2001, AFL PNG was formed with Reid as chair.
Soon after, the AFL sent over a full-time employee in Andrew Cadzow to run it day-to-day. With Cadzow, Reid drove all of those around him for the best part of two decades, even after returning to Australia with his PNG-born wife and children.
A version of Auskick was developed called Niukick. Playing numbers grew and today somewhere between 80,000 and 100,000 Papua New Gunieans play the game in clubs, schools or clinics.
The prestige around the national teams grew.
The men's team has played in every AFL International Cup Final since 2002.
Reid was behind a push a decade ago to enter a PNG team into the AFL Cairns league that would then graduate to the just formed NEAFL, either as a stand-alone or hybrid team with Cairns locals.
It seems far-fetched in a post-Covid world, but Reid's passion had the AFL on board and knocking on the doors of Australian government ministers seeking support. Now-deputy prime minister Richard Marles was then parliamentary secretary for Pacific Island affairs and became a champion for all things footy in the region.
Today, there are seven senior leagues, six junior school leagues and another five youth leagues across PNG. Drew says there are now 21 full time staff across the six regions and between 60-to-70 casual or volunteer coaches that help run programs.
"There's no expats hired there," Drew says. "It's Papua New Guineans teaching Papua New Guineans how to play Australian football. That's how Scott structured it from the beginning."
"Scott Reid set all that up," adds Lake. "He put so much of his own energy and money in."
Indeed, many of the locals Reid coached in his early days in Port Moresby at the University Bulldogs Football Club fill those staff and volunteer roles today.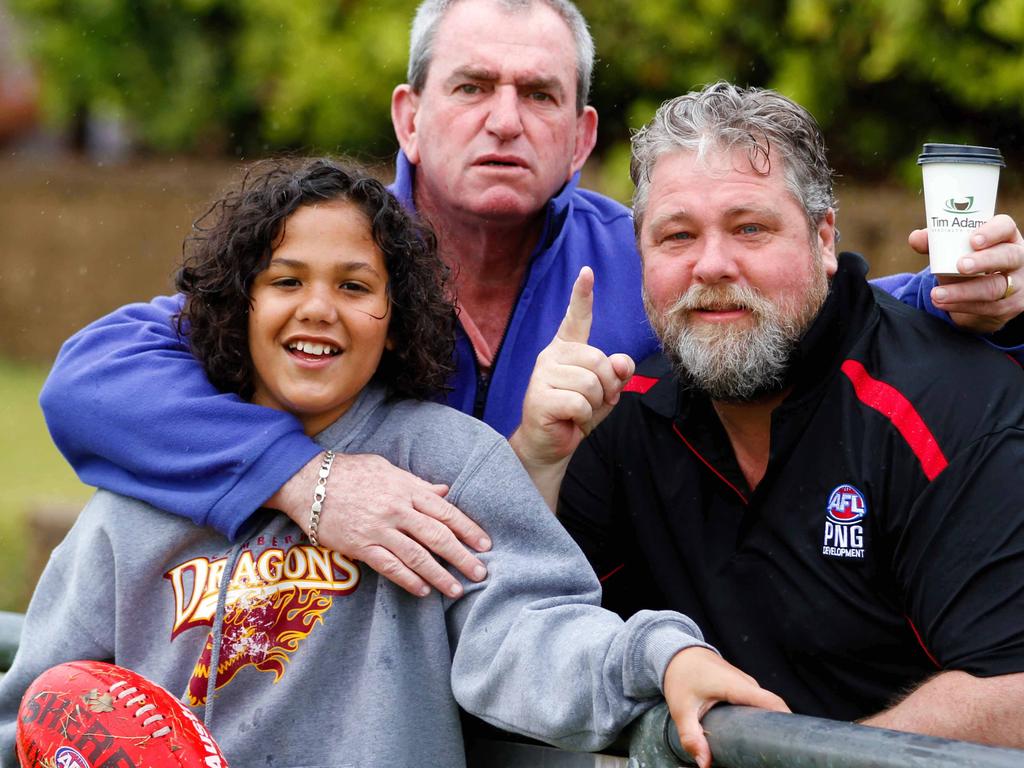 Reuben Reid (Scott's son), Andrew Cadzow and Scott Reid (left-to-right).
*****
The journey Oea has made over recent years was what Reid imagined in the early 2000s.
Drew has seen it play out in real time.
At the age of 12, Oea was no longer attending school but turned up to play in a community team with his older brother Hapeo Bobogi. A love of the game developed and a raw talent quickly flourished.
Around this time a local AFL PNG Talent Academy manager, William Yogomin, or "Fada Willie: to all in PNG footy circles, saw the boys play.
"Fada Willie was helping the Port Moresby development team run the school competition and saw Ace play," Drew says. "He immediately wanted to add Ace to the Academy and the team that was about to travel to Queensland."
Reid and Cadzow had started the practice of bringing a team to Queensland each year to further develop skills. "Fada brought him down with the group," Drew continues. "He was still 12 playing in the under 14s but was one of the better players."
A decision was also made by Reid and Queensland talent manager Mark Browning to identify three or four players each year, support them in PNG and bring them to Brisbane annually as part of the broader Queensland Talent Pathway.
Oea did that over the next few years and impressed Lake so much that he wanted to pick him in the PNG senior team as a 15-year-old for the International Cup in 2017.
"From a talent and potential perspective [Oea] was the best kid in the PNG by that far it wasn't funny," Lake tells CodeSports.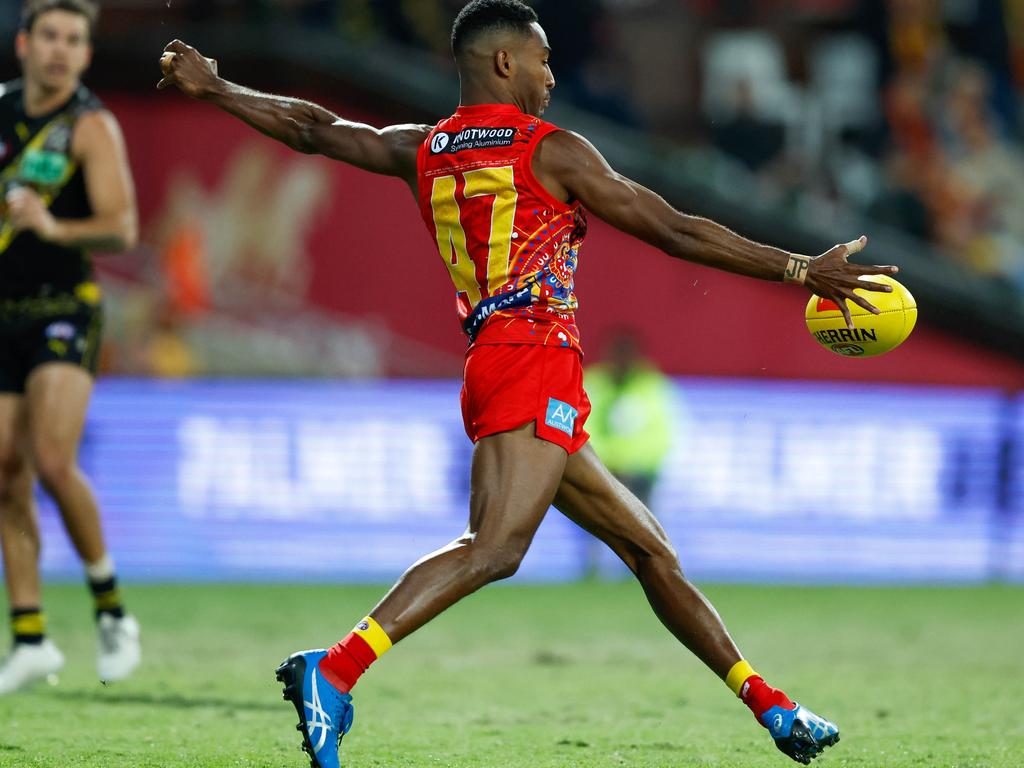 Oea against Richmond last week. Picture: Russell Freeman/AFL Photos via Getty Images
There were obstacles, though.
PNG football, like society, is based on a hierarchy of respecting elders. In the minds of some, a 15-year-old had not earned a place like older boys and adults had.
He would have to wait his turn.
Lake turned to Reid to do business the PNG way.
"By this point he was Scott Reid's great hope, so I used him as a lawyer to manage the conversation," Lake laughs.
In the end a deal was cut. Ace could come but another young player would also come, who happened to be a relative of one of the powerbrokers. It proved a small price to pay.
In the International Cup grand final, Oea kicked a stunning goal on the half time siren.
"By then 'Shifter' [AFL talent doyen Kevin Sheehan] had well and truly identified him," Lake says. "I still remember walking back from the three quarter time huddle and he said, 'Wowee Lakey, he glides across the grass, the others have to run'. Shifter doesn't give away that sort of stuff for free."
The Mosquitoes won the Grand Final and Oea was named best on ground.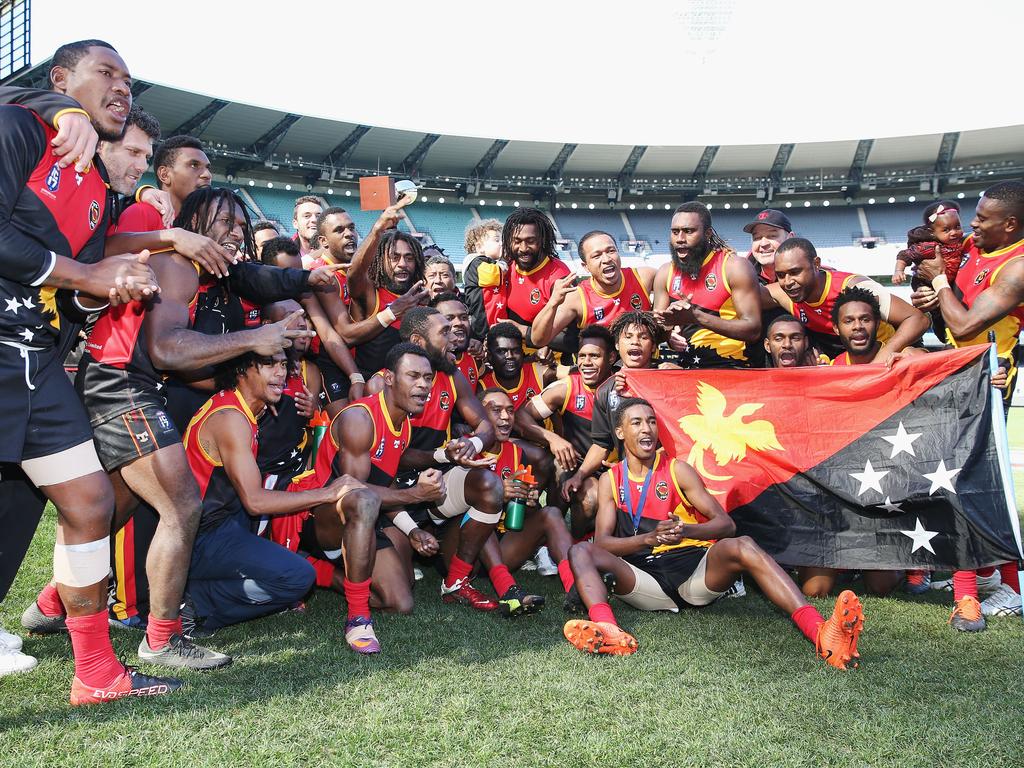 The PNG team celebrate winning the 2017 AFL International Cup Grand Final. Picture: Michael Dodge/Getty Images
Many were taking notice of the kid now.
Then came the inevitable question: could Oea come to Australia full-time and develop?
"In the past we'd found the kids and brought them down at 17 or 18, and they were at school, so they'd have to come back and forth," Drew tells CodeSports. "As much as we wanted Ace to go to school, the opportunity presented itself because he wasn't going to school in PNG.
"We were sitting in our office in Port Moresby and spoke to his father Paul about moving to Australia full-time. Paul was all for it. Having his trust was a huge thing."
A three-month trial with a host family on the Gold Coast in 2017, where he could immerse himself in footy, coincided with his International Cup experience and breakout performance.
In 2018 it became a full-time stay.
He attended the Gold Coast Suns Academy, was selected in the AFL Academy and played locally with Broadbeach.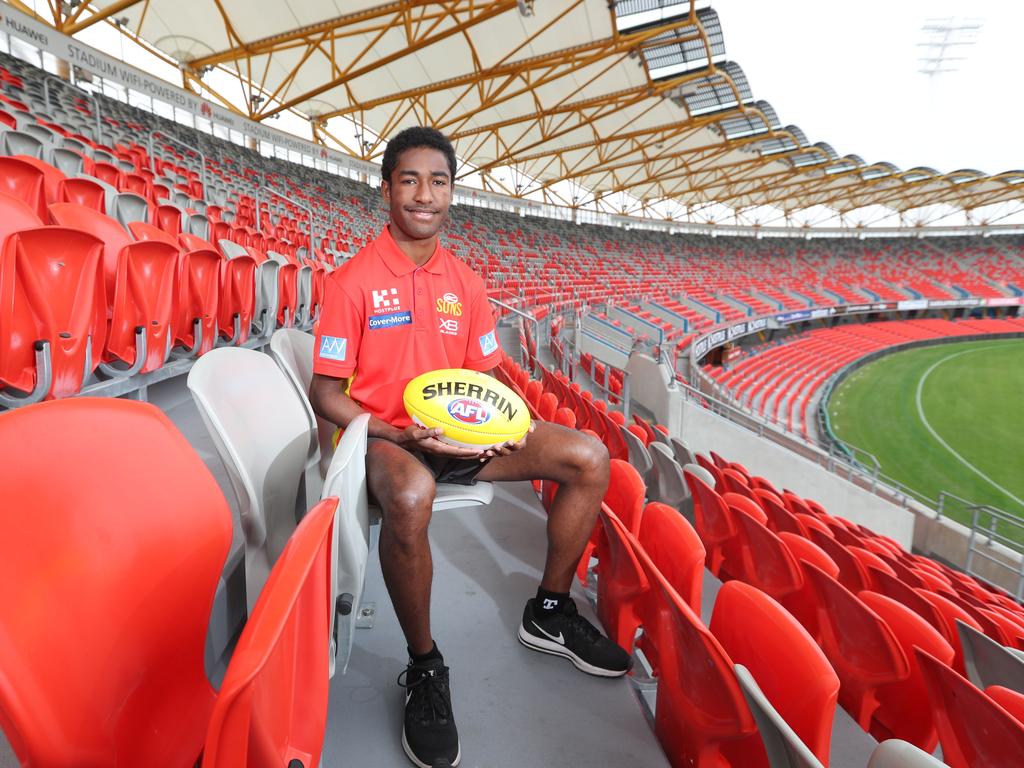 Oea, aka 'Ace', enters the Gold Coast Academy in 2018. Picture: Richard Gosling
Today, he still lives with his Aussie family, Tim and Kris Searl.
Both Drew and Lake talk about how Oea's desire was very different to other PNG players that had come to Australia previously. This was most evident when it came to language. Oea was aware that he would need to learn it to follow the AFL dream he was now pursuing.
"He seemed to understand what contribution he had to make, to make it work," Lake says. "How hard he had to train. That he had to learn English to sit in team meetings. That he had to learn how to write.
"Some of the obstacles he had to overcome were massive, but he understood that he had to contribute. English is his third language. That's what Ace has overcome."
Drew agrees.
"He didn't understand the vernacular of footy so it had to be really straightforward," he says.
Oea would come home to the Searls with bits of paper from coaches and say, "I don't know what to do, I can't read this". Tim and Kris would help him read through and understand what had to be done before his next match or training. Kris spent numerous hours with Oea helping with his reading.
School was tried without success, so instead a novel approach was taken.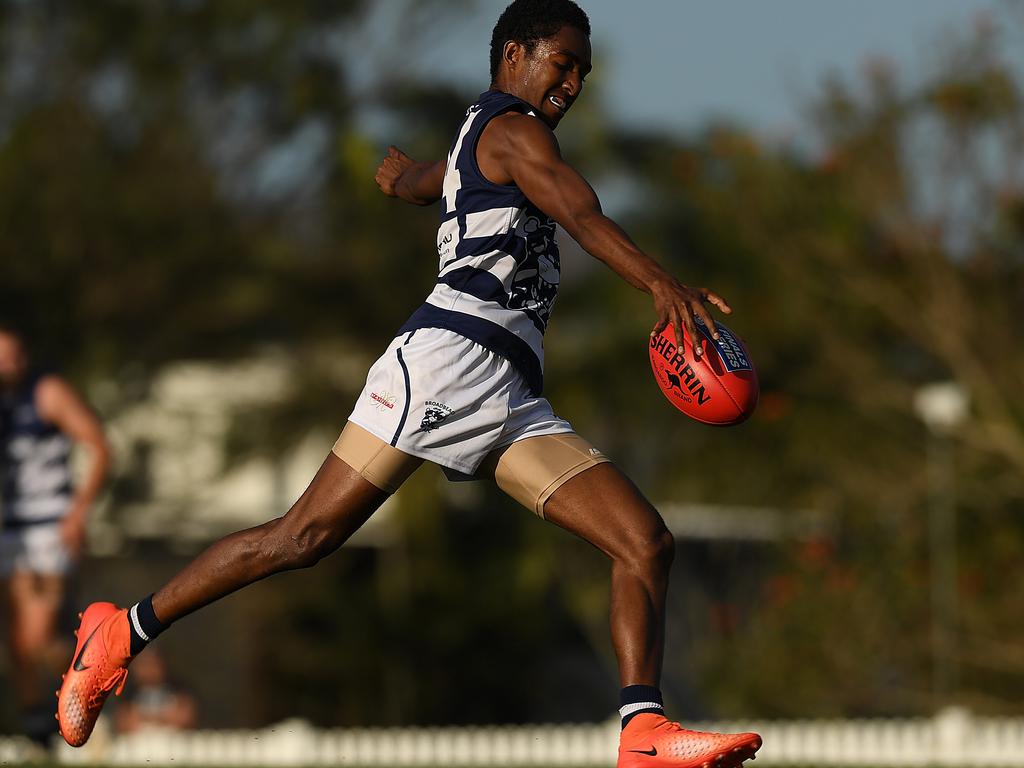 Oea kicks a goals for Broadbeach in the 2018 QAFL Grand Final. Picture: Albert Perez/AFL Media/Getty Images
*****
Taylor Smith had been a star junior track-and-field athlete before Searl spotted her potential with the Sherrin.
"He was the one who asked me to come trial for the Gold Coast Suns. Over the next year or two we built a friendship and he became a real mentor for me," Smith says.
Smith signed with the Suns ahead of their admittance into AFLW in 2020 before being traded to the Brisbane Lions, where she became a premiership player in 2021.
But her connection to the Suns remained significant.
Smith was studying to become a teacher and Searl sensed an opportunity.
"He asked if I wanted to be Ace's tutor, to help him with his English, with his reading and his writing," Smith recalls.
At least once a week in 2019, Smith and Oea would convene at the Searls' house. It gave Smith the chance to practice her teaching skills, and helped Oea pick up the English he would need if he was to comprehend an AFL coach's instructions.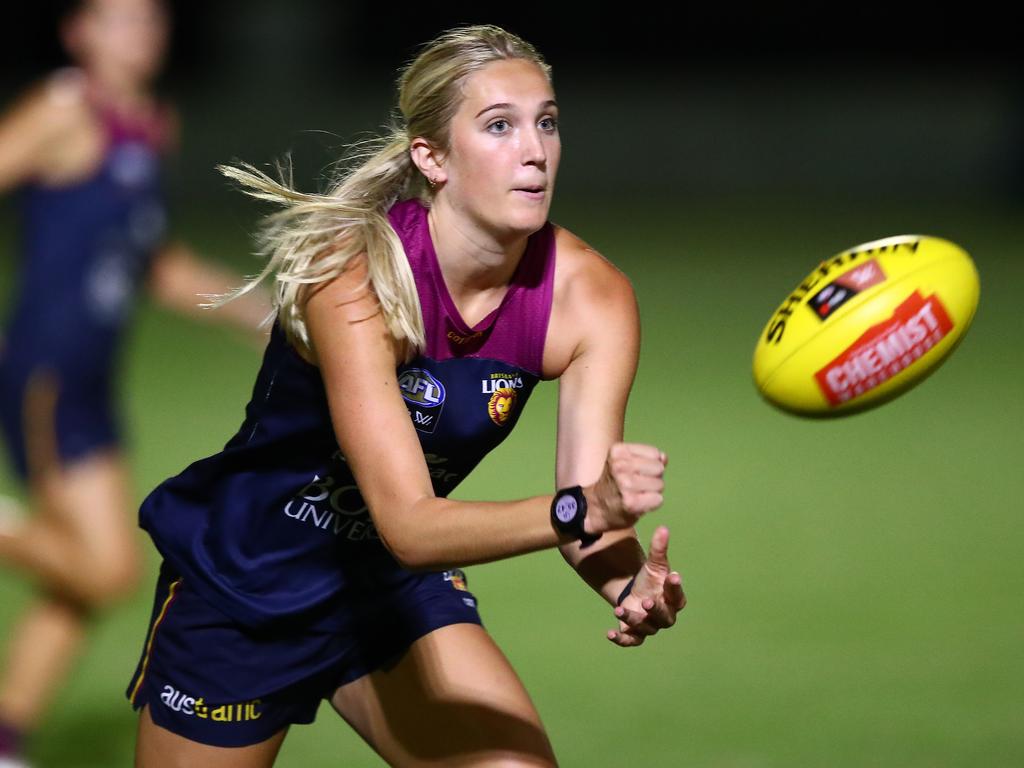 Taylor Smith training for the Lions. Picture: Chris Hyde/Getty Images
"It was kept pretty private," she continues. "We just did it on the side, away from the club."
Most people who learn how to read and write English don't do so by navigating the nuances of a forward press. With a couple of future AFL players involved there was incentive to make the education meaningful.
"The Suns would give me resources that I could use, little bits of game plan or structures and I could use that and I could teach him English with relevant things, so it was a little bit more engaging for him," Smith says.
"He was learning the small forward position and how they wanted to move the ball, using language like 'switch the ball here' and getting him to spell that and read that, and understand the meaning behind the terminology they were using in the football department. Giving him a bit more of a base."
These days Smith considers Oea a good friend, even if they don't see each other that often. Because Oea was a late inclusion for his debut against Collingwood, Smith had prior commitments and couldn't attend the game.
But for Smith, who has had to deal with the grief of her dad Shaun's death late last year, seeing Oea succeed fills her with pride.
"I just look at him now and the way he speaks … it's incredible. He has gone from being not as confident with his English to you wouldn't even know," Smith says. "He is a beautiful person. He's very funny and he loves to have a laugh.
Oea during a Suns' training session this week. Picture: Chris Hyde/Getty Images
"He got around me when we won the premiership. He's just a great friend to have.
"I was so devastated [that I couldn't attend] when Tim called me to tell me he was making his debut in a matter of hours. But I went last week to his second game, and I sat behind the goals and he kicked another goal. It was great.
"My contribution has only been small, but it's nice to know I've been able to help such an amazing person live out his dreams."
For the record, Smith got an HD average in her most recent trimester at Griffith University and is due to finish her teaching degree within a year, while also gearing up for another campaign with the Lions.
The ability to communicate was the missing link to the raw football talent.
He joined the Gold Suns Academy on an international scholarship on a path that would eventually lead to him being added as a Category B Rookie for 2021, at which point he was eligible to play AFL games.
All the while Scott Reid was still in the picture.
His family was living in Melbourne, but he was on the Gold Coast working Monday to Friday.
"Scott would take Ace out for dinner every second week to see how he was going," Drew says.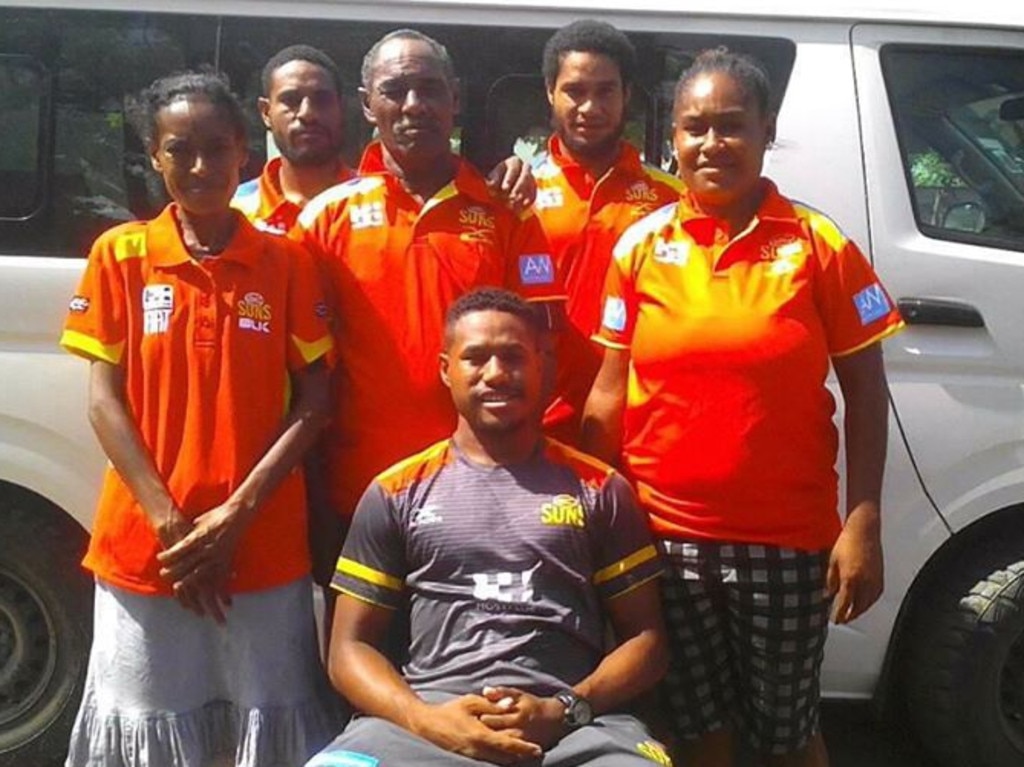 Hewago Oea's family (from left) Jennifer, Ardor, father Paul, Miriam, Oea and Apex (front). Picture: Supplied.
"By that stage he was Scotty Reid's great hope," Lake adds. "And he kept going back to PNG and giving. I'd hate to think how much money he put into PNG footy."
But in 2019 Scott Reid, the big man with boundless energy and ideas, didn't wake up one morning.
His heart had given out on him.
He was just 52.
A statement from Papua New Guinea's Sports Vice-Minister Wesley Raminai said
"PNG has lost a great sporting icon."
It still saddens Lake, Drew and everyone else involved in PNG footy.
"I used to speak to him every day," Lake says. "He'd say, 'Maurice Rioli was the start of the Indigenous pathway, how do we create our own version of Rioli's journey?'. He'd be trying to find sponsorship for the programs and he'd ring you with an idea at 10pm."
So when Oea made his AFL debut in Round 16 there was an extra sense of satisfaction from all concerned that Reid's goal of "PNG to the MCG" was achieved.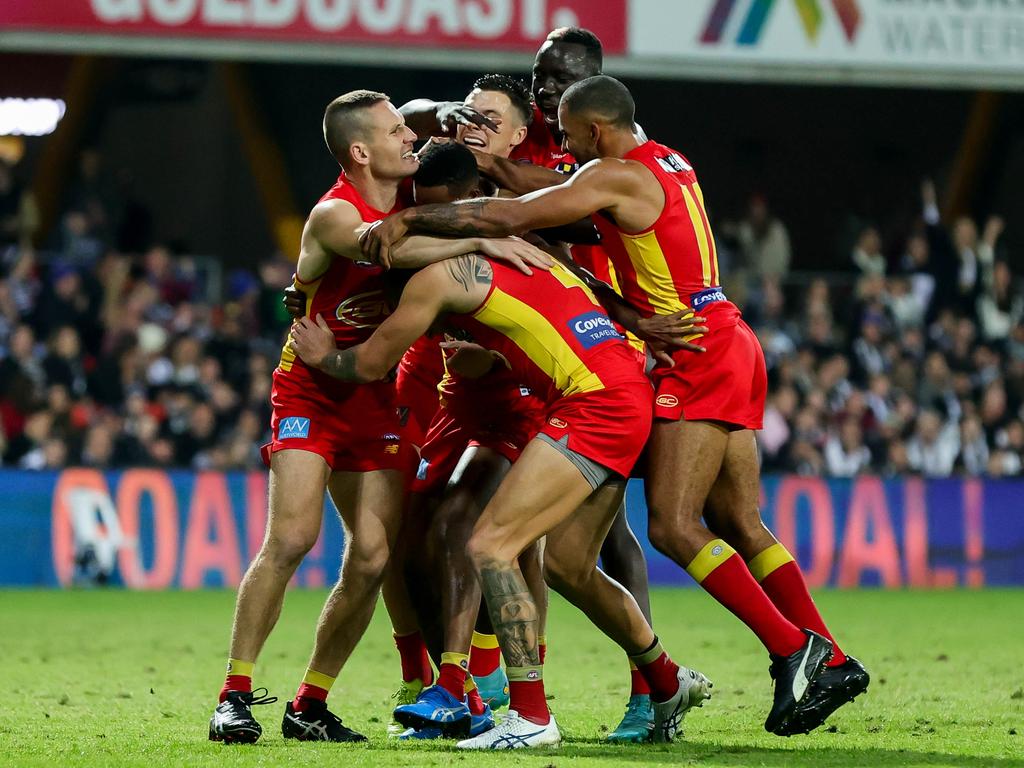 Suns' team mates celebrate Ace's first goal in AFL footy. Picture: Russell Freeman/AFL Photos via Getty Images)
"Ace validates all the purpose Scott had," Lake says.
"Everyone in PNG loves Scott, he has a huge legacy," adds Drew
Now everyone in Papua New Guinea loves Oea, too. With the debut game and goal received so well it seems that Reid's legacy will now be a shared legacy with Ace.
"Back in PNG the guys were over the moon," Drew says, adding that. Among the emails from players wanting to try their hand in Australia were many comments about Reid and the pathway he created.
"The PNG people own the program so there's so much pride in Ace making it."
Rest assured, they both believe there are more Aces in the PNG pack and Drew is adamant momentum will now build. It's he and the AFL's job to capitalise.
"People will now know that the AFL exists in PNG,'' he says. "We might find that more communities and businesses want to get involved, maybe grow our PNG government support.
"We will get eyes from Australia too, community clubs will ring and ask for PNG players to come and play, and the Suns and the Lions will be more active across the Pacific through their Queensland academy programs."
It also points to a reality for the AFL that needs to be faced.
Great advances in community footy cannot simply be drawn up at head office. Anything of substance happens with a large dose of invention and inspiration from volunteers like Scott Reid and his army of followers.
The PNG example shows that it can still happen, but it needs an AFL that's inclusive and interested in every nook and cranny of where the game is played, and interested in those people on the ground.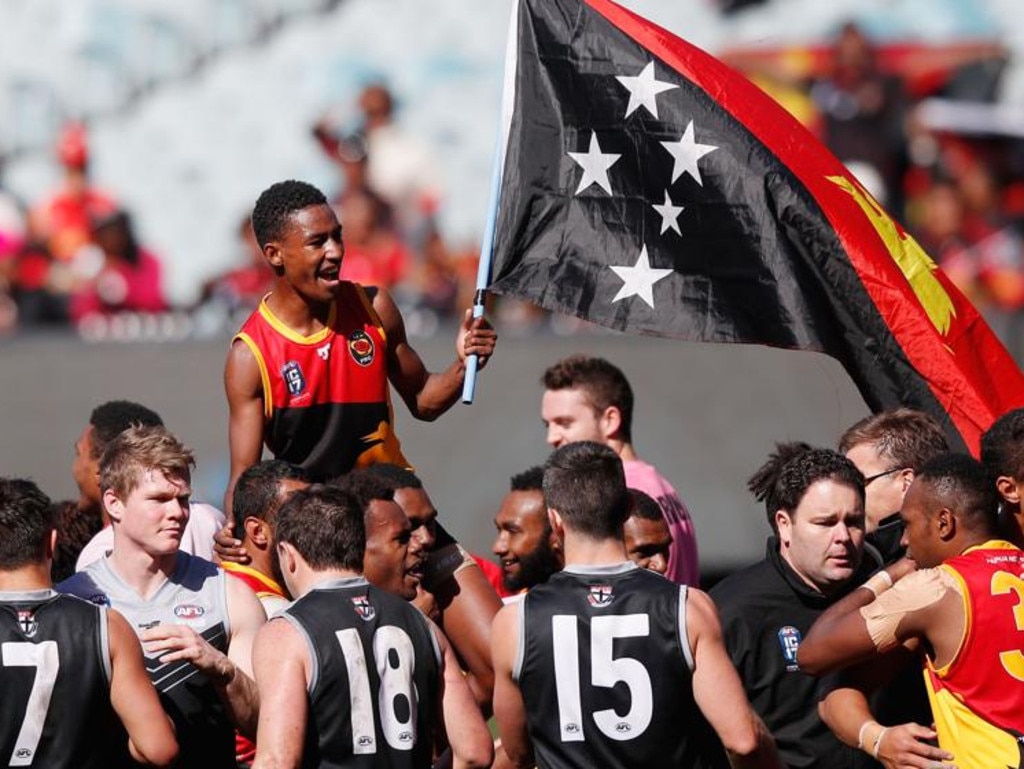 Oea with the PNG flag after the 2017 AFL International Cup Grand Final against New Zealand. Picture: Michael Dodge/Getty Images
Tying international regions and programs to the national vision would be a great step, according to Drew.
"For example we have aligned the PNG and South Pacific programs through AFL Queensland for many years, but how do we formalise this?" Drew asks.
"We have plenty of exciting projects happening but strategically aligning these to the AFL's objectives internationally is vital for them to succeed."
Right now, though there's a glow to Oea's achievement.
A savouring of the toil from those volunteers.
"So many good people have got some great reward for many years of work. They're there every weekend," Drew says.
And there is a feeling that Ace has delivered on a promise they all made to a mate that's gone.
"To see Ace play was the culmination of Scott's dream," Lake says.