Jarrod Witts' slow and steady rise to Gold Coast Suns captain started as a rugby-loving teen
Recruited by Collingwood as a 15-year-old with only five games of Aussie Rules experience, Jarrod Witts has had an unusual journey to become one of the game's best ruckmen, writes NEIL CORDY.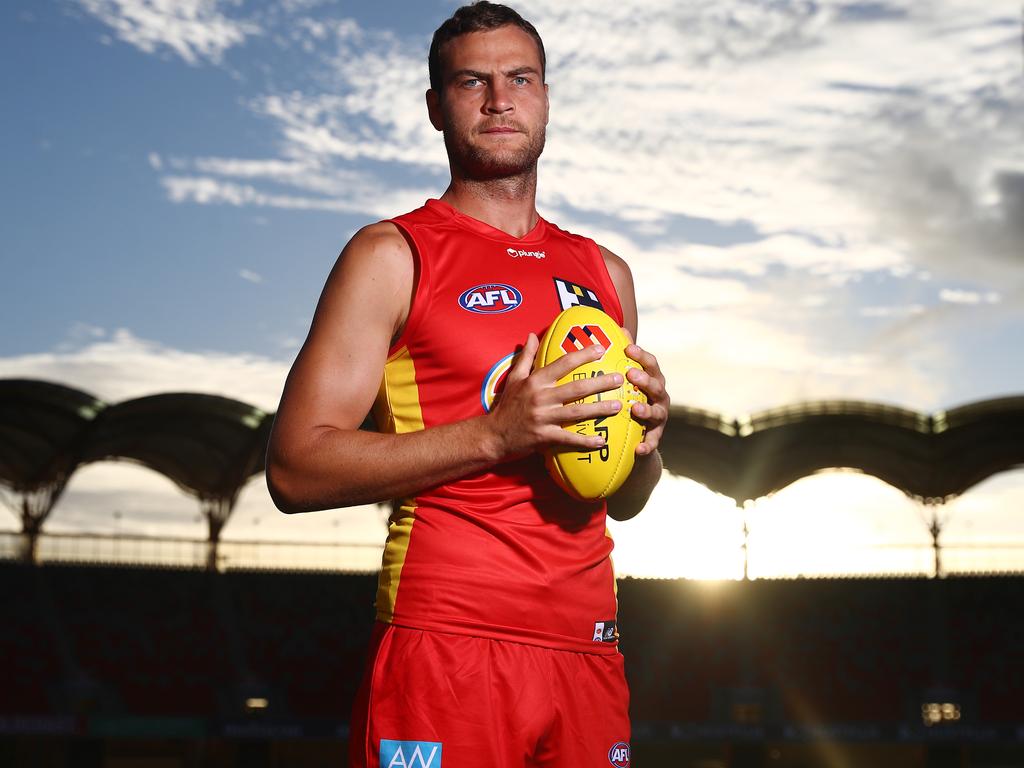 Jarrod Witts has become a premier ruckman in AFL. Picture: Chris Hyde/Getty Images
When legendary Swans full back Rod Carter went on a recruitment mission to Sydney's leafy northern suburbs in 2008, he had no idea he was about to unearth one of the country's best ruck prospects.
Jarrod Witts wasn't even on his list of players to watch. The 15-year-old wasn't on anybody's list.
Playing rugby for Barker College was at the front of his mind and the match for St Ives under-16s was just his fifth game of Aussie Rules. Most draftees at that stage of their careers are pushing towards 200 games under their belts.
It's taken a lot of catching up, but the former second-rower (rugby) is now one of the AFL's most valued players and leaders.
Witts played rugby and cricket before his height prompted him to pick up AFL. Picture: News Corp Australia
Witts has been the tortoise in a 14-year race against the hares and is about to put his nose in front at the age of 29.
His journey to the top has been a remarkable one.
Back in 2008, Carter was working for Collingwood as a recruiter in the pre-academy days. During this time, every club in the AFL could grab a slice of the Sydney player market if they were prepared to put in the money and hard yards, and the Magpies did both.
"I went out to Willoughby to watch some kids and Jarrod came out in the warm-up and he bent down and picked up the ball clean as a whistle," Carter told CodeSports.
"He was 6'6 (198cm) and 15 years old. By the end of the warm-up I was on the phone to Derek Hine (Collingwood head of recruitment). I said forget the other kids, this is the bloke we need to get him before someone else does. To Derek's credit, he rang Jarrod's dad and got on a plane the next day and signed him."
Witts was signed by Collingwood the day after Carter scouted him in Sydney. Picture: News Corp Australia
It was the start of a long journey that Jarrod couldn't properly comprehend. He had played five games of Aussie Rules and Collingwood, the biggest club in the country, wanted to recruit him.
"It was crazy," Witts says.
"I was still trying to understand the opportunity I had and how big AFL was. Derek was in Sydney the day after the match and we went for Italian. I didn't really get it, my Dad (Peter) was trying to explain what an opportunity this was and just how big Collingwood were."
While the teenage Witts was still grappling with what it all meant, the Magpies knew what a talent they had and invested time and money into his coaching. Former Swans and Richmond ruckman Tim Barling cut the rough edges off the Witts diamond, and helped polish him up.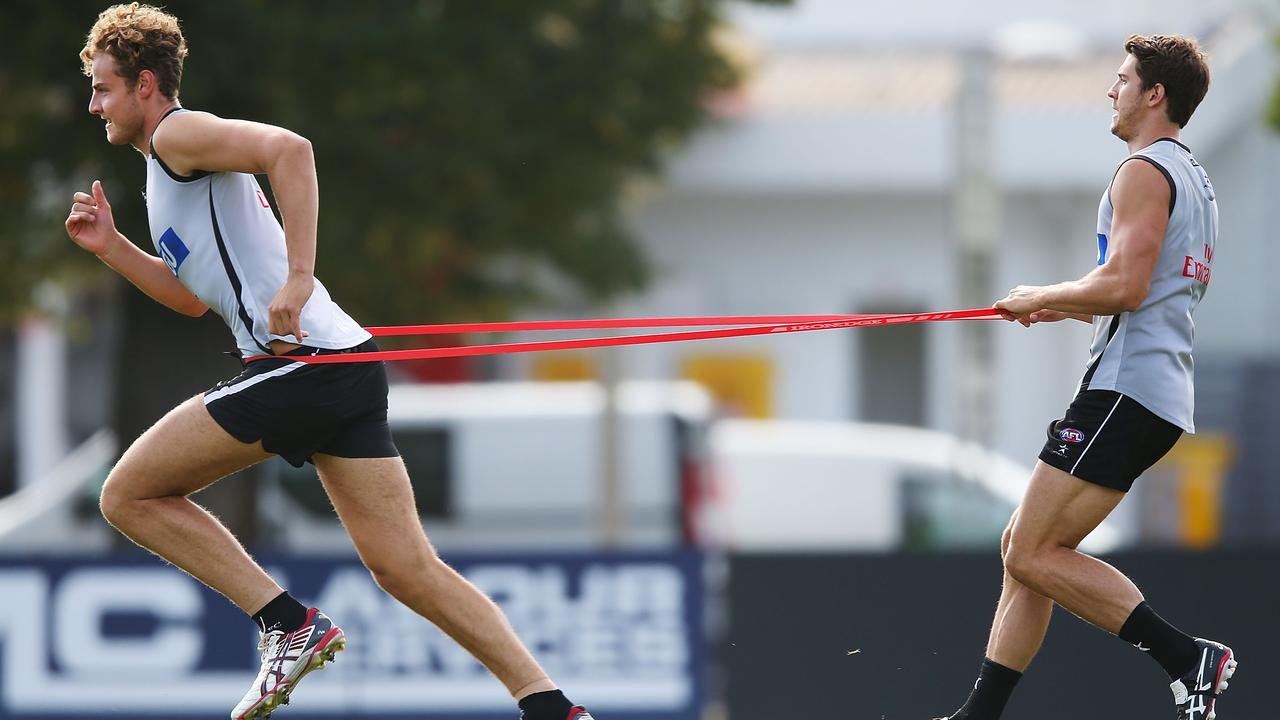 The Pies invested heavily in Witts' training and AFL education. Picture: Michael Dodge/Getty Images
The Pies also rounded off his footy education with trips to Melbourne.
"I was taken to the Anzac Day match the next year (2009)," Witts says.
"We went out onto the ground. It was the year David Zaharakis kicked the matchwinning goal. I'll never forget it."
It was an unusual development program to say the least, as he continued to go to school in Sydney and played for Sydney University in 2009. But the following year he missed his entire draft year with a back injury. The Magpies kept the faith and moved him to Melbourne after that.
"That's when I really started to develop and realised I could make it," Witts says. "There were six of us in the house and I felt like I was figuring it out. It was some of the best times I've had. I was still trying to understand the opportunity I had and how big AFL was."
Witts made the move to Melbourne in 2011 to take up a full time contract with Collingwood. Picture: News Corp Australia
The Collingwood years
Witts was making steady progress and debuted in round six, 2013 against St Kilda. Brodie Grundy, who'd been drafted at pick 18, made his start in senior football three months later. It was the beginning of a fierce rivalry that Witts believes laid the foundation for his future success.
"We went at each other for four years," Witts says.
"Every training session we had to be on the job. Bucks would chop and change with us keeping us both on our toes; it made both of us hungry and helped set a high standard. Darren Jolly was the senior ruckman then and he threw us both around for a while, and Ben Hudson came after that."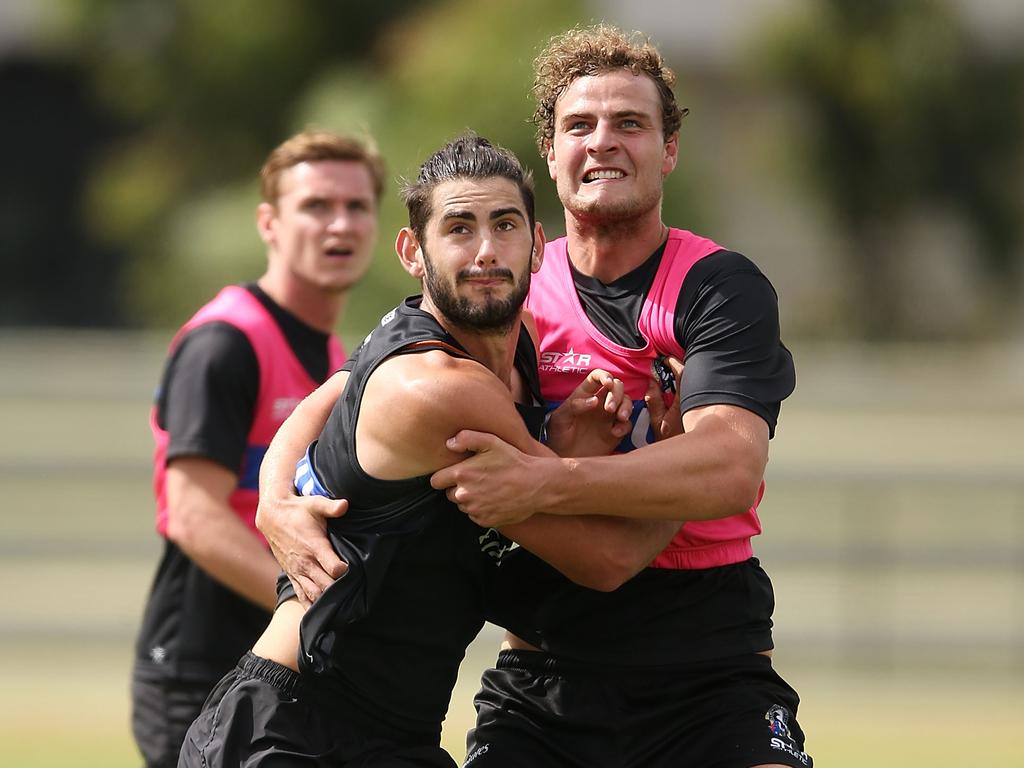 Witts and Brodie Grundy enjoyed healthy competition at Collingwood's training sessions. Picture: Michael Dodge/Getty Images
The following year, in the round 14 match against Hawthorn, came another marker on Witts' road to success when Collingwood coach Nathan Buckley physically confronted his young ruckman when he came to the bench.
The clash, caught on camera, became the hot topic of media discussion. This week Buckley spoke about the incident and his apology to Witts. The Suns co-captain now sees it as another important part of his journey.
"It was pretty stern and it was on the sideline so everyone saw it," Witts says.
"He was grabbing me. At the time I didn't agree with some of the things Bucks would do but I understand it now. I understand he had my best interests at heart and looking back on it, Bucks was really important for me learning how to set standards. Looking back, it helped me become the player I am."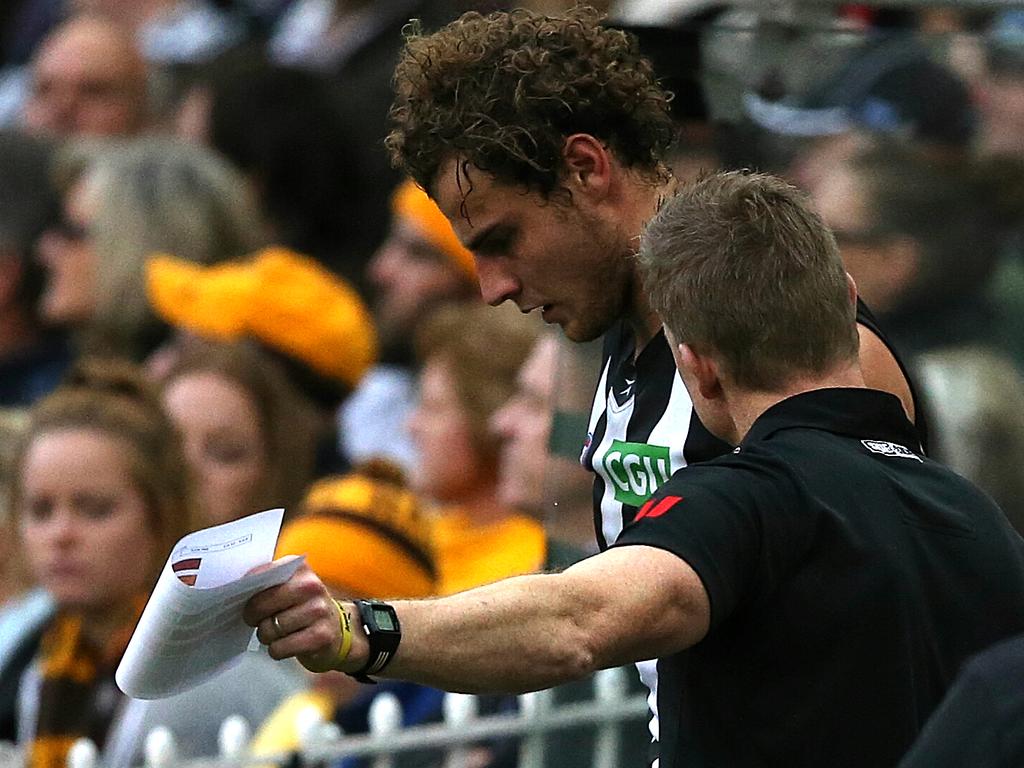 Collingwood coach Nathan Buckley and Witts had an awkward confrontation caught on camera during a game against Hawthorn. Picture: News Corp Australia
Moving to the Suns
Injury and the rise of Brodie Grundy made senior games increasingly scarce in the following seasons, leaving Witts no choice but to move on from Collingwood at the end of 2016.
"To Brodie's credit, he played some really good footy and secured the spot (as first ruck)," Witts says.
"I knew I wanted to be first ruck and that's why I went. I also had a relationship with Rodney Eade (former Swans coach) from when he was at Collingwood. He believed in me."
Eade finished up at the Suns after just one year with Witts but the improvement of his young ruckman was there for all to see. He was appointed co-captain in 2019 and won the club Best and Fairest in the same year.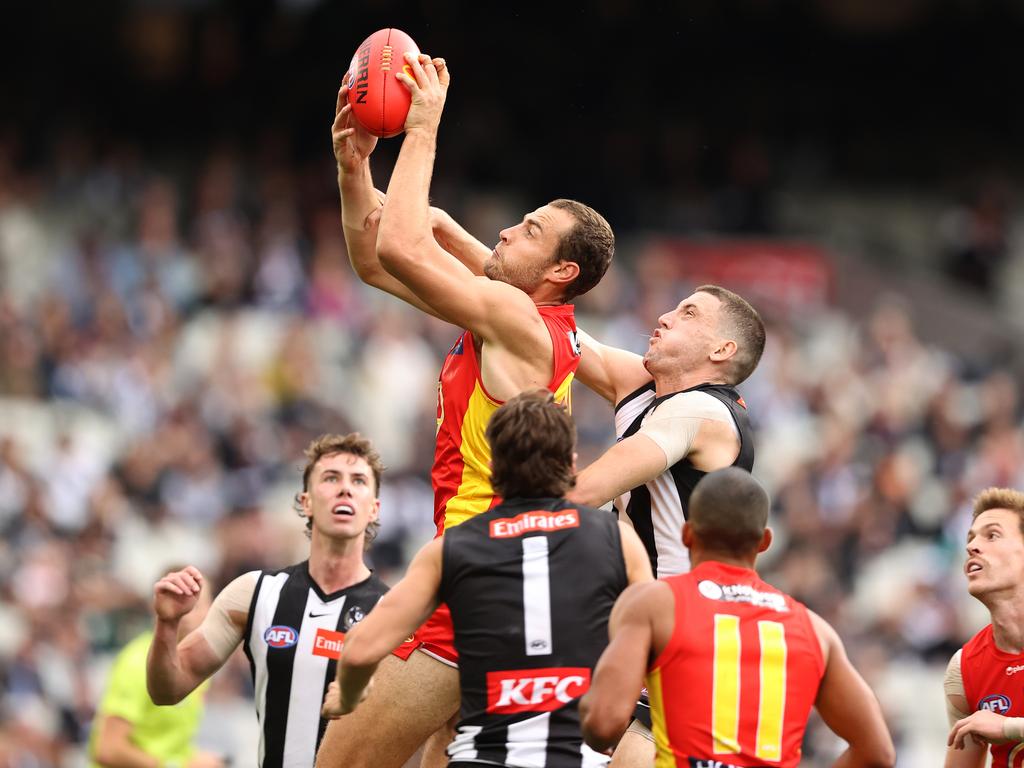 Witts has gone from strength-to-strength since his move to the Gold Coast. Picture: Robert Cianflone/Getty Images
A ruptured ACL decimated 2021 for Witts and the club but his return to action and form has been a godsend for coach Stuart Dew.
"It means I sleep at night," Dew told CodeSports.
"I love working with him because he's so unselfish about the way he impacts the footy club. He's a selfless leader that's a mad competitor. If you want the prototype ruckman and captain, Jarrod is who it is.
"Jarrod's story is huge and undertold. There's a number of ways into the league and a number of ways to forge your career. Sometimes the club you go to might not be the right mix, there might not be that window of opportunity.
"Jarrod is an example of why players shouldn't give up."