Levi Casboult on his move from Carlton and success at Gold Coast
Levi Casboult did not arrive at Gold Coast with much fanfare. But the veteran has defied the odds and could end up returning to the finals after nine years, writes DANIEL CHERNY.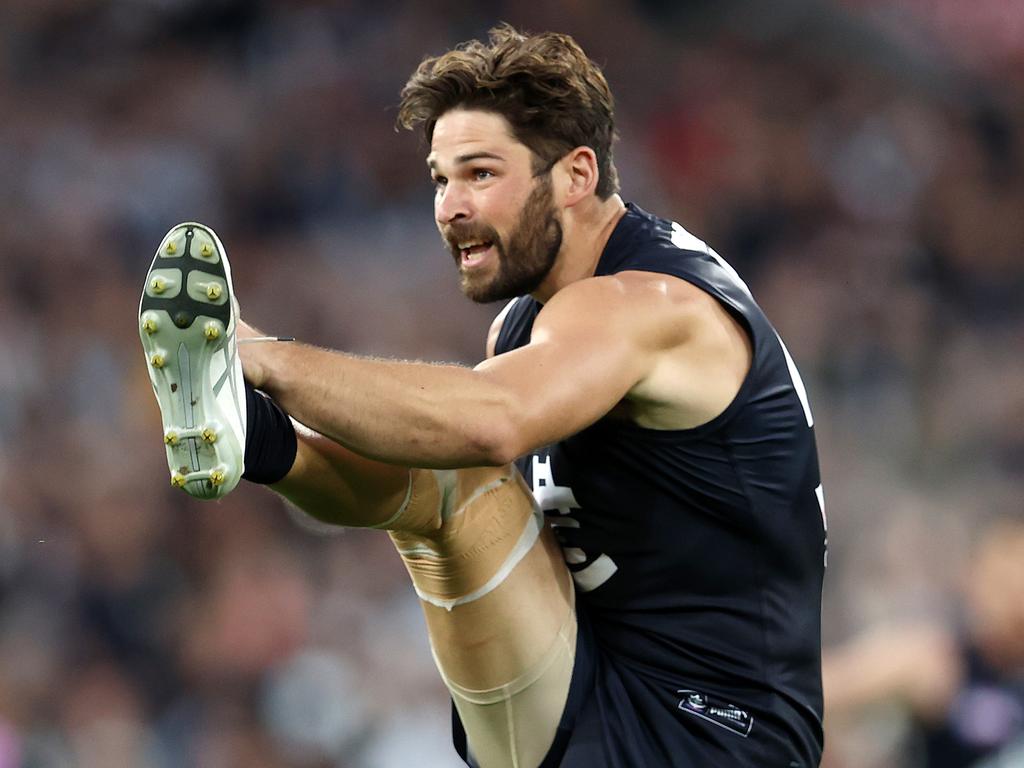 Why ex-Blue Levi Casboult's heart now lies at the Suns. Picture: Michael Klein/NCA
Occasionally they slide into his DMs.
As the injuries mounted to Carlton's talls, Blues fans pondered, maybe we should have given Levi Casboult another year?
"I've had a few Instagram messages from Carlton supporters who wish I was still there. But I'm certainly happy with where I'm at," Casboult says.
And well he should be. Discarded by the Blues after 154 games, Casboult's acquisition by Gold Coast at the end of last year appeared to be a case of the Suns trying to find some experienced, versatile tall cover.
Lo and behold, cover was needed. Ben King's ACL injury shaped as catastrophic for the Suns, and in particular coach Stuart Dew, heading into the final season of his contract.
But the devastating blow to King proved to be the opening for Casboult, who along with fellow off-season recruit Mabior Chol, has not let Dew down.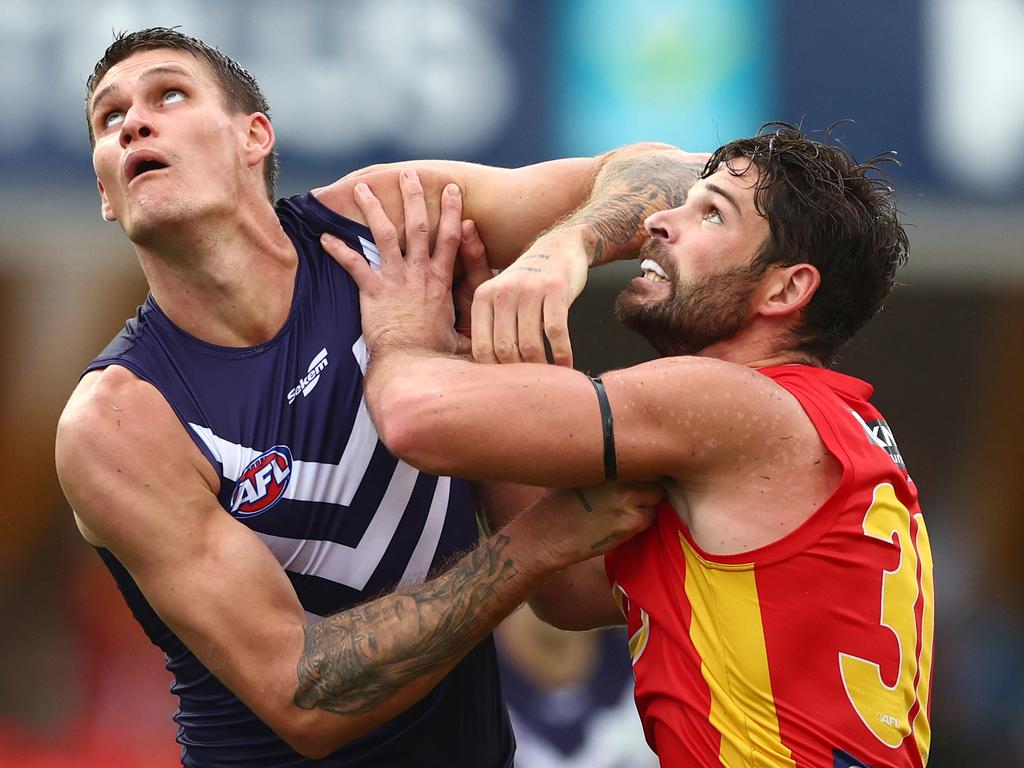 Ex-Blue Levi Casboult has been a critical acquisition for the Suns. Picture: Chris Hyde/Getty Images
The pair have missed just one game between them, with Chol kicking 27 goals to go with 24 from Casboult.
They have proven an unlikely twin threat, helping the Suns to a 7-6 record, providing Dew with more than a fighting chance of fending off the Alastair Clarkson spectre and even more remarkably, putting Gold Coast within striking distance of a maiden finals berth.
For Casboult, who along with wife Hayley and children Lonnie, Arlo and Goldie packed up their life to extend their AFL adventure, things have gone better than expected, but not beyond the realms of imagination.
"It's probably gone above expectations, but not above what I thought I was capable of," Casboult says.
"I didn't envisage coming up here and Ben King getting injured and being out for a year. Things have happened that have helped my situation. But who knows, we might have played all three of Kingy, myself and Mabior."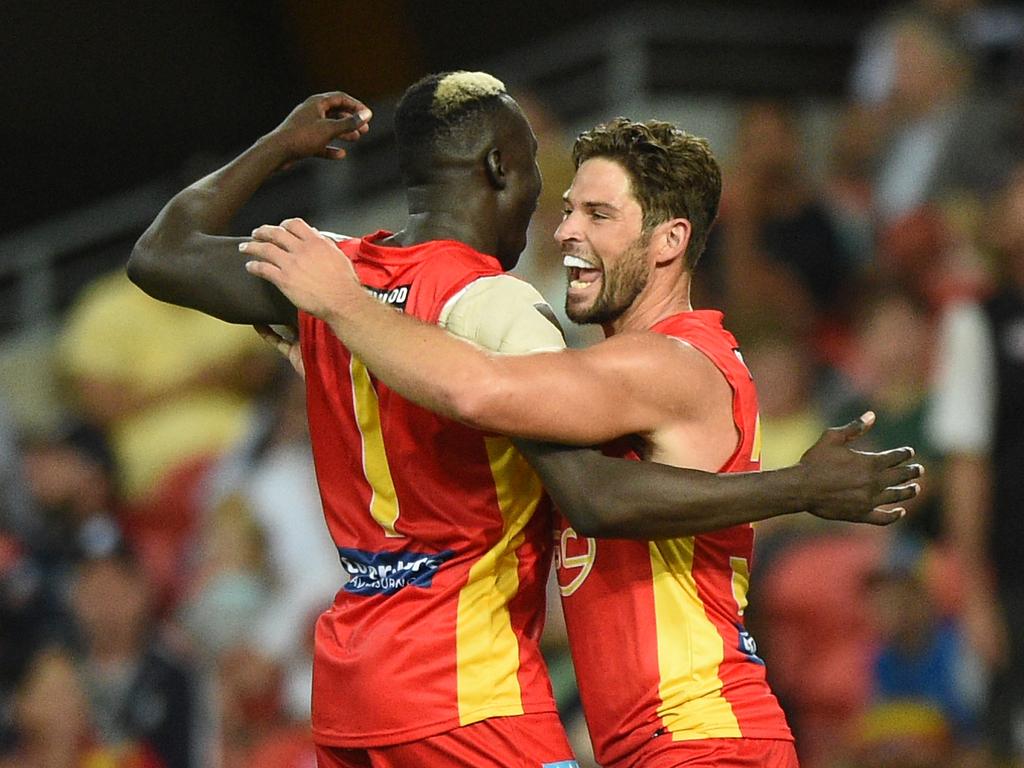 Mabior Chol and Casboult's move north has added height and power to the Suns front line. Picture: Matt Roberts/AFL Photos/Getty Images
Casboult played in just one AFL final across 12 years at the Blues – a period in which he would be led by five senior coaches. So the prospect of adding to that tally against the odds later this year is appetising.
"It's definitely a carrot being dangled in front of us at the moment. You'd be silly not to think it's a motivating factor. That's why we play footy.
"But especially with the competition at the moment, the second you take your eyes off the prize and look too far ahead, there's other teams just as hungry and they'll quickly take that away from you."
Casboult's sole finals appearance came at Sydney's Olympic Stadium in a semi-final defeat to the Swans in 2013.
"We didn't play that well. Sydney smashed us," Casboult says bluntly of that evening.
"I was probably a bit younger and didn't appreciate what it was at the time. I couldn't foresee that I wouldn't play another one for the rest of my career [so far]."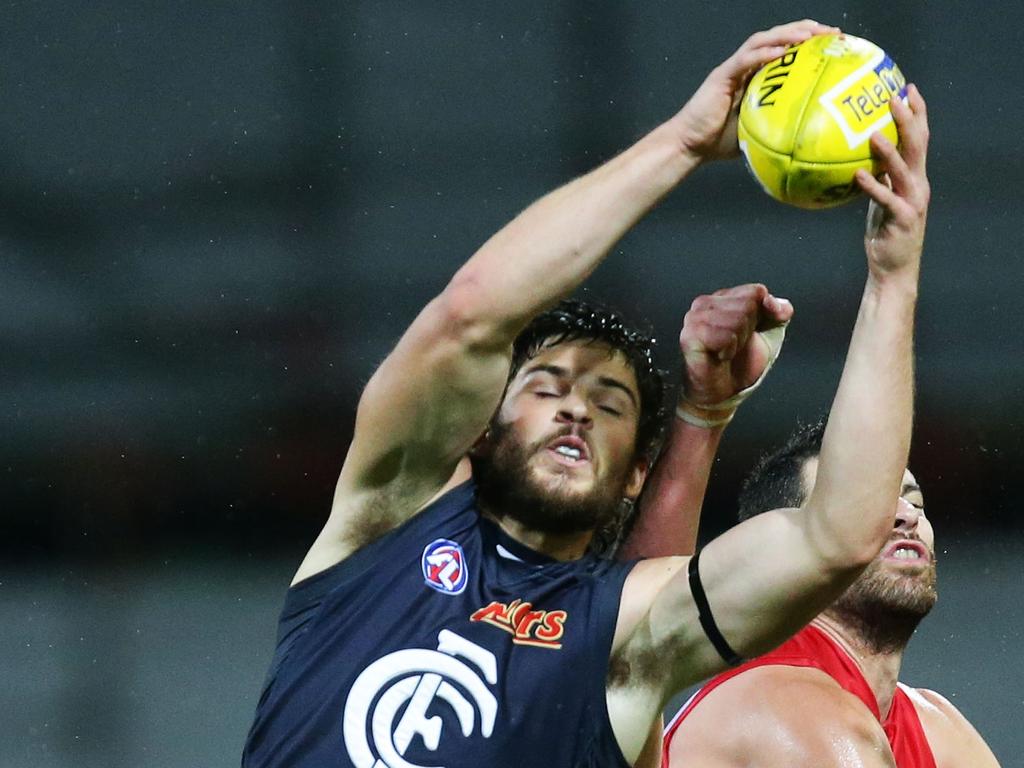 Casboult's sole finals appearance ended in disappointment when the Swans defeated the Blues 86-62. Picture: Matt King/Getty Images
While Blues supporters have considered whether Casboult – who proved a handy key back in 2019 – would be useful at a time when half a dozen key defensive options are sidelined, the man himself hasn't given it much thought. He stresses that he harbours no ill-will towards the club.
"I still watch their games and still want them to go well," Casboult says.
"We parted ways amicably. It might have been best for both parties."
The odd eyebrow was raised when he tugged on his Suns jumper to celebrate a goal against his former side in round four, but Casboult is adamant that the gesture was not intended to be pointed.
"It was just kind of spur of the moment. It was nothing to do with Carlton, it was just more around, 'This is where I'm playing, I'm loving my time with the Suns and I'll play with passion'.
"It was good to get [the game against the Blues] out of the way. I'm more quiet, so I didn't really ruffle any feathers. I was more excited about the challenge of playing on [Jacob] Weitering."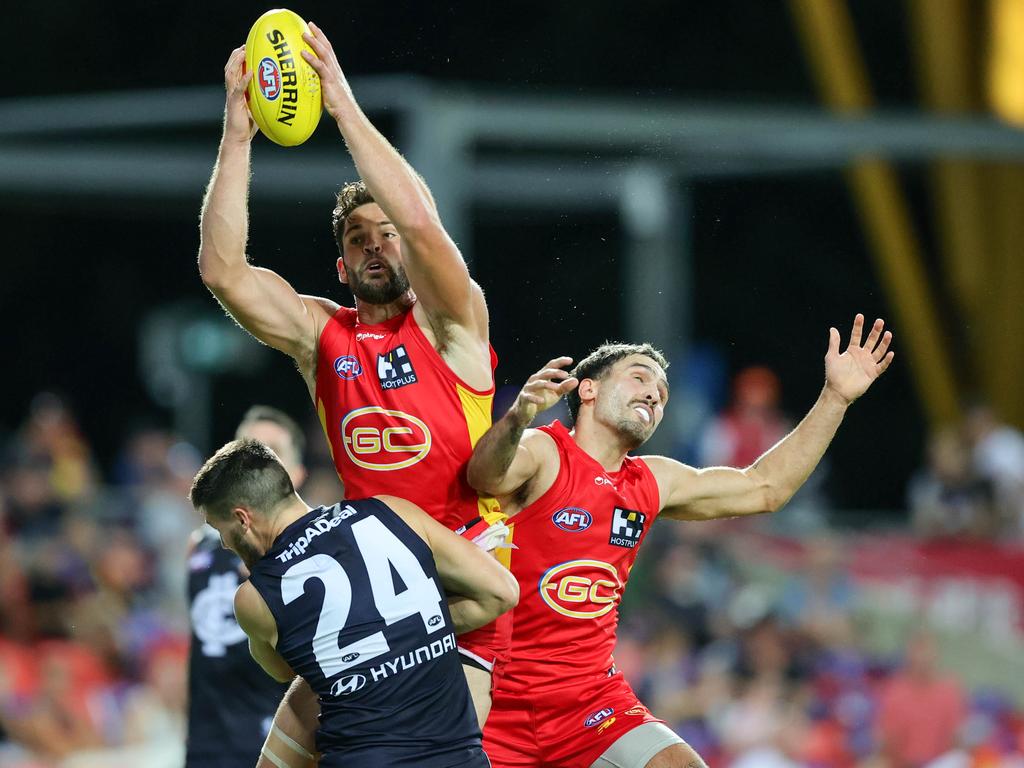 Casboult playing against his former side in their round 4 match-up. Picture: Russell Freeman/AFL Photos via Getty Images
Relishing the milder winter in the Sunshine State, Casboult says he has no intention of heading back to Victoria when the music finally stops.
Just when that will be remains up in the air though. Even with King's scheduled return next year, Casboult's form has him tracking towards a new contract offer. But a definitive call is still a while off.
"I haven't really sat down with the club or anything yet. AFL can be tough on families, so it's not just as simple as saying, 'I'm playing footy let's go again'. But I'm certainly enjoying playing and enjoying my time up here," he says.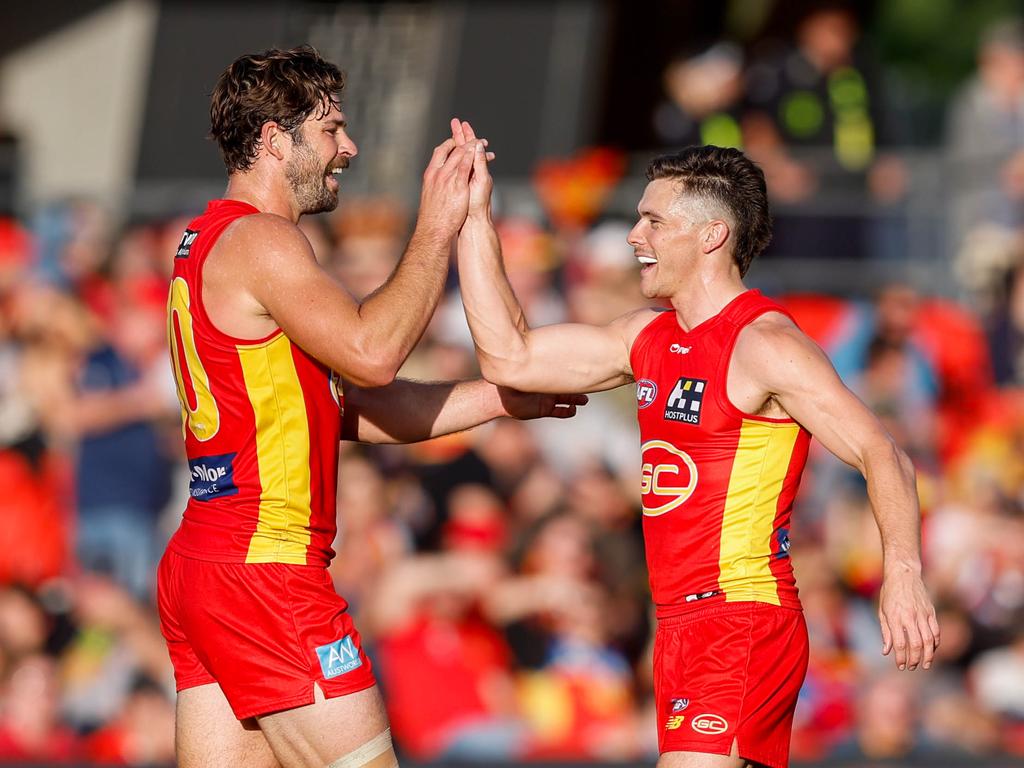 Casboult's contract finishes at the end of the 2022 season, but is yet to make any assertions on his future. Picture: Russell Freeman/AFL Photos via Getty Images
And while he appreciates the odd nice message from fans, Casboult isn't going looking for them. He keeps a low profile on social media, having learnt long ago that opinions are, to tidy up the proverb, like posteriors.
"I deleted all my social media for a while. I never got Facebook back. I got Instagram back, I never had Twitter. The easiest thing was to go cold turkey," Casboult says.
"Everyone's entitled to their opinion. You don't have to agree with it. At the end of the day, it's not like any footballer goes out there and doesn't try. Everybody can have a bad at work.
"I don't need to search for people saying bad or indifferent things about me. The young guys are not as easily able to block out the external noise."