GWS Giants: Leon Cameron's decision to retire now has gifted the club first-mover advantage in the race for Alastair Clarkson
Giants CEO Dave Matthews speaks to ROB FORSAITH about Leon Cameron's resignation and the club's plans to replace him.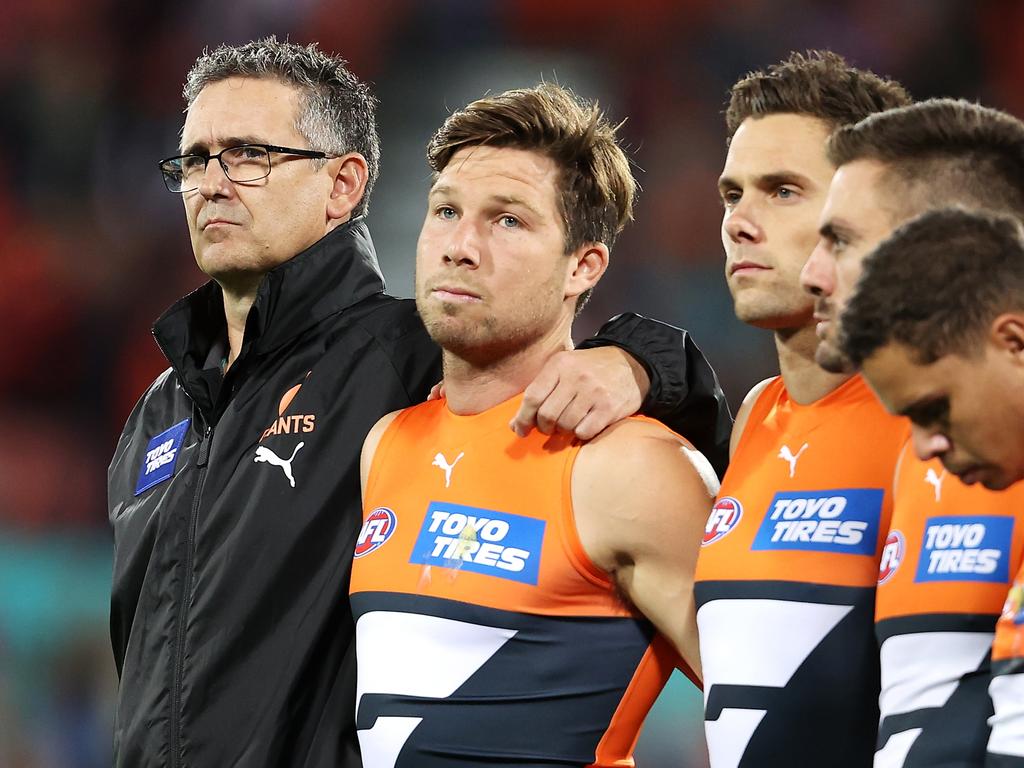 Leon Cameron caps off his Giant legacy with one last gift. Picture: Mark Kolbe/Getty Images
There is never a good way or time for an AFL club and its coach to part, but if anyone doubted the amicable nature of the divorce between GWS Giants and Leon Cameron, it was surely dispelled in the final gift Cameron provided the club.
In resigning now, Cameron has given GWS crucial first-mover advantage in the white-hot market for four-time premiership coach Alastair Clarkson, ample opportunity to gauge the interest of James Hird, and time to assess the aptitude of caretaker Mark McVeigh.
The fact that Cameron, a club man to the non-bitter end, called it off on Tuesday in a meeting with club CEO Dave Matthews then kept a lid on the news – a rarity in modern footy – before breaking it to players on Thursday morning was also telling.
Cameron informed the leadership group first, then the broader squad. He shed a tear or two then got stuck into a training session. GWS chief executive Dave Matthews was present for Cameron's farewell speech to players then said a few words himself, describing it as "an emotional time".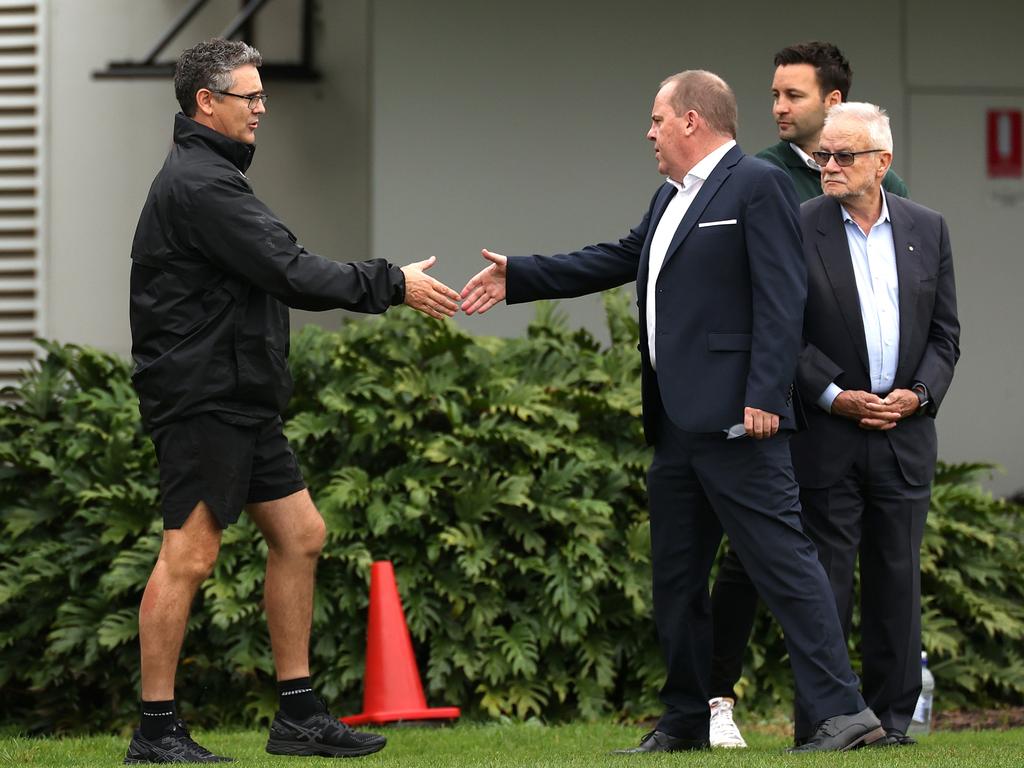 Cameron and Matthews greet each other before the GWS coach announced his resignation. Picture: Phil Hillyard
The chief executive was part of the panel that hired Kevin Sheedy's replacement ahead of the 2013 season, when Cameron famously stood out by responding to a question about football tactics with an answer about personal values.
On Tuesday, Matthews strode from one end of the Giants' headquarters to the other then entered Cameron's office. Who did the breaking up in the ensuing conversation?
"He's the most honest person I reckon I've worked with. He just tells it like it is," Matthews says. "It was more a discussion about how we thought things were evolving. First and foremost it was a bit of a welfare check.
"He has felt – and the club has felt – there's some pressure there.
"It was to check in on him. Then it was a conversation about, 'So, how do you think things are unfolding?' and it just evolved from there.
"He described it well, it wasn't really one or the other party. It was more, 'Do we want to consider this?' It was a good discussion."
Cameron has come a long way since his first season as Giants coach in 2013. Picture: Mark Metcalfe/Getty Images
Matthews spoke with CodeSports shortly after Thursday's board meeting, which was already in the diaries of Jimmy Bartel and fellow directors prior to Cameron's resignation. It nonetheless presented a good chance to discuss the state of play.
"We'll let the dust settle, celebrate [Cameron's coaching career]," Matthews says, when asked if the board agreed on a process, timeline or any non-negotiables.
"Then we'll look ahead, be thorough and think carefully."
It remains unclear if Clarkson, the mastermind who coached Hawthorn in 390 games while watching Cameron and countless others graduate from right-hand man to head coach elsewhere, has any interest.
Matthews has yet to speak to Clarkson or Clarkson's management about the now-vacant gig – but the fact he can do so before vacancies emerge at other clubs around the league is an advantage Cameron has provided the club.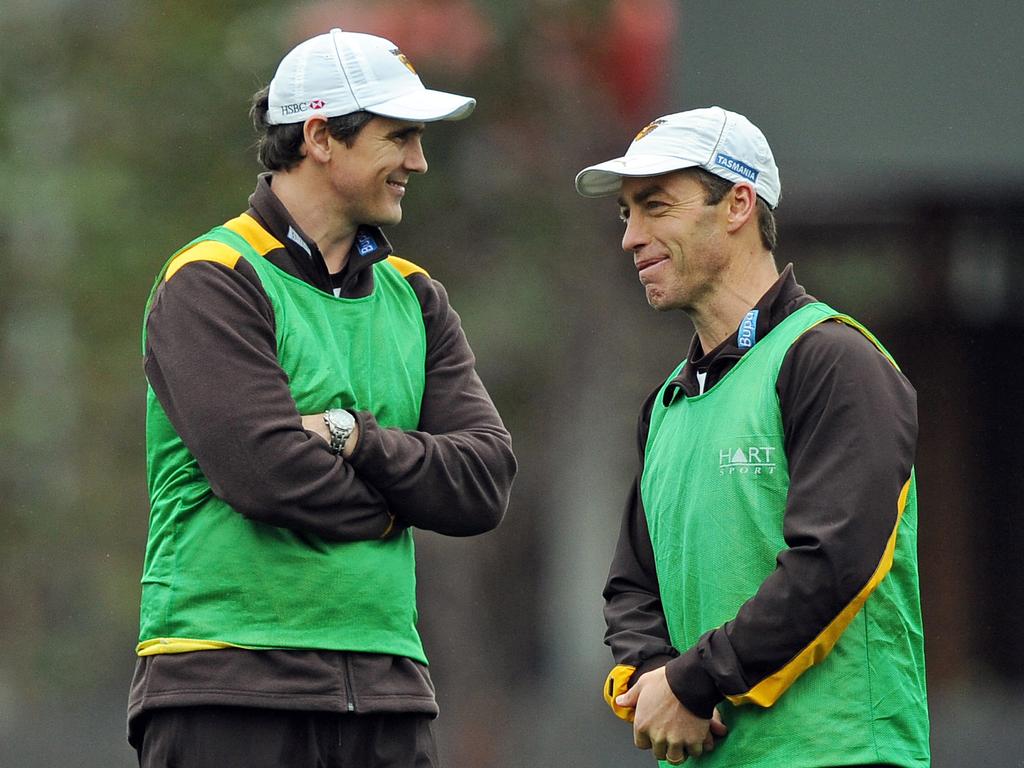 Cameron worked under Clarkson at Hawthorn before joining the Giants. Picture: Michael Dodge
"Like Leon said, we're an honest club. None of those discussions are things that have needed to take place," Matthews says. "We've got time now for discussions to happen with a number of people … we'll take our time."
Former Essendon coach Hird is the other name on everyone's lips.
Hird's reintegration to the AFL community, coming after mental-health battles and the Bombers' doping scandal, has been as a leadership consultant at GWS.
It is a gig he landed thanks to McVeigh and Cameron.
Players have warmed to Hird, perhaps none more so than superstar Toby Greene, but it would be a huge step up for someone with no recent coaching experience.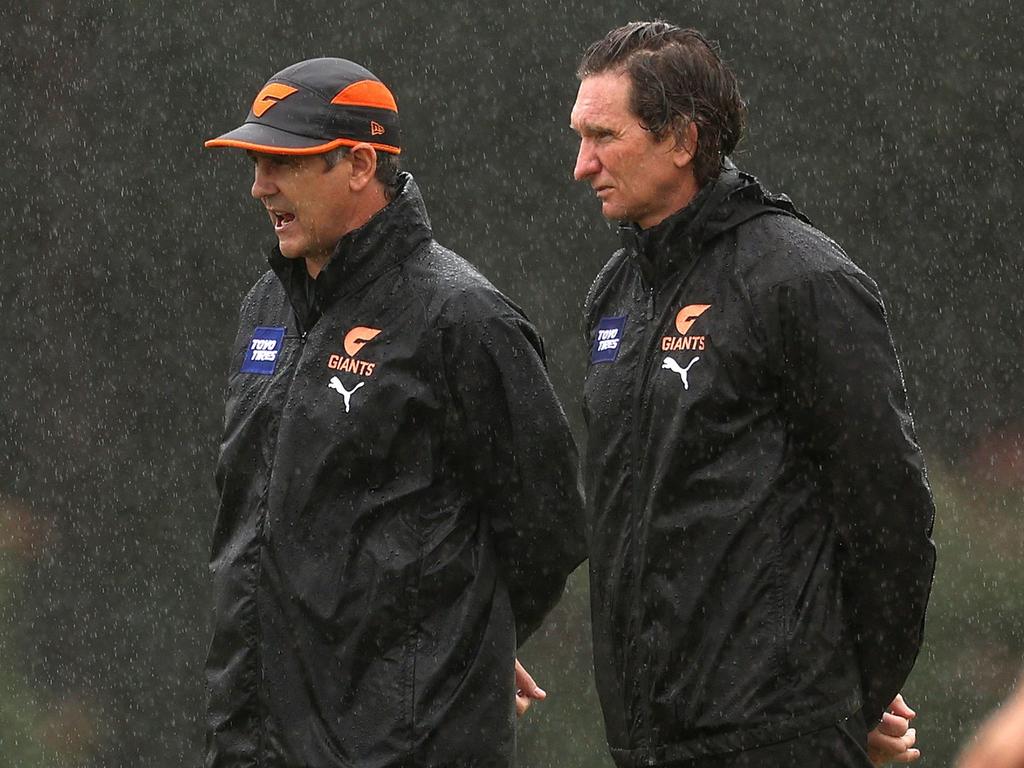 Hird is a prime candidate to take over from Cameron. Picture: Supplied
Hird is yet to speak publicly since joining the Giants on a part-time basis. The 1996 Brownlow medallist has been absent from recent GWS games, having watched son Alex make his VFL debut then travelled to London for business interests.
"I think everyone across the football family is just happy to see him happy and back involved. His involvement has been good," Matthews says of Hird. "It's just not something you speculate on."
Cameron, departing midway through his 10th season at the club, leaves a major void.
The 49-year-old, having suffered heartbreak in a home 2016 preliminary final then humiliation in the 2019 grand final, concedes the absence of a premiership will always play on his mind.
"As senior coach, you hold responsibility for that," Cameron says.
The heartache of the 2019 Grand Final will remain for Cameron. Picture: Daniel Carson/AFL Photos via Getty Images
Recent weeks belie the Giants' achievement of five finals series from the past six years.
The sledge directed at Cameron, the Warrnambool paperboy who succeeded Sheedy at the league's youngest club, is that he was handed the keys to a Ferrari because of the club's star-studded squad and draft concessions.
The struggles of Gold Coast, still yet to play a single final, suggest it wasn't and isn't that simple.
Cameron helped build the club culture that brought the Giants to within striking distance of a maiden flag after a loss-laden start to their existence.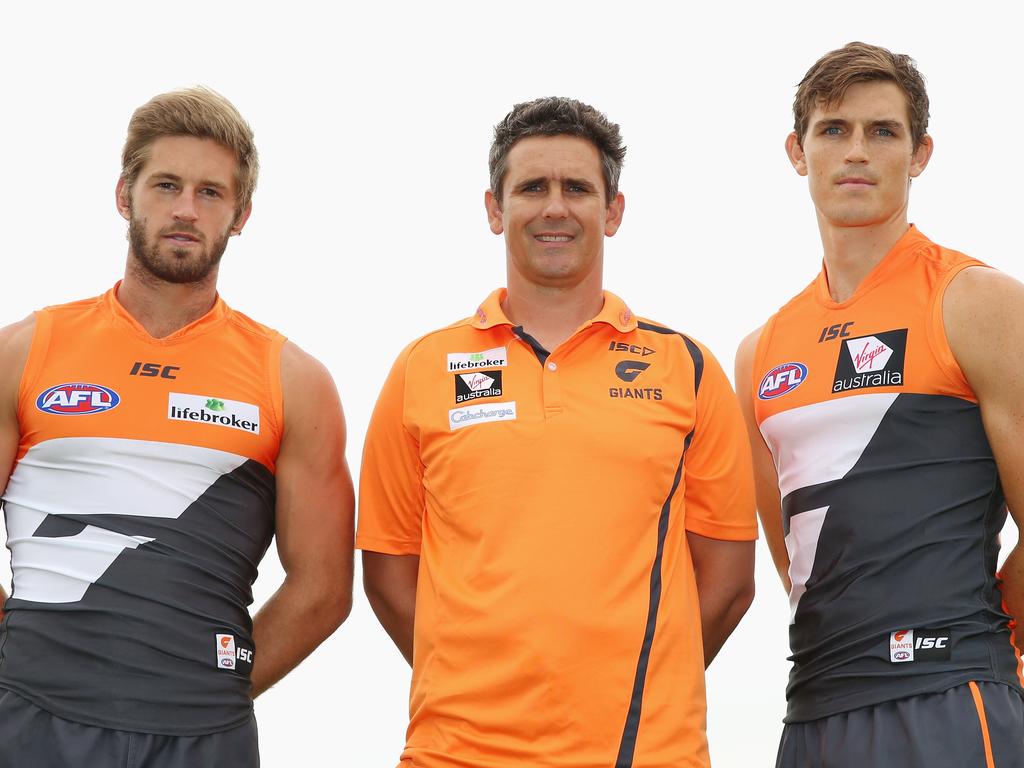 After nine years in charge of the Giants, Cameron can be proud of the progress that they have made. Picture: Mark Kolbe/Getty Images
He was also acutely aware of the need to sell the game in a foreign market. The most obvious example was inviting an Amazon documentary crew to trail the side during the year they tried to bounce back from an 89-point defeat in the grand final.
It didn't go to plan.
Cameras instead captured passionate f-bomb-studded coaching sprays plus footage of Cameron telling captain Stephen Coniglio that he had been dropped from the team. It was the low point of the club's woes in a biosecurity bubble – and arguably the most powerful scene in the series.
Cameron weathered criticism and restored confidence, shepherding the Giants back into finals for one last time. This week, after Saturday's meek 53-point loss capped a flat 2-6 start to the season, he realised the relationship had run its course.