Inside the calm chaos of Greater Western Sydney's coaches' box
Fans love to see a coach explode behind the glass during a game – but as ROB FORSAITH discovers, the true power of the tactical centre comes from the perfect harmony of the many voices inside it.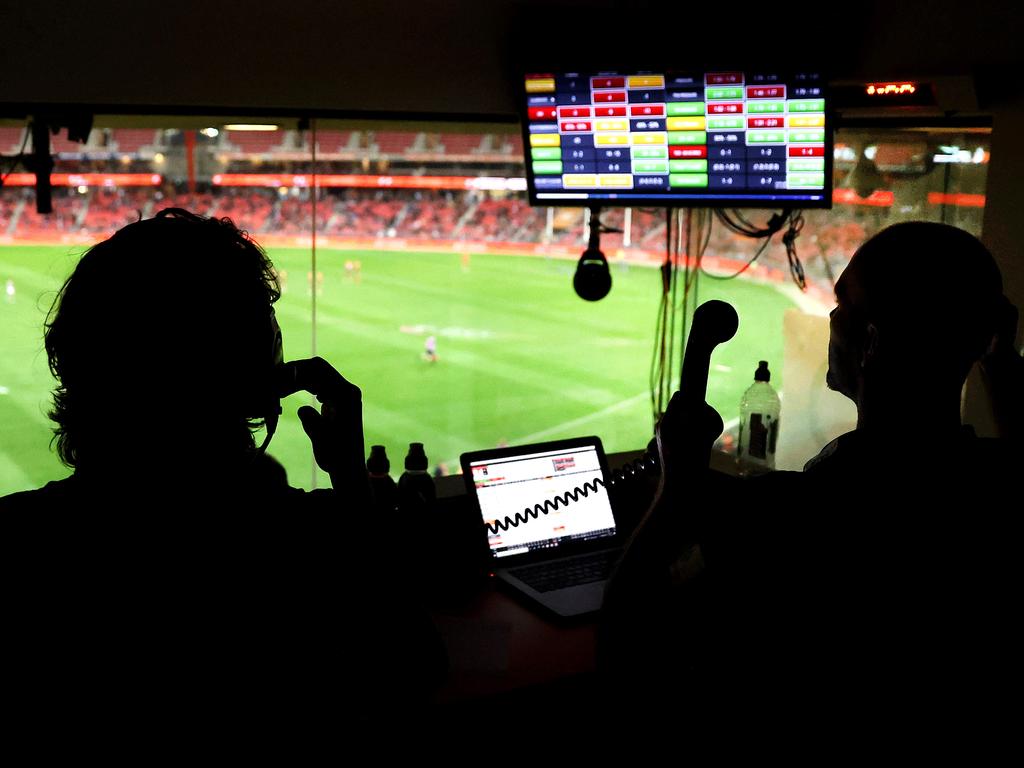 James Hird (L) and Mark McVeigh (R) inside the coaches box as the Giants take on the Bulldogs. Picture: Phil Hillyard
"Let it go … you've got to just let it go mate."
Those words are generally sage advice on any Saturday night – and so it proves when offered by James Hird to Mark McVeigh during the second quarter of an enthralling contest at Giants Stadium.
McVeigh isn't spoiling for a fight.
But the GWS Giants' interim coach, who was outgoing mentor Leon Cameron's nomination to take the reins, is growing impatient as he waits for a return call from Braydon Preuss in the second quarter.
Preuss is still in the rooms, having hurt his ankle in the opening term. The coaches' box has been provided updates as medicos assess the ruckman's injury, jab the ankle then attempt to get him moving.
"The longer this goes, the longer we're down a rotation. We've almost just got to make the call," Hird recommends.
Soon after, medical sub Jarrod Brander enters the fray at the expense of Preuss.
It is one of several turning points during the highest-scoring game of the season, with the Giants and Bulldogs trading metaphorical blows rather than the more literal ones doled out in recent years of this rivalry.
It is also one of several spinning plates for McVeigh's panel, who are repeatedly forced to rethink their plans because of three injuries, a combined 10 goals from Aaron Naughton and Cody Weightman, and an opposition capable of scoring in a hurry.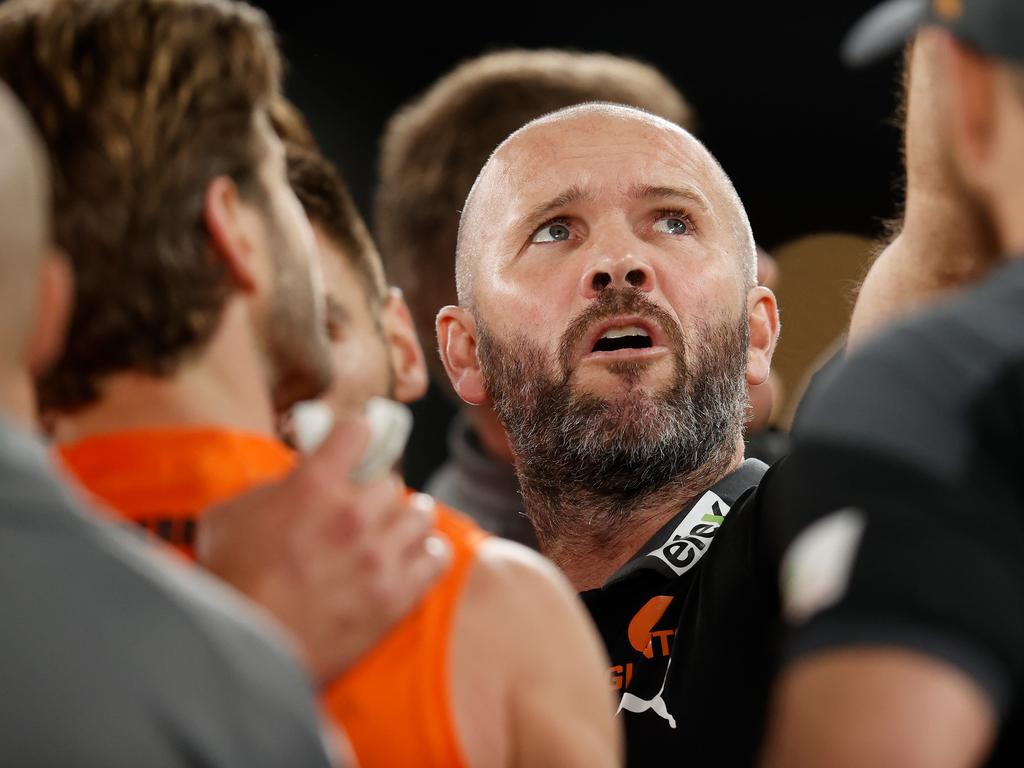 CodeSports was afforded a rare insight into the inner workings of the GWS Giants coaches' box. Picture: Michael Willson/AFL Photos/Getty Images
*****
There is something undeniably intriguing – and almost ethereal – about an AFL coaches' box.
Perceptions are shaped by GIFable reactions we see on TV, legendary sprays of yesteryear, and the hole that Alastair Clarkson once punched in the wall of the MCG.
This is not a normal workplace – belated leaking of audio certainly confirmed it was hot in Rodney Eade's kitchen.
Yet McVeigh, who started at GWS as an academy coach soon after Kevin Sheedy handed the baton onto Cameron, and football manager Jason McCartney agree to CodeSports' request to be a fly on the wall of this most inner sanctum.
The only caveat is a game-day RAT test, and a request that sensitive tactical information stays within the box.
An insightful evening begins with McVeigh's pre-game address to GWS chairman Tony Shepherd, chief executive Dave Matthews – two men doing the bulk of the work when it comes to finding Cameron's permanent successor – and some coterie supporters.
A whiteboard displays the message that McVeigh just delivered to his charges: 'Giants play for something greater than themselves'. The word 'rivalry' is circled below match-up magnets, while 'domestique' features prominently.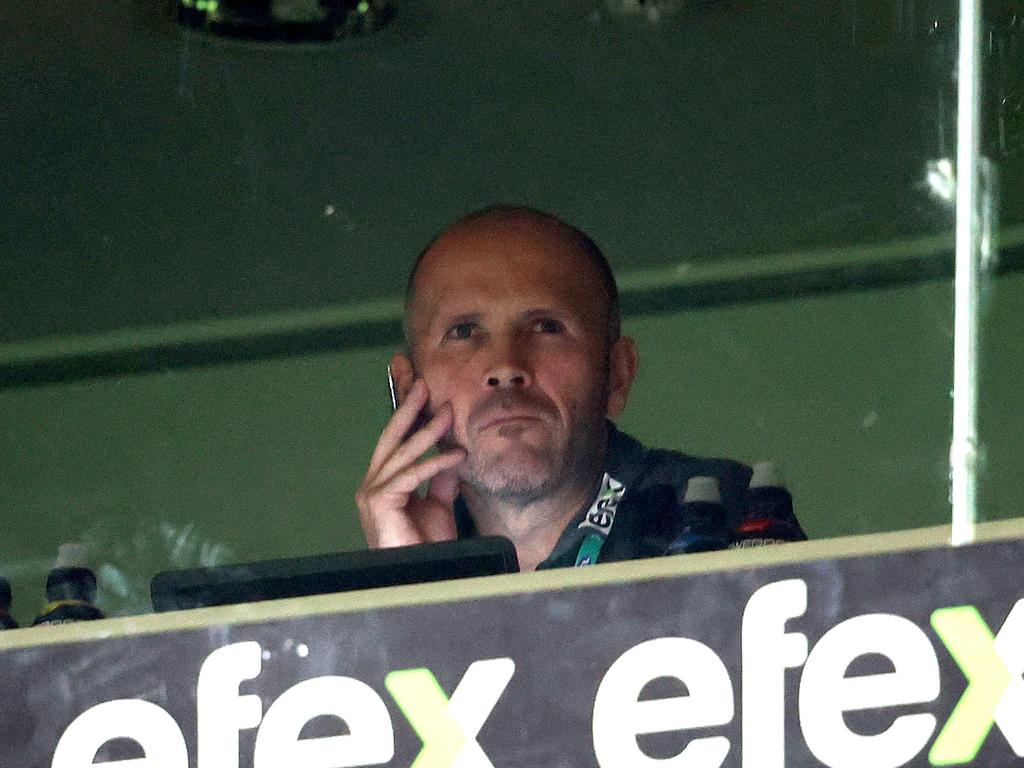 There's something intriguing, almost ethereal about an AFL coaching box. Picture: Matt King/AFL Photos/Getty Images
McVeigh presents with a confidence and composure that belies the fact this is his fourth game in charge.
"Domestique is just a word that we've used over the last few weeks about being a servant of your teammates, doing things that support your teammates," McVeigh explains, adding that rivalry is not about punching on.
The group breaks after a chance for questions (Shepherd is keen to know what Ryan Angwin's role on debut will be) before McVeigh and his assistants offer their final words of wisdom to players.
*****
The first thing that strikes you about the box is the weight of numbers (both personnel and stats).
Hird and Dean Solomon have served as part-time FIFO coaches in recent weeks, joining the panel at the request of former Essendon teammate McVeigh. Steve Johnson, Amon Buchanan and Craig Jennings are also in the box, as are data analysts Aidan Russell and Mitch Hanrahan, and McCartney.
There are two phones – usually in the hands of Johnson and Hird. Ruck coach Shane Mumford and development coach Craig Lambert are sitting on the other end of the line, passing on feedback to players (directly and indirectly via the team runner).
The second thing is how conversation is remarkably seamless – and for the most part relatively calm – despite so many voices and on-field volatility. There is method to the madness as everybody reacts to clearances, handball chains, goals, tackles, errors, momentum swings and untimely injuries.
The odd f-bomb is dropped, but there simply isn't time for carry on.
Energy is instead focused on observations, ideas and questions. Reactive emotions of rage, relief and radiance are almost instantly converted into requests for snippets of footage that can be shown to players, helping reinforce a key message during the major breaks.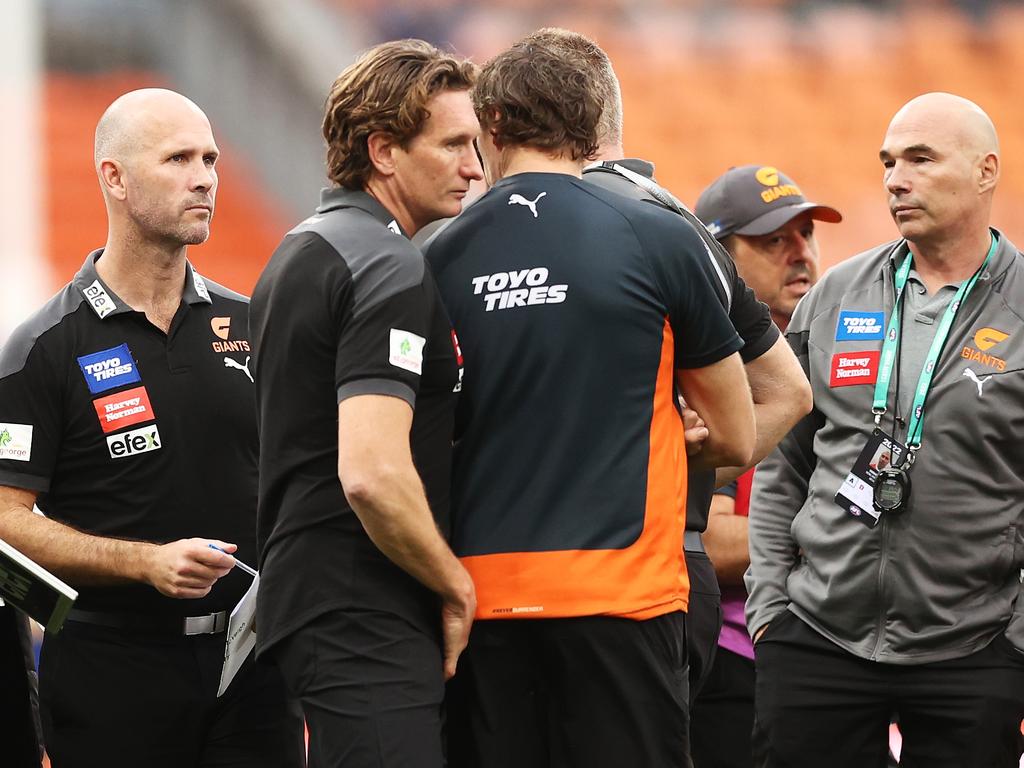 Interim coach McVeigh and his Giants coaching staff. Picture: Matt King/Getty Images
McVeigh is at the helm but far from autocratic. One of two big-picture halftime messages ("you only get one chance with ball in-hand against these guys") is straight from the book of Solomon.
A countdown clock on the wall sits adjacent to a TV screen full of data. McVeigh rarely has a chance to look at either – such is the chaos and competition for eyeballs. Instead, McCartney and Hird inform the box of time equation at key intervals as key statistical trends are barked out.
Everybody knows their role, including the 1996 Brownlow medallist.
*****
Hird has become a point of public fascination since first joining the Giants as a leadership consultant for this season, marking his first role at an AFL club since leaving Essendon in 2015.
It is premature to speculate about Hird's coaching ambitions beyond this year, but Saturday night represents the first chance to see what the GWS dynamic is really like.
Hird, the most experienced member of the coaching panel, is often the conduit between bench and box. There is an efficiency to what are akin to customer-service announcements to the box.
"We've lost JP for five minutes. Hamstring," Hird explains when James Peatling first retreats to the bench.
Messages directed down the phone line are likewise succinct.
"Aggressive ball movement. Don't go into our shell, you have to take the game on," Hird instructs as the Bulldogs threaten to run away in the opening half.
Hird is patently invested – a brilliant goal in the fourth quarter elicits an excited response of "that's what happens when we take the game on!".
The Essendon legend is measured in commentary and critique, and not the dominant voice in the box. He is a sounding board for McVeigh, who leans on all of his assistants – for example when debating how best to manage a hobbled Angwin in the final term.
Hird and McVeigh at Essendon in 2010. Picture: Ryan Pierse/Getty Images
Conversation swirls around – covering Angwin's ankle, remaining rotation numbers, the risk of cooking overworked players and the need to chase victory – before McVeigh decides to prematurely end the debutant's night because he is too restricted.
The resultant on-field rejig (Harry Himmelberg had already been pitched into the ruck to help Lachie Keeffe) becomes the latest on a long list of tactical conundrums.
Johnson joins in this chat then picks up the phone, seemingly recognising how Angwin might be feeling after his debut failed to go to plan.
"Mummy, just tell Rhino (Angwin) that he's sore and that's why he's off," the former star forward says.
*****
The unpredictable nature of a game, and the inner workings of a box responding when things go awry, are the butterfly effect in action.
Every coach has their own designated responsibility and group of players they routinely work with, yet there is often a need for collaboration and overlap.
McVeigh brings his panel together at the halftime siren, wanting to finalise new match-ups before each coach addresses their respective lines.
Jennings, himself pitched into the role of back line coach in January after initially joining the club in a part-time opposition and strategy role, is put under the most duress in round 14.
Matt Flynn's late withdrawal and Preuss' injury create knock-on effects everywhere, but especially in defence after Keeffe and Himmelberg are recast as rucks.
Naughton and Weightman are imposing headaches; switching Adam Kennedy onto the latter proves a smart call.
If Hird and Solomon are aces up McVeigh's sleeve then the clumsy analogy to follow might be Johnson as the joker.
Bob Murphy was responsible for arguably the best description of Stevie J's on-field wizardry during a highlight-laden career, writing he was "three parts genius and one part rascal".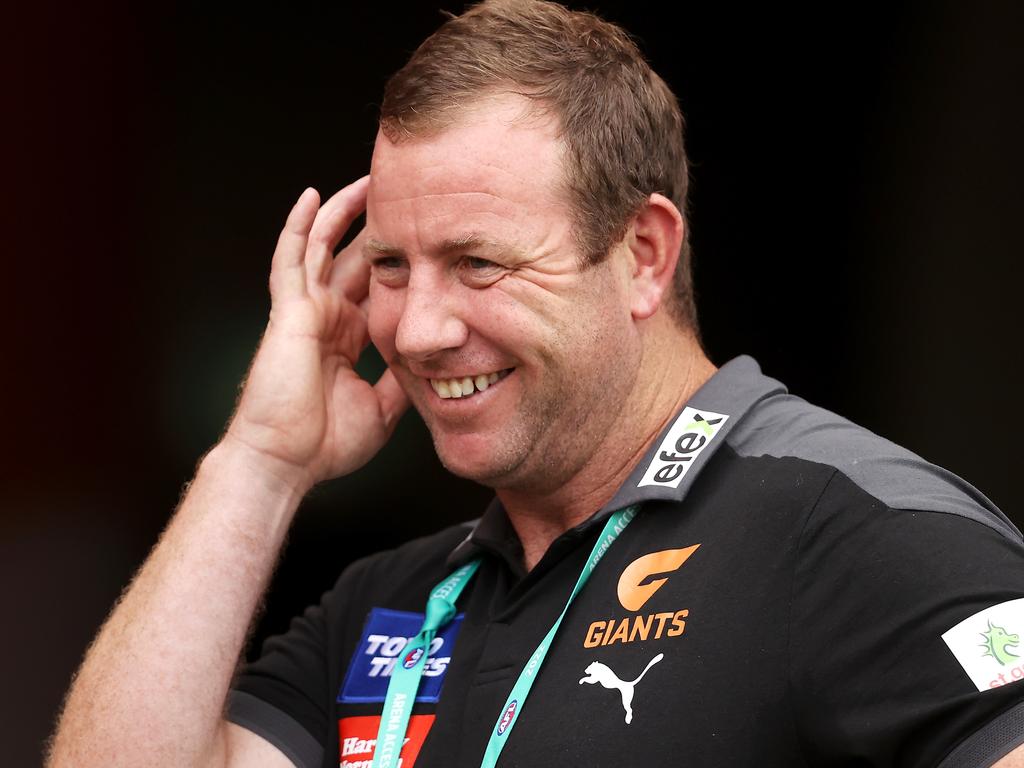 Three parts genius, one part rascal. Stevie J has transitioned seamlessly into coaching. Picture: Mark Kolbe/Getty Images
There are flashes of Johnson's trademark wit in the box, but also plenty of scything analysis and a capacity to read the play before it happens.
"Just don't kick it to English, whatever you do," Johnson pleads.
Sure enough, opposing ruckman Tim English clunks the resultant intercept mark with apparent ease.
"Go! Toby is on," Johnson encourages at another juncture.
Sure enough, multiple players work the ball through traffic, down the field, and to Toby Greene for one of his seven goals.
The group opine about the "danger zone", "needing a spitter", "the jacks" and "A1" while pitching various ideas throughout a topsy-turvy tussle.
To an untrained ear it almost sounds like another language. To everybody else in the box, it is all about arresting momentum.
That challenge was at its most pressing during the third term, when GWS briefly hit the front then conceded the next five goals.
Buchanan, the longest-serving assistant since McVeigh's elevation into the top role, is in charge of the midfield. He wants Stephen Coniglio, Tanner Bruhn and Tom Green at the centre bounce in that third quarter. The plan for rotations is tweaked again.
McVeigh and his ideas factory all contribute some thoughts as they search for a potential circuit-breaker. Could they shift Greene into the middle?
The notion proves as divisive as you'd imagine. The competitive co-captain would likely stymie the Bulldogs' stoppage dominance, but it means removing the hosts' most potent threat from their forward line.
McVeigh decides the cost is too great but rolls the dice by rucking Himmelberg.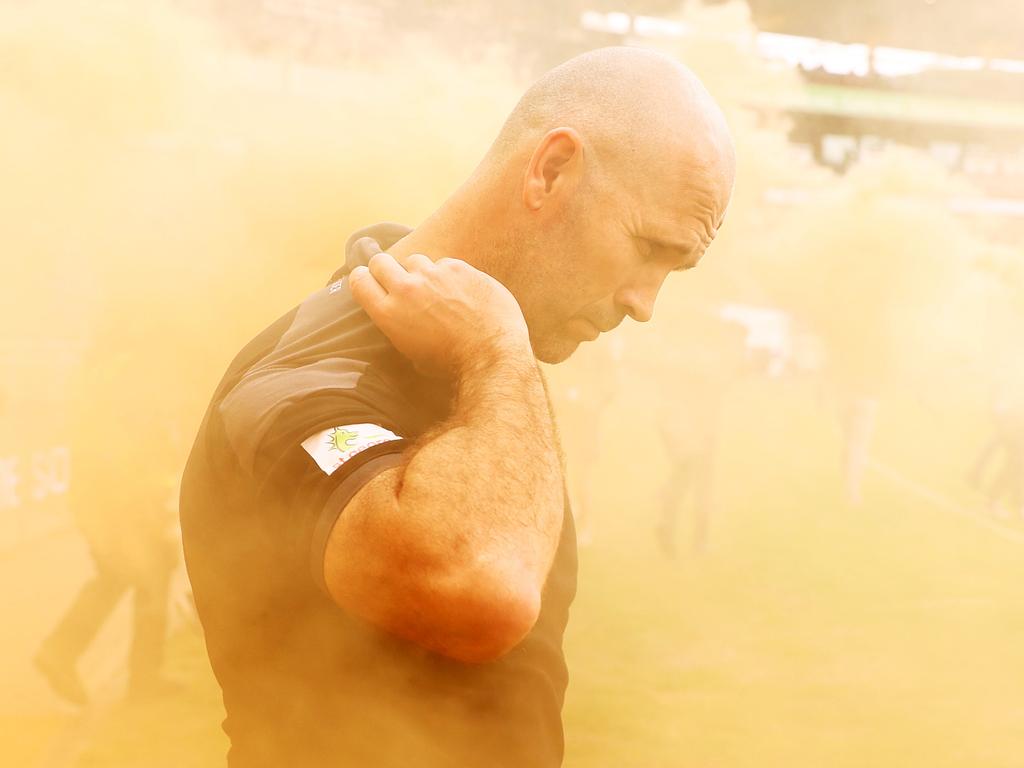 McVeigh stepped into the coaching role when Leon Cameron resigned in May. Picture: Matt King/Getty Images
*****
Belief of an upset remains palpable in the final term despite the injury toll. Hird remarks – with six minutes remaining, the Giants pressing, and the Bulldogs holding a 19-point lead – that "we've got plenty of time".
The GWS brains trust responds quickly to Luke Beveridge's deployment of a spare man behind the ball, denying the Dogs a numerical advantage.
However, Josh Dunkley's goal with a tick over four minutes remaining is unofficially the end of the contest. A very brief moment of hushed silence grips the GWS coaches' box, confirming as much.
McVeigh instantly refocuses, demanding another goal while urging his side to finish strongly. Greene slots his seventh goal and comes close to snatching an eighth in the final minute.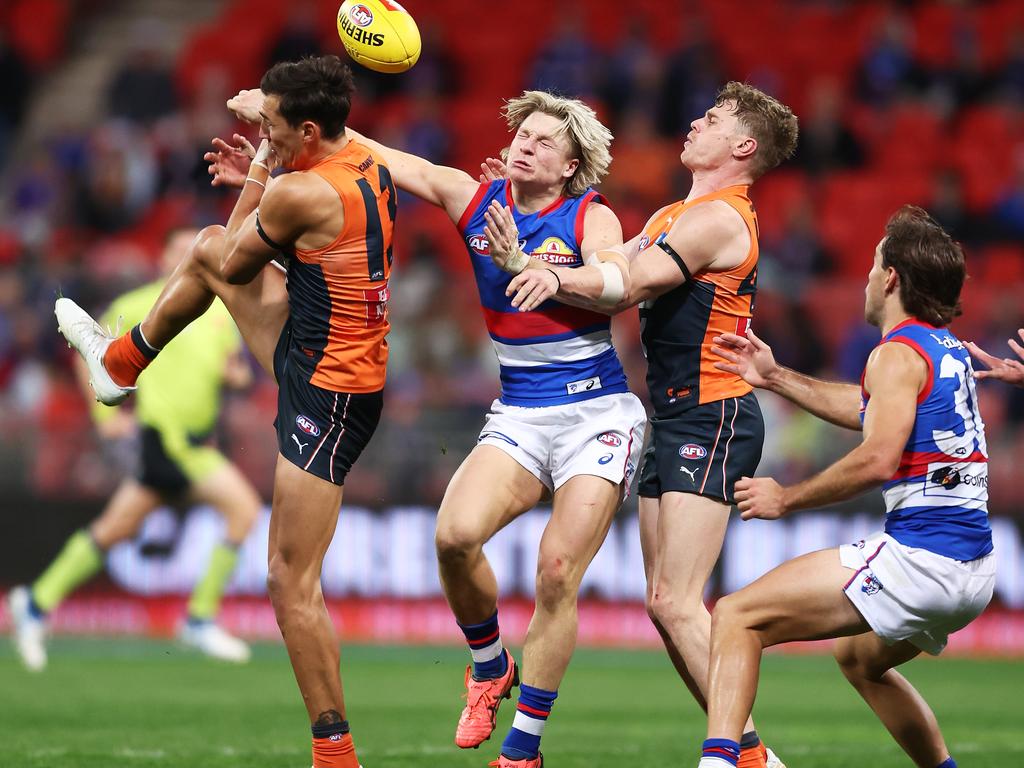 GWS briefly took the lead in the third quarter, before conceding the next five goals in a 20-point defeat. Picture: Matt King/AFL Photos/Getty Images
"Plenty to work with – 105 points (scored), three blokes down," McCartney says as the final siren sounds, prompting everybody to draw breath after a 20-point defeat.
McVeigh debriefs with his panel. Keeffe's dogged attempt to fill the void of Preuss despite very little ruck experience is praised as much as Greene's career-best haul.
Soon after, players shuffle into the room for McVeigh's final address of the night.
The coach's tone is upbeat, highlighting how many players gave everything but fell short. The initials 'TG, ST, LK, AK, SC, TG' are scrawled on the bottom of a whiteboard featuring some key pointers.
McVeigh cycles through the efforts of Greene, Sam Taylor, Keeffe, Kennedy, Coniglio and Green, explaining why he singled them out while urging the entire team to not get despondent.
"Stay up and about. I'm really proud of you for pushing them. Now let's get back to our DNA around contested ball and tackling," McVeigh closes.