Hall of Fame: Brent Harvey, Matthew Pavlich and Mike Fitzpatrick named in 2022 class
Brent Harvey, Matthew Pavlich and Mike Fitzpatrick. Three greats on the game. Here are their stories as they become part of the Australian Football Hall of Fame.
It is one of the biggest nights on the AFL calendar – the Australian Football Hall of Fame.
And this year's crop is as star-studded as they come.
Find out what made Brent Harvey, Matthew Pavlich and Mike Fitzpatrick champions of the game and how they reacted to the incredible honour.
Watch every blockbuster AFL match this weekend Live & Ad-Break Free In-Play on Kayo. New to Kayo? Try 14-Days Free Now >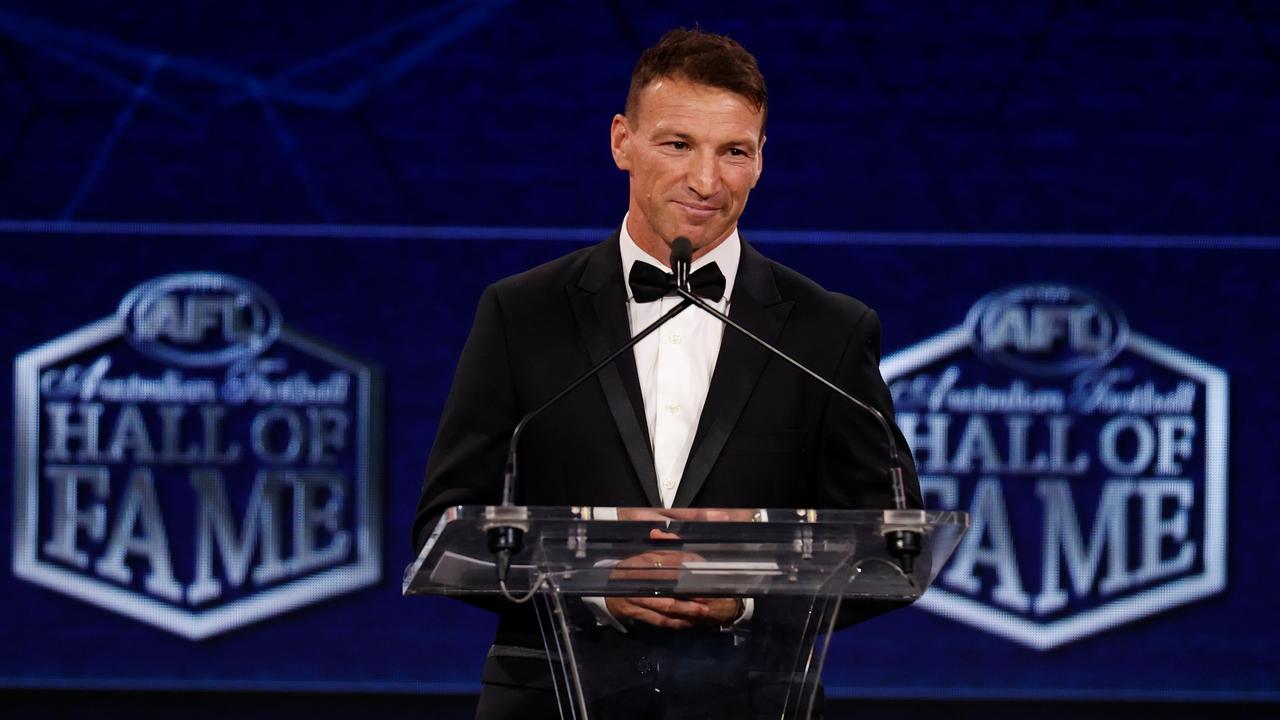 Brent Harvey speaks during his induction into the Australian Football Hall of Fame. Picture: AFL Photos/Getty Images
Call him, 'AFL-games-record-holder Brent Harvey'
—Glenn McFarlane
If footy records are meant to be transitory, North Melbourne champion Brent 'Boomer' Harvey might yet prove the exception to the rule.
Harvey's resilience in playing 432 games for North Melbourne across 21 seasons in the famed No. 29 stands as one of the more remarkable VFL-AFL achievements.
To put that into perspective, Fremantle's soon-to-be 37-year-old David Mundy would need to play on for three more seasons to challenge it.
Collingwood's Scott Pendlebury (34) and Geelong's Joel Selwood (33) would need to play another three and a bit seasons uninterrupted to have a chance.
It's a record that Harvey remains immensely proud of and it's almost become an extension of his name in any introduction he receives.
He's not just Brent Harvey and hasn't been that since he overtook Hawthorn great Michael Tuck in his final season of 2016.
He's 'AFL Games Record Holder Brent Harvey'.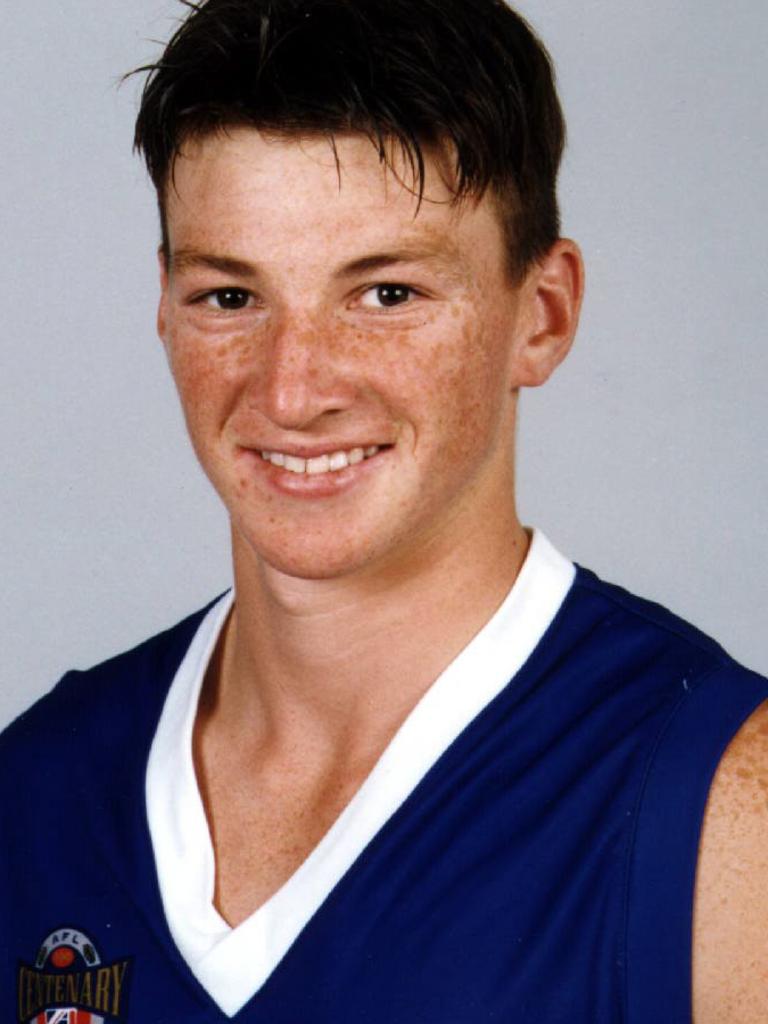 The early days.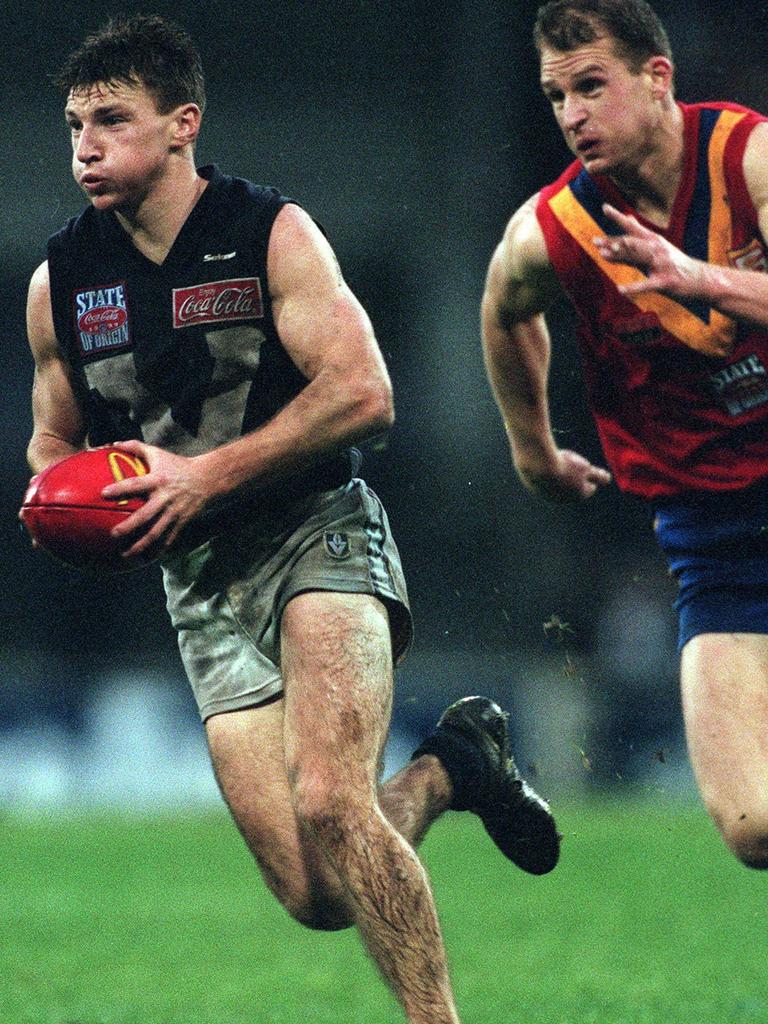 Harvey made an early impact in State of Origin.
After Tuesday night he can add another moniker and that's AFL Hall of Famer Brent Harvey, with the 44-year-old fittingly elevated in the Australian football Hall of Fame in his first year of eligibility.
"It (the Hall of Fame) wasn't something I had really thought about; I didn't know how long you had to be out of the game for," Harvey told the Herald Sun.
"But when you get the phone call (from AFL chairman Richard Goyder) and you do a bit of research about who is actually in it and the legends who have been a part of it, you realise how special it is. I am very humbled to have my name on the list."
Harvey credits his genes, some good fortune and the North Melbourne Football Club for his countless achievements in football which include a premiership (1999), five best-and-fairests, four All-Australian blazers, an EJ Whitten Medal, a Jim Stynes Medal and captaincy of his club at AFL level and his country at International Rules level.
Boomer the man and the player. Picture: AFL Photos/Getty Images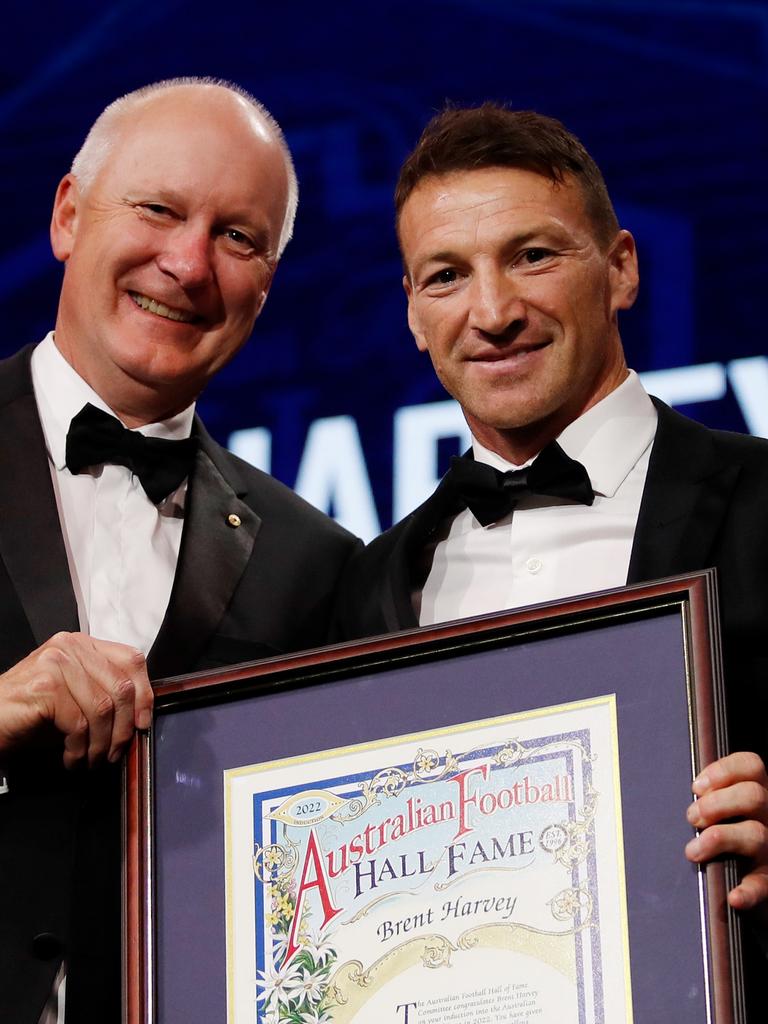 AFL chairman Richard Goyder inducts Harvey into the Hall of Fame. Picture: AFL Photos/Getty Images
The genes part is simple. He got his work ethic from his mum, Debra, who helped to bring up her siblings before having her own kids.
His love of football and competitiveness stems from his father, Neil, who is still playing cricket for Olympic Colts at the ripe age of 69.
Harvey is still playing too, at 44, with North Heidelberg when his schedule with North as a development/goalkicking coach doesn't clash with the Northern Football League fixture.
Boomer fell through the floorboards of a neighbour's home when he was a toddler. He was found crying, but somehow with the footy he was carrying still in his hands.
He has barely had a footy out of his hands ever since.
"I still love the game," he said. "Ask anyone, I am probably one of the biggest competitors. I love that part of it."
His connection to the Kangaroos is as strong as ever, despite the club prematurely calling time on his playing career in late 2016 when most people – including himself – felt he had more to give.
He couldn't be more thankful for his former teammates and all of his coaches and assistant coaches in his time.
"I got there (at Arden St) when I was 17 years of age," he said, recalling how his former coach and mentor Denis Pagan joked they had selected a jockey as he weighed in at 64 kilos.
"I played there for 21 seasons and it is funny that people still say to me 'Mate, you could have played one or two more years'. My reply to them was 'I am happy with the 21 years I got, and not the one year I didn't get'."
"Do I think I could have gone on? Yeah, I think my form suggested I could have gone on for another year, no doubt. But it sits fine with me. I know how footy clubs work. (Then coach) Brad (Scott) was under the pump, we had an ageing list and we couldn't get into the finals.
"But I was back working at the club the next year. I still work there. I love the footy club and owe it so much. Everything I still do today is because of the North Melbourne Football Club."
Brent Harvey is the AFL's games record holder. Picture: Alex Coppel
The night before Harvey's AFL journey started, he took a phone call from Fitzroy. They told him they would likely draft him with a pick in the 30s if he was still available in the 1995 national draft.
He was still available, but the Lions chose Nigel Credlin – who didn't play a senior game – instead at pick 32.
Fifteen picks later, the Kangaroos chose a shocked Harvey at pick 47, even though they weren't one of the 10 clubs who had spoken to him.
"I got a phone call from Denis Pagan 15 minutes after the draft and he said: 'Congratulations, son, we have Saturday morning training at The Tan, but it's up to you if you want to come'."
"I am glad I went as it was one of those little tests Denis puts you through.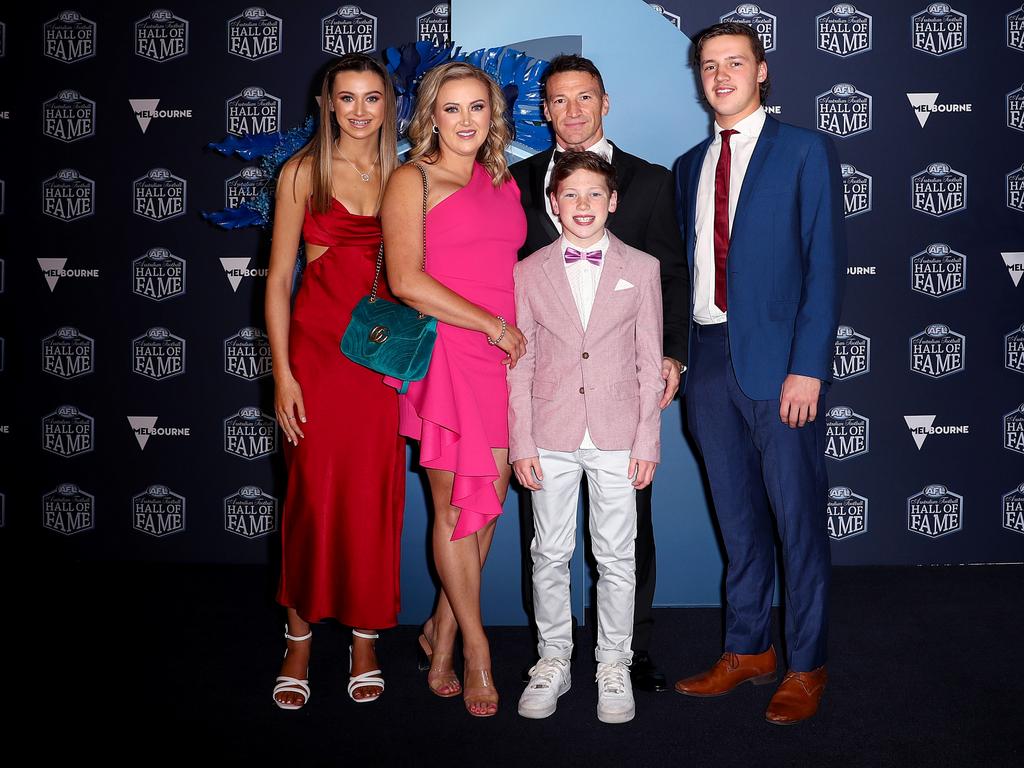 Harvey with his family at the ceremony. Picture: Getty Images
"I went the next day and you had Wayne Carey, Glenn Archer, Anthony Stevens, Mick Martyn, Craig Sholl, Wayne Schwass and Darren Crocker there. They were legends."
The kid from Reservoir High School had one disposal – a handball to David King – in his debut AFL match in 1996 before having another 9212 touches across the rest of his career.
In his fourth season he played in the Kangaroos' 1999 premiership side – his 64th game – in a year in which he was not only a late call-up for the Victorian State-of-Origin team, but he also won the Whitten Medal on the weekend of his 21st birthday.
"I think that state game was a bit of a coming of age for me," he recalled. "I was lucky enough to get on the end of a few and win the medal.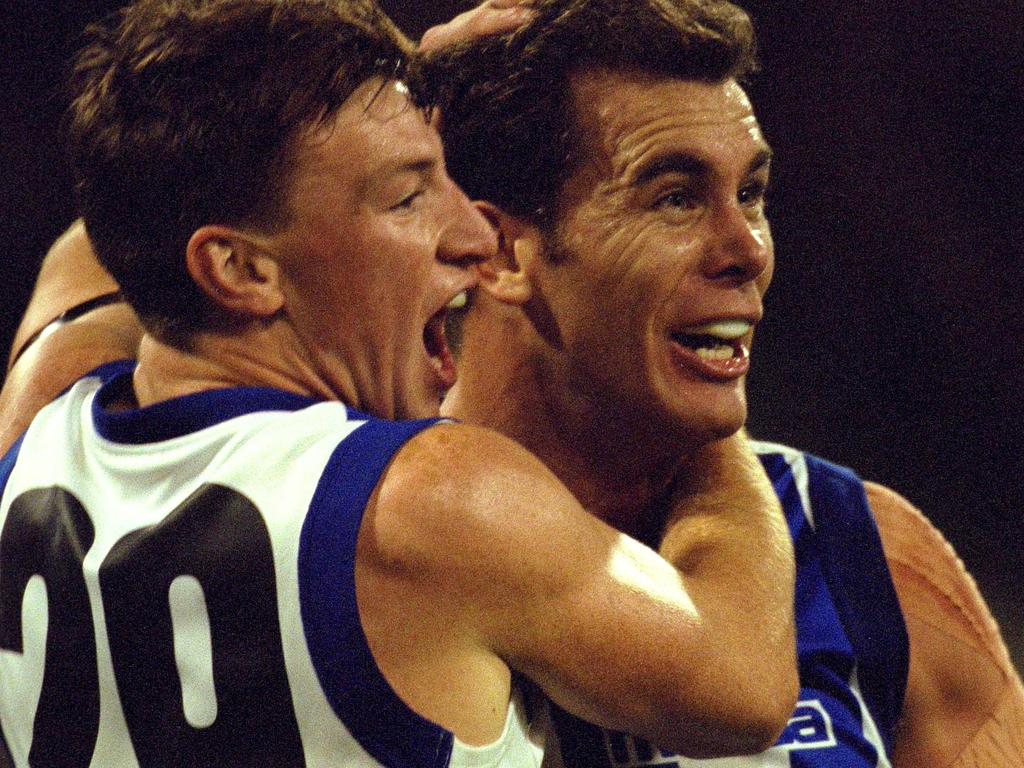 A young Brent Harvey with Wayne Carey in 2000. Picture: Hamish Blair
"That's when I found that the opposition teams started to go 'Hang on, we are going to have to watch the kid a bit more closely'. They started to put a bit more pressure on me."
Harvey said continuity was the key to his success. He trained every session he could.
"The way I worked hard, I knew that come halfway through the third quarter when the 'you know what' was hitting the fan, I would be OK," he said.
"When I grabbed my shorts and leant over and when he (his opponent) grabbed his shorts and leant over, I felt I could say 'I reckon I have got this bloke'."
Invariably, he did.
Leaving aside the premiership, Harvey's proudest on-field moment came early in the 2010 season when the critics first started to wonder if age had caught up with him. He had only five disposals against St Kilda – the week after his nanna passed away.
"I don't even know how old I was at the time (he was 31), but they (the critics) were saying 'He is done, it is time for Boomer to move on'.
Harvey responded a week later with a career-best 44 disposals (and he also kicked arguably 'the point of the century') against West Coast, pocketing the three Brownlow votes and making his critics eat some humble pie.
It wouldn't be for the last time. Harvey would go on to play exactly 150 more games after that in a career defined by his class, his will to win and his passion for the club he still loves to this day.
Matthew Pavlich accepts his induction into the Hall of Fame. Picture: AFL Photos/Getty Images
Why Pav never left the Dockers
—Scott Gullan
Matthew Pavlich's moment lasted less than 30 seconds.
The Fremantle great was on a family holiday to Rottnest Island when he got the phone call which momentarily transferred him back to the days when he was running around as captain and resident superstar of the Dockers.
On the line was AFL Commission chairman Richard Goyder which for most would be a complete surprise. Not Pavlich, the league supremo was a family friend so he figured it was a social call.
"I was sort of wondering if maybe we were catching up or something as I use him as a bit of a mentor," Pavlich recalls. "It was funny because we were chatting and then he said, 'Oh, by the way there's another reason for the call'."
And what Goyder had to say was that Pavlich was to become the second Fremantle player to be inducted into the AFL Hall of Fame, following on from Peter Bell in 2015.
"It sort of took me by surprise, I was looking over Geordie Bay and I just had a little moment of reflection by myself. It was a nice moment to reflect, I don't really know what the emotions were, frankly it was more just 'Oh, that's nice'.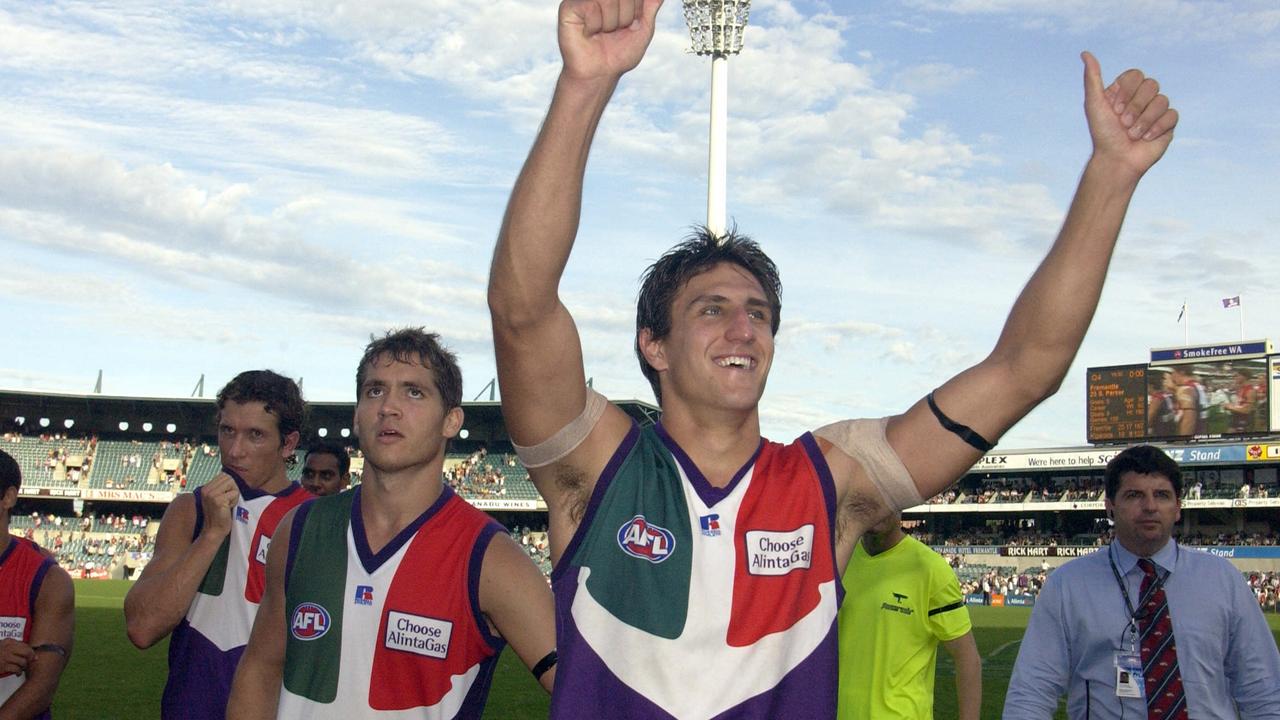 A young Matthew Pavlich in his early years at the Dockers.
"And then one of the kids quickly thereafter came in and said 'Dad, can we play cricket?' It was a moment lost. You don't play for these things but when they come around it's a great time to reflect on your own journey but also the people who have helped you along the way."
Pavlich arrived at Fremantle from Adelaide with great expectations already on his broad shoulders given he was taken at No. 4 in the 1999 national draft.
In his first three seasons he had three senior coaches which said a bit about the train wreck he'd walked into.
"It was pretty full-on, that's an understatement," he says. "Eight wins in the first year, two wins in the second and then we started to grow that young list, nine wins in 2002 and into the finals with 14 wins in 2003.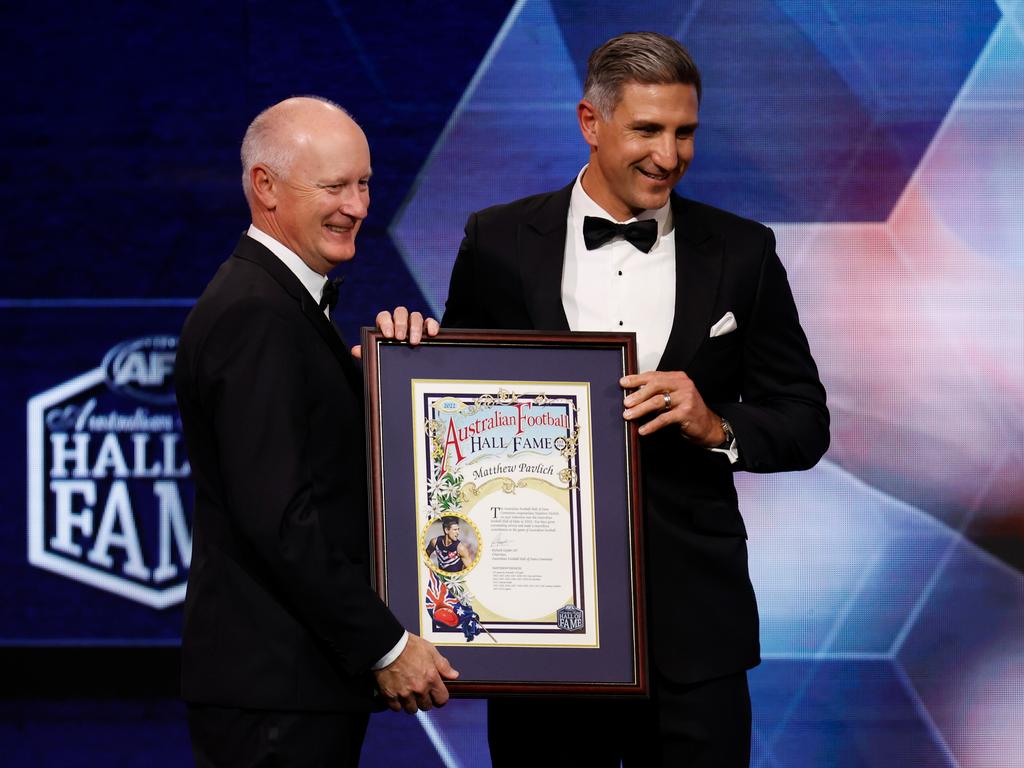 AFL chairman Richard Goyder presents Pavlich with his Hall of Fame plaque. Picture: AFL Photos/Getty Images
"It was a pretty rapid rise but there were plenty of low lows as well, 2001 was pretty brutal."
It was around this time that Port Adelaide came knocking with a big fat cheque to lure one of the game's most exciting players home.
"I had opportunities to go to Melbourne to a couple of the big clubs and opportunities to go to the Gold Coast as well," Pavlich said. "It's not as if those things didn't happen quite regularly but that one (Port Adelaide) was big as it came after the first two or three years of my career.
"They were really at opposite ends of the ladder, Port and Freo in that early 2000s period. It was a challenge to stick to the plan at Freo and stay the course. It was a massive call at the time."
By this time Pavlich was already an All-Australian – an honour he would achieve another five times throughout his 353-game career.
He is a regular point of reference when debate about positional spots in the All-Australian team is brought up every year given in 2002 he was named at fullback and then the following year on a half-forward flank. In 2005 he was the All-Australian centre half-forward.
"I always had that (versatility) when I was growing up I sort of played forward, back and midfield, so I always had all of those things in my kit bag," Pavlich said.
"This is a little bit about growing up with the club. I was sort of plugging holes, unfortunately in some ways, being kind of asked to do lots of different roles.
"I was happy to do them and it does help your own game in some ways having that variety in your game … but being asked to play on the likes of Matthew Lloyd, Matthew Richardson and Alistair Lynch, all of those guys at a young age and then be asked to play a midfield mid-forward role the year after.
"Then two years after that they say, 'Nah we're going to settle you at centre half forward'. It was a deep learning of the game. Firstly, you get great empathy for all the different positions and why every role is so important.
"And you quickly get up to speed on how to play."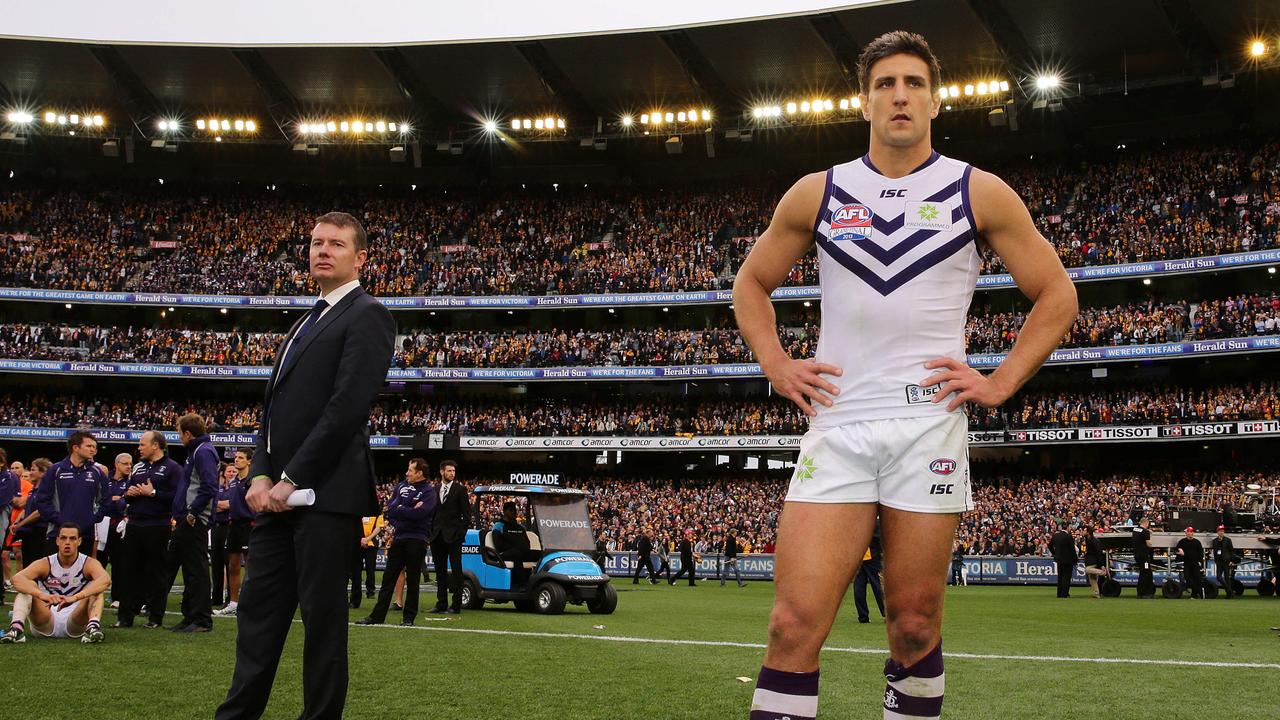 Matthew Pavlich on the MCG in the moments after the Grand Final. Picture: George Salpigtidis
He certainly figured that out, becoming one of the best power forwards the game has seen with 700 career goals. His fondest memories are of the important finals games throughout Fremantle's history
The 2012 elimination final win over Geelong at the MCG was significant and then the infamous qualifying final win over the Cats at Kardinia Park in 2013 which set the Dockers on the path to their one and only Grand Final appearance.
"A lot of guys slipping over," is Pavlich's initial memory of the 2013 GF loss to Hawthorn.
"We kicked 14 points and a whole bunch out on the full, particularly early we couldn't hit the scoreboard. I think when you objectively look at it, what did we lose by, 15 points? Lots did go right because it was that close but not a lot went right when you think about it.
"To be two kicks away effectively and not be at our best was disappointing. The other disappointment was 2015 when we finished on top of the ladder and got the two home finals including the home prelim, the problem was we were banged up.
Pavlish addresses the star-studded crowd at the Crown Palladium. Picture: AFL Photos/Getty Images
"At the end of the year all our key guys, including myself, Luke McPharlin, (Nathan) Fyfey and a number of others … with a home prelim you want to make those opportunities count but unfortunately we didn't."
Pavlich and Fremantle effectively grew up together and it's fitting that when he's honoured for his extraordinary piece of work the Dockers are a legitimate premiership chance.
"The more deeply I became invested emotionally with the club, with our team and with our supporters, the more deeply all of those became invested in me," he said.
"We weren't perfect, we didn't have our end sort of crescendo, unfortunately but we grew up together and as I developed and matured so did the club.
"At the end of it all I was certainly a much different person from when I got there, matured a lot and I think the club did as well."
Mike Fitzpatrick on the Hall of Fame dais. Picture: AFL Photos/Getty Images
How Oxford University changed Fitzpatrick
—Jon Ralph
Mike Fitzpatrick left for the Oxford University study trip that would change his football and professional life with a broadside from his landlord ringing in his ears.
Fitzpatrick's first foray into VFL football after his star turn as a Subiaco ruckman had been full of promising moments in a 27-goal season he had spent boarding with Carlton identity Leo Brooks.
The grandfather of crime figures Jason and Mark Moran and father of Judy Moran was an old-fashioned scallywag who was prepared to call a spade a bloody shovel.
As Fitzpatrick left for the Rhodes scholarship that would see him play only 14 games between 1976-78, Brooks gave him a salty piece of advice.
"I had put together a reasonable first year with decent Brownlow votes but I had a poor finals series. I packed my bags and Leo said, 'Look, it's been nice having you stay at my place and it's been a lot of fun but look, when you come back from Oxford, why don't you deviate from South Africa on the way back to get a heart transplant,'" Fitzpatrick said this week.
Those Oxford years for Fitzpatrick were seminal to the professional journey that would eventually see him become a wildly successful businessman and AFL Commission chairman from 2007-2017.
But those life-changing years also saw Fitzpatrick rowing for Oxford as well as playing the rugby union he believes toughened him up as a footballer.
He had arrived at Carlton having signed a five-year deal that would allow him those three years overseas, returning over the northern summer break in 1976 to play 12 games then two more in the back-end of 1978.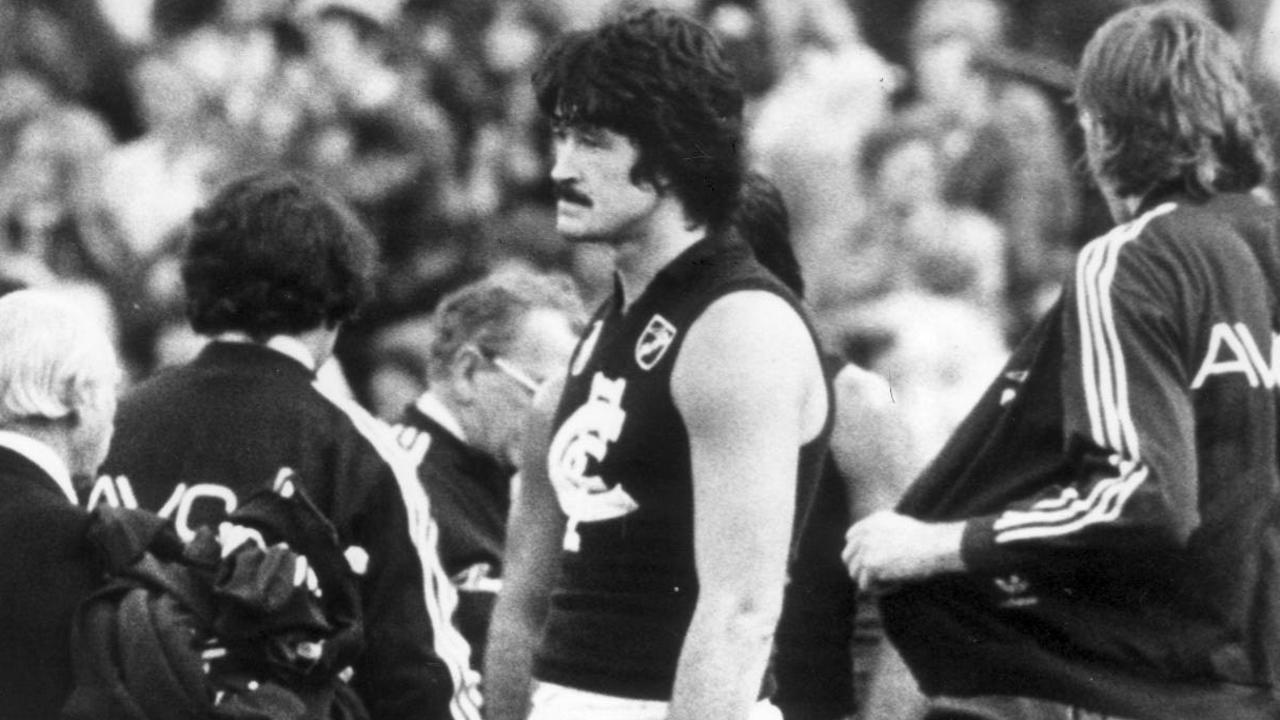 Mike Fitzpatrick had an interesting start to his time at Carlton.
But the Fitzpatrick who returned to take all before him as a Carlton captain and triple premiership ruckman (1979, 1981, 1982) was a different player to the one that boarded the plane.
Fitzpatrick is now a Hall of Famer after a career that includes 97 games with Subiaco (with two best-and-fairests and the 1973 premiership) as well as exactly 150 games and 150 goals with Carlton including the 1979 best-and-fairest.
As Fitzpatrick told the Herald Sun, those Brooks comments and his rugby union dalliance forged a more competitive, ruthless player just in time for the battles across those three premiership seasons.
"I always jokingly say (the time in Oxford) cost me a Brownlow but when I came back the rugby union had really toughened me up," he said.
"The emphasis on tackling and the really strong body commitment to the ball. I gained a lot that arguably I wouldn't have if I was five years into my VFL career.
"I always enjoyed the contest but being prepared to really commit consistently for four quarters at that upper level of physicality, it is difficult to sustain. But as you get older you can do it. You have this time around 25-29 where, if you are in good nick, you really should play your best footy."
In 1978 Fitzpatrick had returned from Oxford mid-year and after being five minutes late to a meeting was banished to the reserves for the rest of the year by ruthless captain-coach Alex Jesaulenko.
"We had a monster pre-season under Jezza. Fundamentally if things went wrong someone had to take responsibility. He was very big on accountability. So the guys got tired of doing 40 push-ups for everything. If we didn't win on a Monday night it was a horror running session. Ten 100s, 10 200s, 10 400s and so on. So we were basically scared to lose.
"Jezza had an inherited a lazy team by that stage and he needed something to give them a jolt."
It was a standard 'Jezza' would drive all the way to the 1979 premiership against arch rival Collingwood, with Fitzpatrick winning the best-and-fairest for the only time.
In June of that year Collingwood's Stan Magro famously hospitalised Jesaulenko as he went back with the flight and as tempers frayed and fists flew, Carlton stormed back to win in a 45-point turnaround in front of 46,106 fans at Princes Park.
"Magro just hit Jezza with an elbow while he was in the air. He whacked him and there was a big fight but for that team it just seared them together," said Fitzpatrick of that incident.
Three months later Carlton were premiers after Wayne Harmes' heroics, and yet when Jesaulenko resigned in protest at president George Harris' removal, it was Fitzpatrick who would emerge as the new Blues captain.
By 1981 David Parkin was in charge, with the Blues atop the ladder entering their round 20 clash against an Essendon side with 13 wins on the bounce.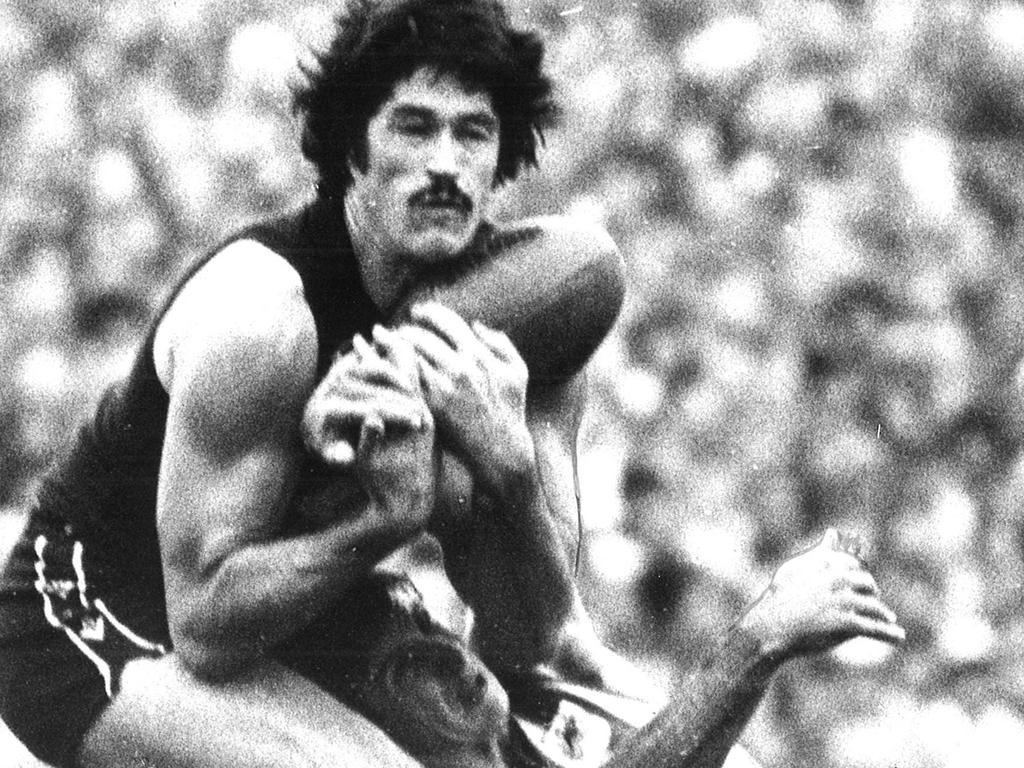 Mike Fitzpatrick returned to Carlton a different player.
With Carlton 13 points up and holding off a charging Essendon, Fitzpatrick attempted to run down the clock deep in defence.
He is still remembered for what happened next, as umpire Ian Robertson penalised him for time wasting.
The resultant free kick was only a point but in the chaos Neale Daniher's pair of late goals dragged Carlton over the line.
Fitzpatrick is still far from amused.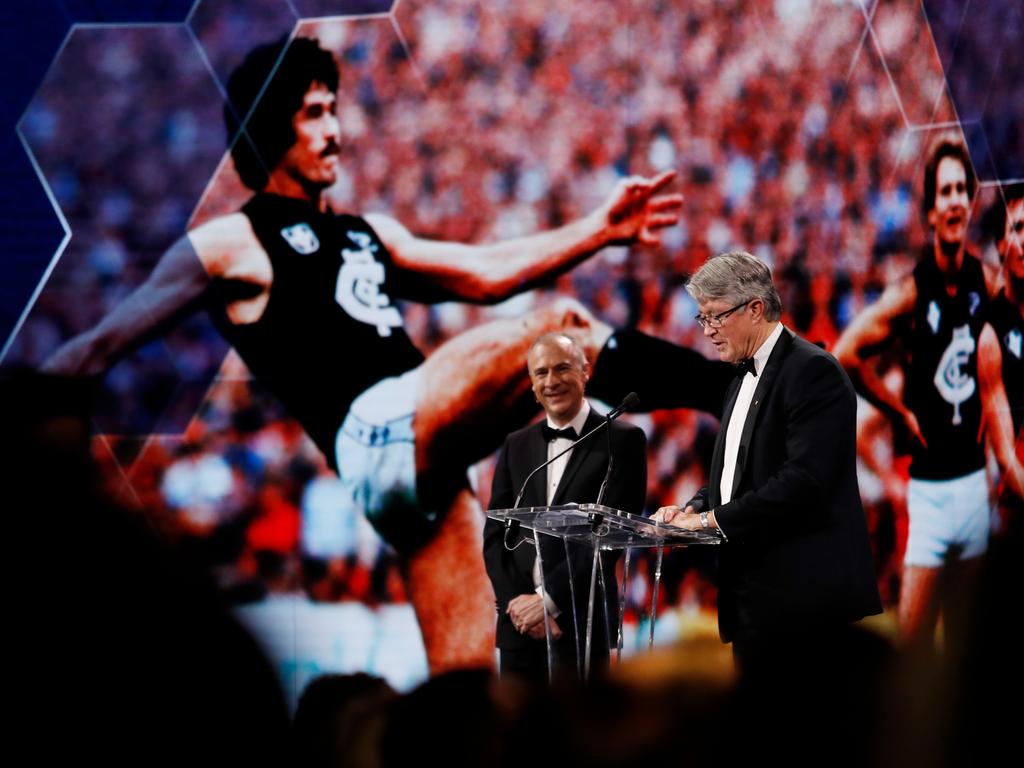 Fitzpatrick, then and now. Picture: AFL Photos/Getty Images
"Well it should have been 'play on'. I think I was holding it for about a minute and I knew it was late in the game. There was a lead out onto the left-hand side but it was covered.
"Sellers (Mark Maclure) made some leads but he had a pretty bad day, so by the time I went for the third option, Robertson came up and took the ball off me. I was reasonably angry about that. I keep saying to the detractors, 'Yes, but we won the flag that year'. But they don't care."
The third premiership followed in 1982 against Richmond – Fitzpatrick kicked two goals and was named in the top handful of players – as Parkin's genius came to the fore.
"We were in trouble at the 20 minute mark of the third term, we were 20 points plus down and kicked a couple of goals in time on and Parko gave one of his best speeches ever.
"He said they are starting to crumble, they are starting to tire. If you pressure them hard they will fold. And he convinced us they were much more vulnerable than they actually were."
Mike Fitzpatrick as a Blue.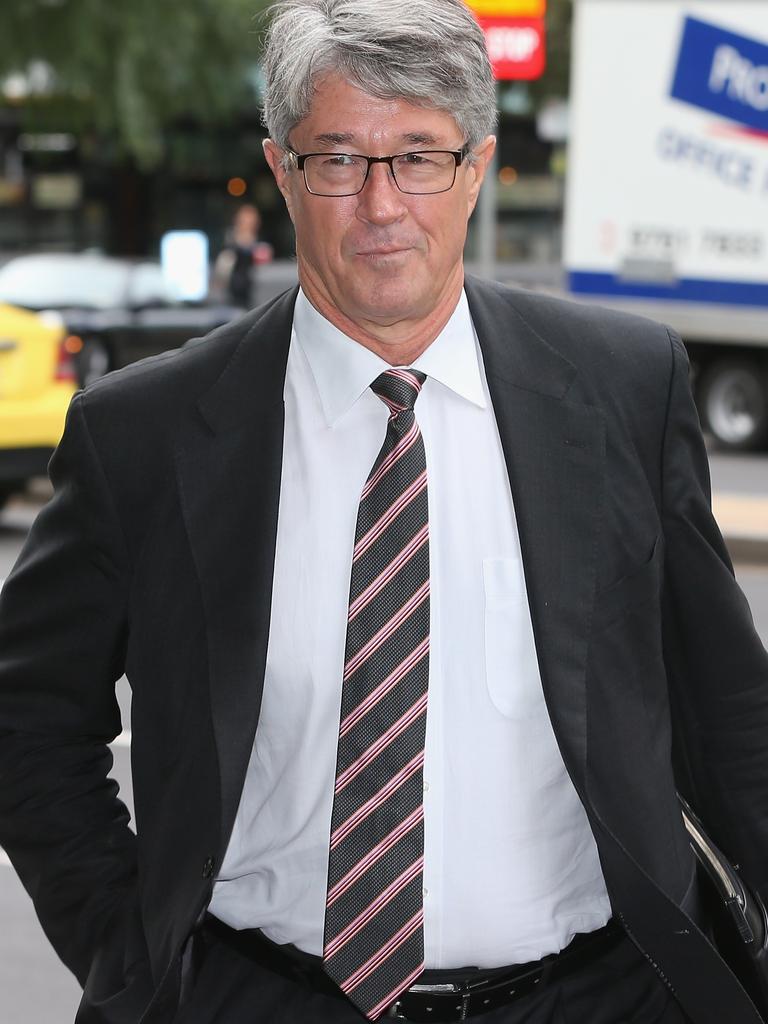 Mike Fitzpatrick would go on to become AFL chairman.
Fitzpatrick broke his ankle in the final minutes of that Grand Final and delayed ankle surgery by six weeks then finally went under the knife in an operation that saw him miss the first six weeks of the season.
He returned by his own admission with a yard less spring and a yard less pace and his career was over at 30 as he turned his mind to business.
The AFL came calling first with an AFL Commission seat and then as Ron Evans' replacement from 2007 to 2017.
He declines to discuss that period, aware of the headlines that would likely overshadow his on-field deeds on a night where both his football and commission service is recognised.
But for every headline – the AFL's conduct in the Essendon saga, his screaming phone call with Sydney's Richard Colless when Lance Franklin headed to the Swans – there is a significant legacy piece.
The introduction of AFLW, the expansion to 18 teams including Gold Coast and GWS, the purchase of what was then Etihad Stadium and the huge financial growth of the league are among the achievements that make him a titan of the AFL industry.
Originally published as Hall of Fame: Brent Harvey, Matthew Pavlich and Mike Fitzpatrick named in 2022 class