'He clearly hadn't seen a game': Prime Ministers and the AFL
Through every election campaign, politicians are keen to prove their relatability by posing with footballers. Some AFL greats share stories of their brushes with the top office.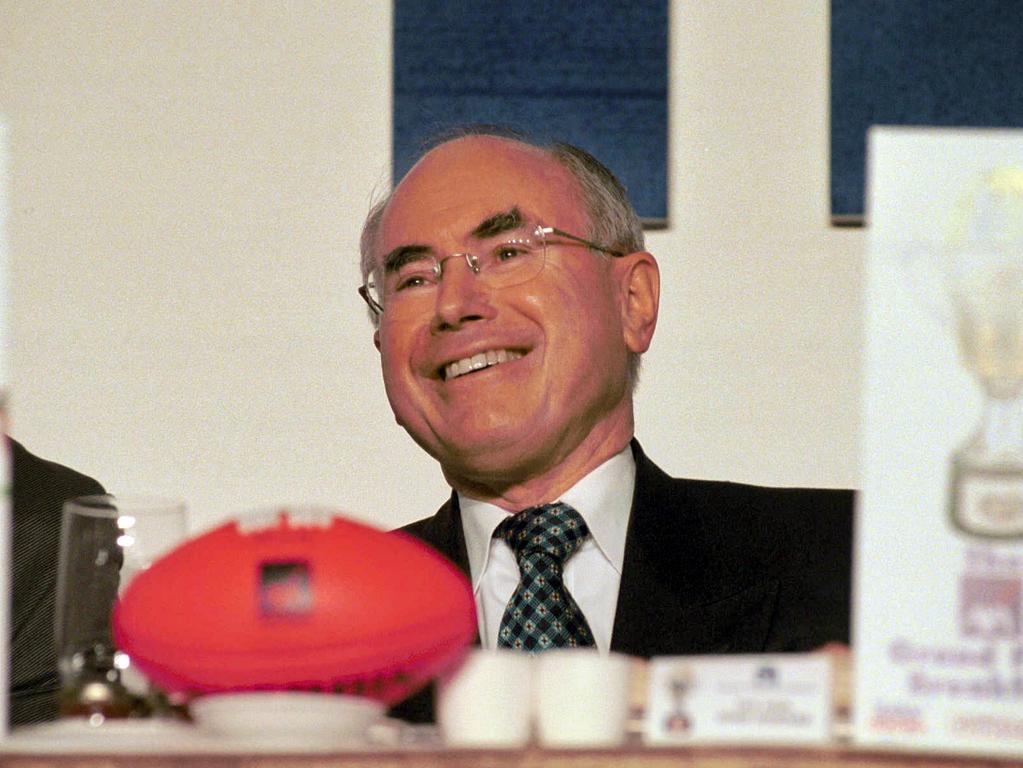 A rugby union and league man at heart, Prime Minister John Howard was often spotted at AFL matches through his 11-year tenure in the top job. Picture: Rob Leeson/News Corp Australia
Australia has only had 30 Prime Ministers (perhaps soon to be 31) across the more than 12 decades since Federation. Strangely enough, Rodney Eade has met four of them.
Through a football life that has taken him from Tasmania to Victoria to Queensland back to Victoria to NSW back to Victoria and back to Queensland again, it's not surprising the former Hawthorn dasher and coach of the Swans, Bulldogs and Suns has come across a lot of people, including plenty of dignitaries. He met the Dalai Lama, and Tom Cruise, but curiously enough his relationship with Australia's 30th Prime Minister had very little to do with the AFL, the Cronulla Sharks, or even politics.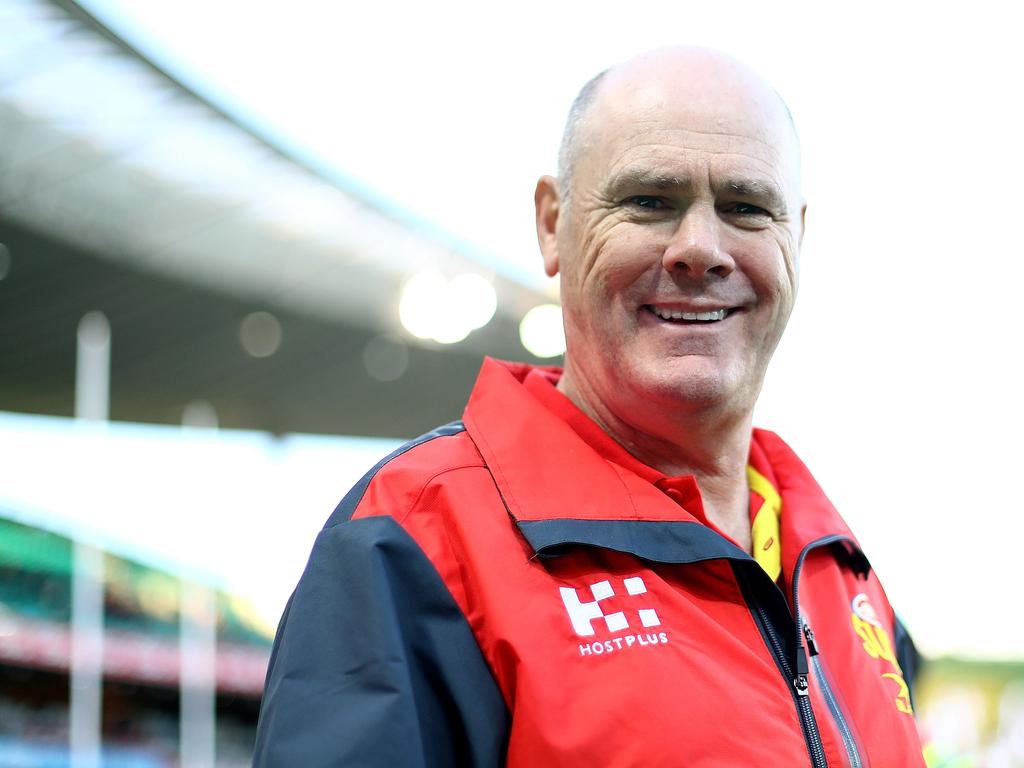 Rodney Eade has met four of the past five Prime Ministers, through his coaching roles at the Suns and Bulldogs. Picture: Ryan Pierse/Getty Images
"I met Scott Morrison before he entered politics," Eade says, when asked about crossing paths with various PMs over the years.
"His wife was a friend of a lady we lived next door to in Sydney.
"So my wife knew Jenny. I had dinner with Scott a couple of times in the late 90s."
As they say in high school, that's pretty random.
Next came John Howard. It was September 2004. Eade had just been appointed coach of the Dogs, and Howard was seeking a fourth term in office. The Liberal Party pledged to pump in money to fund the refurbishing of Whitten Oval, which had seen better days.
"He was giving some money for the redevelopment. John was a Sydney person so he didn't follow football that much," Eade recalls.
John Howard paid a visit to Whitten Oval in 2004. Picture: John Feder/News Corp Australia
The third in the cavalcade of Eade's Prime Ministerial chums was the one whose footy bona fides were the clearest. Julia Gillard made no secret of her passion for the Dogs, and the ALP were more than happy to promote their leader's love for the club. Gillard got on famously with Barry Hall, and even sung the Dogs' song with the team after a win in 2010.
"I met her a few times at the football," Eade says.
"She was quite passionate about the Bulldogs and seemed a very nice person.
"She knew a bit about the history of the club and football in general. She liked the team winning. She seemed to be across where the team was at."
Eade's most recent dabble with a PM came during his last AFL coaching stint on the Gold Coast.
"When I was at the Suns I met Malcolm Turnbull, but that was just a handshake in the rooms. He had no interest in AFL either, you could tell."
Malcolm Turnbull feigned interest in the Suns when he met with Eade. Picture: Bradley Kanaris/AFL Media/Getty Images
That a boy from Glenorchy could end up greeting four Prime Ministers speaks to the power of football's pull.
There is generally mutual benefit when political and football types pose together.
While AFL clubs need to be careful not to become overly aligned with one political party over others, they are also pretty happy to take public money for facility upgrades, which are invariably funded in part by government grants.
There's something in it too for the pollies. Federal Treasurer Josh Frydenberg, desperately trying to cling to his seat of Kooyong, leant on the supreme popularity of Bulldogs star Bailey Smith during a visit to Footscray during this election campaign, co-opting Smith to appear in Frydenberg's maiden TikTok post.
At least Frydenberg is a footy fan. A big Carlton supporter, he was spotted in the Blues' rooms after a recent win. His connection with the club is in parallel to that of Robert Menzies, who as well as being a Liberal member for Kooyong, also used to watch matches at Princes Park from a special car park inside the ground.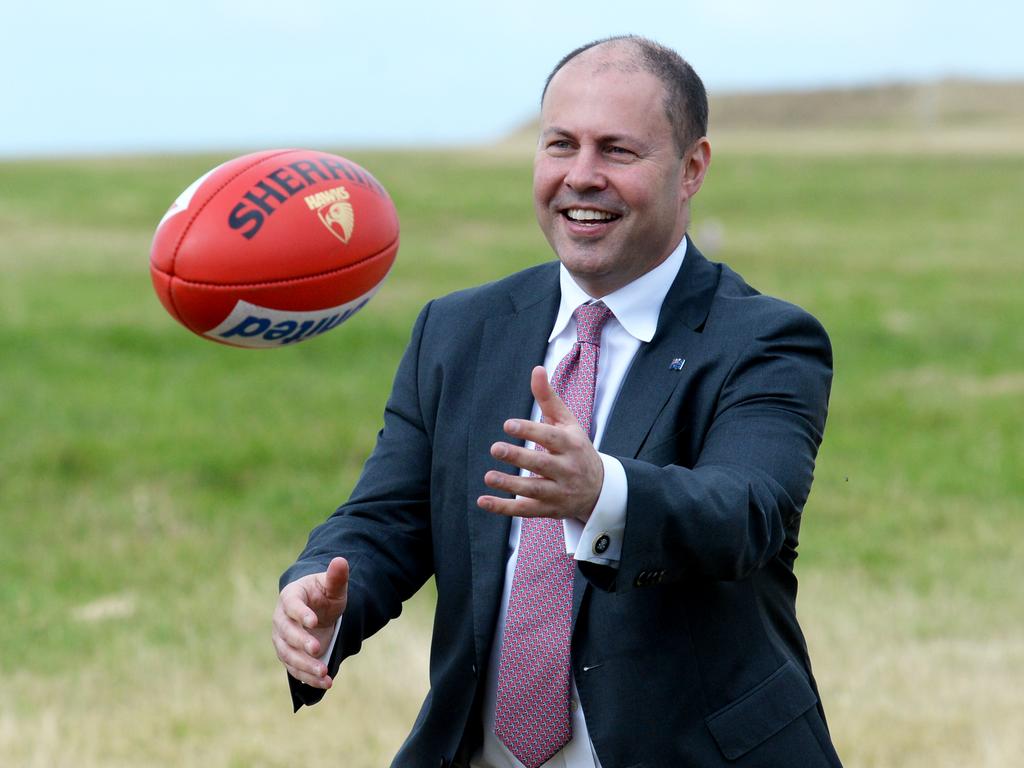 Federal Treasurer Josh Frydenberg is a long time Carlton supporter. Picture: Andrew Henshaw/NCA NewsWire
Among the more cynical partnerships of this genre came in the early 1990s, when Paul Keating, who had minuscule interest in sport generally, particularly so in the southern football code, suddenly touted himself as a dyed-in-the-wool Collingwood man.
This was a marriage of convenience, if ever there had been one.
"He did my book launch, and then he came out again when the club named a bar after myself and Shawy [Tony Shaw] at Victoria Park," Magpies great Peter Daicos says.
"I'm not sure how he ended up doing my book launch. Clearly the Collingwood PR machine must've spun the benefits of coming along to the book launch and saying some words.
"I think both parties got their little bit out of it, maybe he got a few extra votes.
"I think he was out of his depth [on footy chat]. He was pleasant, but the conversation was very general. He clearly hadn't seen a game."
Daicos, as one of the most beloved figures in the history of arguably the game's most storied club, was understandably a prime target for politicians wanting a halo effect.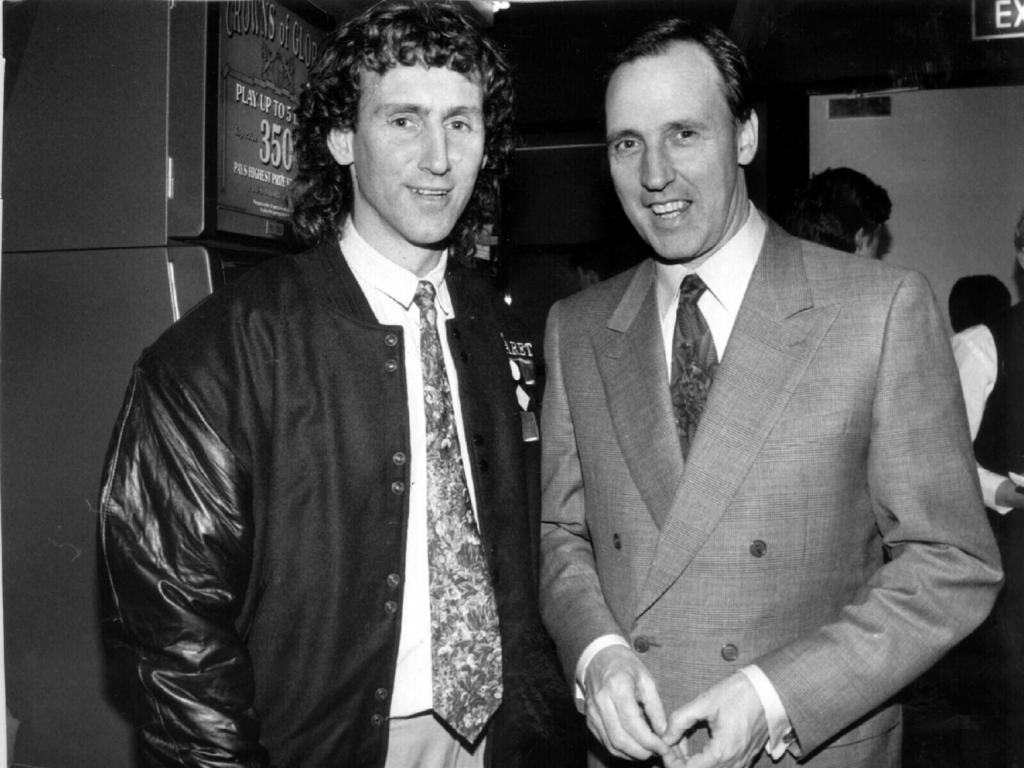 Peter Daicos met with Prime Minister Paul Keating at Collingwood Football Club in 1992. Picture: News Corp Australia
The Macedonian Marvel also met Bob Hawke and Kim Beazley, but curiously enough the biggest compliment came from Mark Latham during his ill-fated stint as Labor leader.
"Latham I met. He was being touted as the next Prime Minister when I got to meet him. He was up to speed with Collingwood, a Collingwood supporter. I was quite chuffed, he'd even mentioned that I was his favourite player."
Around five years later Kevin Rudd had become Labor's first PM since Keating, and became very excited at the 2009 elimination final, riding aboard the Brisbane Lions bandwagon and celebrating the Lions' comeback while sitting alongside AFL commission chairman and disappointed Carlton man Mike Fitzpatrick.
Kevin Rudd enjoyed the Lions' hospitality at Brisbane's 2009 elimination final match-up with Carlton. Picture: News Corp Australia
Hawthorn icon Robert DiPierdomenico, universally known as Dipper, was the type of figure who could bridge political divides. He coached a joint Israeli/Palestinian footy team, so dealing with both the Libs and Labor from time to time was nothing.
The Brownlow Medallist called on both Hawke and Victorian Premier Jeff Kennett — who would go on to become president of the Hawks – to fulfil the same task, albeit years apart.
"I was launching one of my books, I've written five of them!" says Dipper, jovial as ever.
"I'd met Bob before of course, through the traps. And he was a man's man. Loved his footy, loved his Swans.
"I rang up his office and asked him, and one thing led to another and he came and launched my book for me. It was a great day.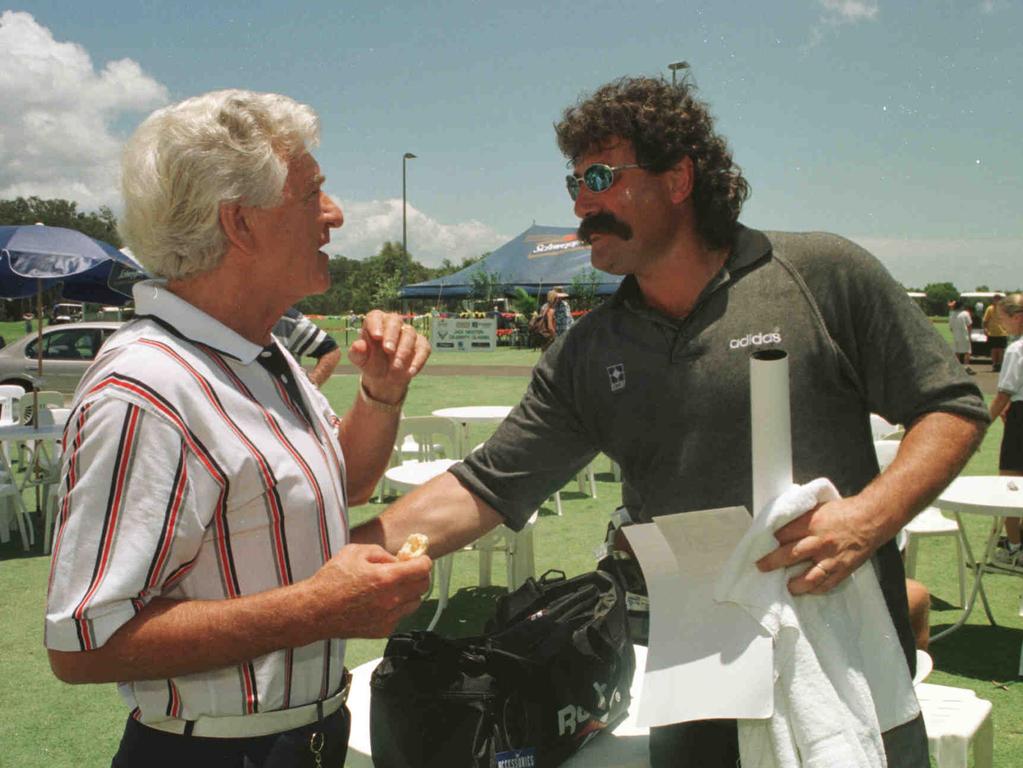 Bob Hawke met with Brownlow medallist Robert DiPierdomenico at the launch of one of his five books. Picture: News Corp Australia
"Bob was just Bob, having a beer, having a laugh, having a wine. He was just in good form.
"And when I launched another book, I got Jeff Kennett to launch it!"
Years later Dipper ventured back to his parents' homeland, where he received a civic reception.
"They put on a function for me in Italy … everyone turned up. They give you a sash. They gave me a trophy, and the trophy weighed 42 kilos!"