How $100 and one studio day created the AFL's signature theme songs by the Fable Singers
You may not have heard of John Caddy but you hear his voice every week at the footy. As one of the storied Fable Singers, he has made an indelible mark on the game, writes SHANNON GILL.
Fable Singer John Caddy at home in Ivanhoe.
John Caddy turned 86 recently, but he's anything but frail. He welcomes me into his Ivanhoe home and introduces his wife Pat with energy that belies those advancing years.
The garden and home he built decades ago still looks immaculate. A piano sits in the corner with photos on the wall of choirs that hint to his musical history.
John still looks strong and his memory is sharp as he recalls two vastly different and unrelated moments of his family's life that made their mark on the VFL/AFL.
You haven't heard John Caddy's name, but you've heard his voice. Every week at the footy.
*****
John is modest about his own football ability, but it was good enough to play in Under 18 and A Grade premierships with West Preston in the northern suburbs of Melbourne.
Footy was a family affair with his father, brothers, cousins and nephew all featuring in the 1960 premiership photo. The Caddy name is prominent in northern suburbs footy, and his great nephew Josh made it all the way to the AFL, retiring this season after two premierships with Richmond and stints at Geelong and Gold Coast.
But as competent as John was on a footy field, it was his voice that would take him to the top of the game.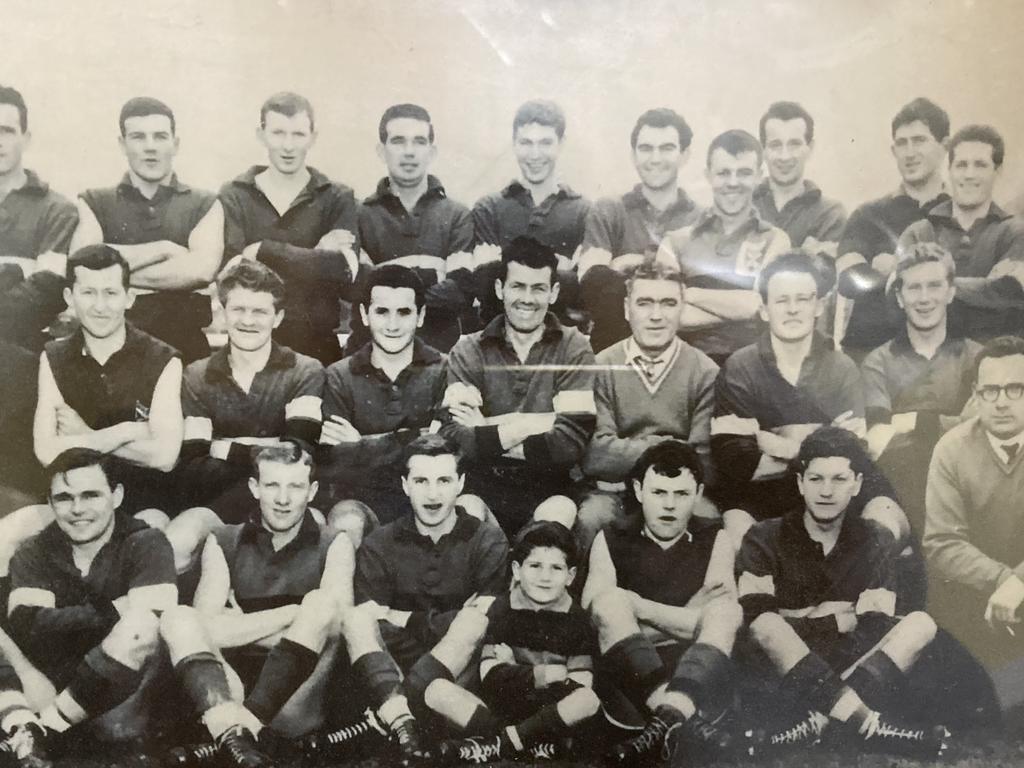 John Caddy (top row, extreme right) in West Preston's 1960 A Grade Premiership team.
John is believed to be the last remaining Fable Singer, the hastily thrown-together recording group who laid down the vocals for the then 12 VFL teams' definitive theme songs.
The same recordings that reverberate around stadiums before and after games and are imprinted on football fans' brains.
Fifty years ago, he walked into an Albert Park recording studio and history was made.
*****
As a boy John had sung in church choirs but his true talent wasn't recognised until he sang for a scholarship to the Melbourne University Conservatorium – and got it. But as good as that talent was, music wasn't something he could ever commit to full-time
"So I had lessons for a couple of years, but it was never really an option as a full-time profession. I couldn't afford to take the chance on earning money in music because I had six kids," he says.
"In the meantime, the teacher had suggested I join the St Patrick's Cathedral Choir."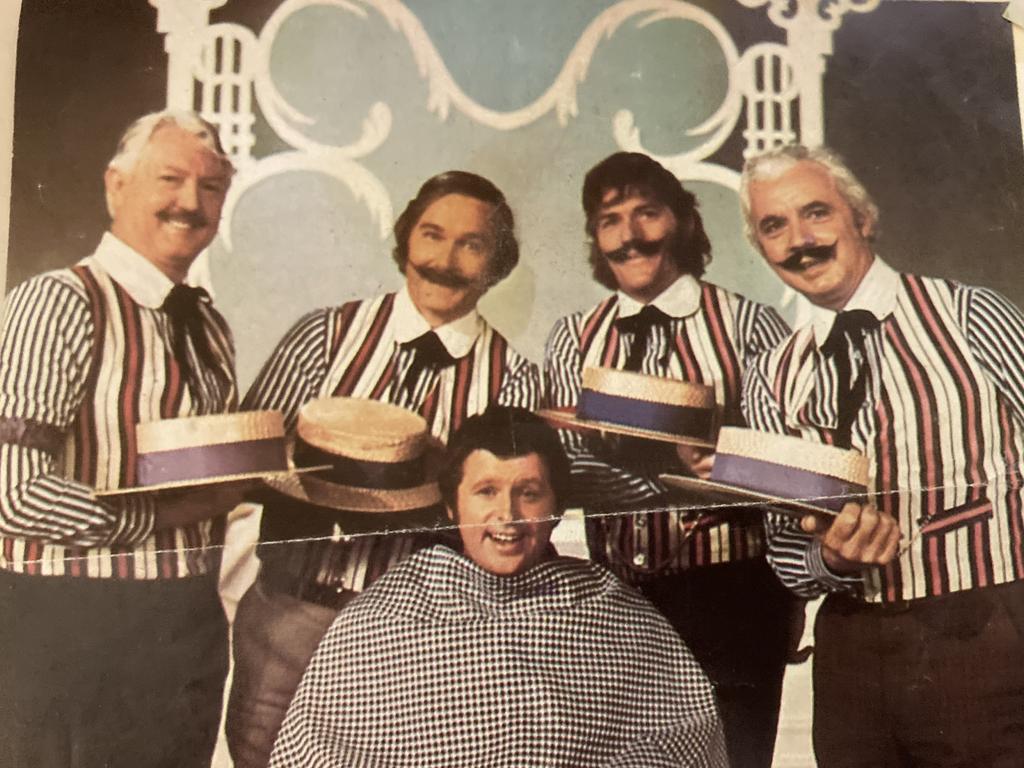 John Caddy (third from the left) singing on the Tony Barber show.
It was a friendship developed with Kevin Casey, a teacher at Xavier College and one of the founders of the National Boys Choir, that led to his Fable singing. Casey used to loosely organise a group of singers for different events that led John to that recording studio in March 1972, where he joined eight others.
"They needed some blokes with a 'blokey' sound to sing these footy club songs so Kevin got us all together.
"There was no such group as the Fable Singers at the time, it was the only gig we did. It was Fable Records just calling us The Fable Singers."
They never played a live gig, or indeed never recorded together again. They were session musicians in the purest form.
The Fable Singers existed simply as a one-off vehicle of Fable Records to record and release the VFL theme songs.
The group included Ivan Hutchison, who at the time was Channel 7's Director of Music and its celebrated movie critic; Paul Gavin, an ABC singer; and Brian Fitzgerald, the director of music at St Patrick's Cathedral. Most of them vaguely knew each other from choirs around Melbourne.
It has been reported that Smacka Fitzgibbon was part of the group but Caddy says he wasn't, but he had recorded versions of the club songs some years before.
Fifty years ago nine men walked into a little house in Kerferd Road, Albert Park. Everything was packed into one day's recording. The band had prerecorded ahead of the vocals.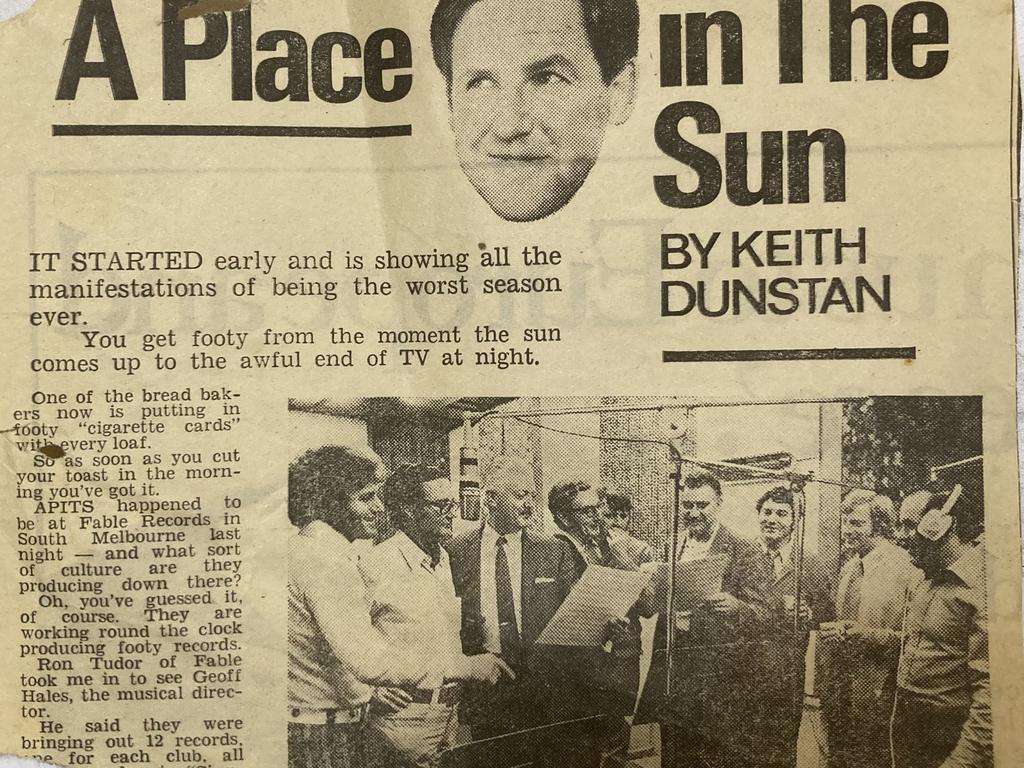 The Fable Singers recording the VFL theme songs featured in Keith Dunstan's column in the Sun in 1972.
"Everybody knew the basic tunes, but some of them had four and five part harmonies so we had to learn our own little bits and record them," remembers John.
"They'd put them all together and when they were happy with that, they'd play it back and a fraction of a second later we'd sing it again and when recorded it would sound like 18 voices rather than nine.
"We had to learn them, record them, do them again, and do it all in one day. We did 12 songs plus the B-Side."
The B-side to all of the theme songs was The Football Song, and Caddy can still reel off the chorus.
"The recording people were rapt, because we could all read music and all get our timing right. They said sometimes they had pop groups who would spend all day doing only three or four bars of music and we completed 13 songs!"
Each Fable Singer was also paid a princely sum for their day's work.
"We got $100 for the day, no royalties of course!" John laughs. "That was not bad money in 1972."
If royalties were paid, Caddy could have put a third and fourth storey on the house given how many times their songs have been played over the ensuing 50 years.
No matter how many times a supposed marketing whiz has tried to come up with brand new music, they end up reverting back to the Fable Singers' versions from 1972.
Every time you hear See the Bombers Fly Up, Good Old Collingwood Forever or We're From Tigerland, you can hear John Caddy's voice.
"My grandkids would say, 'My Pa sings that!'"
Good Old Collingwood Forever released by Fable Records in 1972.
*****
As a Fable Singer, John Caddy's place in footy history is cemented, but a decade on from that recording studio day he and wife Pat were also unsung heroes in perhaps footy's greatest fable.
Irish footy novice turned Brownlow medallist, the late Jim Stynes, wrote in his first autobiography in 1995 that: "Of all the things the Melbourne Football Club has done for me over the years, the best by far was finding the Caddy family."
The celebrated story of Stynes may never have happened if it wasn't for John and Pat.
Melbourne officials were in a spot of bother when trying to convince the Stynes family to let their boy travel to the other side of the world. One of the architects of the 'Irish Experiment' Barry Richardson said a promise was made to Jim's mother Tess that he would live with "a good Catholic family", and that's where the Caddys came in.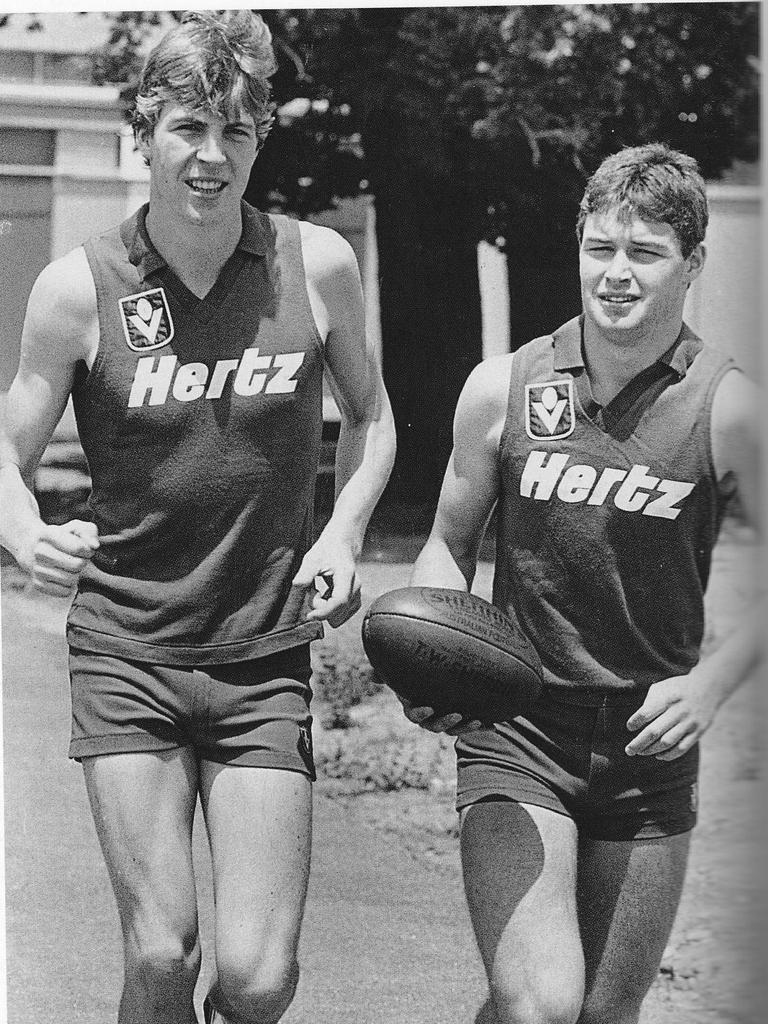 Jim Stynes and James Fahey arrived in Melbourne in 1984.
Melbourne Football Club contacted Catholic school Parade College where John and Pat's son Peter was attending and asked if there were any suitable families. Knowing their interest in football, the Caddys were suggested.
Pat says after hearing the story, she was swayed to say yes.
"I had six children myself and I thought if that was one of my children going overseas I'd like to know they were staying in a good family home."
Despite having six kids still living at home and John having had open-heart surgery that year, a commitment was made for 12 months. In early November 1984 Stynes was driven to Ivanhoe and dropped off to meet John and Pat.
Jim took a room upstairs and Pat can still remember the times spent with Jim at the very same kitchen table we are sitting on.
"Jim was really good. I used to make his lunch there over at the bench and he'd stand above me and almost hit the ceiling. He was so tall he could slide along the bench seat and reach the fridge or the toaster from the kitchen table!"
Jim Stynes gardening with Pat Caddy at the Caddy family home.
With John and the kids off to work or school, Pat spent many hours with Jim.
"He'd carry our granddaughter on his shoulders down to the shops, he really embraced our whole family and we did the same to him. He was really lovely."
While John didn't expect him to become the star that he was, he was impressed by his attitude. He didn't have a car so would diligently walk to and from the train station each day in the heat of summer just to get to footy training. It was indicative of his desire.
Through Stynes they also got to know his Irish Demon running mate Sean Wight and his family.
After 12 months the Caddys' commitment was up, and Jim had found friends in Melbourne to live with, but he never forgot the role the family played.
At the launch of that first book, he invited John and Pat along and wrote a special dedication to the couple: "You can't believe how much you helped me."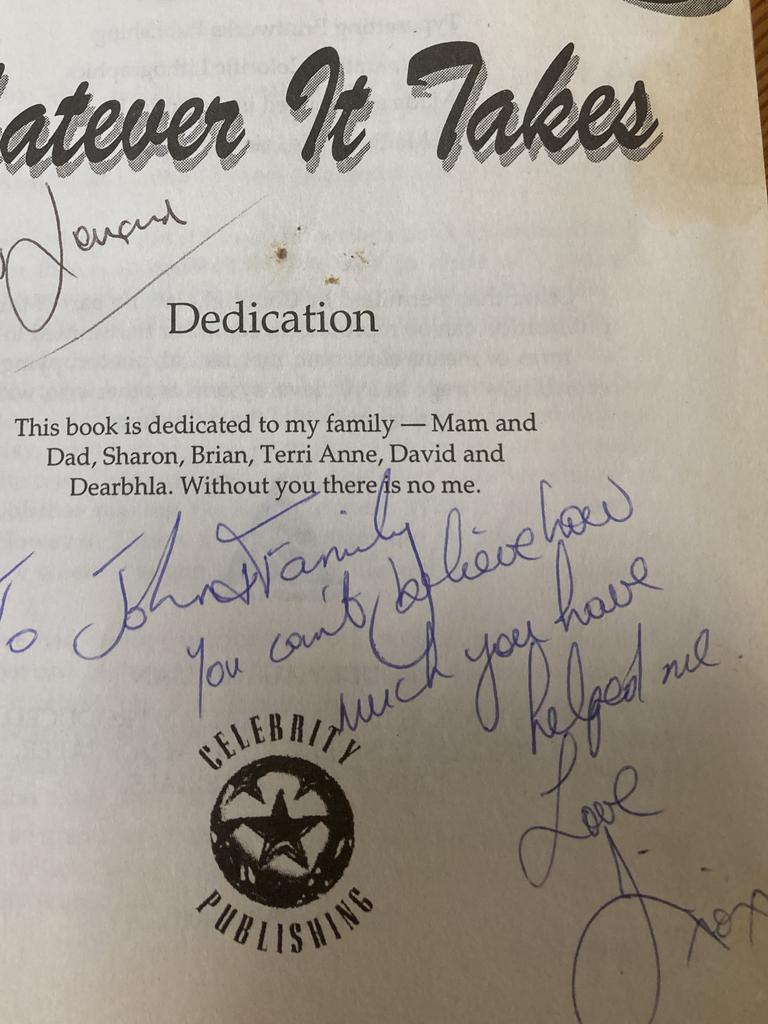 Jim Stynes' dedication to John and Pat Caddy after the release of his first book.
They always stayed in contact. Pat and John's priest son Joe conducted the ceremony at Jim's wedding, while John sang.
When Stynes passed away in 2012, John and Pat were invited to and attended the state funeral. Less than 12 months before that John had sung at Sean Wight's funeral
It still saddens them today. "I felt so sorry for their parents," says Pat. "I just feel privileged that he stayed with us. For what he did for football but also what he did with setting up the Reach Foundation for kids."
In his posthumous autobiography Stynes simply said of his arrival at the Caddy home in November 1984: "Had Melbourne not placed me with the Caddys, I might not have made it beyond Christmas."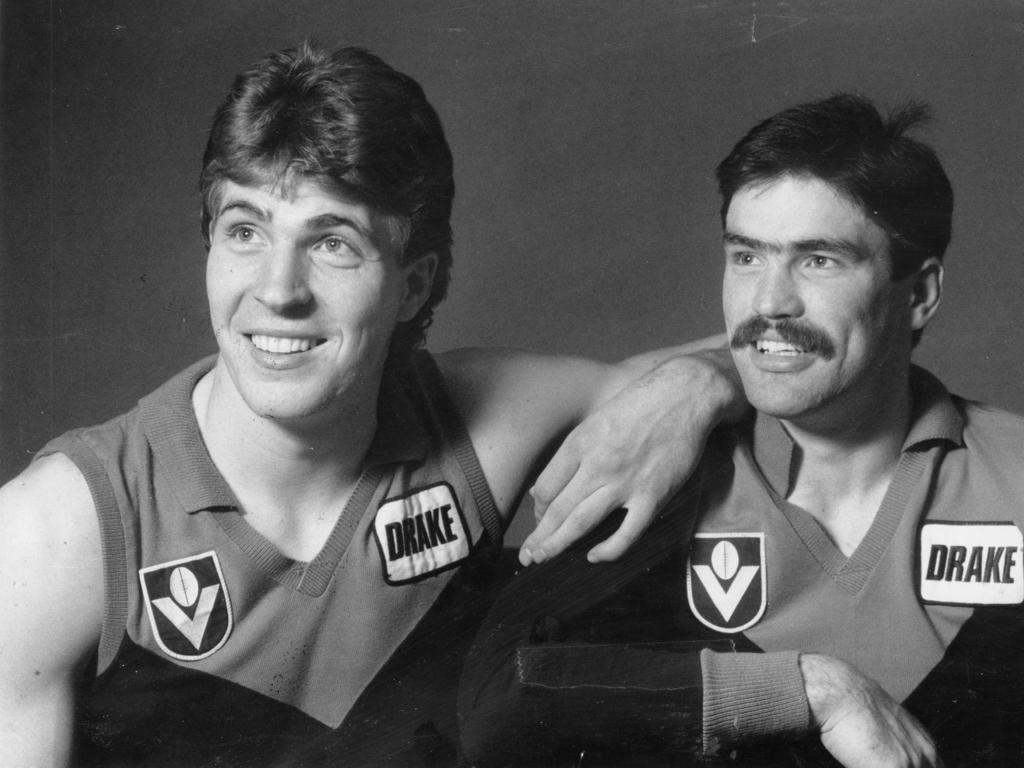 Melbourne Irish recruits Jim Stynes and Sean Wight.
*****
John and Pat Caddy are very humble about their cameos in footy history. John is just as interested in talking about his teammates at West Preston, where he played with Ray Slocum in the Under 18s, who went on to a 121-game career with Fitzroy.
In recent years the AFL has tried to re-record club theme songs.
It was believed that master tapes had gone missing and there was a need to not rely on the CDs that existed. Public backlash ensued and the original Fable Singers' versions were restored to their place, greeting teams before and after games. John Caddy's voice will be heard for many years to come.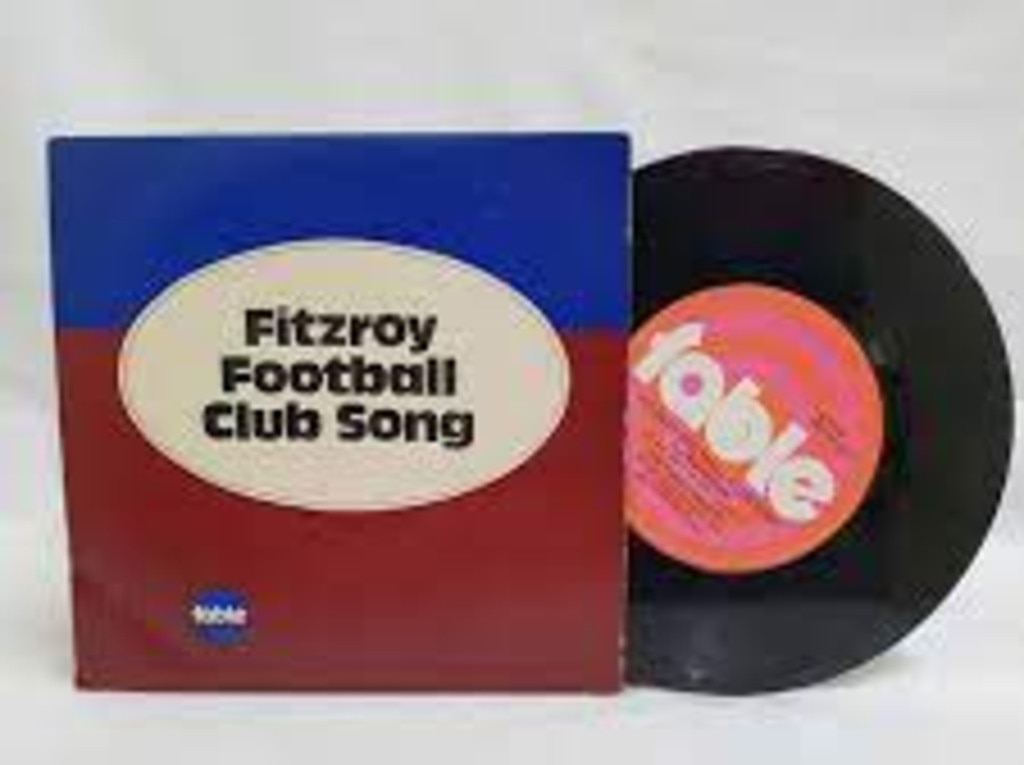 Fitzroy's theme song as released by the Fable Singers in 1972.
Pat supports Richmond, but John was a Fitzroy supporter that could never bring himself to support Brisbane after the 1996 merger.
"It wasn't the same," he says, noting that using the word Brisbane in the song meant it was no longer the Fable Singers' version that played when the Brisbane Lions won their premierships.
The original Fitzroy theme song was written by former player and coach Bill Stephen. John sang at his funeral a few years ago too.
He says his tenor part of the Fitzroy song was always recognisable to him.
"'Premiers we'll be this year' and the second time, 'Premiers we'll be this yeee-aaaarrr' was the part I would have sung."
When I ask him if he can sing the full Fitzroy song, he tells me he is just getting over Covid so he's not in good voice. But he improvises it all on the spot.
For a minute, he's back in that recording studio 50 years ago and I'm getting a live concert from the Fable Singer.
John Caddy was one of the original Fable Singers who sung the iconic versions of the VFL/AFL theme songs 50 years ago. Here he is with the @Fitzroy_FC song this week. His story of those songs and much more will be on @codesportsau this weekend. pic.twitter.com/c8FNVZNPB4

— Shannon Gill (@ShannonGill13) June 10, 2022