How British teen Ollie Walker-Peel's footy commentary went viral after a VFL game
Ollie Walker-Peel was honing his craft in the lower grades before a memorable call caught the eye of some important people, writes PAUL AMY.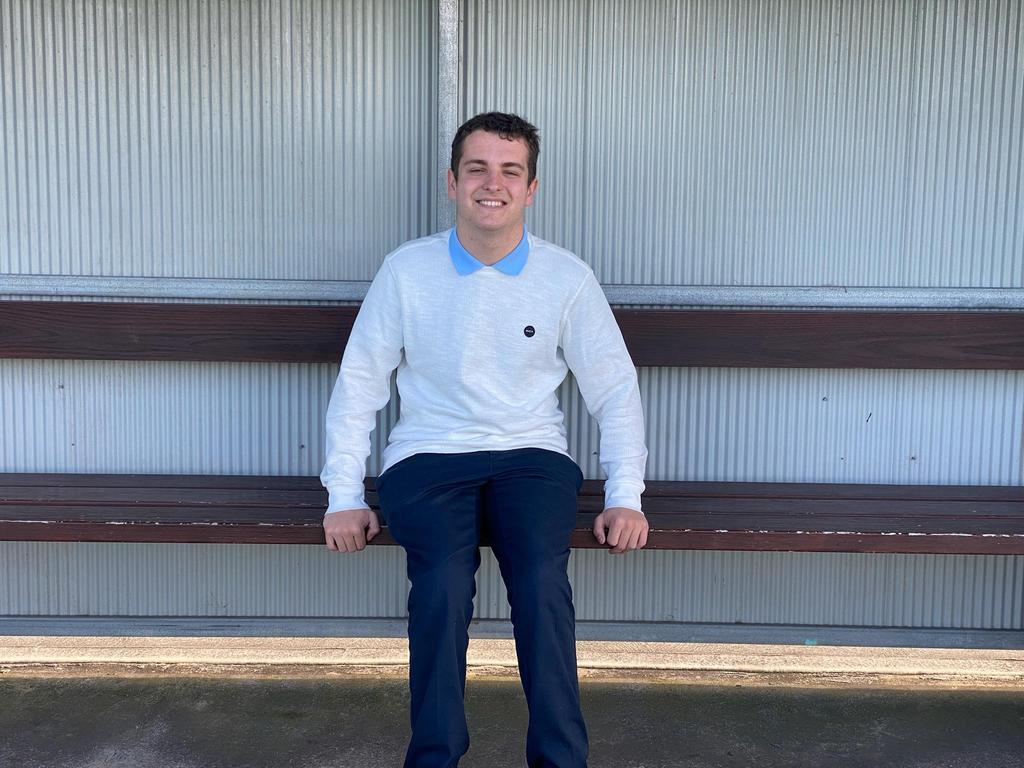 Oliver Walker-Peel: The teenage British ex-pat footy on the path to a career in calling.
It probably won't win a car for mark of the year.
But it's a big grab.
Roarke Smith hauls it in close to goal for the Footscray Bulldogs VFL team against the Box Hill Hawks.
And in the commentary box on the third level of the Whitten Oval administration building, caller Ollie Walker-Peel erupts.
"He goes inside 50, up towards the top of the square, in the (Buku) Khamis direction, over the top Roarke Smith!'' he roars.
"Take a bow. What a mark Roarke Smith! At the top of the square! He got up so high and pulled it down with consummate ease.''
There are two commentary teams on the balcony – for the VFL lifestream and community radio station 3WBC – as well as production staff, and most heads turn to Walker-Peel, who is calling the match with Domenic Cugno.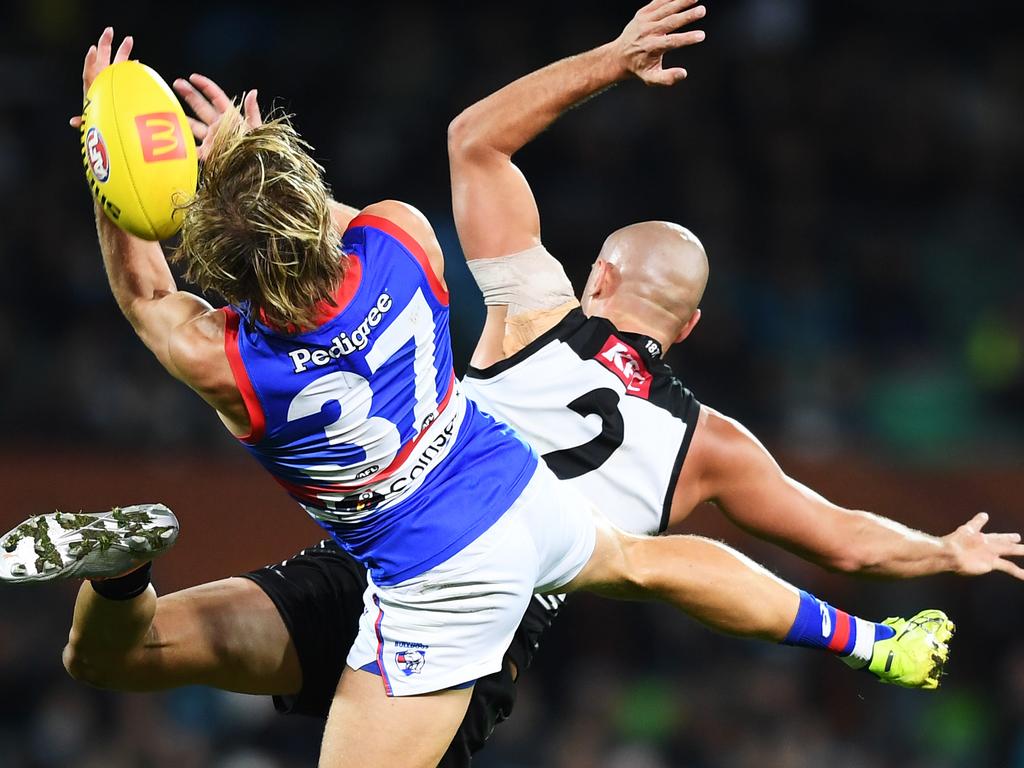 A Roarke Smith screamer had caller Ollie Walker-Peel erupting in the commentary box. Picture: Mark Brake/Getty Images
Smith has gone up. And Walker-Peel has gone up with him.
There's a good chance the mark and the call will end up on a highlights package, bringing attention to Walker-Peel, 18.
He's getting used to it.
A month ago he covered a Geelong VFL match, and the Cats posted a clip on social media of a few of Walker-Peel's descriptions of play.
"Sound up … this British VFL commentator stole the show and we want him to call all our games now,'' Geelong said.
Some of the replies suggested it was time to get Walker-Peel on Fox Footy.
The following week Geelong asked him to do his own call of a Jeremy Cameron soccer-style goal against the Western Bulldogs in the AFL. He came up with: "Jeremy Cameron! Jeremy Cameron! You star. He's got another one, the man who's torn apart Australia's game for years showing that he's equally capable with the world game as well.''
Then he was featured on the AFL website, with the league's promos hailing "our new favourite commentator''.
Shove over, BT. Here's OWP.
"Well, it's been utterly crazy, hasn't it, all this stuff?'' Walker-Peel says.
"It's something I would never have expected.
"That first Geelong post, I'm looking at it thinking, 'Wow'. I just sat there and was in complete and utter disbelief. Twitter, Instagram, Facebook. People who hadn't messaged me in years were sending me Geelong's feed and I'm like, 'This is unbelievable'.
"It's been a whirlwind, the whole thing, and very humbling as well.''
He says that for all the publicity, he's a "long way from the finished article''. Like a young player, he's about getting games under his belt.
As for the accent, when he's not on air, "I have a tendency to go really Lancastrian''.
"I can go really, really northern. So on air I try to be sort of, I don't want to say posh, it's not quite that, but I want to be easy to listen to, if that makes sense, just that standard English accent.''
British ex-pat, Aussie Rules convert and VFL commentator, Oliver Walker-Peel. Picture: Supplied
*****
Ollie Walker-Peel says he's always wanted to be sports commentator.
He was born in Manchester and raised in Blackburn, close to Blackburn Rovers' training ground.
His father, Nathan Peel, played football professionally.
"Sport was all around me,'' he says.
"As soon as I knew about sport, there was nothing else I wanted to work in. I wanted to be around sport because it gave me so much happiness.''
At the age of two Ollie was diagnosed with cerebral palsy, specifically diplegia cerebral palsy, which affects his lower legs.
He had 10 operations in 2015 and two more in 2020. He had played some all-abilities soccer when he was a boy. But he says he realised early in his life that he preferred to sit back and talk about the game rather than play it.
"Mentally, it was quite a challenge. When I knew what it was and got my head around it … now I tend to take it in my stride, because I know that I've got to deal with it,'' he says.
"It's not going away.''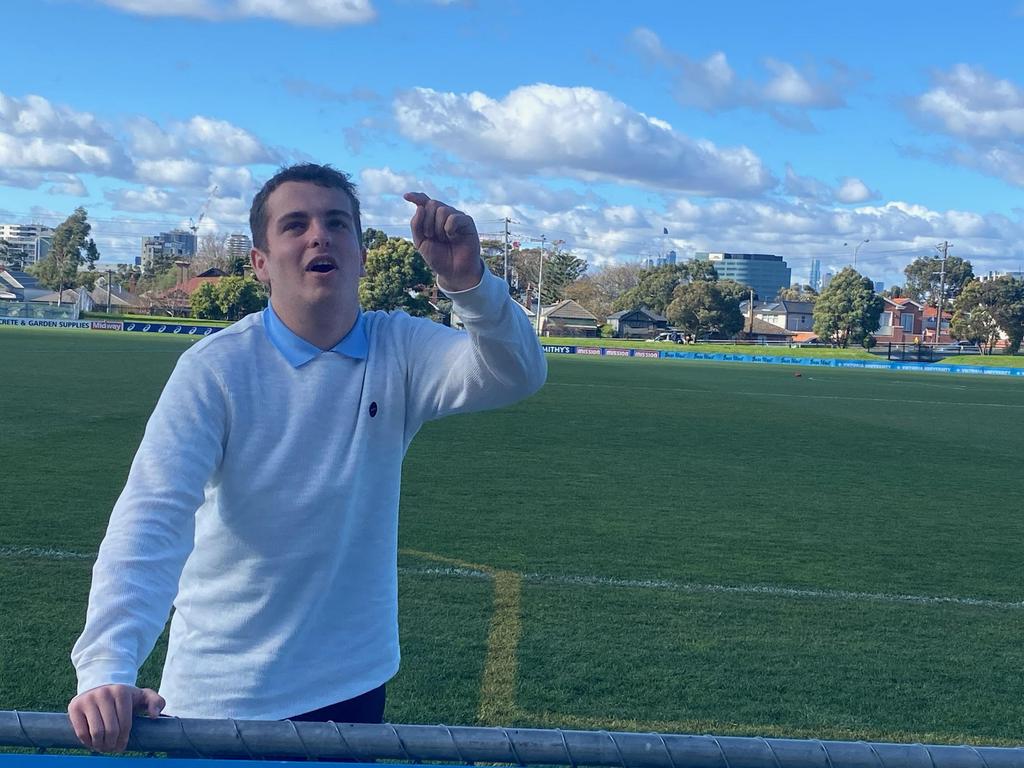 Walker-Peel has been in disbelief over the frenzy that has surrounded his commentary. Picture: Supplied
His family migrated to Australia from the UK in 2013, following relatives to Mt Martha on the Mornington Peninsula.
Young Ollie had been introduced to Australian Rules football on earlier visits and the game made an impression on him.
The family watched a game at the MCG, Melbourne playing Richmond. And when they moved to Melbourne permanently, a match involving the Demons was being shown at the airport.
He kicked off in commentary when he was 15, for the lifestream of Mornington Soccer Club's home games in 2019.
Last year, as he completed Year 12 at Balcombe Grammar as school captain, he graduated to National Premier League Victoria fixtures, as well as Frankston VFL matches for community broadcaster 3RPP.
His first VFL game was Frankston-Coburg, calling from the top of the Frankston social club.
From that same position he did the Frankston and Footscray Bulldogs game a few weeks later.
Doggies AFL coach Luke Beveridge and some of his assistants were nearby, and early in the first quarter they strained to get a look at the young caller with the accent and up-tempo style.
At a break in quarters Beveridge walked past and gave a few quiet words of encouragement to the then 17-year-old.
A cerebral palsy diagnosis has kept Walker-Peel enjoying sport from the sidelines. Picture: Supplied
Brendan "Jonty'' Rhodes, who is closing in on 600 games as a commentator, called with Walker-Peel at Frankston and has become something of a mentor to him.
Rhodes says he's a "sponge''.
"Anything you tell him, he'll take on board and try to implement,'' he says.
"I said to him last year that he had to pull back on the excitement a little bit, so that he had somewhere to go when someone actually did something crazy, like a big mark or goal.
"If you're screaming and you're excited the whole time, there's no level to go up to. The first time I said that to him, the very next week he dialled it back. He does his best to listen and learn.''
He says Walker-Peel's accent gives him a "point of difference'', something Cugno also noted ahead of the Footscray-Box Hill game. But Rhodes adds: "I think he's a terrific caller in his own right''.
"He does his homework, he's accurate but he's excitable and he can keep the game interesting even when it's not close,'' Rhodes says. "You would have seen that at Footscray with the game blown to smithereens before half time. You still have to keep it up and about for the whole game. That's a key thing, keeping the audience engaged when it's one-sided. And he's very good at doing that.''
He says it was the "ultimate compliment'' for Walker-Peel to be contacted by the Cats and asked to dub his own call over an AFL play.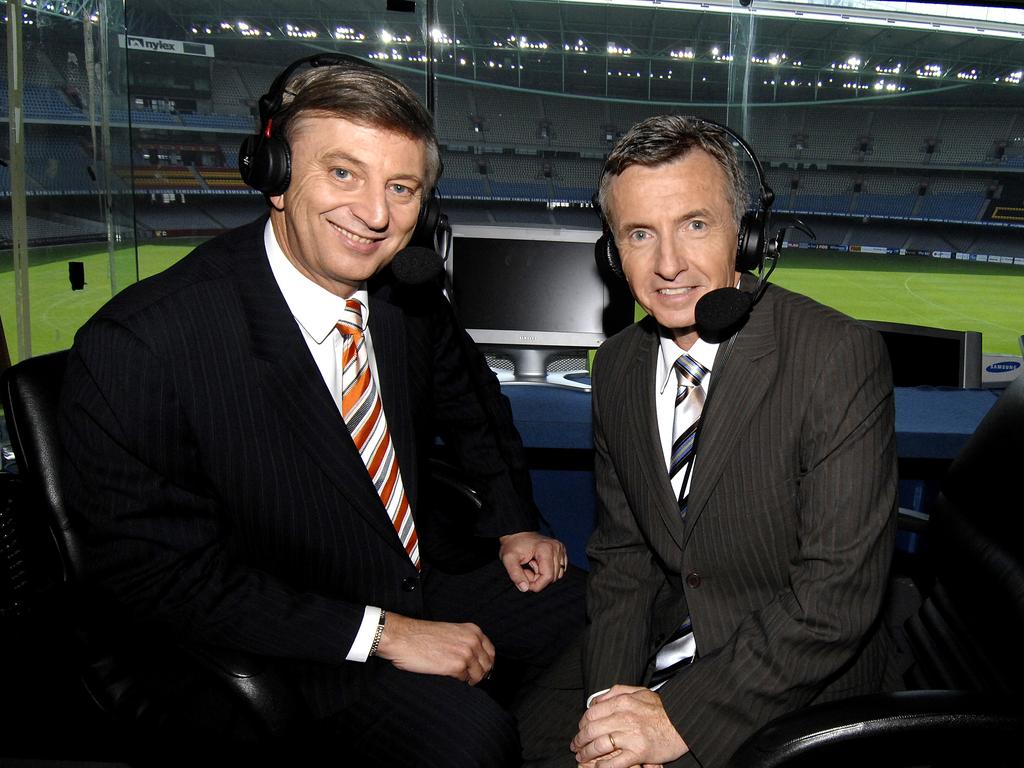 Dennis Cometti and Bruce McAvaney are two commentators Walker-Peel admires.
That came about through a lucky break for the young caller. He wasn't down to cover the Geelong game, but another commentator had Covid and he was drafted in at short notice.
He caught the train home thinking he had called better matches. But the Cats liked his work and put him on socials. All of a sudden it was his name in the frame.
"He's gone viral,'' remarks former Mornington Soccer Club president Matthew Cameron, who had invited Walker-Peel to start calling the club's games.
"He's doing extraordinary things for someone who has been through what he's been through in his life. He's had to deal with some adversity. What he's achieving now is fantastic. We think he's a remarkable young human being.''
Cameron laughs at the suggestion he found Walker-Peel.
"We were just happy to encourage him along the way,'' he says.
Walker-Peel says he admires "plenty'' of commentators – Dennis Cometti, Bruce McAvaney, Brian Taylor, Peter Drury, Martin Tyler, Mark Nicholas and Mark Taylor – and he tries to take a little from each and mould it into his own style.
"You've got to be true to yourself,'' he says.
"I like to try to make it exciting and add things. I obviously want to have the game there, but I want to add this extra colour and story to it. I don't like to be monotone. I like to be up and down, so that I'm interesting to listen to. People don't tune in to listen to the commentary, they tune in to watch the game. If you can add commentary to it and they go, 'That made it a bit more exciting', that's what my job is.''
He wants to go as high as he can in sports commentary.
As high as that Roarke Smith mark would be ideal.