Jon Ralph anayses Melbourne's brutal reality check
There are enough cautionary tales in modern footy for Melbourne to know another premiership was never guaranteed. Jon Ralph analyses a torrid two weeks and urges the Dees to "sharpen up".
Melbourne can become a Brisbane or a Hawthorn, 21st century dynasties who combined incredible talent with hard work to become football immortals.
Or they can become the modern-day version of Essendon 2000, which had more talent than both those teams and yet left premierships on the table then returned to outright mediocrity.
Two weeks ago Melbourne was seemingly on track for the perfect season as well as back-to-back flags, but life comes at you in a hurry.
This week's trio of concerns headed by the boozy biffo are the perfect time for a reality check that football owes you absolutely nothing.
Ask Essendon in 2001, or Geelong in 2008, or St Kilda in any of those Ross Lyon years, or Collingwood in 2011.
Sometimes hubris and distractions and own goals can bring down an empire.
In isolation Steven May and Jake Melksham squabbling in a restaurant tiff that spilled out onto the street brings to mind Hugh Grant and Colin Firth's slapfest in 'Bridget Jones's Diary'.
Watch every blockbuster AFL match this weekend Live & Ad-Break Free In-Play on Kayo. New to Kayo? Try 14-Days Free Now >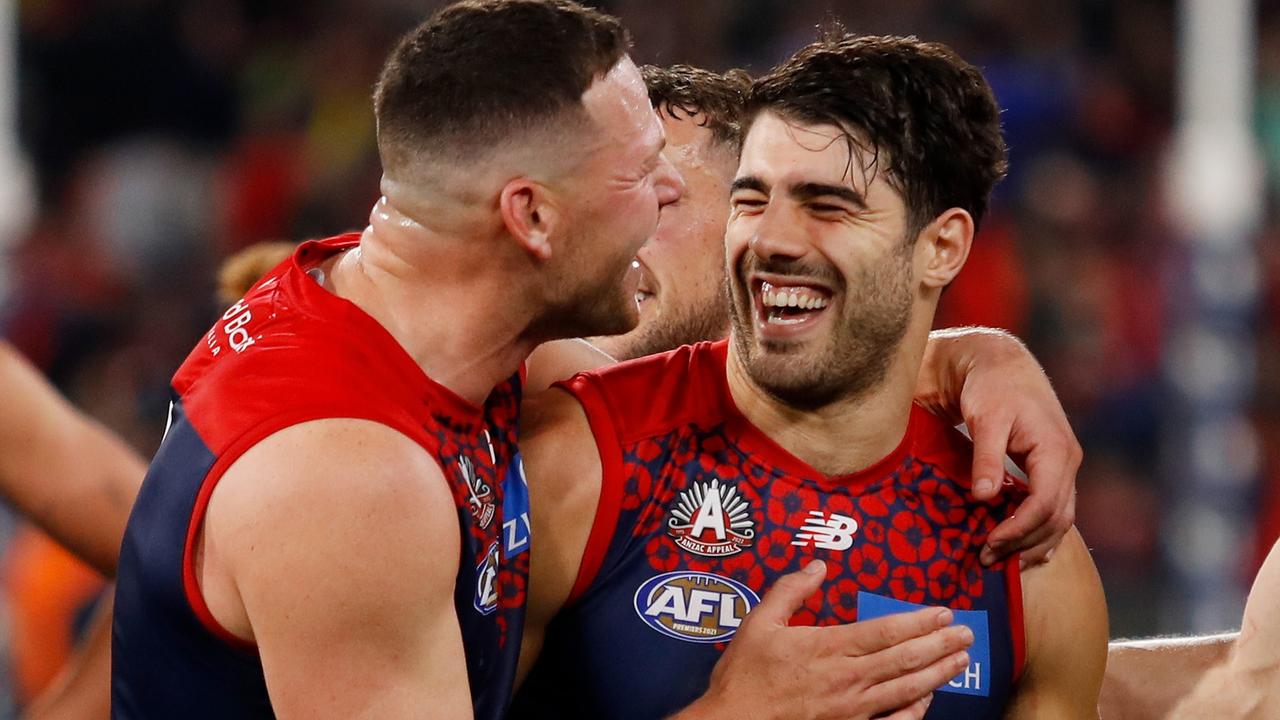 Steven May has been suspended by the Demons for one week. Picture: Getty Images
Almost comical in execution if you believed the club's explanation of a "lighthearted disagreement" over dinner that escalated.
So now May misses Queen's Birthday at the worst possible time, when his partner in crime Jake Lever can't sniff the Sherrin while down the other end Ben Brown is MIA and Tom McDonald could be out for 12 weeks.
All of it begs the question: how seriously are the Demons taking their premiership defence?
It is understood that some of the discourse that might have led to the scuffle came about because players were asking why May was drinking but given he was in a concussion protocol didn't everyone know that in the first place?
Is it surely time for May, an utterly delightful and mostly sensible bloke when not drinking alcohol, to get off the booze in-season?
And just how p***ed were the pair that they couldn't keep control of their emotions and stop them spilling out into fisticuffs?
In isolation Melbourne can address every one of the issues that befell it this week but when they come in a rush you have to wonder about the cumulative effects.
McDonald is replaceable given the club's depth but to lose such a versatile swingman means the Demons need only one more key position injury to look utterly exposed.
Christian Petracca's flippant radio statement that the players couldn't perform without a big crowd looked entitled and arrogant, like the rock star only willing to come out for an encore if the standing ovation was loud enough.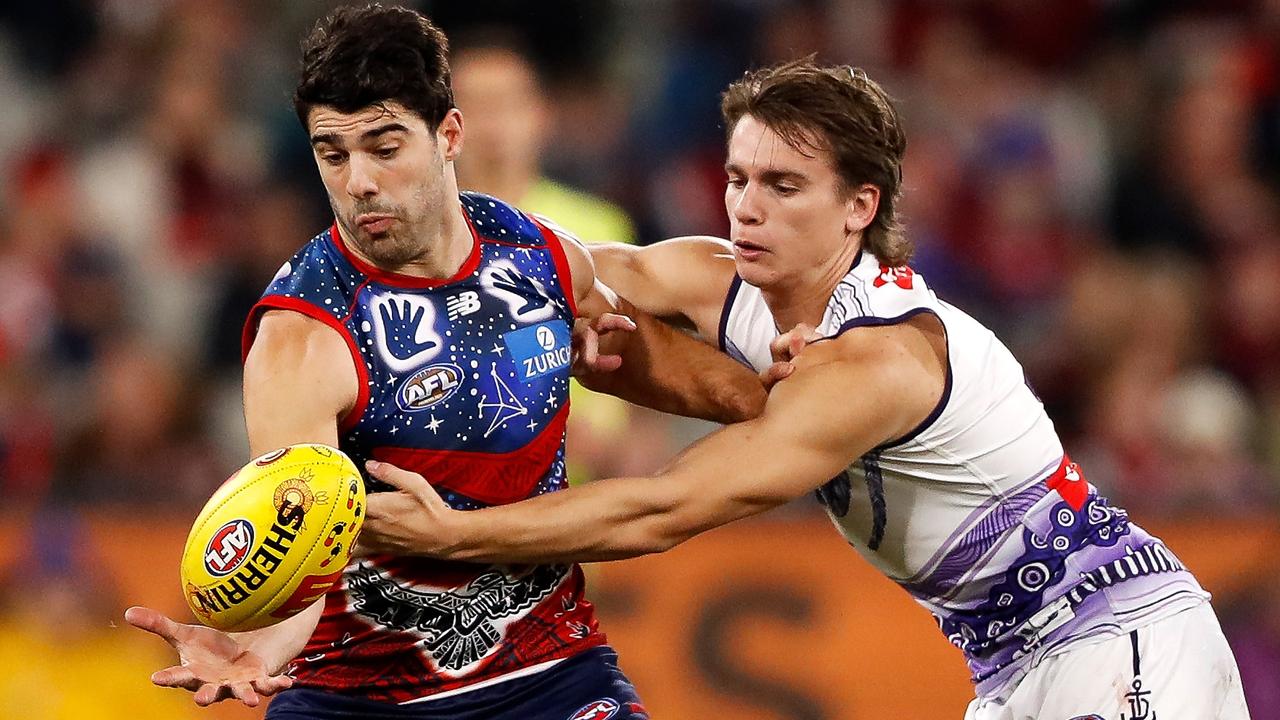 Christian Petracca's comments came under scrutiny. Picture: Getty Images
Then came the headlines about president Kate Roffey's scathing assessment of the club and coach through the 2020 form slump.
At worst she looked hypocritical after slamming Glen Bartlett for his "weetbix" comments about Simon Goodwin but it would take a weak club for those comments to knock them off track two years later.
Bartlett has been a convenient scapegoat who the club trashed on the way out despite all the heavy lifting he did to set up this successful run.
He sure wasn't perfect, but he will go to his grave knowing he did the right thing in raising Simon Goodwin's alleged behavioural issues to the AFL and the Demons' board.
The Demons fans flushed with premiership success didn't want to hear about what it believed to be old news and it ultimately cost him his presidency.
But at a bare minimum it allowed Goodwin to change his habits and become the coach he is today.
So here is the message for Melbourne: sharpen up and get it together.
Good clubs smarten up and strip away the distractions.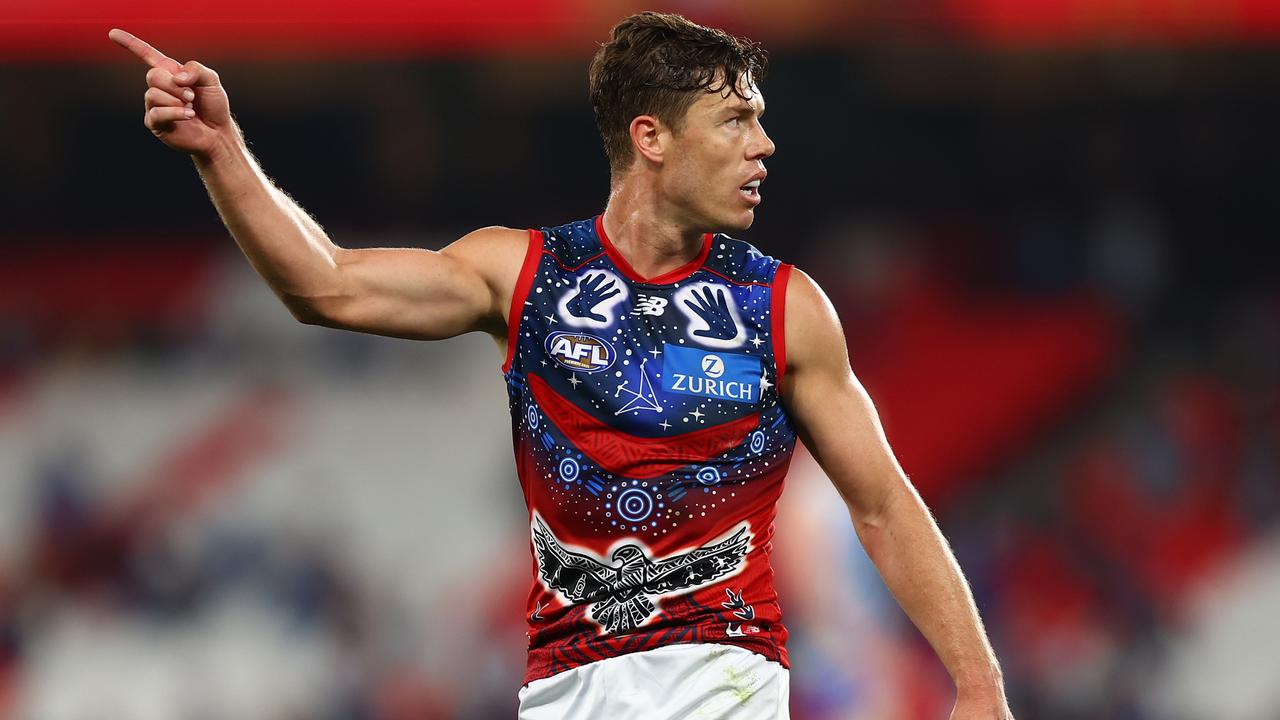 Jake Melksham was involved in the altercation with May. Picture: Getty Images
Clubs who cannot do that spend the next decade like Collingwood, wondering whether the Mick Malthouse succession dramas of 2011 had enough of an impact to derail them.
In 2015 Hawthorn captain Luke Hodge blew .068 in a drink-drive controversy and six weeks later the Hawks were premiers.
In 2007 Steve Johnson didn't play AFL until round 7 given a club-imposed ban and 20 games later was the Norm Smith Medallist in a Grand Final victory.
In 2020 Richmond looked to self-immolating in a hub amid fallout between Trent Cotchin and the senior hierarchy as kebab-shop punch-ons were the order of the day.
Months later Richmond won a third premiership in four seasons.
Distractions don't have to define football clubs.
They can be valuable lessons that recalibrate a player or a team or club.
Melbourne is still the most talented team in football, but it is far from invincible.
There's no better stage than Queens Birthday, against a white-hot Collingwood side and without their All Australian defensive star in May, to start that march back to respectability.
Originally published as Jon Ralph anayses Melbourne's brutal reality check