How the AFL intends to navigate looming Covid chaos as other sports fall to mayhem
Club chiefs believe Covid is set wreak havoc on the AFL again in 2022. Here's what players have, and will, be asked to do to avoid the chaos sweeping through other sports around the country.
AFL clubs are preparing to reintroduce soft restrictions on player movements and social activities upon their return to pre-season training in less than a fortnight.
Talks are underway about strongly urging players to give congested indoor areas a miss in the lead-up to the new season to help combat the increasing threat of contracting Covid-19.
It means players will be asked to eat outdoors where possible, avoid nightclubs and mosh pit areas at music festivals and order shopping and supermarket items online.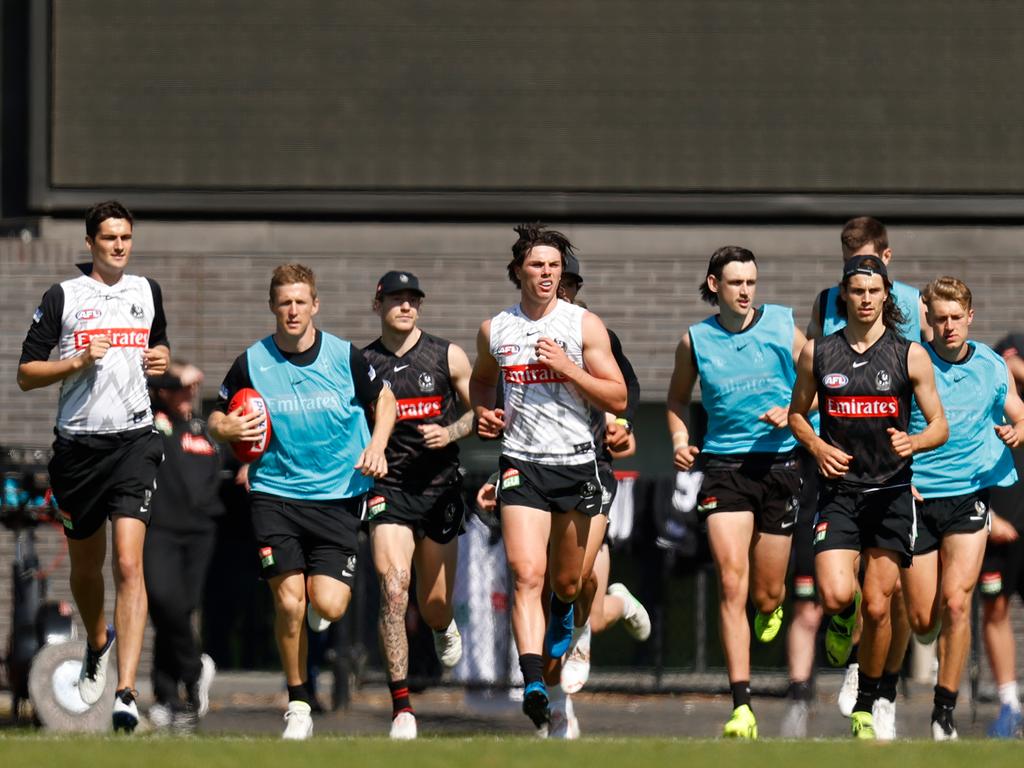 Collingwood players at pre-season training in December. Picture: Michael Willson/Getty Images
AFL players and coaches are certain to undergo daily rapid antigen testing before training days when pre-season resumes on January 10.
The daily tests will help clubs isolate players who test positive as quickly as possible, although there is a view outbreaks could rip through the bulk of squads.
Small training groups could also be reintroduced for indoor sessions to further minimise the risk.
Club chiefs believe Covid-19 is set to wreak havoc on the AFL for a third consecutive season with large numbers of players and staff almost certain to contract the virus and miss games.
The depth of lists face a huge test throughout the new season as the league will only postpone games once teams record a large and predetermined number of cases.
To help limit the impact on the new season, club chiefs will have talks with players about making smart decisions about avoiding congested areas and venues where the Covid-19 risk is high.
While there are unlikely to be any punishments, clubs are confident players will adopt the recommendations as part of a responsible attitude towards social distancing.
Players may also be kept apart from fans at training sessions, games, club functions and venues where masks aren't being used.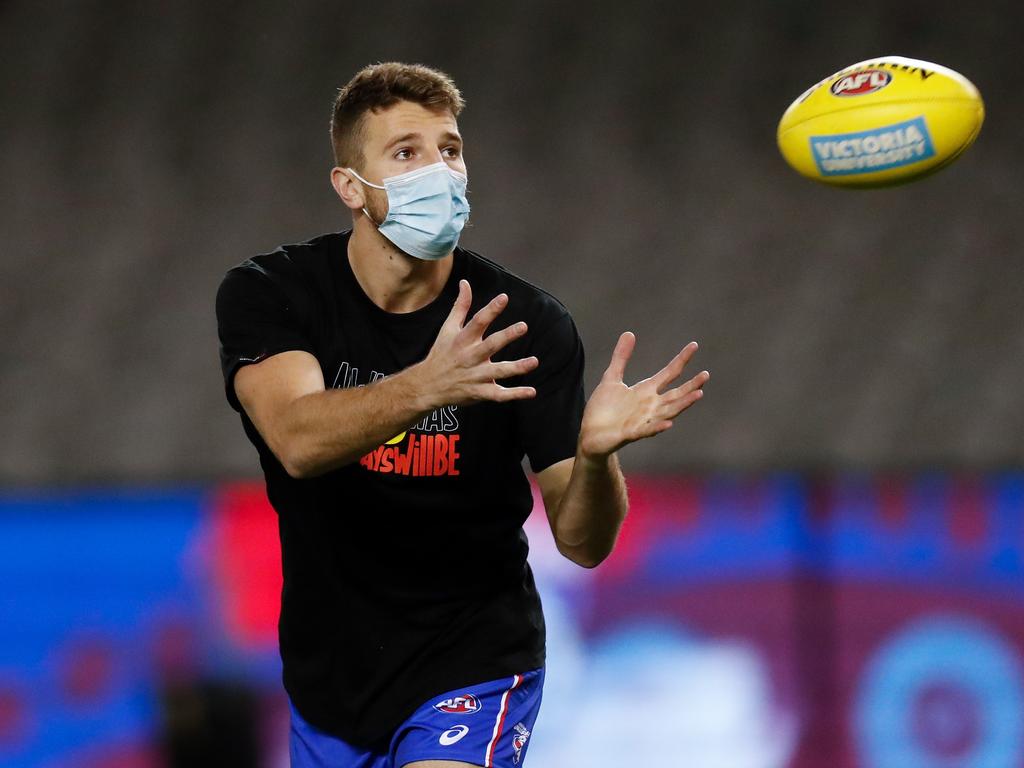 A masked Marcus Bontempelli of the Bulldogs. Players will be kept apart from fans at all official AFL events where masks aren't in use. Picture: Michael Willson/Getty Images
The measures are set to be implemented to try and protect players and staff as case numbers skyrocket around the country.
New South Wales on Friday recorded 21,151 cases and Victoria 5919 cases almost two weeks after 10 Sydney Swans players contracted the virus.
But the league is determined to take a pragmatic approach and soldier on with the 2022 season following an excellent take-up of the Covid-19 vaccine across the AFL community.
It means more sacrifices from players and AFL club staff following two years of Covid-19 challenges which have included prolonged interstate road trips and restrictions.
Players were often forced to separate from their families and stay at team hotels before flying out for interstate games.
Geelong captain Joel Selwood said Covid-19 was certain to impact the football season for another year.
"It will definitely affect us and we have seen it with a couple of sides already where guys have had to miss training and training has even been called off and they have gone and had tests during the day," Selwood said.
"So we shouldn't be blind to think it won't happen to us at different times, because it will.
"It will probably happen during January and February so we have to be careful with our girls program that we don't cross over and we make sure we are not infecting the place and that they are doing the same, too.
"We don't want any player missing but I daresay we will probably go through that at some stage."