Cyril Rioli has lost contact with a number of his premiership teammates and his relationship with Hawthorn has soured. As the Hawks fly in, we travel to Darwin to find the flag hero.
Cyril Rioli looks happy. He looks healthy.
He shares meals with his next door neighbour.
He walks his dogs, Koda and Kenai, around Malak Park and Holzerland Park, not far from his property.
Locals say Rioli quietly greets them on those walks, keeping to himself. Sometimes he has a kick at the park, with anyone who's playing.
Rioli's cheeky smile lights up the Darwin suburb, much like the glistening sun burning in the sky.
It is 34 degrees in winter. Rioli grew up in the bush on the Tiwi Islands. But his home now is a short walk from the Darwin house he left as a 14-year-old.
Back then he was bound for Scotch College, a journey that delivered four AFL premierships and unbridled joy for all football fans.
Melbourne's suffocating traffic is now far away — almost 4000km.
Fishing rods lean over the back seat of a four-wheel drive parked on the street and a speed boat sits behind the high fence secured by bronze padlocks.
The staffies, four and two years old, are like babies to Cyril. They run around a sofa and trampoline on the front lawn, barking at passers-by.
In the sleepy neighbourhood, not much barking is required.
Cyril Rioli is happy and enjoying life in Darwin. Picture: Supplied
Dressed casually in a bright blue T-shirt and a green cap, Rioli still cuts a trim figure.
Relatively clean-shaven, except for stylish patches of wispy facial hair, he looks fresh.
Approached by the Herald Sun on Tuesday for an interview, Rioli was friendly and polite.
Understandably, he decides not to talk.
But it looks like he could play AFL tomorrow.
"I've seen him running," says St Mary's coach Anthony 'Chopper' Vallejo, who has known Rioli since he was born in 1989.
"What is he, 32? I'd love him to come back for another 100 games … or even more out of a forward pocket.
"He played for Tiwi, but I'm going to have to try and get him back to Saints, I think.
"Wearing that famous No. 1 guernsey his dad wore."
Rioli played his last AFL game for Hawthorn in round 4, 2018. His retirement was viewed as premature and his relationship with the club and its president, Jeff Kennett, has since soured.
Several premiership Hawks have lost contact with their former teammate.
The Hawks play Gold Coast at Darwin's TIO Stadium on Saturday night, walking distance from Rioli's place.
Friends say Rioli is still tossing up if he'll attend the game. He keeps a low profile and is grounded and that's more important to him.
That game for Tiwi Bombers, an unadvertised appearance in 2019 about 18 months after Rioli retired as an AFL legend, remains a one-off.
Wearing No. 44 and a helmet, Rioli snapped the winner on his left foot.
The manual scoreboard on Bathurst Island incorrectly showed a draw, before umpires determined post-match that Rioli's Bombers beat Palmerston by a point.
Rioli lined up with ex-Demon Austin Wonaeamirri and against brothers Aaron and Alwyn Davey.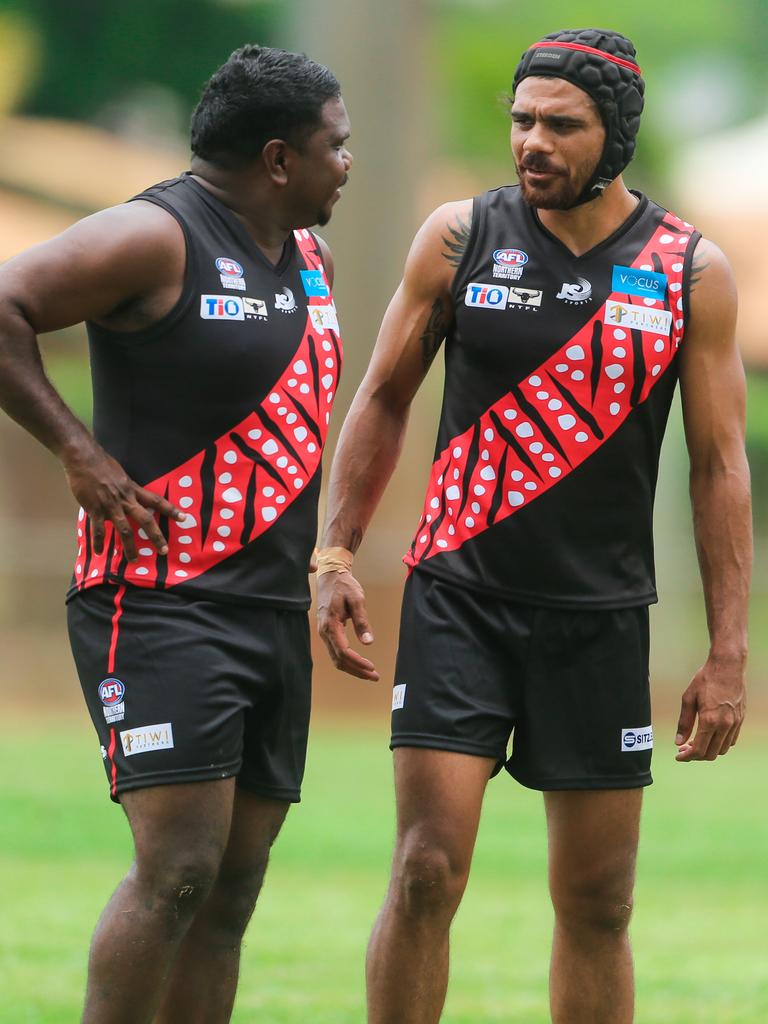 Cyril Rioli.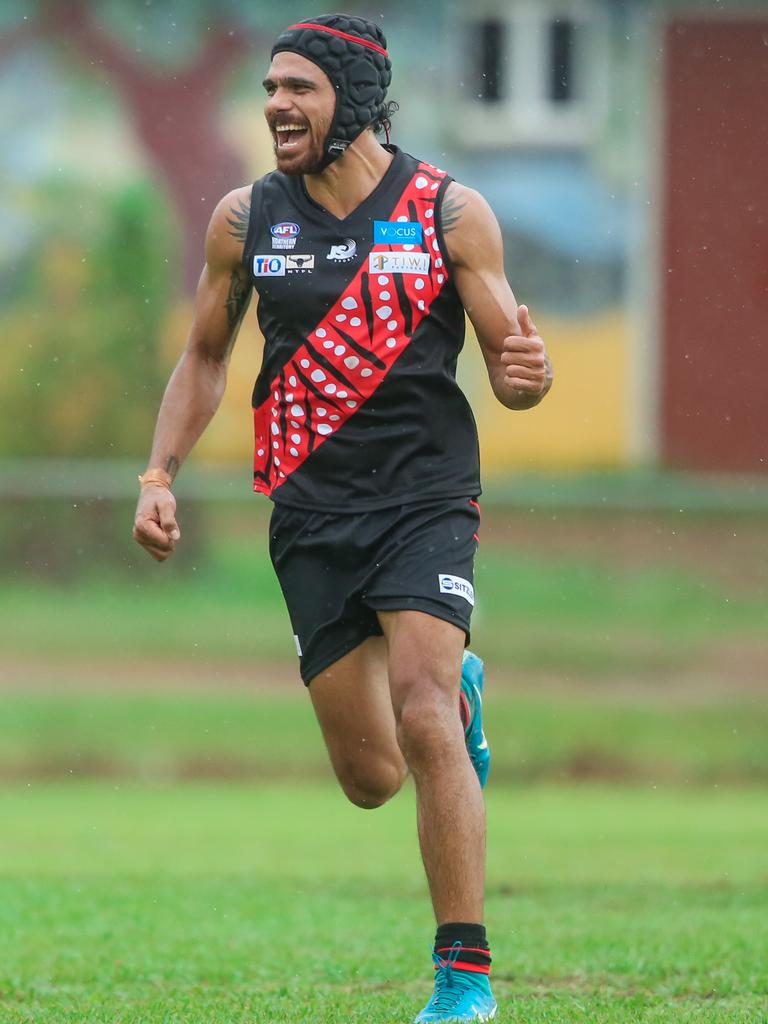 He still knows where the goals are.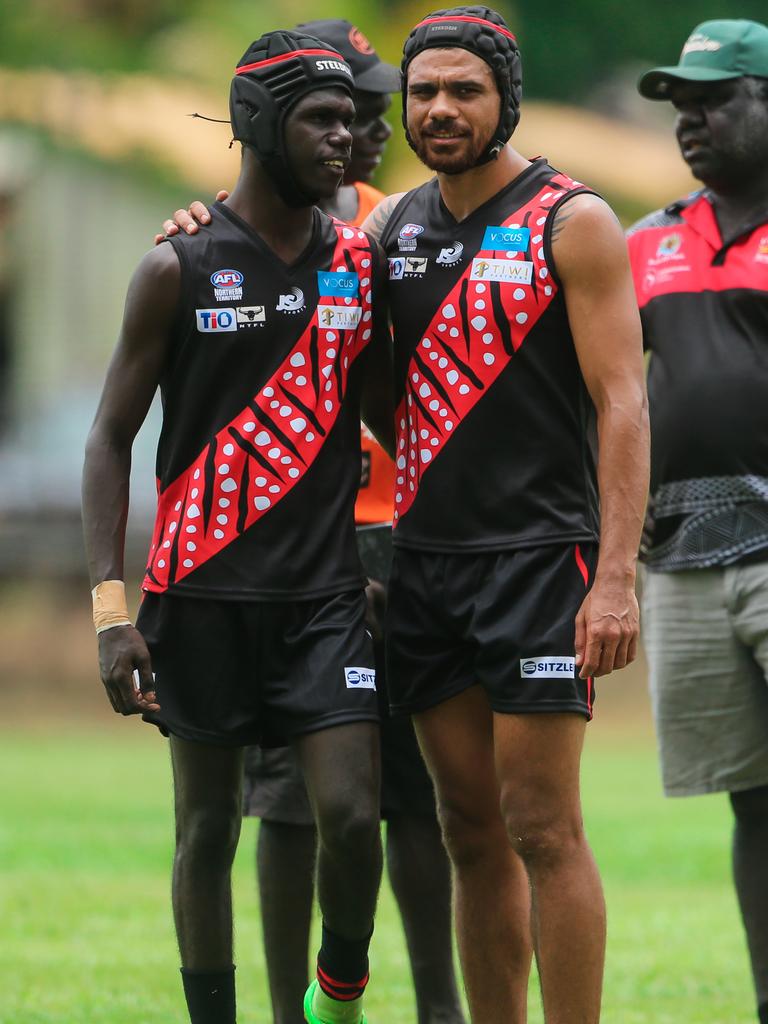 Rioli with a young teammate.
The remote ground is known for a tree hanging over the oval and dogs running around during play.
Rioli's knee pulled up sore. So sore that another cameo appears unlikely.
The little legend has tried his hand at coaching and community work since settling back home.
"I was building a relationship with Cyril the last couple of years," former AFL Northern Territory chief executive Stuart Totham says.
"He did some work with our talent group, but we just kept it quiet. He didn't want any notoriety.
"He did a bit of work through our remote projects team as well. We'd catch up for coffees, Cyril's a terrific lad. He's bright."
Starting out as a runner to stay fit evolved into talking to teenage boys and girls as their coach.
For Rioli, using his voice – instead of his phenomenal feet – was a big responsibility.
But he had a big impact on St Kilda draftee Jack Peris, the son of Olympic Games gold medallist Nova Peris.
However coaching life, instead of football, is where Rioli can leave an impact lasting generations.
He is mentoring Aboriginal teenagers who have become disengaged with education. Some have been in and out of Don Dale Youth Detention Centre.
Rioli has been at First Step since it started in 2019, his job stemming from helping the Murin Association aid the troubled Wadeye community.
Rioli was unsure what working without a Sherrin would be like when he traded the MCG for a shed in Winnellie, home to First Step.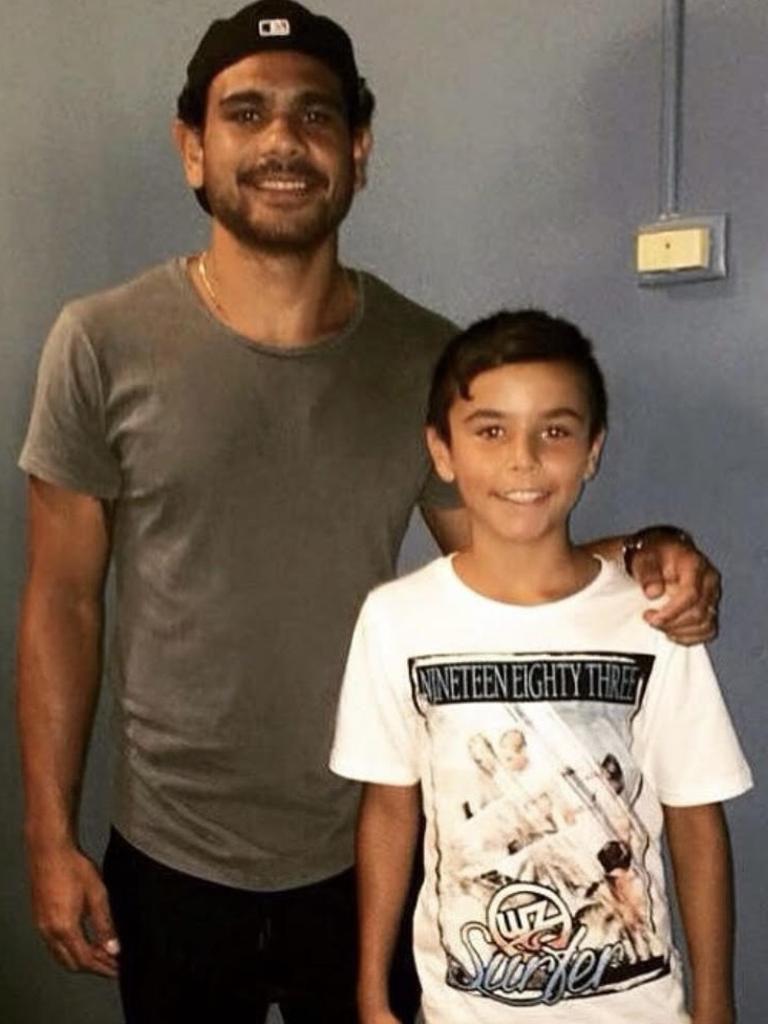 Cyril with a young Jack Peris. Picture: Supplied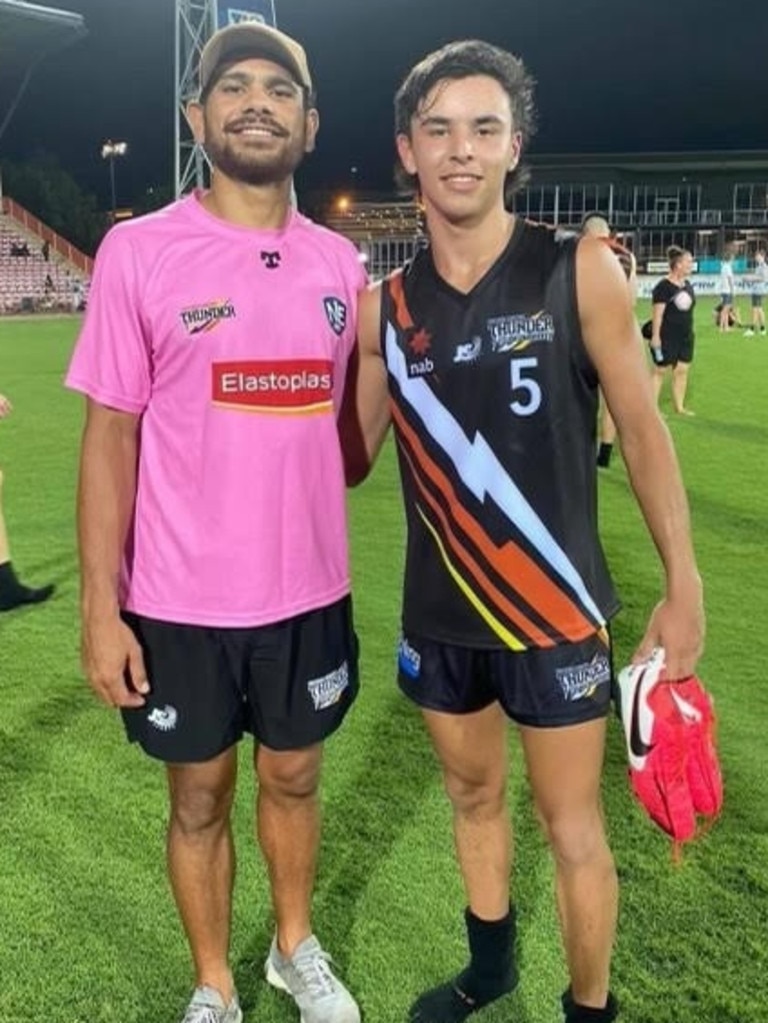 Rioli helped Peris throughout his junior development. Picture: Supplied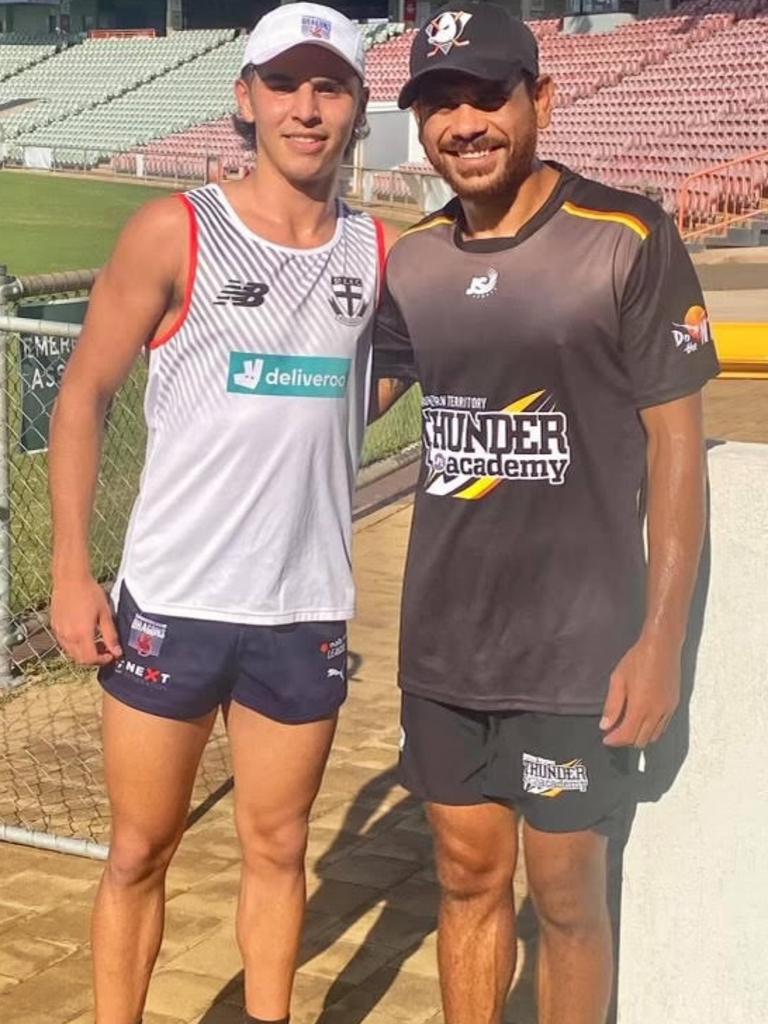 Peris was later drafted by the Saints. Picture: Supplied
After all, he'd never done it before.
"He's one of the directors and he has a huge influence, just by being Cyril," First Step program supervisor Tracy Munchow says.
"He's relatable to young people in Darwin.
"A lot of what we do is provide mentoring by positive role models, which Cyril is a huge part of, and giving them employment and training pathways."
Jack Long is also senior mentor. He and Rioli are cousins and confidants.
Recently, First Step purchased oil drums to up cycle and convert into grills while a 16-year-old boy living with his grandma without much furniture upgraded the house.
"He built a table, he built benches, a TV cabinet, all at the First Step site," Munchow says.
"It's hands-on learning, but also supporting the home environment.
"It's that reparative approach and restorative approach back to community – he is giving back to the people that he's wronged by his choices in the past.
"But now he's earning money and doing things the right way with that support around him.
"I don't think this young man would have had a lot of opportunities because English was his third language and there are a lot of hurdles in terms of gaining employment in an urban setting."
On the field Rioli's strengths were his power, skills and agility.
What about as a community leader?
"He keeps us grounded and he keeps the company true to the original purpose, which was engage our young people in community," Munchow says.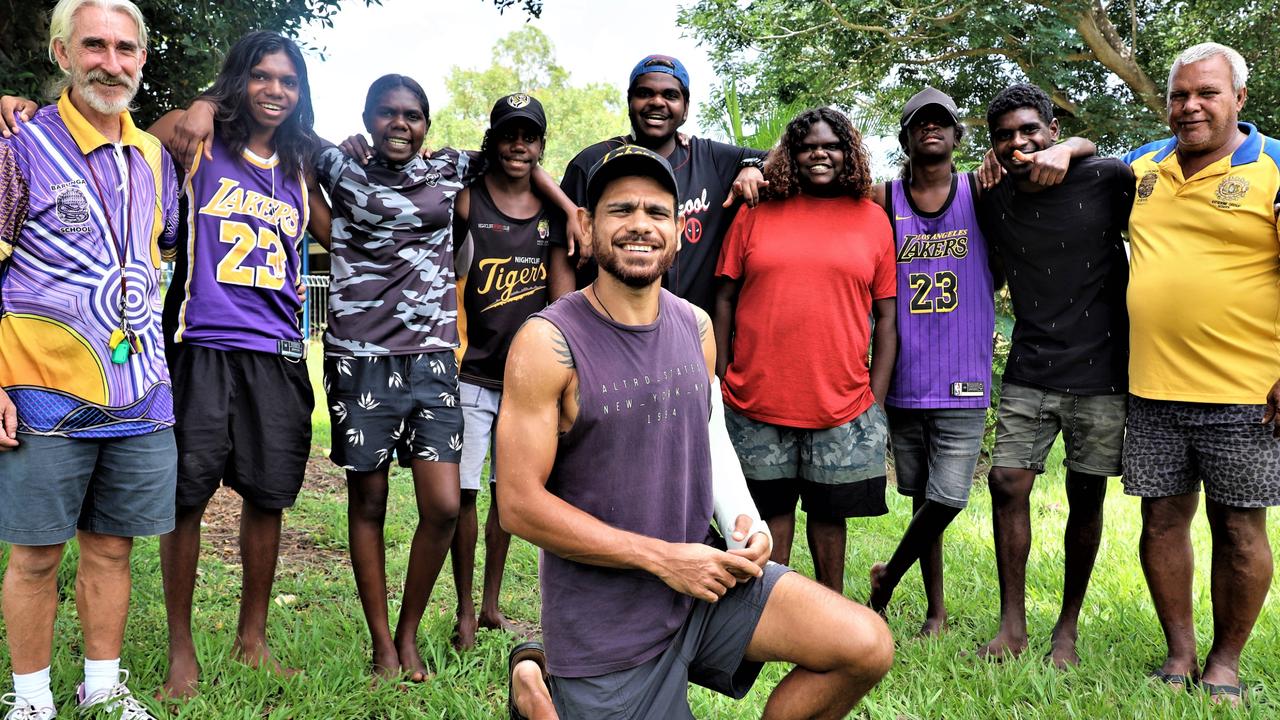 Cyril Rioli visited Barunga School to launch a partnership aimed at boosting completion rates and post-school outcomes. Picture: Supplied
"That's what he's good at. I have nothing but great things to say about Cyril, really."
Back at Malak Park near Rioli's place, one family, from Gurindji – made famous by Paul Kelly's 'From Little Things Big Things Grow' song, relax in the shade.
"We're all family. Doesn't matter what tribe," they say.
They sit peacefully, carrying a garbage bag to clean any mess.
At night they doze on the basketball court, sometimes venturing to the river to light a fire. Friendliness, just like Cyril shows, is infectious.
Upon learning this reporter has been away from Melbourne for two days, they asked: "Must be missing home?"
It's a pertinent question when you consider Rioli tolerated Melbourne's bustling city and bristling climate, amongst other concerns, for 14 years.
It is a different world.
Airconditioners are set at 25 degrees, Christmas beetles creep out in October and the dry season dawns in April with the onset of dragonflies.
They buzz above the picturesque Mindil Beach Sunset Markets.
Mick's Whips is advertised by a man cracking a whip so loudly it's a wonder they don't come with earplugs. Crocodile belts cost $195.
The stall is flanked by dozens of food trucks boasting global cuisines, mostly Asian.
Across town at the greyhound track, bar staff check stubby holders before they are sold for frogs hiding inside.
Ask the locals about Cyril and many correct you – it's 'Junior Boy'.
They love football.
"High flyer!" one local indigenous woman, Rosemary, says of Cyril.
She once watched Dermott Brereton, Jason Dunstall and Michael Tuck thump goals from the centre of Gardens Oval, a tiny ground hosting cricket because now it's the season for summer sports.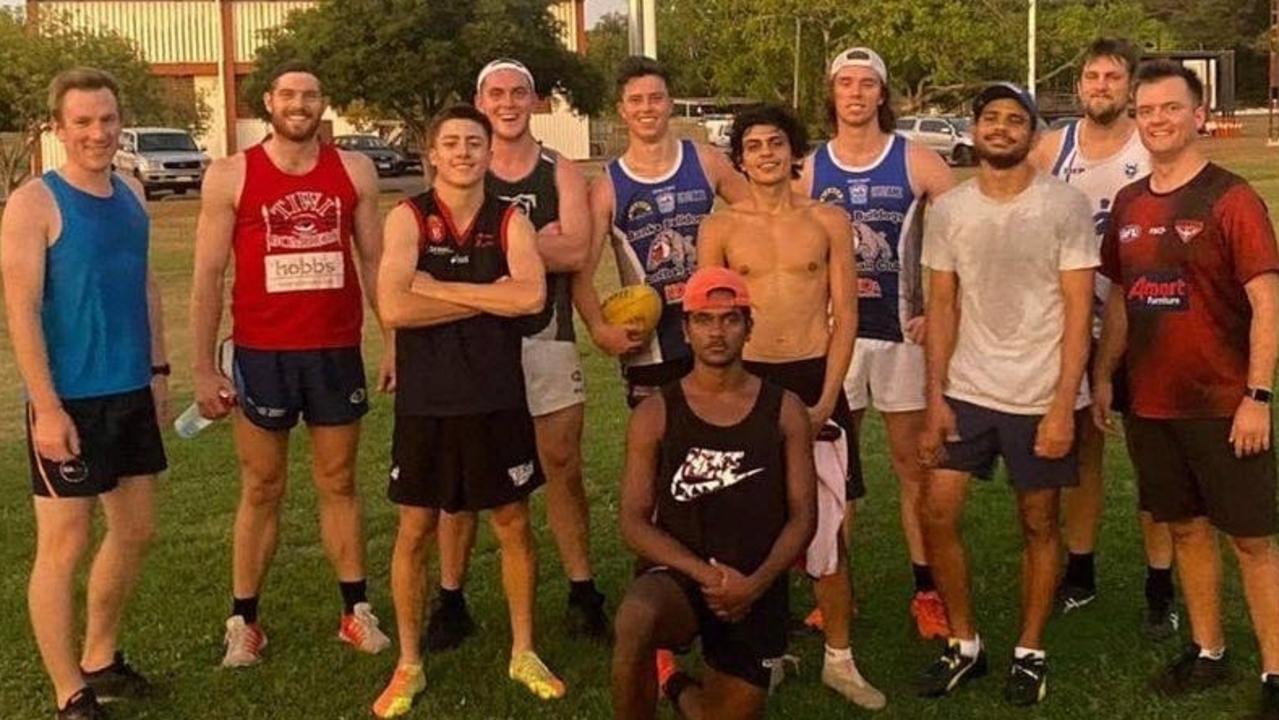 Cyril Rioli training with local footballers. Picture: Supplied
She named her red heeler dog 'Langford', after champion fullback Chris Langford.
Footy plays a healthy part in culture.
"It's intertwined in the fabric of life up here," Vallejo says.
"When you introduce yourself to someone it's, 'What's your last name? Oh, you're involved with that footy club'.
"We (St Mary's) were formed by the Catholic Church (in 1952) so full-blood indigenous Tiwi Islanders could play footy in Darwin, because they weren't allowed to.
"From there we are the most successful club in Darwin. We've produced some absolutely great AFL players over the journey."
Rioli's dad was a damn fine footballer, too. Growing up Vallejo idolised the man who won 12 premierships from 16 grand finals with St Mary's.
"When I was lucky enough to come through the grades he was the man," Vallejo said.
"He was the bloke I sat next to in the changerooms and just wanted to be like.
"He was different to Cyril, but he could do those freakish things. He was a short, stocky, onballer type, like a Greg Williams sort of chunky build, which most the Riolis are.
"They're like 44-gallon drums on wheels. He could do anything – barrels, take screamers.
"Not as flashy as his son, but for people my age he was the best player I'd seen play at Saints."
Totham said: "My dad coached Cyril's dad, and he reckons he was the best he's seen".
For Rioli, the Saturday night fixture still seems a long way away. Whether he attends or not is unknown.
But he's had his boat fixed — it was out of service for a long time — and he often takes it to the harbour, or anywhere with a ramp.
And right now, the crabs and barramundi are biting.