Inside Melbourne Demons crisis talks with AFL boss Gill McLachlan
AFL boss Gillon McLachlan has revealed a damning view of the league's coaches and the toxic traits it takes to succeed in the brutal world of football.
AFL boss Gillon McLachlan offered to read the riot act to Melbourne chief executive Gary Pert amid concerns he would "undermine" a club investigation into the behaviour of senior coach Simon Goodwin.
Pert's management style was a central discussion point during a meeting held between McLachlan, AFL commission chairman Richard Goyder and then Demons president Glen Bartlett and club vice-president Mohan Jesudason on Tuesday, February 2 last year.
The briefing was called at a time the Demons board was considering standing Goodwin down ahead of the 2021 season as it investigated claims of serious behavioural issues and bullying.
Bartlett told the meeting that McLachlan had previously told him of dealing with Pert: "You need to pat him with one hand and have a baseball bat in the other".
McLachlan responded that there was "only one way with Gary - they are not nuanced conversations; 'Gary shut the f*ck up and listen or you will go'. He is uninsultable …
"I am happy to say to Gary, you either listen to Glen and do exactly what you are told or they are going to fire you. Happy to play that role."
Bartlett indicated they were "not quite there yet" but that he might "circle back" at a later time.
McLachlan added that Pert was "one of those guys that just talks at you until you either agree or you are defeated and hang up".
Goyder then asked McLachlan whether he thought it would be a good idea to have Pert present in a confrontation with Goodwin, suggesting the Demons CEO "will undermine the conversation" to which McLachlan replied: "He will but this is a seminal moment in the relationship … he either comes on board and he is 100 per cent what you want or he has to go as well."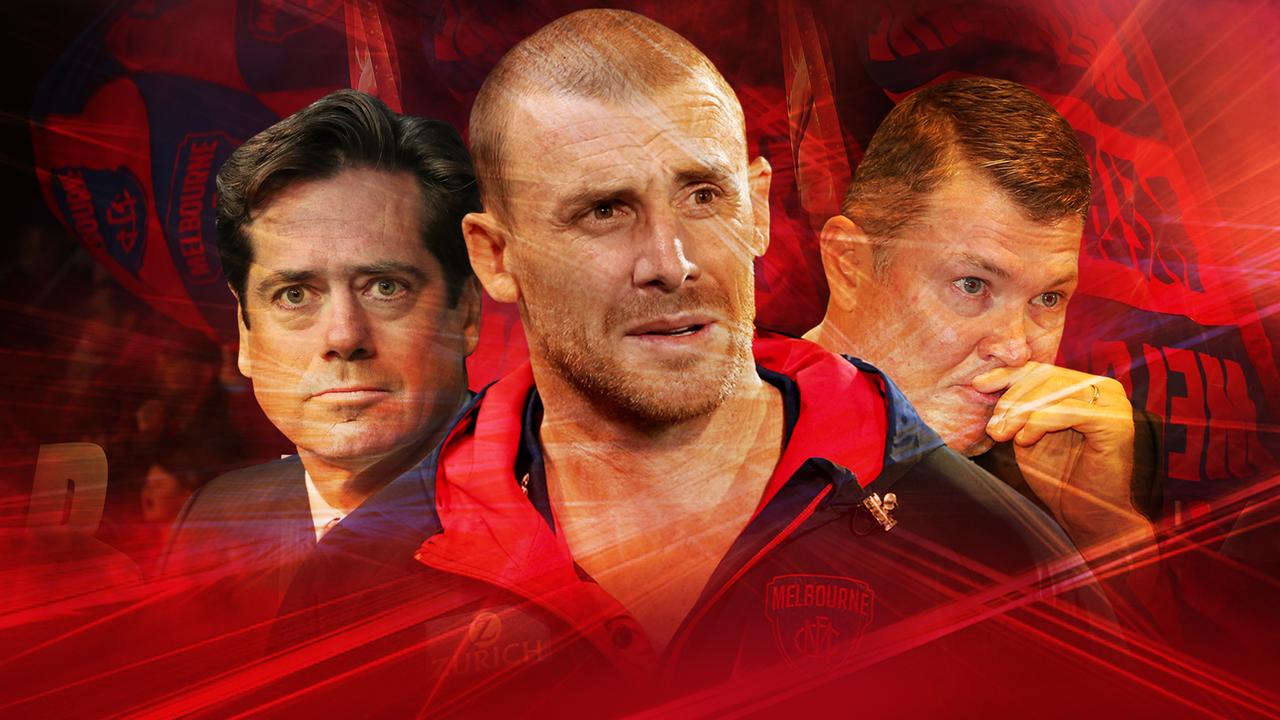 Gill has found himself at the centre of the Demons latest controversy
INSIDE THE MEETINGS
Extensive meeting notes from the AFL briefing in February 2021 shed new light on how seriously the Demons and league hierarchy viewed the allegations surrounding Goodwin's behaviour.
Despite suggestions by Nine newspapers that Bartlett had gone rogue in raising his concerns with the AFL, fellow board member Jesudason told the meeting that he and the president shared the same concerns.
Jesudason said McLachlan and Goyder's "guidance" had been very helpful and "consistent with where Glen and I are at".
He said they would "have the conversation" with Goodwin around his "health and wellbeing" and "the rumour mill", adding that if the workplace bullying allegations against the coach were substantiated or repeated "there will be no tolerance".
"We did not want any surprises for you," Jesudason told the AFL supremos.
Goyder said if he was the president he would not be waiting any longer to confront Goodwin.
"My instinct is this matter is a very serious matter needing serious attention and a rapid response."
McLachlan agreed.
"There are two things here, one about his health and wellbeing and then a broader reputational issue including his ability to do his job …," the AFL boss said.
McLachlan said managing coaches was one of the "most difficult" issues confronting clubs.
"They are binary aggressive people … maybe 1200 people in the country qualified to be coaches and the most alpha black and white angry men are the 18 people who make it … that's the way it is unfortunately," McLachlan said.
TALK OF THE TOWN
The league chief said it sounded like there would be "some relief" if the club's relationship with Goodwin ended, while Goyder referred to "a mentor at Wesfarmers" who "at this point of the conversation would say to me you have answered your own question".
Goyder said there were "no secrets" in football and that the club would be looking towards Bartlett "to do something about this".
He said "the organisation needs the clarity that you (Bartlett) are going to have this conversation".
Goyder again queried Pert's involvement in the confrontation with Goodwin "because you don't want him to be the blocker".
As the meeting drew to an end, McLachlan said: "We all know where this ends", to which Goyder responded: "Yes we do and Gill you are happy to help wherever is required?"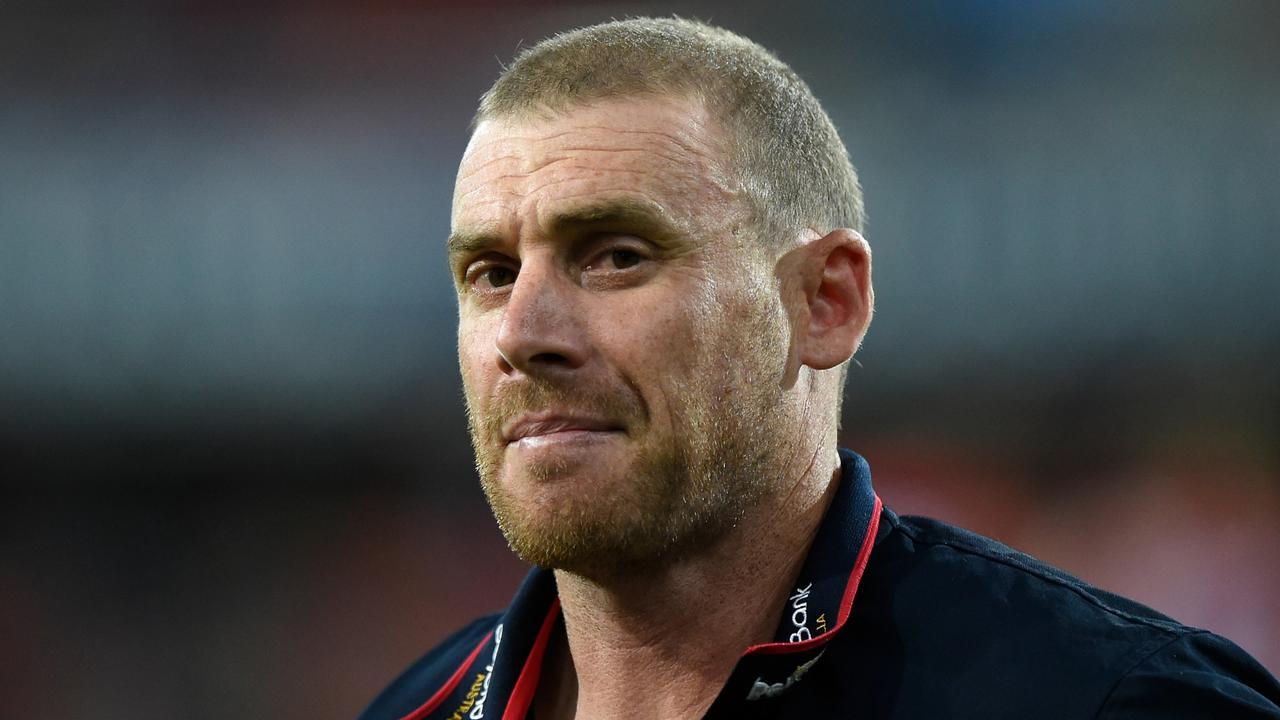 Senior coach Simon Goodwin's behaviour was of major concern to the club
McLachlan said he had told "Glen the other day" that he had spoken to Pert before Christmas and told him this "is the tip of the iceberg".
The AFL boss said he went on to say to Pert that if Goodwin was doing something as "obvious and stupid as this … then God knows what else is happening".
McLachlan added that he had told Pert it was the "talk of the town".
"When you are boozing at the pub and betting with your playing group, 20-year-old blokes think that is odd … coaches of amateur league clubs wouldn't do that …," McLachlan said.
He said a lot of club boards "worried about who is going to take over" but stressed Melbourne had two highly qualified replacements in premiership coach Mark Williams and Adem Yze.
Bartlett thanked Goyder and McLachlan for a "really good discussion" and ended the meeting by saying he would fast track a meeting with Goodwin.
CONFRONTING GOODWIN
On February 10, Bartlett, accompanied by Pert, confronted Goodwin at the club's Casey training base where the coach was informed of the allegations levelled against him.
The internal wrangling at Melbourne had escalated throughout the 2020 season as Goodwin's team fell down the ladder.
In September, Pert launched a review into the club's football operations in which head doctor Zeeshan Arain made claims of workplace bullying by Goodwin.
But within days, Dr Arain was sacked and within weeks the Demons had agreed to a secret settlement with him after he lodged an unlawful dismissal claim against Pert and the club which flushed out further claims of misconduct by Goodwin.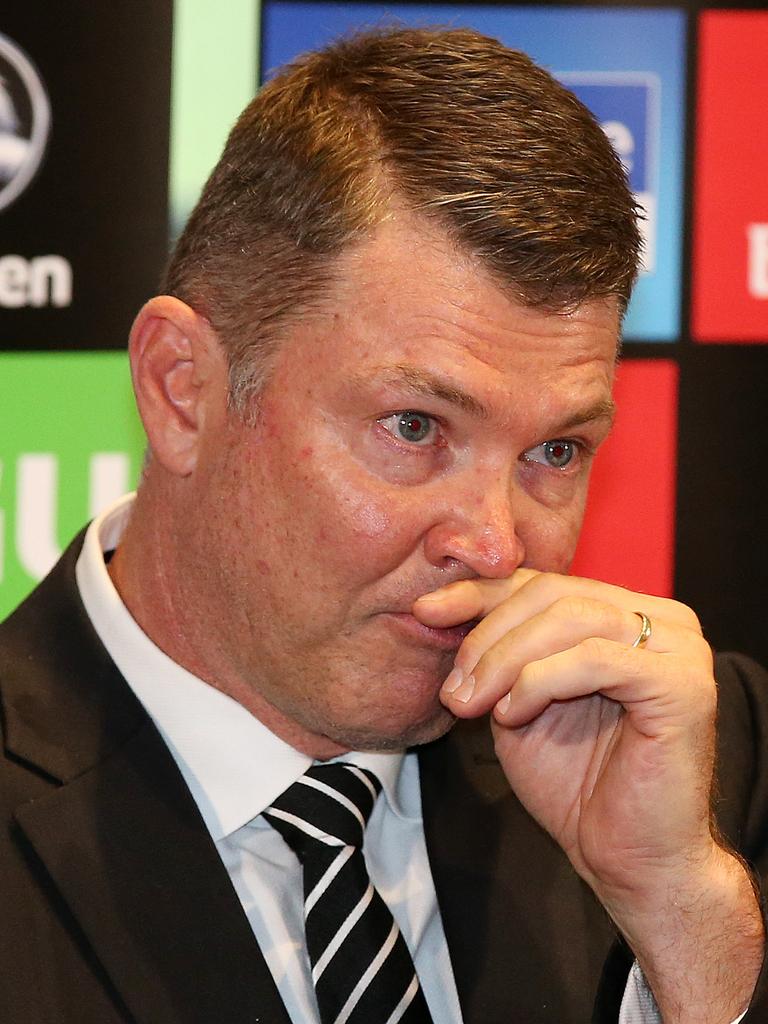 Gary Pert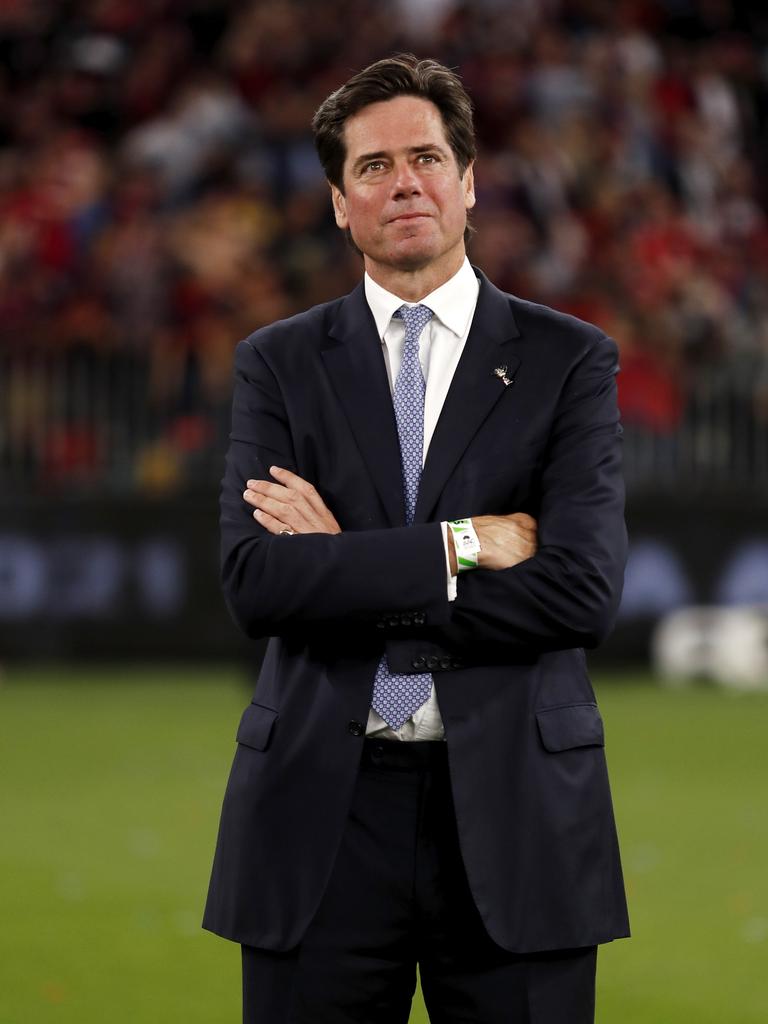 Gillon McLachlan
As part of the settlement, Dr Arain was required to participate in the club investigation into Goodwin with Bartlett declaring soon after that he believed the doctor's claims.
"I have now formed the view that workplace bullying occurred … which would amount to misconduct in my view, if not serious misconduct," Bartlett told the board in December 2020.
Pert, however, savaged the doctor's claims, telling the board his legal claim was "full of inaccuracies and misrepresentations".
"One of the main reasons I terminated Zee's contract is that I had lost trust in his honesty and integrity," Pert said in an email to the board on December 21, 2020.
Bartlett stepped down suddenly as Melbourne president in early April, 2021, just weeks after being appointed unanimously by the board for another 12-month term.
The Herald Sun revealed in February that Bartlett had taken steps to strengthen the club's illicit drugs policy, recommending the introduction of hair testing for all leaders of the club.
A senior club source said serious questions remained about why Bartlett stood down and what support the AFL had provided him given the commitments made during the February crisis meeting.
On behalf of McLachlan, an AFL spokeperson told the Herald Sun on Thursday night: "The AFL will not go into details of a private meeting with two Melbourne Football Club directors over 16 months ago other than to say the club came to the AFL with a problem and organised a meeting.
"Under the leadership of Gary Pert, the club addressed a number of issues that were discussed (in that meeting) and took the steps necessary to set Melbourne up for success – and the club saw the benefit of that in September last year.
"I have a long-term personal and professional relationship with Gary and my casual language reflects that."
Originally published as Inside Melbourne Demons crisis talks with AFL boss Gill McLachlan