Ryan Burton arrived for his medical check-up in Los Angeles.
His mind was spinning.
Within three days, his life had turned upside down as Hawthorn wanted him out.
Burton, then aged only 21, had finished second in the Rising Star award; was given Sam Mitchell's cherished No. 5 jumper, and finished fourth in the Hawks' 2017 best and fairest.
He had signed a three-year contract extension, underlining his standing as one of the club's best and most important youngsters.
But then, out of absolutely nowhere on Burton's end-of-season trip, the classy halfback got an unexpected call from his manager, Marty Pask.
Ryan Burton was shocked to learn the Hawks wanted him out. Picture: Michael Klein
The Hawks, could you believe it, were trying to boot him.
There was stunned silence on the phone.
Was this a joke?
Burton, who was holidaying in the United States with his teammates after the 2018 season, tried to shut things down immediately.
No way. Not a chance, he said back down the line.
Burton had thrived in his three seasons at Waverley.
But there was a considerable problem.
The man driving the bus on one of the biggest trade shocks in recent years was the senior coach, Alastair Clarkson.
Clarkson desperately wanted Chad Wingard.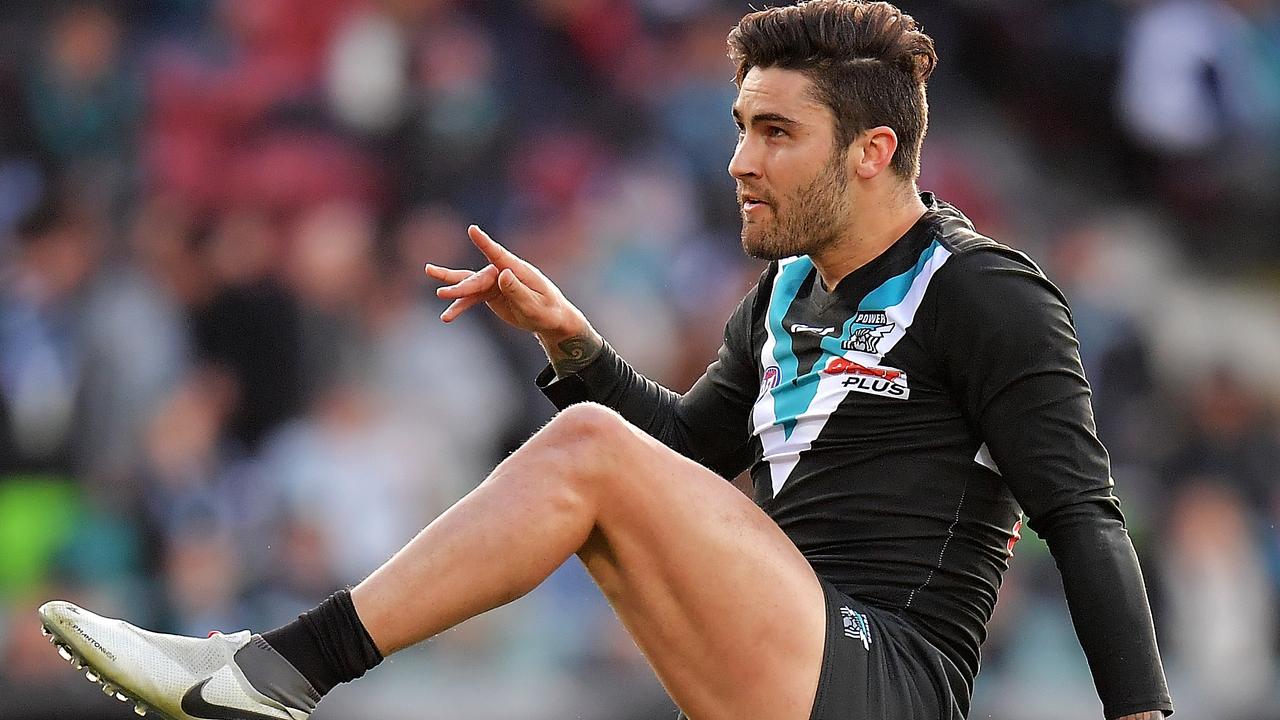 The Power had soured on Chad Wingard, allowing the Hawks to swoop. Picture: Getty Images
The Hawks' premiership window was closing on one of the most successful dynasties the game had seen with four cups from 2008, 2013-15, plus a near miss in 2012.
But when Isaac Smith's after-the-siren 45m set shot drifted right of the goalpost in a qualifying final loss to Geelong in 2016, some at the club thought the time to rebuild – or refurb – had arrived.
But Clarkson, the four-time premiership architect, had another plan two years later.
A top-up plan.
Disaster or not? Pies' 2020 trade cuts

The senior coach was hellbent on Wingard, after coaching him in the 2014 International Rules series, and Hawthorn's list management committee, rightly or wrongly, backed him.
Wingard was a heck of a player, and Clarkson fell in love with the then 25-year-old's mesmerising talent and polish.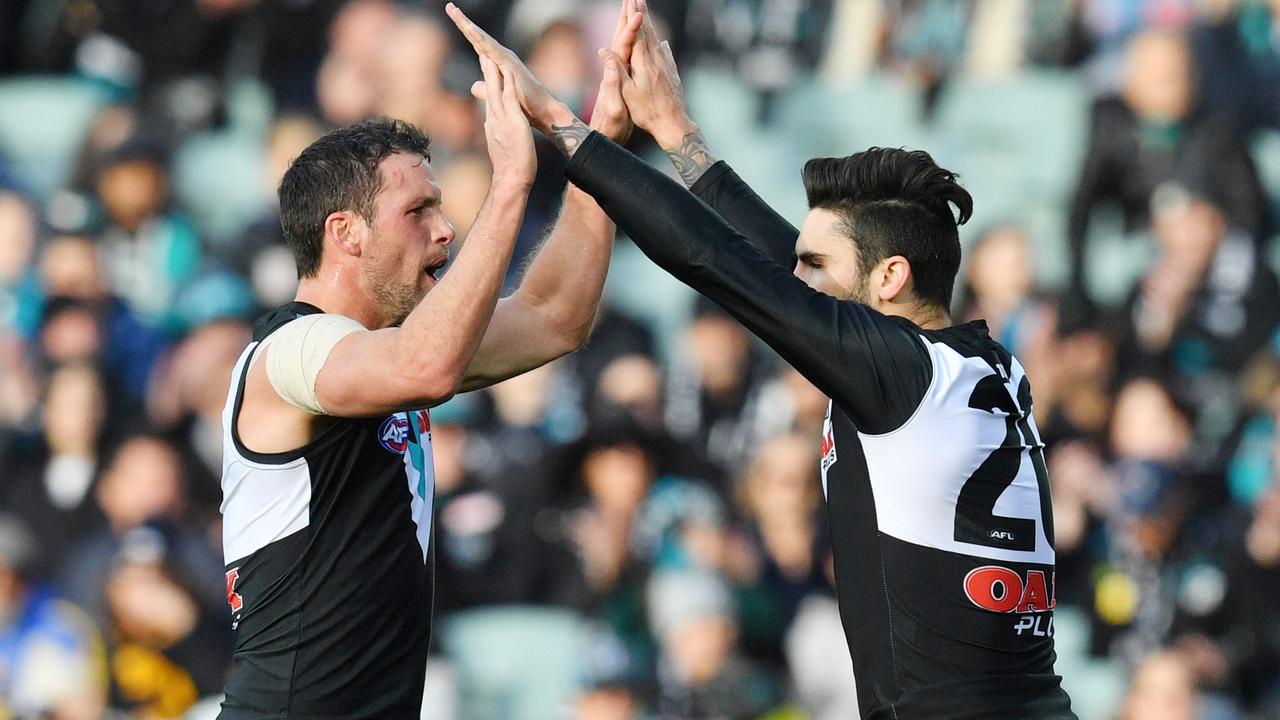 Wingard celebrates a goal with former Power teammate Travis Boak. Picture: AAP
It was the way he could burst out of congestion, slice through the opposition defence and slot goals from anywhere.
Wingard was an All-Australian in his second season in 2013 and that year became the youngest player at Port Adelaide to win the best and fairest in 30 years. He won the mark of the year the following season.
Wingard was a finisher. A matchwinner. One of the best forward-midfielders in the competition.
And at a meeting at the home of footy manager Graham Wright in late 2018, Clarkson told Wingard how bad the Hawks needed him.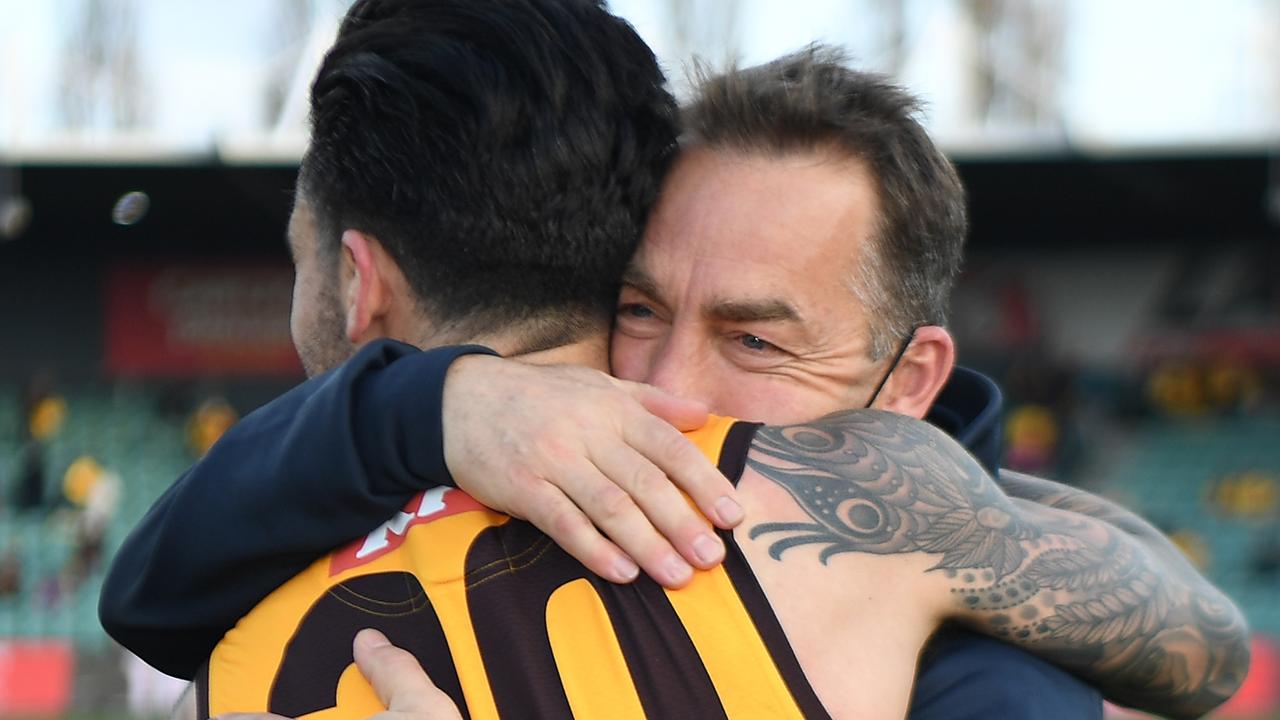 Alastair Clarkson was enamoured with the Port goalsneak. Picture: AFL Photos/Getty Images
Cyril Rioli, the four-time premiership hero, had just retired in dramatic fashion amid a fallout with president Jeff Kennett.
Meanwhile, Port Adelaide had gone a bit cold on Wingard, after some up-and-down form, and Clarkson knew that too.
But the only way the Power was doing a deal on Wingard was if it received Burton plus a first-round draft pick in the deal.
But Burton, who was drafted from North Adelaide, did not want to leave the Hawks' nest after setting up a new life in Melbourne when he was drafted at pick 15 only three years earlier.
From his Los Angeles hotel, the classy utility asked Pask to politely tell Wright he wasn't keen on going home to South Australia. Certainly, not yet.
So Burton went back to the LA pool deck after the first phone call hoping – in an uneasy sort of a way – that was the end of it.
Ryan Burton punches the ball away against his former club. Picture: Michael Klein
But then another call came. This time it was the senior coach on the line.
And this is where things got much more serious.
Clarkson was blunt. Burton simply had to be sacrificed to get Wingard into the club.
It was a fresh start for both players, he was told. An opportunity.
Hawthorn already had a few rebounding defenders in James Sicily and Jarman Impey and veterans Grant Birchall and Shaun Burgoyne.
Jack Scrimshaw was also on his way from Gold Coast at the end of '18.
What the Hawks lacked, Clarkson said, was another dangerous small forward to replace Rioli and take over from Paul Puopolo.
Burton's stomach sank. His head spun again.
He was hurt and confused, and completely blindsided by it all.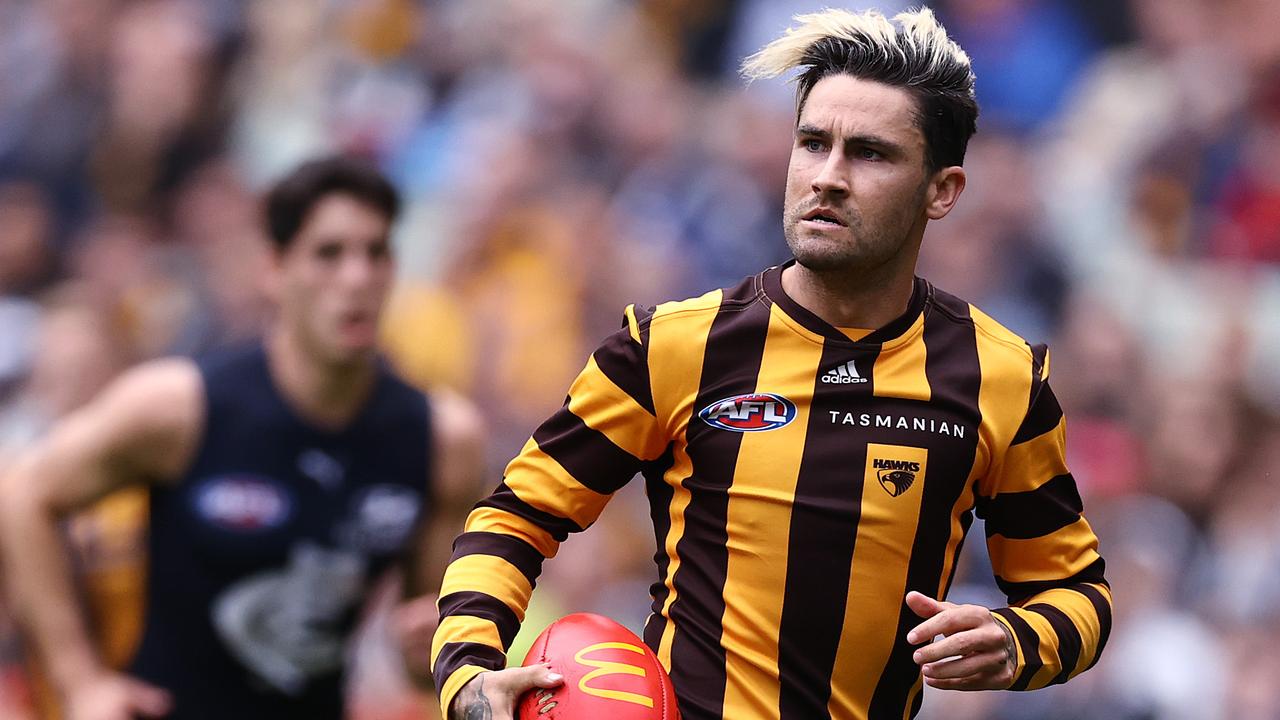 Flamboyant Wingard has enjoyed some highlight reel moments for the Hawks. Picture: Michael Klein
Burton had played 23 games for the Hawks in only his third season (including both finals), but suddenly he was not in the coach's plans, and perhaps not even his best-22, for the following season.
Burton said he was "shocked" and "shattered" the club had shown him the door, so soon after re-signing him.
"To be told you're no longer wanted at the club and you're up for trade – it was a bitter pill to swallow at the time," Burton said.
Burton's father, Craig, added: "When you get something from left-field that you're not expecting you go into shock first, and, a bit of anger."
From the moment Burton put down the phone, he knew it would be pointless to try and hang on against the coaches' wishes. So he begrudgingly went off to the Port medical.
The resistance was over. And within about 72 hours of the first bombshell call, he was all but gone.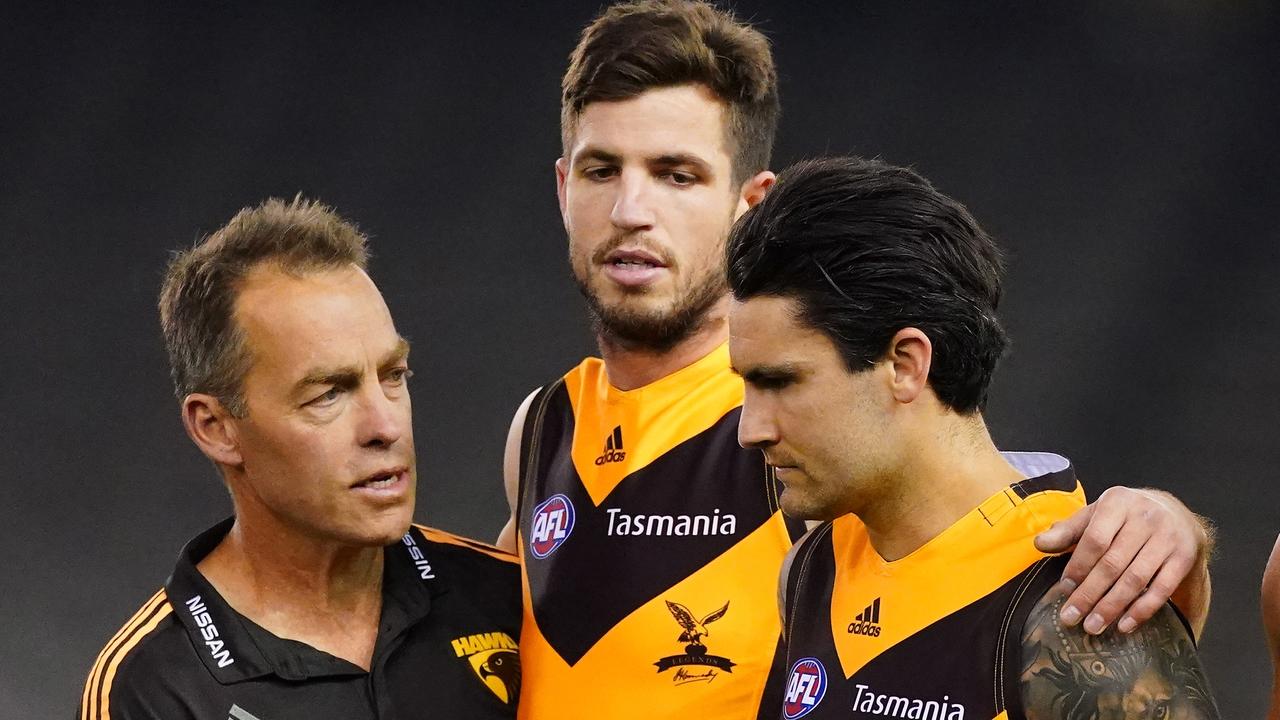 Clarko, former Hawks captain Ben Stratton and Wingard, pictured in 2020. Picture: AAP
THE DEAL
Hawthorn faced a fight to snare Wingard, as there was another club in the mix.
Western Bulldogs also had a keen interest, and arranged a dinner for Wingard and Dogs' coach Luke Beveridge.
But in one of those massive sliding doors moments, Wingard chose Waverley over Whitten Oval.
It meant the Dogs kept pick seven, and at the draft snaffled one of the best young players in the game, jet midfielder Bailey Smith.
For Hawthorn, the protracted negotiations with Port on Wingard dragged on until the final day of the trade period when about midmorning the club gave up pick 15, 35 and a future-fourth round pick in exchange for Wingard and a future third.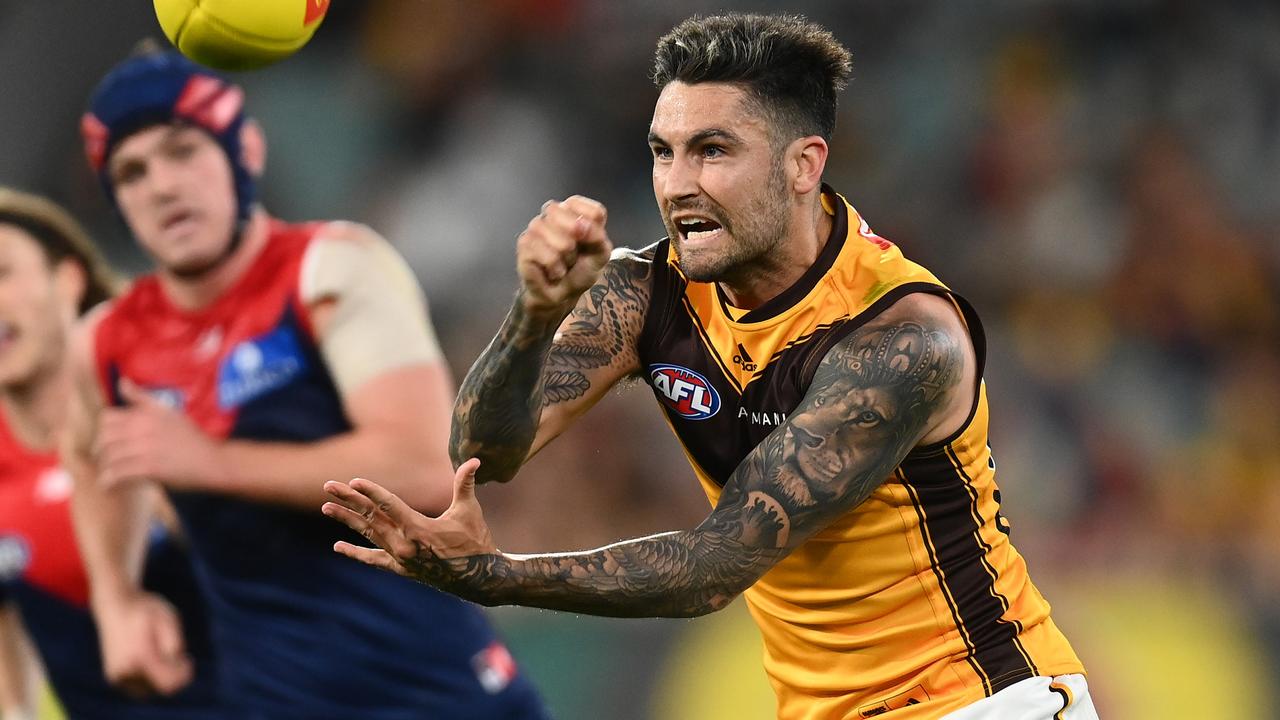 Wingard gives the hands against the reigning premiers. Picture: Getty Images
Port Adelaide snared Burton and took Xavier Duursma with pick 15 (became 18), and Connor Rozee at pick six after doing a deal with Brisbane.
The Lions used pick five in the mega trade for Lachie Neale.
For Wingard, the move wasn't particularly easy either.
He hadn't been feeling the love at Port, had been built-up and torn down in a way after a pulsating start to his career and had received some negative feedback after his form slumps.
The theory was the dual All-Australian and two-time leading goal kicker would benefit from a move out of the two-team Adelaide fishbowl.
It made sense.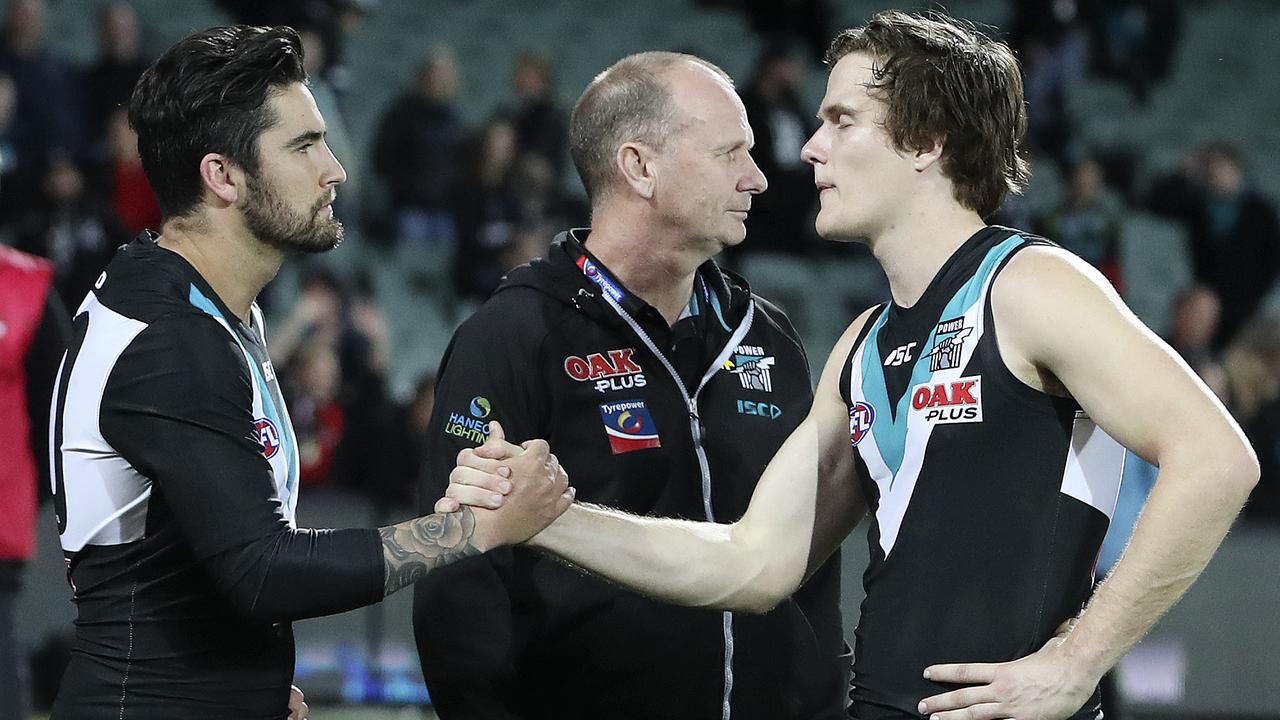 Wingard with former coach Ken Hinkley and ex-Power midfielder Jared Polec. Picture: Sarah Reed
And the Hawthorn offer was a lucrative one, believed to be worth about $750,000-year over five seasons. But ex-teammate Jared Polec said the ordeal hurt him.
"He's heartbroken," Polec said.
"It was a bit of a shock decision.
"He is leaving because he's not feeling a lot of love from Ken Hinkley and (he gets) more security and more finances from Hawthorn."
Hawthorn had played finals in 2018 but was bundled out in straight sets that year with 31 and 33-point losses to Melbourne and Richmond.
Wingard was a big part of the plan to re-enter the premiership mix the following season.
It was Clarko's call.
He was the dynamic and skilful new scoring option which would put a layer of cream back on the Hawthorn cake, post Rioli.
But the club has not played finals since.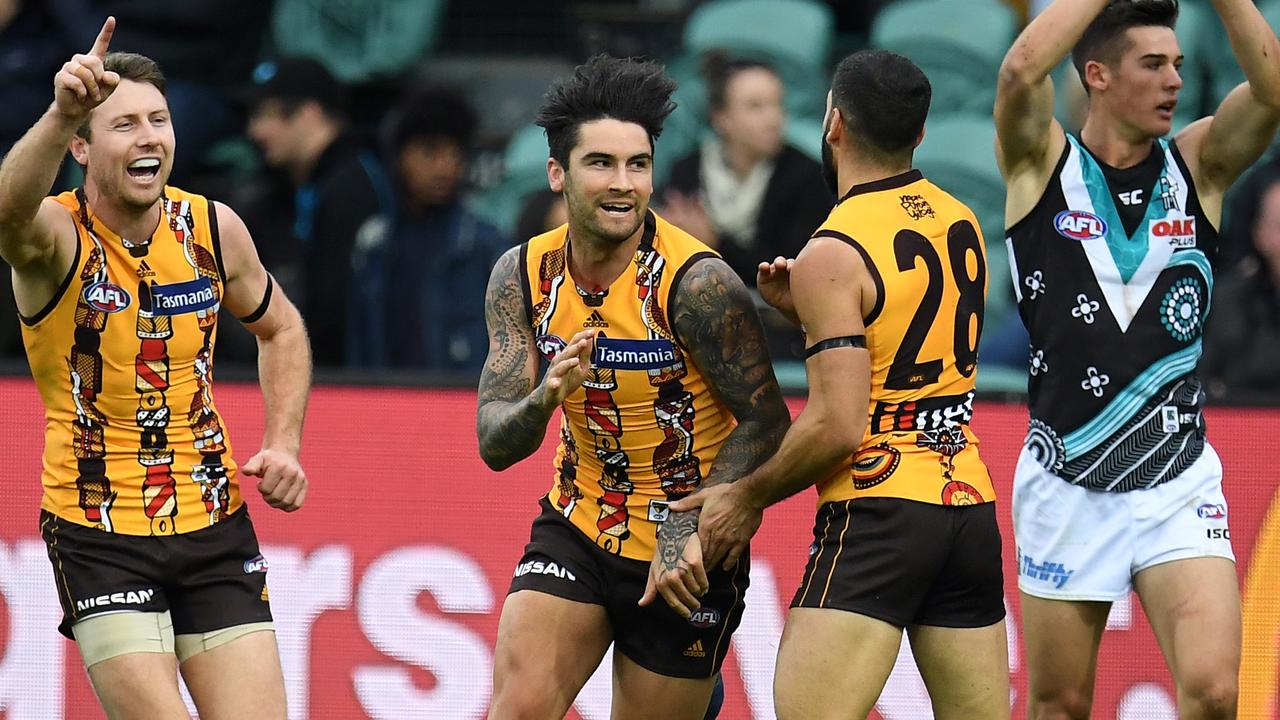 Wingard celebrates a goal against his former club. Picture: AAP
THIRD CLUB?
Has Wingard lived up to Hawthorn's expectations?
He endured a bumpy first season, kicking 12 goals from 14 games and was confronted on the field by teammates Jarryd Roughead, Luke Breust and Paul Puopolo at half time of the Round 7 clash against Melbourne.
Garry Lyon, commentating for Fox Footy, said at the time: "Wingard is getting some upfront, 360 advice from the former captain Jarryd Roughead and Paul Puopolo."
"You've got the young bloke who's been there five minutes and he's getting a pretty sharp induction into the Hawthorn way," Lyon said.
But Wingard returned to his best in 2020-21, finishing third and fifth in the club's best and fairest.
In 2020, he was lethal on both sides of the body, using his signature skills to rack up the second most goals (18) and fourth-most possessions (251). He was one of only two Hawks to play all 18 games (due to Covid-19) that year.
And, the number six draft pick had a hot finish to last season, polling eight Brownlow Medal votes in the last four games.
Like 'Clarko' said, at his best Wingard is unstoppable.
But was it the right fit, at the right time?
Hawthorn had been on the slide in recent years, and last year made the big call to replace Clarkson with new coach Sam Mitchell for this season.
The Hawks' list, too, had to be replenished. A new era had begun.
At the end of last year, the club was open to a trade on Wingard among other senior players, and GWS Giants was keen on the star 183cm playmaker from Murray Bridge, but Wingard was not.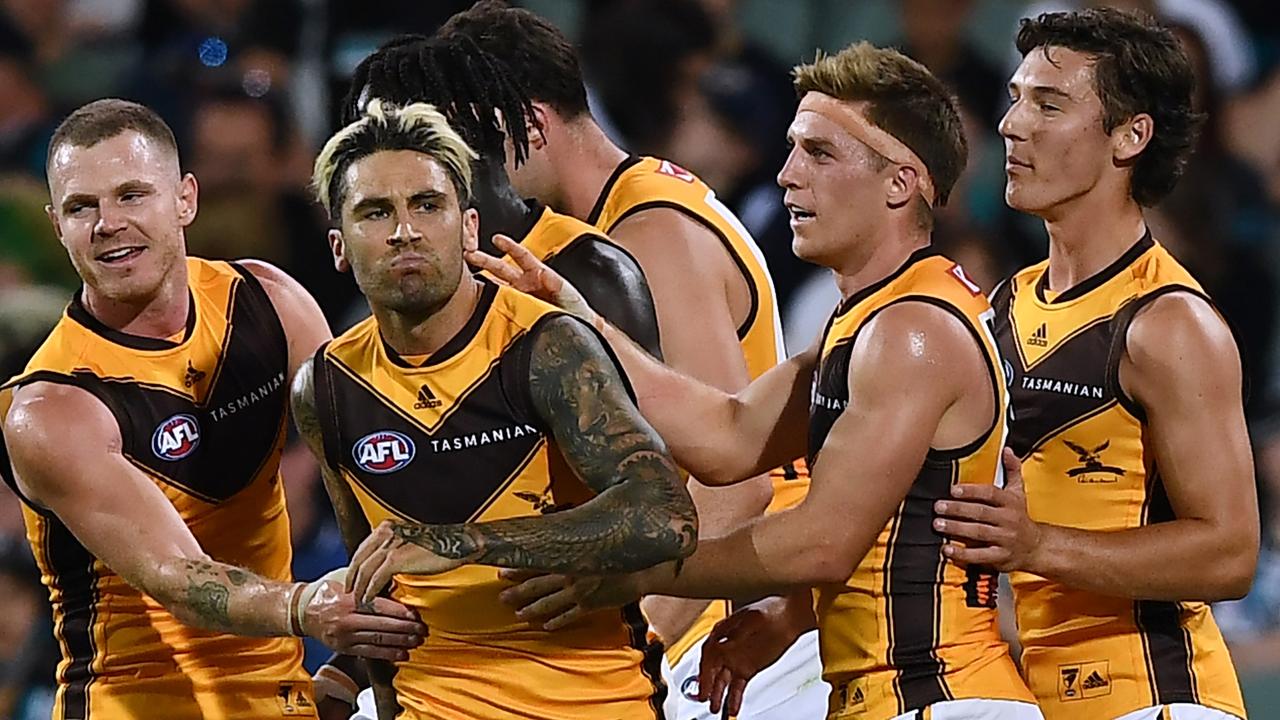 The Hawks get around Wingard during a March match. Picture: Getty Images
The dashing forward posted a scene from the hit movie "Wolf of Wall Street" on Instagram last year, declaring "I'm not leaving".
But Wingard was hard hit by calf and hamstring injuries this year, restricting him to only 10 games.
Brereton said Hawthorn could revisit a trade in October on Wingard as part of the club's resurgence under Mitchell.
"He's a very good player … there's been games – not so much this year, but in the past – where Hawthorn have won them because of his influence, his tearaway pace and his ability to create scores," Brereton said on SEN.
"But where the Hawks are right now, I would say if a team does knocking and says … we are prepared to offer X, Y and Z in terms of picks of players', you'd be obligated to listen.
"They (Hawks) seem to have made progress, even though it's not numerical in terms of wins, they've done it with ten games and without a great input from Chad."
Meanwhile, Burton has enjoyed his best season at Port Adelaide, and is tipped to finish top-10 in the club's best and fairest.
Burton, 25, rates above average for disposals (21.1) and intercept possessions (5.3) and elite for average metres gained (530m).
For the 191cm Burton, the move was a "blessing in disguise".
"Looking at it now I feel like it's a good trade in the end," Burton said.
"I get to come home and get to play for the club that I grew up supporting."