Jai Culley's rise from 'cold, horrible night' in Langwarrin to AFL mid-season draft prospect
They found him on a 'cold, horrible night' at Langwarrin: Jai Culley, a dominant, dreadlocked kid who could now feature in the AFL mid-season draft, writes PAUL AMY.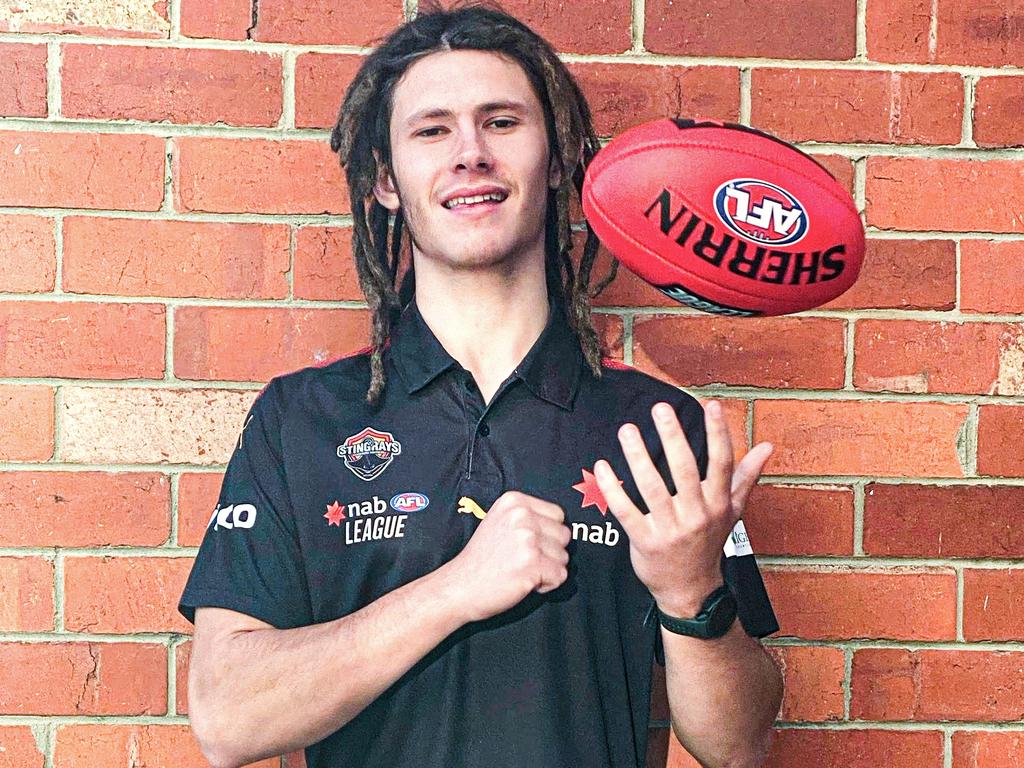 Dandenong Stingrays gun Jai Culley is an AFL mid-season draft prospect. Picture: Paul Amy
They found him playing under lights in a junior rep game at Langwarrin.
Dandenong Stingrays coach Nick Cox and then-region manager Darren Flanigan had gone there in the hope of seeing possible inclusions for the 2020 NAB League Boys squad.
Cox remembers it was a "cold, horrible night''.
It was worth the shivers. They noticed a kid named Jai Culley.
They hadn't heard of him; they would not have known him if he popped up in the coffee they were drinking to try to keep warm.
"There was this kid with dreadlocks who was running around and dominating, and we didn't know anything about him,'' Flanigan recalls.
"We found out he'd actually played up an age group all through his junior footy. And when he finally got into his own age group for this interleague team, we're going, 'Gee, this kid goes all right'.''
Cox says with a laugh: "He sort of emerged from the fog!''
And this season, as a 19-year-old player, the 192cm left-footer has emerged into an AFL mid-season draft candidate.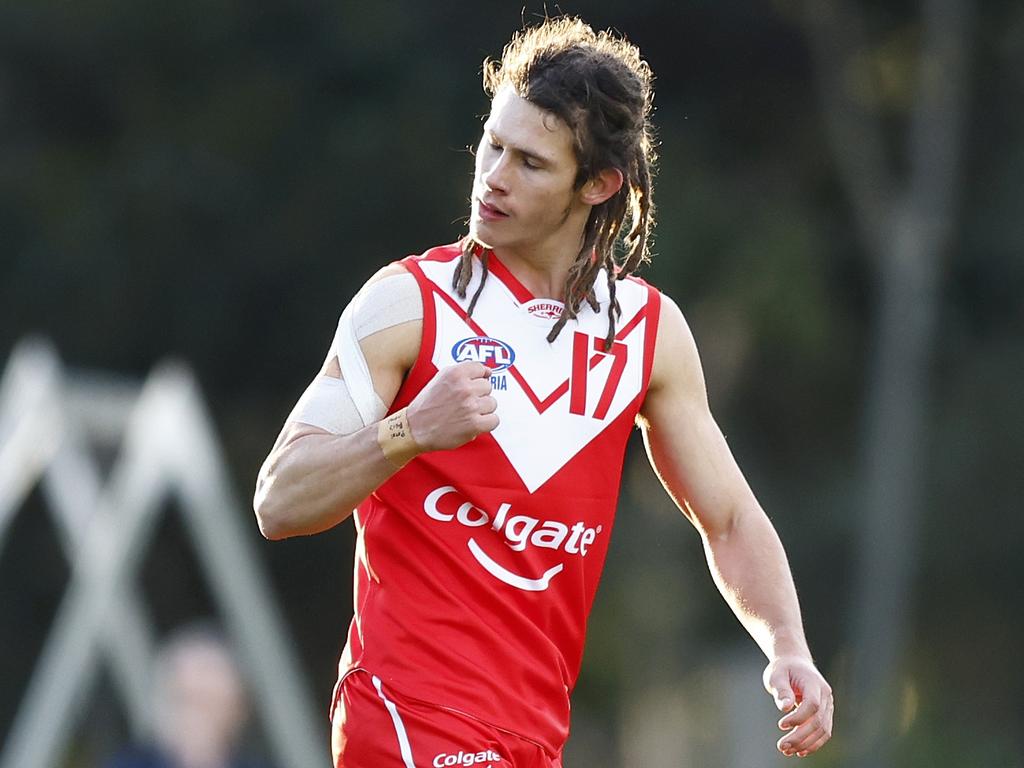 Jai Culley celebrates after kicking a goal during the AFL Talent Pathway match between Young Guns and Vic Metro U18 at Avalon Airport Oval. Picture: Mike Owen/AFL Photos/via Getty Images
Last Sunday, Culley attracted attention by kicking four goals in the first half for the Young Guns against the Vic Metro Under-18 team at Werribee.
Apparently 13 AFL clubs had requested he play in the match.
It was Culley's first game in almost a month; he injured his shoulder in round 2, seven days after starting his season with three goals and 27 possessions against Eastern.
On the strength of two games for the Rays and the Young Guns outing, recruiters think he's among the best "over-age'' players in the NAB League.
"He's a strong kid, really hard and aggressive, and he's got that raking left-foot and he can knock over a goal and take a mark,'' one scout says of the Langwarrin junior.
Culley remembers the junior rep game at Langwarrin as keenly as Cox and Flanigan.
A few days after it, he was sitting in class at Elisabeth Murdoch College when he received an email from Flanigan, asking him to pre-season training.
He was chuffed; he says it was the first time he felt anyone had noticed his football.
"It was unreal,'' Culley says. "I'm like, 'You're kidding'. I just felt like I'd been given a chance. Because that's all you want to do when you're a kid, grow up to play footy in the AFL.''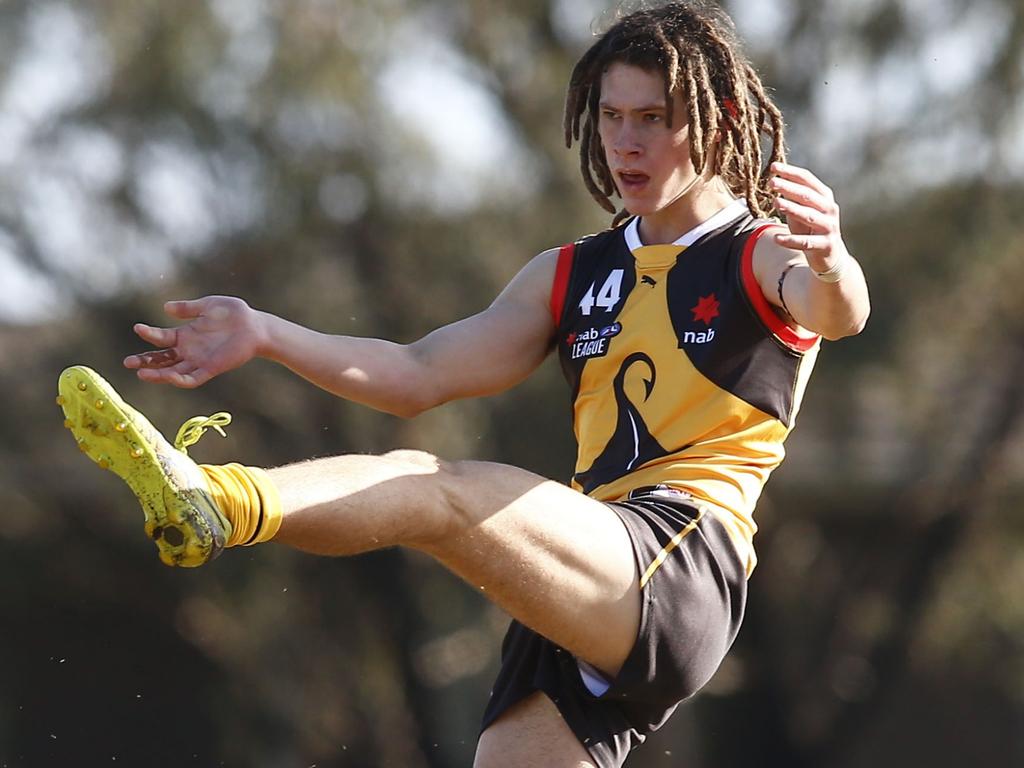 Dandenong's Jai Culley kicks a goal for the Stingrays against Eastern Ranges. Picture: Cameron Grimes/AFL Photos
The Stingrays had given him an invitation, but nothing else. He had to survive six cuts to make the 2020 list.
Of course, Covid intervened and the season never heard a starting siren.
"That was pretty devastating,'' Culley says. "All that work and no footy.''
Last season, he returned as a top-ager, playing every game in a shortened season, predominantly as a forward.
"I tried to get into the midfield but I couldn't crack in,'' he says.
"Connor MacDonald was in there, 'Juddy' Clarke was there … I couldn't a gig.
"Fitness was a big thing for me. I did a lot of work to get to where I was last year. But fitness-wise, I wasn't up to the standard. I realised I had to go and have a huge pre-season.
"That was my aim for this season, come back really fit and firing and be at the top of the (running) pack. Last year, I was in the back or in the middle. I had to go and do a lot of extra stuff, work outside the club, behind the scenes, early mornings.''
When Culley returned to the Rays, the coaches could see he had done his share of sweating over summer. He'd put on size. And he put in a PB for the 2km time trial. He was going into the midfield in round 1.
"He's done a power of work to be able to transition up and down the ground a lot more,'' Cox says.
"He's actually put on weight but it's muscle. He's got himself into a really good spot.''
After feeling "unnoticed'' for a long time, Culley is "pretty stoked'' that his name is up in lights.
"I've been copping quite a few messages but I just take it in my stride, sort of thing,'' he says. "It won't get to my head.''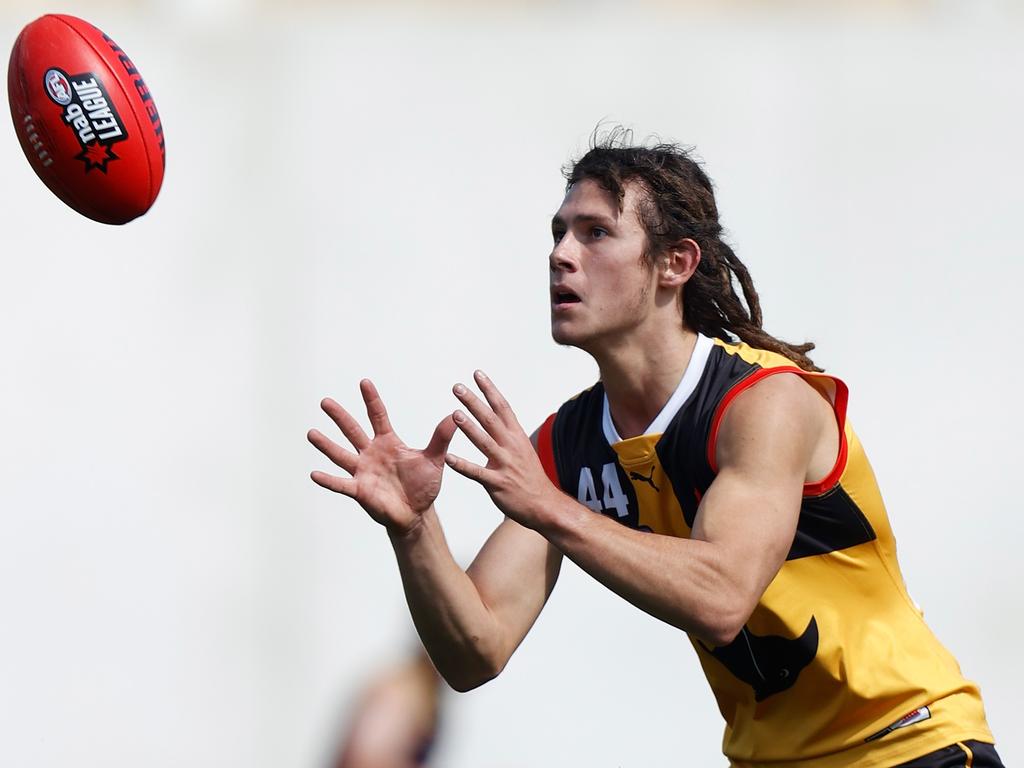 Jai Culley in action for the Stingrays during a 2022 NAB League Boys match against Brisbane Lions at Ikon Park. Picture: Michael Willson/AFL Photos via Getty Images
Culley has two jobs – at a supermarket and a takeaway chicken store – but they're part-time and he's got plenty of time for his football.
"I didn't want to get into a trade where I'd be working full-time … just for the moment I want to be able to put everything into footy,'' he says.
Back to that cold night at Langwarrin, when Cox and Flanigan went out to watch the Frankston District league rep team.
They found one.
"Going out to games and spotting them, it's the thrill of the job, to be honest,'' Cox says.
"You bring them into the program and hopefully watch them progress and become a possible AFL product. That's Jai Culley this year.''