John Barnes Sacked podcast: Essendon AFL premiership star reveals his ongoing battles with concussion
John Barnes was so often battered and bruised during his football career he believes it led to epilepsy. He details the highs and lows of living with the long-term effects of concussion.
Barnes told the Herald Sun's Sacked podcast the epilepsy that changed his life in 2012 remains a daily burden that means he must be monitored in case of a seizure while having a shower or taking a swim in his Essendon pool.
Barnes had at least eight significant concussions and three badly broken jaws during his career with Geelong and Essendon as well as repeated sub concussions or mild concussions that saw him quickly return to the field.
At Essendon during summer training sessions he speaks of the brutality of "last man standing" training sessions during which a line of players would queue for stitches and treatment given the aggression demanded.
He says now that he worries about whether he will deteriorate in the same manner as Shane Tuck or Danny Frawley, who both took their lives and later were diagnosed with degenerative brain disease CTE.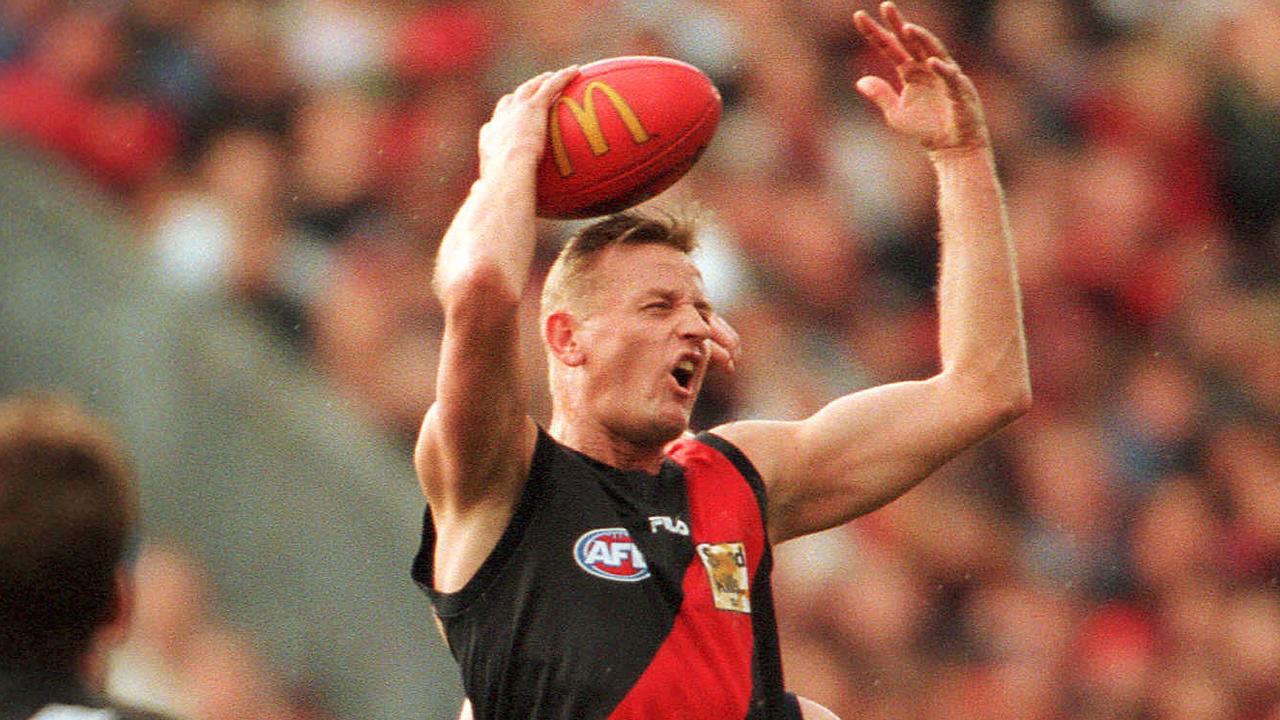 John Barnes flies for a mark in Essendon's 2000 preliminary final against Carlton.
The 2000 premiership player is prepared to be a lead plaintiff in a potential class action against the AFL, aware too many retired players are not prepared to admit their private concussion battles.
"I can only put it down to that," he says of the link between his epilepsy and concussion.
"I have never done anything else bar that, I know 100 alcoholics and 100 drug addicts and they are not epileptics. It comes down to something that has narrowed it down, it is getting more obvious now.
"It is going to be a pretty big thing coming up over the next couple of years, it is going to be massive.
"I have probably had about eight real good (concussions) and then the rest where you see three footies and you grab the one in the middle.
"My best mate Wally (Dean Wallis) said you need to go and get this checked out. So I went and had the tests and Dr Alan Pearce said, 'You have got no brakes on your car'.
"I said, 'Am I that bad?'. And he said, 'Of everyone I have tested you are off the charts'.
"He said go and see (concussion campaigner) Peter Jess. He said (as a lead plaintiff) you are going to cop a lot of shit. You are going to get smashed and bashed.
"I said, 'What do you need me to do?' He said, 'I need you to face questions and I need you to get bagged a bit', and I said, 'I am your man'.
"I have spoken up on behalf of everyone else who doesn't want to put their balls on the line."
"There are probably 250 guys who are really struggling with it. Daisy (Darren) Williams won't come out of his house. And you won't know about (most of those people).
"I know it is going to happen to me. I can see it now. I know the anger comes out when it shouldn't.
"If I put a fork in the wrong drawer I crack the shits whereas five years ago I wouldn't have given a stuff about it."
"It has affected my life, it really has. My sense of humour and all that hasn't changed but in terms of cooking or stuff like that, I have left so much stuff on (the stove). (Almost) burnt the house down. Left the pans in the fridge and the milk in the oven. That happens way too often."
Stream every match of every round of the 2022 Toyota AFL Premiership Season Live & Ad-Break Free In-Play on Kayo. New to Kayo? Try 14-Days Free Now >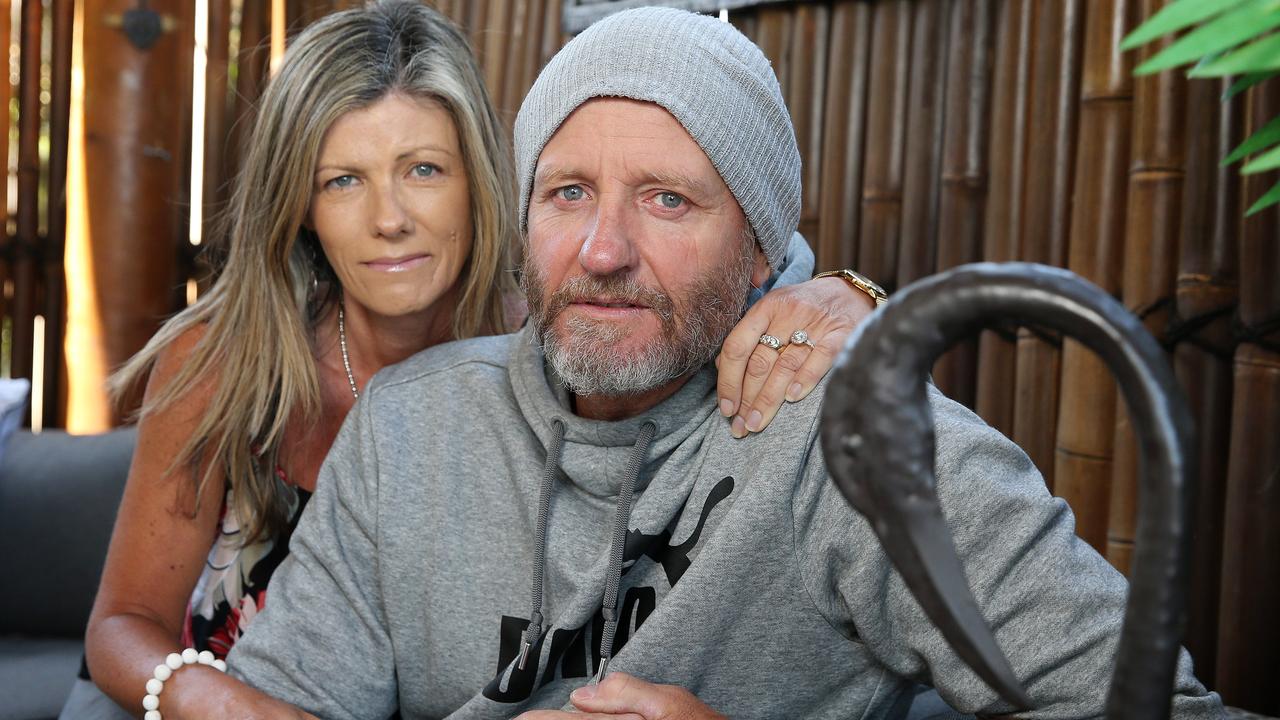 John Barnes and his wife Rowena at their Essendon home. Picture: Michael Klein
Remarkably when Barnes filled out a survey of past players with issues he was told he did not need further scans as part of the AFL and Florey Institute initiative.
Barnes, 52, says the AFL needs to come up with an effective form of workers compensation for players given the dangers they face on the field.
"The bullshit we are going through, is money going to fix that? I don't know, but it might be better for my missus when I go.
"And in 10 more years' time am I going to be thinking about suicide? I don't want to be going down that path.
"I am not out to stop anyone from playing the game, but I want them to at least understand what the consequences might be, because when you worked at James Hardie, you didn't know asbestos was going to kill you.
"If you are a fireman you run into a fire and you know the consequences but you have work cover and protection. We had none of that and that's the point we are bringing up."
Barnes first epileptic seizures started in 2012, with an initial diagnosis of dehydration for his first seizure quickly followed by a spate of incidents that saw him referred to a neurologist.
"As far as life goes, it just turns your whole life upside down," he said.
"I can't let it beat me. If it gets me when I am swimming in a pool, it gets me.
"If it gets me when I am having a shower, it gets me. If it gets me swimming in the river on the Murray, it gets me.
"If my day is up, my day is up. I can't let it get on top of me."
Originally published as John Barnes Sacked podcast: Essendon AFL premiership star reveals his ongoing battles with concussion