Jon Anderson: Alastair Clarkson, Ian Aitken to meet again to bury 35-year Battle of Britain feud
Alastair Clarkson and Ian Aitken, central figures in the infamous 1987 Battle of Britain, are on a collision course again. So how does Aitken view the broken jaw incident 35 years on?
An MCG luncheon on March 23 will witness the public ending of a football feud that began in the unlikely venue of London 35 years ago.
Ian Aitken, who at the time was not only regarded as the best first-year player in the then VFL but had also represented Carlton in its 1987 premiership team, was knocked out behind play by a feisty North Melbourne rover named Alastair Clarkson.
It came three months after Aitken had his jaw broken by Hawthorn's Dermott Brereton, and his career never reached the same heights again, ending in 1993 after 61 games for Carlton and five with St Kilda.
Aitken, 54, has since become one of the game's most respected senior and junior coaches and estimates he has more than 1000 games to his name as a senior coach. He is currently coaching Kew in D1 of the VAFA.
Stream every match of every round of the 2022 Toyota AFL Premiership Season Live & Ad-Break Free In-Play on Kayo. New to Kayo? Try 14-Days Free Now >
Alastair Clarkson strikes Ian Aitken during the tainted Carlton and North Melbourne contest played in London in 1987.
Aitken on the Battle of Britain aftermath: "'Clarko' has agreed to appear with me at the Kew FC Business Lunch at the MCG (call 0402 823 099 for tickets) where there is a fair chance the London game will come up. I went through different emotions after that game.
"Did the punch affect my career? I'm not sure but I was never going to be a superstar, just a bloke who could run really well and get the best out of myself. Once a week for the past 30 years someone will recognise me as the bloke who got king-hit by Clarko. Then they might say something like "you went down like a bag of s---".
"You meet some funny people. Clarko copped his right whack at The Oval after he hit me. I had nothing to do with him for years after that game. Eventually I reached out to him.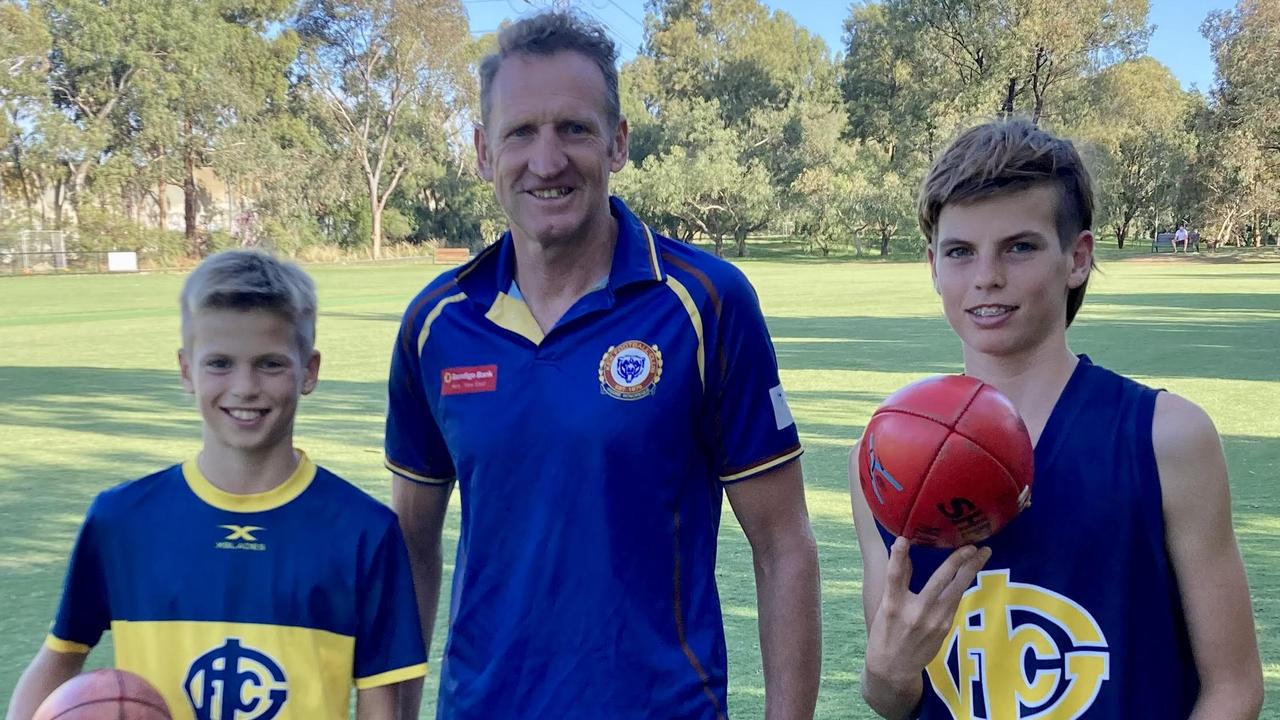 Ian Aitken with Max Darcy (left) and Will Darcy. Both are sons of former Bulldogs star Luke Darcy.
"Initially I had considered civil action but with the advice of friends, and this was in 2018, a meeting was set-up at Justin Reeves' (Hawthorn CEO) place near the MCG. It was civil but uncomfortable early, with Clarko not owning it as much as I thought he should have.
"Eventually we came to some semblance of understanding and since he has been generous in speaking with my players at Kew on a couple of occasions.
"Have I forgiven him? (long pause) Yes. And it has helped lift a load off my shoulders. I just couldn't keep carrying it around.
"But it has taken me a lot to get to that point because I do have vengeance in my make-up. And he has had to live with it, although it hasn't affected his standing given he is an ambassador for the AFL as a role model for the kids. Whatever suits the AFL's cause at the time, I guess."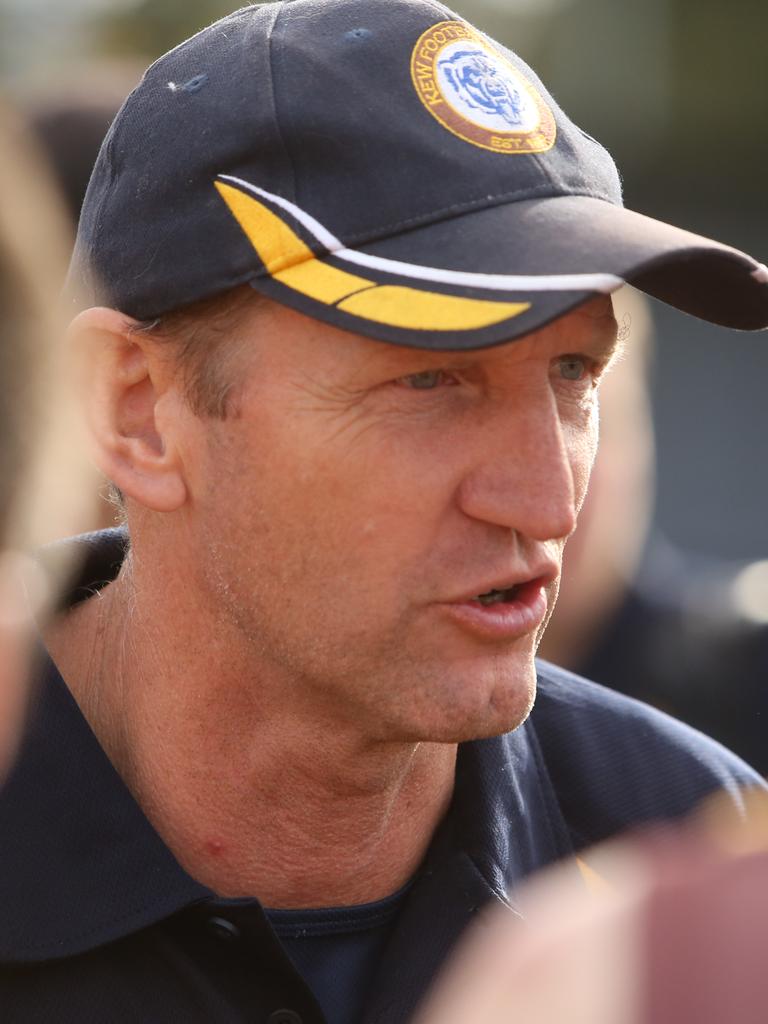 Ian Aitken addresses his Kew players in 2016.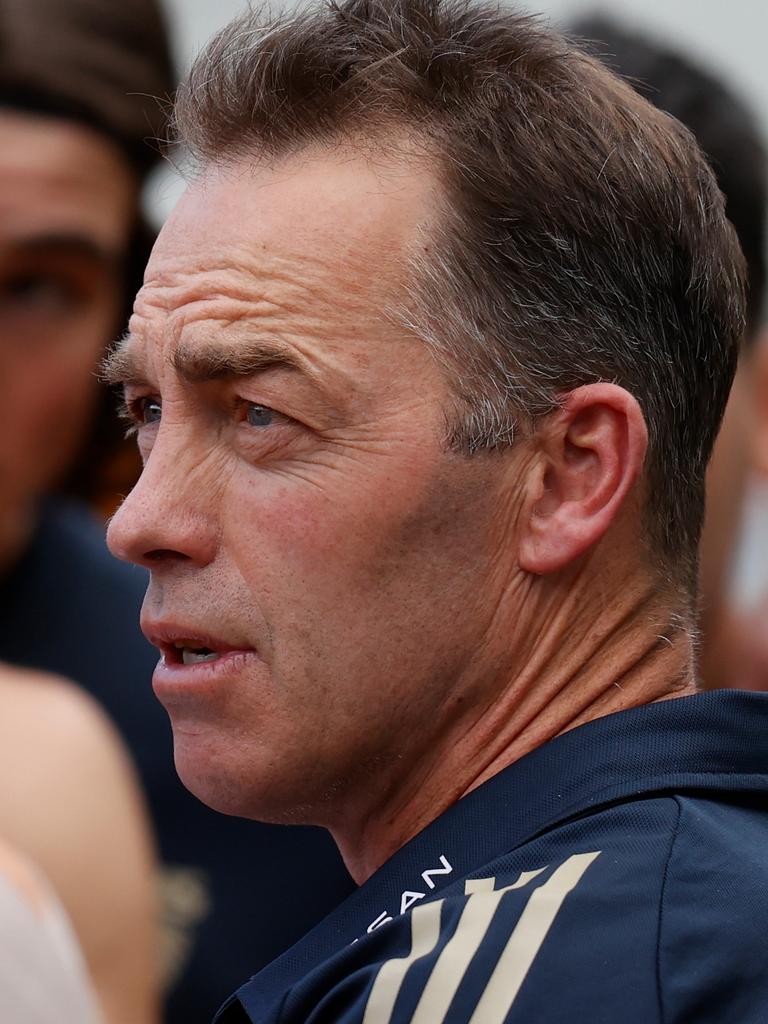 Alastair Clarkson during his time at Hawthorn.
Gavaskar's remarks bowled over by Warne
Sunil Gavaskar's evaluation of Shane Warne's historical standing as a spinning great were not only in extremely poor taste, but also without any form of statistical substance.
Gavaskar, who makes an art-form of bitter comments, said "the Indian spinners and Muralitharan were certainly better than Shane Warne".
Gavaskar based his comments on Warne averaging 43.1 in India (career average 25.4). So what of the Indians and Murali? Ravi Ashwin (career 24.3, Australia 42.2); Harbhajan Singh (career 32.5, Australia 73.2); Murali (career 22.7, Australia 75.4).
SEN glory days a distant, distant memory
SEN's all-important breakfast slot has been joined by rival RSN in the first ratings survey for 2022 on 1.3.
While a bitter pill to swallow for SEN, although their new breakfast additions in Nathan Buckley, David King and Kane Cornes will have their first full survey in April.
It poses the question whether an audience exists for an all-sports format, one that is answered by working back to 2014 when Kevin Bartlett rated over 7 as morning host and David Schwarz and Mark Allen 6 in drive.
Watch this space: Footy commentator Gerard Healy has be linked to SEN.
Healy in possible swing across the airwaves
On the subject of radio, Gerard Healy's name has been linked with the SEN ship, Healy having co-hosted 3AW's Sportsday for the past 25 years.
Sportsday ends this October and will be replaced by Wide World of Sports, with Healy said to have first right of hosting refusal.
HOT
JENNA O'HEA
An Aussie basketball icon who is soon to retire on 299 WNBL games
KYRIE IRVING
Maybe an "earth is flat" believer, but he sure can shoot a hoop
NOT
GONGS
Given so many are handed out, why did Warnie never cop an OAM or AM?
Originally published as Jon Anderson: Alastair Clarkson, Ian Aitken to meet again to bury 35-year Battle of Britain feud