Collingwood coach Craig McRae speaks on Jordan De Goey incident, personal leave
Collingwood coach Craig McRae, who has tried keeping daily contact with Jordan De Goey, has provided an insight into how he is feeling after taking personal leave.
Collingwood coach Craig McRae says he is unsure what has triggered Jordan De Goey's continued absence from the club, but has urged him to return when he can.
McRae says he is trying to keep in daily contact with the troubled midfielder but conceded De Goey failed to respond to his message on Thursday.
McRae is hopeful De Goey can bounce back from his embarrassing Bali antics but admitted the Magpies' star was probably not in a good head space after he was rebuked and contract talks were put on hold.
Asked what De Goey was struggling with about the Bali episode and subsequent fallout, McRae said he was unsure.
Watch every blockbuster AFL match this weekend Live & Ad-Break Free In-Play on Kayo. New to Kayo? Try 14-Days Free Now >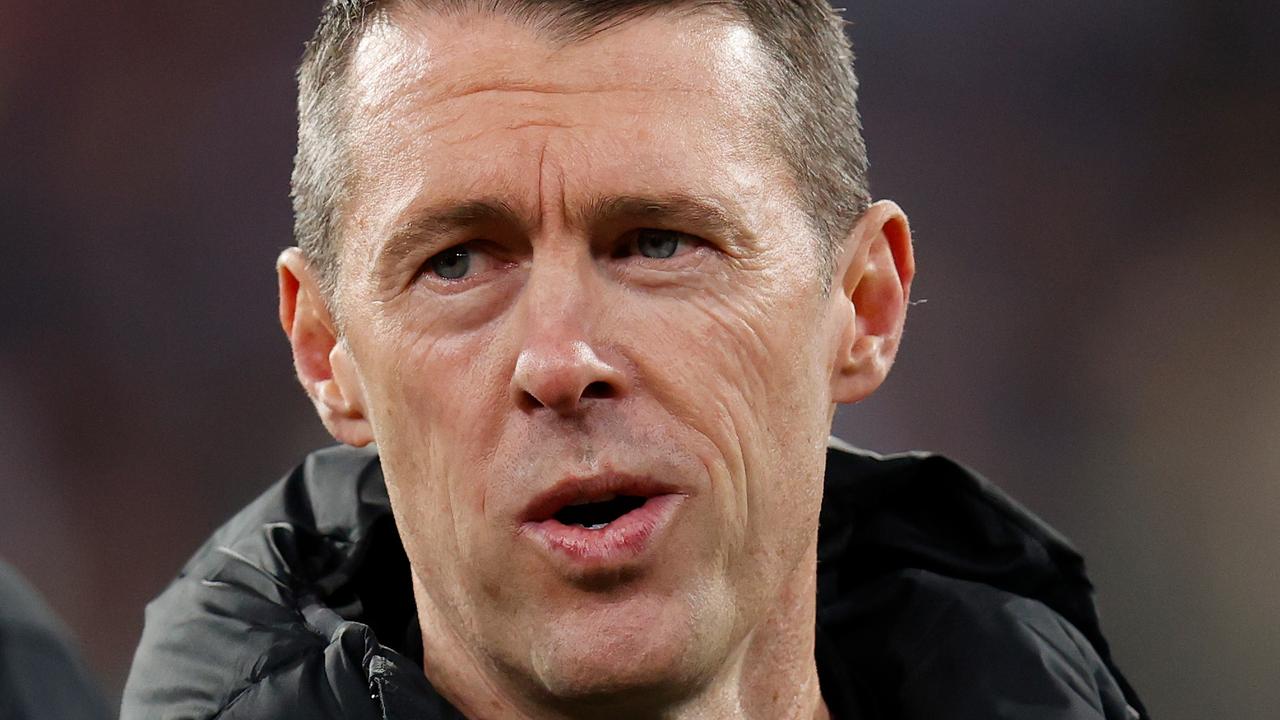 Craig McRae didn't receive a response from Jordan De Goey on Thursday. Picture: Michael Willson/AFL Photos via Getty Images
"I don't know. I don't know the detail of what has caused or triggered Jordan to be in a space to not come in," McRae said.
"(Psychologist) Jacqui Louder is working really closely with him and has done for a long time.
"We are looking for Jordy to step in (to the club).
"I'm here with open arms, I'm waiting to go give him a cuddle when he steps through our doors.
"All we can do is offer our support and educate. I think football clubs offer a great resource for players and in normal life you don't get the resources we do to support guys like Jordan."
McRae said he was mindful of balancing the whole interests of the club and playing group and in particular, women, indigenous people and others from diverse backgrounds.
He said he would try and reach out to De Goey again today in the hope he would respond and return to the club next week.
"I'm trying to keep in contact with him daily and I did that yesterday and I didn't hear back from him," McRae said.
"Hopefully he is in a good space and I'll get an opportunity to speak to him today and see where that sits."
Asked if De Goey had been in a good way, McRae said: "No I wouldn't have thought so."
Legendary Collingwood and Brisbane coach Leigh Matthews spoke to the Pies before main training on Friday as they prepare for Sunday's clash against GWS Giants.
League chief executive Gillon McLachlan said the Pies had taken the appropriate action with a suspended $25,000 fine.
"We try and get all of the clubs to handle these issues themselves, their employees at the clubs. We had conversations with Collingwood, they have taken action and I know people have debated the extent of that. Contract talks are off the table, he has a $25,000 suspended fine, he's undergoing further counselling. There's a whole series of things that have been worked through and we support the actions they took," he said.
"Collingwood have taken it seriously and we want clubs to take accountability for the behaviours of their employees and not for us to come in all the time. Sometimes we do, but we've accepted the sanctions and the actions that Collingwood took.
"Our position at the AFL is really clear. There is no place for anything other than behaviour across our community that has total respect for women.
"I think that the video's created a debate around that across the community and ultimately the assessment of Collingwood is that it was behaviour that didn't respect women and they've taken action."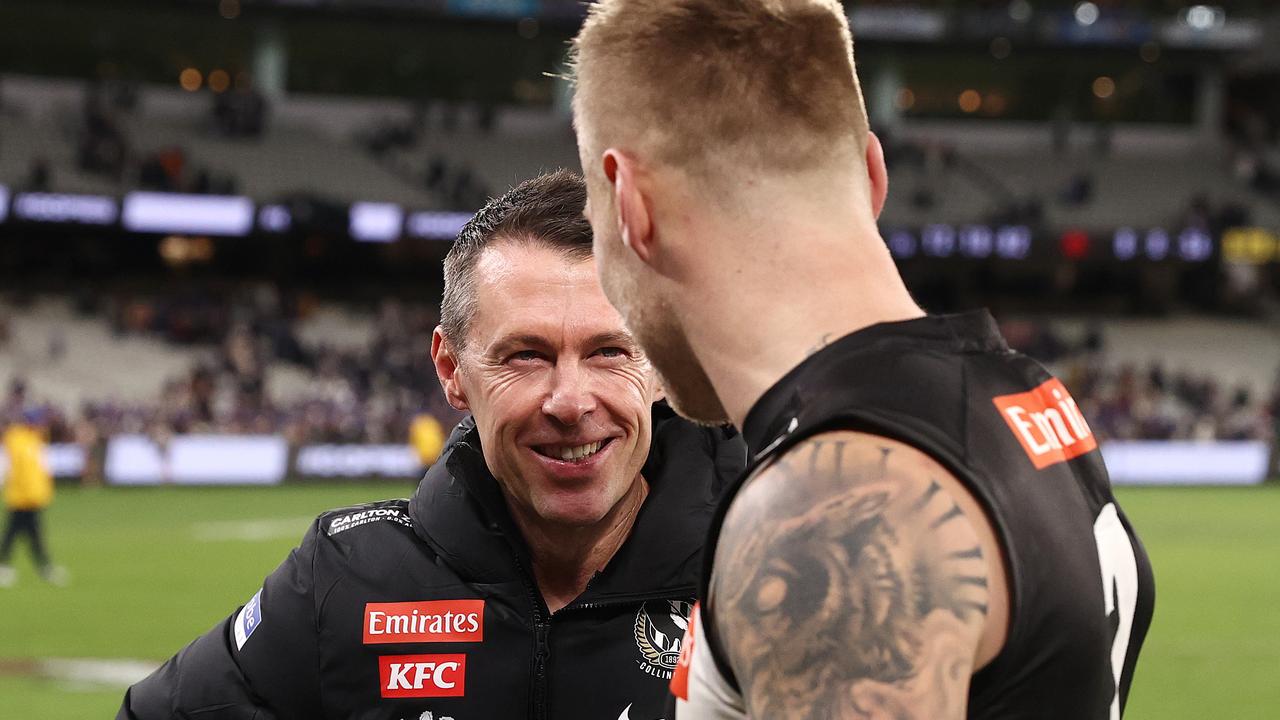 Craig Macrae addressed the Jordan De Goey incident. Picture: Michael Klein
McRae sheds light on De Goey's future
Collingwood coach Craig McRae is hopeful Jordan De Goey is at the club next year as he admitted the controversial midfielder is not in a place to be able to play football.
In his first comments on De Goey's week of turmoil the first-year coach said he could not wait to wrap his arms around the midfielder when he eventually returned to the club.
McRae has spoken to De Goey, who is struggling after a week of attention and attempting to get his head around the response from the club, which condemned his Bali nightclub actions.
The Pies have made clear his absence is not specifically related to mental health but he is clearly battling with the fallout and in no shape to train or play.
He has not yet returned to the club and will not play this week, with the Pies optimistic he might return to training next week.
McRae confirmed he had known about De Goey's ADHD diagnosis from his first days at the club as the new coach and said the 26-year-old had permission to go to Bali.
Now as the Pies attempt to support De Goey the Pies coach told SEN Radio he only wanted to support him.
"In Jordy's case I can't help but think I just want to get him back. I want to get my arms around him," he said.
"I spoke to him yesterday, he is not in a place to step back into the football club. He has to get in a space where he can do that but it is a safe place for him in our football club.
"I want him to feel loved and supported and get in the four walls and let's get our arms around him and let him move forward on this."
Asked if he believed De Goey would be at the club next year after the Pies parked contract talks with the troubled onballer McRae replied: "I would hope so, I really do".
"I hope he finds a place where he can come back and be the best version of himself. I want an environment where players are better when they leave."
McRae said he was inspired by former Brisbane coach Leigh Matthews when he allowed De Goey to travel to Bali.
"Leigh used to say we will treat you like men and you act like men, we treat you like boys you act like boys," he said.
"I want all our players to have a level of trust to make decisions and some make good ones and some make poor ones. I live in a moral compass world where I want to take responsibility for my actions."
Collingwood takes on GWS on Sunday in a clash that has been totally overshadowed by the latest De Goey circus.
But McRae vowed the players would not be distracted by the saga.
"I am going to say this out loud to Collingwood supporters, there is not one piece of evidence to suggest this will affect our performance on the weekend," he said.
"It's Wednesday, the way the boys trained yesterday, we believe we are setting ourselves up to succeed but our players have seen a huge correlation between training form and weekend form. Monday and Wednesday's (training) form was as good as we have had in the year.
"I do a lot of work with Emma Murray one-on-one with life-skill coaching and there is no doubt our attention has been pulled to certain areas but our ability when our players are in the four walls, we are looking as well-prepared as I have seen this season."
McRae used a story he had told players before they went on their mid-season breaks to make clear what he expected from his players.
"This one guy in Adelaide, I had his name and number on my back. I idolised this guy from ages six to 15 and beyond. One day when I was 18 or 19 out having a few beers, I met him and he wasn't a great bloke. He was a shocker, what a disappointment. This is my idol, my hero. I was telling the players on Tuesday, I want to make you a better person. And I am determined to do that, but I want to make you a better person. So it goes well beyond the footy field. This week we have lost a few battles but I am really determined to win the war on this and make our players better."
Love Island, MAFS, TikTok: De Goey's 'parallel universe'
— Lauren Wood, Jay Clark and Nick Smart
Jordan De Goey has taken personal leave from Collingwood in the wake of his mid-season Bali jaunt.
Collingwood confirmed on Wednesday night he was stepping away from the club to focus on his wellbeing after missing the main training session.
It means the Magpies will be without the star goal kicker for Sunday's clash against Greater Western Sydney at the MCG.
Former Collingwood president Eddie McGuire said on Wednesday night De Goey lived life "on the edge" in a "parallel universe."
McGuire added he believed De Goey was "on parole" at Collingwood but he deserved one more chance.
"Jordie has lived on the edge, if you like," McGuire said on Footy Classified.
"He went and got the tattoos, he goes to the fights, he hangs out sometimes with bikie communities and things like that.
Former Collingwood president Eddie McGuire says Jordan De Goey deserves another chance. Picture: AAP
"These kids watch Love Island, they watch MAFS (Married at First Sight), they don't read the Financial Times and they're on TikTok and doing those things.
"He's living in a parallel universe that he has to get from there over to here, which is what we expect of AFL footballers and people in the general community.
"But if it hasn't sunk in this time, then this will be his last time."
Former Carlton and Brisbane bad boy Brendan Fevola on Wednesday used FOX FM to warn De Goey he risked wasting his football career like he did.
Former St Kilda coach Ross Lyon warned the Magpies against "indulging" De Goey the same way Fevola was in the past.
"With Fevola, the missing piece was he was indulged at Carlton," Lyon said on Channel 9.
"He kicked goals, stuffed up but still got a bigger contract and a bigger contract.
"They get rid of him and Brisbane give him a bigger contract, so it's up to the clubs not to indulge the behaviour because it's just reinforcing it.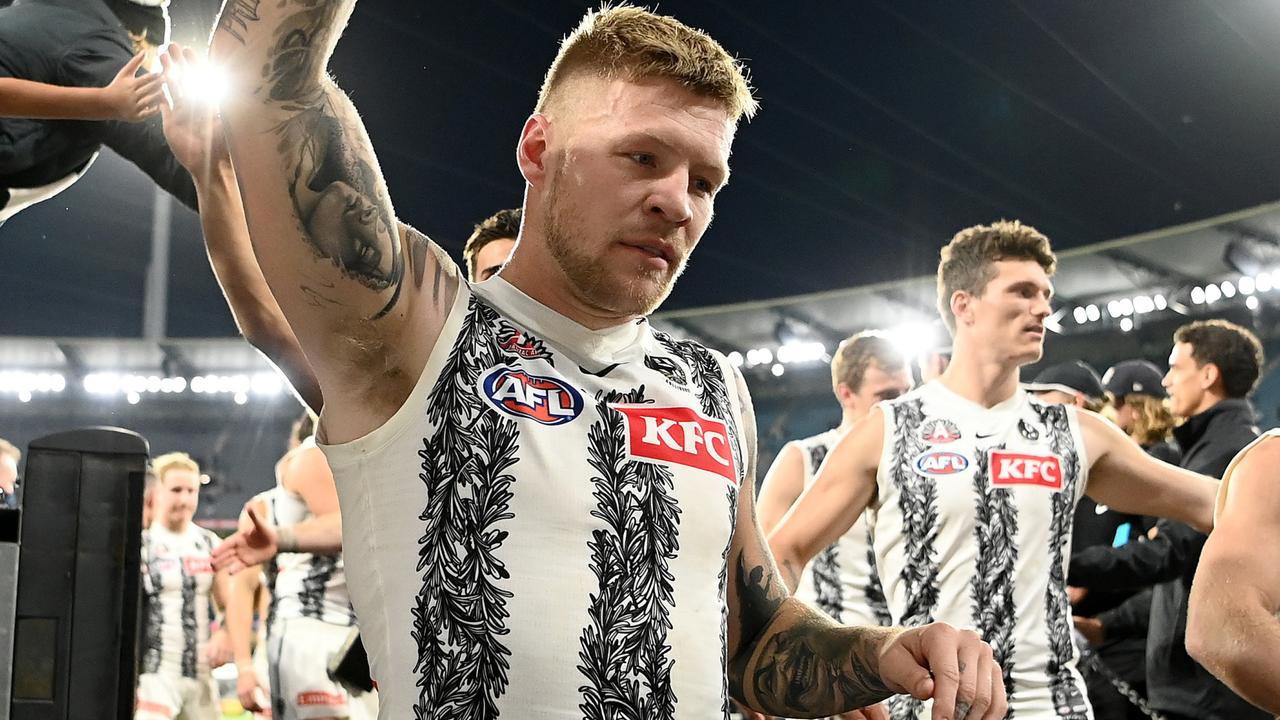 Jordan De Goey has taken personal leave from the club. Picture: Getty Images
"That's probably the only concern because you support them until you can't and I think he's in a support position, but at the end of the day every time you pick a team, you send a message.
"I just think the loud disapproval from Collingwood and the punishment, is it quite congruent with the noise they're making?
"But ultimately what's symbolic is pulling on the jumper and you represent the values, at some point the behaviour has to be modified to align with the Collingwood values or he can't stay there."
The star forward had alluded to the huge toll the fallout to his Bali antics had had on him at the weekend, saying intense media scrutiny "will end in tragedy if no one speaks up".
Collingwood was firm in its reproach of the forward on Tuesday, adamant that his actions were disrespectful towards women and not acceptable.
He was hit with a $25,000 fine that is suspended until the end of the season as St Kilda confirmed it was looking at the restricted free agent.
But any decision on a recruiting move from the Saints will depend on his on and off-field behaviour over the remaining few months of the season.
It comes as former Port Adelaide and Melbourne utility Jack Watts said he "couldn't get out of bed" for one week and was "crying all day" after a text message scandal in 2018.
Teammates have tried to rally around De Goey in recent days with one of his closest mates, Brayden Maynard, set to play his 150th match against the Giants.
De Goey has been unsighted since returning from Bali, after he was captured in a video making lewd gestures and grabbing at the top of a female acquaintance at Seminyak hotspot Motel Mexicola last weekend.
Watts said De Goey's statement on Instagram on Saturday about a "relentless pursuit and persecution of athletes" may have been "a cry for help".
"Those are some pretty big words to say, and I can totally see where he's coming from," Watts said on KFC SuperFooty TV.
"When people are coming at you, you can easily go down a very dark path.

"I've never really had depression or mental health issues, but for that week I couldn't get out of bed, I was crying all day … couldn't speak to anyone."
Watts said his parents would remind him "they still loved me and 'you're not the worst person in the world".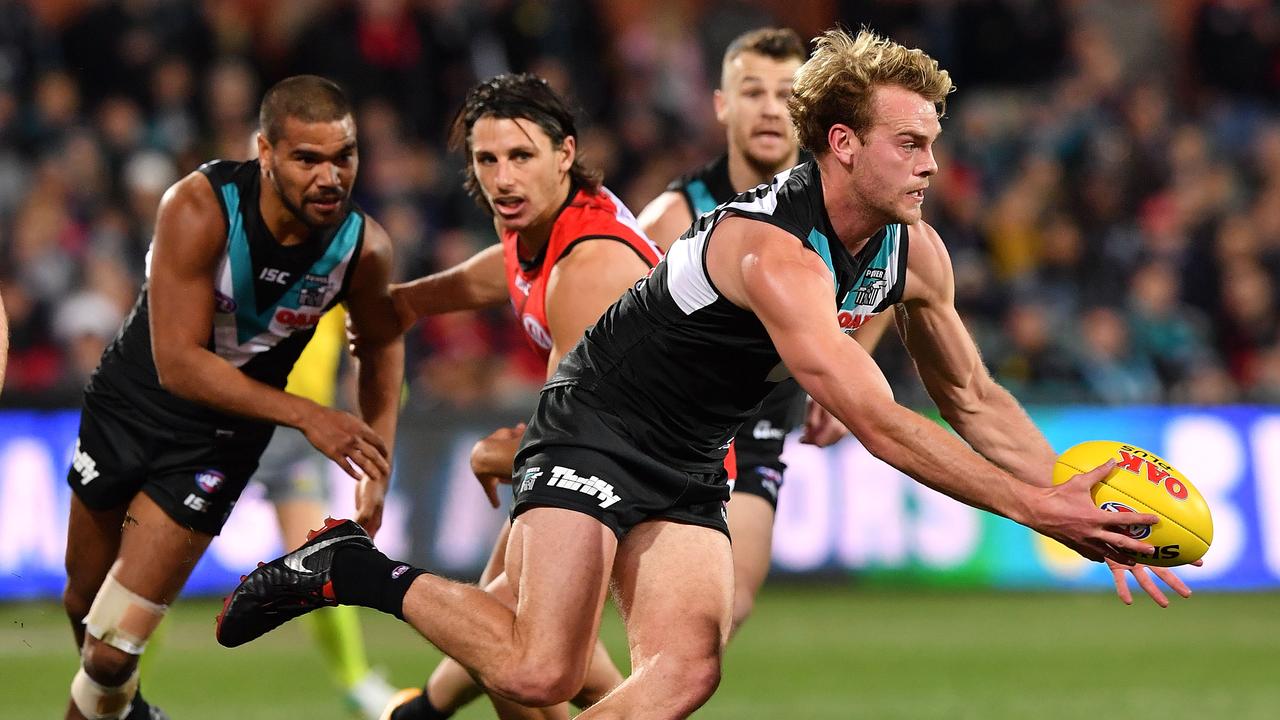 Jack Watts shared his experience from his scandal in 2018. Picture: Mark Brake/Getty Images
At the height of the storm Watts said he was heavily supported by his housemate.

"I was staying at my best mate's place at the time, so he would come home from work and we'd just watch a movie and he'd sit there and give me a hug," Watts said.

"It seems sort of illogical now, but I just thought I'm never ever going to be able to get a job ever again, I'm never going to be able to get another girlfriend ever again because they'll read this.
"That's what you go to in those moments. You look back on it now and think, 'OK, you can learn from these mistakes', but at the time you can't see that, you can't see the bigger picture."
He said that "realising that other people have made mistakes too and have got through it, and made something of their lives" had helped to smooth the path.
"He (De Goey) is going to cop it a lot for what he's done, I just hope he's getting some support and has the right people around him," Watts said.
Former star Brendan Fevola admitted on Wednesday that his career had been tarnished by "my off-field antics" and said that he would love the opportunity to sit down with De Goey "and say mate, you can't have everything gone like that (in a second)".
"He's going down a similar path – he's got no more chances," Fevola said on Fox FM.
"He can earn millions of dollars playing the game he loves, if he pulls his head in.
"You've been gifted a gift … put your head down, bum up … earn the respect back.
"I just think he needs to get himself around some people that help him."
Originally published as Collingwood coach Craig McRae speaks on Jordan De Goey incident, personal leave