KFC SuperFooty TV: Jay Clark, Lauren Wood and Jack Watts look at the big issues in the AFL before round 15
As Jordan De Goey deals with the fallout of his Bali behaviour, Jack Watts has revealed the 'dark path' he went down in the toughest week of his footy career.
Jack Watts has opened up about the 'dark path' he went down in the toughest week of his footy career.
Watts revealed the toll of being in the media spotlight as Collingwood star Jordan De Goey faces the fallout of his latest off-field controversy.
Watts, a former No.1 draft pick and Melbourne and Port Adelaide star, said he struggled to get out of bed after a series of explicit text messages were leaked in October 2018.
WATCH A NEW EPISODE OF KFC SUPERFOOTY TV ABOVE
Watts said on KFC SuperFooty TV – the weekly AFL show exclusive to heraldsun.com.au – that he saw some worrying signs in a statement De Goey posted on Instagram when his behaviour in Bali during Collingwood's mid-season break hit the headlines.
"That might be a bit of a cry for help, saying this is going to end in tragedy – those are some pretty big words to say, and I can totally see where he's coming from," Watts said.
"I absolutely empathise with someone who might be struggling a bit more than I was and going through a similar thing – when people are coming at you, you can easily go down a very dark path.
"I've never really had depression or mental health issues, but for that week I couldn't get out of bed, I was crying all day, couldn't speak to anyone."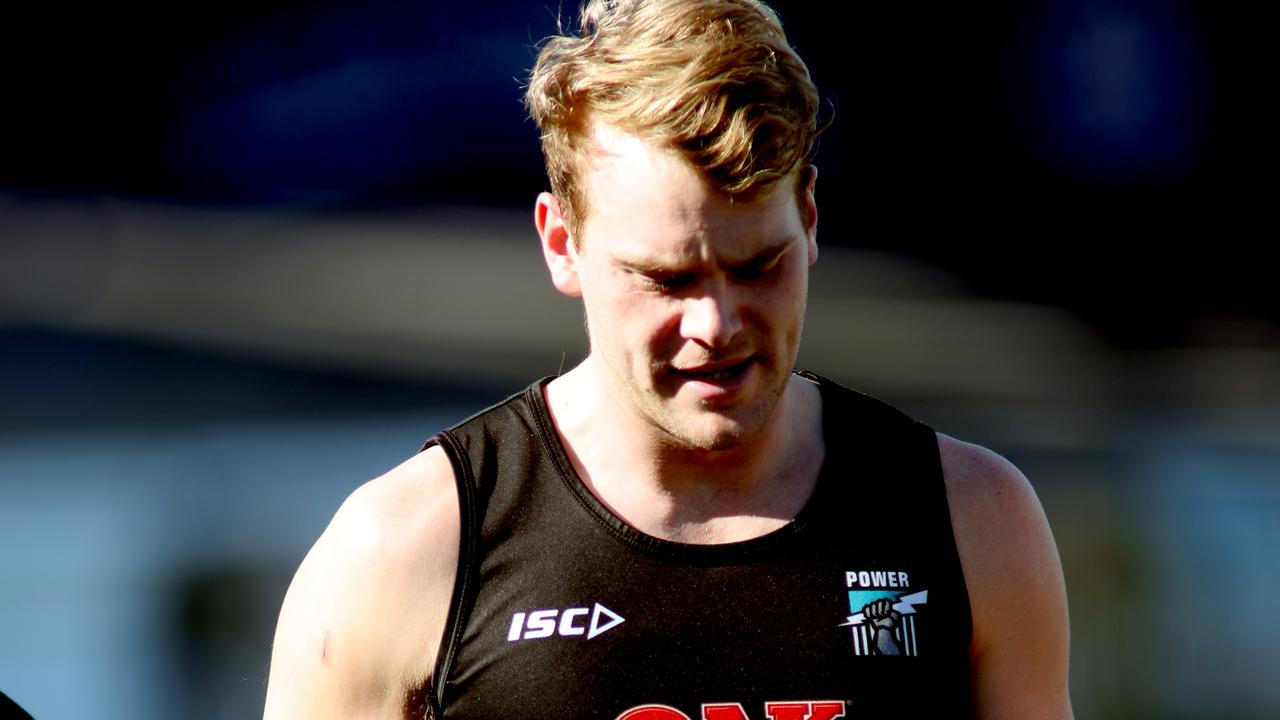 Jack watts battled through some dark times with the support of his family and friends. Picture: AAP Image/Kelly Barnes
Watts said he only made it through with the support of his family and friends.
"My parents would come around and they'd say they still loved me and 'You're not the worst person in the world'. I was staying at my best mate's place at the time, so he would come home from work and we'd just watch a movie and he'd sit there and give me a hug.
"It seems sort of illogical now, but I just thought I'm never ever going to be able to get a job ever again, I'm never going to be able to get another girlfriend ever again because they'll read this.
"That's what you go to in those moments. You look back on it now and think, 'OK, you can learn from these mistakes', but at the time you can't see that, you can't see the bigger picture."
Watts said at the time he felt like the only person in the world who had been in that situation, and it helped "realising that other people have made mistakes too and have got through it, and made something of their lives.
"He (De Goey) is going to cop it a lot for what he's done, I just hope he's getting some support and has the right people around him."
Watts, host Lauren Wood and Herald Sun reporter Jay Clark also discussed whether Melbourne can get its season back on track, Luke Jackson's future and gave their tips for every game in round 15.
Originally published as KFC SuperFooty TV: Jay Clark, Lauren Wood and Jack Watts look at the big issues in the AFL before round 15