AFL 2022: Would Leon Cameron still be coach if Green didn't push umpire?
Toby Greene's umpire contact and subsequent six game suspension might just have been Leon Cameron's sliding doors moment as Giants coach. If he had Greene at his disposal in this year's early rounds would he still be coach?
Leon Cameron and David Matthews didn't know what to do.
They'd just reached one of the biggest decisions in the short history of Greater Western Sydney but a shake of hands and a hug, which would have normally been appropriate, was off the table because of the prying eyes just outside the door.
The pair had just agreed to end Cameron's eight-and-a-half year reign as senior coach.
Their regular Tuesday morning catch-up had quickly escalated and, while the chief executive hadn't been expecting the outcome, he also wasn't surprised. The pair had been having open and honest dialogue about Cameron's tenure for months.
Another heavy loss to Geelong on Saturday, which ended any hope of a miracle finals run given the Giants now sat 15th with just two wins, had accelerated in Cameron's mind the need to address his future.
He'd decided he had one more game in him and that was it. The CEO agreed but they had to pretend the meeting was just a regulation check-in with the boss.
Stream every match of every round of the 2022 Toyota AFL Premiership Season Live & Ad-Break Free In-Play on Kayo. New to Kayo? Try 14-Days Free Now >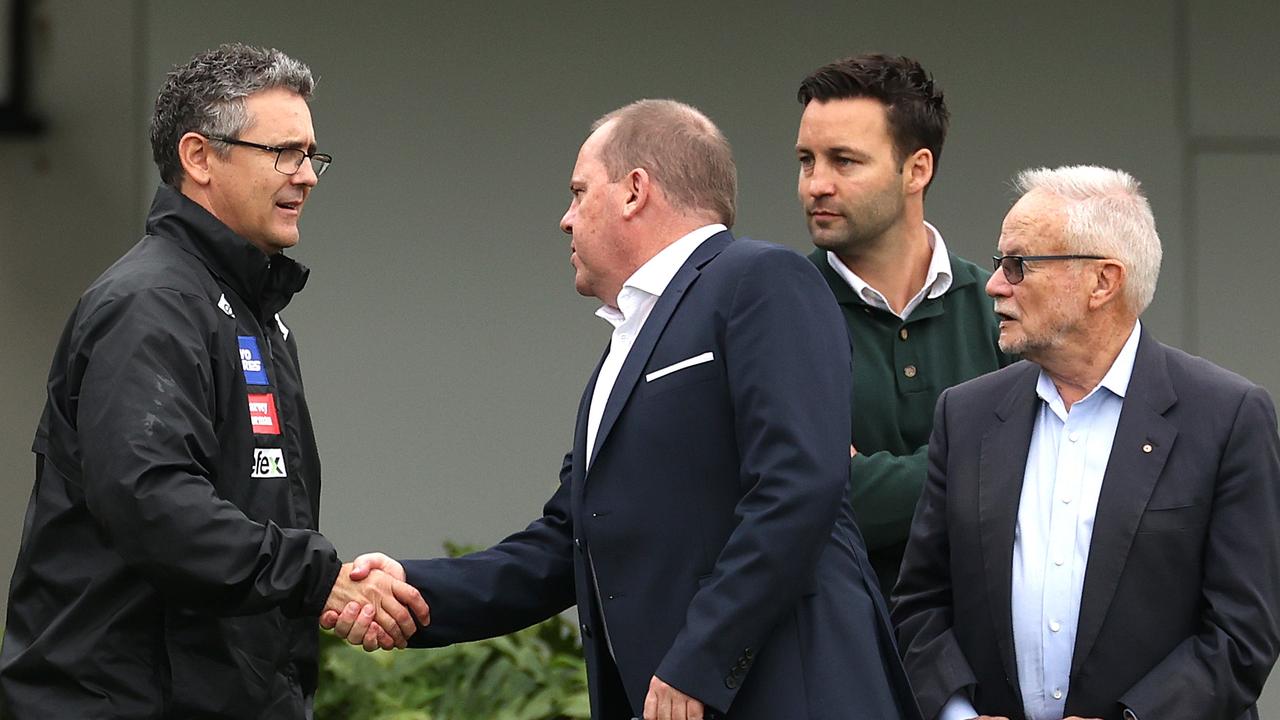 Leon Cameron greets Greater Western Sydney CEO David Matthews, board member Jimmy Bartel and Giants chairman Tony Shepherd on May 12. Picture: Phil Hillyard
"We knew the people in the gym would have been pretty interested if we were to shake each other's hands or give each other a hug so we actually sort of awkwardly wandered in different directions," Matthews said.
Twenty-four hours later the pair came together again, this time at Sydney's exclusive Rockpool restaurant where they enjoyed a steak and a bottle of red wine with chairman Tony Shepherd, football director Jimmy Bartel and chief operating officer James Avery.
It wasn't so much to see if there had been any change in the decision, more a discussion about what the club was going to do moving forward in the short term, and the fact Cameron was at the centre of that meeting speaks volumes for everyone involved.
He pushed for assistant Mark McVeigh to be the one who took over after his final game against Carlton on Sunday and then worked out how they were going to announce his exit.
There was a fly in the ointment, given Cameron's oldest son was away on school camp and out of phone reception at the moment. Understandably, he didn't want anything getting out until he'd spoken to him.
While it wasn't a long lunch, there was still time for reflection on the many good times of Cameron's journey which included taking the expansion team to its first Grand Final in 2019 and two heartbreaking preliminary final appearances.
Callan Ward's untimely concussion in that epic preliminary final loss against the Western Bulldogs in 2016 got a mention as the biggest what-if, and there's no doubt Toby Greene's six- game suspension for bumping an umpire in a final last year also got a mention.
Would Cameron be in this position if Greene had played all year — and not missed the first five games?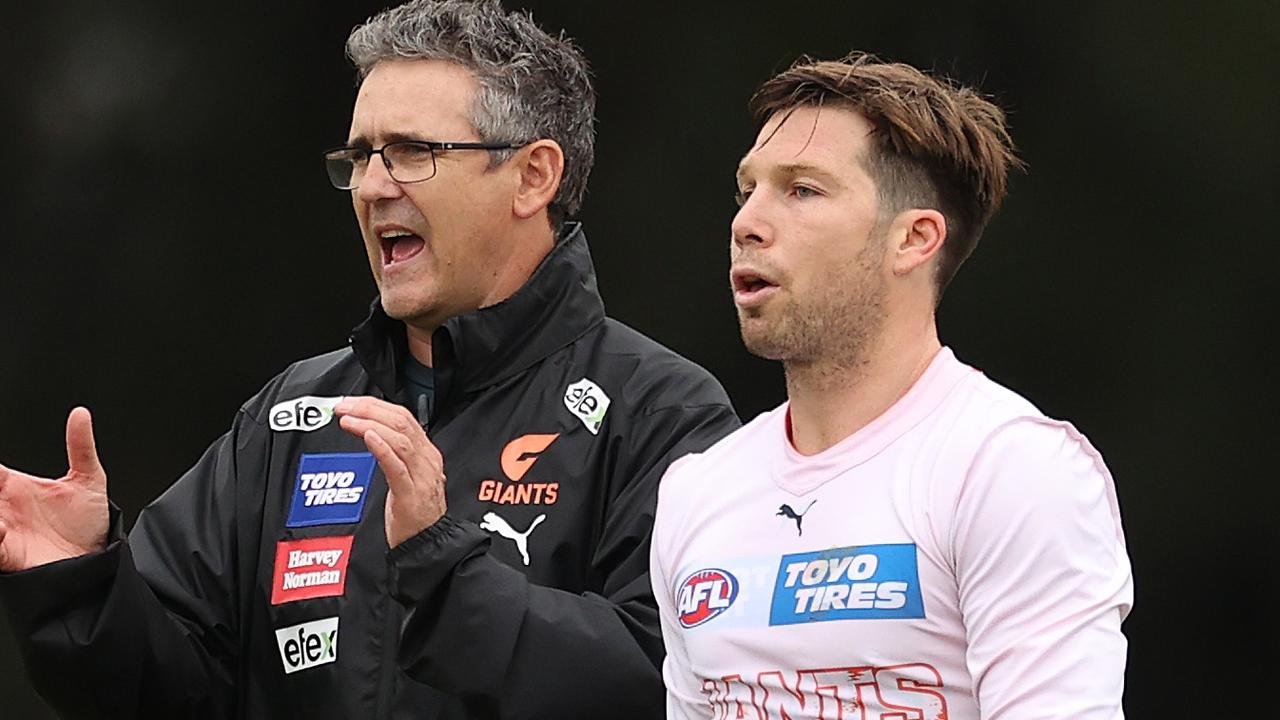 Leon Cameron at Thursday training with co-captain Toby Greene who missed last year's final and the first five games of the 2022 season through suspension. Picture: Phil Hillyard
There is every chance he wouldn't have been but as one Giants insider said: "Leon has never been a person to make an excuse, he's not that sort of person. He's just somebody who looks at it like these are the cards I've been dealt, let's get on with it."
And on Thursday that's what he did. He was at Giants headquarters at the crack of dawn to meet with his assistants and then informed the leadership group of his departure.
The entire playing group was next before the outgoing coach did something which says a lot about him and the club, he went and spoke to the board.
Don't forget this is the group who could have backed him in at the start of the year and given him a contract extension but, to Cameron, he understood why they waited and now instead of being bitter, he was telling them how grateful he was for being able to coach their football team.
He told them he was "at peace" with the decision and explained how much his family loved the Giants.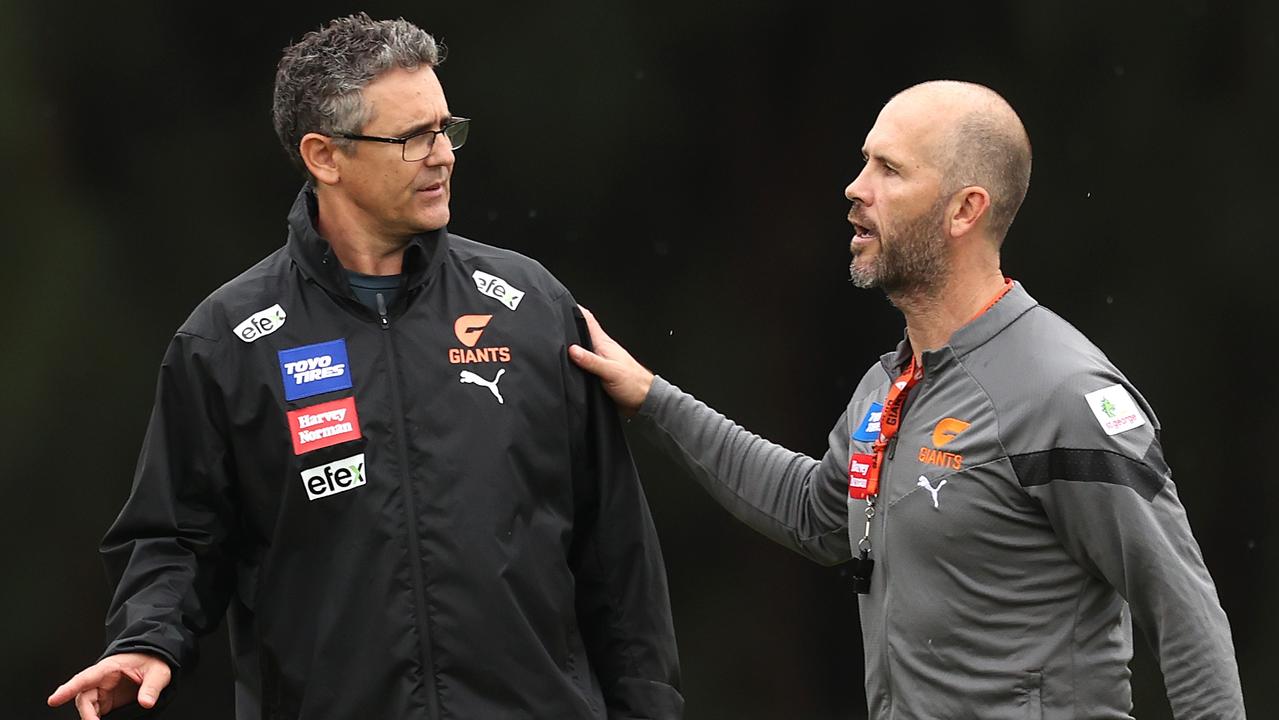 Leon Cameron will coach his last game on Sunday against Carlton before handing over to interim coach Mark McVeigh. Picture: Phil Hillyard
Then there was the press conference which should be held up by the AFL as a blueprint for how clubs handle the dismissal of a coach.
Matthews, Shepherd and Cameron all spoke, all from the heart with none of them reading from prepared statements which is so often the case.
It was authentic. Cameron was outstanding, using a Ross Lyon saying to explain how if you're not 100 per cent committed in this job then you might as well go even if it's only dropped off a couple of per cent.
His AFL journey had been 34 straight years since he arrived as a 16-year-old from South Warrnambool to Footscray where he played 172 games before moving to Richmond for the last part of his playing career.
"It's time to have a bit of a spell, but you never say never. I love coaching, I love doing what I do, but who knows where that's going to be in the coming months?" he said.
That was sure to be the topic of conversation in Warrnambool on Thursday afternoon when Annette Cameron and Barb Matthews came together for their regular cup of coffee.
They'd become good friends over the past decade as their sons — who happened to be born on the same day (September 2, 1972) — worked together to try and make the GWS Giants a success.
And we're tipping they ended their catch-up with a hug.
Originally published as AFL 2022: Would Leon Cameron still be coach if Green didn't push umpire?