Leon Cameron quits GWS: Giants to speak to Alastair Clarkson, open to James Hird as coach
Alastair Clarkson has been grilled over his interest in the GWS job, declaring he wouldn't return to coaching unless he was confident of securing another premiership.
The master coach has spent 14 weeks in two separate stints in America with the Golden State Warriors and Green Bay Packers as he spends his gap year upskilling his knowledge.
He told Fox Footy's AFL360 on Thursday night he would consider coaching vacancies but was first determined to enjoy his entire year away from coaching.
Clarkson's manager James Henderson confirmed on Thursday the Herald Sun's report last week that multiple clubs had already contacted him about Clarkson's availability.
It came as Clarkson made clear that while he wasn't scared of a rebuild, he was chasing a fifth AFL premiership if he returned to the game.
Stream every match of every round of the 2022 Toyota AFL Premiership Season Live & Ad-Break Free In-Play on Kayo. New to Kayo? Try 14-Days Free Now >
"It will pretty much come down to one thing for mine. I would want to get back involved because I want to win it and if I didn't think I was the guy who could take that club to win it, I would stay out of the game," he said.
"I have got other passions I want to chase, so pretty much first and foremost, whether it's a one or two year timeframe or a five-or-six-year timeframe, I am only coming back into it because I feel like this group can win it.
"To be honest there are 18 and probably 19 clubs in the competition (when Tasmania comes into the AFL) I wouldn't hesitate to coach. Every club in the competition given the right personnel and the right playing group have got the capability of winning an AFL premiership. People say are you going to want to be part of a rebuild? I was part of Hawthorn where they say you are miles away, it's going to take seven or eight years to rebuild and we won a flag in four years, so who knows how long it can take.
Alastair Clarkson says he wants another premiership if he returns to coaching.
"I think to myself, these clubs just need to quite clearly have a vision of where they want to go and get everyone on the bus and if you can do that success can come a lot closer than you think."
Clarkson said his time in America had helped with his own personal development but also at times fed his hunger to get back into the competitive thrust of sport.
"I have got my teeth into the work I have had to do with the Tassie task force and I enjoyed the front office role but two weeks ago I was right in the heart of the Golden State Warriors and they played a playoff series against the Denver Nuggets and the strategy that went about trying to win the series and the buzz in the stadium, it was like I want to be back part of the cut and thrust, the coalface. But it fluctuates. That has so much significant appeal.
"But then there are other sides of it like what we witnessed from time to time including today, a really proud football man (Leon Cameron) being asked to leave the game for a short period of time."
GIANTS SET TO JOIN RACE FOR CLARKSON
Greater Western Sydney will join the packed field chasing Alastair Clarkson and consider James Hird as its next coach after parting company with Leon Cameron on Thursday.
A secret Tuesday meeting in which Cameron and Giants chief executive David Matthews agreed it was time for both parties to part ways will kickstart a frenzied coaching merry-go-round.
Matthews told the Herald Sun on Thursday the club would speak to four-time premiership Hawk Clarkson and said they had not ruled out Hird as a potential senior coach.
The Giants and senior industry figures believe the league's strong preference is for Clarkson to end up at the Gold Coast as one of Gillon McLachlan's final acts as AFL boss.
Clarkson would have to sacrifice significant money — through a likely AFL ambassadorship selling the code in Queensland — if he decided to take on the GWS job.
But he could be enticed by a talent-laden Giants list which has stars on every line.
Matthews stated the Giants had an attractive playing group that could contend again in coming years.
The Giants will put together a coaching subcommittee likely to include Matthews, football boss Jason McCartney, football director Jimmy Bartel and an outside football figure.
The club's talks with coaching aspirants will be put on hold until Cameron coaches the Giants for the last time against Carlton on Sunday.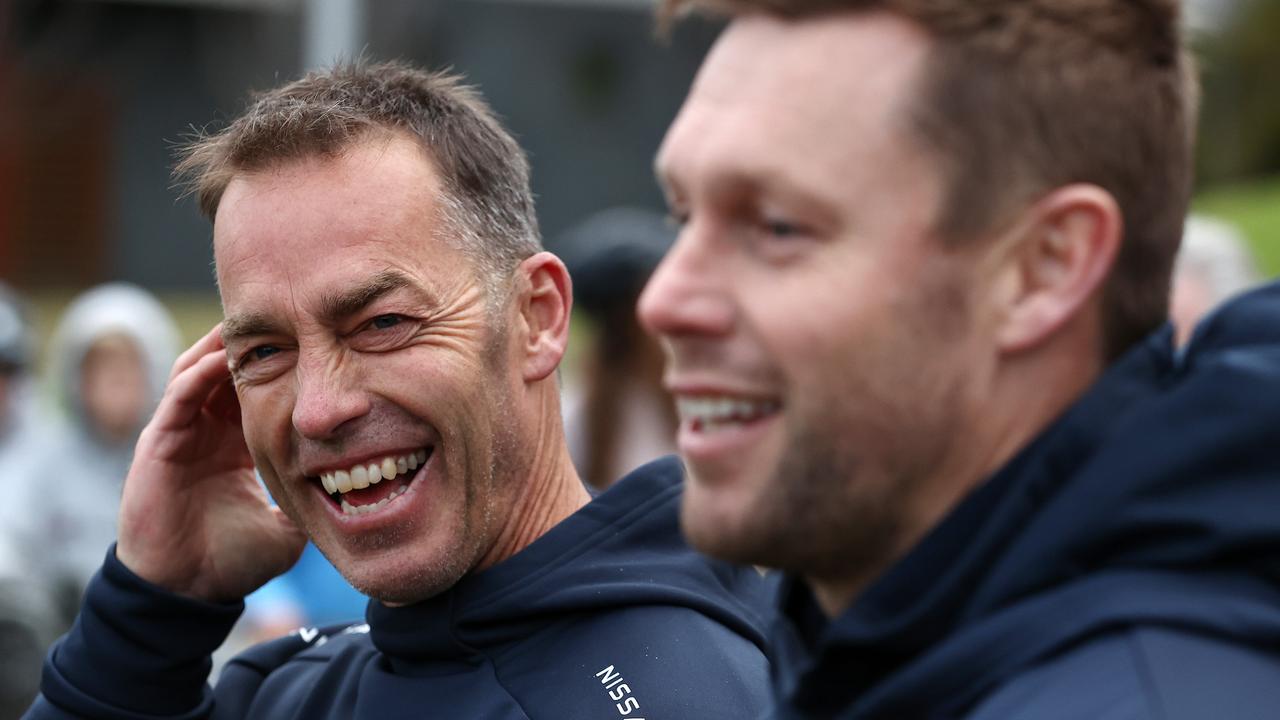 Alastair Clarkson stepped down for Sam Mitchell to take charge at Hawthorn.
Matthews said the club had not spoken to Clarkson, who has made it clear he wanted to coach again in 2023 after a year out of the game.
"He is not coaching at the moment. Has he got an aspiration to coach again? If he does you would be silly not to find out," Matthews said.
"We will let the dust settle and get into a process. We have got time," he said.
"We have got time and space to think about who might be our best fit and whether we suit them. We will talk to all candidates and all the usual suspects."
Hird, who has been in London on business, joined GWS in a mentoring role this year but is believed to be lukewarm to the idea of coaching the Giants because the job would be Clarkson's if he wanted it.
But Cameron said of the former Essendon senior coach: "He had enjoyed his involvement and we are happy he's back in footy. We aren't playing cloak and daggers. We are wide open. Very open. We haven't ruled anyone in and anyone out."
James Hird embraces Phil Davis before a Giants game.
Before Christmas the club and Cameron's management talked about his contract and agreed to put it off until the new year.
When it became clear the club was keen to postpone talks until the year's end Cameron was always on shaky ground, eventually deciding to put the club and players first by agreeing to walk away.
While he did not rule out a first-time coach, Matthews made it clear the Giants had unique challenges in the NSW market that meant an experienced coach was more likely to be at the front of the queue.
Clarkson and contracted veteran coaches Ken Hinkley (Port Adelaide) and Adam Simpson (West Coast) must be considered early contenders, while AFL football boss Brad Scott and ex-Saints coach Ross Lyon were others who could cash in on the club's talent.
Clarkson has made it clear to friends he will consider a range of clubs but likely meet with up to three in July or August.
So while the Giants have the jump start on rivals, Clarkson might want to consider what the Gold Coast, Port Adelaide and St Kilda do with their incumbent coaches before he makes a decision.
Cameron will be paid out his 2022 contract by the Giants with interim coach McVeigh clearly in a job audition.
Melbourne's Adem Yze, Richmond's Adam Kingsley, West Coast's Jaymie Graham and Adelaide's Scott Burns would be among the leading assistants likely to be on the club's long list.
CAMERON SAYS HE COULD COACH AGAIN AFTER GWS EXIT
Leon Cameron has not ruled out coaching again after deciding to part ways with Greater Western Sydney in a secret meeting with club chief executive Dave Matthews on Tuesday.
Cameron said the mutual decision to end his nine-year coaching tenure at the Giants would give the club time to secure his replacement for next year.
He will coach the side one more time at home against Carlton on Sunday at 3.20pm.
Former Essendon star Mark McVeigh will then step up from his assistant role to act as interim coach for the rest of the season.
Stream every match of every round of the 2022 Toyota AFL Premiership Season Live & Ad-Break Free In-Play on Kayo. New to Kayo? Try 14-Days Free Now >
Leon Cameron has resigned as Greater Western Sydney coach. Picture: Getty Images
His former teammate and great friend James Hird has told the Giants that he was willing to play a more active role at the club helping out McVeigh.
Hird, who has been in London on business, joined GWS in a mentoring role this year but is believed to be lukewarm to the idea of coaching the Giants.
But it is also understood Hird believes champion Hawks coach Alastair Clarkson would be in the box seat.
The Bomber champion, who was suspended for a year because of the drawn out supplements saga., has not coached since leaving Essendon in 2015.
Cameron's time at the Giants was considered tenuous after he announced that they were putting contract talks on hold.
"I understand that at the start of the year when you park contract talks until the end of the year it will create speculation," Cameron said on Thursday.
"We have open honest conversations so I said I think the time is right to have a bit of breathing space for the club to look for its next coach.
"It's a tough job and it can wear you down and people will speculate, but I am proud to say it's a joint decision between the coach and club.
"I was walking around here on Tuesday at training and I know I have still got the players, but it's a zapping job and sometimes that can wear you down a little bit but that's not just the one reason.
"There are a whole bunch of reasons, we all in life try to find the perfect moment to make the decision., This is a good decision, the timing is right for our footy club to look for our senior coach. I am the one and Dave is the one that made the decision together."
Premiership coach Alastair Clarkson will become a hot favourite to take over for the Giants at the end of the season. At the moment, the market has McVeigh $3, Clarkson $6, Adam Kingsley $7, Adem Yze $7, and Hird at $10.
Matthews hailed Cameron for his near-decade of service at the club and said very few figures left a legacy of elite coaching and club-building given the Giants' expansion role in the AFL.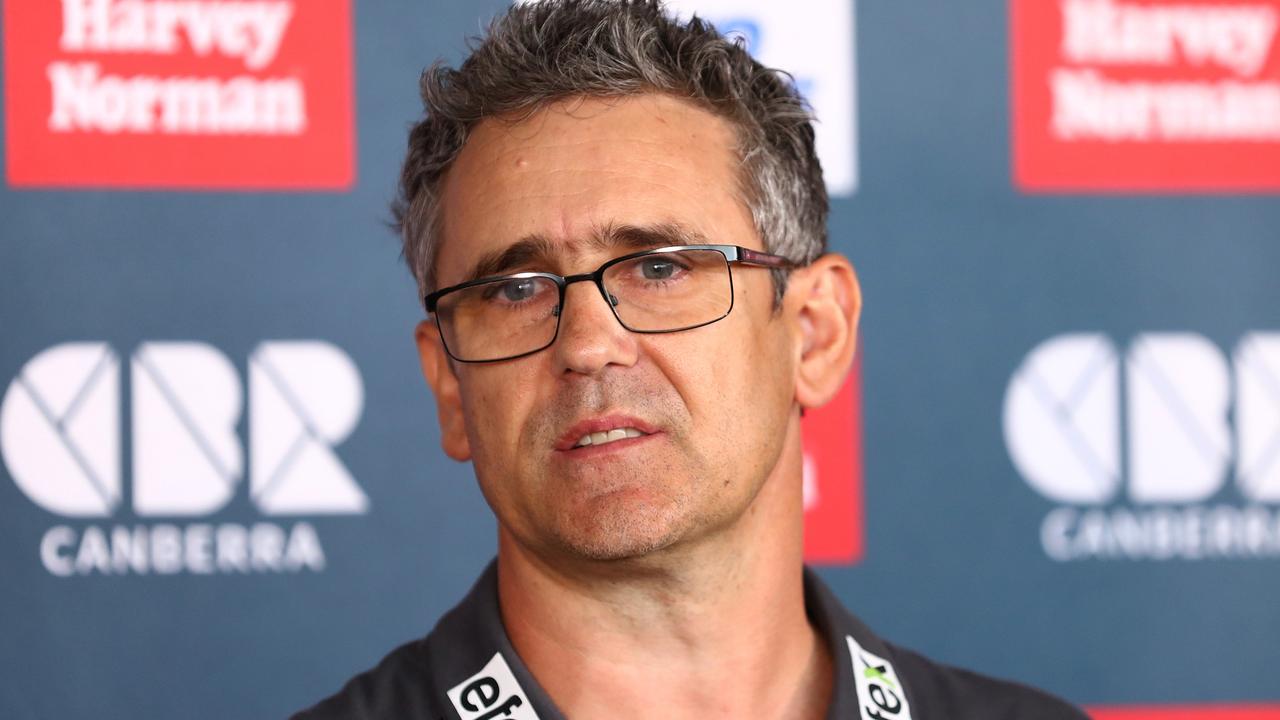 Leon Cameron speaks to the media to announce he is standing down as GWS coach. Picture: Mark Metcalfe/Getty Images
"Leon Cameron has an amazing legacy at this club, he's done an outstanding job over a long period of time and his legacy is absolutely assured," Giants chief executive David Matthews said.
"He has taken us to finals, won finals, done what a lot of AFL coaches haven't done and that's build a club. He has created a culture that is very resilient and addressed a young start-up club in this fierce competition. We are very grateful for the job he has done.
"What we have been grateful for is a pragmatic and mature approach to this year. We have a lot of ongoing conversations about how things are going, where the club could find improvement, what it was we needed to address and in the course of those discussions Leon and I on Tuesday had a conversation that got us to a decision that we are at today."
Cameron said he and wife Carolyn would love to stay in Sydney with their three children Harry, Jack and Amelia but he could not rule out coaching again.
Originally published as Leon Cameron quits GWS: Giants to speak to Alastair Clarkson, open to James Hird as coach