Mark Robinson: Collingwood and AFL's lack of punishment for Eddie McGuire has led to verbal stoush with Heritier Lumumba
Why Nathan Buckley had a race-related discussion with Heritier Lumumba in the first place is a query. But blame shouldn't fall at the former coach's feet, writes Mark Robinson.
This is not about Eddie McGuire, but as always, Ed is front and square.
This whole thing started — and hasn't ended — when McGuire associated Adam Goodes with King Kong when he delivered the infamous slur on Triple M radio in 2013.
McGuire apologised later that day, and has admitted fault many times since, and in footy his good far outweighs his bad. But his bad always made headlines.
No, this isn't about McGuire.
This is about the AFL and Collingwood and their failings.
Because the decision at the time by the AFL not to punish or sanction McGuire — or the club to ask him to step down as Collingwood president — is the reason why Heritier Lumumba is in a verbal brawl with his former club, former coach Nathan Buckley, his former president and the AFL.
Stream every match of every round of the 2022 Toyota AFL Premiership Season Live & Ad-Break Free In-Play on Kayo. New to Kayo? Try 14-Days Free Now >
Eddie McGuire after resigning as president last year. Picture: Collingwood Football Club
Because 18 years after Michael Long took a stand against racism as a player, the league did not take a stand as the custodian of the sport.
Asked on the day if the AFL would punish McGuire, then chief executive Andrew Demetriou said: "He's punishing himself this morning, I've got no doubt."
That response gets more insulting with the passing of every year.
In the United States and Europe, race awareness is far more advanced and intellectual than it is in Australia.
Put it this way, do you reckon the NFL, the NBA or the Premier League would allow the president of a club — which is the equivalent of being an owner in those sports — go unsanctioned for likening a black player to an ape?
In 2014, LA Clippers owner Donald Sterling was banned for life and forced to sell the team after making racist remarks.
In 2014, a year after the King Kong slur, the AFL appointed McGuire the Chef de Mission for the upcoming International Rules tour to Ireland.
In other words, the AFL made him an ambassador for the sport — and for Australia.
It was an astounding appointment.
While the AFL supported McGuire, Brazilian-born Lumumba, then at Collingwood, took a stand against McGuire — he was critical of the then Magpies president on AFL360.
For that, Lumumba says, he was ostracised.
Nine years later, Lumumba released an audio recorded in 2014 of Buckley saying: "You threw him (McGuire) under the bus. You threw him under the bus, mate."
It's a complex story.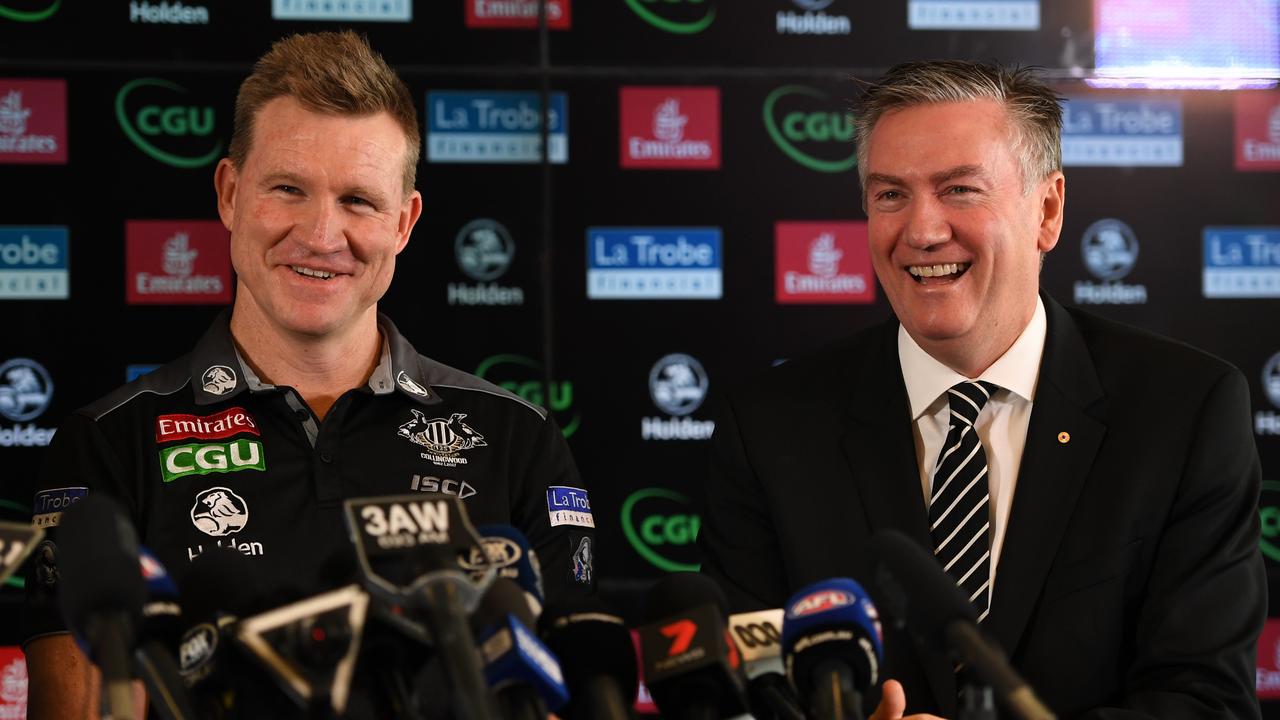 Nathan Buckley said to Heritier Lumumba that he threw Eddie McGuire under the bus. Picture: AAP Image/Julian Smith
Lumumba has been on a crusade to not only right the wrongs of Collingwood, but to get Collingwood to identify and acknowledge those wrongs, which the club says it has via the Do Better Report.
Lumumba calls bulls*** on that.
Lumumba's initial position on Goodes and the pain inflicted on the Swans champ and others, has now been swamped by a series of recent allegations, which included a pornographic photo being used by an assistant coach in a footy meeting.
The Twitter war between Lumumba and Buckley, which erupted again on Tuesday, hurts them both and hurts the game.
Again, if the AFL had dealt with McGuire as they should have, Lumumba and Buckley are not fighting. That's the truth.
But they're fighting, which raises more concerns.
Buckley on Tuesday asked Lumumba to make public the full audio recording for context, but even if there's 4000 words pre and 4000 words post in support of Lumumba, the fact is Buckley told Lumumba he threw the president under the bus.
That had never been confirmed by Collingwood.
McGuire last year told Footy Classified he wasn't aware of Buckley's alleged "under the bus" remark, while Buckley has refused to discuss the specifics of Lumumba's claims other than to say his version of events was "very different" to Lumumba.
"There are no buses here," McGuire said. "I don't know if he (Buckley) did (say that) … I'm reading that."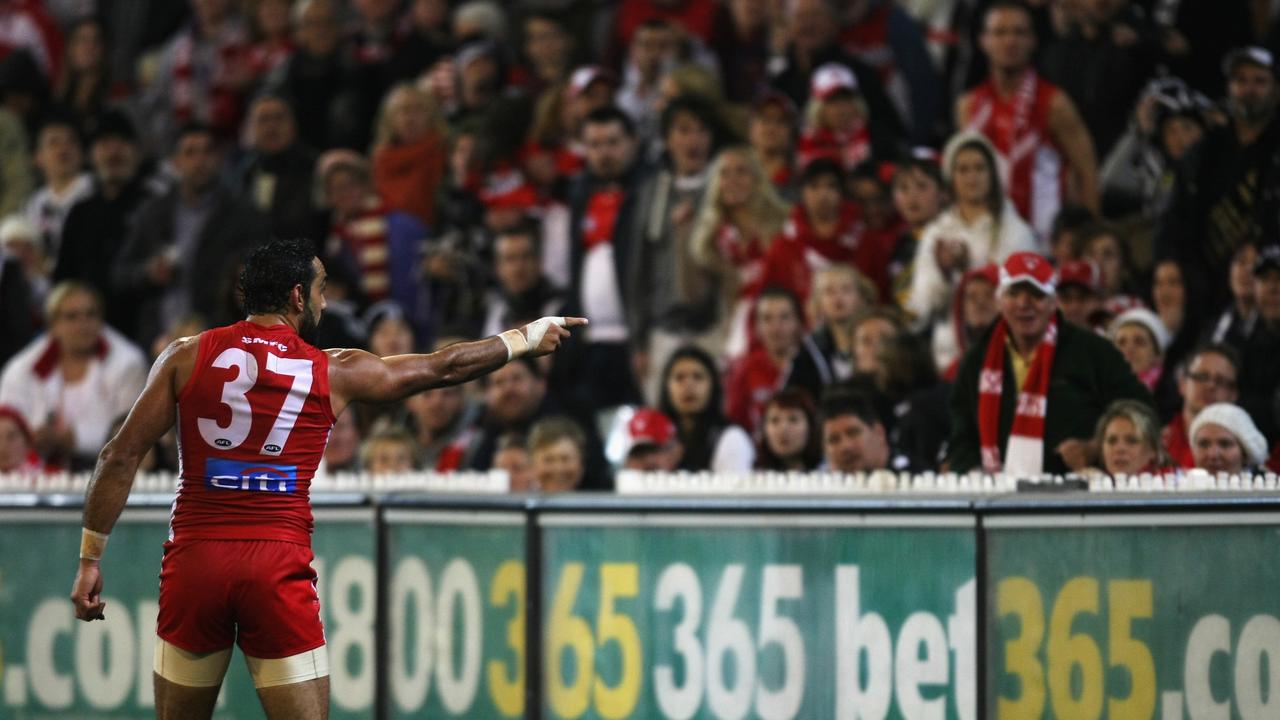 Lumumba's position on Adam Goodes has now been swamped by allegations. Picture: Andrew White/AFL Media
Why Buckley had a race-related discussion with Lumumba in the first place is a query.
Buckley, who was 40 at the time, was a young football coach. He was obsessed with football. He lived, breathed and ate Sherrins for an afternoon snack. Everything he did was to better himself as a player and better the team as the coach.
For as long as he could remember his motto was team first and club-first. That's why he said what he said.
In contrast, football was high on Lumumba's agenda, but not as high as human empathy and social justice.
Buckley as recently as Monday admitted he made mistakes — without detailing them — but it has to be said he was a babe in the woods in terms of managing an issue like this.
He was a footy coach, not a professional psychologist on race and humanities.
He was dealing with a political hot potato. Was he even trained to do that?
Surely, that was a job for the chief executive — at the time Gary Pert. Or a Pert-appointed professional.
So, blame is not at Buckley's feet.
If only Collingwood and the AFL had shown greater leadership at the time.
The Collingwood board is not without fault. They did nothing to punish McGuire about King Kong. It was suspected at the time the Magpies board was too scared to challenge the president and, worse still, convinced themselves that because McGuire said what he said on Triple M, he was wearing his media hat and not his president's hat. How pathetic.
And the AFL was pathetic — firstly Demetriou, who was and is friends with McGuire, and secondly the Commission led by Mike Fitzpatrick.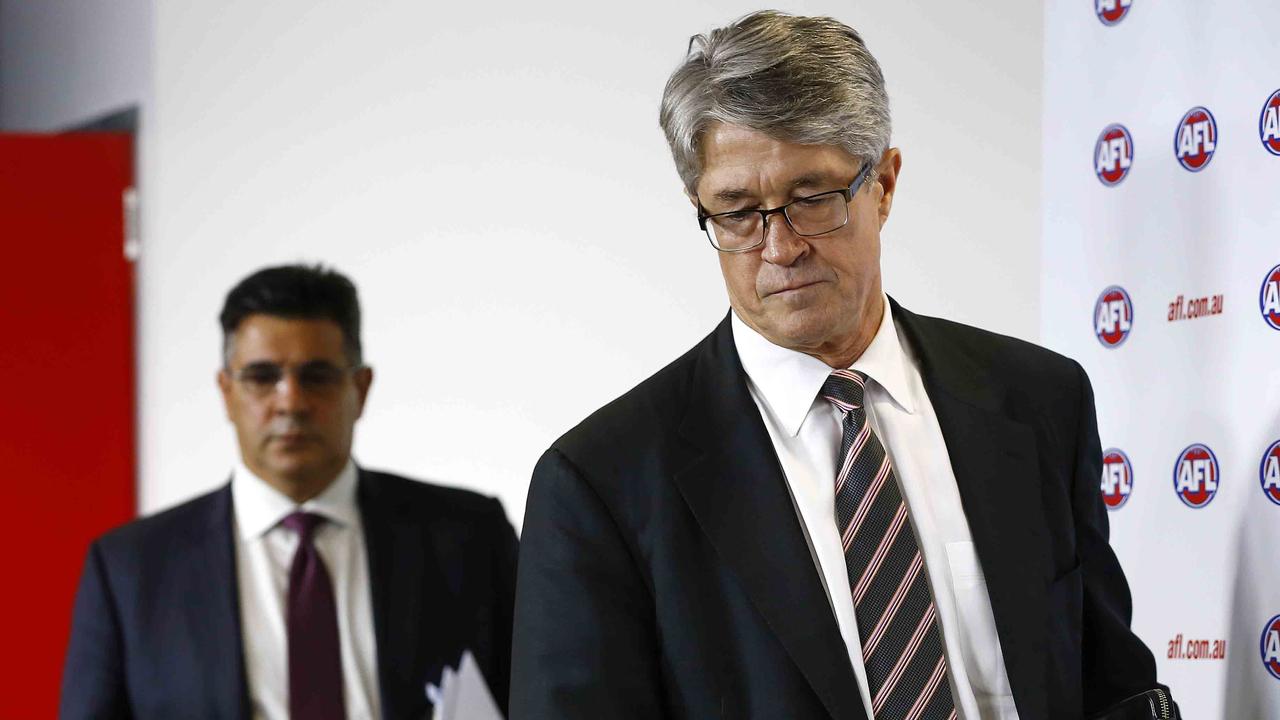 Mark Robinson says the AFL was pathetic. Picture: Michael Klein.
By doing nothing, they said something — and that was that they would look after one of their own.
Two years later, when Goodes was being booed out of the game, the AFL once again sat on its hands. That whole period was shameful from the AFL.
It was during this time, apparently, that Lumumba started taping conversations with key people at Collingwood.
That Lumumba believed he had to undertake such measures when discussing racial insensitivities and social justice is concerning.
That he needed the release tapes to defend himself, as he put it, points to a untrusting environment from his behalf. The current situation has no winners.
Lumumba wanted to engage in the truth-telling exercise with Collingwood as part of the Do Better Report, but it fell apart.
Now, he's telling his story again — with greater detail.
He doesn't want money. He wanted "his truth" out there.
But what happens if Collingwood starts telling stories about Lumumba? It's only a question, but did Lumumba always live up to the values he has since espoused?
The truth is the Lumumba-Collingwood-Buckley-McGuire-AFL brawl needs to find a resolution because it's hurting the game and, arguably, hurting the pathways and opportunities for First Nations kids.
The fear is that some clubs might ask themselves why take a chance.
The AFL must ask itself how did it get this anyhow?
They know. Because almost nine years ago, they defended a mate and not the victim and because of that the consequences are still being dealt with today.
Originally published as Mark Robinson: Collingwood and AFL's lack of punishment for Eddie McGuire has led to verbal stoush with Heritier Lumumba