Mark Robinson: All women let down by AFL's support of Collingwood's De Goey penalty
The AFL abhors any disrespect towards women. So how, Mark Robinson asks, have they ticked off on Collingwood's insignificant penalty to Jordan De Goey?
The threat of a penalty — a $25,000 suspended fine and no games suspension — is flaccid in comparison to Collingwood's foot-stamping and fist-thumping position on respect towards women.
Collingwood "strongly condemns the disrespectful conduct'' and is "extremely disappointed in Jordan's behaviour'' and they are "actions we do not accept as a football club and "that disrespect towards women, in any form, is never acceptable and we strongly condemn it.''
Tough talking isn't it?
Watch every blockbuster AFL match this weekend Live & Ad-Break Free In-Play on Kayo. New to Kayo? Try 14-Days Free Now >
So, how can Collingwood be so appalled with De Goey's behaviour in Bali and then hit him across the face with a stick of fairy floss?
The AFL has its sticky fingers on this, also.
Really, it's staggering to accept the league ticked off this lowly penalty, the same league which champions women in the game and which abhors any disrespect towards women.
The AFL has let down all women in this case.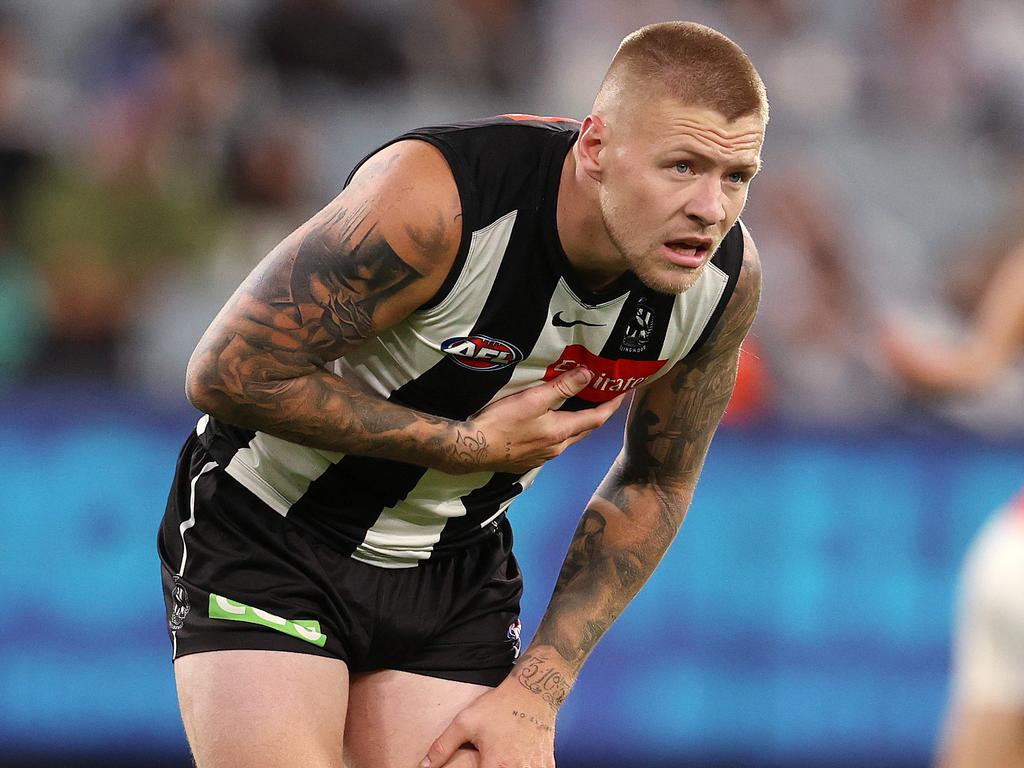 It took convincing for Jordan De Goey to acknowledge his inappropriate behaviour. Picture: Michael Klein
Collingwood admitted it was wrong, more importantly De Goey eventually admitted what he did was wrong — and it took plenty to convince him — but the penalty is effectively a bond for a player already on notice for events in New York in the last off-season.
Even De Goey, who has a history of finding trouble or vice versa, can stay in his lane for the rest of the season.
If he does, the $25k is waived. If he doesn't, he won't be at Collingwood next year.
Whether he plays football for the Pies in 2023 is a decision for Collingwood alone, but that ain't the issue right now.
The issue is: Did De Goey disrespect women by his actions in Bali?
That answer is yes.
Clearly, there would be a group of women at Collingwood disappointed with the club's — and the AFL's response.
A cohort in the AFLW program were already disgusted with De Goey.
It approached the club after De Goey's exploits in New York and at the height of that maelstrom, they expressed their angst about his behaviour and demanded the club take strong action.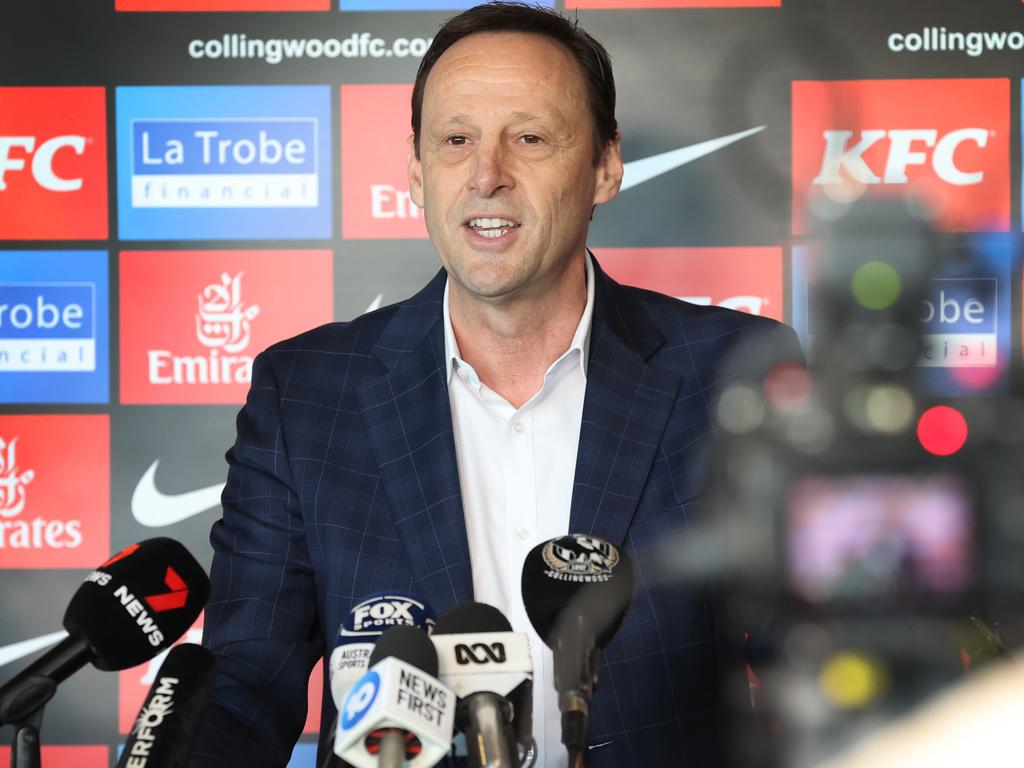 Collingwood chief executive Mark Anderson says Jordan De Goey has a responsibility to change his behaviour. Picture: David Caird
The AFL fined De Goey $10,000 and the club banned him from the club for three months and then imposed work with the Salvation Army as punishment. De Goey also agreed to undergo 10 counselling sessions for alcohol treatment and anger management.
At that time, Collingwood chief executive Mark Anderson said De Goey had a "responsibility" to change his behaviour, to enable him to be "a better person".
"We can't be in this situation again. He's understanding that,'' Anderson that.
Not seven months later, De Goey is in a "situation'' again.
What happened in New York is hazy with detail, suffice to say De Goey pleaded guilty to harassment, while other charges were dropped.
Fast forward to the mid-season break and trying to expose a woman's breast in a steamy Balinese bar at whatever time of the night is at the low-end scale of sexual misconduct.
But it is on the scale.
That the woman — a friend of De Goey's — said she did not have an issue with De Goey's behaviour is her right, because it's her body after all. But the point is, because she said it was OK, does that make it OK in the eyes of every woman?
Of course not. It's all about consent isn't it, asking before touching?
Collingwood has two women's football teams, two netball teams and a large number of women on staff.
How are the players in those teams feeling right now?
That it's OK to grope?
Undoubtedly, a contingent of the same women who were disgusted with De Goey's New York shenanigans would be disgusted with his behaviour in Bali — and probably even more disgusted with Tuesday's soft punishment.
They should rightfully ask: How many chances does this dude get?
The answer: As many as possible as long as he can play good footy.
Put it this way, if De Goey was a battling C grade footballer and not the A grade talent he is, would he even be at the club? You don't have to phone a friend to know the answer to that one.
De Goey's "situation'' effectively brought bombs down on teammates, Jack Ginnivan and Isaac Quaynor, who posted a TikTok video of the pair rating women.
To be fair, it sounds worse than what it is.
It's a craze sweeping the social media site, similar to those dance moves in 2020, which saw AFL coaches and their kids pose during lockdown.
But because it denigrated women somewhat, and on top of De Goey's behaviour, Collingwood's culture was put back under the spotlight.
Ginnivan and Quaynor are two young men doing young men things, just as young women do equally stupid young women things on TikTok.
The video hardly deserves punishment and Collingwood reminding them that social media is a wolf in sheep's clothing was the proper response.
The De Goey situation is far different.
And to all those men defending De Goey, declaring he did nothing wrong, ask your female friends what they think about you defending him.
Because the stats show that a vast majority of women have experienced unwanted sexual touching, and for so long it was passed off as flirting or a bit of fun.
Collingwood and the AFL had a choice here.
Go hard or go soft and they took the latter. That was expected from Collingwood because De Goey is their player, he has ADHD, and clubs mostly always put their arms around their player to help them in times of trouble. That's what footy clubs do, not withstanding all that foot-stamping and fist thumping.
But that softly, softly response was a surprise AFL.
Anyway, De Goey has nine or so weeks to convince the Pies he is worthy of keeping on.
He's lucky in some ways, because if it was up to that cohort of Collingwood women, he'd already be gone.
Originally published as Mark Robinson: All women let down by AFL's support of Collingwood's De Goey penalty