Mark Robinson: Stats behind Nick Vlastuin — and why he may be Richmond's most important player
He might be Richmond's most important player, yet he has never been All Australian. Mark Robinson lifts the lid on the traits which make an unassuming Tiger so crucial.
It''s incomprehensible that Nick Vlastuin has never been an All Australian.
He's a possibility this year. He missed the first four games of the season because of injury and at the halfway mark of the season, was behind James Sicily, Steven May, Jacob Weitering, Tom Stewart, Jack Sinclair and Sam Docherty, which was the popular back six group.
But with Weitering missing a chunk of games because of injury, a spot is up for the taking.
If Vlastuin can get to 18 games and continue to be Richmond's territorial halfback, his 18 games could be worthy of All Australian celebration.
Watch every blockbuster AFL match this weekend Live & Ad-Break Free In-Play on Kayo. New to Kayo? Try 14-Days Free Now >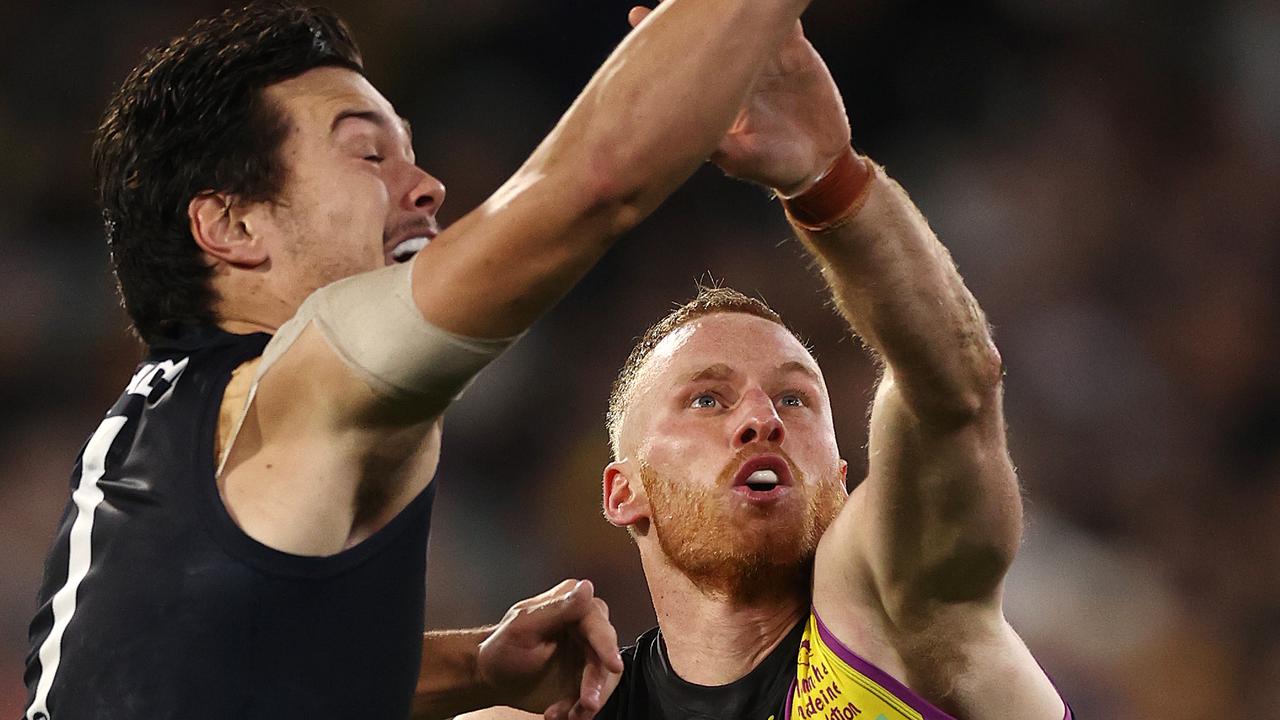 Nick Vlastuin is in All Australian contention. Picture: Michael Klein
"He's a special player,'' Tigers defensive coach Adam Kingsley said.
"He's probably the best player currently playing who hasn't been All Australian to be frank.
"It's amazing how that hasn't happened yet.''
Asked to pinpoint his abilities, Kingsley said: "Nick's real strength is his ability to play tall and small, and just seems to be beat both. He either bullies the smalls or he's too smart for the talls, that's how he beats them.
"He's super aggressive, he's tough, he gets belted, but he doesn't really care. He's one of those old-school footballers who I grew up watching in the VFL, who just gets on with the job. It's part and parcel of the game getting belted, you know, I'm gonna belt you at some point and you're gonna belt me, who cares that's the game, we move on. That's who he is.''
The grandson of Dutch parents, Vlastuin's father was born in Dutch New Guinea, which means "Vlastuin'' is a rare heritage for a footballer.
At a guess, Vlastuin is probably the second most famous Dutchman to play Australian rules.
Through the 1980s, Essendon's Paul Vander Haar was known as the Flying Dutchman for his ability to leap and take acrobatic marks.
Comparatively, Vlastuin is more your unassuming Dutchman.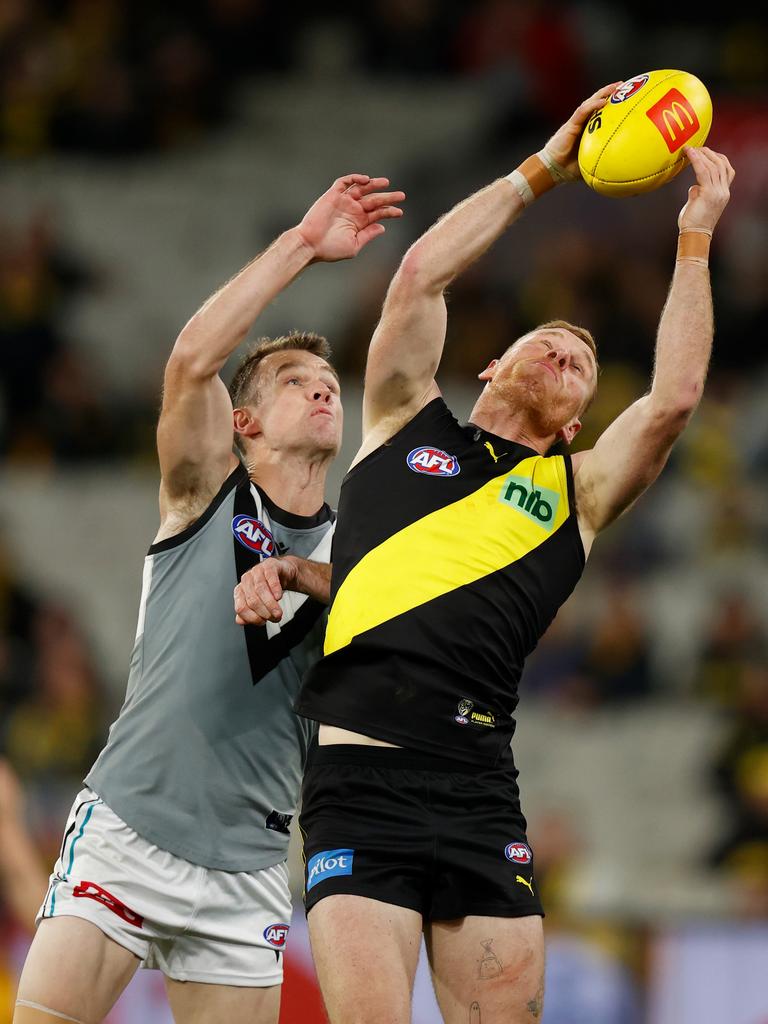 Nick Vlastuin can do it in the air. Picture: Michael Willson/AFL Photos via Getty Images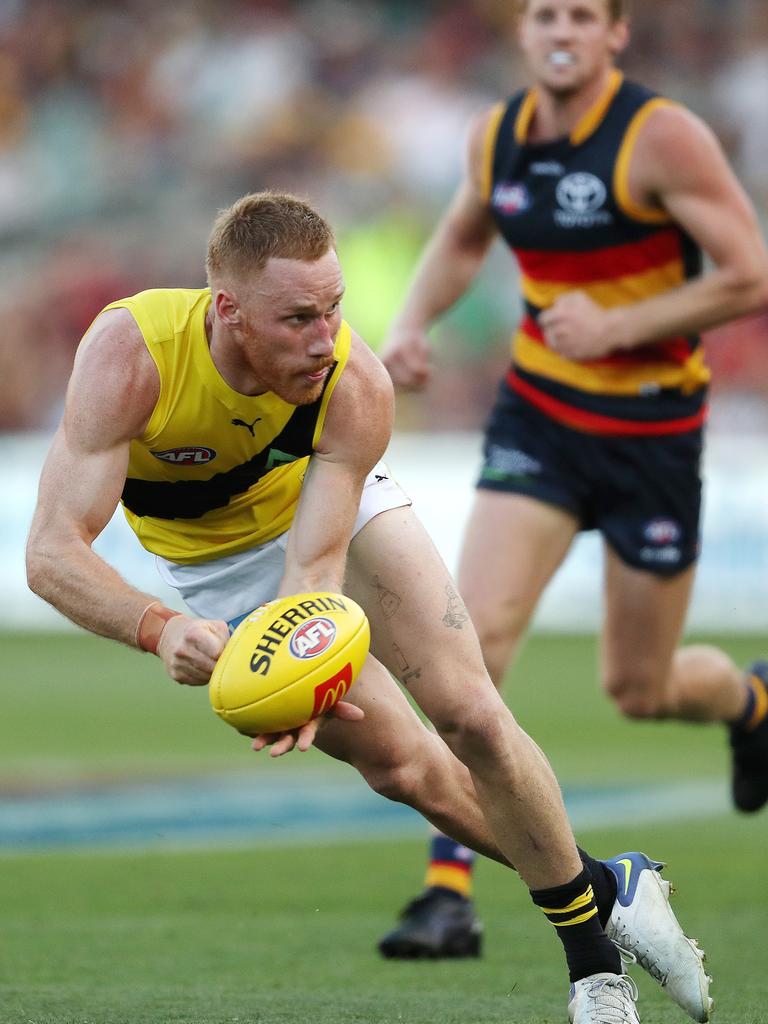 And at ground level. Picture: Sarah Reed/AFL Photos via Getty Images
"He's pretty laid back,'' Kingsley said.
"He's a surfer, he doesn't say a lot, but he's friendly if that makes sense. He will give his opinion, but doesn't necessarily offer it to you. He's not a massive organiser on the field as such, we have better organisers.'
"Nick's not a bully but he plays like a bully. He's prepared to hit bodies, he tackles, he dives for smothers, and he's so crafty with his bodywork, being able to shift you out of position, and he's the No. 1 possession gain player on average this year.''
"Possessions gain'' is basically winning intercept possessions and Vlastuin leads the league with an average of 9.4 ahead of GWS's underrated 23-year-old Sam Taylor.
West Coast's Jeremy McGovern would probably be the league leader, but he has been injured during a couple of games, which skewed his numbers.
A 1v1 player and interceptor, Vlastuin plays in a similar mould to Shinboner Glenn Archer, although he doesn't quite have Archer's kamikaze approach. Who does?
But being an interceptor in the air requires a high level of bravery, because while third-ups often mean you come from the side, an interceptor is also required to launch backwards into the darkness.
"He's really uncompromising on the field, and at the same time he's incredibly skilful,'' Kingsley said. "You know how once upon a time you were either tough or you were skilful and you were rarely both well, he's both.''
As the defensive coach, Kingsley, who finished second behind Michael Voss at Carlton and Craig McRae at Collingwood in the coaching races, knows he can deploy Vlastuin to any role, but manly as the bigger body on the mid-sized opposition forwards.
Vlastuin has had only two match-ups for more than 40 minutes this season, which means he chooses where he plays on the field and he picks up whoever rolls through.
Last week, he had Jack Silvagni as an opponent, and then Zac Fisher and then Jack Martin.
The week before against Port Adelaide, it was Sam Powell-Pepper, Zak Butters and Lachie Jones.
The week before that it was Errol Gulden, Tom Papley and Will Hayward.
In other words, Vlastuin plays his position rather than the opponent and unquestionably the statistics show that when Vlastuin has played over the past five years, the Tigers are much more stingy and settled defence.
When Vlastuin missed games, such as the 10 games in 2021 and again earlier this season, the Tigers blew out.
Indeed, he is as valuable to Richmond as Tom Stewart is to Geelong.
Alex Rance played 112 games with Vlastuin and together with Dylan Grimes were a formidable back three.
Asked why he loved Nick Vlastuin, Rance said: "On the field or off the field?''
On the field.
"He can impact multiple contests, he reads the play really well, he's a really neat ball user and he has really good spatial and emotional awareness around him. He gets leadership.''
The character of the man?
"He's such an interesting character on the field because what is his greatest strength can potentially be his greatest weakness. It's that he's really unflappable, like he doesn't get super high or super low, and sometimes you were like, 'Come on man, give us a bit of something.' He was like, 'Meh whatever'. From a character perspective he's quite level which sometimes I'd like it to be a little more spark.''
Rance, time and time again, witnessed the bravery from his teammate, backing back into traffic.
"The thing that makes it even more brave is that he knows it is coming because he's spatially aware. There are some players, you know, I probably classify Sam Frost in this category, like, he's brave but it's more reckless than brave, whereas someone like Nick, or McGovern, probably Jake Lever … they know what's coming and they still go anyway.''
That said, he disagreed with the assertion that Stewart (No. 19) and Vlastuin (No. 20) were the two highest ranked defenders in the Top 50 at the start of the year.
"The game keeps changing,'' the premiership Tiger said. "The key position defenders aren't what they used to be. You don't have to be 100 kilos to be a key defender. You can be Tom Stewart and time it really well. That's what makes the kicking interceptors really valuable, like Sicily, Vlastuin and Stewart.
"Me personally, I like Steven May, and I think Sam Taylor and Sam Collins are my two on their day.''
Kingsley could mount a case that Vlastuin was the most valuable player at Richmond.
"Based on the stats, you would find it hard to argue the point too much,'' he said.
"But the reality is the most important player at Richmond is Dion Prestia. He's a gun. He's in the top handful of midfielders in the competition and like Nick, never gets spoken about.
"I have opposition coaches tell me that they show tapes of Dion Prestia from the broadcast vision because he never leaves the screen. He's that good, he just runs and runs.''
"If you were to do an average just on games played, he's won our best and fairest for the past four years. That's pretty good.
"And the beauty of a lot of these guys, and Dylan Grimes is the same, is that they're prepared to forego all that individual accolade and the want of fame, just to play within a group and system which win. They're happy to be unassuming.''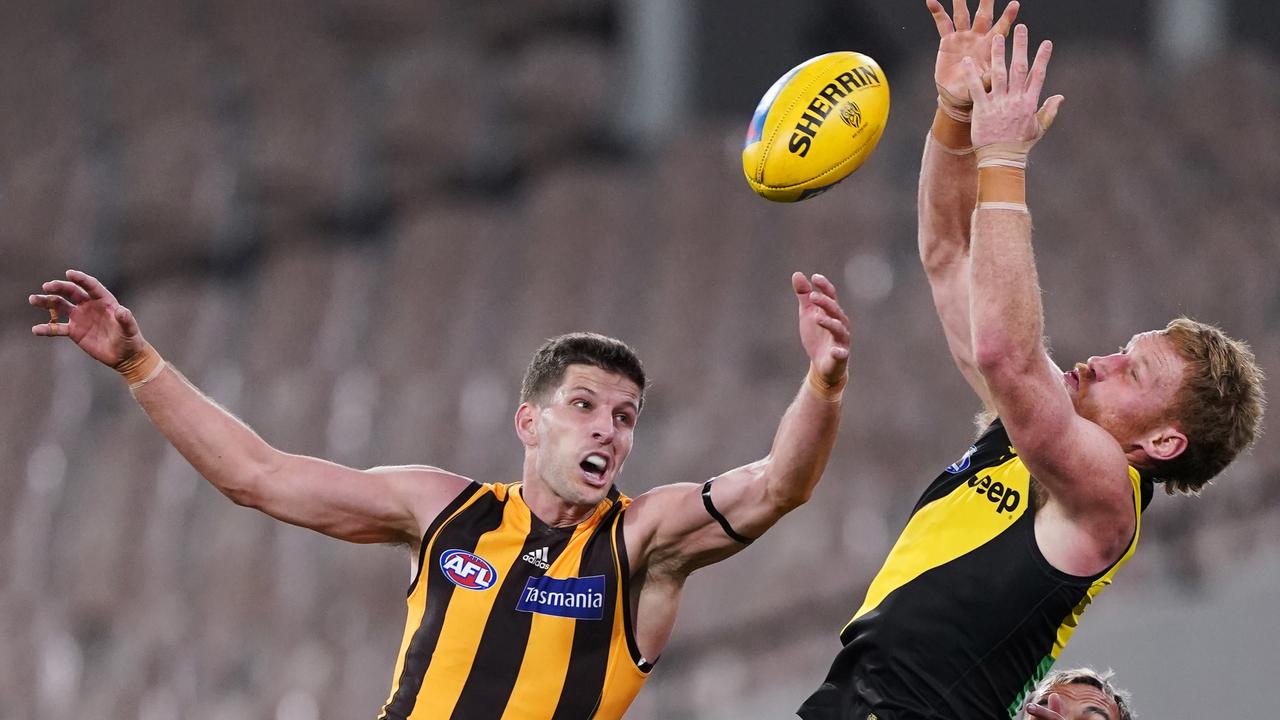 Nick Vlastuin outpoints Luke Bruest in a marking contest.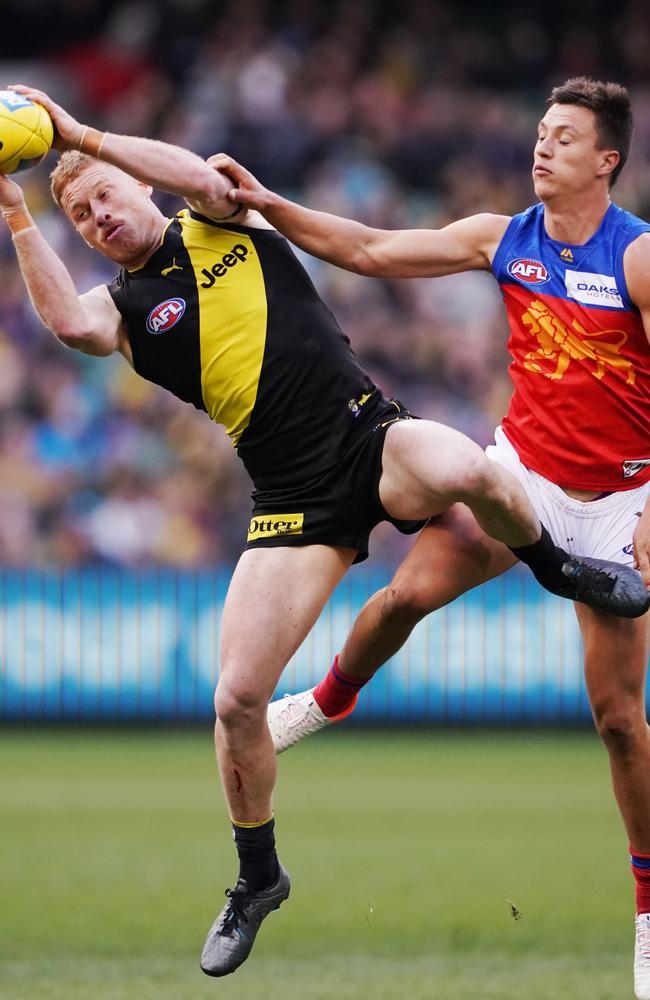 Nick Vlastuin outbodies Hugh McCluggage.
NOW READ ROBBO'S TAKE ON MELBOURNE'S LION DEMOLITION
Robbo: 'Frightening' Dees finally brought the beast back
It was death by familiarity.
By familiar, we mean a tough, bullying, contest-hungry Melbourne and, while Brisbane might've been expecting it, they couldn't handle it.
In the unfamiliar cauldron of the MCG, the Lions were brutalised.
The margin was 64 points — 16.21 to 7.11 — it felt like 94 points.
Lions coach Chris Fagan likes to say you never lose, that is you either win or you learn — the Lions will have plenty of homework after this.
It's a defeat that can leave scars and kill belief.
In contrast, it was a statement win and the Demons will again be red-hot premiership favourites.
Watch every blockbuster AFL match this weekend Live & Ad-Break Free In-Play on Kayo. New to Kayo? Try 14-Days Free Now >
They flexed their muscle with attitude and, coach Simon Goodwin would say, a more complete and working system.
It was about contest and pressure, and putting bodies in between the ball and the opposition, and, from there, it was about taking on the game.
When is it not in football?
More to the point, where has it been from Melbourne?
The Dees are back – with a vengeance!
The greatest minds in the history of the game can't easily explain a loss of confidence or cohesion, but they always say a strong work ethic will help restore it.
Melbourne was tough all right, but it was also electric with its ball winning and ball movement, so much so that it could be argued it was its best and most complete footy since the last 40 minutes of the grand final.
The Dees had 36 shots at goal to Brisbane's 17.
Melbourne's intercept game worked a treat, led by Jake Lever and Angus Brayshaw, the Holy Trinity of Clayton Oliver, Jack Viney and Christian Petracca was feverish at clearance and the contests, and their array of soldiers such as Neal-Bullen, Spargo, James Harmes, James Jordon and Tom Sparrow played their roles with a beastly attitude hat we haven't seen for some time.
Luke Jackson in the ruck was a more-than-adequate replacement for Max Gawn. It was the kind of performance to up his contract, but if you believe the Dockers have offered him a seven-year, $10.5 million deal as floated in Western Australia last week, you need your head read.
He's good, he might be great, but $1.5 million a year from next year is a stretch. And the way he celebrated his final-quarter goal last night, he looked like a young man totally invested in what is ahead for he and his team.
Melbourne had winners poking up like rigs on a Texas oilfield.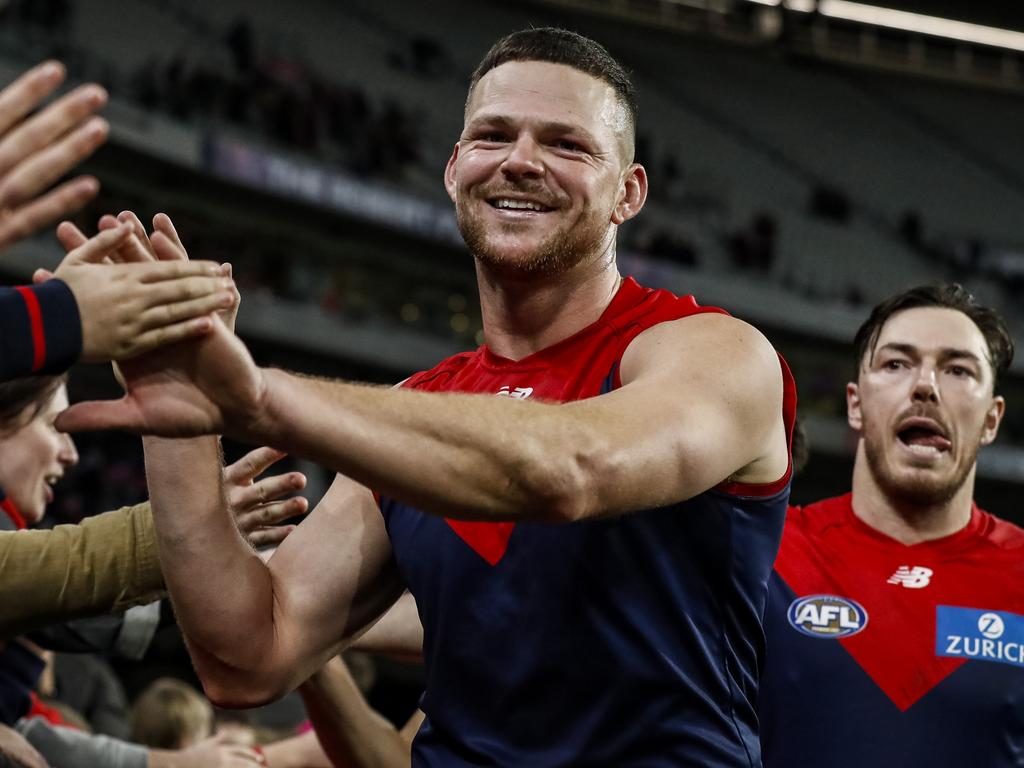 Steven May made a triumphant return to the Dees. Picture: Getty Images
Lever was dominant in the air in the D50, Viney was combative and inspiring in the middle, and Oliver had another 30-plus disposals game, with 12 clearances and 11 score involvements.
It might not get Oliver the three votes, though, because Warrior Viney and Lever might have him.
The critical — and frightening — period came from the 20th minute of the first quarter until halftime.
In that time, Melbourne scored 49-6, was +11 in clearance, was +31 in contested ball, and its pressure was 201. In context, coming into the game, the Dees were ranked 17th for pressure.
That 201 rating far outdid their highest-pressure rating for a game this season, which was 189.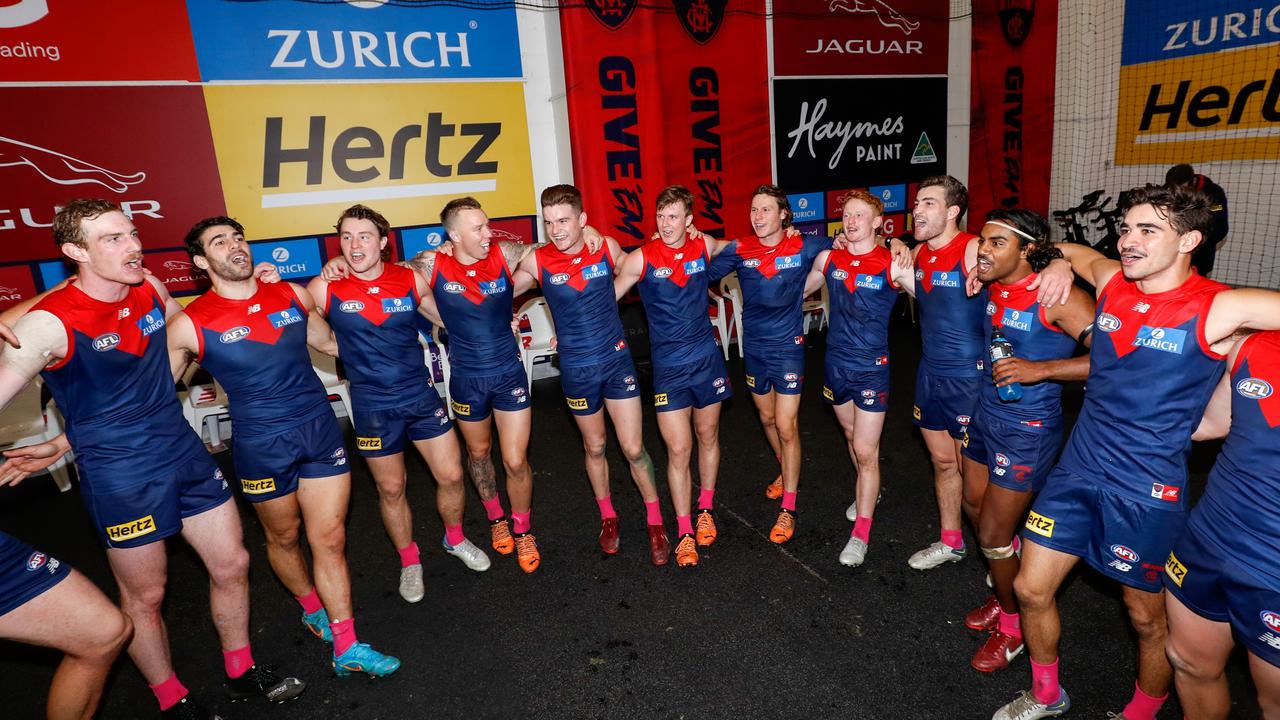 It's a grand old flag... Picture: AFL Photos/Getty Images
As a whole through that period, they scored six of their seven goals from turnover.
Across the four quarters, they scored 77 points off turnover, which was the second most points of the year after their round five 87 points against GWS.
Pressure is everything in football — from pressure, does strategy flow.
Viney, Oliver and Petracca had 28 clearances between them to Brisbane's 35 in total. That's a tsunami from the Demons.
The Lions were ground into the MCG surface.
They started well and, if not for two early misses from Joe Daniher, they could've been four or five goals ahead, midway through the first quarter.
Missed opportunity was replaced by finals-like intensity and the Lions failed miserably in both regards.
Then their much-revered midfield was battered and bruised.
Talking big dollars, Daniel McStay's suitors might have second thoughts on their long and lucrative contract offers, while Charlie Cameron, Eric Hipwood and Joe Daniher were so-so, although their midfield didn't help them.
While the Demons have their Holy Trinity in the middle, the Lions have their Holy Moly Trinity in the forward 50 — McStay, Daniher and Hipwood. While they can deliver big, they can also deliver small.
Exhibit A was Thursday night.
They took 11 marks between them, had eight shots at goal for a return of 3.5. That's hardly good enough in a big game like first v second.
The Lions, though, won't blame the forwards.
The midfield was creamed. Melbourne won ground ball by 42, which was the best differential by a side since 2019. Ouch
This wasn't a team effort, it was a team disappointment and, alarmingly, there's a batch of teams coming after Brisbane's top-four position.
After one game, can any team look shaky?
After Thursday night, that answer is yes.
Originally published as Mark Robinson: Stats behind Nick Vlastuin — and why he may be Richmond's most important player