Mark Robinson on how West Coast picked up a champion after trading Chris Judd
Chris Judd gave Carlton hope at one of its lowest ebbs. Josh Kennedy gave West Coast 15 years of incredible service. Have your say on who won the trade and read Robbo's take.
Josh Kennedy was a Sunday arvo treat.
The Eagles play everywhere and anywhere, but the Eagles at Subiaco on a Sunday were must-watch TV, and have been for decades.
And here Josh Kennedy flourished.
Not more than at any other ground, for he was a travelling star, but Kennedy in the wild west was a spectacle for footy lovers.
2022 RETIREMENTS: EVERY LIST CHANGE
He kicked bags of goals. And all sorts of goals. He was one of the most accurate kicks from long range. He could kick curlers from the boundary, or could kick a drop punt from the same distance and same angle if the conditions demanded it.
From the opposite pocket, where right footers aren't advantaged, he could kick right to left, which doesn't leave a lot of margin for error.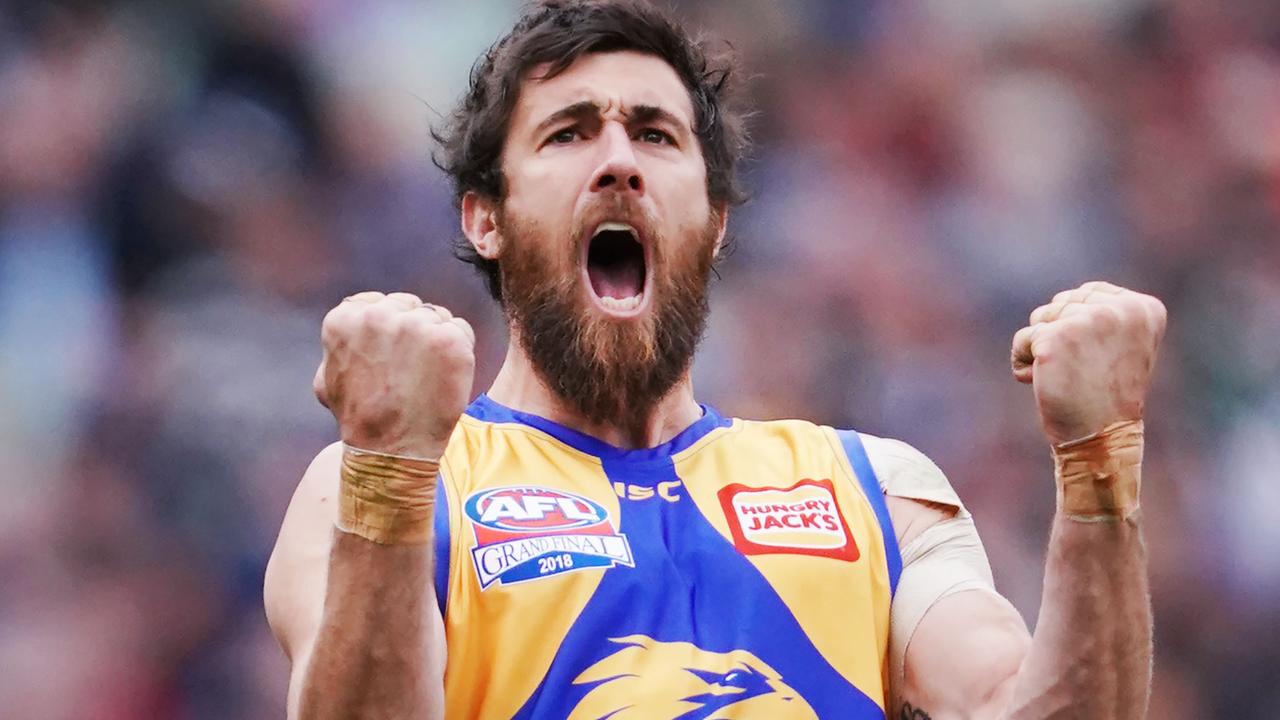 Josh Kennedy celebrates a goal in the 2018 grand final. Picture: Michael Dodge
Early days, he was twinkle toes in his run up, a shuffler in his footy boots, and that made him at times a comedic punchline for the commentariat, which is made up mostly of goal kickers.
By the midpoint of his career, he was Mr Reliable in front of the sticks.
Watch every blockbuster AFL match this weekend Live & Ad-Break Free In-Play on Kayo. New to Kayo? Start your free trial now >
Now, at the end, the same commentariats would tip their hats to Kennedy.
He was a no-fuss footballer. He didn't always jump around and high-five teammates after kicking a goal. He'd smile under that bushy beard and make his way back to the square and set his mind for the next.
He was professional and unflappable, and was always presenting himself for teammates with the pill. And if it was a bad kick, he'd never grumble. He'd wave his hand and get on with the job. Guessing here, but there would be thousands of hours of footage of Kennedy playing football and there wouldn't be one second of him berating a teammate.
Looking at him, he looked dishevelled at times, an ol' style footballer, but gee he had yards of class.
His first bag of six goals came against Hawthorn at Subi in 2010. He kicked 10 against the Bulldogs in 2011 at Subi. And in 2015, he kicked 11 goals against the Blues at Subi.
It was probably about then the great debate started.
Kennedy's first big headline came via one of the most famous trades in football history, when Chris Judd departed the Eagles for Carlton and Kennedy, who had played 22 games and kicked 11 goals, was shuttled west to make it happen.
That was in 2007.
In 2022, Kennedy's final big headline is much less dramatic, but far more profound: Kennedy retires a champion.
There's no doubting that.
He retires on Sunday and, before that game, has kicked 715 goals from 292 games.
On the all-time goalkicking list, he currently sits at No. 24.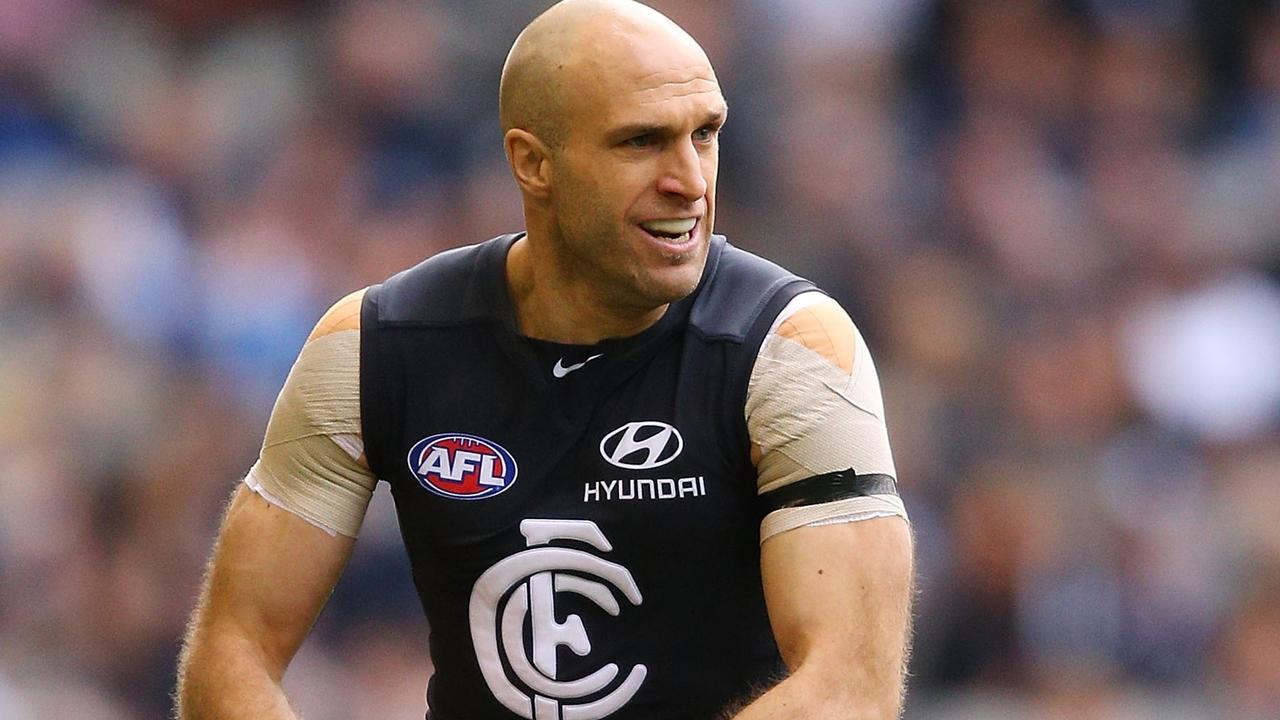 The Josh Kennedy-Chris Judd trade debate has been discussed for years by football fans. Picture: Michael Dodge
On one side of him is Matthew Pavlich (700 goals) and Collingwood's first champion Dick Lee (707). On the other is Tom Hawkins (716), Nick Riewoldt (718), Carlton all-timer Harry "Soapy'' Vallence (722) and the truly greats, Peter Hudson and Wayne Carey (727).
If that group made up your fantasy footy dinner party, you wouldn't be disappointed.
Contacted Tuesday and asked to describe Kennedy, Carey, the Riewoldts and Hawkins, did not hesitate to respond.
Carey: "He's a great player. He has the ability to push off his opponent, he puts in early bodywork and he has the ability to work over his opponent and find space. Modern-day defenders still say their most difficult opponent is Josh Kennedy.
"Jack Riewoldt and Josh have the same craft and their craft has to be good to get separation from their opponent. And he had really good hands, great hands, he always put the hands out on the lead.''
"He's been a star and he's a ripper bloke.''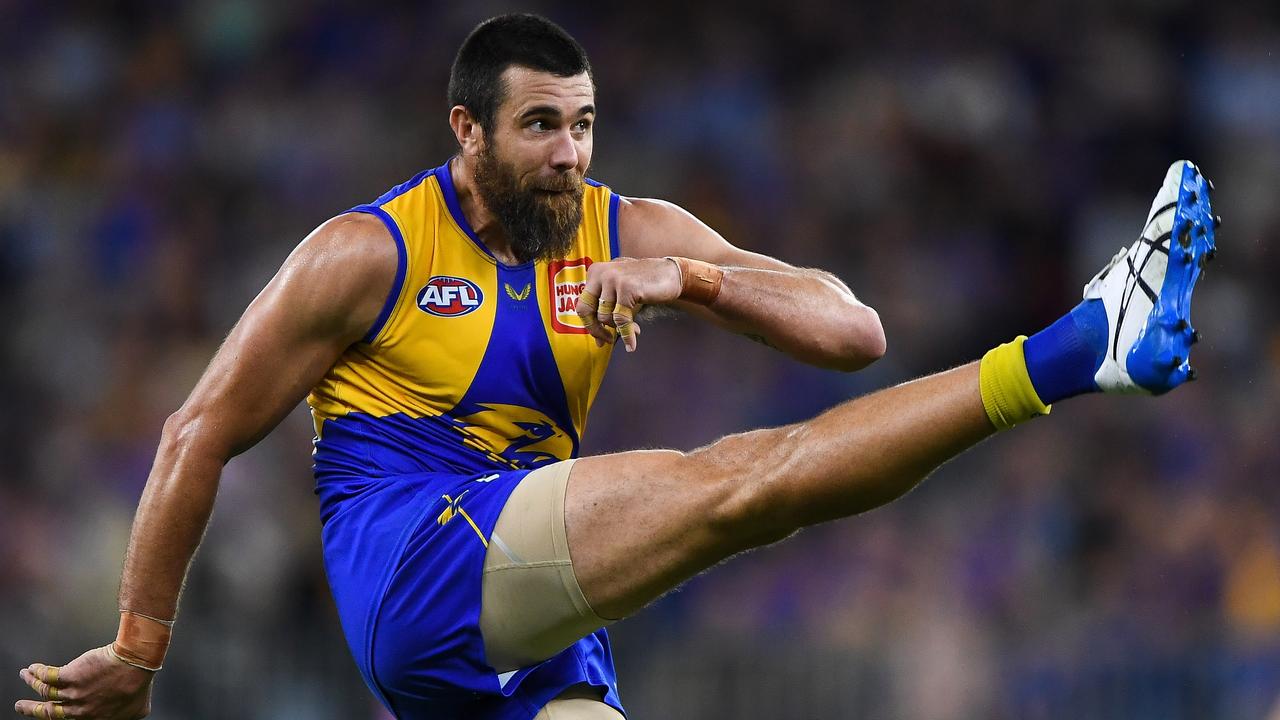 Josh Kennedy has been a goalkicking machine for the Eagles. Picture: Daniel Carson
Nick Riewoldt: "His 'split technique' or ability to create separation between himself and his opponent using footwork, multiple short leads and change of direction is as good as I've seen.''
Jack Riewoldt: "I have always looked up to him as a player and as a person. He looked to have a great work-life balance and was a master in the art of playing forward. One of the good guys of AFL football."
Tom Hawkins: "I've often watched Josh throughout his career to try and pinpoint what has made him such an incredible player for so long. I always come back to the conclusion he is elite in three main areas on the field: Work rate, reading the game/identifying space and within his own unique goalkicking routine he is lethal in-front on goal. Particularly in big moments.''
As for the Judd-Kennedy trade, it was a win-win, although Kennedy's 15 seasons at the Eagles against Judd's seven and a half at the Blues would have Eagles chiefs mightily chuffed. To be honest, we are all chuffed because he made lazy Sundays entertaining.
Originally published as Mark Robinson on how West Coast picked up a champion after trading Chris Judd