Meet the local footy TikTok star whose elite fitness business boomed after sipping a beer playing footy
A sip of beer on a footy field landed Tom Baulch a two-week suspension after it went viral on social media. But it also set him down a path to training the likes of Tom Mitchell and Patrick Cripps. Here's how he did it.
Far from the stringent fitness regimes he preaches to his 190,000 TikTok followers and more than 600 online clients, some of which include the likes of AFL stars Tom Mitchell and Patrick Cripps, Baulch says his cheeky sip in the goalsquare that day helped sell himself to the sporting world.
The 22-year-old was served a two-game suspension by AFLNT in February this year after he shared footage to social media from the Northern Territory Football League match between his Darwin Buffaloes and Southern Districts.
The video shows a spectator entering the field of play during the fourth quarter and handing Baulch a beer, which he appears to sip before handing back.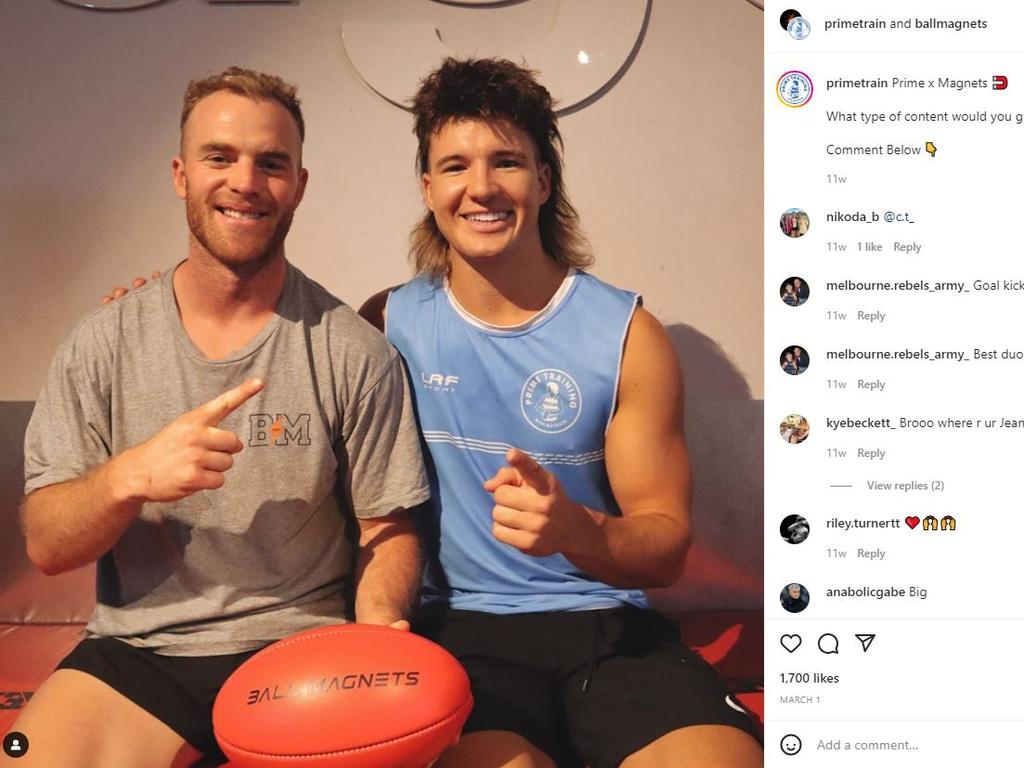 Tom Baulch with Tom Mitchell. Photo: @primetrain on Instagram
At the time, Baulch posted to his Facebook page: "Drinking is not something I promote during a game, but having fun with your footy definitely is!
"Enjoy the game, give back to the fans and let the boys play."
With his lairy long hair and laid back larrikin persona Baulch has built an impressive social media presence. He has more than five million likes on TikTok and his game day vlogs eclipse 10,000 views within 24 hours of going live on YouTube.
Baulch may well be the most popular player outside of the AFL.
"I think that's why the response has been so positive," Baulch said.
"People think 'oh this guy is a gym junkie, he's doing these game day vlogs and not playing AFL so he clearly takes himself pretty seriously for someone who's not a professional'.
"But when you see me drinking a beer on the ground and having fun with fans … 'oh, maybe he doesn't take himself too seriously'. That was kind of the start of it all."
Baulch's elite fitness business, 'Prime Training', now boasts more than 600 online clients including professional athletes from the AFL, Super Rugby, tennis and boxing.
Tom Baulch with NSW Waratahs player Carlo Tizzano, whom he trains. Photo: @primetrain on Instagram
"I started going to the gym when I was quite young. I broke my leg quite badly when I was 17 and that was from the training I was doing," Baulch said.
"I thought to myself, if I wasn't training how to jump, land and change direction in the gym, how was it actually helping me out on the field? Once I started to mimic what I do on the field in the gym, it all made sense."
AFL stars Tom Mitchell and Patrick Cripps started as clients and have since appeared in Baulch's recent promotional clips on social media, after helping him write one of his new fitness programs.
"They started off as clients and really loved the work that I was doing," Baulch said.
"I started off training professional athletes and we thought, 'why don't we share this with everyone?' Now they're helping me change the way athletes train.
"I never really thought I would be in the same room as those guys let alone be mates with them. It's very humbling."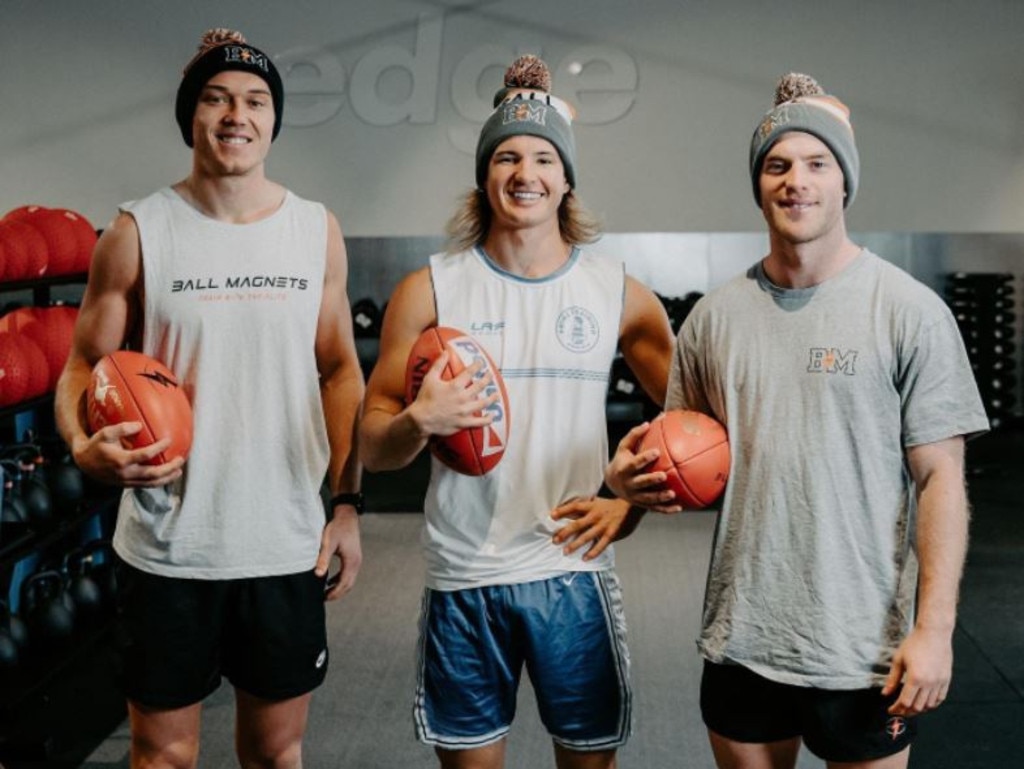 Prime Training founder Tom Baulch (middle) with AFL stars Patrick Cripps and Tom Mitchell. Picture: Prime Training on Instagram
The Queenslander, who grew up playing footy in Mackay before moving to southeast Queensland to study sports journalism, served his two-game suspension in the QAFL after returning to play with the Noosa Tigers for the 2022 season.
His profile meant many of his new Noosa teammates knew of Baulch before he stepped foot in the club and that meant earning their respect on the field.
"At the start people probably had assumptions about me, but at the end of the day the only way to earn respect is playing good footy. Once you do that everything else falls into place," he said.
But not everyone is a fan of Baulch's social media presence.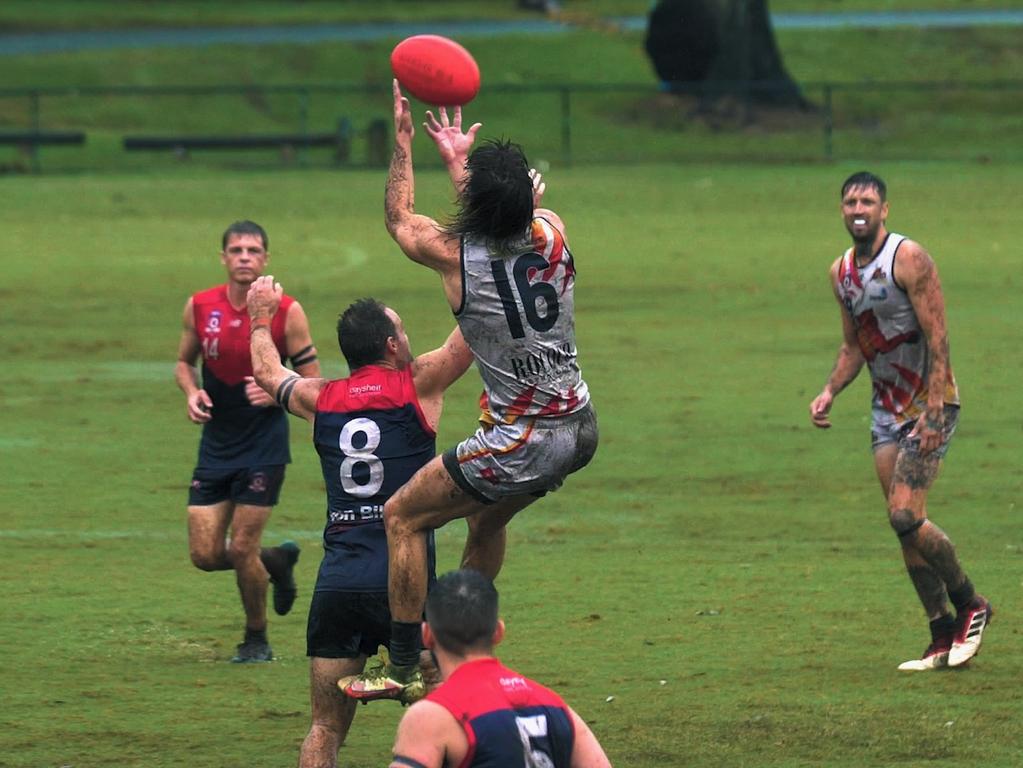 Tom Baulch playing for Noosa Tigers against Surfers Paradise. QAFL Round 7. Photo: Supplied
He says he has become the easy target for abuse from rivals fans and spectators, something that has taken time to get used to.
"I've definitely had to learn to deal with controversy and stuff because you do get a lot of hate on social media," Baulch said.
"Before games I get people saying things like 'I'll give you a hiding today'. I got about 20 messages from (rival) supporters and players (before a recent game). At the start it would effect me but now I really enjoy it."
Originally published as Meet the local footy TikTok star whose elite fitness business boomed after sipping a beer playing footy