Melbourne AFL news: Latest on the turmoil at the Demons
The AFL has concluded its investigation into the punch-on involving Steven May and Jake Melksham. See the outcome of their investigation.
The AFL won't take any further action against Melbourne pair Steven May and Jake Melksham over their altercation at a Prahran restaurant last Sunday week.
The Demons banned Steven May for one-match and ordered community service work for both May and Melksham after the incident.
The AFL initially said it would not seek further clarity over the incident in which May was struck following an altercation with Melksham.
But the league's Integrity Unit decided to look further into the matter which included interviews and CCTV footage after it was revealed Melksham had to undergo hand surgery.
On Wednesday night the AFL released a statement saying it had completed its inquiry and was satisfied with the manner in which the Demons handled the matter as well as the punishment metered out.
"After multiple interviews and review of CCTV vision from the night, the AFL is satisfied the initial club-imposed sanctions are appropriate and will take no further action," the AFL statement said.
"As previously stated, the Club has taken (the) matter extremely seriously, however the AFL wishes to reinforce that no matter the situation or circumstances, violence is never the answer.
"As professional footballers, as people, we expect better."
Melksham has been forced to have multiple operations on his hand after it became infected following the brawl.
May was suspended by the club for drinking while under concussion protocols - he was concussed in Round 11 which was why he'd been unavailable for Round 12.
He missed Monday's Queen's Birthday clash with Collingwood where the Demons lost their third consecutive game.
WHY MELKSHAM DODGED PUNISHMENT FOR MAY PUNCH
— Jay Clark
Jake Melksham had heard enough.
As the beers flowed at Entrecote restaurant on Sunday night, the barbs coming from Steven May's mouth began to reach uncomfortable and unacceptable levels.
And Melksham called it out.
What started out as a bit of banter eventually erupted into a full-on brawl which damaged a restaurant table, spilt out on to Greville St and has left the red-faced reigning premier in damage control.
There were at least two flashpoints on this night gone horribly wrong for All-Australian fullback May, who could do worse than to swear off the booze forever.
According to sources familiar with the events, May was having a crack at almost every one of his teammates around the table that night, as the alcohol took over.
Watch every blockbuster AFL match this weekend Live & Ad-Break Free In-Play on Kayo. New to Kayo? Try 14-Days Free Now >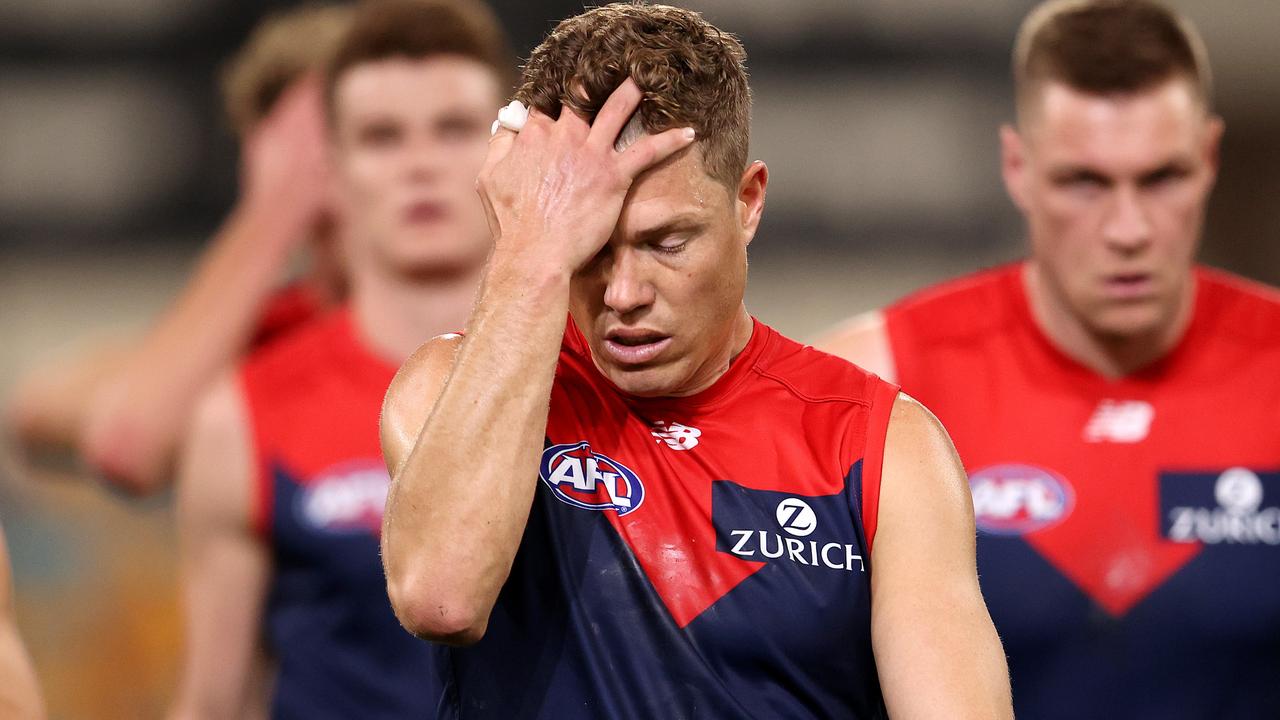 Jake Melksham decided enough was enough. Picture: Michael Klein
He has form in this area. May had his jaw broken by former Suns' teammate Campbell Brown on a trip to Los Angeles in 2013.
But as the taunts and sledges from May became louder and more upsetting, Melksham attempted to save the night, and told May bluntly to put a sock in it.
Instead, they took it outside.
One of the things that upset Melksham clearly, as the insults went around the table, was a bake which Joel Smith copped.
Winding the clock back nine months, Smith was cruelly ruled out of the Demons' preliminary final win over Geelong last year after tweaking his hamstring at a training session only days out.
It was a shattering blow for Smith, a 26-gamer who has endured a luckless run of injuries over his career and is currently sidelined with a broken ankle.
May also hurt his hamstring in the preliminary final win over Geelong – suffering a 6cm tear – and played in the grand final.
In the aftermath, May was lauded as a hero, while Smith missed out on a medal. Tough enough circumstances as it is for Smith, without May reopening old wounds around a dinner table almost one year on.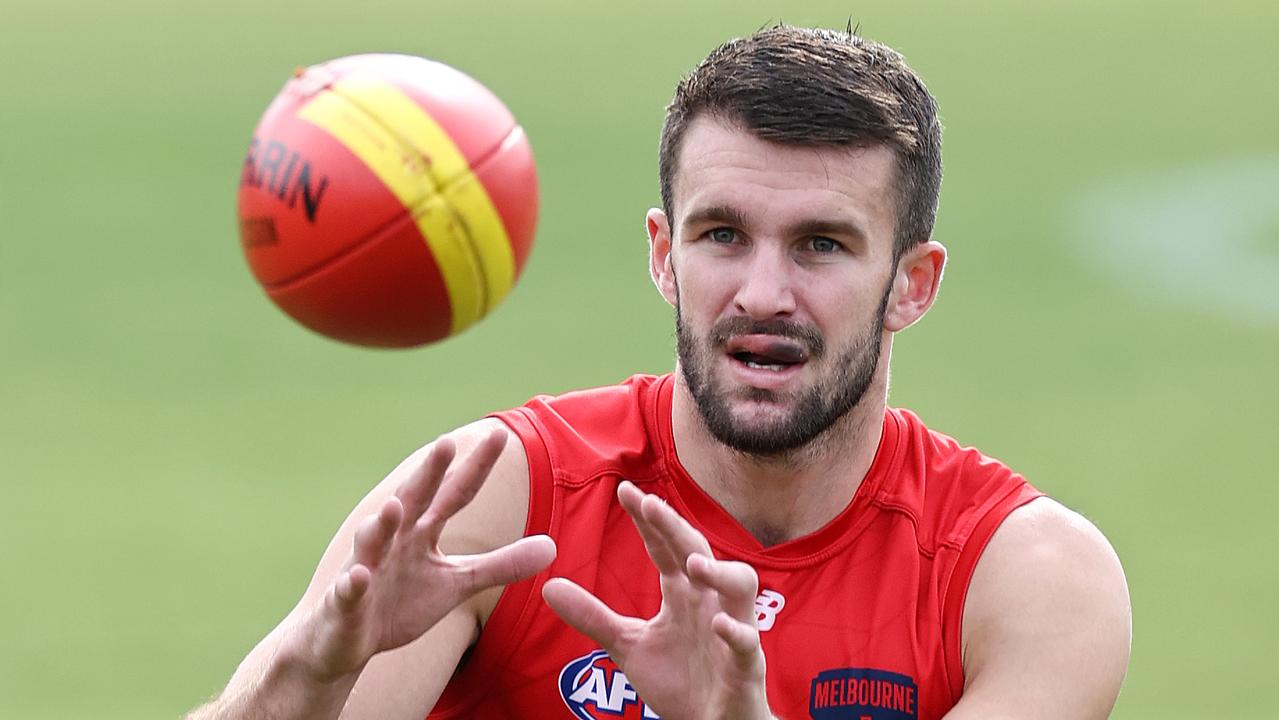 Joel Smith copped a bake from Steven May. Picture: Michael Klein
While the exact words in the exchanges still remain somewhat unclear, it got to the point where Melksham stepped in.
Not only for Smith's sake, the man who organised the night with about six or seven of his teammates including gun forward Bayley Fritsch, but for everyone as May's dribble had ruined the occasion. Melksham said as much.
But rather than diffuse things, it was red rag to a bull for May, and that is when the situation become quite heated. In fact, it got physical.
The initial banter had become a box-on.
Eventually, the fight spilt out on to the road where Melksham and May had to be separated by teammates.
Melksham was the one who clobbered May, yet May has taken full responsibility for the whole fracas in an apologetic club video.
In any case, the star stopper looks like the one largely at fault, as the aggressor on the night until he was clocked.
For Melbourne, what a bizarre turn of events for a club already reeling from the revelations around a text message exchange between president Kate Roffey and former chairman Glen Bartlett, where Roffey was highly critical of football department staff late in 2020.
In the exchange Roffey said the club should "boot off" popular people and culture manager Jim Plunkett. An apology is probably forthcoming.
Somewhere in the scrap on Sunday night, Melksham also cut his hand which required minor surgery on Monday to clean-up an infection. Captain Max Gawn says Melksham called him straight away.
Melksham is unavailable for the Queen's Birthday blockbuster and must do some community service as his punishment.
But Melksham wasn't suspended, in part, because he wasn't the one who started things.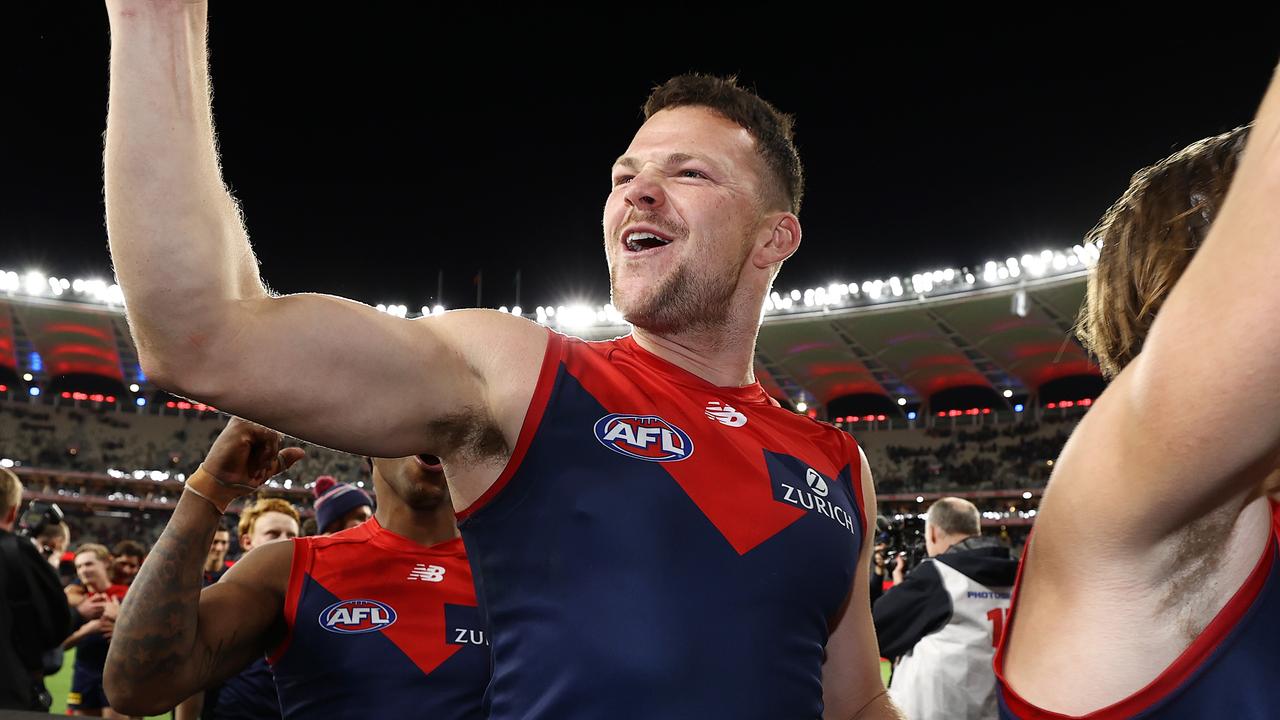 Steven May will miss the Queen's Birthday blockbuster. Picture: Michael Klein
Clearly, he shouldn't have whacked May (who was already out with concussion), but in reality sources said Melksham was the one who was acting out of defence of Smith and the rest of his teammates.
May was suspended for one match, as he was breaking team rules by drinking when he was out with concussion. He should have been on the soda waters.
May and Melksham were close mates, but it will be interesting to see if Smith stays at the club beyond this year.
There is some mild interest in Smith, who is out of contract this season and has been in and out of the team at Melbourne because of injury and form over the journey.
Talks on Smith's future are expected to ramp up over the next few weeks as he recovers from a broken ankle. He is due back in about five or six weeks.
By then, it will be clear whether Melbourne is back on track, and whether May has lost any respect or not.
As Gawn said on Wednesday, there was work to be done.
'Embarrassed' Gawn reveals new details of Demon fight
— Lauren Wood and Sam Landsberger
Melbourne captain Max Gawn says Jake Melksham called him in the immediate aftermath of Sunday night's restaurant biff with teammate Steven May.
Gawn said it would take time for the pair to repair their friendship.
As the fallout from the Sunday night incident continues with Melksham having surgery on his hand – which sustained an infection following a blow to May at Prahran eatery Entrecote – Gawn refuted reports that the gibe that sparked Melksham's physical response related to him not playing in the Demons' 2021 premiership.
But Gawn would not reveal the details of the conversation that had led to the fracas other than to say they were "hurtful comments".
Melksham, previously a handy amateur boxer, allegedly "floored" May with a single punch, sources have told the Herald Sun.
"Obviously, we would have loved for this not to happen, but it could be real good stepping stone in trying to cement this (whole idea about) how we talk to each other and how we act around each other," Gawn said.
"I've got no doubt and Melky and Maysy have worked it out and are working now, but it's probably not an overnight thing.
"They had an altercation. It probably will go on for a couple of weeks making sure they mend that friendship."
Watch every blockbuster AFL match this weekend Live & Ad-Break Free In-Play on Kayo. New to Kayo? Try 14-Days Free Now >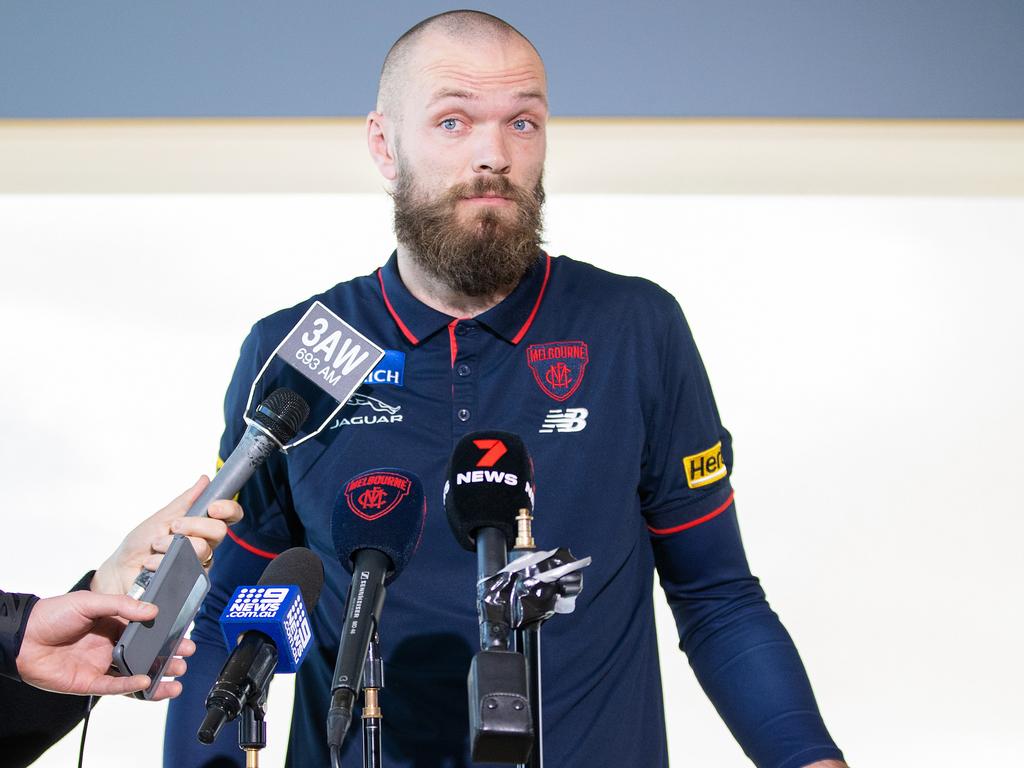 Max Gawn talks to the media on Wednesday. Picture: Mark Stewart
Gawn said that using the word "banter" was a tool that men can "hide behind … when they're hurtful at times".
He admitted he had been "embarrassed" by the late-night restaurant altercation involving two of his teammates.
Speaking on Wednesday morning for the first time about the scuffle, Gawn said his own leadership would be tested in attempting to mend the situation.
"It's one of the great arts in leadership, and I'm really excited about the challenge," he said.
"I'm not going to lie – I've been embarrassed the last two days.
"I've come out quite frequently … talking about this sort of stuff – how we speak to each other, and almost praising it on how we've been doing it as a group.
"And we've had a setback here, but I've had a setback with that almost every day in the last two years in the way I talk to teammates, the way I talk to my wife, my brothers, my mum and dad
"It's about how you act from that."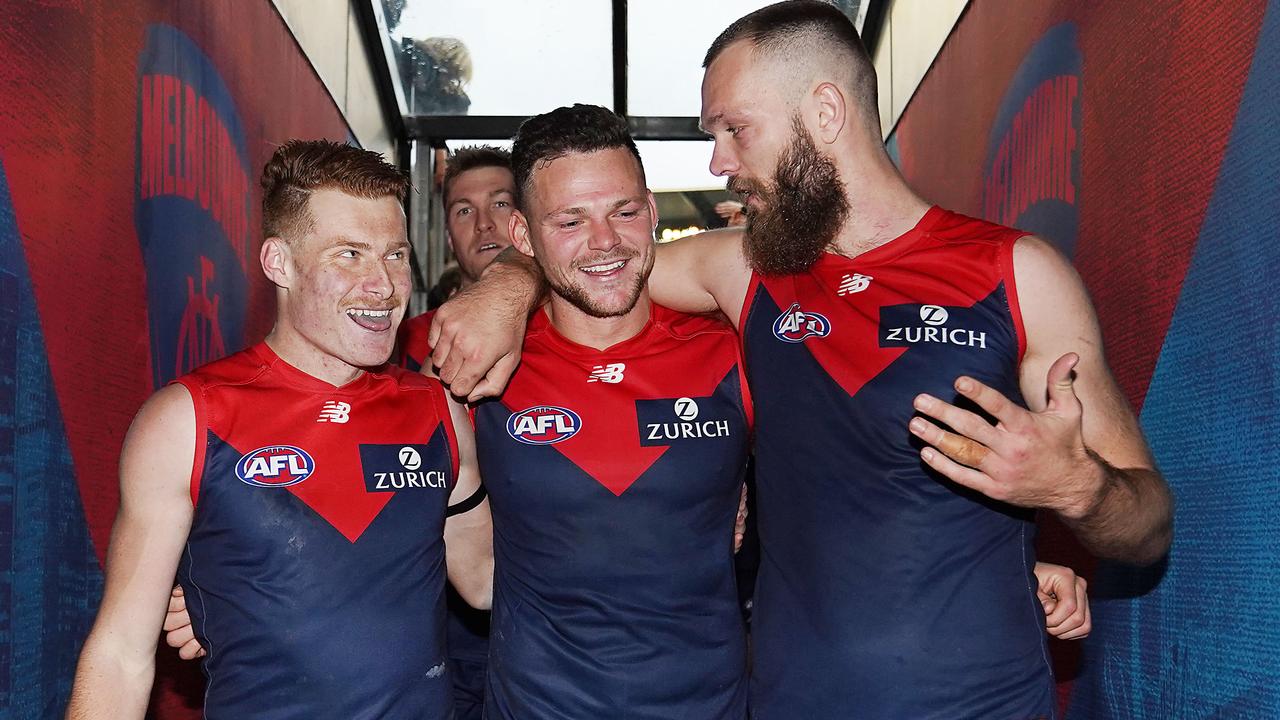 Demons Oskar Baker, Steven May and Max Gawn after a big win. Picture: Michael Dodge/Getty Images
Gawn said "six or seven" teammates had also been at the dinner at the Greville Street hotspot on Sunday night, and that he had been disappointed that none had stepped in to question May's consumption of alcohol given he is currently sidelined due to concussion.
He also defended the club not revealing Melksham's injury on Tuesday, saying that the apparent infection had not been fully investigated.
Gawn said he considered the community service requirements that were handed down to both players were an appropriate penance, with May to serve a further one-match ban as a result of drinking while under concussion protocols.
The Prahran restaurant has received a formal apology from both players.
Greville Street hotspot Entrecôte had hit out at May and Melksham on Tuesday night for an apparent lack of communication in the wake of Sunday night's physical clash at the venue.
The restaurant confirmed on Wednesday morning that the pair had officially apologised.
"In regards to the matter involving two Melbourne players - we have received a formal apology from both parties which we have accepted," a post on the restaurant Instagram account reads.
"We have no further comment on this matter."
The ruckman also said the players could have moved quicker to apologise to the restaurant.
"Obviously, there's a lot of stuff that they're thinking and a lot of people you have to tick off at football clubs, and I'm not saying the restaurant should have been last," he said.
"I'm not sure if it damaged the restaurant or damaged their brand – they probably have damaged the brand a tiny bit – so that I should be apologetic for that.
"I am as well. They're based on my leadership, so I'm obviously apologetic for that as well."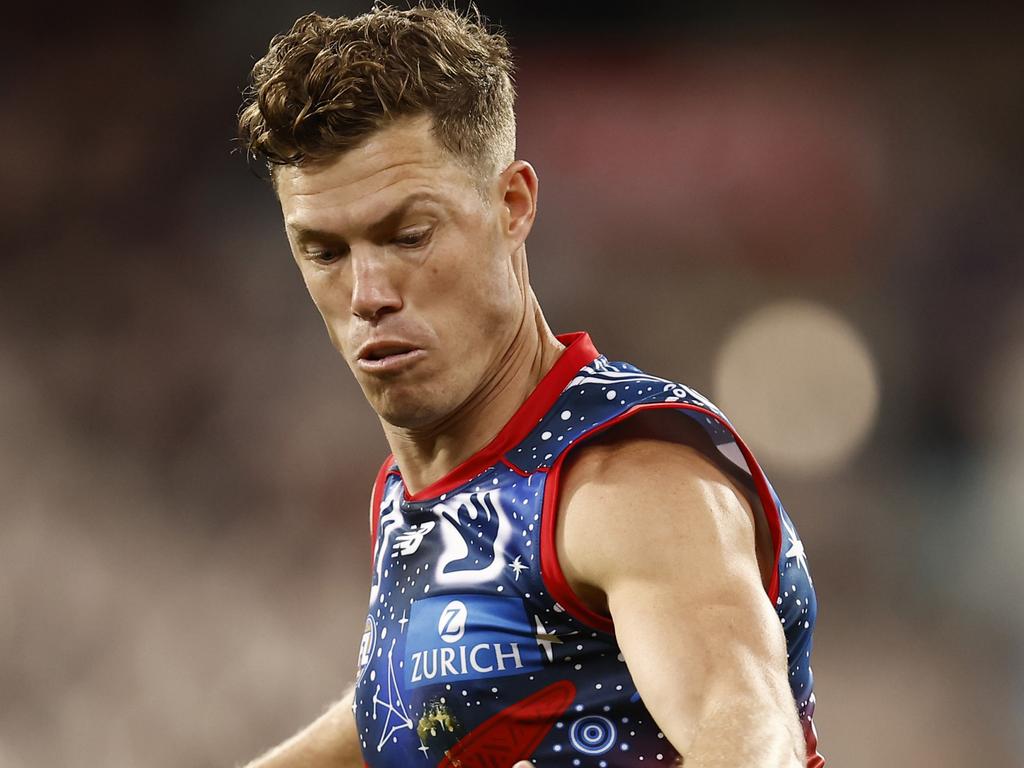 Jake Melksham has had surgery on his hand. Picture: Darrian Traynor/Getty Images
Melksham has already undergone hand surgery on Wednesday, the club has confirmed to the Herald Sun.
The duo were dining and drinking with teammates when a comment from May sparked the incident, with Melksham responding physically.
An infection as a result has seen him forced under the knife, with the club expecting he will only miss one week at this stage.
"Jake performed really strongly at VFL level last weekend and it's disappointing to not have him available for selection this week," Demons football boss Alan Richardson said.
"What is more disappointing is that the injury keeping him out of the frame for selection is a result of the altercation Jake was involved in on Sunday evening.
"As a footy club we are deeply embarrassed by the events of Sunday and Jake and Steven understand that they have let our club, their teammates and our members down. I want to make it very clear that as a club, we do not condone violence of any manner, and the fact that our players allowed any disagreement to escalate to a physical level is completely unacceptable.
"As was communicated yesterday, as a result of their actions we have directed both Jake and Steven to undertake community service through our club community partners so that they can better understand their impact and responsibility as role models within the community."
'Still good friends': May sorry for Melksham punch on
Steven May and Jake Melksham assured their Melbourne teammates they didn't have to "pick sides" after the pair punched on at a restaurant on Sunday night.
May, 30, was suspended by the Demons for drinking alcohol while recovering from a concussion and will now miss the Queen's Birthday clash against Collingwood.
The fullback said he and Melksham's friendship remained intact and apologised to Dees fans on Tuesday.
"It was something we tried to deal with ourselves," May said.
"But we told our teammates today we're all fine – don't feel like you have to pick sides or anything.
"We're still good friends and it was just a silly decision that we made and deeply regret already."
May – set to return against Brisbane Lions in round 15 – promised to let his actions illustrate his remorse.
"(I'm) extremely disappointed. I know I've let a lot of people down, especially myself and the footy club," he said.
"There's nothing I can really say. It's all about actions and what I do going forward.
"Our fans and supporters have been huge fans of mine and have backed me in, so I'm really apologetic to them.
"They've always had my back but me not being out on the field is obviously letting them down and letting the team down."
Seven Dees players were dining at Entrecote when escalating banter led to the violence between Melksham and May.
"We're really good mates, we have a lot of love for each other," May said.
"Sometimes guys can get a little bit competitive with the banter and go a little bit overboard.
"We certainly made an error of judgment in that time. We certainly didn't mean for any of this to come back on the footy club."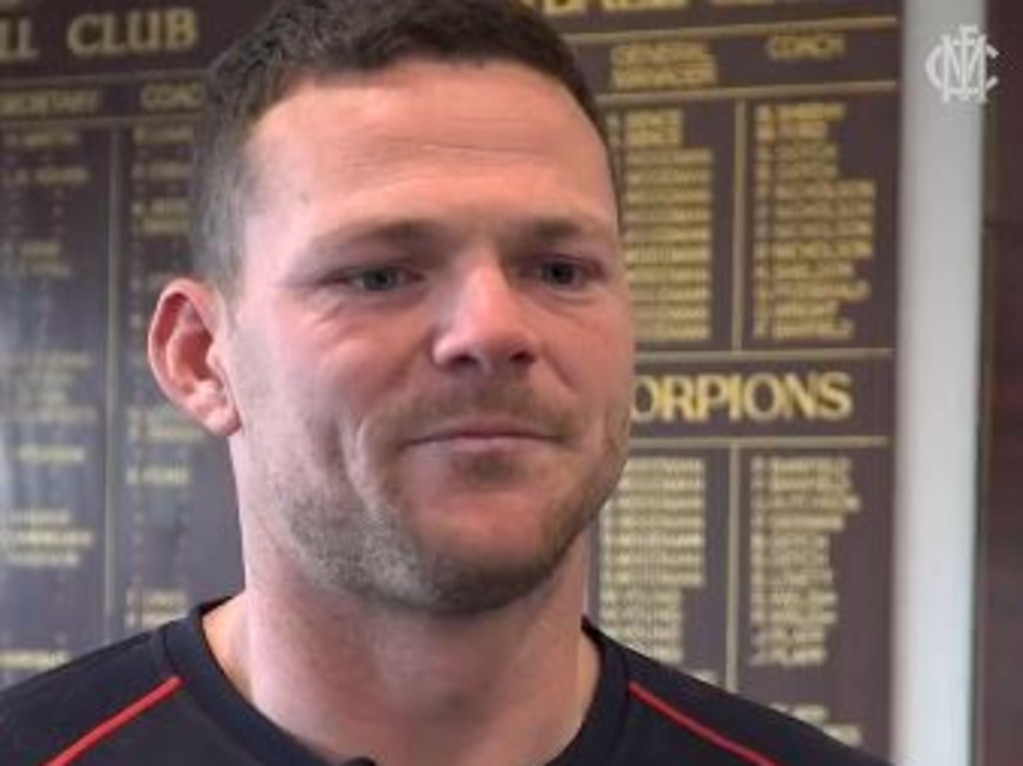 Steven May has apologised in a club-controlled video. Screenshot: MFC/Twitter
Dees great David Schwarz said on 3AW a $20,000 fine – instead of a suspension – would've impacted May, instead of the club's supporters.
Richmond champion Jack Riewoldt warned the fight could fracture the Demons' locker room if angst lingered.
"The honesty part is the thing you need to get out first," Riewoldt said on AFL360.
"You've got to find out what exactly happened and address it in front of the group, and then you've got to draw a line in the sand.
"From there on in we don't speak about it again. There isn't white-anting little conversations happening in the corridors saying, 'That was horse that he didn't get two weeks' or 'He shouldn't have got a week, we need him this week'.
"When it's knocked on the head it's knocked on the head. That's really important."
Michael Frederick won't play against the Hawks after a club-imposed ban. Picture: AFL Photos/Getty Images
Docker banned for six-day-break boozer
Fremantle has suspended forward Michael Frederick for Saturday's clash with Hawthorn after he broke team rules by drinking alcohol during a six-day break.
Frederick got on the beers after the Dockers win over Brisbane on Sunday.
Dockers footy boss Peter Bell and the leadership group were not impressed.
"Michael is remorseful and makes no excuses for his actions," Bell said.
"The Club is proud of the culture it has built in recent years and that is mainly due to the strong commitment to the trademark that the players and staff adhere to every day.
"The Club will continue to support Michael so he is equipped to make better decisions in the future."
"Michael is an outstanding young man who has made an error, but we are really confident that he will learn from this experience. We look forward to a demonstration of his commitment to our trademark moving forwards."
Originally published as Melbourne AFL news: Latest on the turmoil at the Demons