Angus Brayshaw on his contract, Melbourne's revival and 'outside noise'
As Luke Jackson makes headlines, Angus Brayshaw's contract status floats under the radar and that's just the way he likes it, writes DANIEL CHERNY.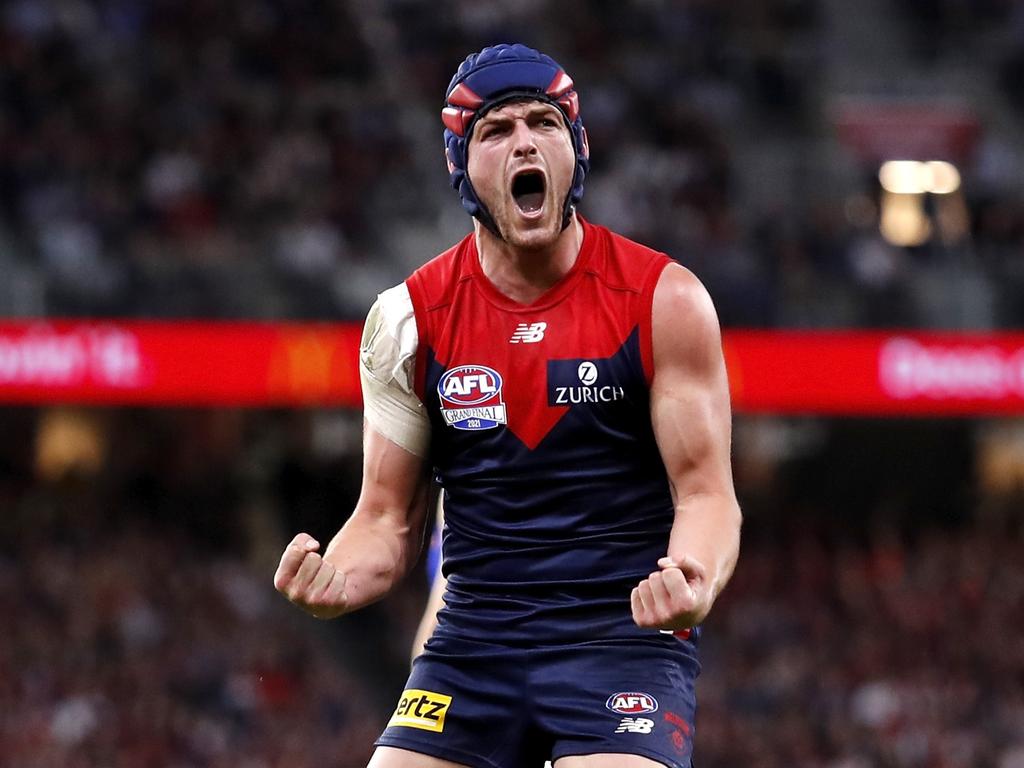 Angus Brayshaw is loving life with the Demons but remains coy over his future. Picture: Dylan Burns/AFL Photos via Getty Images
Angus Brayshaw is very happy for Luke Jackson to take the heat.
As the rumour mill ramps up around the nature of contract offers being dished up by West Coast and Fremantle to lure emerging Melbourne star Jackson back across the Nullarbor, Brayshaw too remains out of contract as one of just a handful of restricted free agents around the AFL.
From the inside midfielder who finished third in the 2018 Brownlow Medal, to the selfless gut-running wingman who played an important role in the Demons' drought-breaking premiership last year, to the half-back flanker who continues to plug gaps in 2022, Brayshaw is an influential figure at the Dees, identified by coach Simon Goodwin after the club's win over the Brisbane Lions as an on-field leader who stepped up after a turbulent few weeks.
Despite his importance to the reigning premiers, Brayshaw's future with the Melbourne team remains uncertain. Picture: Darrian Traynor/Getty Images
But Brayshaw, like Jackson, is keeping Demons fans waiting and guessing about whether he will remain at the club beyond next year.
"I'm happy to let [Jackson] have [the spotlight]," Brayshaw says in the rooms after the Dees' win.
"I feel bad for him, poor fella. He's got his work cut out for him.
"[As for] me, at the start of the year I came back, pre-season all the way training with the wingers. And then thrown into the backline. For me I've just been focusing on that half-back role. I've got full faith that everything will take care of itself if I just worry about footy. It's a little bit of a cliche. But if you get too far worried about what's going on externally and you take your focus away from what's important, things get a bit off-track."
But that doesn't quite answer the question. Will Brayshaw be a Demon next year?
"I bet you'd like to know. I'm conscious of not giving everyone the headline. But I love the club, I love my teammates. That's something that will take care of itself."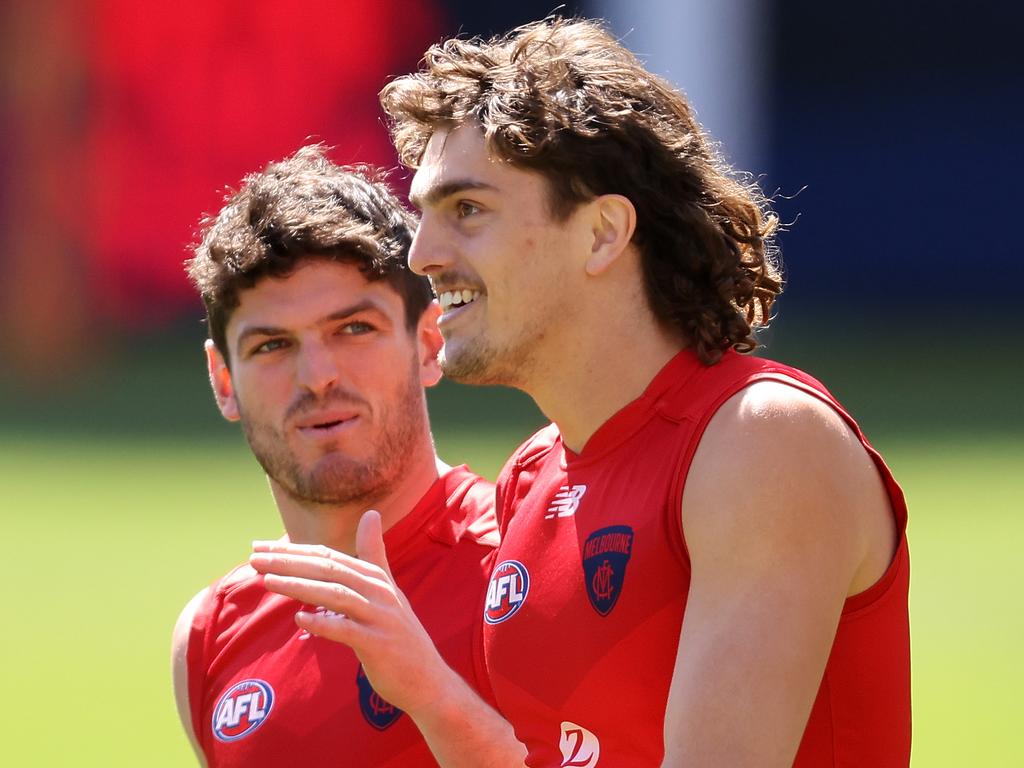 Brayshaw is happy to keep the contract conversation on teammate Luke Jackson, whose time at the Dees may also be up at the end of season. Picture: Paul Kane/Getty Images
Brayshaw's future will remain a keen discussion point. But for now he is focused on making sure he plays his role for the side.
"I think it's a symbol of our team, how we've got blokes playing sacrificing roles that are best for the team. That's what I'm doing and I'm loving it. It's good to be part of the backline. It's a real team within a team feel which I love."
The Dees' crushing 64-point win in the top-of-the-ladder clash with the Lions arrested a three-game losing streak. Brayshaw pointed to a return to the Demons' core team values as crucial to the result. Melbourne won the contested possession count by 37.
"To get that four quarters against a real solid opposition, it's good to get back to it," Brayshaw says.
"The contest is critical, it starts there for us … and then our defence as well. Brisbane are the highest-scoring team in the comp, and we've kept them to 50 odd points."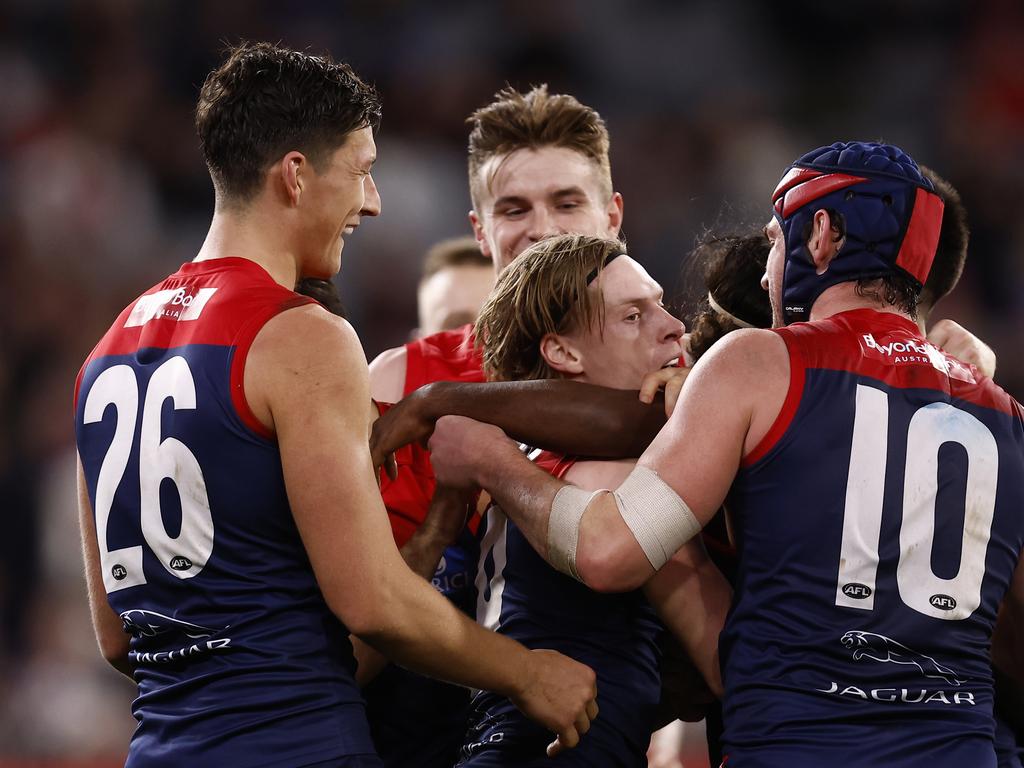 The Demons' emphatic win over Brisbane saw the end of their three-game losing streak. Picture: Darrian Traynor/Getty Images
Brayshaw stresses that there were never panic stations at the club despite the run of outs.
"We'd won 17 games in a row, we'd been up for a long time. We don't expect to be perfect. You can't be too hard on yourself. You can't seek perfection, because teams are going to make mistakes," he says.
"The coaches and leaders have been really good at just keeping everyone calm, resetting. We lost three in a row but we're still 10-3, putting it in perspective, getting back to what we know works, not panicking too much.
"It's not going to be easy on the way home, but if we keep playing like that we'll be much more consistent. It's a simple formula."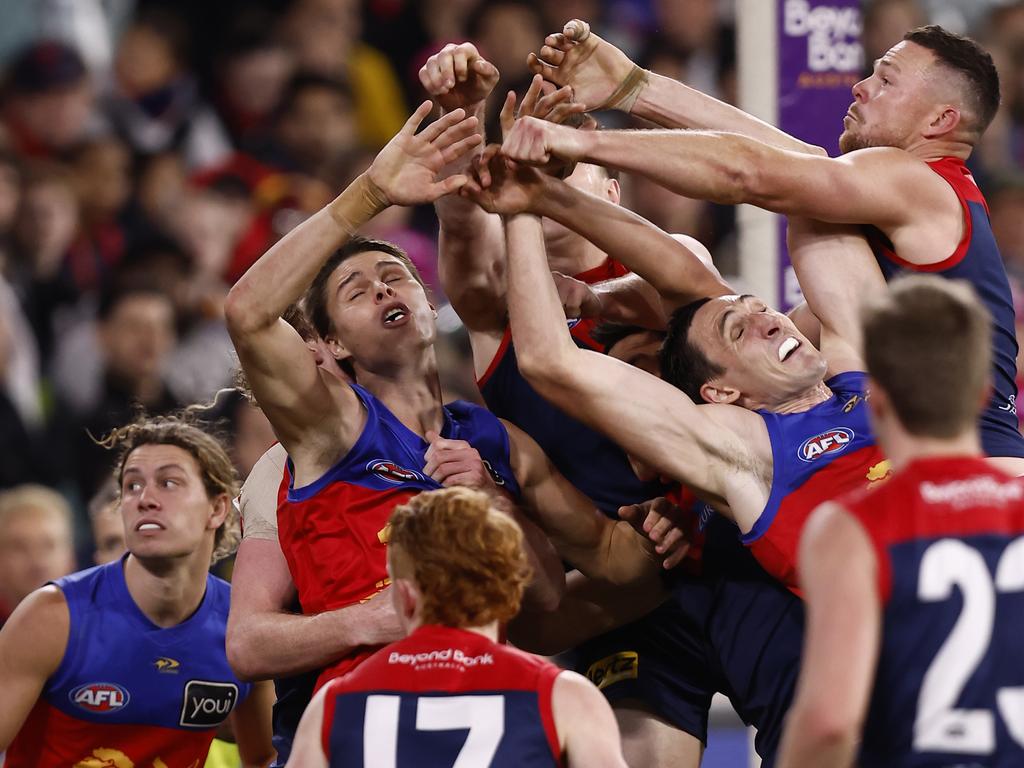 Brayshaw believes the win is a way to silence conversations on off-field drama and refocus on 'what we can control'. Picture: Darrian Traynor/Getty Images
It had also been a turbulent period off the field, most notably with Steven May's punch-up with Jake Melksham, but also with a series of reports surrounding former president Glen Bartlett's relationship with the club.
But Brayshaw brushed off any suggestion that the unwanted headlines had been a distraction.
"The off-field stuff is all noise," he added.
"If you buy into that stuff then you get derailed. That's not what we're about.
"As a club we're just worried about what we can control, and the internal stuff."
Brayshaw had been embroiled in a story earlier this year over coach Simon Goodwin's alleged frustration with a club medico's handling of Brayshaw's concussion issues in previous years. Again though, Brayshaw insisted that there were no problems.
"I didn't pay it any attention, and Goody and I have a great relationship."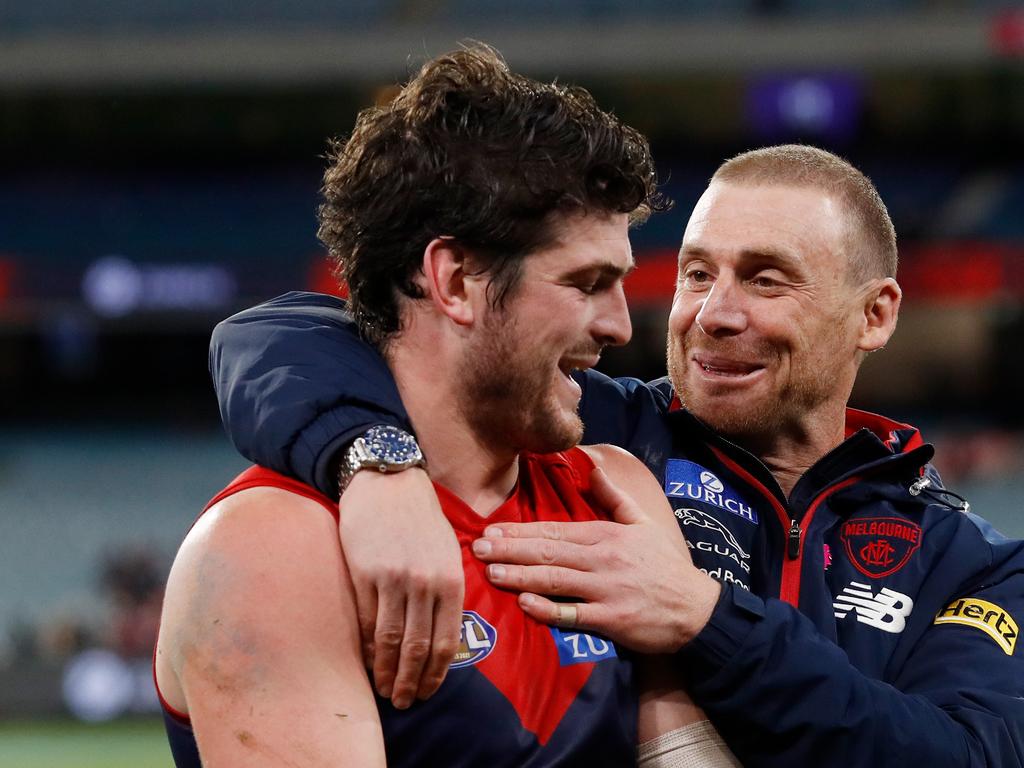 Brayshaw remains quiet about his prospects in the AFL, but is insistent about his love for the club. Picture: Dylan Burns/AFL Photos via Getty Images
While themed matches are a regular occurrence in the AFL these days, with the Demons playing in both the Freeze MND match in round 13 and the Pink Lady game on Thursday night.
But last weekend's Spud's Game between St Kilda and Essendon held particular significance for Brayshaw, who is the partner of Danielle Frawley, the daughter of former Saints captain Danny, who died through suicide in 2019.
Brayshaw was moved by the occasion, which raises funds and awareness for mental health issues, noting that the concept was going from strength to strength.
"It's such a special night," Brayshaw says.
"I'm really proud of Danielle obviously, [her mum] Anita [and sisters] Chelsea and Keeley."