'Understated smugness': Melbourne Demons fans confront the strangest of sensations – a flag defence
What happens now that a 57-year drought has been broken? Long-suffering Demons fan LINDA PEARCE isn't quite sure, though club icon Garry Lyon found a name for the feeling.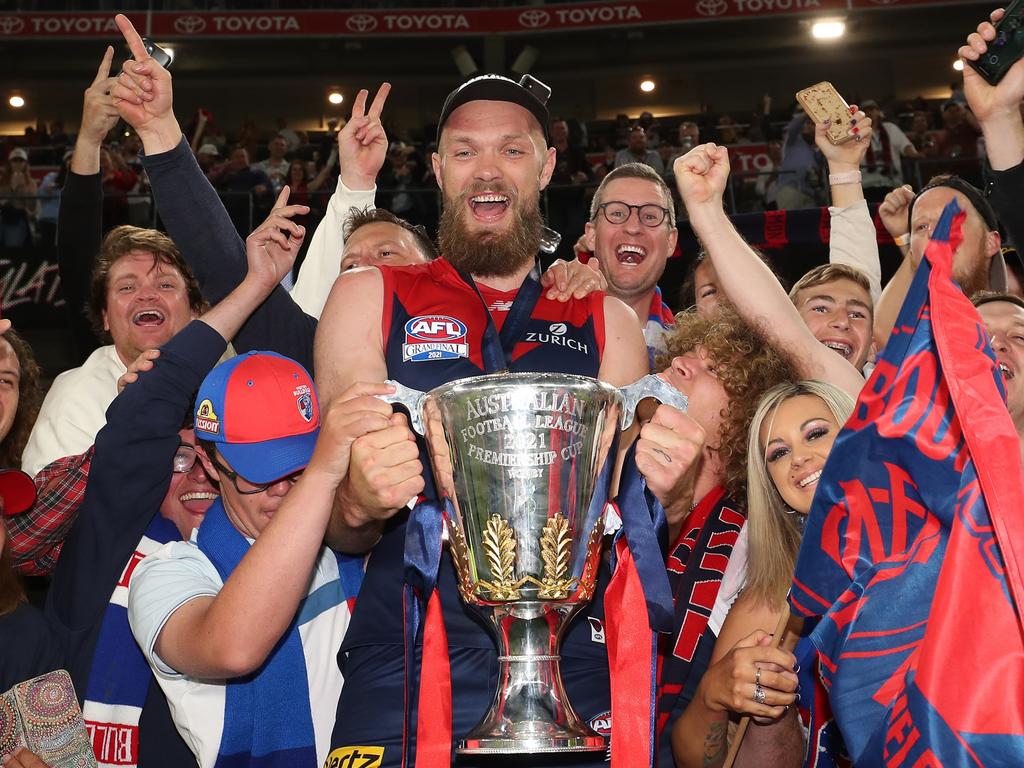 The Demons made history in 2021. Something that is only still sinking in to their diehard fans. Picture: Paul Kane/Getty Images
This AFL off-season has felt very different for Garry Lyon. The end of Melbourne's 57-year flag drought meant the club's longest serving captain got his first taste of a feeling enjoyed, in some form, by every devoted premiership-winning fan of any club.
He's even given it a name. "Understated smugness". Hmmm. Might just catch on.
"You walk a little taller, stand a little straighter, you can drop your defences because you're normally used to someone having a crack at you about the Demons,'' Lyon says of the condition, however tenuous, although long may it last.
Typically, he has found, it manifests annually during grand final week, for he has long maintained there are two types of players: those who've won one, and those who haven't. It's the same for supporters, eternally entwined with the 'misery loves company' club, whose members never willingly signed up.
"So you could always find another dispirited soul in grand final week, and you'd steer clear of Hawthorn and steer clear of Essendon and West Coast,'' says Lyon, who played 226 games from 1986-1999, won two club best and fairest awards and was a three-time All-Australian.
"Then eventually the Swans (broke through in 2005), and then Geelong did and then the Bulldogs did and then Richmond did, and then all of a sudden it was just us and St Kilda (last flag, 1966) that would sort of slink around in grand final week.
"Now as a supporter you go, 'OK. Now I know what it is. Now I know what it's like. I know the sensation. I know the sense of elation. I know the jubilation. I know the celebration. I understand it. I get it'. All of us supporters, we all got involved in it.''
Lyon was there to present the premiership cup to Simon Goodwin and Max Gawn on grand final day. Picture: Michael Willson/AFL Photos via Getty Images
Still, since presenting the 2021 premiership cup to his beloved Dees in Perth while his home state chafed under enduring lockdown restrictions, or ignored them and snuck out anyway, Lyon has watched the full grand final replay just once.
Which is mostly because the retired forward (one grand final, one record defeat) sees his old club through the eyes of his three sons and brother, crazy-passionate Melbourne fans all, so promised that he wouldn't revisit it until they could do so together.
"So in, I want to say, late October, we had a big night down at our farm and that's the only time I've watched it in its entirety,'' Lyon says of that emotional, euphoric 74-point defeat of the Western Bulldogs, and the blissful avalanche of goals that buried a jittery 19-point deficit in the third term.
But there's another reason, too, which might have something to do with the "50 years of scar tissue" of which CEO Gary Pert has spoken. "I somehow feel if I keep watching it, it might not be true,'' Lyon confesses. "So I watched it once, and it's just great to know that it's there forever.''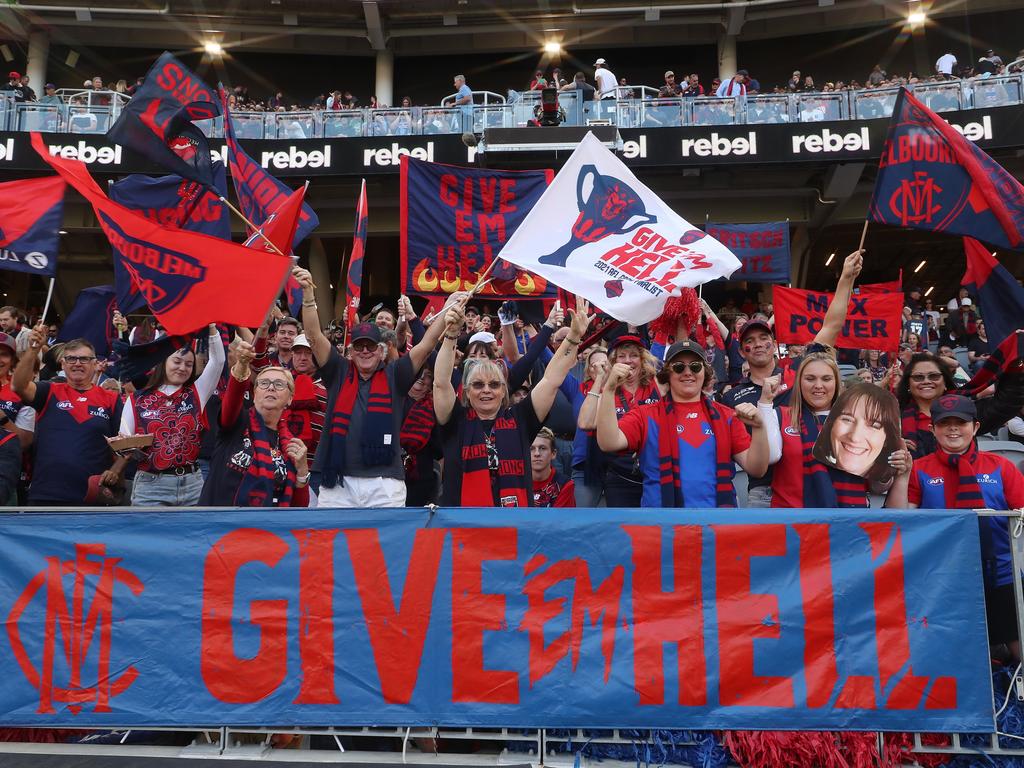 Demons fans couldn't all be at the grand final but it hasn't stopped them from soaking in the moment. Picture: Paul Kane/Getty Images
Forever being the key word, for that's how long those 50-plus years felt to most of us who had been disappointed, annually. Who wondered if that triumphant Saturday at the 'G (or, in this bittersweet case, night game at faraway Optus Stadium, which could just as well have been another planet) would ever come.
"Everyone used to joke, 'Oh, I hope I see one before I die', and then the reality was that we were losing some of our all-timers who never got to see one,'' Lyon says, referring to the late Jim Stynes, Robbie Flower, Sean Wight, Troy Broadbridge and Colin Sylvia among the former players unable to share the joy.
"So it became a bit more real. I was always hopeful, but just having 2018 (where fourth place preceded a freefall to 17th) very close in your memory you thought, 'Shit, don't get too far ahead of yourself here'. But it worked out, which was great.''
So amid all this talk of potential hangovers, how was Lyon's — in the west and since, while in smug supporter mode?
"I said three weeks out from the season, 'We're premiers for another three weeks and then it starts again', and someone said 'Bullshit, we're premiers until grand final day'. So I think there'll be some supporters who will be happy to celebrate (for) the year,'' Lyon says, describing his as more of a just-happy-to-have-won-one attitude.
Except for one small caveat.
"I wouldn't want to be playing on Wednesday night with the level of satisfaction I have about having won a premiership,'' he admits. "I hope the boys haven't got that same sense of satisfaction … and they can reset and keep going.
"I haven't reset. Put it that way.''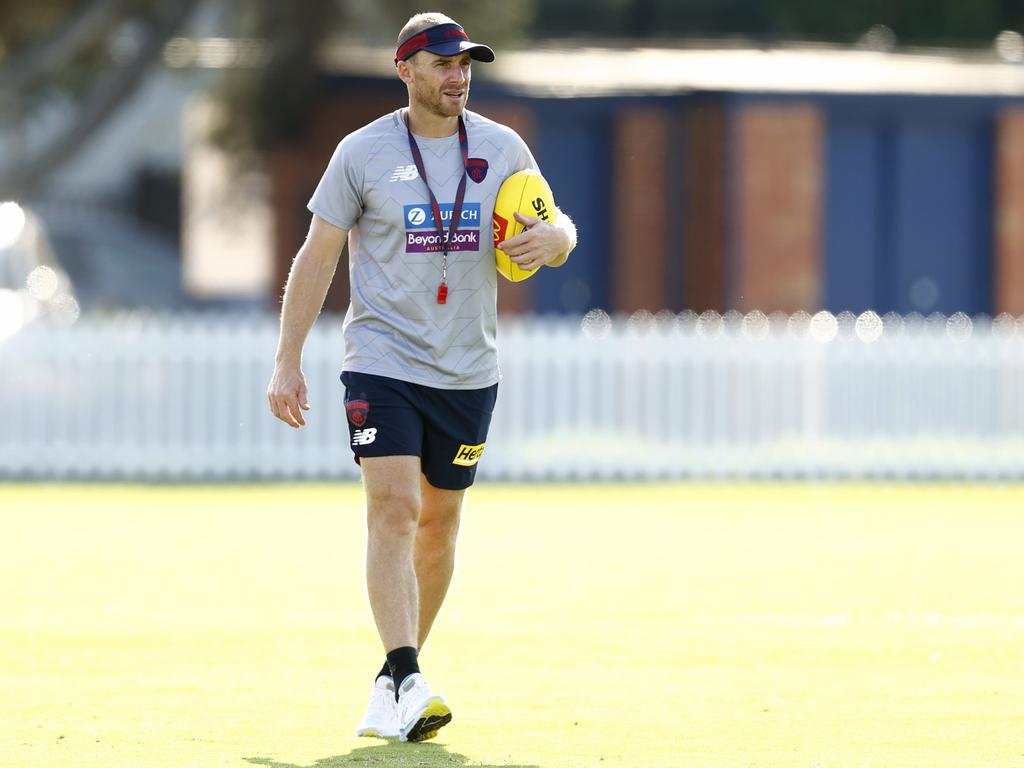 Coach Simon Goodwin will be responsible for helping the Demons reset and go again in 2022. Picture: Darrian Traynor/Getty Images
*****
The Mental Demons, whose president is media personality and proud Melbourne tragic Russel Howcroft, is a "non-political but highly partisan" supporter self-help group that meets for lunch at least twice a year.
Recited at the start of each get-together (while now bumping elbows, Covid-style), is an ode that, until last week, referenced the "curse" of the legendary Norm Smith. He famously declared after departing in 1967 following a stoush with officialdom dating back to the last of his 10 flags as a coach or player, in 1964: "It will be many, many years before Melbourne will play in the finals again, let alone become a force. And it will be a long, long time before Melbourne wins another premiership."
Next final: 1987, cemented on a dramatic Flower-inspired afternoon at the old Western Oval, with transistor radios relaying the vital news to those of us packed on the terraces, that Hawthorn had beaten Geelong at Kardinia Park, And so, finally, into the (then top) five we burst.
Next grand final: 1988. Absolutely no comment to make on that one.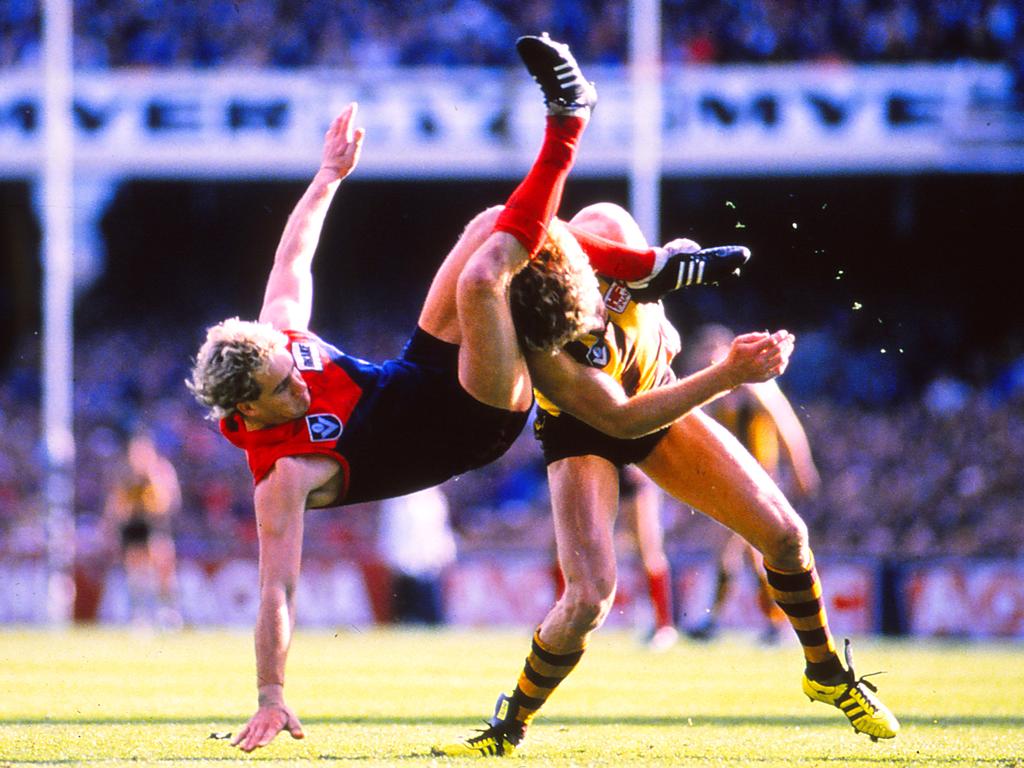 The 1988 grand final performance was far from a memorable one for Melbourne fans. Picture: Getty Images
The premiership: another 33 years later. Longer than even Smith could have predicted or surely would have wanted, as barren decades piled up on the ones before.
But back to the Mental Demons and the original welcome ritual:
Funny bone to funny bone we stand
United in our affliction.
And our addiction to our Demons
May the need for this asylum transform from collective support
To a more positive institution in the very near term
And may we finally eradicate the curse of Norm
On Thursday, with Pert, club president Kate Roffey and Past Players' president Rod Grinter among about 80 guests at a South Melbourne hotel, the rejigged ode had its first public outing.
Affliction has become elation. A call for collective support and a positive institution is now over the longer term. It finishes: And thank demons, past and present, we finally eradicate the curse of Norm.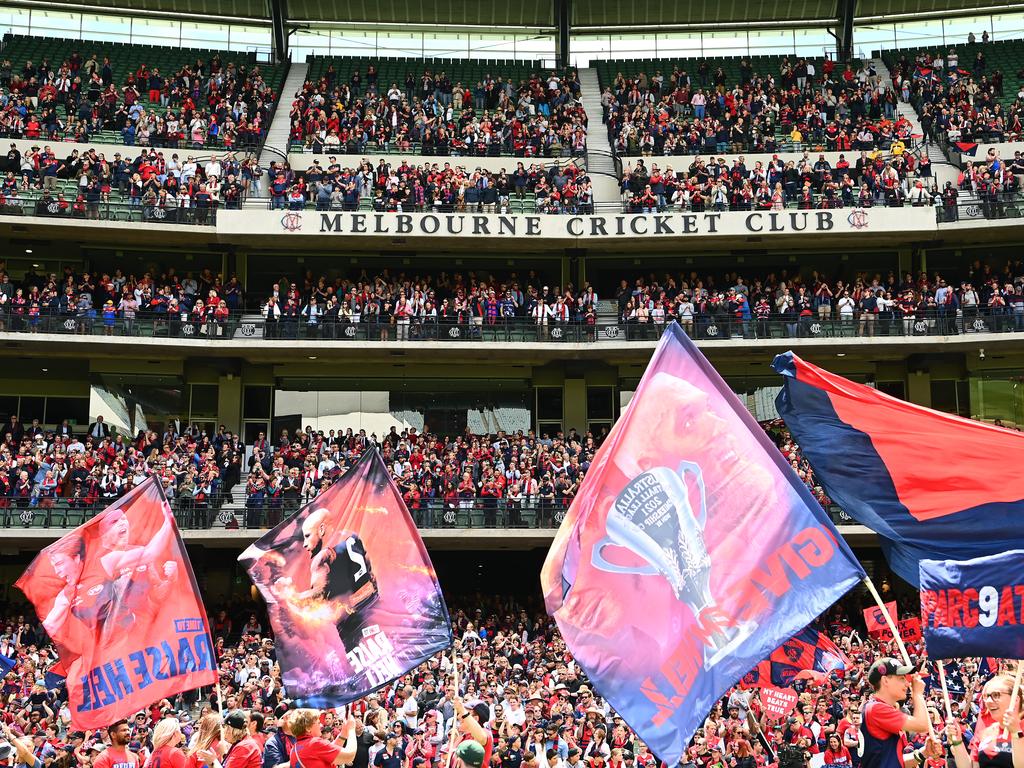 The Demons could finally celebrate the victory with all their fans in December at the MCG. Picture: Quinn Rooney/Getty Images
Those at the lunch were first asked to rewrite the lesser-known second verse of the Grand Old Flag theme song, given the outdated references to events from 1959 and 1926. Don McLardy, Mental Demons secretary, and former MFC president, penned the winning words.
Well, we finally got it done,
In the year '21
A year of Covid, of hubs and of doubt
But we took it all, focused on the ball
And finally broke the long drought.
Now the world seems fine,
It is clearly our time
And we won't stop at one or two.
Mental Demons are gone
Winning feelings are born
Keep your eye on the red and the blue!
Howcroft will no longer be able to lean on the Demons premiership drought to start his speeches. Picture: Scott Barbour – CA/Cricket Australia via Getty Images/Getty Images
The grand final broadcast was on high rotation throughout the meal, naturally, Howcroft having already watched it more than a dozen times at home. "We had to turn up the sound and have silence during the key bits of the replay,'' he says, loving every second. "It is quite childlike, really, isn't it?''
As for the (official) club song, now being sung more frequently than it was for over half-a-century: "I think us Melbourne supporters have always given the club song a red hot go, because the winning was more unusual than usual. That's going to be something to watch with interest this year. Is the song sung with the same crazed enthusiasm?''
At the corresponding lunch last pre-season, where Howcroft described the mood as ''darker", the Mental Demons were united in their faith that they had a premiership-winning defence and backline, but still wondering about the forwards.
Which helps to explain the love for Bayley Fritsch, the Eddie Munster look alike who kicked six in the big one, only for a bravura performance from Christian Petracca to earn him, yes, the Norm Smith.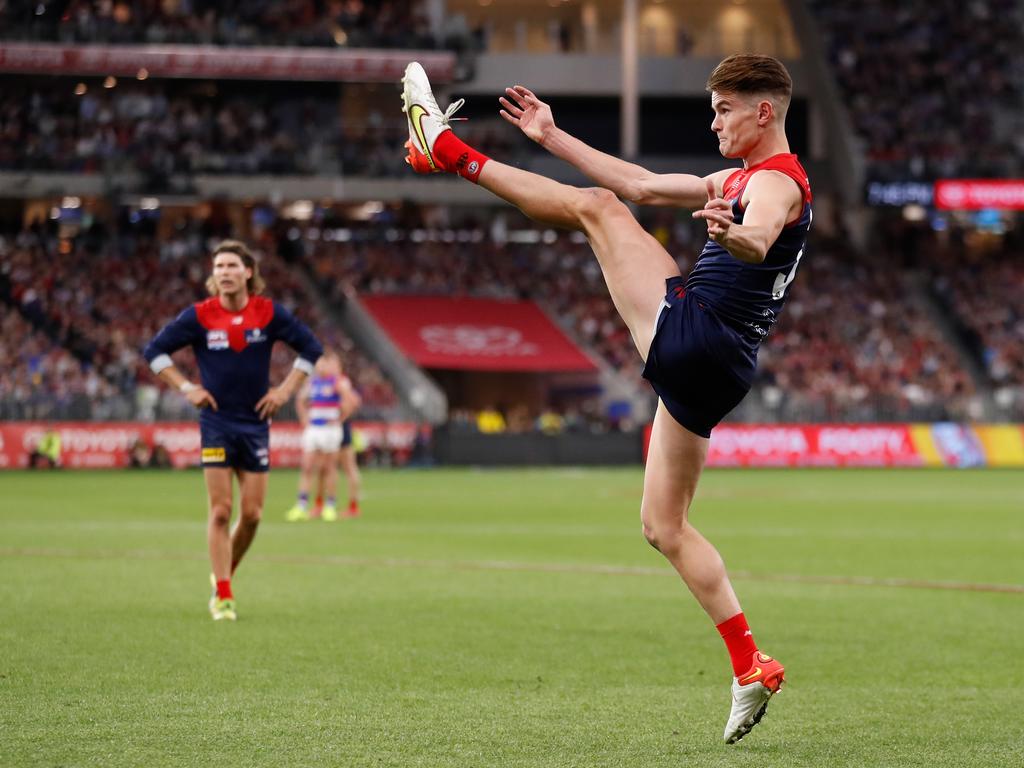 Bayley Fritsch's grand final heroics have already earned him the eternal love of Demons fans. Picture: Michael Willson/AFL Photos via Getty Images
Now that the ninth-to-first miracle has finally happened, the former Melbourne board member is revelling in Herald Sun scribe Mark Robinson's inclusion of seven Dees in the AFL's top 50, and greedy enough to hope for a red-and-blue reprise of this century's Brisbane, Geelong or Hawthorn dynasties. Even Richmond's.
"I'm very hopeful that it isn't a beautiful one-off; that it becomes the start of an extended period of success,'' Howcroft says. Or, to put it a little more bluntly: "Frankly, I just want us to kick 100 points a game and smash everyone.''
Which provides a tongue-in-cheek hint of how the former advertising executive has handled his change in footy fan status. Suffice to say it has not been Lyon-like. "What's the opposite of understated smugness?'' Howcroft muses.
Then settles on "overbearing arrogance''. Better than long-suffering, anyway.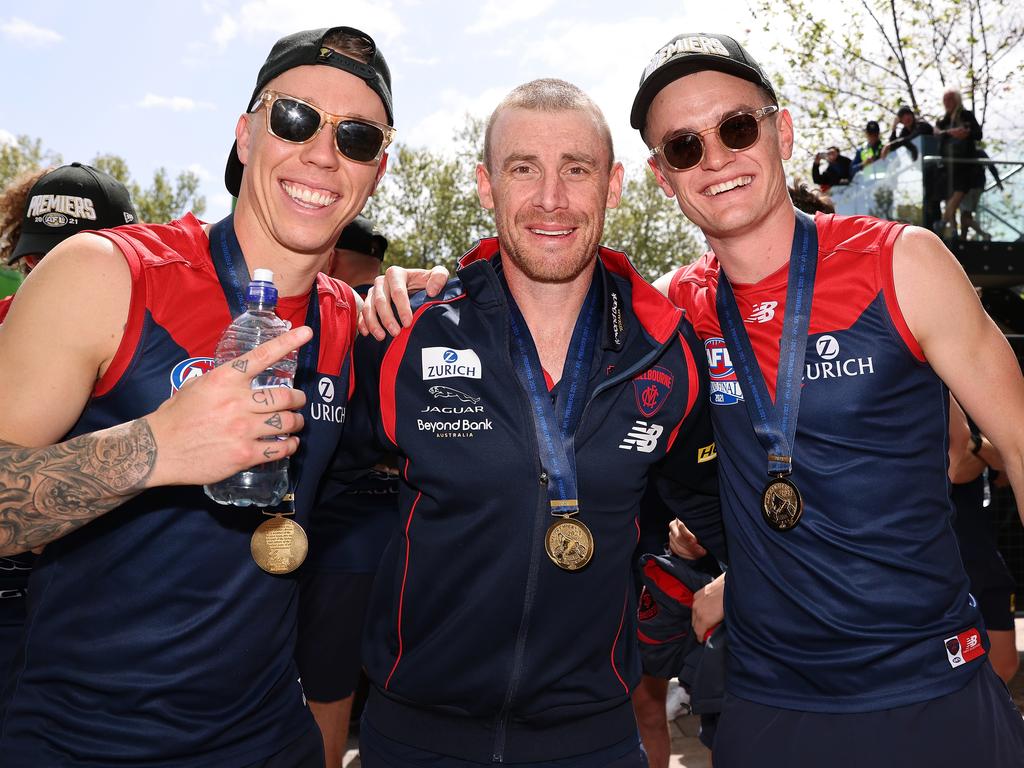 The Demons won't forget their 2021 success anytime soon. Picture: Paul Kane/Getty Images
*****
As a lifelong Melbourne supporter, the brainwashed daughter of a former club boot-studder/statistician/director, who grew up to be one of two lucky sportswriters on the diverse panel that selected the Team of the Century in 2000, it does feel a bit odd to be largely unburdened by pessimism heading into a new footy season.
Really? Who knew that was a thing?
Even when shaky confidence poked its head, tentatively, through the clouds of that half-century of disappointment, it was tempered by the awfulness of history's niggly insistence. Just there, always lurking.
Nah. Not this year.
It's hard to argue with five decades of failure, because it yells louder than reason usually can. Best just to joke grimly about the pitiful nature of it all. Like the fatalist you've become.
Then, occasionally, you allow yourself to think about the Swans. The Doggies. You were at the 'G for both of those marvellous days. Got a touch emotional. Dared to dream. Just a bit. Then suffered the post-traumatic flashbacks that had come from witnessing the massacres of 1988 and 2000.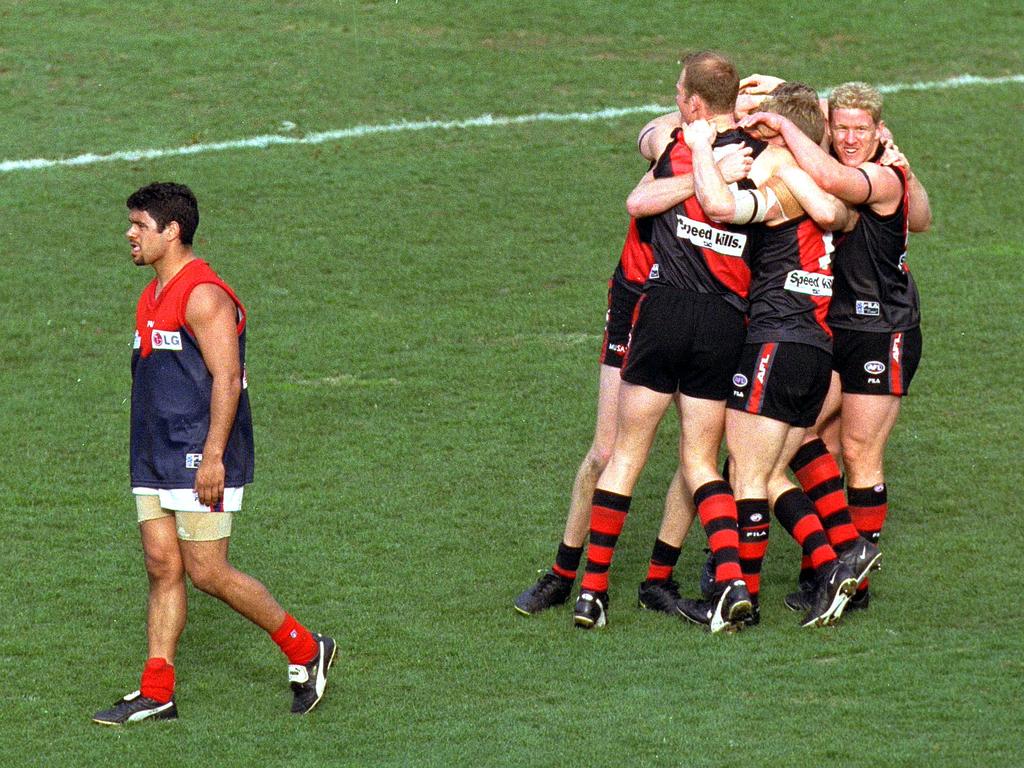 The heartache of previous grand final performances is what made 2021 so sweet for Demons fans. Picture: Darren McNamara/ALLSPORT
Don't kid yourself.
Nah, not this year.
Until it was.
In 2021.
But different than you'd imagined. So weird to have had a year you barely saw, except on TV.
Grand final day itself. Bittersweet. Normally you'd be meeting mates for pre-game beers at the David Neitz Bar, the one up in the MCG clouds of level four. Excited. Nervous. After 21 years of grand final Saturdays watching other teams play.
Instead you're in a bubble. In your best navy and red. With balloons. Footy food. Fancy bubbly.
Not with your daughter, about whom a deal with her then-Essendon-supporting father (now a Collingwood staffer – long story) was made in utero, meant to ensure my only child ended up as a similarly-brainwashed Melbourne supporter. Continuing the family tradition and inheritance of emotional pain and suffering.
Which worked for a while, then ended up with the sheer awfulness of a now-17-year-old who barracks for the Magpies. Loathes Melbourne, she says. Even when sent photographic reminders of her cute and lovely little self in her jumper, complete with Aaron Davey and Jack Watts badges.
Heartbreaking, this tainting of the Pearce family bloodline. Nothing understated or smug about that emotion. Except, well, perhaps, just a sneaky mention about, ahem, Collingwood's last flag. Apparently, it was 2010. Old news now. Just saying.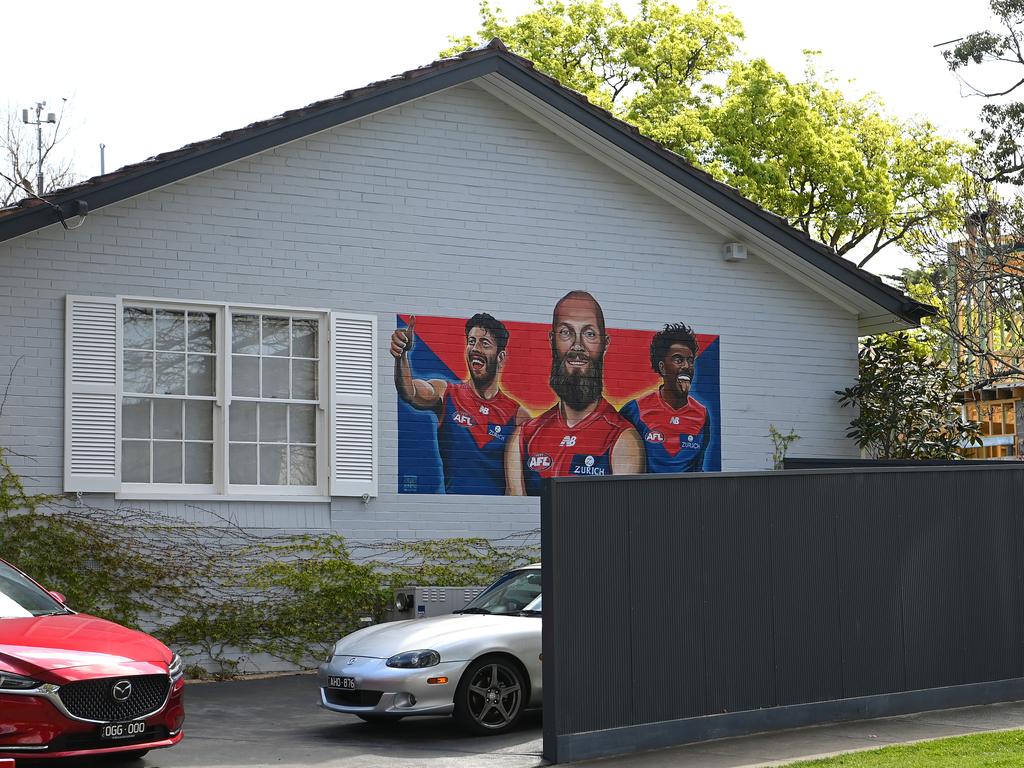 The willingness of Demons fans to celebrate the win shouldn't be underestimated. Picture: Quinn Rooney/Getty Images
The red and blue balloons from grand final night — dying but not completely breathless — are still dangling from the mantelpiece in my study, visible in every daily CodeSports editorial meeting, along with members' scarf and WEG poster.
The display will remain until the last balloon is completely shrivelled. That's the vow. Seems appropriate, after waiting so long, to see it through til the very end.
Understated smugness alert: if it can't be back-to-back for the Dees, as weird as those words are to write, then, Saints, may it be you.
*****
Around 230 members of the MFC's Past and Present Players and Officials Association will mingle in the Keith Miller Room on Wednesday for the unfurling of the club's 13th premiership flag before the grand final rematch against the Bulldogs.
Grinter, the ballsy 134-gamer, will be in his Demons scarf, catching up with many of the 161 members of the former players – plus Neale Daniher – in the WhatsApp group he started after last year's preliminary final.
Grinter speaks of supporters happy to show their club colours again and the unifying impact of this long-awaited success on the alumni. Historically there have been two groups: those who barely knew anything but victory while amassing five flags in six years from 1955-60, and those far more contemporary, and brutally familiar with defeat.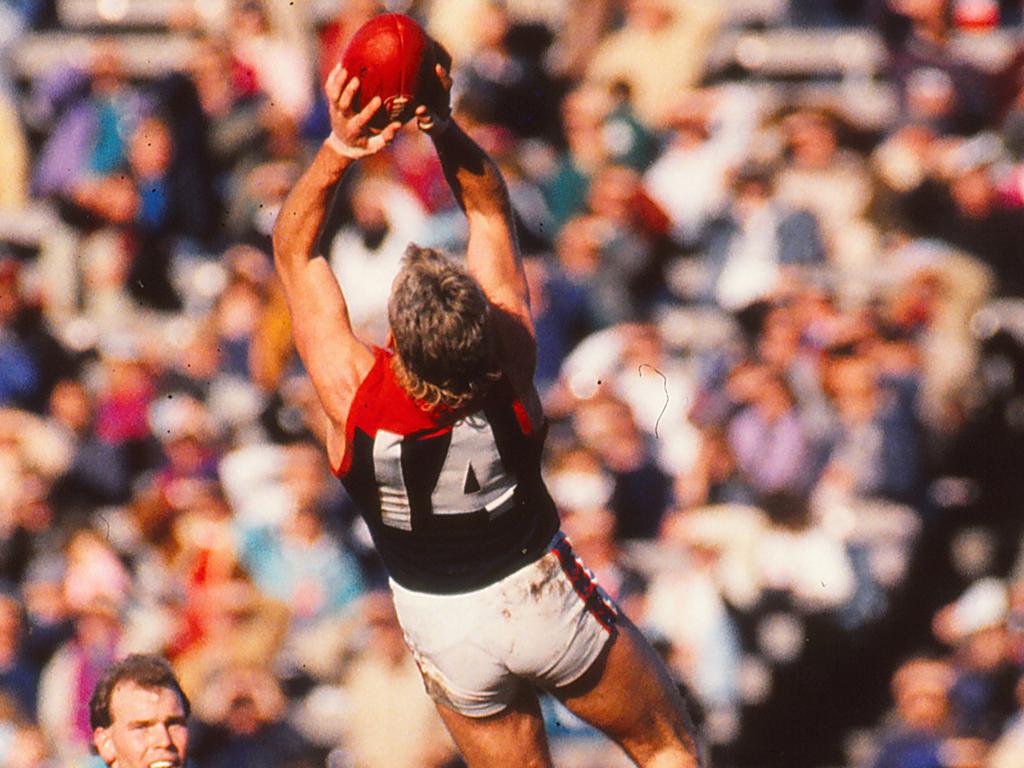 Grinter has seen first-hand the impact results can have on the Demons' fan base and has seen how the 2021 success has brought them closer together. Picture: Getty Images
"Obviously all Melbourne supporters at times weren't putting their scarf on or weren't wearing their red and blue, but now everybody's very proud,'' Grinter says.
"They're quite proud of what the footy club have done, and to have been involved at the footy club at some stage; whether that was back in the early 60s or those from the 2000s, we're all proud of what the footy club's been able to achieve, we're loving this time and looking forward to kicking off 2022 against the Doggies, seeing them live at the MCG. It's gonna be a special night.''
So what do the long-suffering types do now that they're no longer, well, suffering? "You go to the footy with your chest out and just really look forward to them performing," Grinter says.
"A lot of people say, 'I didn't think I'd see one'. I never really said that. We were there in '88, we were there in 2000, and it's a tough competition, so you've just got to do everything right, and the footy club's done an amazing job over the last 18 months.
"In terms of expectations this season, well, there is none. We all want them to win, and even when they weren't going that well we all wanted them to win, as well. Nothing's changed in that regard.''
Yet, in other ways, plenty has. Or to quote captain Max Gawn on the podium last September: "After 57 years of pain, it's comin' home.''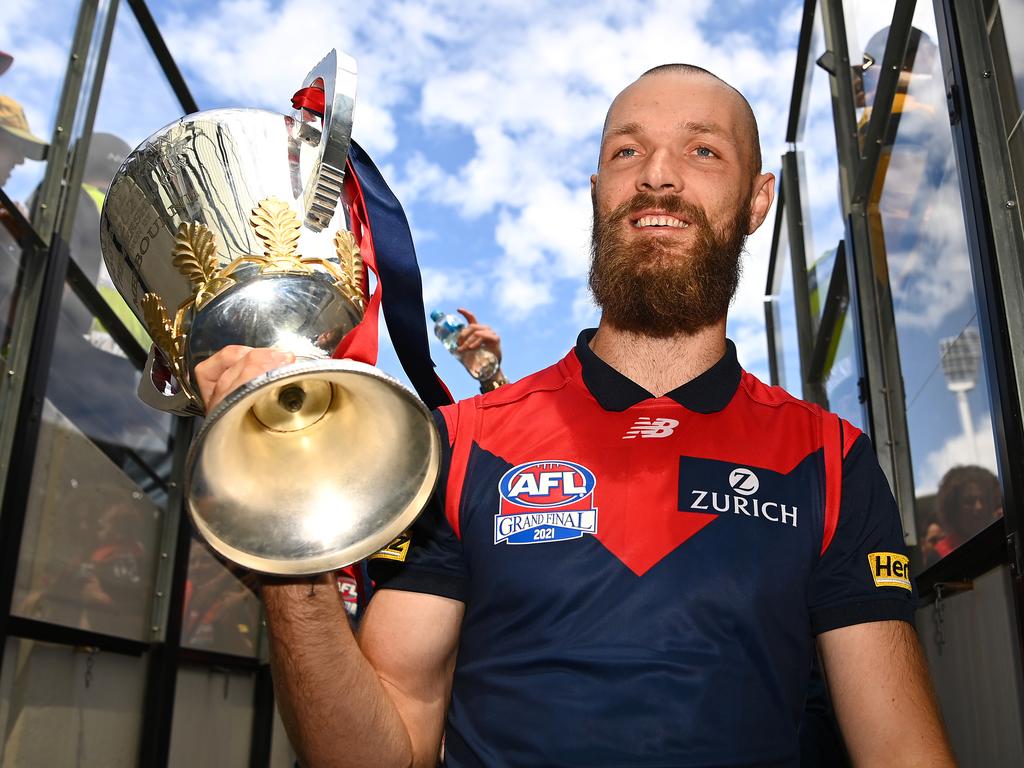 Gawn's journey home with the cup was built on the teams that came before him. Picture: Quinn Rooney/Getty Images
So a last question for Lyon: what message does he have for still-long-suffering St Kilda supporters chasing a sequel to Barry Breen's wobbled behind that broke the late deadlock to pip Collingwood way back in 1966.
"Believe,'' he says, a little understated, not the slightest bit smug.
"Believe and hang in, because we've had a tortured history as supporters and players, so if we were able to get there then it can be done.
"Just gotta trust in and make sure you get the right people in the right spots and then hang on for the ride, because it's worth it.
"That's the message: it's worth it.''