Mick Malthouse: How have the AFL coaches fared this season?
The history of the AFL is littered with great coaches who never won a premiership, so what is the secret ingredient a coach needs to hold that elusive premiership cup?
AFL coaches come under enormous scrutiny these days. Some criticism is warranted, most is not.
I have been asked a thousand times, who was the hardest coach to coach against?
My simple answer: the coach with the best team.
And therein lies the challenge of coaching – to beat the team that is technically better than your team. They are the hardest games to coach, and the best games to win.
A premiership is like the Brownlow Medal, where every winner has deserved the honour, but many other deserving players have missed out.
After Melbourne emphatically claimed the cup last season it was automatically assumed it could do it again this year. If only it was that simple. Remember, nothing stays the same in life.
For the Demons to be second on the ladder going into round 21 means Simon Goodwin has done an outstanding job.
Melbourne lost three games in a row mid-season and may well have fallen off the cliff. Goodwin had to readjust without the hardworking Tom McDonald at centre half-forward, after the infamous fight between Steven May and Jake Melksham, and with an injury to Max Gawn, to get back on track and maintain the Dees' assault on the 2022 premiership.
Well done to 46-year-old Goodwin, into his sixth year in charge of the Demons. He has many more years of coaching in front of him.
Watch every blockbuster AFL match this weekend Live & Ad-Break Free In-Play on Kayo. New to Kayo? Start your free trial now >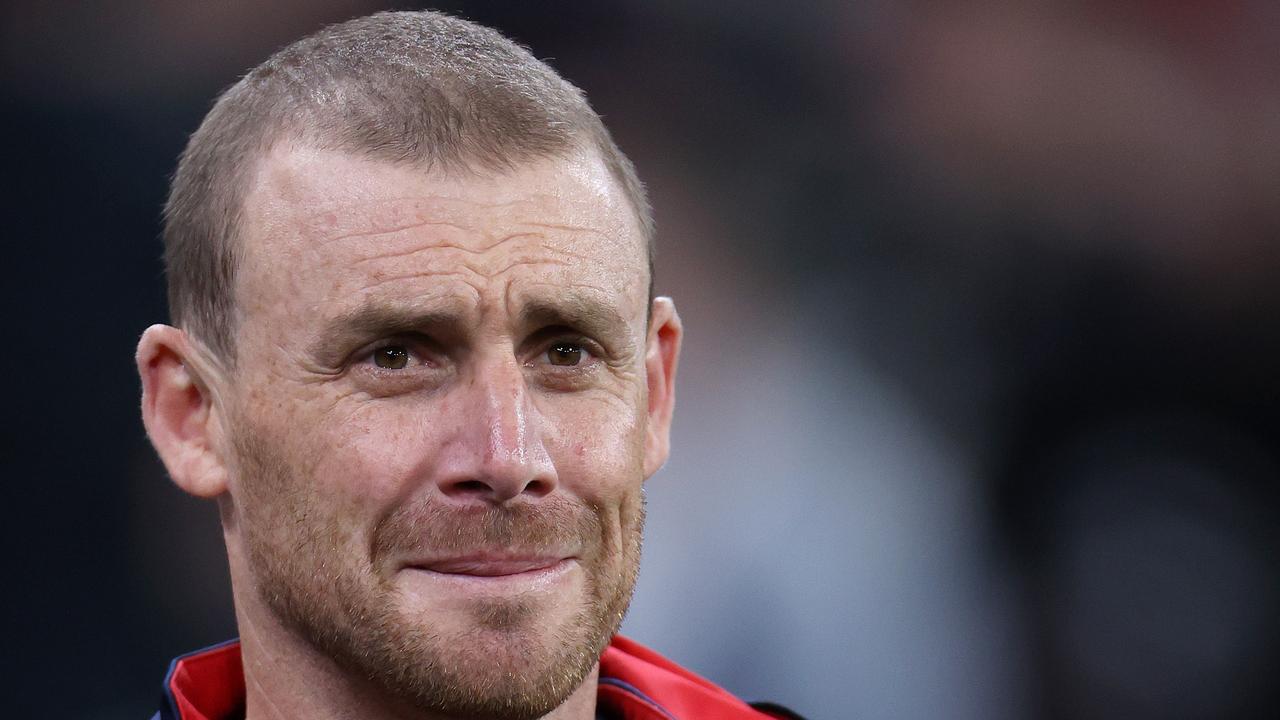 For the Demons to be second on the ladder going into round 21 means Simon Goodwin has done an outstanding job. Picture: Mark Stewart
Down the highway there is a chorus of people who believe that the Cats should have won more premierships. Once again, if it was so easy.
Chris Scott, in his 12th season at the helm, has only missed the finals once, and has one of the best win-loss records in the history of the game (winning 69.6 per cent of 280 games). It is a remarkable achievement.
Just when you think the Cats are too old and too slow, they find a way to get the job done.
Geelong will enter the finals as equal flag favourites this year. After two preliminary final exists and a grand final loss in the past three years, 46-year-old Scott, who has won 10 finals from 25 coached, is perhaps as close to a premiership as he was in 2011.
A coach who is often denied the accolades he deserves is John Longmire. The 52-year-old is in his 12th year at Sydney and has only missed finals on two occasions. He gets the best out of his playing group regularly.
We should never underestimate what Longmire has been able to achieve by bringing players into the team and making it work. We need look no further than Paddy McCartin, at such a late pick, who has made his brother Tom more secure in the Sydney backline by giving the team additional marking presence and awareness.
The Swans surprised us all last year to make the final eight, so we should be convinced now that they have a legitimate claim to being the 2022 smokies.
Two former teammates of the all-conquering Brisbane Lions of the 2000s, 49-year-old Craig McRae and 47-year-old Michael Voss, will come face-to-face in the final round of the home-and-away season to determine where they each finish in the eight.
Collingwood has been magnificent. To be second on the ladder is a credit to McRae's coaching style which is highly defensive but with an allowance for flair.
The Magpie players walk on to the ground each week thinking they can win any game under any circumstance. It is not arrogance. It is simply confidence and belief, instilled by their coach.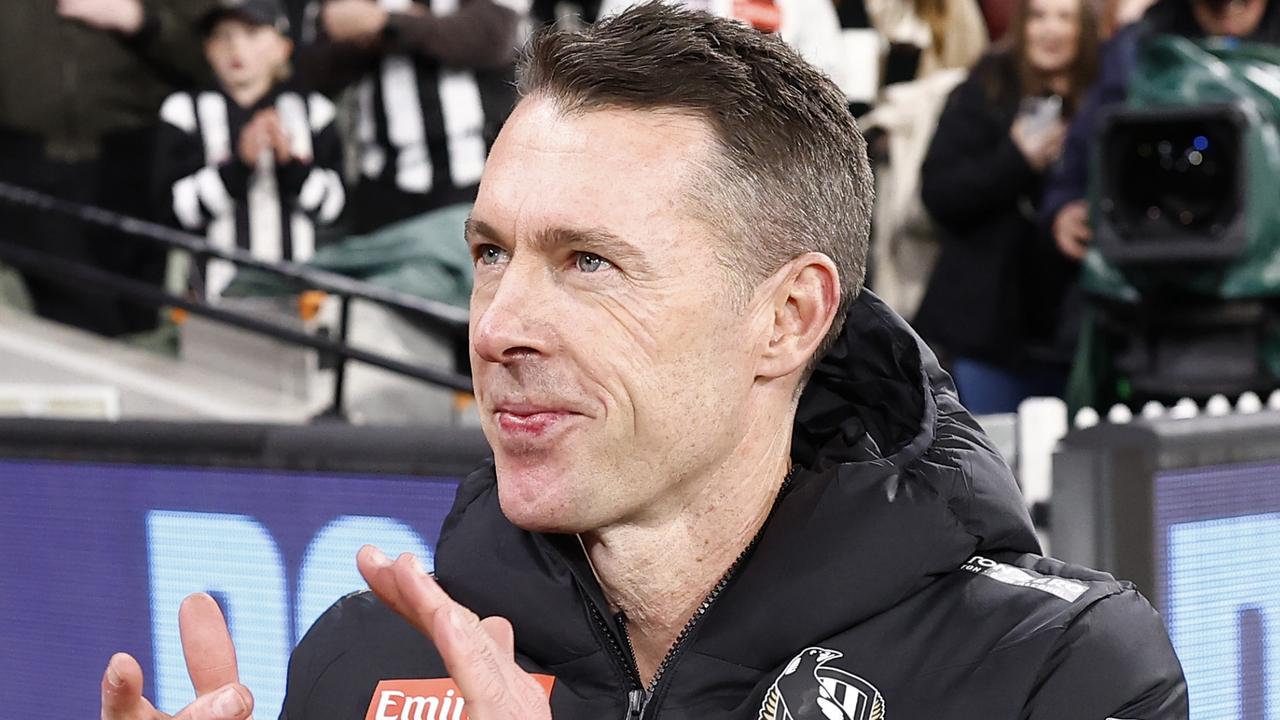 Craig McRae's coaching style is highly defensive but with an allowance for flair. Picture: Darrian Traynor
The Blues find themselves in the eight after last making the finals in 2013. September action would be unfamiliar territory for the players, but not for Voss, who was an assistant at Port Adelaide for preliminary finals in the past two seasons.
It is second time around for Voss, having spent five years as senior coach of the Lions, where he would have learnt a huge amount.
It is clear the Carlton players have great respect and admiration for the way he conducts himself under scrutiny from the Blues' faithful. His challenge now is to regather the team's confidence in themselves and the game structure, to finish off the season on a strong note.
Chris Fagan, 61, who coaches exclusively from ground level on game day, is being challenged.
In what appears to be a very good sixth season at the Lions for him, Brisbane will play finals for the fourth year in a row, with high expectations to match the best.
Just when they appeared to be on the cusp of taking the next step, the Lions lowered their colours to the Tigers last week in dramatic circumstances, as their game simply fell apart.
Fagan's challenge is to quickly line up the losses and find the common denominator.
I believe it is almost all around Brisbane's ability to defend. He only has a short period of time to clean this up before he will be judged again through a finals series.
Stuart Dew has done a remarkable job with Gold Coast. Young and enthusiastic, the Suns' players are highly attached to Dew, which is a wonderful way forward.
They believe in him. This season may be a forerunner for the not-too-distant future.
He has managed to keep the side relatively intact so that they are comfortable with each other and predictable in how they play. It could have been doom and gloom when the Suns lost Ben King to injury before the season even started, but Dew and the team adjusted, so the doom and gloom turned into resolve.
The Western Bulldogs have never made their way to the top easy. Last year the Dogs finished fifth after the home-and-away round before they played off in the grand final. In 2016 they finished seventh to win the premiership.
Luke Beveridge, 52 and into his eighth season, is a coach who goes into bat for his team and his club.
It is not an easy run home for the Dogs, so there is still a question of will they or won't they make finals.
The Bulldogs have been dealt a harsh hand with injuries this year, including key forward Josh Bruce who is only just coming back from a knee reonstruction. They've also had off-field issues with players. But Beveridge has kept his faith in the game plan, so his players aren't ever second-guessing themselves.
The reality is, the Dogs are probably two or three top players off the best sides, but Beveridge has been able to maintain an intensity that still makes them highly dangerous.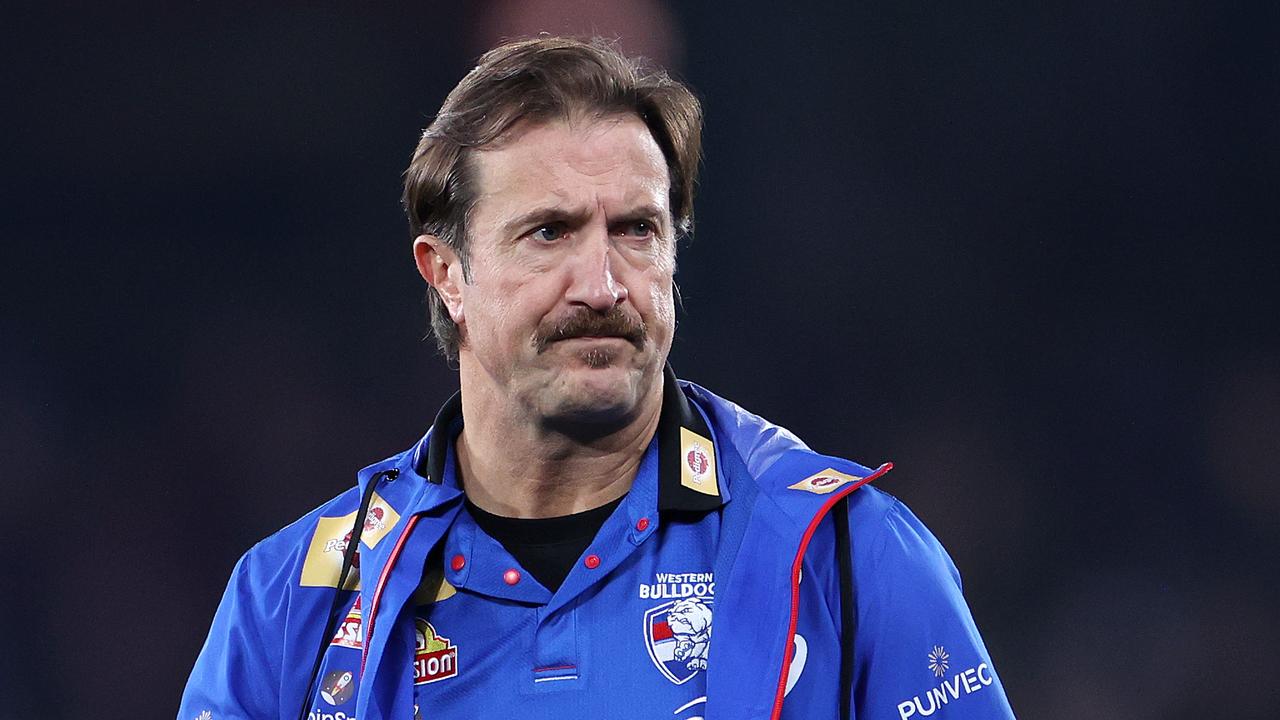 Luke Beveridge is a coach who goes into bat for his team. Picture: Mark Stewart
I'll group Damian Hardwick, 50, and 51-year-old Brett Ratten. Just when they've looked like getting their teams into a solid position this year, injury disaster has struck.
Hardwick has had to reinvent his team after a brilliant three-premiership run. His ageing side has been crippled by injuries and he's had to clear players out to manage the salary cap.
Ratten has just lost Jade Gresham, such an important midfielder, and Paddy Ryder, an important back up for Rowan Marshall, both gone for the year.
But Hardwick and Ratten have both proven they have the gift of knowing how to push the right buttons to get the best out of their men. They may need to go back to come forward, but the turnaround need only be brief.
Ken Hinkley is another coach who comes under enormous pressure from inside and outside his club. It's unnecessary considering what the 56-year-old has achieved. In his 10th season, Port has been preliminary finalists in each of the past two years.
Some of Port's ageing players were kept on and haven't been able to produce their best. If Hinkley is allowed to mature his younger players, there will be a quick rebound into the final eight.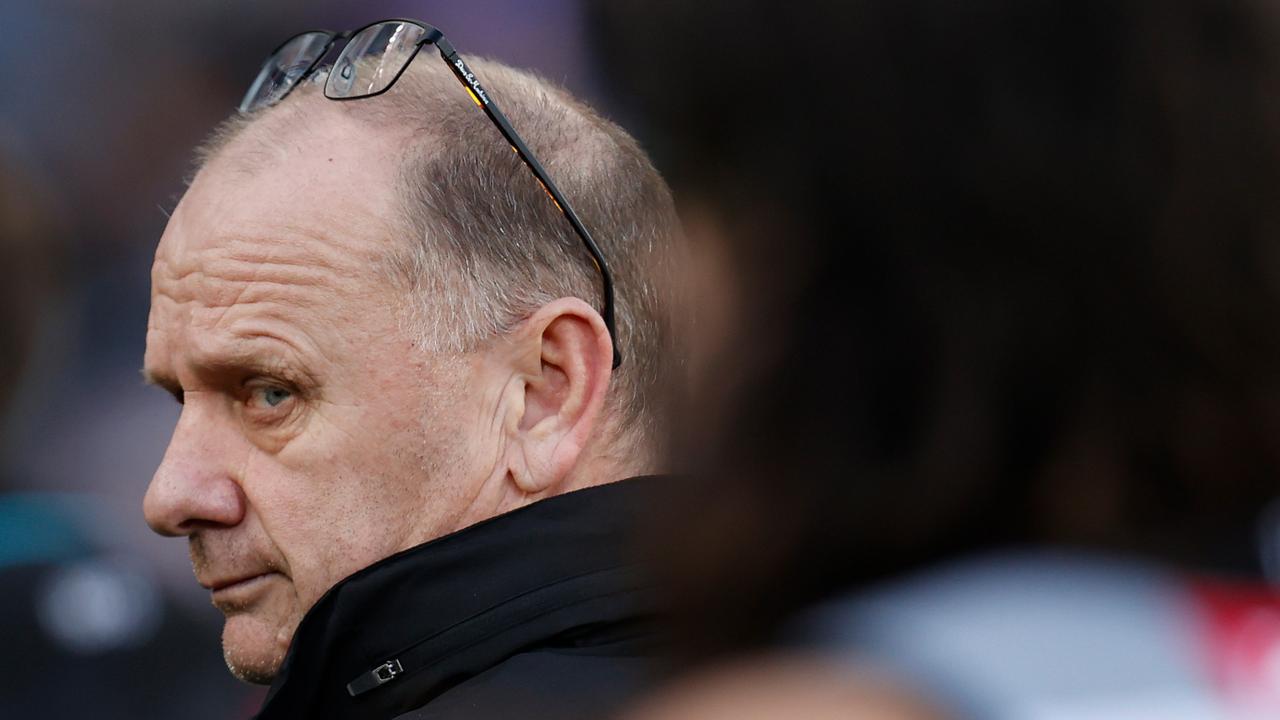 AFL Rd 20 - Collingwood v Port Adelaide
Justin Longmuir has done a magnificent job at Fremantle.
The Dockers have fallen away recently, but no one even considered them a genuine threat at the start of the season, as they are young and lightweight. The hurly burly of end-of-year football and finals can and has taken its toll on Freo.
Longmuir, 41, has instilled an excellent defensive game plan and claimed some big scalps with it. His players need to understand the high intensity that is expected every week. I predict a long and fruitful future for Longmuir.
Adelaide coach, Matthew Nicks, hasn't necessarily lost ground this year, by surprising on several occasions. The 13 losses appear many, but most have been fought to the death.
Adelaide's list is not great. Nicks, 47, will need time and patience. He's another who wears his heart on his sleeve, which will benefit his players the longer they play for him.
Adam Simpson, 46, is closing in on a full nine years at West Coast. It seems eons ago that the Eagles won the 2018 premiership. This season he's had to endure an almost non-existent pre-season due to Covid, an ageing list, and injuries that have crippled the club.
A highly successful club means Simpson is judged differently internally than by Eagles supporters. Simpson wants, and will get, the opportunity to rebuild his football side. It will take time, but there's no doubt that he is the best man for the job.
At 39, Ben Rutten is the youngest coach in the league, let's not forget that. Sam Mitchell, at 40, is not far off, and in his first year as senior coach. Every year you coach you learn more. Rutten and Mitchell will only get better.
Essendon was disappointingly poor early in the season, but it has turned its season around, and with further learning from both coach and team, will challenge for the eight next year.
Hawthorn is going through a metamorphosis. It has unveiled some very good talent and will need to think hard about its older players and what they can offer.
Some are former teammates of Mitchell, which will make it interesting to see how he handles them.
I have been highly impressed in the way that Mitchell has held his nerve and been proactive in his coaching.
It appears I have a tick for every coach, and maybe I have. One thing is certain: all clubs are different; all team lists vary from very good to very poor. All of these coaches have thrown their lot into making their teams better. Some will be judged harshly; some will get a long honeymoon. If they last into their ninth, 10th, or 11th season with moderate success they may stay on the carousel. A good dose of finals and maybe a sprinkling of premierships certainly helps you stay in the game.
Some of the best coaches I've coached against didn't win a premiership. It's not all down to luck, but it does play a part. I wish all of these coaches good luck!
Originally published as Mick Malthouse: How have the AFL coaches fared this season?