Mick Malthouse: Why North Melbourne should appoint Mark Williams as coach
As North Melbourne ramps up its search for David Noble's replacement, a coaching legend says Mark Williams is perfect for the Roos. Here's why.
I have two questions for the North Melbourne board. Why? And, why now? There are six games left in the season.
What is to gain from sacking David Noble right now, aside from a messy departure and chest beating by the president and the chief executive officer. Who are they kidding? Forcing a coach out before the end of the season never solved a club problem and never will. It proves nothing except that the board is highly vulnerable to public scrutiny and media attention, and they can't hold their nerve.
But then, should we really be surprised when president Sonja Hood has revealed her football naivety by declaring at Tuesday's press conference that North has "a really great playing list".
While the Roos scored a stirring win against Richmond on Saturday it was just their second victory of the season, the other against an injury and illness ravaged West Coast in round 2. Meanwhile, Dr Hood thinks the club is in "good shape".
Watch every blockbuster AFL match this weekend Live & Ad-Break Free In-Play on Kayo. New to Kayo? Start your free trial now >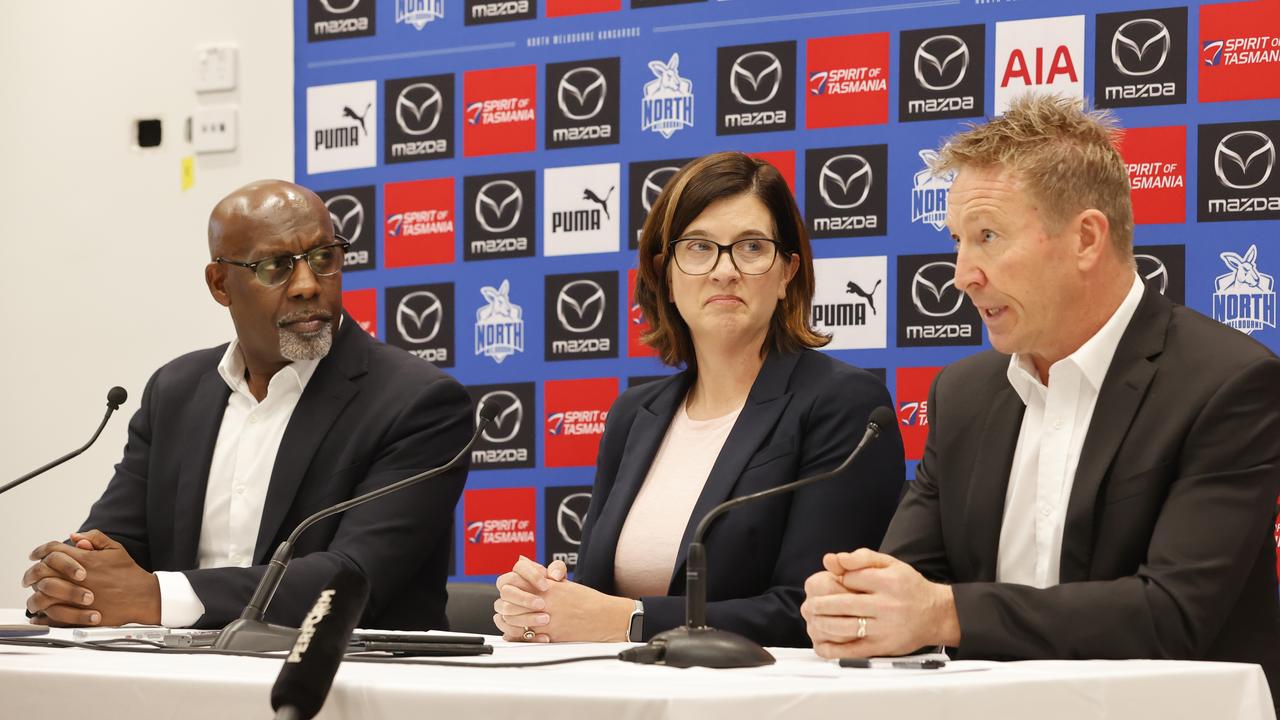 Mick Malthouse believes the sacking of David Noble is nothing more than chest beating by the president and CEO. Picture: Alex Coppel.
One of its best defenders, Robbie Tarrant, couldn't be retained. Leader and mainstay Ben Cunnington has been desperately missed as he deals with cancer. And North simply hasn't recruited well, unable to attract quality free agents.
You can't make a silk purse out of a sow's ear.
There are lots of young players with promise and potential who are happy to get games. There are ageing, experienced players who aren't required by other clubs.
The rest just want to play finals football. And this is where further danger lies for North Melbourne. If a player can't see or smell finals and his contract is up, he'll soon look for another home.
Leadership comes from the top and Hood has not led well enough. She was on the board that appointed David Noble, yet she's not been seen until this week when she virtually blamed all the club's failure on the departing coach by saying: "I'm not interested in wholesale change … We've got a lot of talent on our list and a lot of talent among our people." While then conceding, "we need time," when Noble was given just 38 games in charge.
Nonsense.
The Kangaroos have been in the news for the last two or three seasons for all the wrong reasons. The only positive focus they ever receive is when they're first in line at the national draft, and even then, Jason Horne-Francis is apparently weighing up his options for when his contract is up. Already.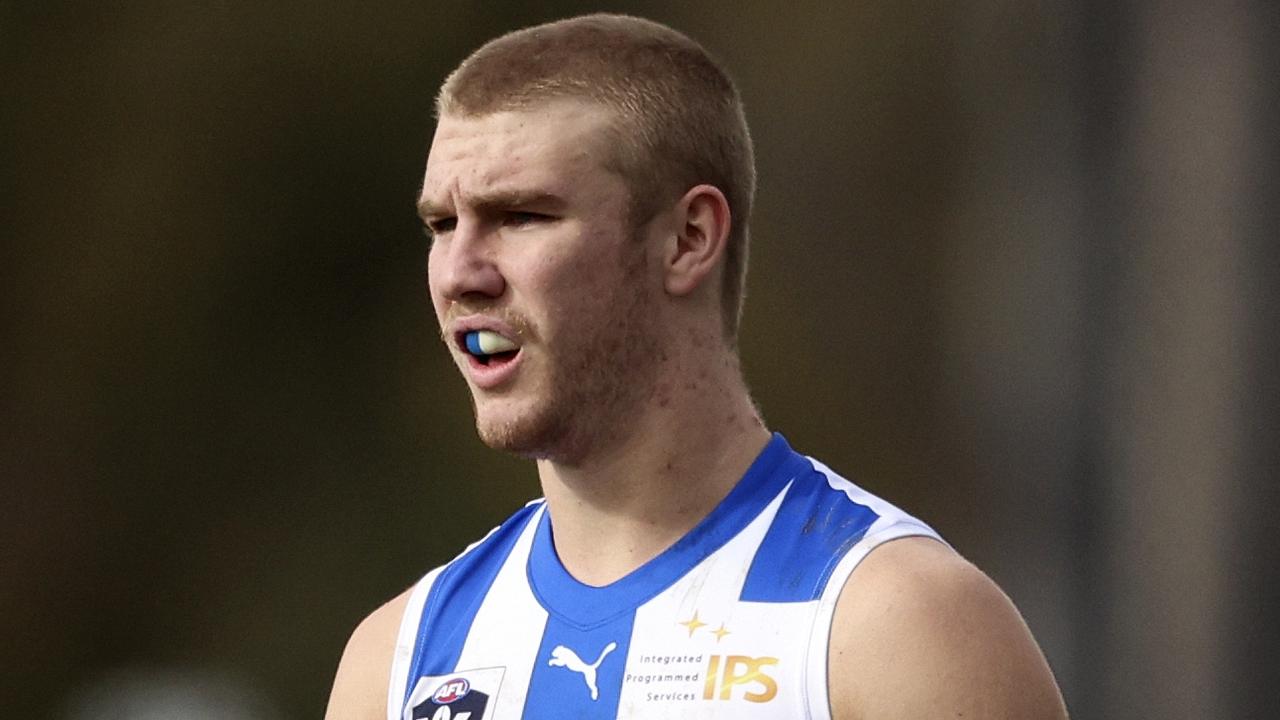 Jason Horne-Francis playing in the North Melbourne reserves last weekend. Picture: Getty Images
After a short "honeymoon period" last year, the pressure cooker environment became startlingly obvious early this season when Noble publicly apologised for having a go at his players' after their 108-point loss to the Brisbane Lions in round 3. Having to publicly apologise was not only unnecessary, it revealed a lot about the playing group's fragile mental state. Elite professional sport is expected to be played at the highest level whenever, wherever, and, however. No exceptions. No excuses.
Then three of North's recruiting staff suddenly abandoned ship. And before we knew it Geoff Walsh was called in to assess the football department.
Once a board brings in outside influence to assess the football department, the coach is a dead man walking. It is idiotic. This is where a club board is supposed to have experts in each department – finance, coteries, sales and football – to handle every situation that arises within the club, in-hand.
Because the first people who will smell a rat in this situation are the players. The coaches creep around with a lack of confidence in board support, sulking away every time a board member steps into the room to assess them.
It's such an unhealthy environment to work in. I've been there.
We will never know if Noble is a good coach or not, because the list he had clearly isn't good enough, and he didn't have enough time to capitalise on the young players' potential.
What we do know is that he gave 100 per cent. There was so much pressure on him and his family, and I can only admire him for the way he handled it with honesty and dignity. I hope he is retained in the AFL system somewhere. The game needs people like David Noble.
I have two great friends at North Melbourne, two former Collingwood players who I respect and admire so much – Gavin Brown and Anthony Rocca. Where do they end up? Will they also be judged by poor recruitment, and an inability to retain players at a club that is a shambles?
There would be numerous people putting their hand up to coach North Melbourne.
Young ambitious assistant coaches like Adam Kingsley, Adem Yze and Blake Caracella who would love to get their teeth into an AFL senior job. There is no doubt that any of these young men could do as equally well as an older, experienced coach.
But a mega rebuild makes it an entirely different game. It's easy to be the passenger, it's when you have to hold the steering wheel that you find out who can and who can't lead the crew.
So, would any of these young men really want to coach North? You'd need to be checking out the board and their outlandish statements first, and just what kind of support you could expect from them. Or lack of. It's a gamble.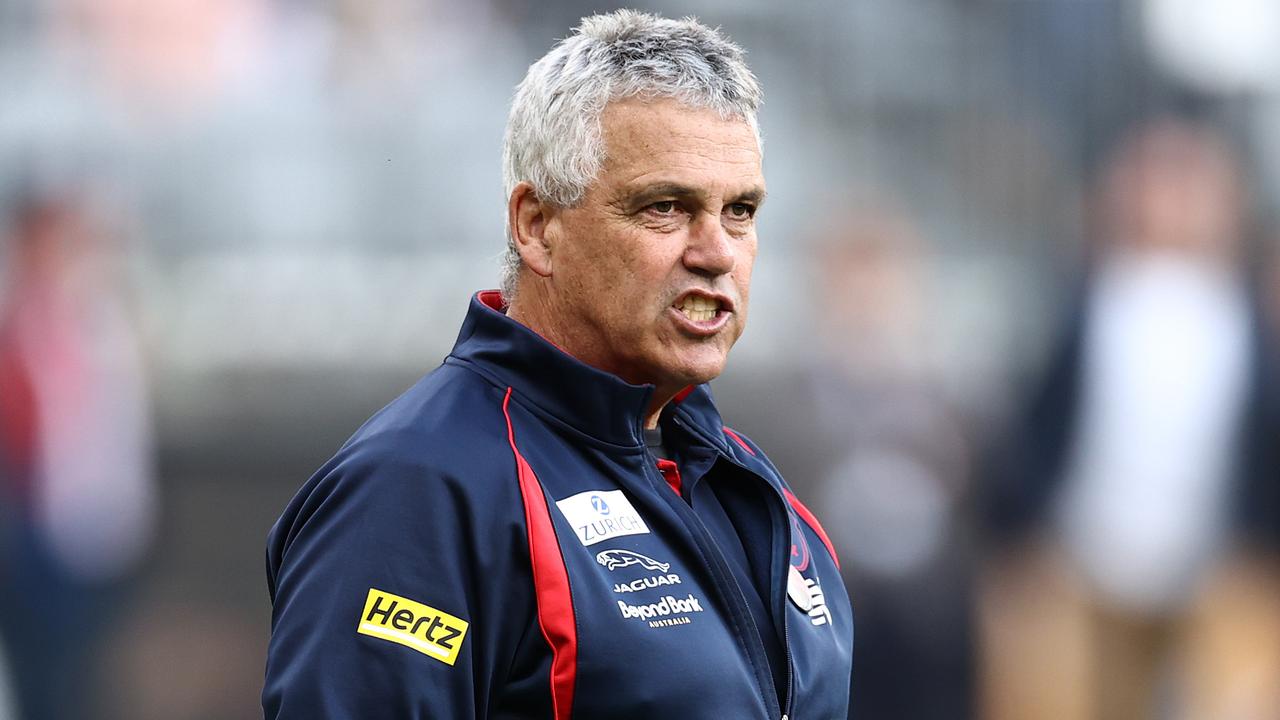 Mick Malthouse is putting Mark Williams' name forward for the North Melbourne coaching job. Picture: Michael Klein
I will once again put Mark Williams' name forward for this job.
North needs his type at the helm. He loves his football, loves a challenge, has a history of success, understands young men, and understands the game. Yes, he has an ego, like all coaches, but that would not be an issue knowing what is in front of him at the Kangaroos.
This is not a team for Alastair Clarkson, who has said already that he wants a club that is close to finals action. North is a long way off that.
There is a major hint of AFL interference here, which is quite strange for an administration in which few have coached, nor even been involved at club level. If the league does get involved, include Brad Scott who knows the game, and declare it out in the open so that North supporters know that the AFL is having an input.
North Melbourne has been around for a long time and is going to be around in one form or another (I still stand by my suggestion that it is one of the clubs that should look at relocating to Tasmania) for longer than the current board and administration.
One can only hope that whoever becomes senior coach for 2023 has the club's full support, not for the honeymoon, but for the years beyond. That person is going to need it.
Originally published as Mick Malthouse: Why North Melbourne should appoint Mark Williams as coach