Mick Malthouse: Why the general spray is part of elite sport culture
Coaching great Mick Malthouse says a verbal spray will always have its place in elite sport culture as he reveals those who would wear the frustration for the team and respond accordingly.
A few games into my first year of VFL football I was given the job of tagging Peter Bedford, champion South Melbourne midfielder and 1970 Brownlow medallist. I was new at St Kilda and wanted to do everything my coach, Allan Jeans, asked of me.
In the first quarter as I gathered a loose ball and had a flying shot for goal, I was knocked heavily to the ground. The ball sailed through for a point. By the time I'd picked myself up, the full-back had brought the ball back into play and found a loose Bedford who proceeded to waltz down the ground with me in pursuit, a long way off.
Watch every blockbuster AFL match this weekend Live & Ad-Break Free In-Play on Kayo. New to Kayo? Try 14-Days Free Now >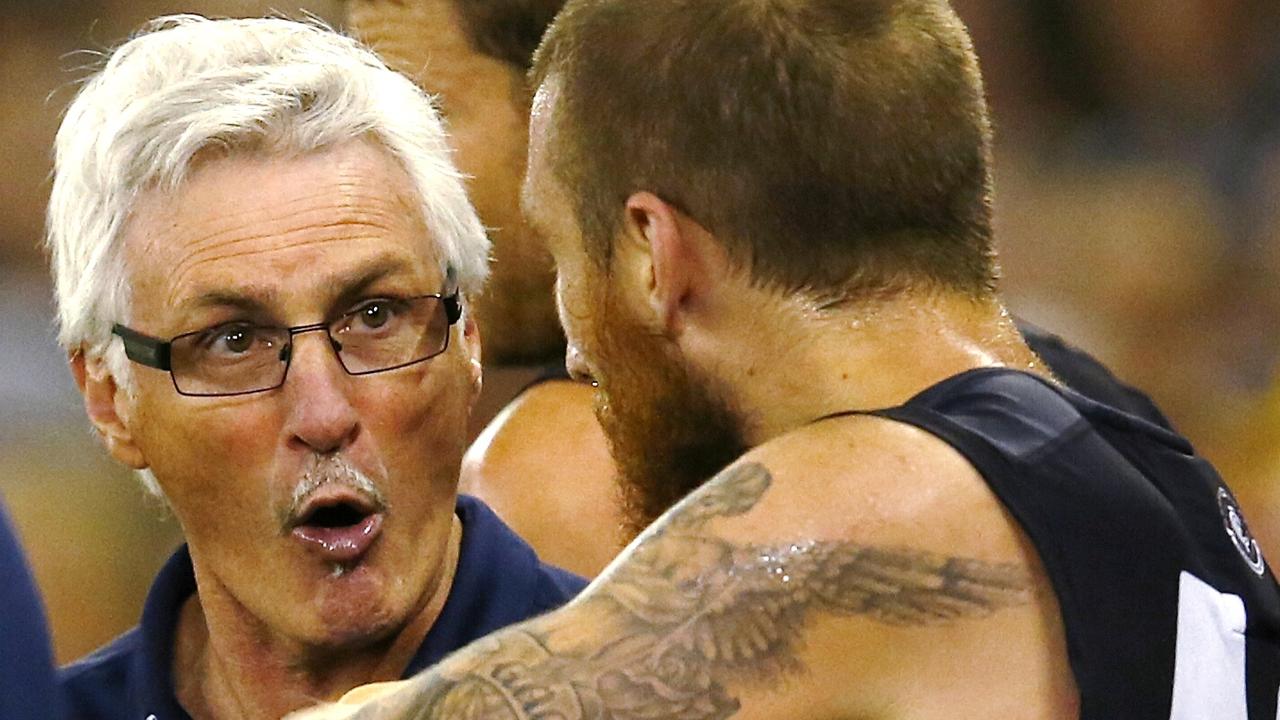 Carlton coach Mick Malthouse gives Zac Tuohy a spray on the bench back in 2014.
I don't remember if Bedford kicked a goal, but I do remember the quarter-time break.
As other players joined the huddle, Jeans had already started blasting me for my weak effort in getting up, and my poor effort in chasing. His spray lasted for five of the six minutes he had to talk to the team.
Walking back into position, the great Kevin "Cowboy" Neale asked if I'd learnt my lesson. I replied that, yes, I had to get up quicker so I could relocate my direct opponent.
"No." He quipped. "Just make sure you're never first to the huddle when we are losing!"
Cowboy Neale had a great sense of humour, but what he said was true.
The reality is, the stakes are so high for a coach, the emotions so raw, that they get intensely frustrated when they are in the heat of the battle, but not on the battlefield.
And, they are human.
Jeans was like that. A tough taskmaster who didn't pull any punches. There was little room for feeling sorry for yourself because the target was varied.
It never changed my opinion of him. I had a wonderful association with Jeans throughout my coaching career and life, and spoke with him on his death bed. I learnt so much from him.
Tom Hafey, my first coach at Richmond, was different. He appealed to the individual's self-worth but had the same determination to win.
Barry Richardson was different again. Fifteen years ahead of his time he was more tactical. "Baz" tried to get angry but couldn't.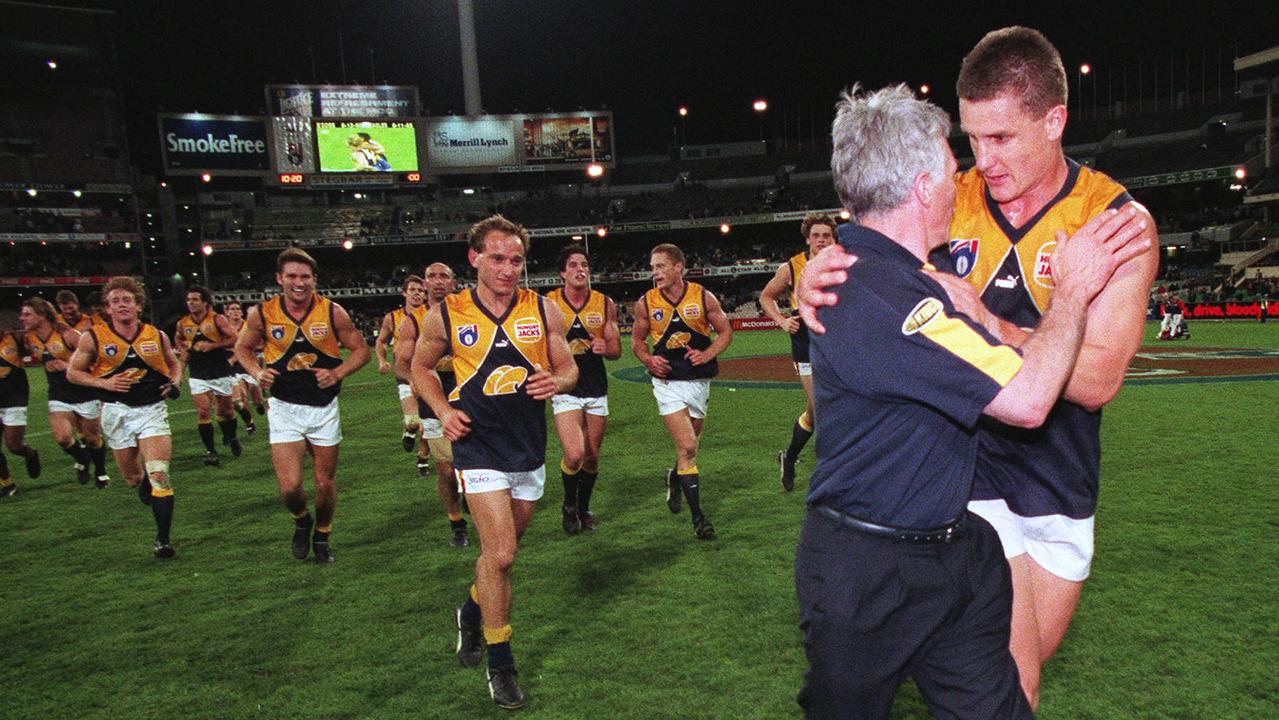 Malthouse says he will never forget the parting words from Glen Jakovich when he left the Eagles.
That can't be said about Tony Jewell. He was highly emotional and certainly let the team or individual know when he was displeased. He took no prisoners.
Francis Bourke was a former teammate, so his approach as coach, when I was in my last two seasons as a player, differed again.
We all have our moments as coaches. Moments we look back on and wonder if we could have done things differently. Hindsight, however, doesn't reflect the intensity of emotion.
I won't forget Glen Jakovich's parting words when I left West Coast after 10 years.
"Mick, I have so much respect for you, I love you as a coach, but I'm still scared stiff of you," he said.
Glen always had the job on Wayne Carey in our clashes against North Melbourne. On one
occasion when Carey was injured, Glen was predictably beaten by his new
opponent. I let him know, in no uncertain terms, it was because he hadn't taken the
job seriously enough. He didn't make the same mistake twice.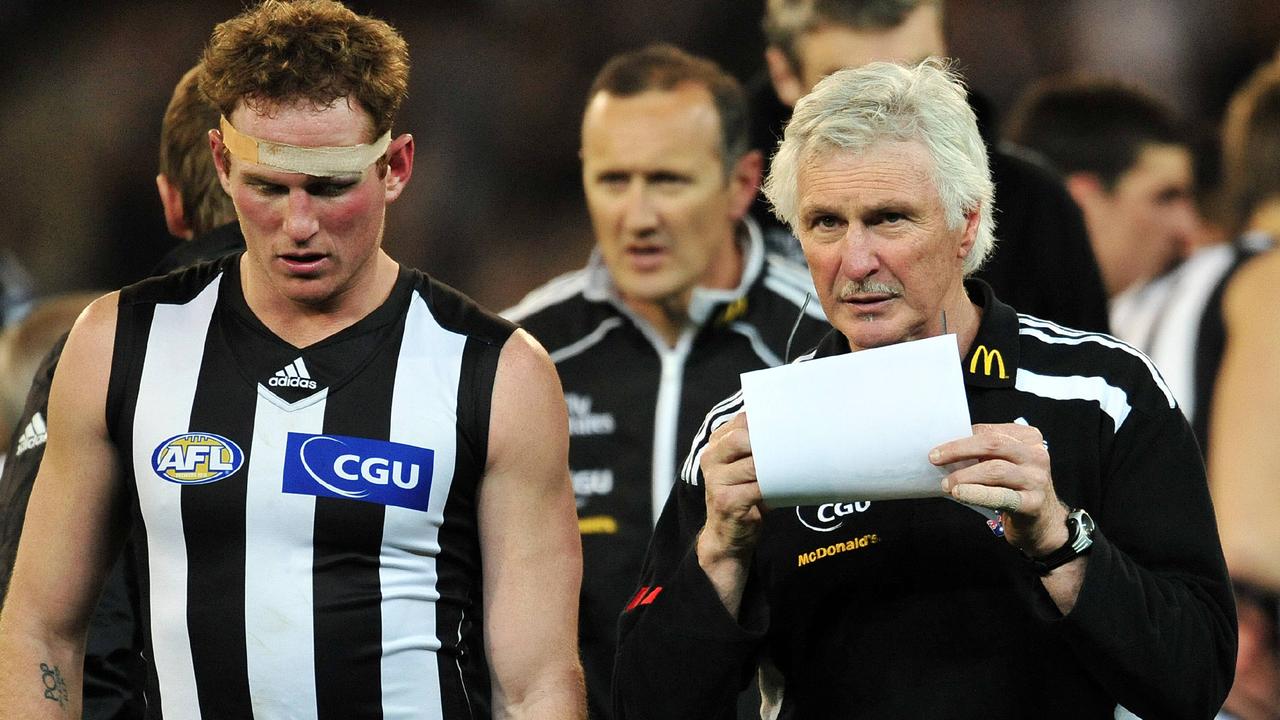 Mick Malthouse says Ben Johnson could take a spray on the chin always respond magnificently.
I enjoy a terrific friendship with Glen, still, but I sometimes ponder his words.
As great a team as the Eagles were in the 1990s, we had our moments. And in those times I would "go nuts".
Though you do quickly learn as a coach regarding who can and can't handle public criticism.
Frank assessment is necessary for the player to learn and improve. To know when he hasn't measured up to the coach's expectations or stuck to the game plan. But sometimes, pulling a player aside and using a gentler tone gets the desired result.
A general spray is part and parcel of elite sport culture. It is aimed at all members, to take responsibility for their role within the team structure.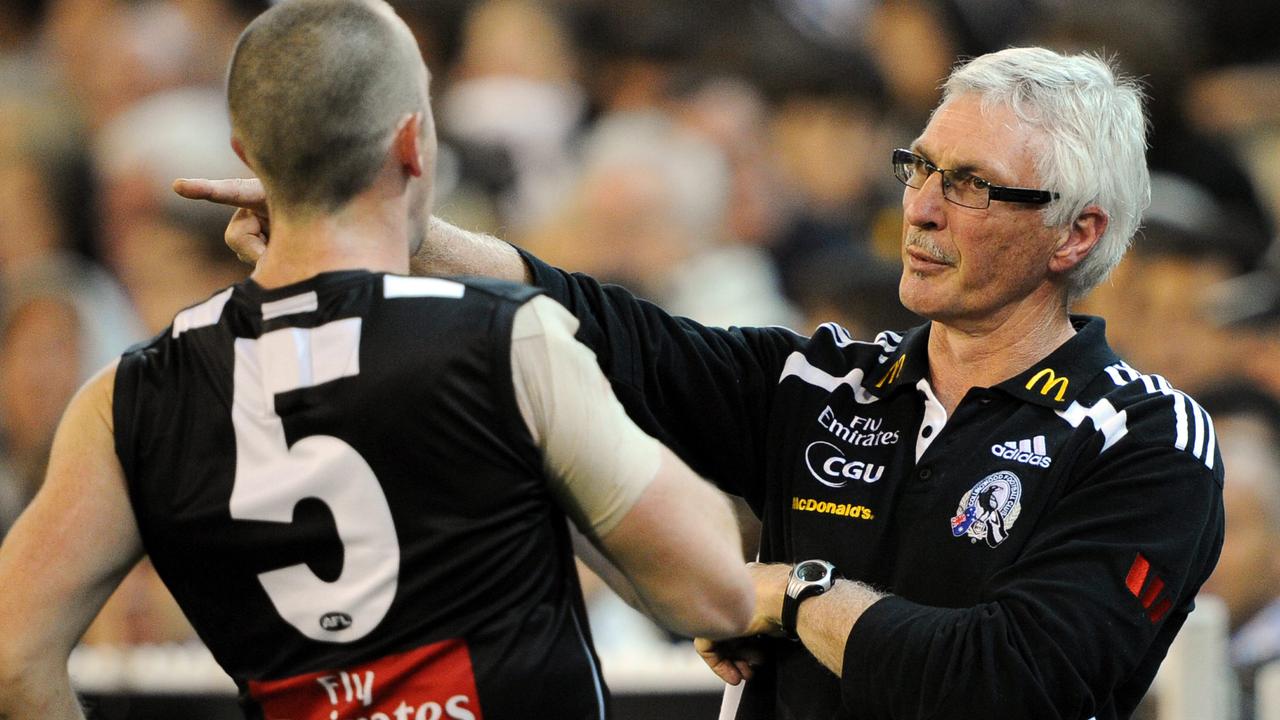 Mick Malthouse shows his frustration with Nick Maxwell.
Therefore, I am bemused by reports of former Australian cricket coach, Justin Langer "ruffling a few feathers" after being upset by a shoddy team performance. He produced strong results, he helped resurrect the pride of the cricket nation, but he was forced out because his players controlled the narrative.
Is this an indication of the complex, thin-skinned, deep-thinking, entitled athlete of today?
My Collingwood tenure had highs and lows. I established my persona early on with the playing group, as a must. (You can build or detract from that as time goes on.)
I had my targets, the players who would wear the frustration for the team and take it on the chin. Ben Johnson was one, and he would always respond magnificently.
There was a time when Benny was part of a backline that got ahead of itself, all
playing too much as individuals. I told him so, bluntly, and he responded brilliantly.
We are good friends to this day, so he obviously holds no grudges.
There were others at the Magpies I took aside, to express disappointment or highlight a lack of focus or lack of acknowledgment of the game plan, and achieved a similar result — where the player wanted to be better and do better.
Fortunately, most players are very aware of the pressure on the coach and accept a reasonable spray. Quite often the blast gets rid of the frustrations and clears the air for a collective rethink. It's a method for putting a full stop to that game.
There were many times after a spray when I asked the players, "Are we over it?" It was my way of saying sorry, let's move on.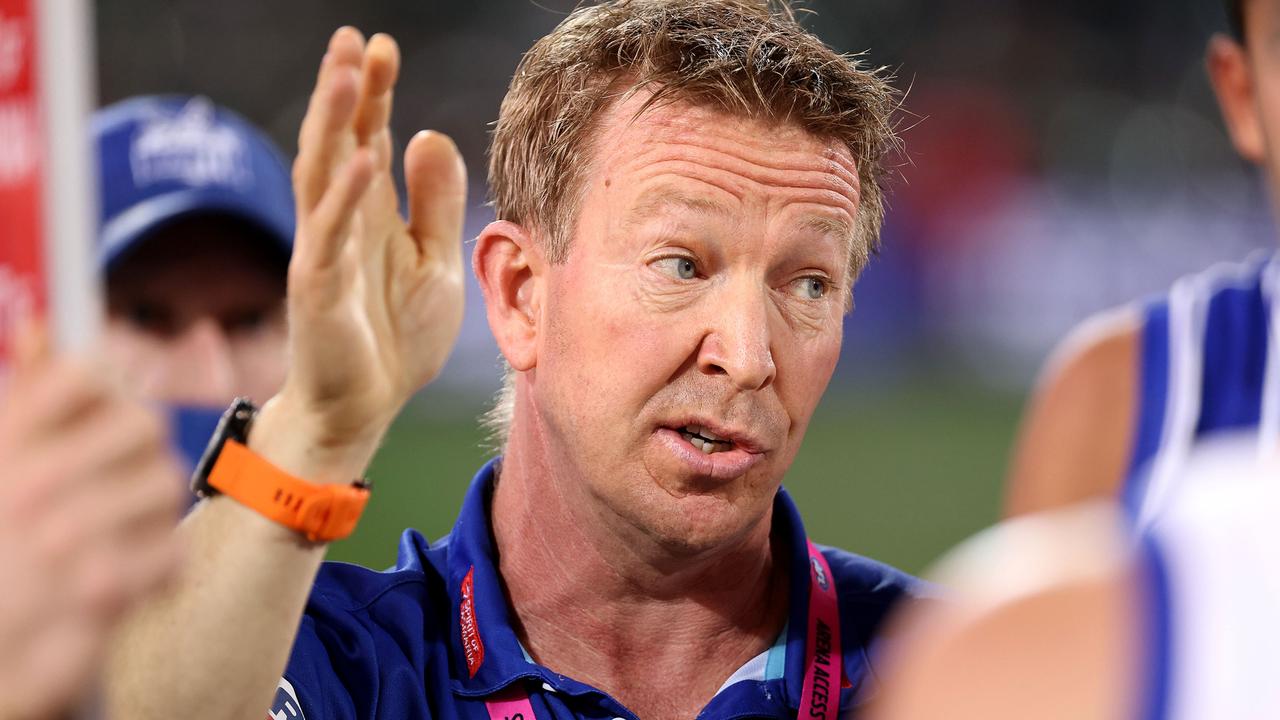 David Noble recently apologised to his North Melbourne players after a post-game blast.
In David Noble's case, he apologised to the North Melbourne players group after a post-game blast that upset a few. If he said sorry for being totally irrational, or persisted with the condemnation of the group and didn't let it go, then he needed an apology for closure.
But if it was merely a case of a 108-point loss, where the team broke away from disciplines, rules, and the game plan, then his outburst was justified. The team's leaders needed to lead the charge, accept responsibly for the loss, and drag those kicking and screaming back into reality.
There is no easy game in the AFL. No one will go lightly on you. The crowd will cheer, the crowd will boo. The umpires will give you a good decision, and give you a bad decision. There'll be no mercy from your opponent just because you're having a bad day. This is business. It's about gate receipts, memberships and sponsorship dollars. It's about winning, pride and dignity.
The stakes at other levels of sport, particularly junior sport, are far, far less. The priority here should be encouragement, enjoyment and staying in the game and at the clubs associated with a district, town or suburb.
The coach can express disappointment, but avoid any ugly outburst.
AFL players are paid handsomely to perform at the highest level. Anything less than maximum effort, concentration and delivery of those products is going to come under fierce scrutiny. It is an elite competition.
There will be successes and failures. The average number of career games played is not as many as you think. There is a high attrition rate. Those who survive are either very gifted, or very determined to succeed. They take every knock in their stride, every criticism, every outburst, to be better. And because of that, they will do better.
The coach is there to help the player and the team improve. To be the best they can be.
Leon Cameron's resignation this week came as no surprise to me. He has looked like a defeated man for a while now. Coaching can do that to you. Every game takes it out of you. Just as every spray does.
I wish Leon well for the future. I have followed his career since drafting him to Footscray in 1988. He has been an outstanding coach and should be proud of his accomplishments with Greater Western Sydney.
Originally published as Mick Malthouse: Why the general spray is part of elite sport culture