Mick McGuane: How Melbourne v Collingwood blockbuster will be won and lost
Collingwood got the job last time, few things have changed since then. And analyst Mick McGuane says the work behind the ball will be crucial.
There are plenty of questions heading into Friday night's blockbuster clash between Melbourne and Collingwood.
Can the Demons replicate the ruthless and aggressive display they put on against Fremantle last week?
Or can the Magpies extend their 10-game winning streak as they surge towards September?
Collingwood took care of Melbourne by 26 points when these two sides last met in their Queen's Birthday clash in Round 13.
But a few things have changed since then and the strategy and tactics in the coaches' box will play a key role in determining which way this result swings.
Football analyst Mick McGuane put his coach's hat on and has come with blueprints on how each side should attack the clash.
COLLINGWOOD
KEY FOCUS
Intercept possessions.
At their best, the Demons are a strong contest and territory team.
That will give the Magpies' defenders ample opportunities to intercept the ball – they just need to ensure they take them.
The ability of Collingwood's key interceptors – Darcy Moore, Jeremy Howe, Brayden Maynard and Isaac Quaynor – to support each other in the air and win back the ball will be a defining factor in the game.
Whenever there is the opportunity, ruck duo Darcy Cameron and Mason Cox must also push back hard and support their defence.
Cox was huge last time against Melbourne with eight marks including three intercepts and needs to deliver a similar output again.
The Magpies' back-to-front ball movement has challenged most teams this year and will similarly worry Melbourne if enough intercept opportunities can be created in defence or through the middle of the ground.
Watch every blockbuster AFL match this weekend Live & Ad-Break Free In-Play on Kayo. New to Kayo? Start your free trial now >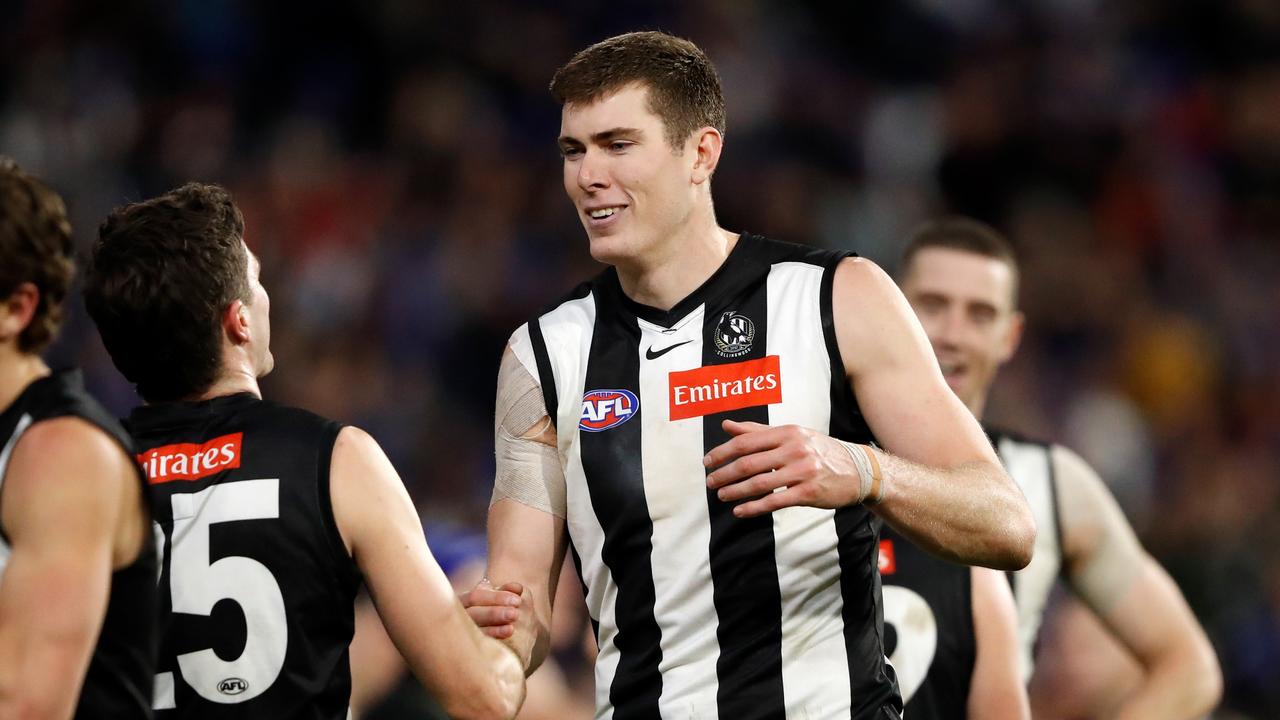 Mason Cox must push back to help his defence whenever possible against Melbourne. Picture: Getty Images
HOLD THE BACK-SIX
The Collingwood back-six needs to hold the fort, keep their defensive shape and not get sucked too far up the ground.
As smaller forwards Melbourne's Alex Neal-Bullen, Charlie Spargo and Kysiah Pickett constantly get high up the field in their roles, helping to saturate stoppages and act as extra midfielders to assist with their team's ball movement going forward.
This tactic by coach Simon Goodwin can have a positive impact on Melbourne's offensive chains, but if Collingwood apply great pressure and force the Demons to dump kick, it could be detrimental to their efficiency as it could fuel the Magpies turnover game and get scored against as a result.
In Round 13, Collingwood scored 46 of 82 points from the back half of the ground.
If Nick Daicos starts back and stays back, it could put the pressure back on the Demons' coaching box.
If a loose Daicos starts impacting the game with his own intercepting ability between the arcs and his impeccable ball use going the other way, it could cause the opposition and Goodwin some serious headaches.
GOING FORWARD
Last time against Melbourne, the Magpies kicked a goal from 31 per cent of their inside-50 entries from the 10-minute-mark of the third term to the games end.
That was on the back of some serious goalkicking accuracy, booting 8.1 to 1.4 in that period.
Making the most of opportunities will again be key against a side that boasts a backline of Steven May, Jake Lever and Harrison Petty.
The ball use going inside-50 will be very important, but that will also be a result of how Collingwood approaches its ball movement.
The Magpies have great dare and courage to go through the corridor.
It's risk v reward but it's working for the Pies at the moment.
Against Melbourne you must look to get the ball off its line. Changing lanes with your ball movement is a must as it will help shift the Melbourne defenders and not allow them to get set. It will also disrupt Max Gawn's field position.
That shifting of the defence will help give your forwards better looks when the ball goes inside-50.
But one other way the forwards can get better looks is by dragging May out of the arc.
Whoever May goes to – possibly Brody Mihocek – should use him as a competitive starting point and try to drag him into the midfield zone to try and collapse Melbourne's defensive structure.
May loves to be the goalkeeper and the traffic cop organising the backline.
Occupy May by working into dangerous areas and allow Jamie Elliott – who might get a favourable match up on Michael Hibberd – to be isolated one-on-one.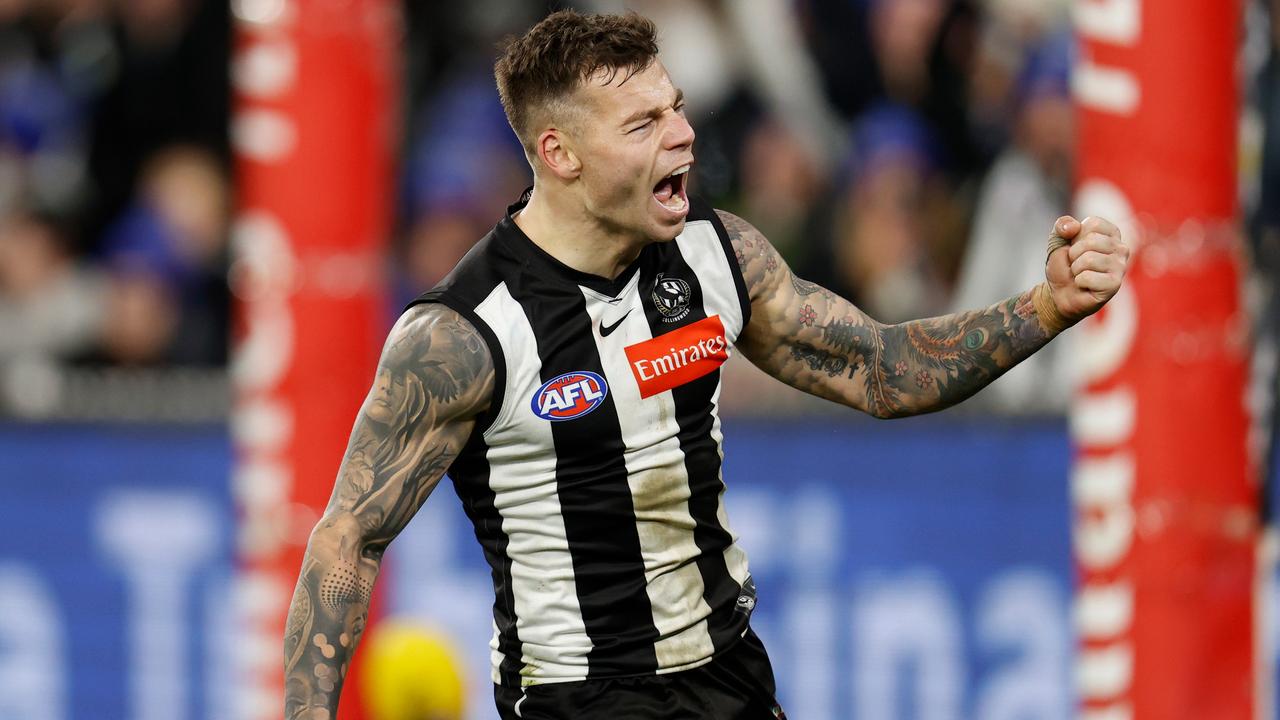 Jamie Elliott will be a handful for Melbourne if he can be isolated one-on-one. Picture: Getty Images
TRACK TRAC
Melbourne's Christian Petracca is a very important player to his side's midfield, but has been spending a lot more time forward of late.
Collingwood needs to be aware that if James Harmes returns for the Demons, there is a good chance he will start as a forward and push up to the midfield after centre bounce to allow Petracca to spit forward.
Those changeovers will create a moment of chaos for the Magpies, but Mcrae must look to get Maynard to take Petracca when he is forward every time.
As a forward, Petracca is not just dangerous on the lead but is also a very damaging ground level player.
He has recorded the most forward 50 ground ball gets of any Demons player this year.
CONTROL THE STOPPAGES
The Magpies had the better of the stoppage game last time against Melbourne.
In that match, the points from stoppages were 26-15 in Collingwood's favour.
However, you cannot rest on your laurels and think that's just going to happen again.
When they are on, the Demons are as damaging from stoppage as any team in the competition and give their forwards opportunities to score with quick ball movement out of the contest.
A lot of responsibility goes on Cameron and Cox in the ruck to be ultra-competitive against the Melbourne pairing of Gawn and Luke Jackson.
I'd also be using Scott Pendlebury or Jack Crisp as a 'cooler' on the big-bodied Clayton Oliver to try and take away his first-possession gains if he starts to become too influential.
MELBOURNE
KEY FOCUS
Control the air.
The ruckman in Gawn and Jackson and the key defenders in May, Lever and Petty need to have an influence in the marking contests around the ground if the Demons are going to win.
May (2.8 intercept marks a game), Lever (2.6 intercept marks) and Petty (2.5 intercept marks) have been strong in this area, while Gawn (2.1 intercept marks) and Jackson (0.6 intercept marks) have also been able to push back and support the team defence well.
Collingwood is similarly a strong intercepting team – so Melbourne needs to match them.
The Magpies will try to bypass Gawn and Jackson with their speed of ball movement.
But if it's a slow ball down the wing that does go in the direction of the ruckman, they need to make their presence felt.
I'd be asking Gawn to play as many minutes as possible and putting him forward when he's not in the ruck, where he could also cause headaches for Collingwood.
If Gawn does play deep in attack alongside Ben Brown, Darcy Moore and Jeremy Howe will have decisions to make.
An inexperienced Nathan Murphy could be left with a job on a dangerous Bayley Fritsch or a tall in Gawn or Ben Brown.
That would create miss-matches for Melbourne to exploit.
If the Demons can't mark the ball in attack, they need to bring it to ground at the very least and let the likes of Petracca, Fritsch and Kysiah Pickett get to work.
They are the No. 1 team in the competition for ground ball gets inside 50. So, it's not just about marking the ball, it's more about not getting out-marked so the Demons can revert to a strength in their game.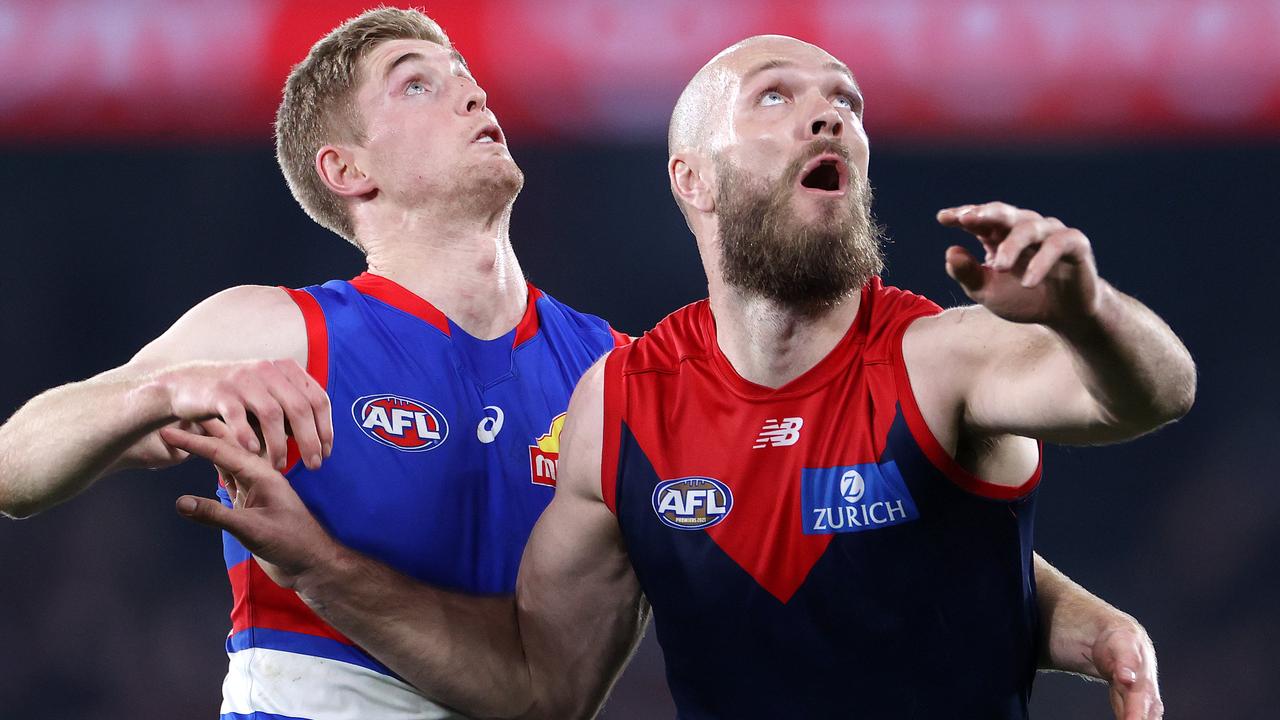 Melbourne captain Max Gawn needs to have a big influence in the air. Picture: Mark Stewart
FORWARD CONNECTION
The Demons' efficiency going inside-50 has been a problem at times this year.
If they continue to win the ball and gain good territory but can't put a score on the board, Goodwin will have to consider holding six forwards at home against a powerful intercepting side in Collingwood. Getting the balance right of when to go quick and when to slow ball movement down is an aspect that Melbourne must master on Friday night.
Melbourne need to take away the intercepting talent of Moore, Howe, Maynard and Quaynor and it's harder to do that if Neal-Bullen rolls up to stoppages and the Magpies are left with an extra number down back.
Kicking quickly into an outnumbered forward line could lead to frustration and a disconnection of their offence.
Fritsch can't compete against two in the air, nor can Brown with the preparation he's had.
And as soon as Collingwood win the ball back with the extra number, they are a potent side on counter-attack who can cut you apart at speed down the middle of the ground.
Don't get beat by what you know.
BRING THE PRESSURE
Ahead of the Fremantle game last week, everyone at Melbourne was singing from the same hymn book and using the words "ruthless" and "aggressive".
It was a good indication of what the conversations were inside the four walls and the Demons lived up to those words with their performance against the Dockers.
But they must back it up with a similarly ruthless and aggressive display against Collingwood this week.
After the Magpies win first possession, the watch will be on how quickly Melbourne players reference and get after Collingwood's ball carrier.
That will be a key indicator on how prepared they are – physically and mentally – to pile the heat on the Pies.
Players like Oliver, Petracca, Pickett, Jack Viney, James Jordan and Tom Sparrow need to set the scene early.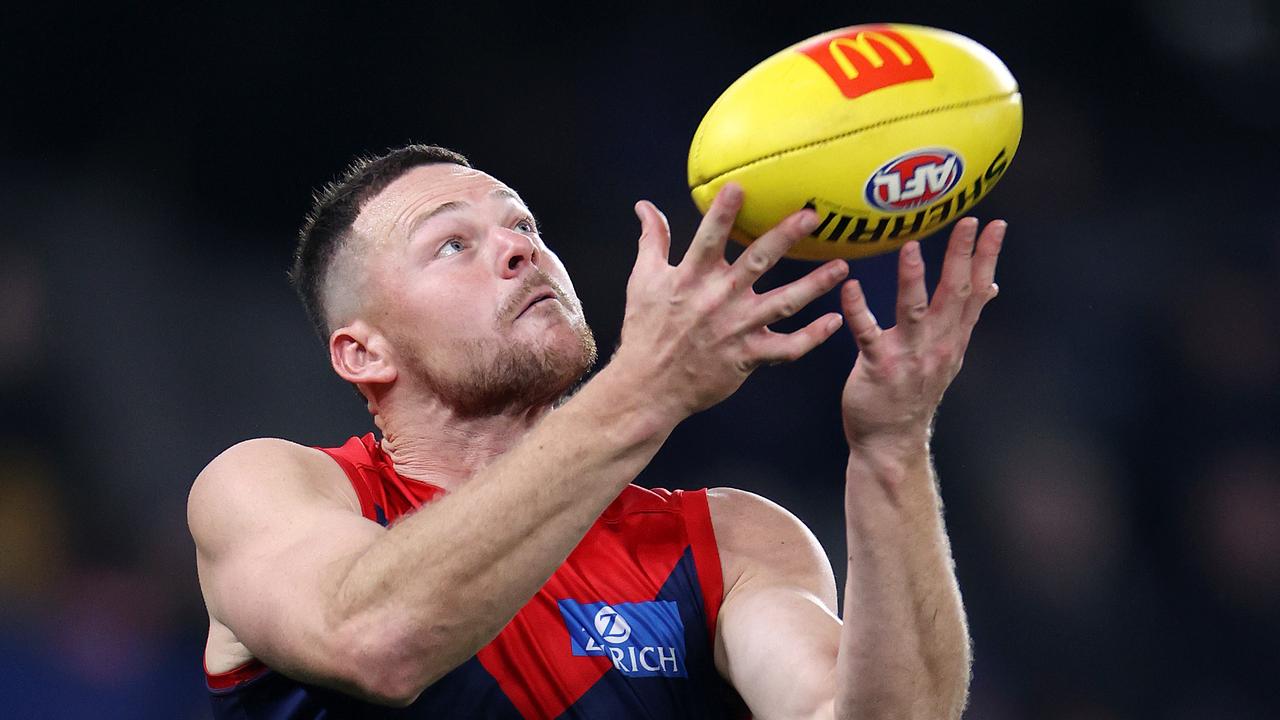 Pressure around the ground will help Steven May and the Demons' defence. Picture: Mark Stewart
SMALLER THREATS
The focus can often go on the Collingwood tall forwards of Mihocek and Cox, who are regularly targeted going inside 50.
However, it is Elliott, Jack Ginnivan and Jordan De Goey who are causing the most problems for opposition sides.
Melbourne's hybrid and running defenders have to ensure they defend really strongly against that trio, especially if there is space being created for them in the Collingwood forward line.
Hibberd – who is the likely match up for Elliott – has a huge challenge ahead, which will be made more difficult if Elliott has grass to lead into.
Trent Rivers and Christian Salem could also find themselves exposed in one-on-ones against Will Hoskin-Elliott and Jack Ginnivan and May or Lever could be left trailing if Mihocek and De Goey play deep at times and have space to lead into.
Angus Brayshaw played as an on baller last week, but he needs to be back on the wing this week.
He pushes back hard into the defensive 50 in that role to take away the leading lanes of opposition forwards, as does his teammate on the opposing win in Ed Langdon.
Give Collingwood's small forwards space to lead into and they will hurt you. Elliot and De Goey are potential match winners.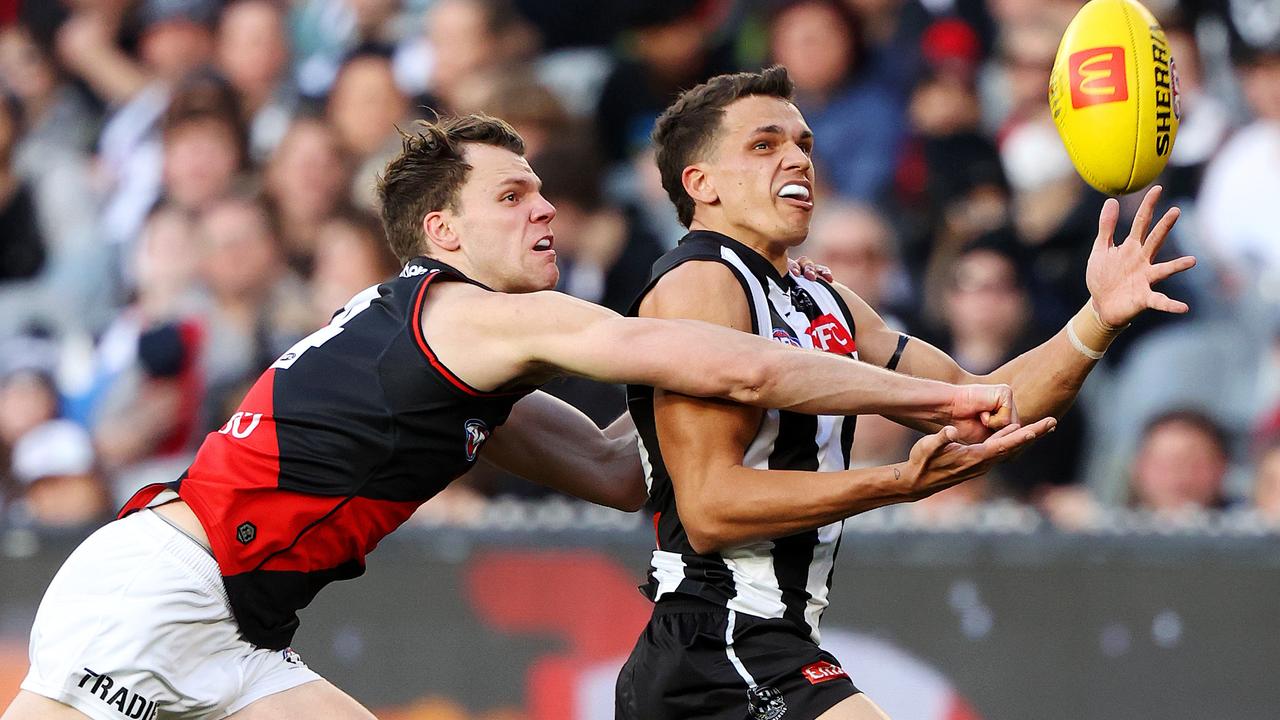 Ash Johnson is an X-Factor player for Collingwood leading into finals and could play a big role in key moments against Melbourne. Picture: Mark Stewart
WHO WINS?
I had Melbourne as premiership contenders at the start of the year and I still think their very best is as good as Geelong or anyone else in the competition at the moment.
The Demons' response against Fremantle last week through their actions was impressive and I expect them to back up that performance with another win. Their game is built on a strong contest brand and a high pressure mindset.
However, Collingwood is playing spirited and connected footy and will challenge Melbourne with its fast ball movement and appetite for the contest.
X-FACTOR PLAYER
The more we see of Collingwood's mid-season recruit from last year — Ash Johnson — the more we are going to be seduced by the super talent he possesses.
Johnson gets separation from opposition defenders very quickly, he's a terrific height at 193cm and he's a mature body at 24 years old.
In his three AFL games so far he has already kicked 6.3 and has shown natural forward instincts. He has great judgment as he picks up the flight of the ball before others.
There is often a player at this stage of the season that you can gravitate to entering a finals series and Johnson is already showing why he could be a big moment player come September.
Originally published as Mick McGuane: How Melbourne v Collingwood blockbuster will be won and lost