Mick McGuane: Mid-season report cards for the six Round 14 bye clubs
Not much has gone right for North Melbourne this year but analyst Mick McGuane says one horror stat must improve if the Roos want to use the Shinboner name.
The final bye round is here, with six teams getting a breather before they attack the home stretch in the 2022 AFL season.
Footy analyst Mick McGuane breaks down where this week's bye teams have done well and where they have struggled.
Plus who is under the pump and who has starred so far this season?
Watch every blockbuster AFL match this weekend Live & Ad-Break Free In-Play on Kayo. New to Kayo? Try 14-Days Free Now >
BRISBANE LIONS
What they've succeeded at:
The Lions have mastered their offence. They are an attacking team that knows how to hit the scoreboard and it's built from the pillars of being strong in the contest and being an attacking go-forward, territory team. There are no shortage of options in front of the ball who can do damage, with the likes of Joe Daniher, Eric Hipwood, Daniel McStay, Charlie Cameron, Zac Bailey, Cameron Rayner and Lincoln McCarthy. Upside also remains, with Daniher, Hipwood and McStay having played only one game together this year. The Lions' front-half and turnover games are in good shape and as a result they are the No.1 ranked team for points for, averaging 102.9 points a game. When you are scoring like that, you are going to win most games.
Where they've failed:
The issue with being a fast and attacking side is it can open you up defensively. The Lions have been scored against heavily at times, particularly in the past four weeks. Over that period, they are conceding 94.5 points a game and opposition teams have scored from 45.6 per cent of their inside-50 entries. That's a concern, but it can be addressed. The Lions need to lift their pressure – to the level of Collingwood or Fremantle – which will help limit the damage. Coach Chris Fagan might also look to implement some more tempo footy in his game style, in a similar vein to Geelong. The Lions need different ball movement modes in their game, including the option to play tempo footy in order to protect their defence at times.
Surprise packet
After Grant Birchall's retirement, the Lions were aching for support for Daniel Rich behind the ball and have found their man in Keidean Coleman. The 22-year-old is a good intercept defender with a sound footy IQ. He is OK one-on-one and his strength is his ability to rebound the ball out of defence. It's no surprise that Lachie Neale has also got back to his Brownlow Medal-winning best through the midfield this year. His will to compete and his will to win does that. That's pride in performance.
Who needs to lift?
When Harris Andrews does not play in an assertive and aggressive way, a lot of his strengths can get eradicated from his game. Those strengths are his ability to spoil, generate intercept marks or intercept possessions for his team. Andrews' intercept marks have dropped from 3.8 a game last year to 2.3 a game this year and his intercept possessions (9.2 to 6.7) and spoils (8.6 to 7) have similarly dropped off. The Lions need Andrews to get back to trusting his judgment, playing assertive and aggressive footy and backing himself in the air. He has conceded far too many goals in the past four weeks for a player of his capabilities.
Overall rating: 9/10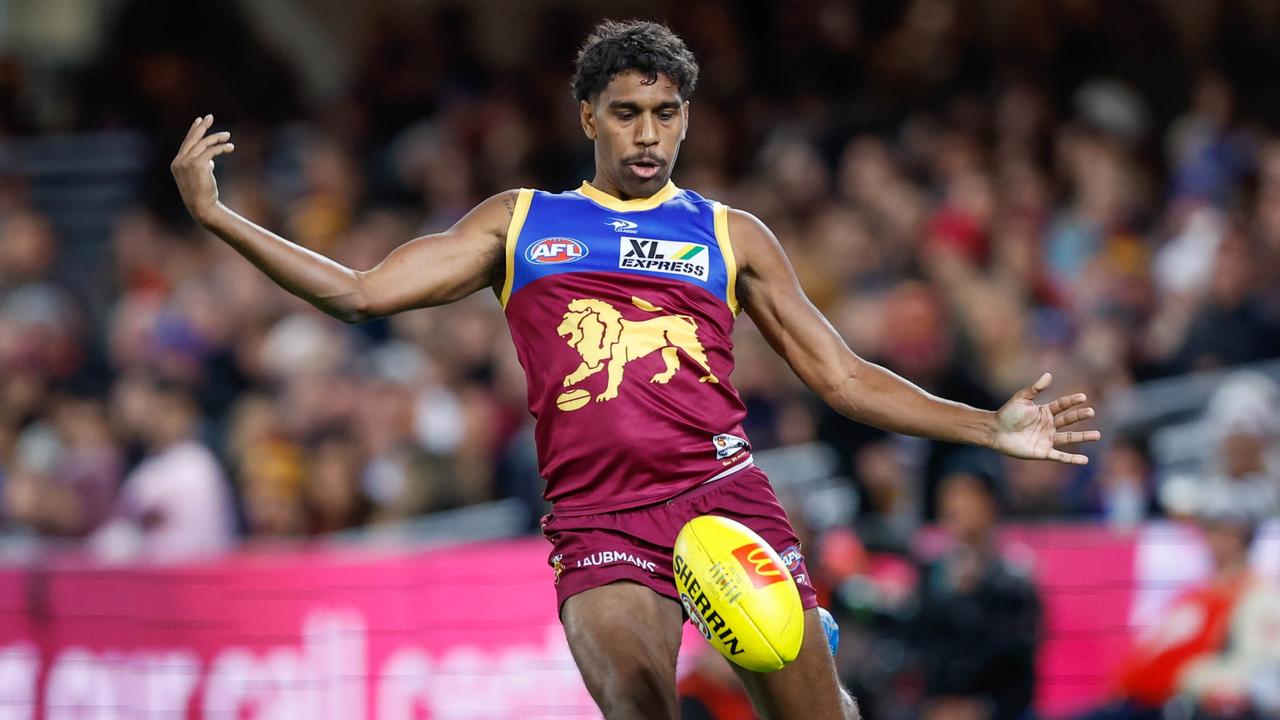 Keidean Coleman has become a weapon out of the Lions defence. Picture: Russell Freeman/AFL Photos via Getty Images
COLLINGWOOD
What they've succeeded at:
The Magpies' game has been built around two key pillars this year. They want to go forward with the footy and attack the game, but they also want to bring great pressure to every contest to create turnovers. More often than not, they have been able to force matches into being turnover games this season, and they are capitalising on that. Collingwood ranks fourth for points from turnovers this season, averaging 55.1 a game. The Pies want to play a strong forward-half brand. They rank second for forward-half intercept possessions and sixth for points from forward-half intercepts. It's a similar model to Richmond through its premiership years. Collingwood players hunt with grunt, surrounding opposition players like a swarm of bees and ensuring their opponents have no time or space with the footy. It's a pleasure to watch
Where they've failed:
Collingwood's productivity when the ball spills into a loose situation still needs a little bit of work. There is a big emphasis on pre-clearance contested possession, which is your ability to get first hands on the ball after the hitout. It's all about anticipation, knowing where the space is and being super competitive in order to give yourself the best chance to win those critical contested balls so it starts your offence. Collingwood currently ranks 16th in this category. The Magpies have historically been a strong contested possession team, but mastering this facet is another layer they could add to make them more complete. The Magpies would also like to reduce their points against from stoppages, which currently rank ninth in the competition at 30.9 points a game. You'd ideally like to shave a goal or two off that figure.
Surprise packet
If you have backed Nick Daicos to win the Rising Star, you would be pretty happy at the moment. In my eyes, he is the clear favourite at this point in the season. For a young player to come into a team as a defender in his first year and show the poise and game sense he does is simply remarkable. Daicos has great anticipation and his preparedness to come forward off his opponent to win the ball back as a midfield interceptor has helped Collingwood's turnover game, but also it generates fast and exciting ball movement from the back half. His foot skills and decision making are sublime. He is a beauty.
Who needs to lift?
Mason Cox and Darcy Cameron are Collingwood's 'Bangers and Mash' ruck combination at the moment and are getting the job done superbly. So what happens when the highly-paid Brodie Grundy returns from injury in the back half of the season? Grundy must ensure he's super fit and will have to get back to his brilliant best with his ruck craft if he wants to slot straight back into the team in his primary role as their No.1 ruckman. Can Craig McRae play all three big men in the team? Time will tell.
Overall rating: 7/10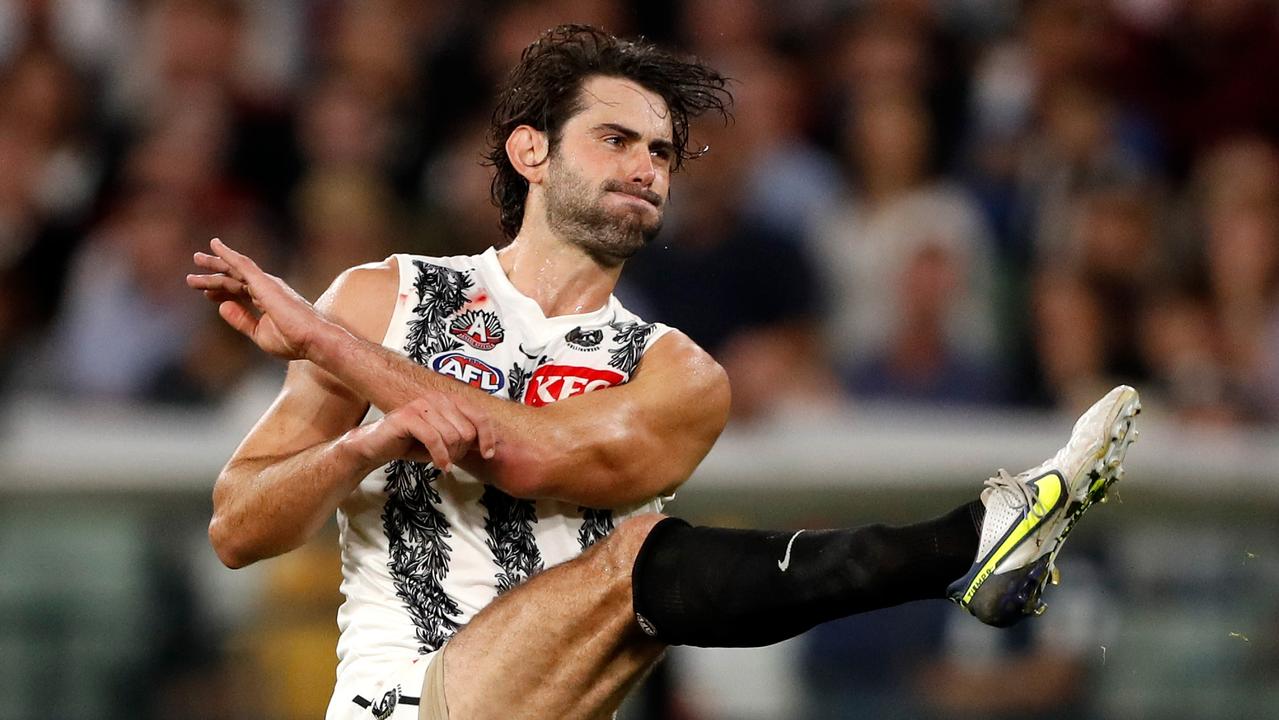 How Will Brodie Grundy fit into Collingwood's winning ruck set-up when he returns? Picture: Dylan Burns/AFL Photos via Getty Images
FREMANTLE
What they've succeeded at:
It has all started with an elite team defence for the Dockers this season. There has been complete buy-in to their defensive system from all players across the ground, and the results have been phenomenal. Fremantle's defence is the hardest in the competition to score against once you're inside 50. The Dockers are also the best team at defending points from turnover and the best team at restricting opposition ball movement from defensive 50 to inside 50. In addition to all that, they rank No.1 for pressure applied. Premierships are built on defence and the Dockers are the best in the competition in that facet of the game right now.
Where they've failed:
Part of Fremantle's continued evolution as a team will be looking to build on its rock-solid defence with improved scoring power. The Dockers are currently averaging just 82.2 points a game (ranked 12th) and are scoring from only 42.6 per cent of their inside-50 entries (ranked 11th). Getting the ball down there is not the problem at the moment. It is all about finding the right combination in attack – and keeping them out on the park. Nat Fyfe could be the difference if he plays 65 per cent of his game time as a forward, given he provides a difficult match-up in attack for opposition teams and can hit the scoreboard. Matt Taberner also looms large in the second half of the season if he can get some continuity. If Fremantle can add two or three goals a game on the scoreboard, we are talking about a premiership team.
Surprise packet
Lachie Schultz' numbers on the stats sheet each week are not particularly high, but I love watching him play and what he stands for. He's a dangerous small forward and all he needs is one step on his opponent to hurt them on the scoreboard given his balance and goal sense. While he's an opportunistic forward who loves a goal, he will also give the ball to teammates in a better position and is averaging 1.4 score assists a game on top of his own 1.5 goals a game. Hayden Young is also an unheralded defender for the Dockers. If you allow him to distribute the ball from the back half with no pressure on him, he'll cut you to pieces.
Under the pump
To this point, he's coached brilliantly. But Justin Longmuir still has a conundrum to solve and that surrounds how he uses captain Nat Fyfe. We know Fyfe has been one of the most combative, competitive midfielders of the past decade. But it's no coincidence that his return to the side last week disrupted fellow onballer Will Brodie's output. Brodie posted just 22 disposals against Hawthorn – his second-fewest of the season. He also recorded season-low numbers for contested possessions (seven), metres gained (145) and clearances (one). The midfield combination of Andrew Brayshaw, Caleb Serong and Brodie worked wonders over the first 12 rounds. Will the introduction of one player in Fyfe hurt team synergy and disrupt the midfield cohesion? If so, how will Longmuir deal with that? We're watching, Justin.
Overall rating: 9/10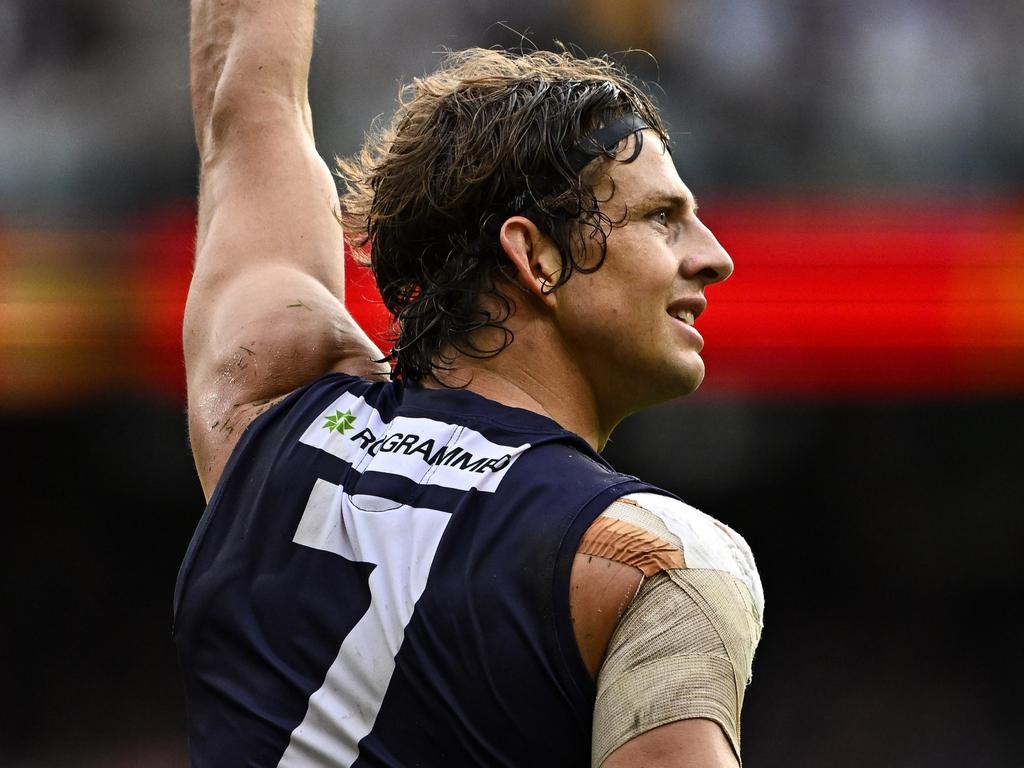 Can Nat Fyfe solve Fremantle's issues in attack? Picture: Daniel Carson/AFL Photos via Getty Images
MELBOURNE
What they've succeeded at:
The Demons again set up their season before the bye, winning their opening 10 games after winning their first nine matches last year. They're in a form slump at the moment, having lost their past three games. However, it hasn't been all bad news. In the three losses to Collingwood, Sydney and Fremantle, the Demons have held leads of 22, 26 and 30 points respectively. They haven't gone on to get the chocolates, but they've still played some good football in those games. Melbourne remains the No.1 defensive side in the competition, conceding an average of just 63.8 points a game. It ranks second in the league in both points against from turnovers and opposition scores per inside-50. That defensive strength holds the Demons in good stead.
Where they've failed:
Melbourne's pressure is poor at the moment and it's showing on the scoreboard. For a side that wants to be back-to-back premiers, the pressure they are applying across the ground is nowhere near where it should be. As a result, the Demons' points from turnover differential has fallen off a cliff over the past three weeks. They have gone from the best team in the competition with their turnover game in the first 10 weeks to the third-worst team when it comes to the turnover game over the past three weeks. Bringing the heat back will no doubt be a clear focus over the bye. If Melbourne doesn't show an immediate response against the best attacking team in the competition next week – Brisbane – a fourth-straight loss could be on the cards.
Surprise packet
We've long known Angus Brayshaw is a very intelligent footballer. However, the selflessness he's displayed when asked to play back in defence in the absence of the injured Christian Salem this year has elevated his standing in the game even more in my eyes. Brayshaw has played tall, aggressive and with assertive positioning down back. He reads the play well and is using the ball in a very deliberate manner when he wins it back. Melbourne had a hole to fill and Brayshaw has filled it magnificently.
Under the pump
With Tom McDonald sidelined, key forwards Ben Brown and Sam Weideman have got to take ownership of this forward line. Brown started the season well but has been held goalless in three of his past four games. Weideman started the season out of the side and has been twice dropped since. There is also another player at the other end of the ground who the Demons need a lift from and that is Adam Tomlinson. He's 28 years old and didn't come cheaply from Greater Western Sydney. Yet he's played only five senior games this season. Tomlinson is contracted for another two years and needs to step up and repay that faith shown in him.
Overall rating: 8.5/10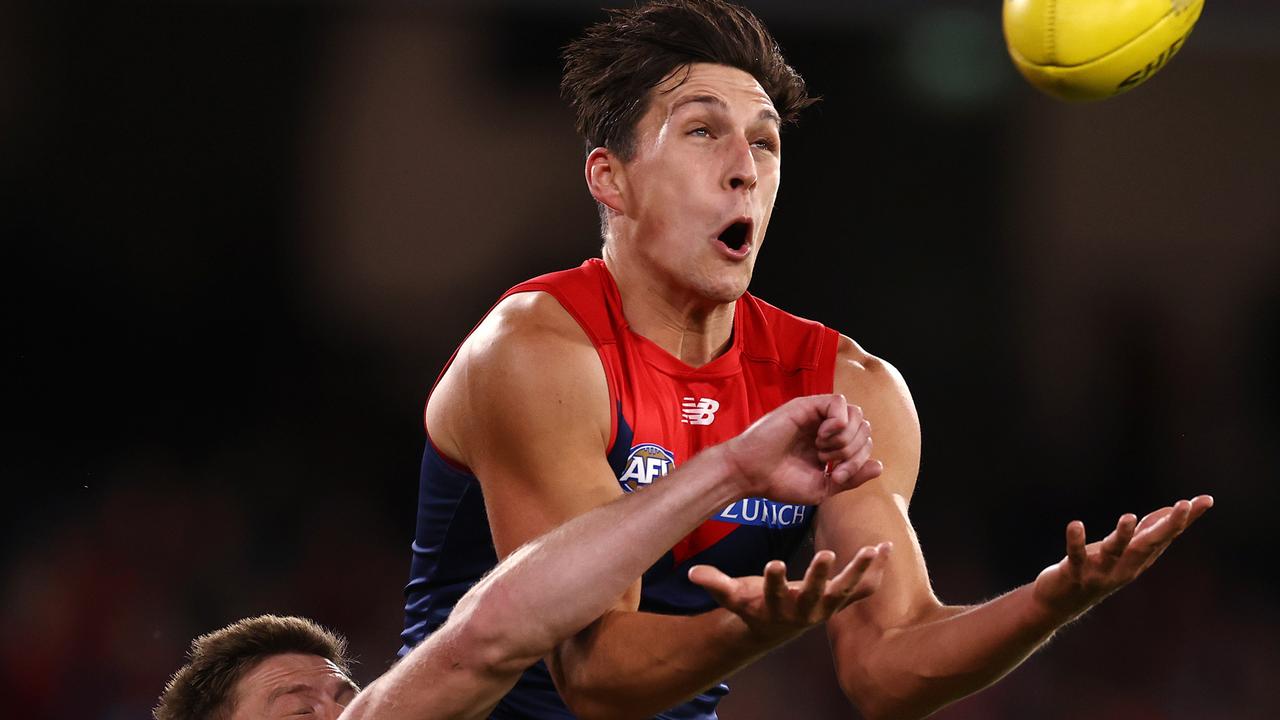 The Demons need Sam Weideman to take a big leap forward. Picture: Michael Klein
HAWTHORN
What they've succeeded at:
New coach Sam Mitchell wanted to bring an attacking brand of football to Hawthorn and he's done just that. Consequently, the status of the forward line has also grown. Mitch Lewis has developed into a fine young key forward and has some experience around him with Luke Breust and Jack Gunston. At 31 years old, Breust continues to hit the scoreboard week-in, week-out. Small forwards Dylan Moore and Chad Wingard are experts at finding space to weave some magic, while Jacob Koscitzke is developing before our eyes. The Hawks are playing with run and dare from half-back and are using the corridor at every opportunity. Hawthorn ranks fourth for points from its defensive half and is the best team in the competition at scoring from inside-50s on the back of consistently picking the right option.
Where they've failed:
Hawthorn's defence has been compromised by the aggressive ball movement that Mitchell has implemented and is conceding too many scores. The Hawks sit 15th on the points against ladder, giving up an average of 95 points a game. They are not much better when it comes to opposition scores per inside-50, ranking 13th. The fact that defensive group has not played a lot of football together doesn't help. James Sicily is the general and has only returned this year after missing 18 months with a knee. Denver Grainger-Barras is still in his second year and Changkuoth Jiath missed games through injury earlier in the year. The more the defensive group can play together, the better they are going to be. But Mitchell could also look to protect them a little more in the meantime by adding support around the contest and not being super aggressive with their ball movement.
Surprise packet
Collingwood's Nick Daicos is the Rising Star leader right now but Jai Newcombe is a clear runner-up. To go from his VFL journey and working life to being a professional AFL footballer and making a midfield spot his own within 12 months is a great story and a credit to him. Newcombe plays with great spirit and is a teammate you would love to line up with given his attitude to work hard and compete strongly. He's a real heart and soul player in this team and complements Jaeger O'Meara and Tom Mitchell beautifully.
Under the pump
James Worpel has got to find a way to use the ball better if he wants to find his way back into this Hawthorn midfield. His doesn't provide the ball security for the team that the elite midfielders do and has gone at just 45.3 per cent efficiency by foot this year. He's also only kicked three goals and he's not defending strongly enough, averaging just 2.3 tackles a game. Key defender Denver Grainger-Barras is only in his second year, so we have to cut him a little slack. But he rates below average in a lot of key statistical areas this season and he needs to be more disciplined. Against Gold Coast in Round 11, he gave away seven free kicks.
Overall rating: 5/10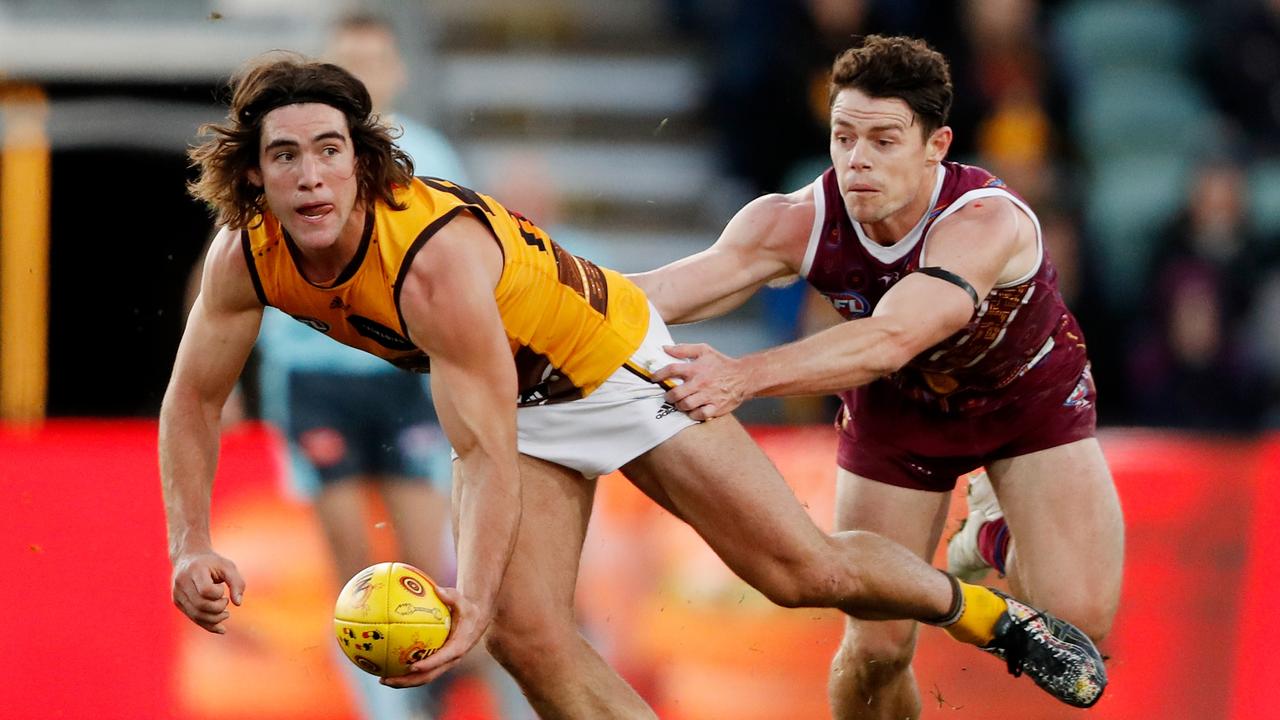 Jai Newcombe is playing a key midfield role at the Hawks. Picture: Dylan Burns/AFL Photos via Getty Images
NORTH MELBOURNE
What they've succeeded at:
When you're in the predicament the Kangaroos are in, you need to find any positive you can. The Roos have lost nine games on the trot, but against reigning premier Melbourne in round 10 they trailed by only 22 points at three-quarter time. That effort was built around North Melbourne's contest work, which has had a strong correlation to its scoreboard outcomes this year. The Kangaroos have won the contested possession count in 16 quarters from their 13 matches this season and have been -54 points behind on the scoreboard during those quarters. In the 36 quarters where the side has lost the contested possession count, they have been -606 points behind on the scoreboard. That shows that North Melbourne is putting together some reasonable quarters of footy, but is a side that is not hard enough for long enough right now. You can use the excuse that they are a young side, but you don't have to be experienced to play desperate.
Where they've failed:
Defensively the Kangaroos are unorganised and are poorly set up. You are not going to have to many Ws next to your name if you are giving up an average of 106.5 points each week. Justin Leppitsch lost his job at Brisbane on the back of poor defensive numbers and David Noble now finds himself similarly under the pump at Arden St. Turnovers are killing the Kangaroos, as is their ability to stop opposition ball movement from defensive 50. They are playing a disjointed team defence at the moment and desperately need to put in place a more consistent method in the second half of the season. If they want to be renowned as the Shinboners, they also need to do better than ranking 16th in the competition for pressure applied. Against GWS last weekend, they applied the 11th lowest pressure ever recorded by Champion Data. That's woeful.
Surprise packet
In trying circumstances, midfielder Luke Davies-Uniacke has elevated his game this season. He is getting after the ground ball and is working both sides of the footy. The 23-year-old has been the equal-second ranked player for North Melbourne this season and is averaging 21.8 disposals and 4.2 clearances. He has got a great balance in his game and ranks third at the club for tackles this season.
Under the pump
Jason Horne-Francis is a young man with tremendous talent. But being talented, driven or even frustrated doesn't excuse anyone to think their actions or behaviours can supersede the team standards. He showed total disdain and disrespect to one of the club's most loyal and committed teammates in Todd Goldstein last Sunday. Forget using Horne-Francis's age as an excuse, it's time for some tough love as this is AFL footy. By all means, the Kangaroos should support and care for him, but there's a requirement to show respect to your teammates and that must be drilled into him. No one is entitled in this industry nor exempt from criticism. Stephen Coniglio or Jeremy Cameron didn't carry on like spoiled brats in their first year of AFL footy when GWS won just the two games. It's not on to turn your back and fob off a teammate with almost 300 games of experience in what is only your 12th AFL game. It has been far from a dream start to Horne-Francis's career, but I've always felt you learn more about yourself and your teammates in defeat rather than in victory.
Overall rating: 1/10
Originally published as Mick McGuane: Mid-season report cards for the six Round 14 bye clubs