Mick McGuane: Curnow has gone ahead of Coleman Medallist at Blues
Harry McKay may be the reigning Coleman medallist but it is his foward line sparring partner who Mick McGuane has ranked higher in his top 10 AFL key forwards.
Rule changes – including 6-6-6 and hands in the back – have helped key forwards mark, receive a free kick or get separation from their opponents more often.
Add that to the fact that teams are trying to move the ball more quickly this year is allowing the competition's key forwards to once again having a big impact on matches.
Stream every match of every round of the 2022 Toyota AFL Premiership Season Live & Ad-Break Free In-Play on Kayo. New to Kayo? Try 14-Days Free Now >
If Coleman Medal leader Tom Hawkins maintains his current goal average across 22 games he'll rack up 68 goals for the season — the highest tally of any player since 2017.
So who have been the standout key forwards so far this season?
We got Mick McGuane to rank his top 10.
Geelong's Tom Hawkins comes in at No.1. Picture: Michael Klein
1. Tom Hawkins (Geelong)
22 goals, 7 games
It is nothing short of remarkable that Tom Hawkins is still playing at the level he is just two months shy of his 34th birthday.
He's not only leading the Coleman Medal with 22.13, but he's also averaging 1.9 score assists per game among 8.9 total score involvements.
It is all about the team for Hawkins, who is prepared to share the footy with players in better positions and also work hard be a part of effective chains of ball movement.
He has taken 34 marks inside-50 so far this year, which is the most any player has taken across the first seven rounds since Lance Franklin took 38 in 2008.
The players have faith in Hawkins to go to him, but he's also holding up his end of the bargain by taking those marks and converting his opportunities.
The other element of his game is his forward-50 ruck work, which often results in Hawkins scoring a goal himself or working with his teammates to generate hitouts to advantage.
Based on his performances this year, there's no reason to suggest why Hawkins could not play on for another year or two.
2. Joe Daniher (Brisbane)
19 goals, 7 games
Daniher was on the footy scrap heap two years ago, unable to get his body right after three frustrating years which saw him play a combined 15 games.
What a great story he has been for the Lions ever since.
Daniher has been able to settle into a more permanent forward role this year, after being used as a back-up ruckman at stages last season.
Interestingly, he is only Brisbane's second-most targeted inside-50 player behind Charlie Cameron.
However, he's averaging 2.7 goals a game — his most since 2017 — at a career-best accuracy of 61.3 per cent, along with 2.7 marks inside-50 per game.
Daniher is also working hard up the ground to be a conduit to the forward line, which has been largely made up of hybrid types alongside him in the absence of Eric Hipwood.
He has been a big reason why Brisbane sits 6-1 and will be a bigger loss than some people think as he sits out the next 4 to 6 weeks with a shoulder injury.
If it wasn't for the injury, Daniher would be well on track to earning All-Australian honours this year.
3. Max King (St Kilda)
19 goals, 7 games
I wrote in February that King had "the physical attributes to become one of the top-three key forwards in the competition".
Right now, he firmly sits in that bracket.
The youngest player of this top-10, King is still just 21 years old and to be doing what he is at that age is a fantastic achievement.
King still has incredible upside and will add more kilograms to his 202cm frame with the more pre-seasons he does.
The Saints have targeted King 63 times inside-50 this season and he's taken 30 marks inside the arc.
His ability to get separation on his opponent is a strength.
He's also clearly improving on marking the footy at its highest point, which takes any defender out of the equation given his enormous reach.
The one downside for King is his conversion, with his goalkicking accuracy sitting at just 46.3 per cent.
If King's conversion was better, he would sit second on these rankings ahead of Joe Daniher.
Max King has elevated himself to a top-three key forward in the competition this year. Picture: Michael Klein
4. Tom Lynch (Richmond)
21 goals, 7 games
Lynch is a player who has been hugely criticised over recent years, but is enjoying what might prove to be his best season since joining the Tigers.
Richmond trusts him and goes through him a lot, targeting Lynch 53 times inside-50 this year compared to just 25 for Jack Riewoldt (who has played two less games).
He has also taken 21 contested marks — the most of any key forward in the competition — with eight of those coming against West Coast last week when he was often manned by four-time All-Australian Jeremy McGovern.
I've also admired Lynch's follow up work and ability to win contested possessions, which have accounted for 66.2 per cent of his overall possessions this year.
Significantly, he can be trusted in a contest and rates above average for one-on-one wins (42.9 per cent), while also ranking above average for score involvements (6 a game) and goalkicking accuracy (61.8 per cent).
The synergy that Lynch has with Jack Riewoldt is a big reason why I think the Tigers are still a top-eight chance this year.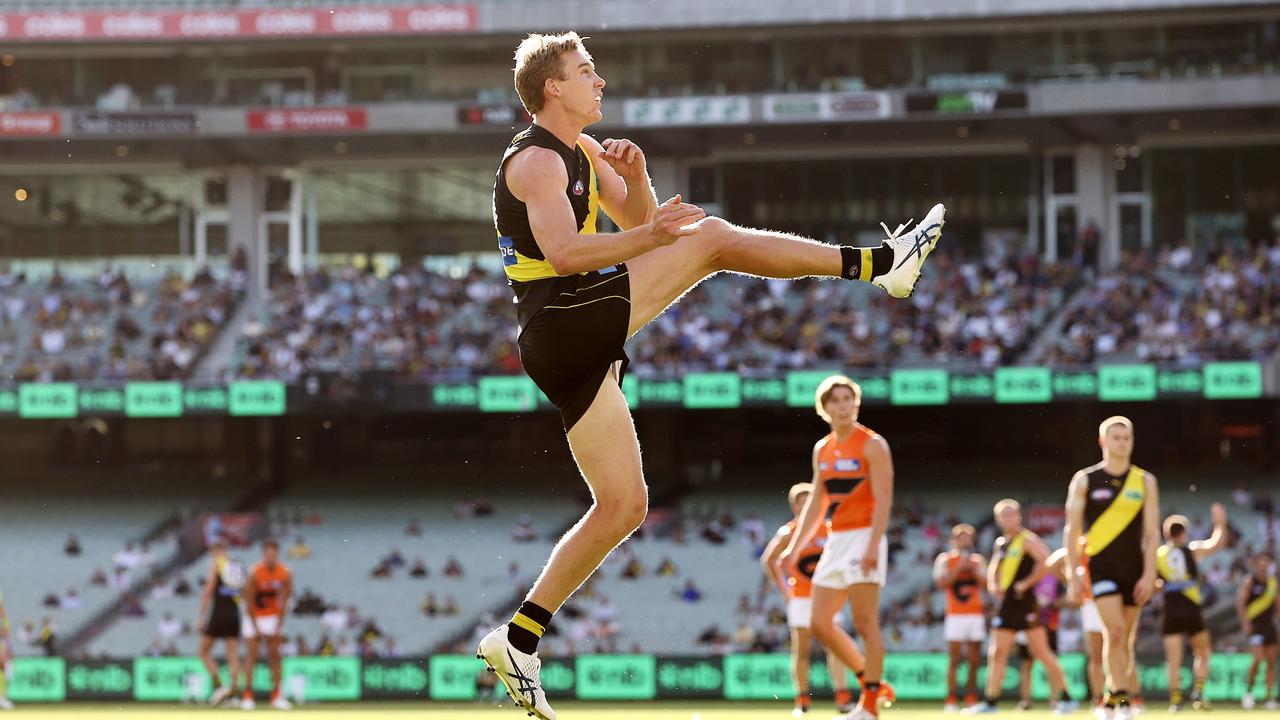 Richmond's Tom Lynch has improved his goalkicking accuracy this season. Picture: Michael Klein
5. Lance Franklin (Sydney)
18 goals, 6 games
Many questioned whether Franklin would ever even make it to the final year of his monster nine-year contract with Sydney.
Not only has he made it, but he is still one of the top-five key forwards in the game as things stand and looks like he could have another year left in him yet.
Franklin's 18.5 from six games this season is an incredible return from the AFL's third-oldest player, who turned 35 in January.
Franklin looks as streamlined as I've seen him in years, which has helped him with his agility and mobility this season.
He continues to find a way to change momentum in games by kicking a "big" goal, especially when things are not going well for his team, which we saw in the second half against Brisbane last week.
Along with his goals, Franklin ranks elite for disposals (12.8 a game), marks (6 a game) and score involvements (7.3 a game).
But statistics aside, Franklin continues to bring an aura in the forward line and is a great mentor for the young Sydney forwards to learn off.
They are looking at a future Hall of Fame inductee.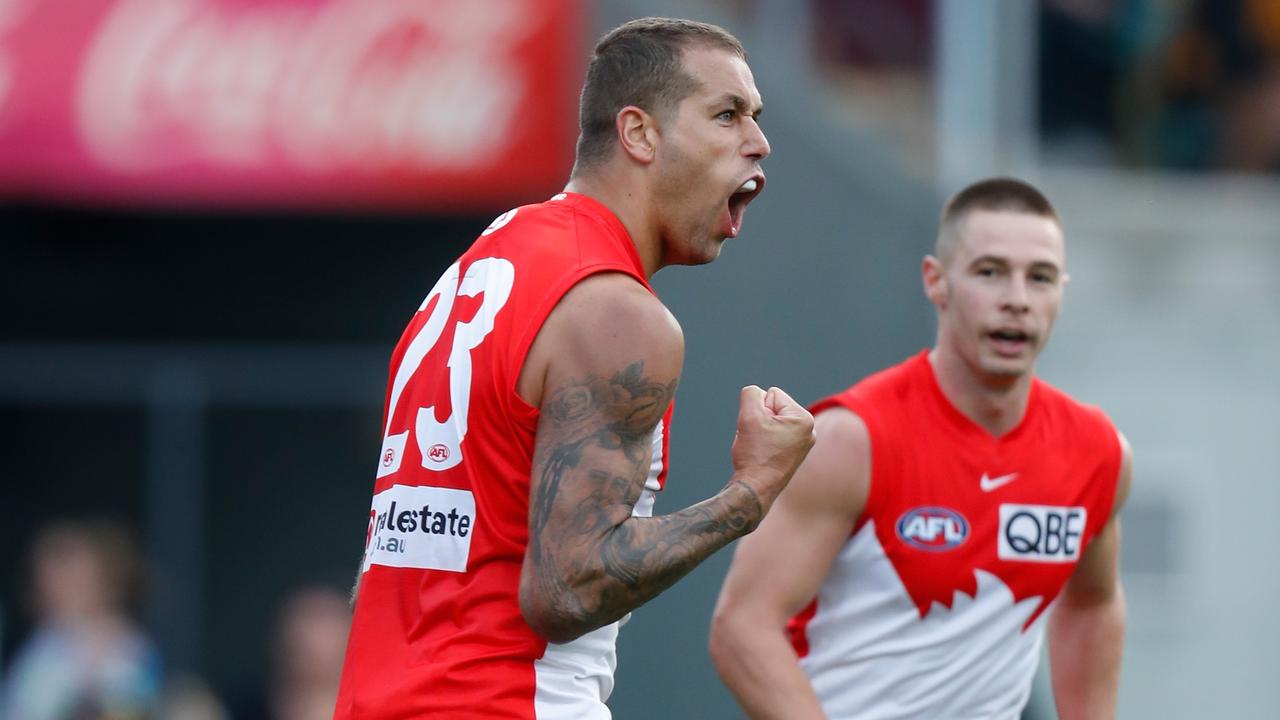 Sydney's Lance Franklin is still delivering in the big moments. Picture: Getty Images
6. Jeremy Cameron (Geelong)
19 goals, 7 games
Cameron plays quite a different role to Tom Hawkins, his partner in crime at the Cats.
He spends a lot more time up the ground getting involved in general play and providing a marking option on the wing to help Geelong chain the ball forward.
Cameron missed 10 games through injury last year but is fit and firing this season and has developed great synergy with Hawkins.
The former GWS forward is a high possession winner for a key forward, averaging 13.7 disposals per game, including 10.1 kicks.
He reads the play well, leads strongly and gets great separation on his opponent to take a lot of uncontested marks.
Cameron has taken 22 marks inside-50 this season — the equal fourth-most of any key forward — while he ranks equal-third among key forwards for score involvements, averaging 6.9 a game.
Cameron looks like he is starting to feel at home in a Geelong jumper in his second season with the Cats and will play a big part in the side's success this season.
7. Charlie Curnow (Carlton)
19 goals, 7 games
Given the way he has started this year, it's easy to forget that Curnow played in only four of Carlton's previous 47 games coming into this season.
It's a credit to his preparation and his competitive attitude that he has been able to come back and play all seven games so far this season and have a major impact in many of them.
Curnow has won 52 per cent of his offensive one-on-one contests this season, ranking him No. 1 among the top 50 players to be targeted in a contest.
That makes him a trusted target in key moments.
He's got athleticism, great strength, an impressive leap and often gets separation on his opponent.
Curnow is also averaging career-high numbers for contested marks (2.3 a game), forward 50 marks (2.6 a game), goals (2.7 a game) and score involvements (6.9 a game).
The other aspect he is continuing to improve is his conversion, having a goalkicking accuracy of 59.4 per cent this season.
Still only 25 years old, Curnow has a bright future ahead if he can stay fit and on the field.
Please, Vossy, resist the temptation of playing him as a midfielder which was being touted a couple of years ago.
8. Taylor Walker (Adelaide)
14 goals, 4 games
He's got a smaller sample size than the rest of those in my top 10, having played only four games.
However, you can't ignore what Walker has been able to do since returning from his club-imposed suspension.
He's the No. 1 disposal winner among key forwards, averaging 17.3 a game, which is extremely hard to do for a player in his position.
He also ranks No. 1 for average goals at 3.5 per game and No. 2 behind Tom Hawkins for average score involvements at 8.9 per game.
Walker's start to the year is a credit to his professionalism, knowing full well that the focus would be on him when he did return from his ban.
He's silenced quite a few critics and I love that in a player, when they have their backs to the wall and are able to respond.
Like many, I thought Walker's AFL career was almost done a couple of years ago.
But he is working as hard as anyone to prolong his career, evidenced by his elite average of 3.5 forward 50 ground ball gets which is an incredible number for a key forward.
At 32 years old, Walker is doing a lot right and his on-field leadership is clearly helping the likes of Elliott Himmelberg and Lachie Gollant grow as players.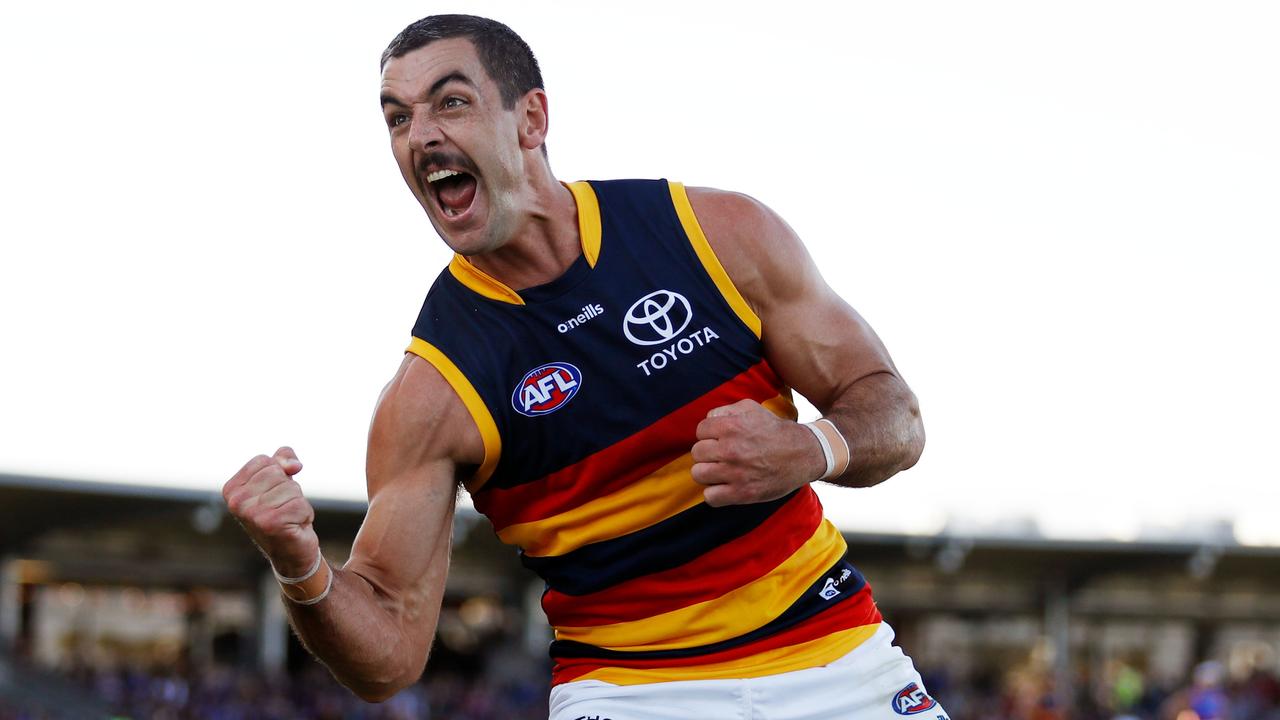 Adelaide's Taylor Walker has returned in fine form. Picture: Getty Images
9. Harry McKay (Carlton)
17 goals, 7 games
The reigning Coleman Medal winner is enjoying another strong season for the Blues, this time working in tandem with Charlie Curnow.
While Curnow might be cutting McKay's lunch a little this year in terms of the Coleman Medal leaderboard, you need multiple avenues to goal to be a successful team and McKay would understand that.
The 24-year-old remains the Blues' most trusted player going forward, being targeted inside-50 on 60 occasions so far this season.
McKay has taken 16 contested marks — ranked equal-fourth among key forwards — but I think he still has room for improvement in that area.
At times he can be out-positioned and out-bodied and I'd like to see him stand and deliver in a stronger way and increase his one-on-one contest wins.
The other thing he must work on is mastering his drop punt goal kicking.
At times the pressure looks to get to him and he reverts to kicking snap shots at goal from too far out.
That said, McKay is still averaging a career-high 11.1 disposals this season, to go with his average of six marks (rated elite) and 2.4 goals (rated above average).
10. Aaron Naughton (Western Bulldogs)
15 goals, 7 games
Essendon forward Peter Wright can consider himself unlucky not to have won this final spot, but I settled on Naughton.
Naughton has had to largely play a lone hand in attack for the Bulldogs and has been targeted inside-50 on 52 occasions — more than twice that of any other teammate.
As a 22-year-old, he is doing some superhuman things as a key forward that we don't often see.
Naughton can have a significant impact on a game in a short period of time.
I love the way he brutalises marking contests with little regard for himself or who's around him.
Naughton sees the ball, he wants to get the ball and he attacks it with an enormous amount of venom.
And if he doesn't win the ball, he brings it to ground and follows up with groundball gets.
When Josh Bruce and Tim English get back to support him, I think we'll see an even better version of Naughton on show.
Originally published as Mick McGuane: Curnow has gone ahead of Coleman Medallist at Blues