NAB League Top 50: Rankings and SuperCoach points from Round 4
Some of the top prospects for this year's AFL Draft are posting incredible numbers in the NAB League. See where the top-50 sits after four rounds.
A top AFL Draft prospect who looks up to Greater Western Sydney star Toby Greene has produced a monster NAB League game that is unrivalled so far this season.
Sandringham Dragons forward Harry Sheezel led his side to a thumping 72-point victory over Tasmania Devils on Saturday and collected a whopping 237 KFC SuperCoach ranking points in the process.
From Sheezel's 28 disposals he kicked 6.2, had six score assists and logged 17 score involvements.
That was in addition to five marks, six forward-50 ground ball gets and five tackles.
A member of the NAB AFL Academy this year, Sheezel spent most of his junior football at AJAX playing as an inside midfielder but impressed as a forward during an under-15s interleague game and stayed there.
You can live stream this Sunday's Round 5 NAB League clash between Tasmania Devils and Northern Territory Thunder from 1pm. Find all the details HERE
The Hawthorn supporter now looks up to Greene, as well as first-year Adelaide sensation Josh Rachele.
"I think it (forward) is my best position, but I'll look this year to play a bit more midfield just to show that I can play multiple positions and maybe pinch-hit in centre bounces and then roll forward," Sheezel told News Corp recently.
"I think I'm pretty crafty. I think my execution and my decision making are my best traits. And my natural goal sense and diversity. I can mark in the air and also win it at ground level as well."
Sheezel is slightly taller than Greene at 184cm, has good agility and strong endurance.
Along with his Dragons commitments, he is playing school football for Mount Scopus Memorial College this year.
Sheezel's teammate, Charlie Clarke, also had a day out for the Dragons on Saturday as he booted seven goals to collect 178 SuperCoach ranking points.
A potential mid-season draft prospect, 202cm Dragons ruckman Max Ramsden also impressed with 23 disposals, four marks, three clearances and 25 hit-outs (eight to advantage) for 142 ranking points.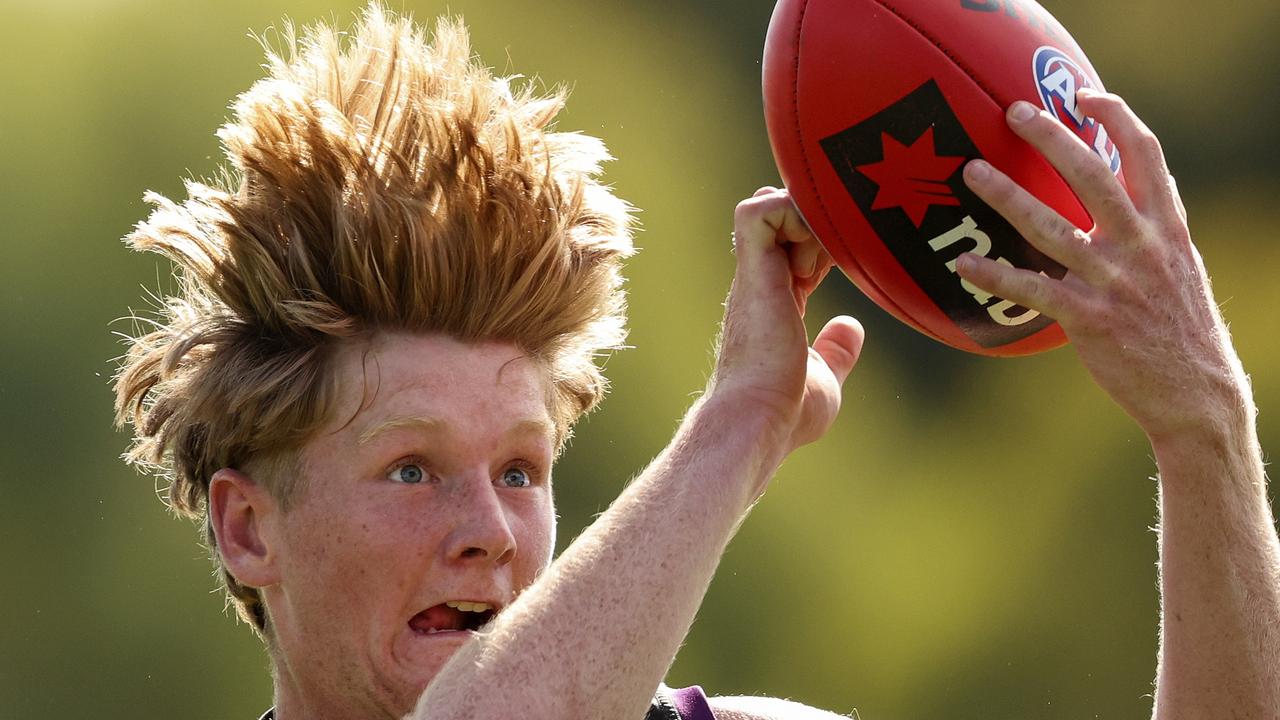 Toby Murray impressed for the Murray Bushrangers on the weekend. Picture: Getty Images
One familiar name to shine over the weekend was Murray Bushrangers forward Toby Murray, who is the brother of former Collingwood player Sam Murray and current Adelaide rookie Nick Murray.
A 198cm key forward who can also go into the ruck, Murray recorded 21 disposals, five marks, 16 hit-outs, five tackles and kicked two goals for a total of 165 ranking points in his side's win over the Northern Knights last Friday.
MURRAY BUSHRANGERS 12.8 (80) DEF. NORTHERN KNIGHTS 2.10 (22)
165 points – Toby Murray (Murray Bushrangers)
137 points – Tyler Norton (Murray Bushrangers)
134 points – Noah Bradshaw (Murray Bushrangers)
133 points – Oliver Hollands (Murray Bushrangers)
107 points – Jedd Longmire (Murray Bushrangers)
SANDRINGHAM DRAGONS 21.14 (140) DEF. TASMANIA DEVILS 10.8 (68)
237 points – Harry Sheezel (Sandringham Dragons)
178 points – Charlie Clarke (Sandringham Dragons)
142 points – Max Ramsden (Sandringham Dragons)
140 points – Will Ashcroft (Sandringham Dragons)
117 points – Cam Mackenzie (Sandringham Dragons)
GIPPSLAND POWER 15.16 (106) DEF. DANDENONG STINGRAYS 9.6 (60)
145 points – Max Walton (Gippsland Power)
138 points – Mitchell Moscheti (Gippsland Power)
123 points – Bailey Humphrey (Gippsland Power)
113 points – Harvey Howe (Gippsland Power)
111 points – Coby Burgiel (Gippsland Power)
CALDER CANNONS 8.8 (56) DEF. BY OAKLEIGH CHARGERS 15.19 (109)
131 points – Matthew Jefferson (Oakleigh Chargers)
126 points – Elijah Tsatas (Oakleigh Chargers)
120 points – George Wardlaw (Oakleigh Chargers)
108 points – Paul Pascu (Calder Cannons)
104 points – Jack Newitt (Calder Cannons)
NT THUNDER 8.10 (58) DEF. BY GEELONG FALCONS 13.11 (89)
139 points – Oliver Northam (Geelong Falcons)
139 points – Thomas Burke (Geelong Falcons)
132 points – Tobyn Murray (Geelong Falcons)
126 points – Lloyd Johnston (NT Thunder)
115 points – Patrick Hughes (Geelong Falcons)
Nick Madden has impressed recruiters with his start to the year in the GWS Academy side. Picture: Getty Images
BENDIGO PIONEERS 13.11 (89) DEF. BY GWS ACADEMY 14.7 (91)
170 points – Harry Rowston (GWS Academy)
145 points – Nick Madden (GWS Academy)
137 points – Jason Gillbee (Bendigo Pioneers)
125 points – Luke Fellows (GWS Academy)
123 points – Solly McKay (Bendigo Pioneers)
BRISBANE ACADEMY 9.10 (64) DEF. EASTERN RANGES 9.9 (63)
140 points – Callum Verrell (Eastern Ranges)
133 points – Bailey Tome (Brisbane Academy)
120 points – Josh Bennetts (Eastern Ranges)
113 points – Jaspa Fletcher (Brisbane Academy)
112 points – Hayden Smith (Eastern Ranges)
GWV REBELS 13.9 (87) DEF. SYDNEY ACADEMY 7.14 (56)
136 points – Angus Anderson (Sydney Academy)
130 points – Aaron Cadman (GWV Rebels)
121 points – Jordan Endemann (Sydney Academy)
118 points – Charlie Molan (GWV Rebels)
115 points – William White (GWV Rebels)
GOLD COAST SUNS 10.9 (69) DEF. WESTERN JETS 8.13 (61)
152 points – Massimo D'Ambrossio (Western Jets)
137 points – Marlin Corbett (Gold Coast Suns)
134 points – Jye Lockett (Gold Coast Suns)
134 points – Jake Rogers (Gold Coast Suns)
114 points – Brinn Little (Gold Coast Suns)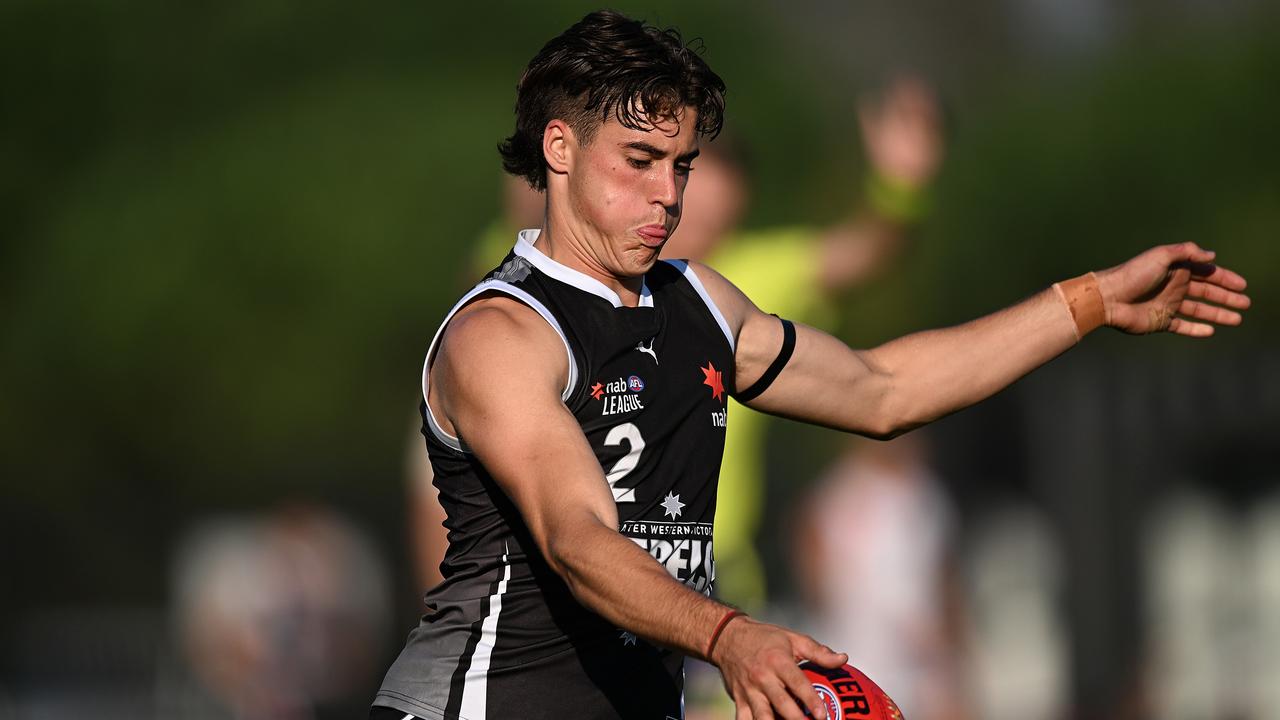 Jamieson Ballantyne keeps finding the footy for the GWV Rebels. Picture: Getty Images
NAB LEAGUE TOP 50 RANKINGS AFTER ROUND 4
Ranking, Player, Club, Position, 2022 Games, 2022 Ave. KFC SuperCoach Points
1. Ted Clohesy (Geelong Falcons), MID, 2 games, 145 points
2. Will Ashcroft (Sandringham Dragons), MID, 4 games, 141 points
3. Thomas Burke (Geelong Falcons), FWD, 1 game, 139 points
4. Lachlan Cowan (Tasmania Devils), FWD, 3 games, 137 points
5. Elijah Tsatas (Oakleigh Chargers), MID, 4 games, 137 points
6. Jai Culley (Dandenong Stingrays), FWD, 2 games, 135 points
7. Max Walton (Gippsland Power), DEF, 2 games, 134 points
8. Massimo D'Ambrossio (Western Jets), DEF, 4 games, 134 points
9. Charlie Molan (GWV Rebels), DEF, 2 game, 131 points
10. Oliver Northam (Geelong Falcons), RUCK, 4 games, 131 points
11. Harry Sheezel (Sandringham Dragons), FWD, 4 games, 130 points
12. George Wardlaw (Oakleigh Chargers), MID, 3 games, 125 points
13. Bailey Humphrey (Gippsland Power), MID, 4 games, 125 points
14. Jamieson Ballantyne (GWV Rebels), MID, 3 games, 123 points
15. Patrick Dozzi (Northern Knights), MID, 4 games, 122 points
16. Taj Campbell-Farrell (Dandenong Stingrays), MID, 4 games, 122 points
17. Michael Ktona (Calder Cannons), FWD, 4 games, 120 points
18. Mitchell Moschetti (Gippsland Power), MID, 4 games, 119 points
19. Ethan Grace (GWS Academy), FWD, 4 games, 117 points
20. Hugh Bond (GWV Rebels), FWD, 3 games, 116 points
21. Euriah Hollard (Geelong Falcons), FWD, 4 games, 116 points
22. Mitch Szybkowski (Dandenong Stingrays), MID, 4 games, 115 points
23. Oskar Faulkhead (Bendigo Pioneers), MID, 4 games, 115 points
24. Harry Rowston (GWS Academy), FWD, 4 games, 114 points
25. Luke Giacometti (Sydney Academy), DEF, 4 games, 114 points
26. Jack Newitt (Calder Cannons), DEF, 4 games, 114 points
27. Aaron Cadman (GWV Rebels), FWD, 3 games, 114 points
28. Oliver Hollands (Murray Bushrangers), MID, 2 games, 112 points
29. Jed Foggo (Gold Coast Academy), MID, 3 games, 112 points
30. Tyreece Leiu (Eastern Ranges), FWD, 2 games, 112 points
31. Nick Madden (GWS Academy), RUCK, 4 games, 112 points
32. Lloyd Johnston (NT Thunder), DEF, 2 games, 112 points
33. Harley Reid (Bendigo Pioneers), FWD, 3 games, 111 points
34. Luke Fellows (GWS Academy), DEF, 4 games, 111 points
35. Angus Anderson (Sydney Academy), MID, 2 games, 110 points
36. Jaelen Pavlidis (Western Jets), FWD, 4 games, 110 points
37. Jaspa Fletcher (Brisbane Academy), MID, 3 games, 110 points
38. Callum Verrell (Eastern Ranges), DEF, 4 games, 110 points
39. Seth Campbell (Tasmania Devils), FWD, 3 games, 109 points
40. Max Ramsden (Sandringham Dragons), RUCK, 4 games, 109 points
41. Coby Burgiel (Gippsland Power), FWD, 4 games, 108 points
42. Jake Rogers (Gold Coast Academy), MID, 3 games, 107 points
43. Noah Bradshaw (Murray Bushrangers), MID, 4 games, 107 points
44. Jordan Endemann (Sydney Academy), MID, 4 games, 106 points
45. Charlie Clarke (Sandringham Dragons), FWD, 4 games, 106 points
46. Bailey Tome (Brisbane Academy), MID, 3 games, 105 points
47. Josh Bennetts (Eastern Ranges), MID, 4 games, 104 points
48. Mackinley Miller (GWS Academy), FWD, 3 games, 103 points
49. Jedd Longmire (Murray Bushrangers), MID, 3 games, 103 points
50. Henry Hustwaite (Dandenong Stingrays), DEF, 4 games, 103 points
Originally published as NAB League Top 50: Rankings and SuperCoach points from Round 4