AFL news: Sherrins sent for pre-game softening up in an attempt to overcome basic skill errors
The sacred Sherrin came in for some undue heat last season as basic skill errors were blamed on brand new footies. Now the AFL has revealed its strategy to circumnavigate the issue.
The AFL is releasing match balls to home clubs three days before their next game, giving them the opportunity to kick in the Sherrins so they soften before the first bounce.
Brand new Sherrins are by nature hard, pointy and slippery. Most players say they become easier to kick once they have been booted around for a while.
In 2020 so many games were marred by basic skill errors that the Sherrins came under scrutiny, with then-Collingwood president Eddie McGuire calling for balls to be blasted around for 20 minutes before each game and for umpires to pump less air into them.
Stream every match of every round of the 2022 Toyota AFL Premiership Season Live & Ad-Break Free In-Play on Kayo. New to Kayo? Try 14-Days Free Now >
But on Tuesday the AFL confirmed to News Corp that it had in fact been delivering Sherrins to home clubs three days before they play for several years now.
However that came as a shock to multiple AFL captains last week, with one flagging the idea of a pre-game softening kick with league boss Gillon McLachlan because he wrongly believed every match began with new balls.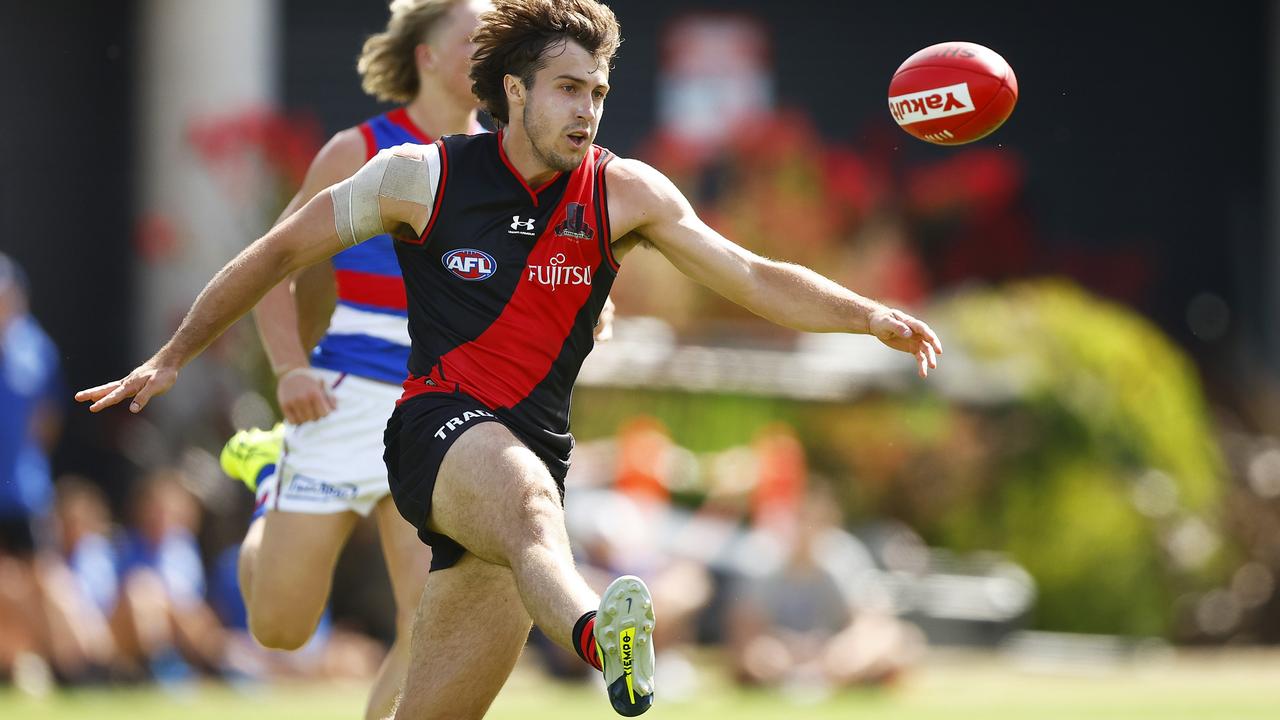 No skill issues here as Andrew McGrath gets his kick away but the AFL is looking at ways to eliminate basic skill errors from the game.
It's understood that clubs with a training ball sponsorship are understandably reluctant to use the AFL-supplied match balls at their last training session before a home game.
Clubs earn north of $70,000 for those training ball sponsorship deals and would jeopardise that cash if a match ball containing a different logo was used at training and captured by the media.
But there is nothing preventing clubs from kicking the match balls in behind closed doors in what would almost certainly deliver a boost to foot skills come game day.
It can also be revealed that coaches and AFL lawmakers are keen to observe the tactics implemented around the man on the mark rule, which is entering its second season.
Umpires now call "stand", disallowing the man on the mark from moving as the match momentarily becomes a game of 18 versus 17.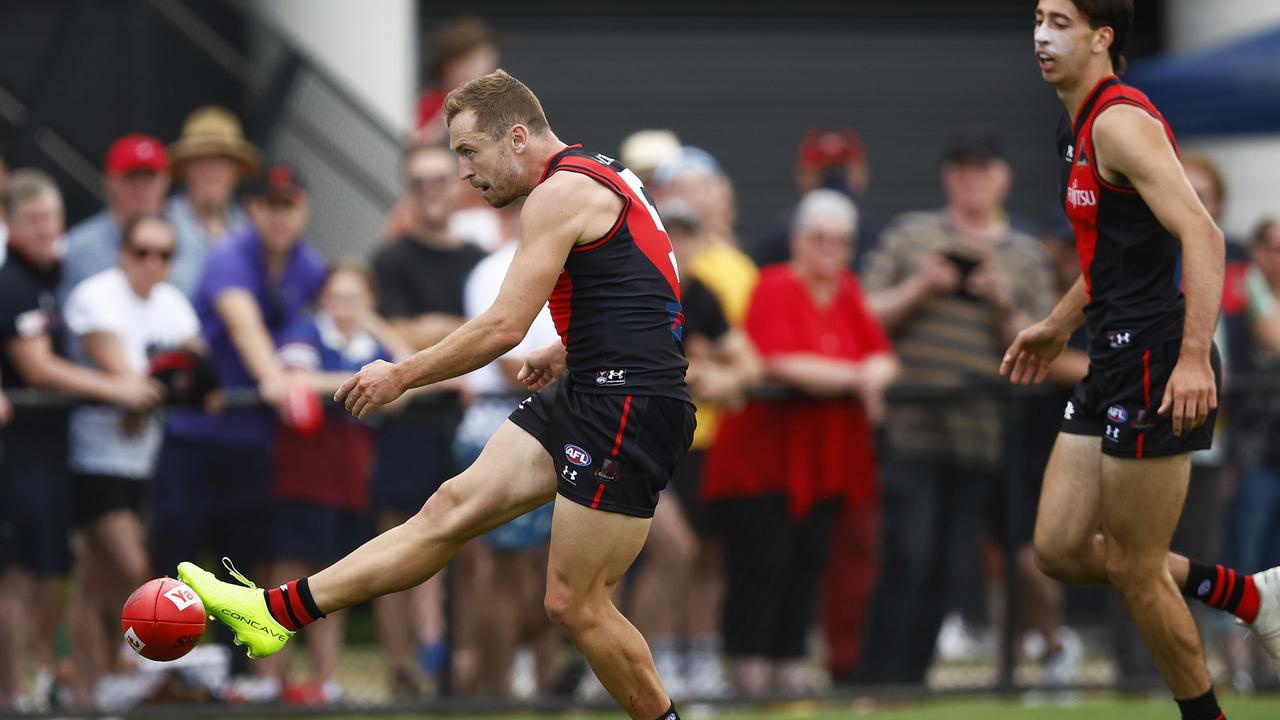 It might not look the most orthodox off the boot but this kick by Devon Smith went through for a goal during a practice match against the Western Bulldogs.
A trend for players to no longer bother manning the mark emerged across both the pre-season matches and the 600 club visits made by AFL umpires over summer.
Melbourne's premiership gameplan combined pressing numbers up as well as folding them back, and by not manning the mark in the defensive half clubs could effectively 'flood' an extra player behind the ball.
That would play into the AFL's hands, with the rule designed to dilute that first layer of defence to combat teams getting pinned in the back half.
With no opponent on the mark the ball carrier would be free to take territory by running forward or spotting a teammate with a simple angle-cutting kick.
It's understood the tactics have created a lot of discussion at Richmond, which was wounded by last year's rule change because it was the best team at manning the mark and applying that first layer of defence.
Should coach Damien Hardwick advise his players to suddenly fold back instead of manning the mark it would be a huge shift from the club's premiership gameplan.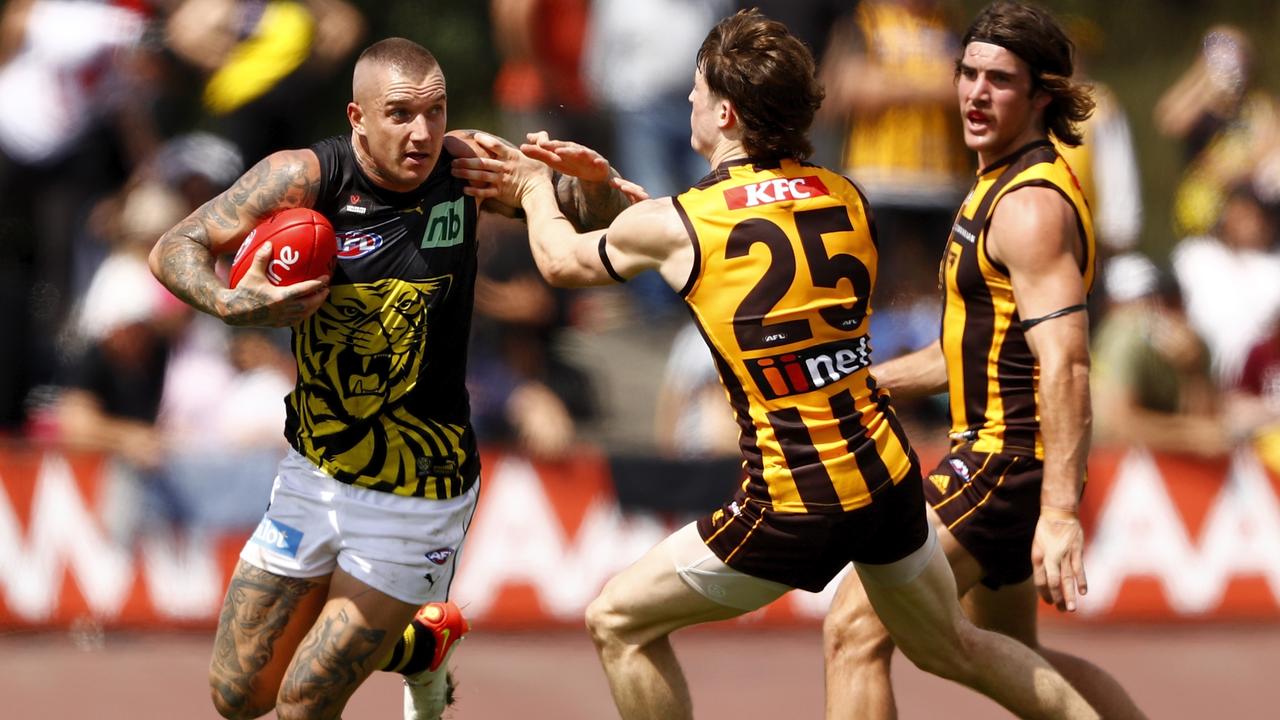 No one in their right mind would question Dustin Martin's skill base but the league is concerned errors may be creeping into the game because of the hardness of the ball.
Brad Scott opens up on what to expect this season
New AFL football boss Brad Scott says his task is not to produce higher-scoring AFL contests this year, despite the league's goal drought plummeting to historic lows.
Scott's main focus in his first season in charge of the competition's rules has been to return the game to normality after two Covid-affected seasons.
Under his watch, the AFL has tightened the holding-the-ball rule and cracked down on time wasting.
The competition's average scores per team is at a 64-season low – discounting the shortened Covid-hit season of 2020.
Stream every match of every round of the 2022 Toyota AFL Premiership Season Live & Ad-Break Free In Play on Kayo. New to Kayo? Try 14-days free now.
Despite the introduction of the stand rule last year clubs scored at only 79.7 points per game, up from 75.8 points in 2020 but down from 2019 (80.9 points) and lower than at any point this century.
While AFL legend Kevin Bartlett continues to demand that the league cut interchange numbers to drastic levels to open up the game, Scott told the Herald Sun on Tuesday the league wanted a balance.
New AFL boss Brad Scott has opened up on the expectations of his role.
Asked if the league was monitoring ways to encourage scoring, he replied: "Not really. I think the challenge in our game is that it always ebbs and flows between trends.
"With scoring and congestion, fans generally want an open free-flowing contest but the next thing they want is tough and tight one-on-one contests.
"Those two things don't go well together. The game will always ebb and flow. This pre-season has shown we are gearing up for one or our most exciting seasons yet.
"Sometimes we have to be careful what we wish for. High scoring seems very entertaining but with a really open one-sided game, one side scores really heavily.
"Fans want close games that are exciting at the same time. The balance is what we are after and ultimately we set the rules and the coaches will play to them."
Former AFL football boss Steve Hocking had pledged to return the era of the star forward kicking bags of goals and likely would have cut interchange further.
Scott said the AFL was monitoring trends and would not rule out changes if the game needed them in coming seasons.
"I think something I was really keen to do particularly given the last two years of uncertainty was to bring some calm," he said.
"We haven't changed the rules, we have only reiterated current rules as they exist. So our job is to tell the fans that story. We wanted 2022 to be a year of consolidation."
Scott was thrilled with the way clubs took control of the new crackdown on umpire abuse after eight 50m penalties against Melbourne on Thursday night.
"We were really pleased with the way the clubs and players responded," he said.
"They generally do with any new interpretation.
"There were great examples late in the round where we would have seen dissent and we didn't see it, so it's pretty clear clubs got the message."
BACK TO FOOTY
Scott has a message for AFL fans — the show will go on regardless of the scope of Covid outbreaks this season.
In Scott's first season in charge he is keen to bring certainty to the AFL's rules and for the fans — who in previous seasons were never sure if games would be postponed or cancelled.
Having on Tuesday put in place new rules that will ensure clubs can access 20 top-up players, he says there is an opportunity for hundreds of state-league players to fill the void if Covid ravages a club at some stage in the season.
"The games will go ahead," Scott told the Herald Sun.
"Gill has made it really, really clear. The reason for wanting these top-up lists to be made public is to create certainty.
"Games will go ahead. People can buy memberships. Fans can book flights and know the games will be on.
"There are protocols that cover all situations and I think that's the really exciting part of all of this. We are determined to ensure continuity for the season for all fans.
"But the absolutely silver lining in all of this is that there are potentially 360 state-league players who could put their name up in lights.
"We have recognised they are not far away from being at the highest level of AFL football.
"We have had unbelievable support from state leagues and some clubs actively want to be part of this. That has helped shape our thinking and shaped our policies."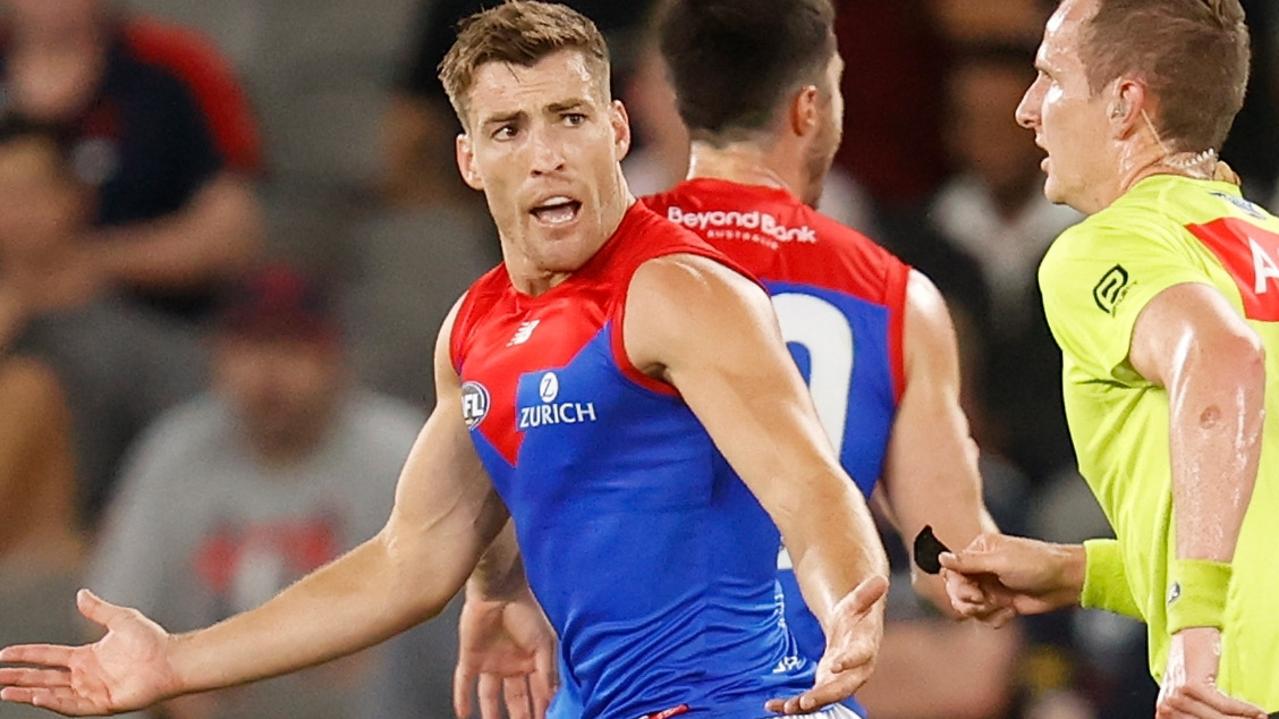 Jack Viney remonstrates with umpire Hayden Gavine last week. Picture: AFL Photos/Getty Images
UMPIRE CRACKDOWN
Scott says there was always going to be an early surge in free kicks for umpire abuse — a reaction that was quickly brought under control by AFL clubs.
As Gold Coast's Matt Rowell grabbed his teammate Caleb Graham to ensure he did not give away a dissent free kick on Monday night, it was apparent the rules were working.
The curiosity is this — his twin brother Chris Scott admits he goes crazy in the coach's box at many umpiring decisions.
The reactions have launched a million memes, but Brad Scott says the crackdown will only apply to players.
"Umpires have been down to clubs 650 times over the pre-season and players are really clear on it," he said.
"I think, hopefully, we don't have to pay any decisions through the season because player behaviour has changed and it has become entrenched.
"This is a purely player driven thing. Part of the challenge with coaches if they are probably demonstrative a lot of the time. Demonstrative towards staff and towards players.
"We are purely focused on the players. If we wanted it to apply to coaches they would probably go rogue because they believe they shouldn't have a camera fixed on them for the entirety of the game."
The halftime and post-match scenes of irate fans rushing the players race to abuse umpires is an unedifying sight.
But at this stage Scott says the AFL plans to make this a player-driven initiative.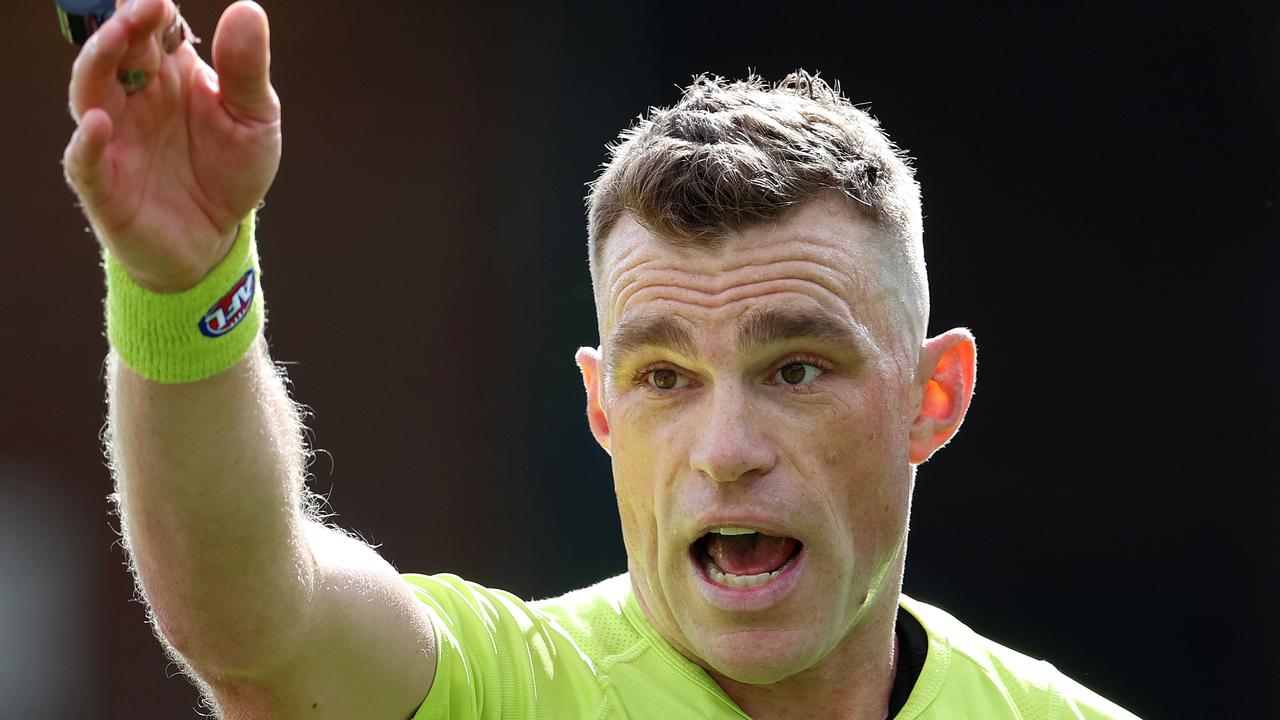 The AFL will encourage ex-AFL players to follow in the footsteps of the likes of former Saint Leigh Fisher to join the umpiring ranks. Picture: Michael Klein
EX-AFL RECRUITS
Scott says one of footy's greatest challenges is to fill a shortage of 6000 umpires at community level.
He is adamant some games will not go ahead without more officials.
He is open to the AFL enlisting more ex-AFL players, with former Essendon player Brendon Goddard one ex-star who said last year he was open to the possibility of being an umpire.
" (Ex-St Kilda player) Leigh Fisher has done a fantastic job as an umpire and it's a different skill set but where we can get role models who can blaze a trail we are all for it," Scott said.
"The men's and women's games are growing so quickly.
"We just don't have enough umpires to play the games. We are really keen to show there is an umpire pipeline.
"It does exist, so if you are a young Auskicker, male or female, we have shown the pathway to playing AFL football and we need to do it with umpires."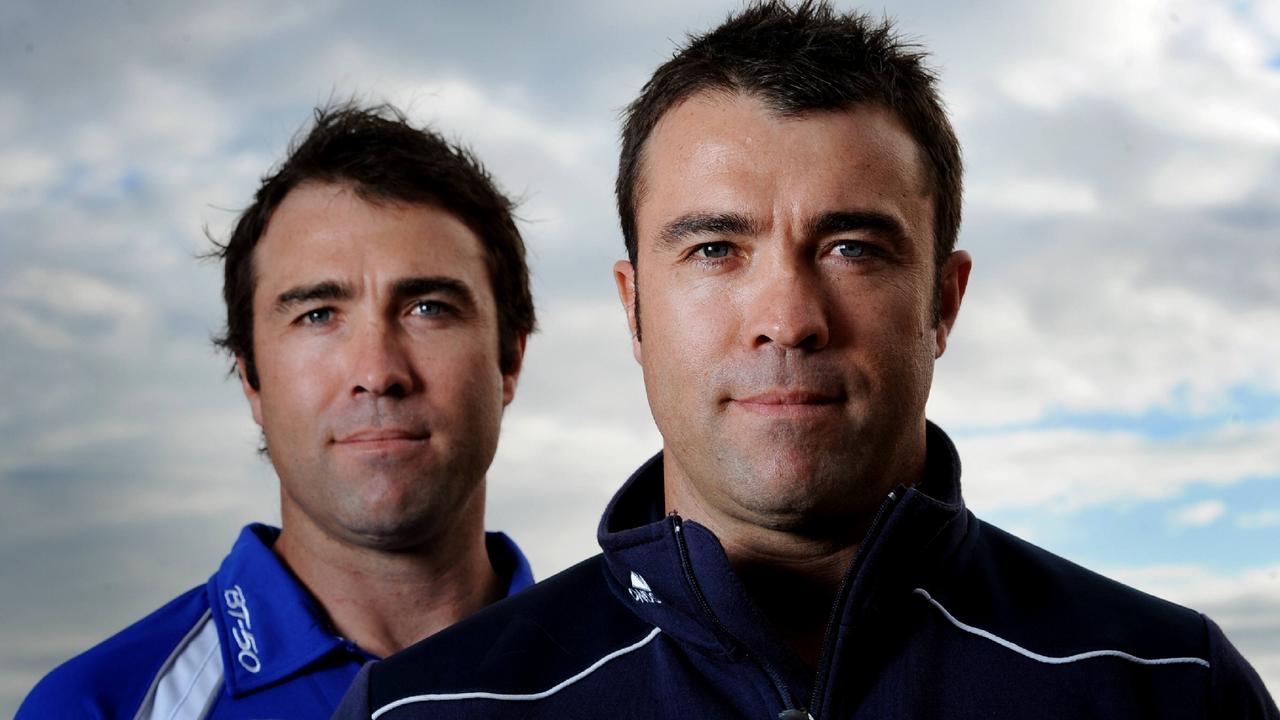 Then-Kangaroos' coach Brad Scott and twin brother, Geelong coach Chris Scott, before they faced each other for the first time as opposing coaches.
RETIRED COACH
Both Collingwood and Carlton are understood to have reached out to Scott to consider their vacant coaching roles last year.
But at just 45 he has made clear he believes he is now a football administrator after his time with AFL Victoria.
"I think clubs do what they do," he said.
"They throw the net far and wide and gauge interest from various people.
"I came to the AFL for a reason. I have been really fortunate to have a career as a player and then at clubs as an assistant coach and senior coach and I am really excited about this next phase.
"The game has given me a lot and it's time to give back."
DANI LAIDLEY
Asked if there is a role for former North Melbourne coach Dani Laidley in the inclusion space at AFL House, Scott prefers to talk about the immediate levels of acceptance in football at her transition.
"I think it's fantastic our industry is accepting of all people," he said.
"Our game is a game for everyone, regardless of people's gender identity or where you come from. It's a game for everyone.
"One of the great things of this game is whether you are Max Gawn's height or the smallest player in the competition, there is a role for you.
"It goes across all levels and North Melbourne have done an incredible job welcoming her."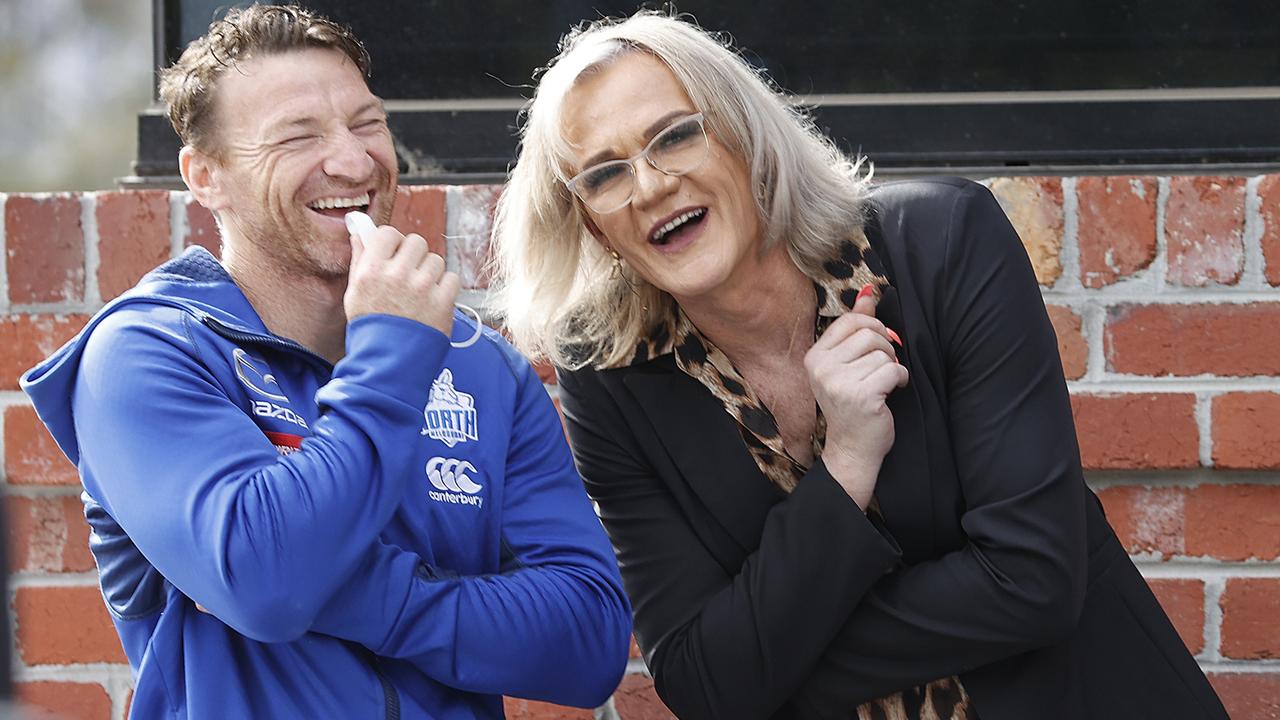 Former North Melbourne coach Danielle Laidley chats to Roos great Brent Harvey after returning to Arden Street. Picture: Alex Coppel
CONCUSSION
Scott defers to staff higher in the AFL pyramid after more examples of plagiarism were revealed by Florey Institute concussion expert Paul McCrory, the AFL's pre-eminent concussion expert.
McCrory has resigned from the Concussion in Sport Group after being the lead author in four of the last five international consensus on concussion papers which guide the AFL's protocols.
"I focus on the on-field stuff and let the experts in the concussion field deal with those matters," he says of McCrory's role at the AFL.
But he believes the current protocols with a minimum of 12 days before a return to play are correct, with the AFL always open to changes when research suggests it is appropriate.
"We have the world leading experts in this space who advise us as to what the right protocols should be," he said.
"We rolled out our community concussion protocols which were really well accepted and enacted through last year and it's obviously a space where there is always research being done and we are really happy with the people who are advising us on that."
Originally published as AFL news: Sherrins sent for pre-game softening up in an attempt to overcome basic skill errors