New life, near death and a medical miracle: Jeremy Finlayson and partner Kellie open up to Mark Robinson
Jeremy Finlayson and partner Kellie had a baby in August last year and, in October, they arrived at Port Adelaide. But what happened next turned their lives upside down.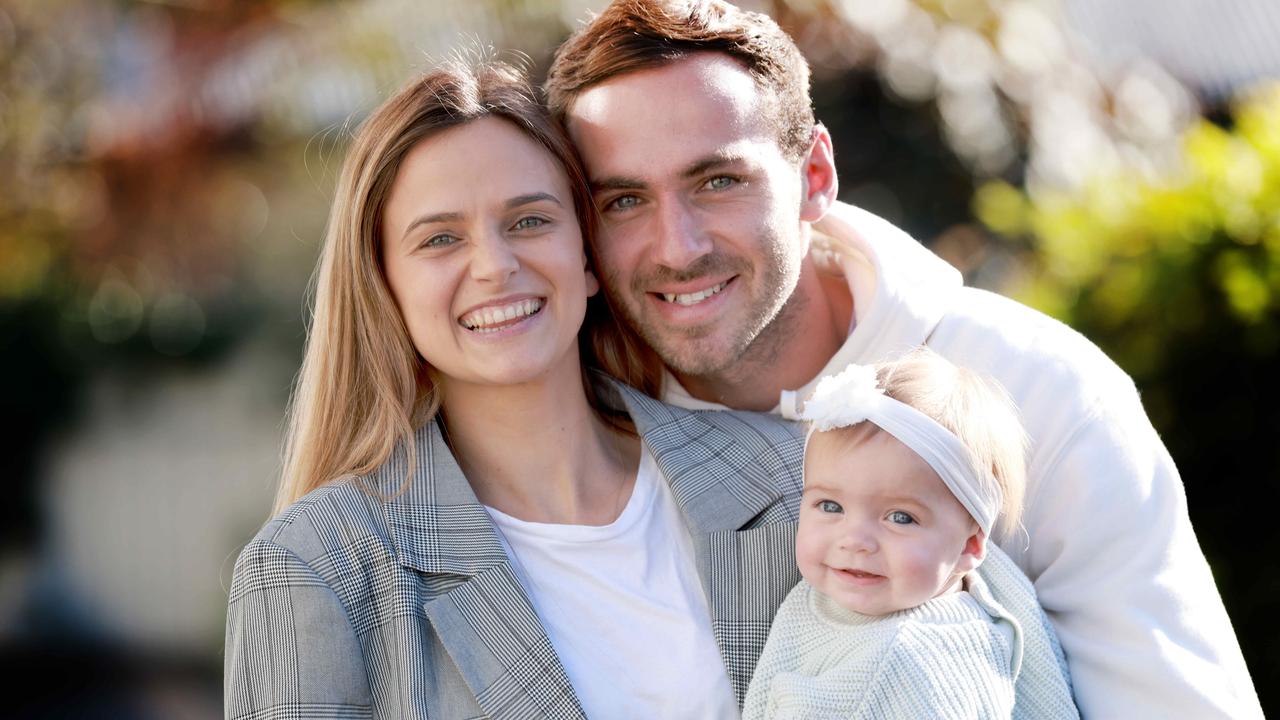 Port Adelaide's Jeremy Finlayson and partner Kellie Gardner with daughter Sophia. Picture: Kelly Barnes
Jeremy Finlayson and partner Kellie had a baby in August last year and, in October, they arrived at Port Adelaide. But what happened next turned their lives upside down.
New life, near death and a medical miracle is how best to describe the past six months for Jeremy Finlayson and his partner, Kellie.
The Port Adelaide recruit and Kellie had baby Sophia in August last year.
In November, a tennis ball-sized cancer was found in Kellie's colon and rectum, and it could not be removed by surgery.
It demanded lifesaving rounds of chemotherapy and radiation.
In March, scans showed the tumour had disappeared.
Throughout this ordeal, Finlayson joined his new football club, completed pre-season training despite living in a haze of fear and forebode, and somehow managed to play in Round 1.
Some days and nights he would find a room to cry — at home or at the footy club — and for weeks on end would hear a ravaged Kellie cry herself to sleep, too weak and too sick to cradle and breast feed her newborn daughter.
Near death, Kellie found a miracle.
Jeremy Finlayson and partner Kellie open up to Mark Robinson. Picture: Kelly Barnes
Life moves quickly when death comes knocking
Sitting around their kitchen table last week, with baby Sophia doing baby things, Kellie and Jeremy opened up for the first time publicly — and to each other — about the most traumatic period of their lives.
Sophia was born on the Gold Coast when Jeremy and Kellie were living in a hub with Greater Western Sydney, and they made the decision to seek a trade — to Brisbane, where Jeremy's parents lived, or to Adelaide, because Kellie's family was in Port Lincoln — for parental support.
He landed at Port Adelaide in October.
Problems surfaced two weeks later, but Kellie put it down to post birthing issues.
As the two of them began to share their story on this day, one of them would begin a sentence and the other would interrupt or finish the sentence, not out of rudeness or disrespect, but because there was plenty in the telling.
Kellie: "I wasn't right, there was some bleeding, but the doctors wrote it off to post-partum/pregnancy. They had done that for the entire nine months, and prior to that my colonoscopy that was booked in March 2020 had been cancelled because elective procedures got cancelled due to Covid."
Jeremy: "I remember saying to her: 'Why are you on the toilet so much?'. She ended up getting angry with me because I was joking around and so we took her in."
"In" was an appointment with a local female GP who did not joke around. She sent Kellie to a specialist and within a week Kellie was booked for a colonoscopy.
Kellie: "They thought it might've been an irritable bowel, or maybe Crohn's."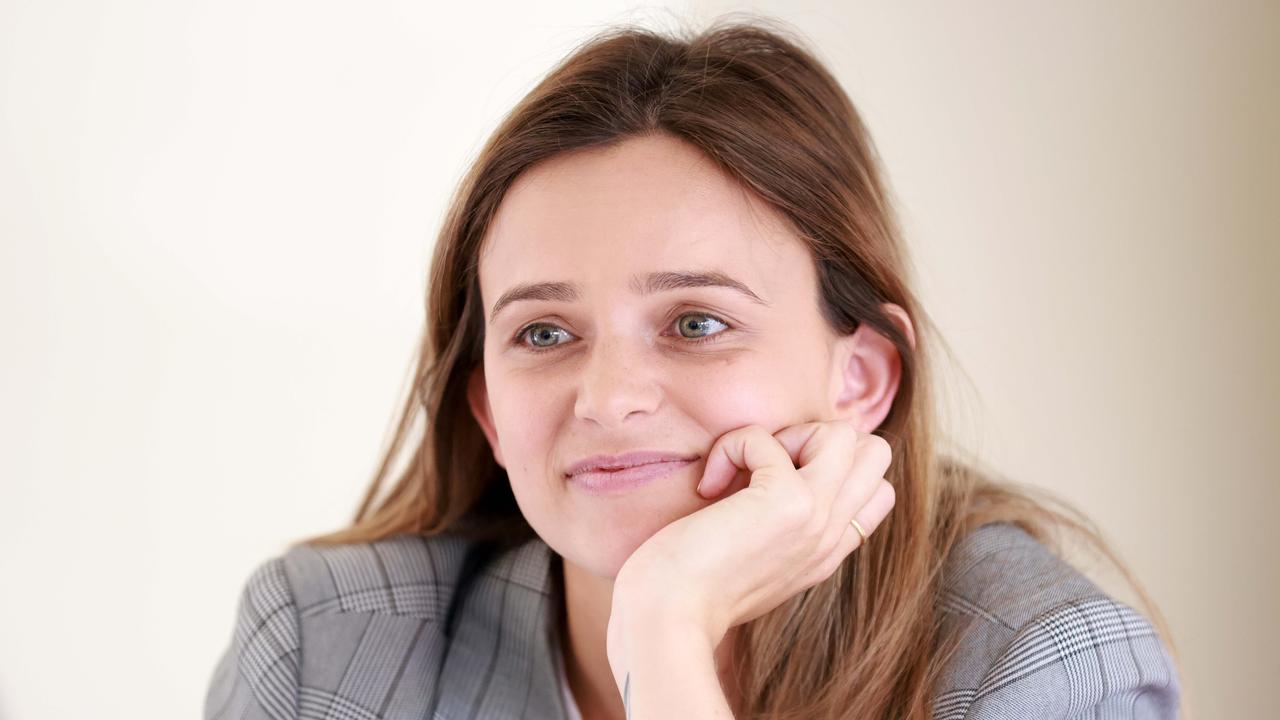 Kellie was diagnosed with bowel cancer in November. Picture: Kelly Barnes
Jeremy dropped Kellie at the Tennyson Centre Day Hospital, where she was scheduled to be examined at 2pm. It got to 6pm before the specialist called Jeremy and asked him to come back to the hospital.
Jeremy: "They pulled into the doctor's room and it was really strange. Everyone else who was picking up their partners had to wait outside because of Covid. It felt uneasy.
"I was holding Sophia and Kellie came in still out of it because of the surgery and the doctor held up a bit of paper with four or five images on it.
"I gave Sophia to the nurse and went all numb. His first words were: 'You've got bowel cancer'. I was like, hooley dooley, what's going on here? They said it's nearly the size of a tennis ball."
Kellie: "Yeah, just sitting in my bowel space.''
Life moves quickly when death comes knocking.
Kellie met her surgeon the next day, plans were made, she was fitted with a colostomy bag — "I hate wearing that,'' she said — and she was officially a cancer patient.
At 26, and the mother of a four-month-old girl, Kellie was in shock, denial and eventually a mental and physical wasteland.
"We will TRY to cure you"
Jeremy: "I can't remember driving home that night from hospital, it was crazy."
Kellie: "For me, I didn't believe it. I walked out of doctors with the jelco (safety device for needles) still in my armpit. I've completely wiped from memory the comment about having cancer. I just didn't believe it."
Jeremy: "I seriously don't remember leaving the place, getting in the car or driving home. I remember calling her friend and telling her to come around. It was pretty crazy."
That first night was a deathly gotcha moment. They had questions and no answers.
Had it spread? They were told that if it was stage one or stage two they could have the tumour removed.
The next day, the surgeon told them it was stage three or stage four. There is no stage five. And it had spread. Up the spine, to the liver and there were spots on the lung.
Jeremy: "They said it took off and got out of control when she was pregnant with Sophia."
Kellie: "It had been there for three or four years and it's become a lot more common in people. I've met three or four people in the past six months who have had the same situation."
Jeremy: "If we had kept joking around and delaying it, it was starting to get to the point if we delayed it any more …"
Kellie: "It was just spreading."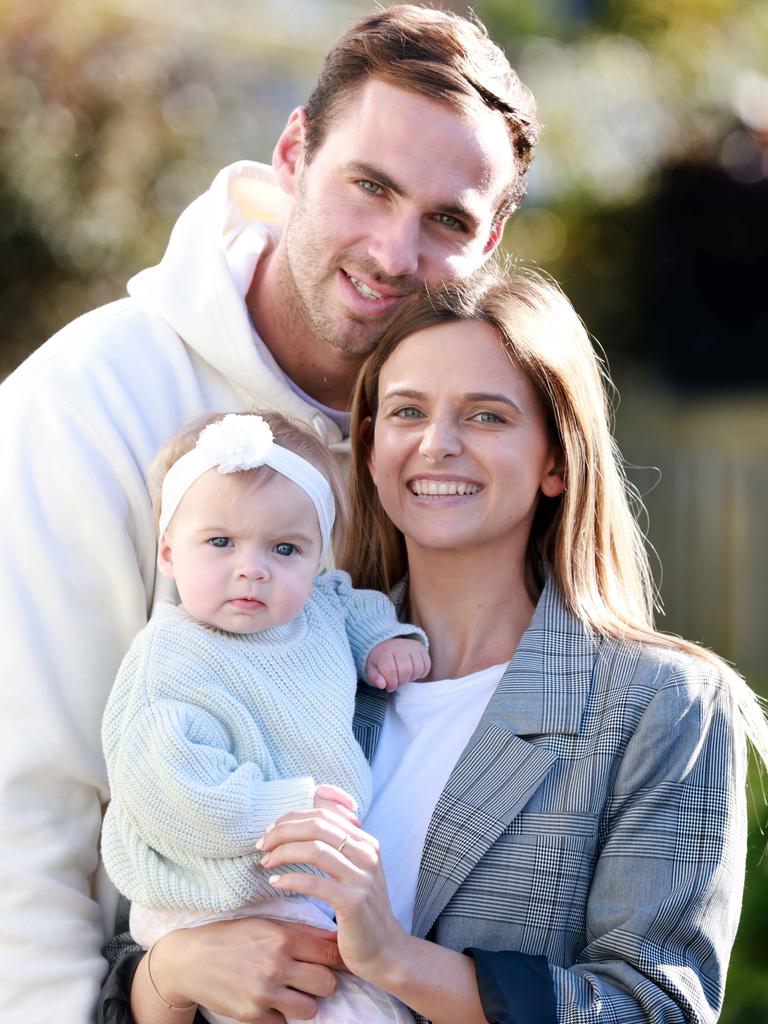 Jeremy and Kellie Gardner with daughter Sophia. Picture: Kelly Barnes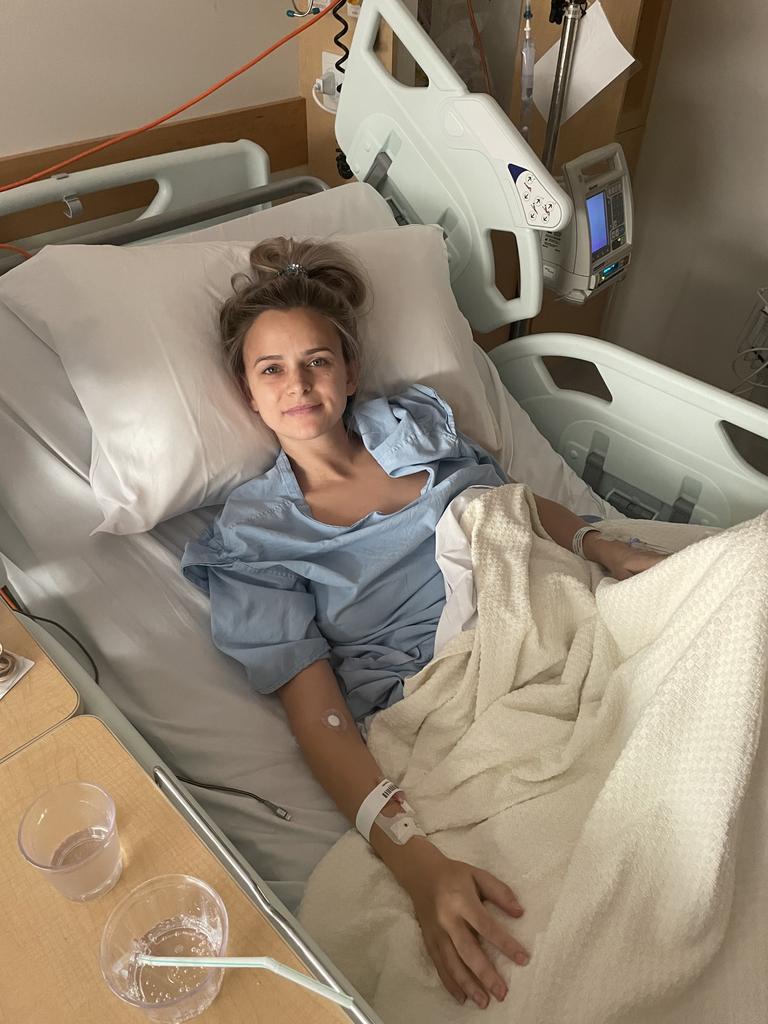 Kellie pictured in hospital. Picture: Supplied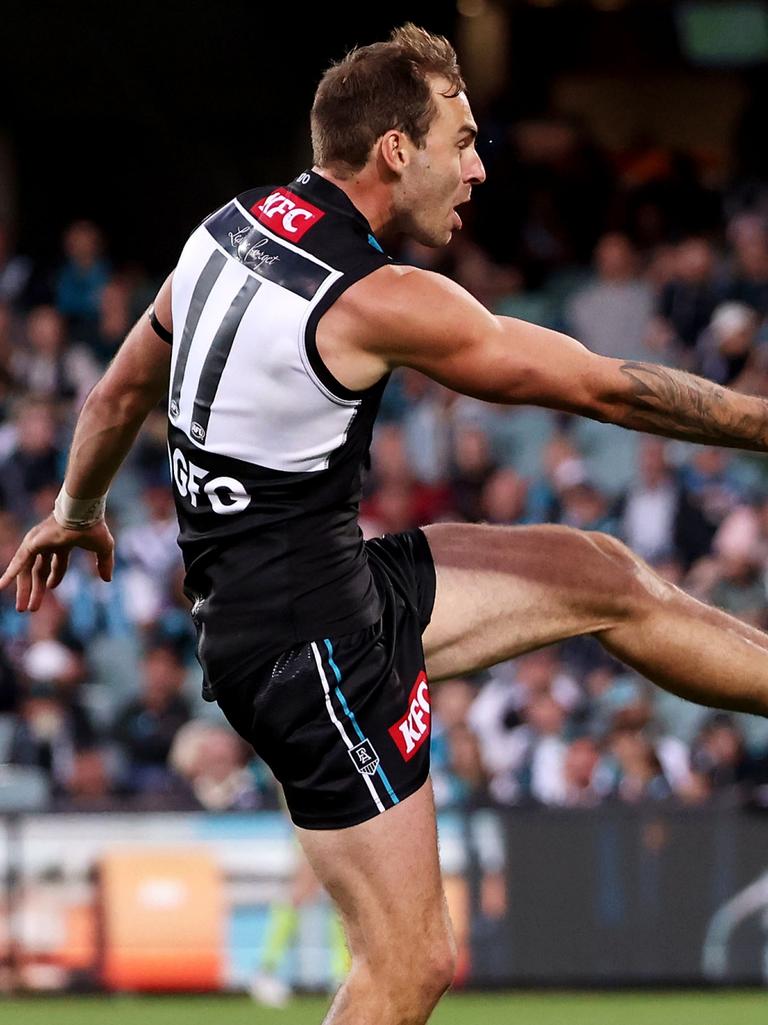 Finlayson in action during his first season at the Power. Picture: James Elsby/AFL Photos
Jeremy: "It could've been life, mate. As soon as you hear that people get cancer, the worst thing is they lose their life, or most of them, and I thought holy hell, I was going to lose the mum of my child. It's all you think about.
"I was putting on a brave face. Kell had just found out she had cancer and if I showed emotion, she would break down.
"So, I would break down on my own in hiding, or when laying in bed by myself. When I got to Port, I'd get into the club and break down.

"I went in there early days and I'm pretty sure it was Ash our physio and Phil our property steward, I'd never met them in my life and they asked me how I was going.
"I started speaking and then broke down, I cried in front of them. I was so embarrassed.
"So I said to our welfare man, Paul Stewart, to shoot out an email to everyone to stop people asking how I was feeling. The worst feelings I had was, she could die, she had cancer. When the professionals are saying we'll TRY to cure you … like f---, they know something.''
Kellie: "I held it together pretty well. I only broke down when I was told Sophia wasn't allowed into hospital when I was getting treatment because of Covid.
"I just didn't believe I had cancer. It's hard to explain, but if I didn't think about it, it wasn't true. I was in denial. Like, I was in denial for two months."
Looking back, they said, their reality changed when the specialist told them, "we will cure you". Post scan, it was, "We will TRY to cure you."
Jeremy: "I was that scared."
Asked if she ever thought she was going to die, Kellie answered with the softest voice: "Yeah … but I spoke to so many people who have gone through it and survived, and that's one of the reasons why I was in denial.
"If I didn't believe it, then nothing could happen to me. I was like invincible, if that makes sense?"

The worst time came when she couldn't be a mum. On November 25, she had colostomy surgery.
"I couldn't pick her up," she said. "I wasn't allowed to do anything, I was in hospital by myself. Mum and Jez could visit me one at a time."
Jeremy: "I was in there all the time."
Kellie: "Soph couldn't come in because she wasn't vaccinated. I couldn't go anywhere, I couldn't go in the sunshine for 10 minutes because they thought I would get sunburnt, and the dosages I was getting were toxic.'
Our footy family
Mum is Jane. She left hubby Jeff at Port Lincoln and arrived in Adelaide the morning after that first night.
With Kellie in and out of hospital — she's completed five three-week courses of chemo and radiotherapy — and Jeremy trying to kickstart his football career at a second club, Jane was a God-send.
Footy clubs are family and although Jeremy didn't hardly know anyone, the club was in his corner.
Each day when required, Jeremy drove Kellie to her treatment, 40 minutes to Flinders, and then would pick her up.
But there were footy pressures as well. It was a new club, new teammates, new game plan, and when the games started, he says he wasn't familiar with the big crowds and their ferocious passion.
At one game, Port fans were telling him: "We were playing prelims before you got here."
Kellie, who was still undergoing chemo treatment when Jeremy was playing, even received death threats on her Instagram.
People would abuse her because they blamed Jeremy for losing a multi-bet. "We know where you live," one crazy person wrote to her.
Jeremy: "It's good to tell this story because a lot of people don't know what's going on.
"I've come here, nearly day one I found out she's got cancer, the bub is here as well, and I'd train and then look after her at night.

"My head was nowhere to be honest. But I had to put a shield up and soldier on.
"Port was amazing. They said if I needed time off, have it. And there was support from the Giants. Leon Cameron called, and a few of the boys. I don't believe I played Round 1 really."
Kellie: "If it wasn't for football, Jezz would have had no escape from the shit show we were living in the four walls of our own home.
"Footy itself and the club and players are what kept Jeremy from spiralling, because I certainly wasn't any help.
"In the early days I was focusing on myself. But even for myself, I would spend the entire week post treatment focusing on getting better just so I could watch him run out there and play the game he loves.
"It was the only time I'd see him truly happy during that period of our life. We owe a lot to the game."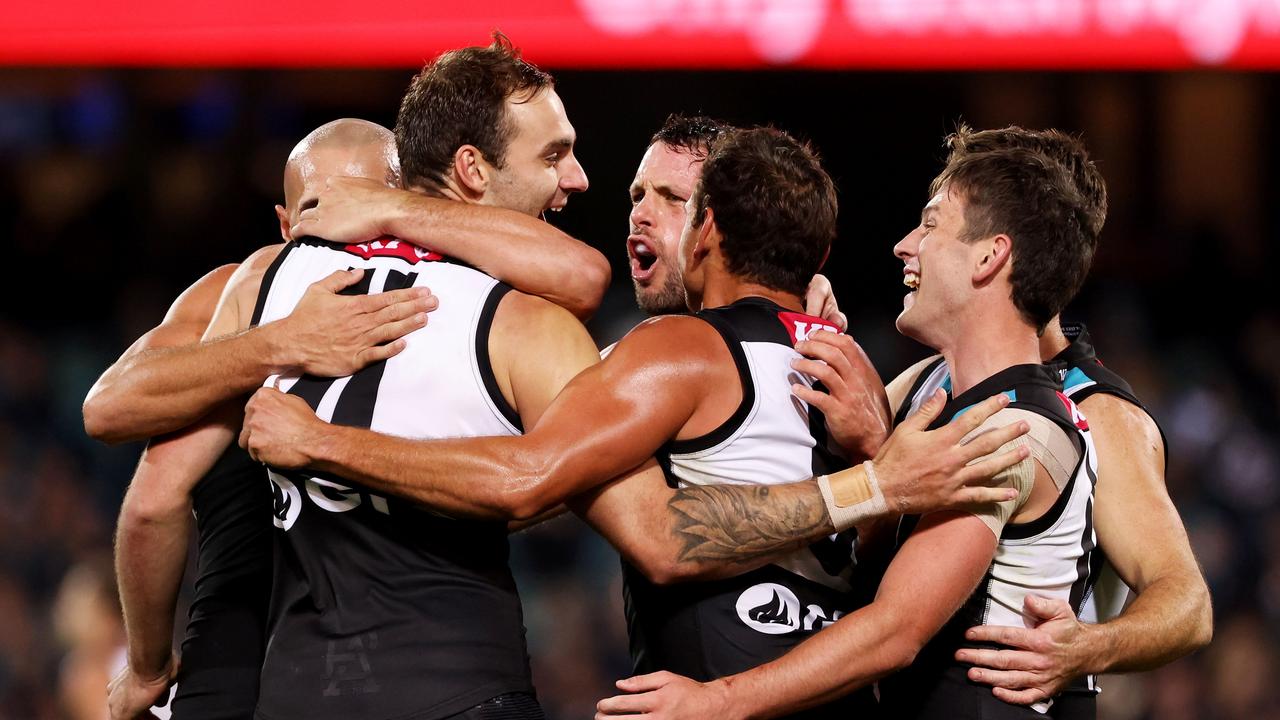 Finlayson and some of his new footy family at Port Adelaide. Picture: James Elsby/AFL Photos
Football always rallies — and inspires. In Round 1, when cancer sufferer Sam Docherty kicked his goal against Richmond and was mobbed by teammates — which might be the moment of the season — Kellie burst into tears on the couch at home.
At that moment, she was enveloped by her own predicament.
"The first time I looked back at what happened? I was watching the Carlton game because Zac Williams is Sophia's Godfather. And when Sam Docherty kicked his goal this year,'' she said, looking at Jeremy, "How much was I crying? I was bawling my eyes out because I thought, 'if he can do it, why can't I?' I lost it."
Jeremy: "Doc caught me off guard because when we played them at the MCG in Round 5, he actually came up and asked me: 'How's your partner going?' said: "Thanks, but how are you going?' It was amazing.''
He added: "You know, you talk about this story giving hope to people with cancer, like, Doc gave her hope and we're hopefully going to give other people hope."
Oddly, Kellie barracks for Collingwood. Her favourite player is veteran Pies skipper Scott Pendlebury and so, as a surprise, Jeremy called Will Hoskin-Elliott — a former Giant — and organised a signed Collingwood jumper with the No.10.
Asked if he would ever sledge Pendlebury now, Kellie piped up: "He wouldn't dare", and then went to find the jumper. "It's here in the lounge room, pride of place," she said.
Those periods of joy were saturated by long periods of anger, fear and desperation, made worse when Jeremy brought Covid into the home in mid-January and Kellie and Sophia were infected. Chemo stopped for three weeks.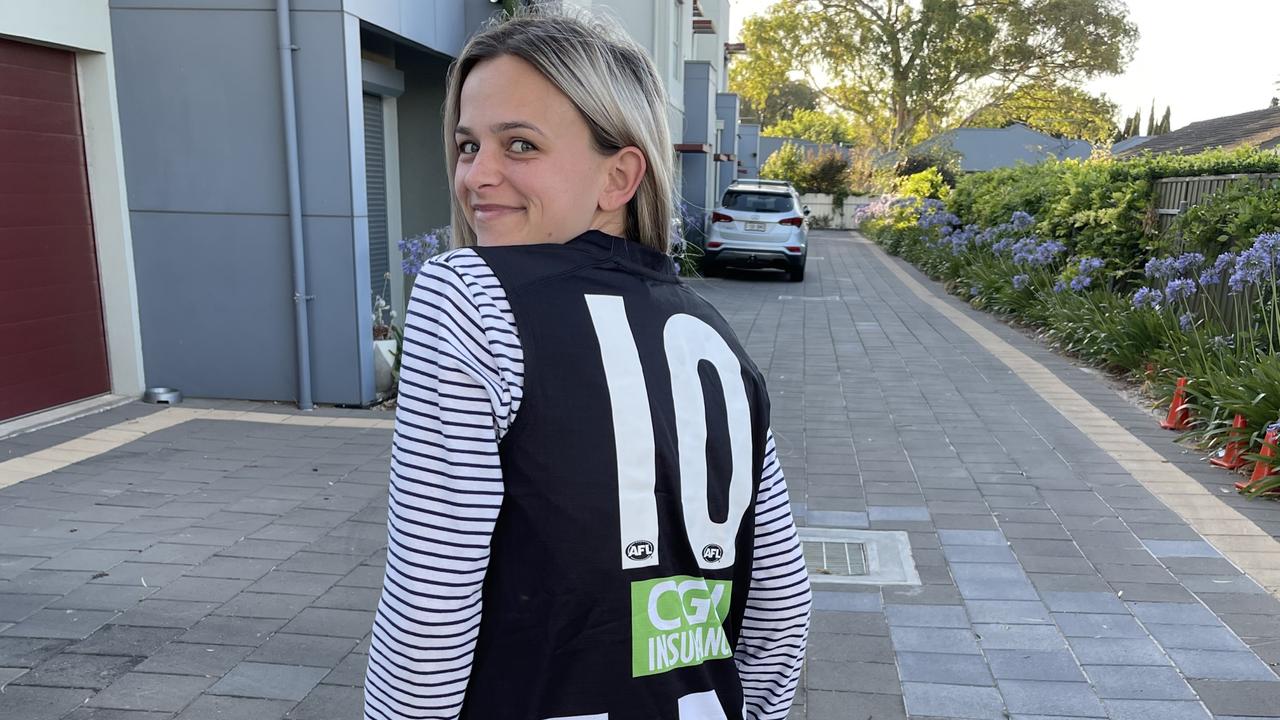 Kellie in her signed No. 10 Collingwood jumper. Picture: Supplied
Another time, they were sleeping upstairs when, not once but twice in a week, a knucklehead tried to break into their home.
Far more hurtful was the news in February that the likelihood of having another baby naturally was only three or four per cent. They plan to do IVF or adopt.
Then in April, Jeremy's pop died. It was the day before he kicked five goals against West Coast.
Jeremy: "I was thinking, what else could go wrong?"
Giving others hope
Kellie was 76kg before her cancer. As she fasted ahead of her treatments, her weight fell to 53kg.
"It was brutal," she said of her reaction to the treatment.
"I wanted to come home every day obviously because I wanted to see my baby, but you can't actually be there.
"And when you are at home, you're just a ghost. You come home, go to bed, wake up and go to the hospital."
Jeremy: "And because of the chemo treatment, her fingers would lock. They were like T-Rex fingers. I'd have to physically open them up."
She grew to hate the world — "I hated everyone and anything,'' she said — but her love of Sophia drove her.
Kellie: "She was my purpose."
Jeremy: "We have asked that, 'how did we get through it'? It was Sophia. If we didn't have her, it could've been a lot grimmer. I would've lost my mind."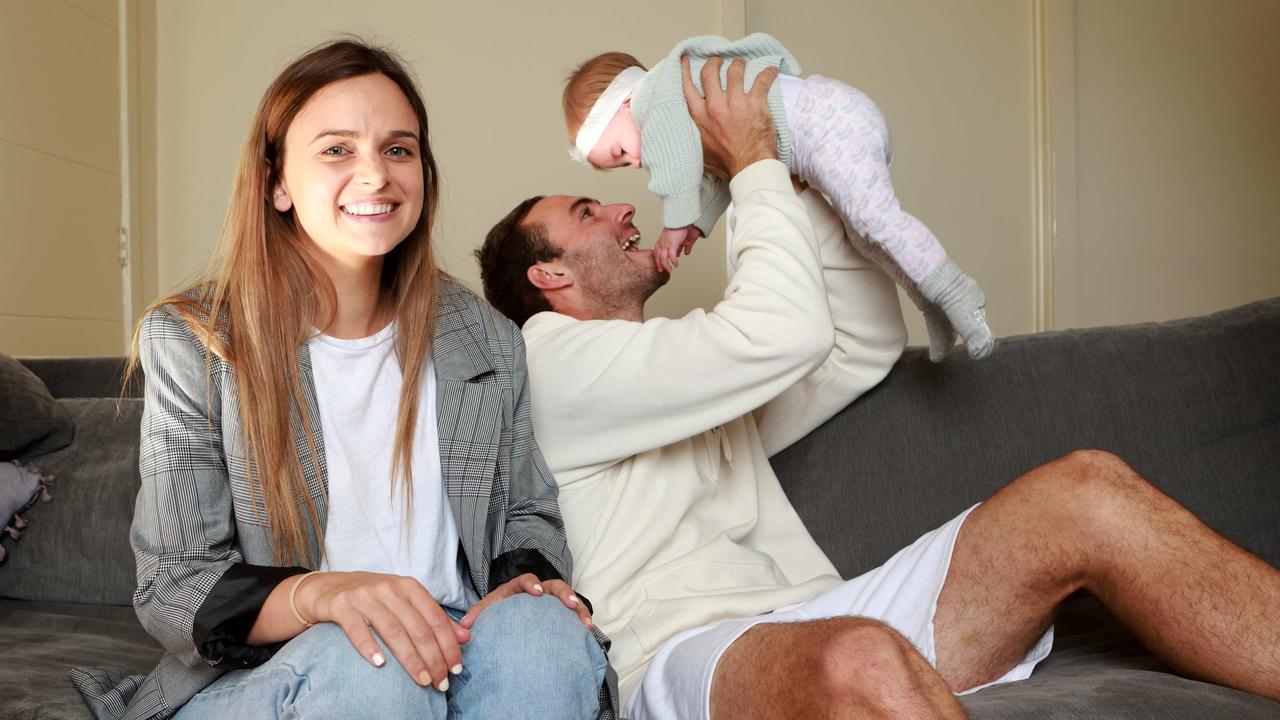 The family received the miracle news on March 8. Picture: Kelly Barnes
Finally, on March 8 after long-awaited second PET scan, they received the miracle news.
Kellie: "I was in the hospital and just about to have another round of chemo and the surgeon said, 'do you want the good or the bad news?'
"I said, 'the bad news'. He said, 'well, you've got to get the chemo, sorry, but the good news is it's gone'. I said, 'what's gone', and he said 'nothing has shown up, it's gone'. It was a miracle.
"He's just had another young guy from up north who came down to have surgery, with the exact same treatment plan as me, and his cancer had doubled. Mine was completely gone.
"There's no answer as to why, it's just that the chemo reacted to me."
Jeremy was training at the time. He got Kellie's text two hours later. It read: "It's gone." Jeremy text back: "What?"
Kellie's last chemo session was Monday week ago and her next PET scan is in two weeks.
Her next major surgery is in June to remove her bowel, which will require 10 days in hospital and four weeks' rest in bed. She will be wearing the colostomy bag until September.
Kellie: "Mentally, I think I'm good. If you asked five weeks ago, I was not good because they told me it was done and I had to go through chemo again. It was the sickest I've ever been that week."
Jeremy: "This talk has been great because we haven't talked about how we've felt about it in the house. Hopefully, this gives other people hope. It's been crazy."
Mum's heartbreaking journey watching Kell
Princess Diana once said, a mother's arms are more comforting than anyone else's.
For Kellie's mum, Jane, her sole purpose through this cancer nightmare was to comfort and care for her daughter and for her granddaughter Sophia.
Jane left hubby Jeff in Port Lincoln, basically quit her job, and was on the first flight to Adelaide the morning after the bad news was delivered.
"I did think she was going to die," Jane said.
"I was absolutely gutted. I felt useless, hence why I came over here.
"They are both kids, they've never been through anything like this. They didn't know how to process it. I didn't know how to process it. It was gut-wrenching."
Mum stayed in the spare room, often Jeremy in the other spare room, as Kellie lay helpless in bed.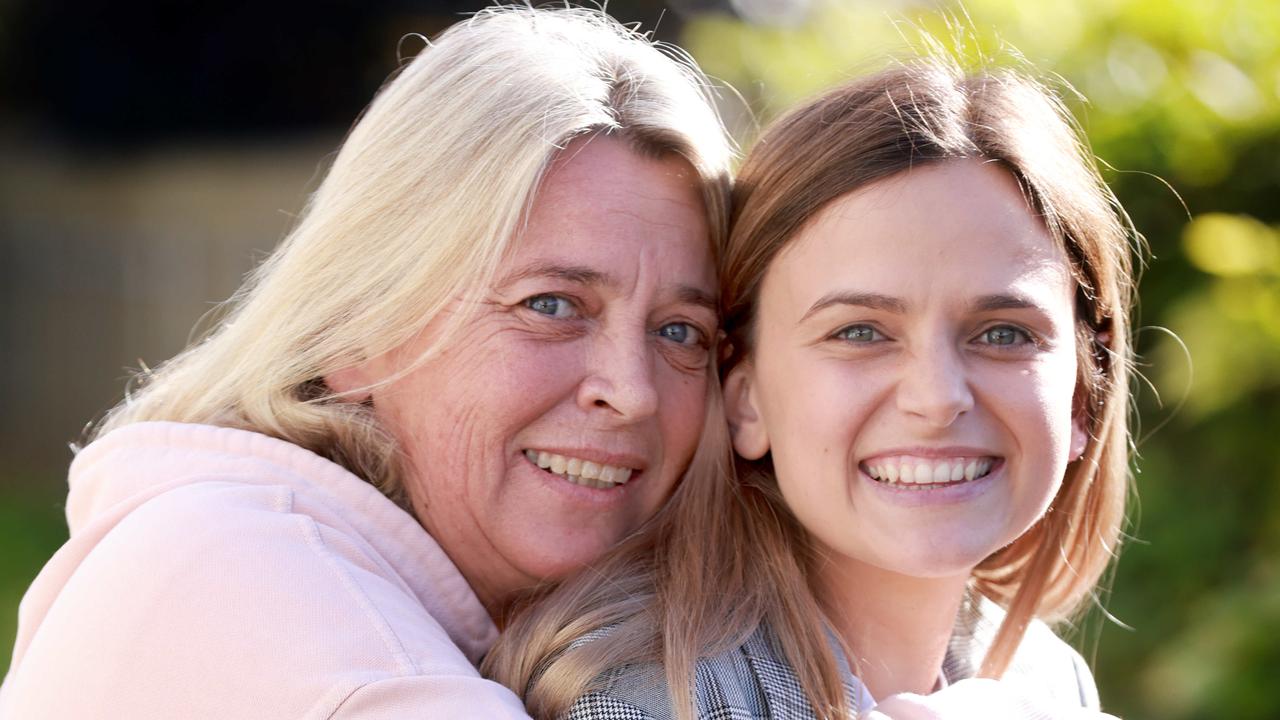 Kellie Gardner with mum Jane, who arrived the morning after that first night. Picture: Kelly Barnes
The house was scared, often teary and submerged by unspoken emotion.
"It was a war zone," Jane said.
"They are young and they weren't expressing anything. Kell wasn't expressing how she was feeling. Jez wasn't expressing how he was feeling, nor was I.
"We were bottling it up to keep the house happy. We didn't know how to talk. There were lots of fights in the house.
"You'd say something and it would relay down to a fight with somebody.
"It was hard watching her, and because Bubs was only three months old, I stepped in as a sort of full-time mum.
"It was gut-wrenching for Kellie because obviously Sophia attached to me.
"I was mum rather than Kellie and countless times I could hear her upstairs crying at night because she wanted to give Bubs her bottle and put her to bed with her. That was a real heartbreaker."

And, she said, it was difficult for Jeremy at times to have his mother-in-law in the house.
"I'd only met Jez twice before this, but he's a legend. He's stepped up, for a young 26-year-old, he stepped up heaps."
She can remember the day the specialist delivered the great news.
"There were smiles," Jane said.
"We haven't had many positives, we've had lots and lots and lots of negatives, and that was a huge positive.''
Jane arrived in September last year and will go home in November this year.
"You do it for your kids'' she said. "There's no way the kids could've done it in their own home.''
When Kellie was first diagnosed, a friend started a GoFundMe page to help pay for the medical bills.
At Christmas, Kellie and Jeremy gave Jane the $20,000 raised as a thankyou, and because she had left her job to be with them.