AFL Coach's Clipboard: North Melbourne's David Noble on Kangaroos' quest for success
COACH'S CLIPBOARD: They've got a young group which includes the No.1 draft pick. But what will the Roos look like this season? Their coach answers the tough questions.
Debt-free, record membership, big future plans for Arden St, some big-name recruits as well as the No.1 draft pick and the emergence of a talented, young playing group.
All of these things have North Melbourne coach David Noble excited – but he insist the Kangaroos won't be taking any shortcuts.
Glenn McFarlane sat down exclusively with the Kangaroos coach.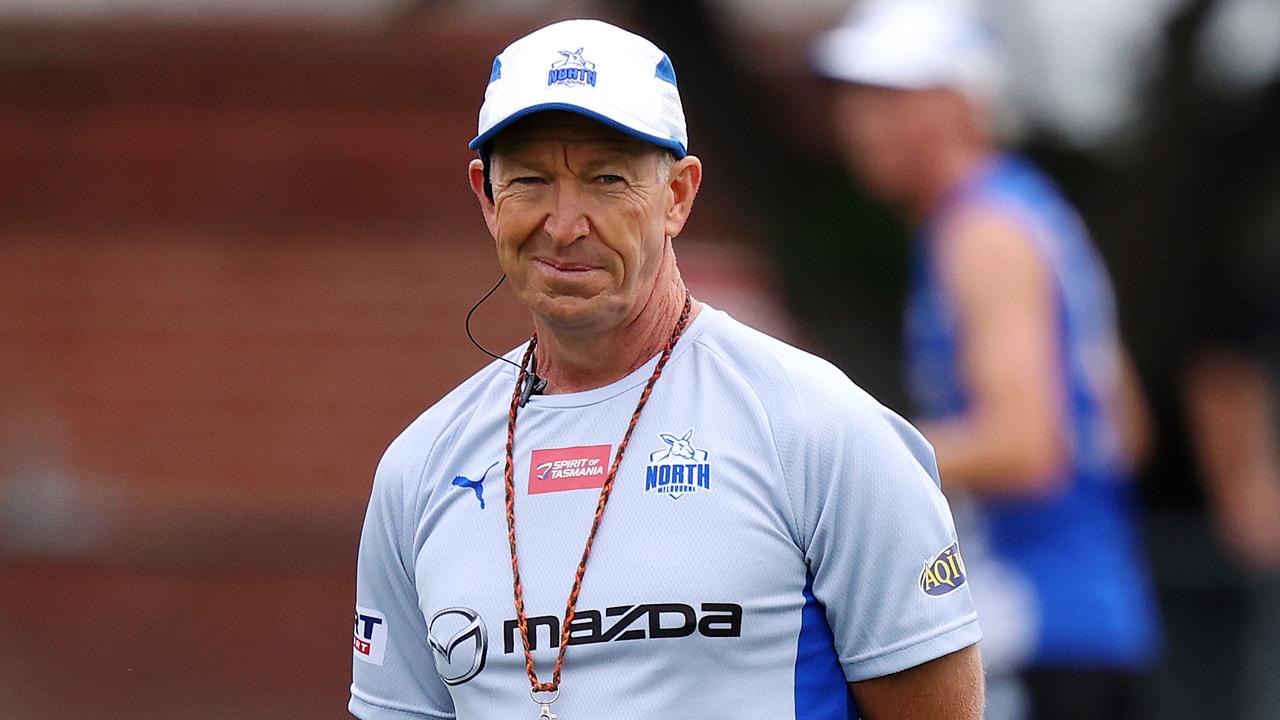 David Noble at Kangaroos training this week. Picture: Mark Stewart
GLENN McFARLANE: You are about to enter season two of coaching North Melbourne. What have you learnt about the club and the players?
DAVID NOBLE: Our club is genuine in its ambition to get better. You look across about how our (AFLW) girls are going and "Croc" (Darren Crocker) is doing a terrific job there. We are debt-free; our membership was at record pre-Christmas levels; we are spending $8m on the facilities here with future growth in place for an extension of a second oval; we have drafted really well; and we have reshaped key areas of our footy department with high performance and medical. There is excitement here but we know there is a lot of hard work in front of us. The great thing is our fans have bought in and understand what is ahead of us. We don't know whether there will be a bounce this year. But for long-term sustainable success, you have to put the foundations in strongly. We are still doing that this year.
Track watchers have suggested the players are fitter than they have been at this stage of the year. What impact has new head of performance Kevin White had?
When you have new people, you have new ideas and they bring a freshness. What we learnt from our players last year is there is a willingness to get better. We scratched the surface in the second half of last year. They have now understood a little bit about what is going to be required. We are still teaching them what that looks like, so for Kevy to sit over the top of a brand new crew – doctors, physios, strength, nutrition – they have done an incredible job to get our guys into a position in their first year as a new group. I want to pay my respect to the people who were here before. We had some longstanding, loyal servants of the club. We just needed to shift in a different direction. The fitness program and strength program now reflect how we want to play.
Will there be any discernible changes to your game style?
We need to defend better, we probably leaked too much (last year). We think we have made some inroads in how to defend better. We want to continue to advance our offence. We showed good speed once we got the ball in the right spots last year. We hope we continue to grow that. Long-term, we have to be good at the contest. Finals are about being good at contested ball, and that's what we have to continue to focus on.
Four wins and a draw in 2021. What are you expecting this year?
We will be better, I am sensing that straight off the bat. We need to beat the teams around us and chase the ones above us. Then we need to challenge the top sides when we can. Winning is always important. But if you get the process right, you give yourself the best chance of winning. Our members knew we were stepping out on the park every week to win (last year). We have really missed our (Melbourne) fans at our games. We are looking forward to getting that Shinboner spirit back at Marvel and in Tassie. They have been so supportive. We are hoping in the coming years we can repay that faith.
Ben Cunnington has returned to North Melbourne training for the first time after cancer treatment and is pictured here with former teammate Brent Harvey. Picture: Twitter
How good was it to see Ben Cunnington back at the club for his cameo recently?
It was great to see his smiling face. His health is our No.1 priority and we will give him time and work with him. We hope he can (continue to) pop in and say g'day and maybe do some work with some midfielders. He worked with a group last year, with Will Phillip and Tom Powell, even Tarryn Thomas and Jy Simpkin. When he is ready to train, and when we get to that point, we will look after him there.
How resilient is he?
Well, that's why they are great players. They inspire; they continue to get up against the odds. You look at Rafael Nadal in the Australian Open final. Great players are able to do that. You discount them at your own peril. But we will be really patient with Ben.
You said in November that Jaidyn Stephenson had some ground to make up after his post-season slip up. How is he going in that endeavour?
He is making an effort to make up that ground in terms of his contributions around the place. We want him to be invested. He is a highly intelligent, knowledgeable player, particularly from the footy side of things. He has bought into our program and I think he has trained harder than he has before. I think he knows the standards and what our expectations are.
Did you suggest to him that he runs the risk of being an unfilled talent unless he knuckles down?
Yeah, that's a pretty fair indication, without going into the details of what was said. We want him to maximise the talent he has. You have to make good decisions holistically with your training in order to maximise your talent. If we can help Jaidyn make those better life decisions, we are a better place. Better people make better Shinboners.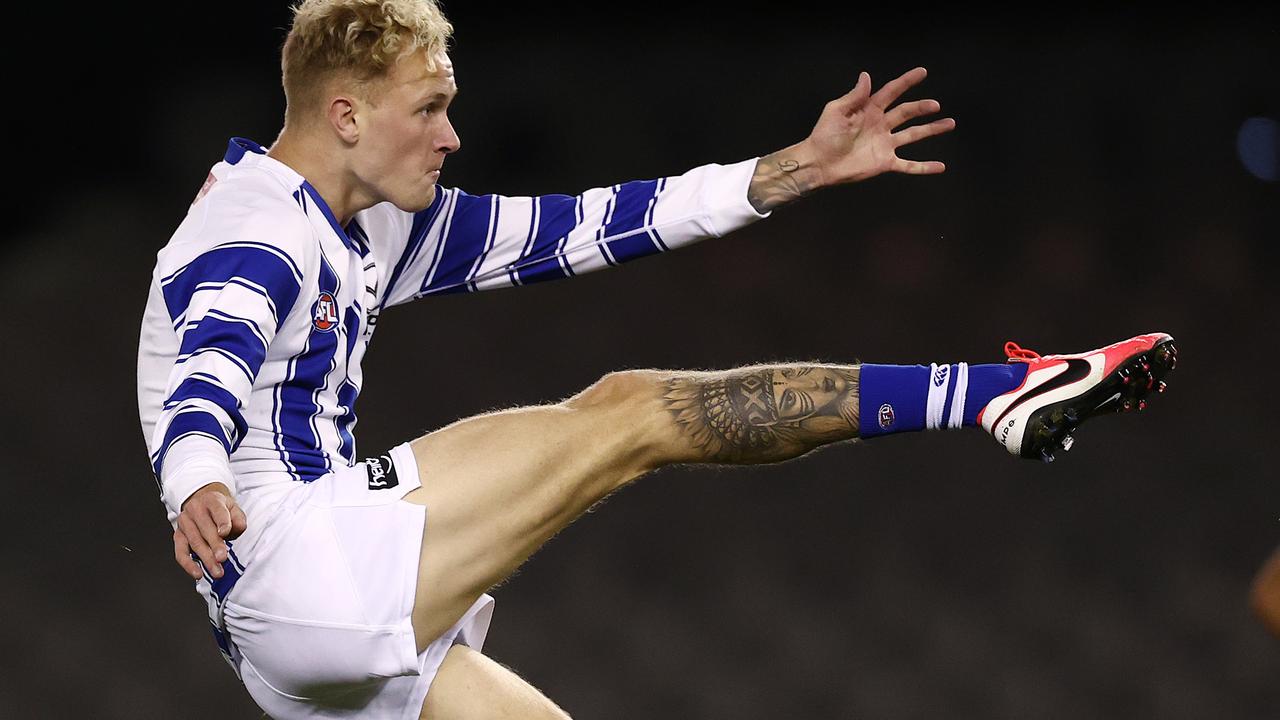 It's a big year for Jaidyn Stephenson. Picture: Michael Klein
Will the club's new development coach Tom Lynch get the last place on the list?
We don't have to make that decision yet, but that is where it is going. But Tom is not (being chosen) for AFL selection. It is for VFL and on-field training. Out of the players I have worked with over the journey, as far as preparing, he was right up there. I reckon Goody (Simon Goodwin) was one that was really prepared and he made the decision to go into coaching. Tom is equally as prepared in his philosophy. He has spent the last three or four years mentoring and coaching. We are more than happy to have him on board (in development).
New recruits Hugh Greenwood and Callum Coleman-Jones bring greater depth and flexibility. Is that the way you see it?
If you look at the dynamic of our list, (we are flexible). Tarryn Thomas and Jaidyn Stephenson are the same. Jy Simpkin is a midfielder, but we had him on the wing for a bit. LDU (Luke Davies-Uniacke) can go mid and a bit forward. We think it was really important that the guys coming in had multidimensional facets to their game. Aidan Corr fits into that category because he only played a couple for us last year. He is almost brand new. He has done 90 per cent of the training and is chomping at the bit to play. Hughie (Greenwood) is a mid. That is his primary role. If you look at his numbers from the last couple of years, he is up there in the comp for tackles, clearances and his pressure. (But) I can also see him playing forward. When he first started at Adelaide, he played a lot of early stuff forward. He could also play on the wing.
Todd Goldstein has been tireless in the ruck for so many years now. He has some competition now with Coleman-Jones and Tristan Xerri, who was heavily courted by St Kilda. Do you subscribe to a two-ruck policy?
I like the two-ruck scenario. We have got three rucks into the two who will fight it out. Tristan had probably been in our top-five performers during the pre-season. We held on to him for a reason. We think he has some real talent. There is some really stiff competition for the two ruck spots, which is good.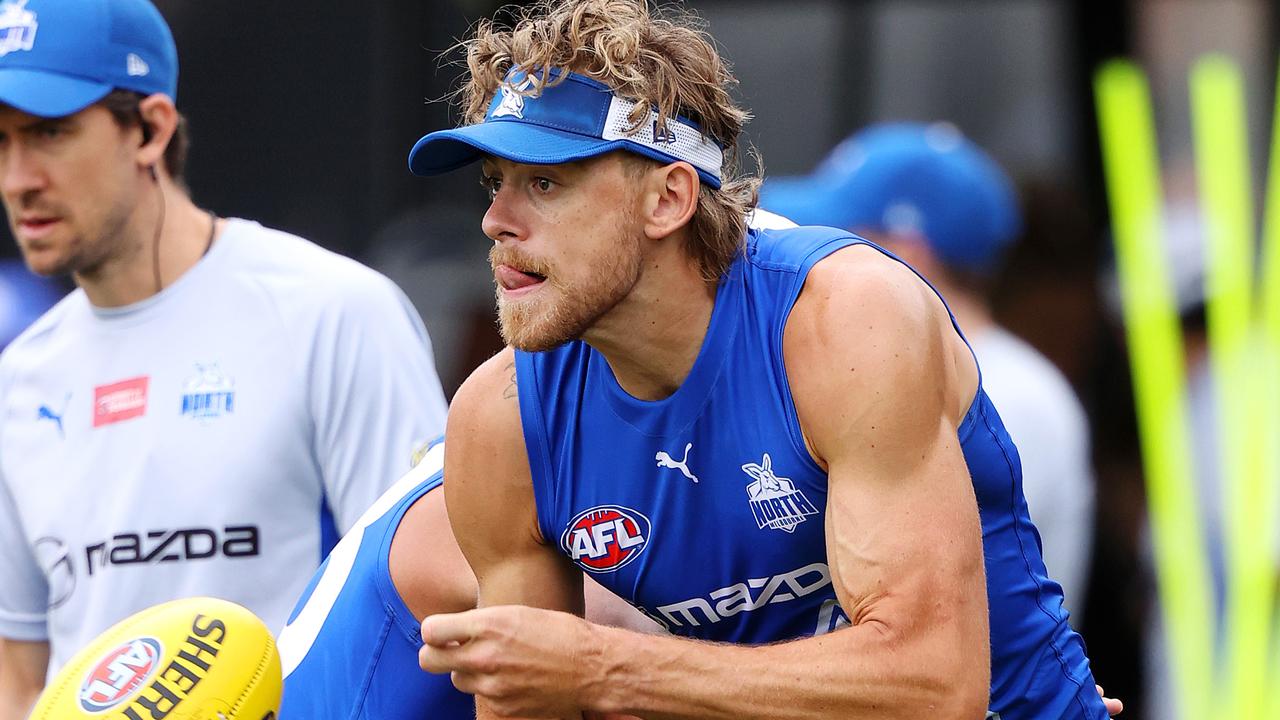 Recruit Hugh Greenwood has impressed Noble on the track. Picture: Mark Stewart
What is your midfield looking like for round 1?
Can you come back and ask me in a couple of weeks (laughs)? You are going to have to fight to get in there for Round 1. We've had a couple of goes at match committees picking our first team. It has been quite challenging. I think across the eight of us … there were probably 30-odd players picked. Some were picked a few times.
Will Jack Ziebell captain the club for a sixth season and who are the young emerging leaders?
We are getting close (to an announcement). Jack did a great job last year (with Luke McDonald and Jy Simpkin as co-vice captains). Gerard Murphy did our program … and he was able to uncover some of our emerging young leaders who have an interest in leadership – guys like Nick Larkey, Luke Davies-Uniacke and Aidan Corr. Hugh Greenwood is a natural leader. Then you have the next crew down, with Tarryn Thomas, Will Phillips, Tom Powell and Cam Zurhaar. We have got a few who have started to understand what leadership is about and what they might be able to offer us in that space.
You moved Ziebell and Hall to defence last year with great effect. Have you got any positional changes set for this season?
We will look at the wings. Luke (McDonald) will probably go back to half-back. Trent (Dumont) ended up with another chance at Port (Adelaide), which was great. So there are a couple of (wing) spots that open up.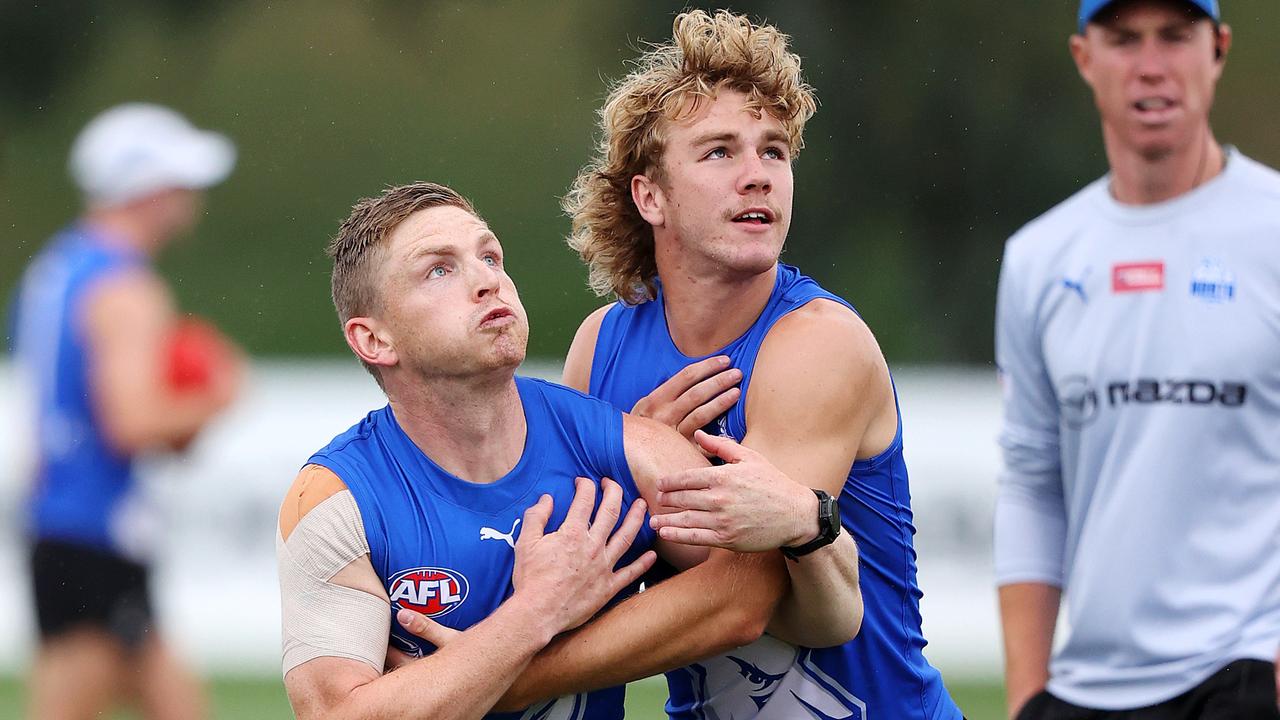 Skipper Jack Ziebell and No. 1 pick Jason Horne-Francis go head-to-head at training. Picture: Mark Stewart
Can you finish this sentence: 'In 2022 Jason Horne-Francis will …'
Be a very good player. You will see some maturity in his game, beyond his years, early on. You have to remember he has played two years of senior footy, with South (Adelaide), who did a terrific job with him. He has great talent and is very competitive. He needs to train at a certain level to maximise what he has. But I think we will see some decisions and play from time to time where you will go, "That's ahead of where you may expect him to be", without three or four years of (AFL) experience. The best analogy would be Tom Powell versus Will Phillips last year. Tom played SANFL (in 2020), Will didn't play many games. But if you go back and look at the games Will played, have a look at how clean, how sharp and how crisp he looks when he releases the ball around stoppages.
Nick Larkey kicked more home-and-away goals last year than Richmond's Tom Lynch, Josh Kennedy and Aaron Naughton. Have we undervalued his 42 goals last year?
Not bad for a team that finished on the bottom. In the second half of the year, Cam (Zurhaar) and Larks were (among) the best duo in the competition. One of the things we did really well last year was we kept attacking. We didn't park the bus. Our inside-50 entries were pretty reasonable. We kept the ball moving forward, so that helped Nick grow. His year was a bit undervalued, but he has to be aware that clubs might be a little more aware of him this year, so he has to be ready for that.
Tarryn Thomas's contract extension must be a great thing for the club?
It's bloody super. He is just so infectious; he just has this big grin on his face. He is a genuine young man, a very caring soul who is well liked around the place. It is a great endorsement for our club and where we are going, that a young guy like him says, "I love what we are doing, I am sticking, and let's keep moving forward".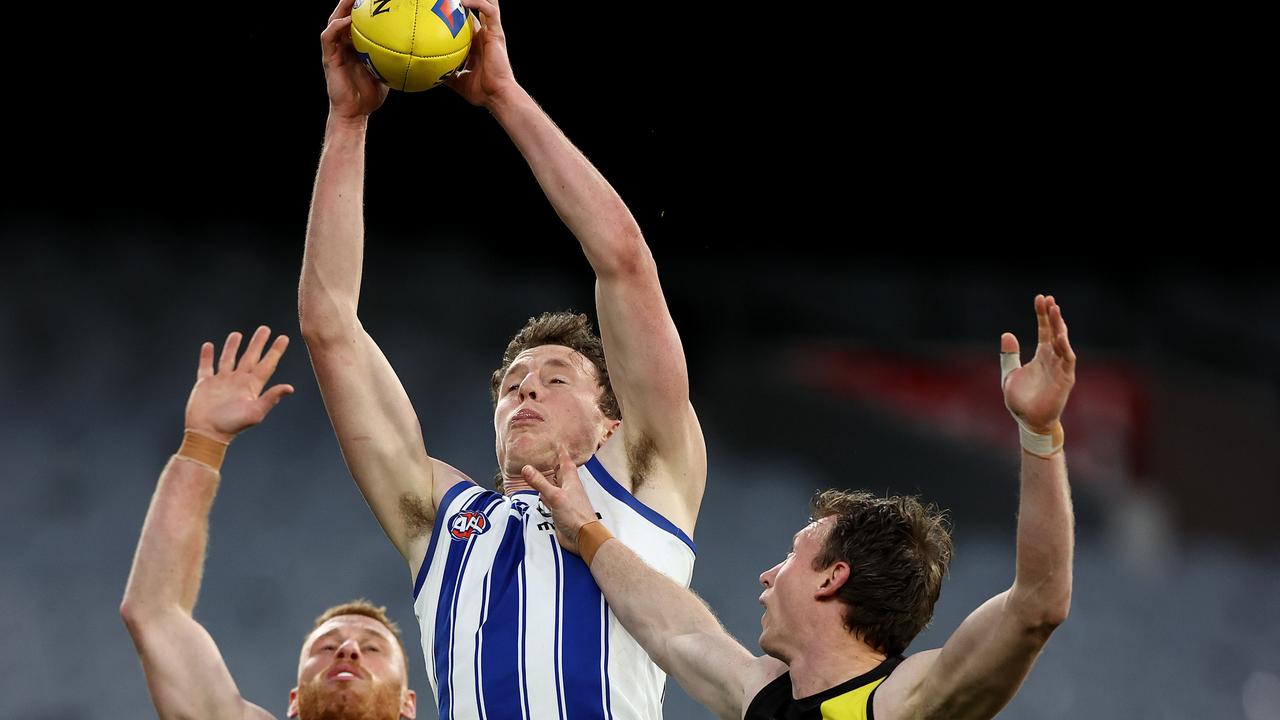 Nick Larkey kicked 42 goals last season. Picture: Michael Klein
How much improvement is left in defence?
We tapped into the offence and stoppages (last year), which is a bit back to front. But we felt we were coming off an era where we needed freeing up and we wanted to go for it.
That (defence) is the area we want to grow in, but not at the expense of attack.
We are not going to become a dour team. We want our fans to come and celebrate that.
We want them to follow the players through the journey of us being successful and coming to games to watch us kick goals. We want to kick goals.