On Notice column: Dane Swan, Brendan Fevola and Brent Harvey linked to fight night extraganza
Three AFL greats have been approached to step into the ring for a proposed footy legends fight night, which may become an annual event as precursor to the finals series.
Footy greats Dane Swan, Brendan Fevola and Brent Harvey could be stepping into the boxing ring for a major AFL fight night in August.
It is understood a number of former footy stars have been approached to potentially take part in a special AFL Legends Fight Night at Margaret Court Arena.
Watch every blockbuster AFL match this weekend Live & Ad-Break Free In-Play on Kayo. New to Kayo? Try 14-Days Free Now >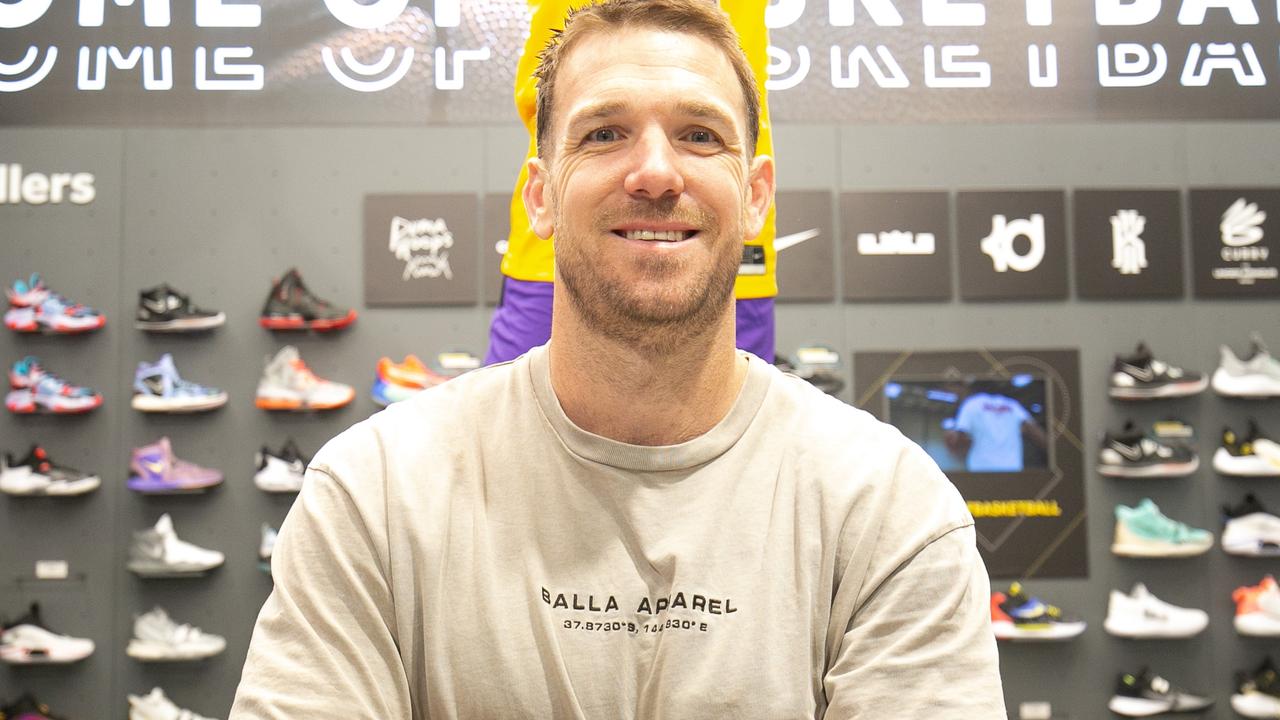 Dane Swan could be wearing the gloves if a proposed boxing blockbuster goes ahead.
The event, which could take place on Wednesday August 3, may become an annual event, to be held a month out from the AFL finals series.
Former Magpie Swan and former Blue and Lion Fevola have been approached to make their boxing debuts in recent years, but have so far resisted the temptation.
But it is understood a deal to see them pitted against other former footballers in their respective weight divisions is getting closer to a resolution.
They won't fight each other.
Barry Hall has been the highest profile former AFL star in recent years to step into the ring.
Hall fought former NRL star Paul Gallen in the "Code Wars" in 2019, but his boxing career suffered a blow when he lost in a TKO within two minutes against Sonny Bill Williams in March this year.
Brent 'Boomer' Harvey is one of the big names being chased for a monster boxing night.
When will Hird put coaching cards on the table?
In our weekly column, we take a look at the big names and big issues that deserve to be put On Notice for the coming weekend.
BARRY HALL
Big, bad bustling Barry's title as AFL's greatest boxer is under threat.
Word is out that retired AFL greats Brendan Fevola and Dane Swan are about to don the gloves.
For the past 12 months Swan and Fevola have been linked with much-vaunted debuts in the ring. Those talks have previously collapsed. But now it's on like Donkey Kong with the pair inking deals to swap the Sherrin for boxing gloves.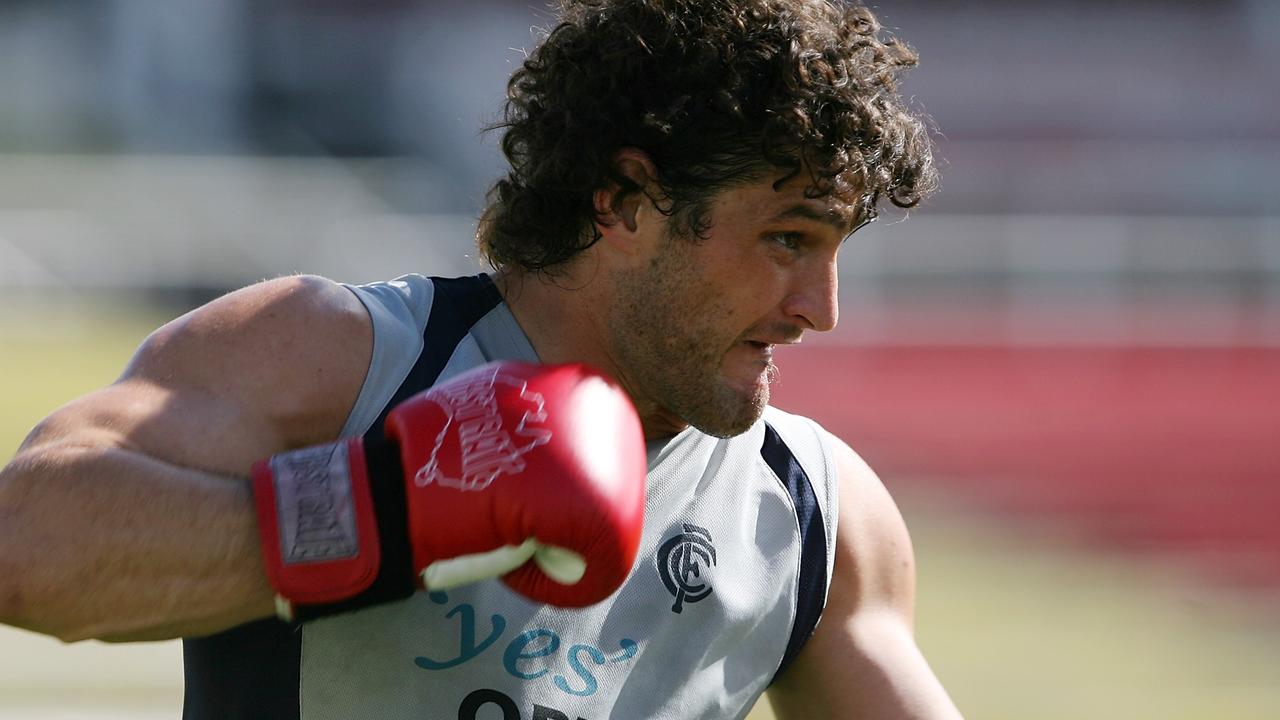 Brendan Fevola shows off his boxing skills during his time at Carlton.
On Notice understands Swan and Fevola are the main attractions for an AFL Legends Fight Night to be held in Melbourne later this year. A number of venues are being explored, including Margaret Court Arena.
Collingwood great Swan and controversial Carlton and Lions star Fevola will not fight each other, with promoters in the advanced stages of lining up opponents for the big-name duo.
The 41-year-old Fevola has had a chequered career, while 258-game Magpies luminary Swan, 38, could pack a punch in the ring at 185cm and 93kg.
GILLON McLACHLAN
The true role of the AFL CEO will emerge in the coming week when a timeslot is announced for this year's grand final.
Is Gillon McLachlan expected to be a man of business or a man of the people?
Because there is no greater collision in the ongoing cash-versus-public-opinion debate than the starting time for the league's end-of-season decider.
The AFL commission will make the final decision, but it will be under McLachlan's guidance.
So, the casting vote can take one of two paths:
If the grand final remains at 2.30pm, then the overwhelming wishes of the footy public will have been acknowledged and respected.
If the MCG is to host its first ever twilight grand final year, it will have been a decision steered by finances.
And AFL will no longer be the people's game.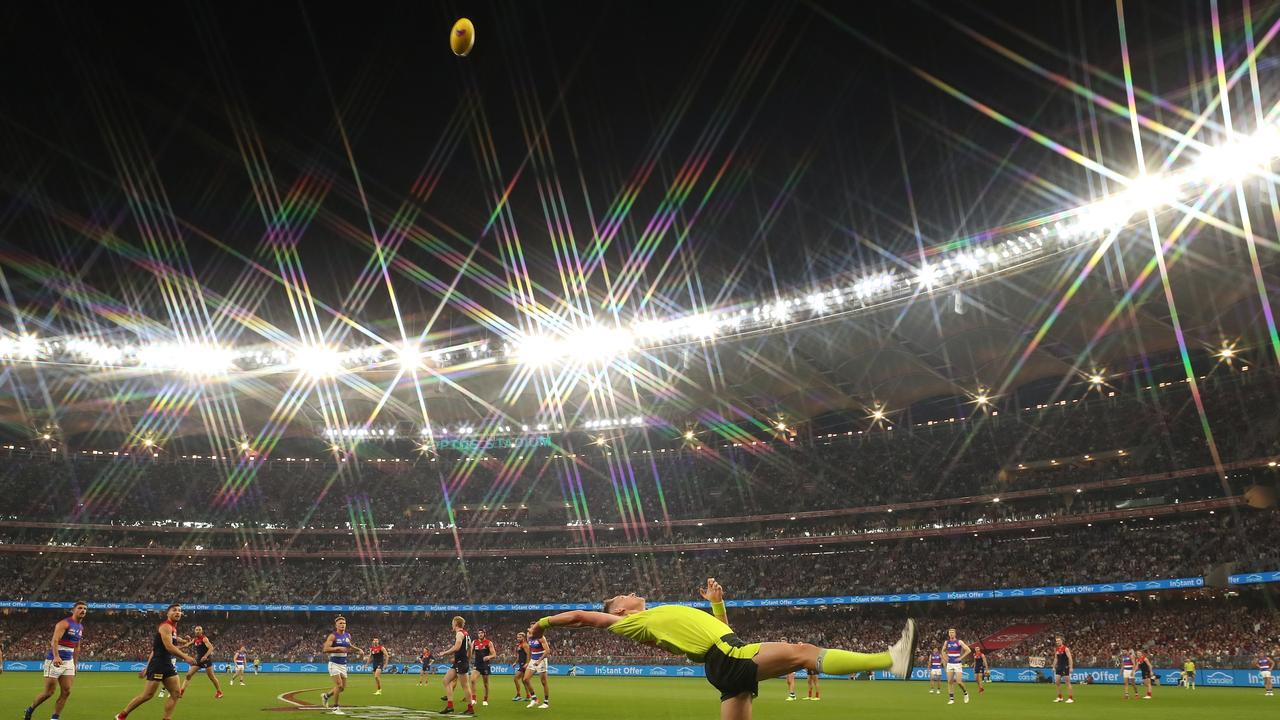 Gillon McLachlan has raved about the spectacle of last year's grand final in Perth.
DUSTIN MARTIN AND JAMES HIRD
It's time to speak up. Or speak out.
Speculation continues to swirl over Martin's future beyond this year.
The club treads lightly around the prospect of losing one of its greatest ever players before time for fear of disrespecting what a champion of the game has delivered the Richmond faithful.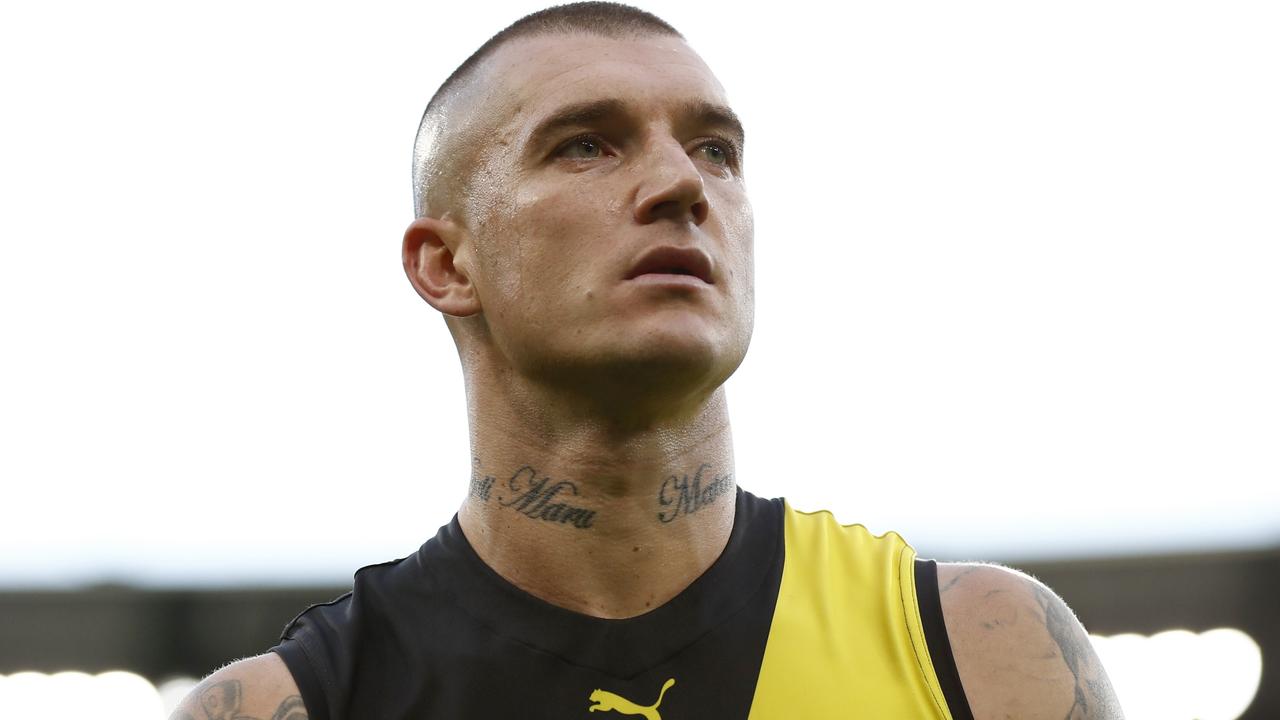 Dustin Martin has not spoken to the media about his future all year.
Dusty's manager, Ralph Carr, mysteriously tiptoes around the issue because he, too, doesn't want to upset his client, and, to be honest, he doesn't seem to know.
But Martin doesn't have to tread lightly. He can just tell us what he thinks.
Does he want to stay, or does he want to go?
Hird is in a similar boat. Regardless of whether people think he can or should coach again, the debate doesn't hold any sway until Hird comes clean with his intentions?
Does he want to coach, or is he happy doing what he is doing?
Over to you gents.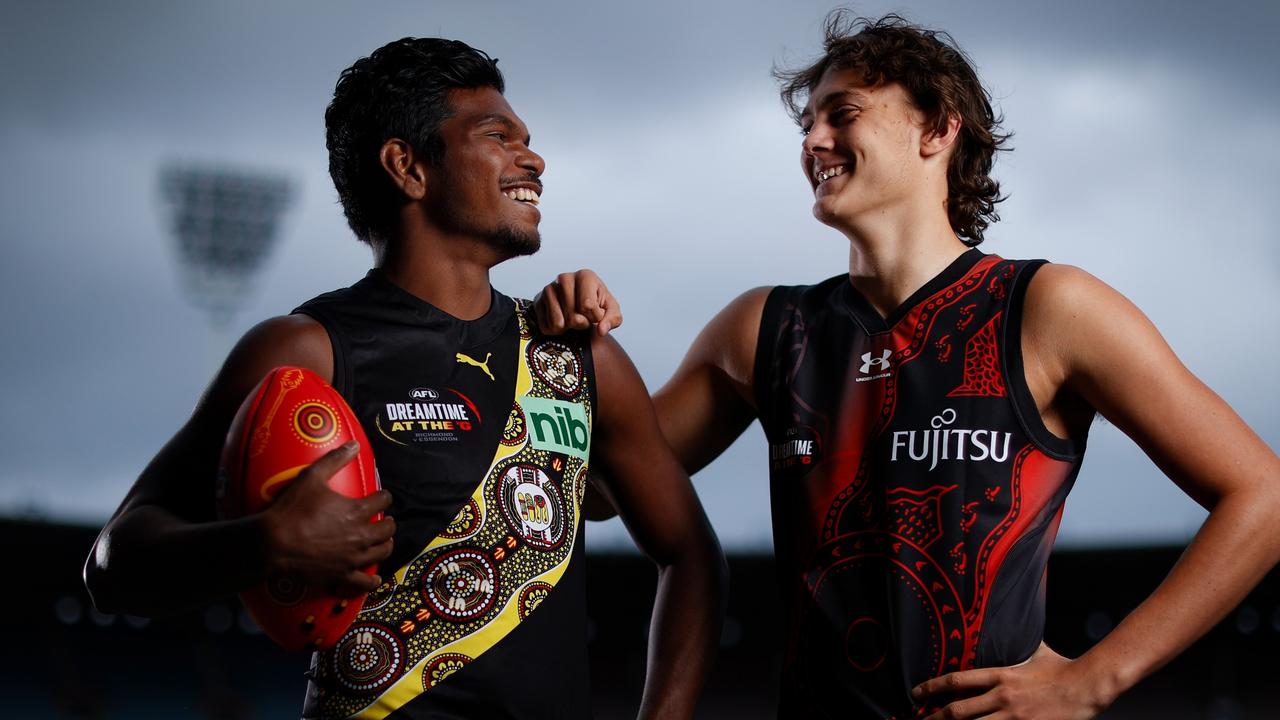 Richmond's Maurice Rioli and Essendon's Tex Wanganeen show off the special Sir Doug Nicholls Round jumpers to be worn at the MCG this Saturday night.
CLASH JUMPERS
The bruise-free Bombers have promised us greater endeavour this weekend, but one of their greatest obstacles on Saturday night could well be deciding who is friend and who is foe.
They take on Richmond in Dreamtime at the 'G in jumpers that — from a distance — almost look the same.
It's pretty hard to boost the piss-poor tackle count from last week if you don't know who is who.
Surely the AFL should have had the foresight to intervene?
Richmond was made to go with a predominantly yellow jumper in their historic grand final win against Adelaide at the MCG in 2017.
Shouldn't the same principles have been applied?
Richmond is the home team so it should get the traditional colour code.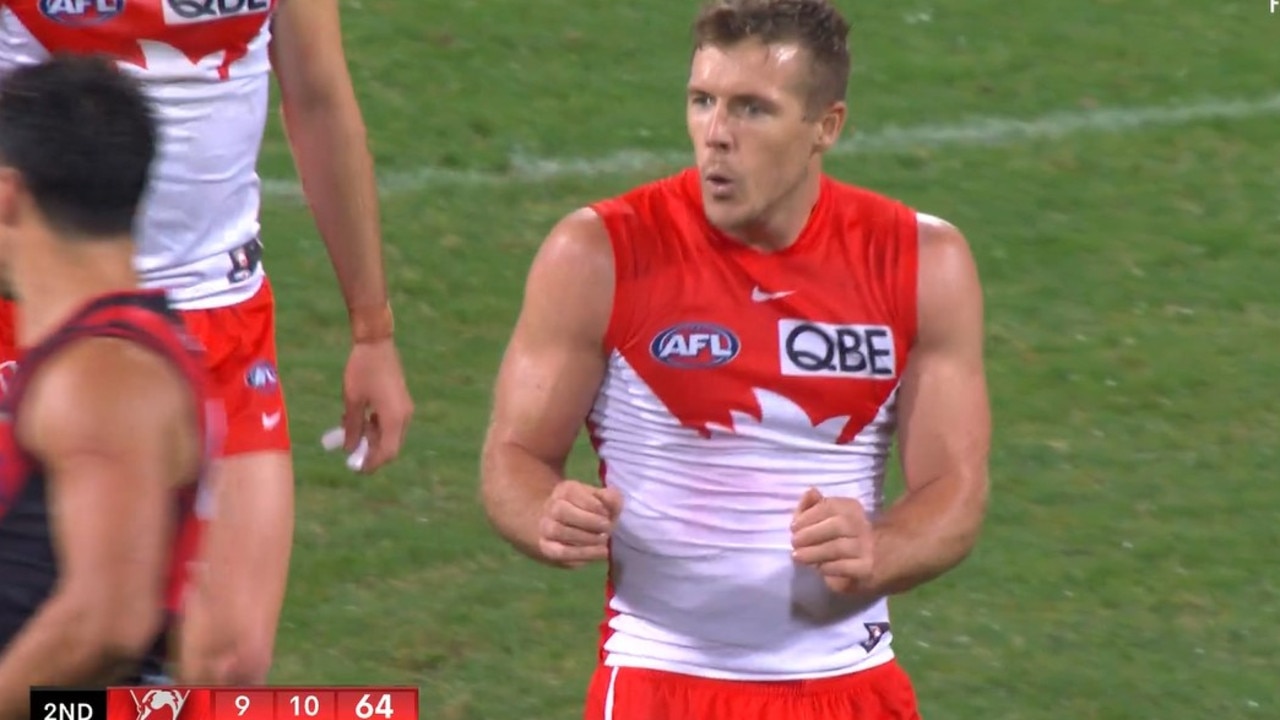 The vision of Luke Parker mocking Dylan Shiel has been on high rotation this week.
LUKE PARKER
Surely it is incumbent on the Carlton midfielders to get in the face of the Sydney captain on Friday night.
The vision of Parker taunting Essendon's Dylan Shiel has been shown ad nauseam across the week.
Most of the ensuing scorn has been poured on the Bombers' lack of fight and lack of response, but the actions will have put a target on Parker's back.
He won't dare shirk an issue, fumble a ball, bungle a kick or miss a goal against the Blues or the likes of Patrick Cripps, George Hewett or Jack Silvagni will be paying his personal space a visit.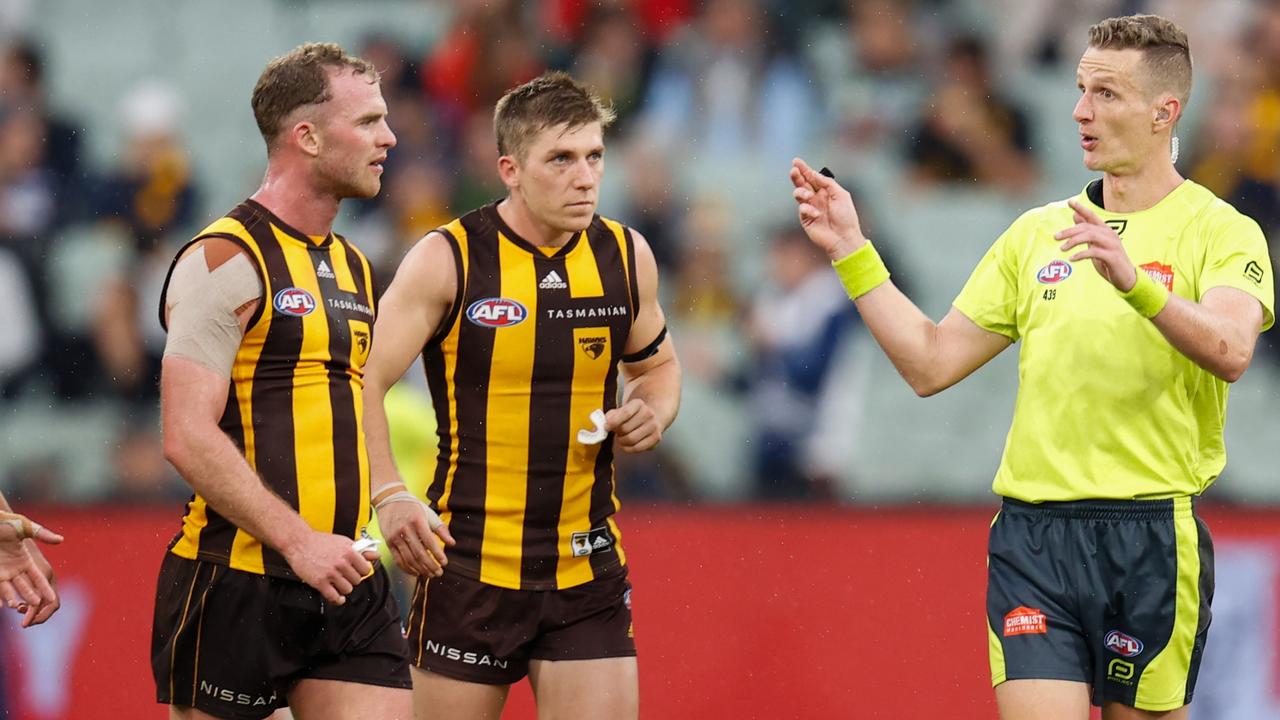 Tom Mitchell copped a 50m for "arms up" dissent against Geelong at the MCG in round 5.
ARMS UP IS 50M, MATE
We are 10 rounds in and still talking about this silly state of affairs.
Stop paying 50m for players who throw their arms in disbelief. That's not dissent, it's a natural reaction.
Abusive language? Tick. Pay the 50m.
Aggressive language? Tick. Disrespectful language? Tick. Demonstrative behaviour? Tick.
But if players are caught off guard by the whistle and following decision, surely they don't deserve to be penalised.
We throw it out all the time, but no one wants a grand final or crucial match decided in this manner.
PORT ADELAIDE
The Power have won four in a row to have their season at 4-5.
But they really need a big statement win.
West Coast and North Melbourne are walk-up wins for pretty much every side right now and don't tell you if a side is back, St Kilda in Cairns was played in woeful conditions and the Western Bulldogs were hit hard by injury.
Take down Geelong in Geelong, that's a statement that would show that the Power are back.
And with the struggling Essendon next week the Power would come into their bye in a great spot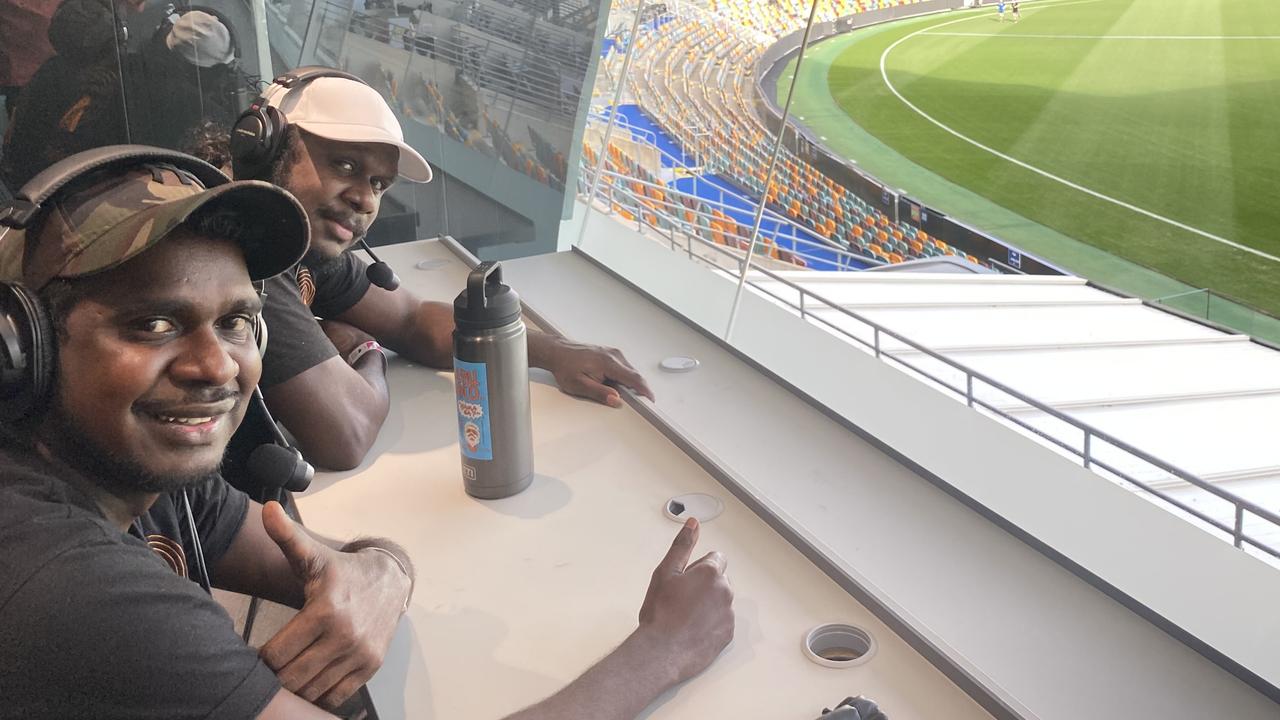 William Gumbula and Baykali Ganambarr will call the Dreamtime at the G clash in traditional Yolgnu Matha language for broadcaster Yolgnu Radio.
BRIAN TAYLOR AND JAMES BRAYSHAW
CHANNEL 7's football A-team might be in for some stiff calling competition this weekend.
The AFL has announced that two Sir Doug Nicholls round matches will be broadcast in traditional Yolgnu Matha language.
Nhulunbuy local William Gumbula and Elcho Island product Baykali Ganambarr will pair up for Yolgnu Radio and travel to Melbourne to call the Dreamtime at the G match between Richmond and Essendon on Saturday night.
They will follow up by calling the clash between Gold Coast and Hawthorn in Darwin in round 11.
Yolgnu Radio, a community station from northeast Arnhem Land, has previously broadcast the 2021 Dreamtime in Perth match and the 2021 first semi-final between Brisbane and Western Bulldogs at the Gabba.
Originally published as On Notice column: Dane Swan, Brendan Fevola and Brent Harvey linked to fight night extraganza