On Notice: Scott Gullan takes aim at Adelaide's Taylor Walker tweet, Jeff Kennett's members letter and more
Jeff Kennett's letter addressing accusations by Cyril Rioli is yet another example of a trend that is creeping in — and Scott Gullan has all clubs in his sights.
In a new weekly column, eagle-eyed football journalist Scott Gullan sharpens the pencil and announces who is on notice for the coming round ....
LETTERS TO MEMBERS
This was going to be aimed at Hawthorn president Jeff Kennett but every club needs to be told.
This new trend of sending out a letter to members when in a time of crisis is weak and pure marketing spin.
First of all, don't think the members get all warm and fuzzy because the president has sat down at his typewriter and belted out a few paragraphs.
Stream every match of every round of the 2022 Toyota AFL Premiership Season Live & Ad-Break Free In-Play on Kayo. New to Kayo? Try 14-Days Free Now >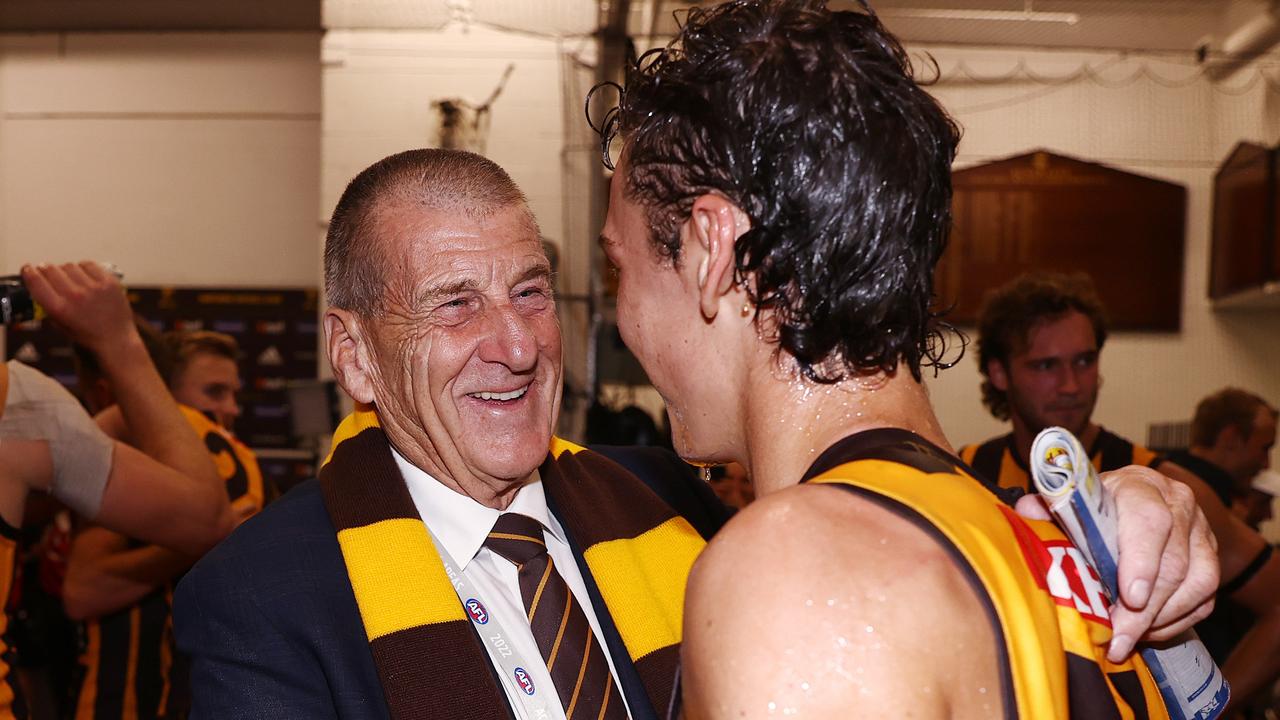 President Jeff Kennett first addressed Cyril Rioli's allegations by sending a letter to Hawthorn members Picture: Michael Klein
You know what they would prefer, to see someone in the hierarchy from their football club stand up, be heard and take ownership of the issue.
Hiding behind a statement of spin which is posted on the club's website is a cop out.
In Kennett's case, normally you can't shut him up yet when one of the Hawks favourite sons is labelling the club racist and calling him out for his actions, Jeff is nowhere to be seen.
A timely bout of Covid has been trotted out as an convenient excuse but after the seven days rest, Kennett needs to be front and square for his members and not hiding behind the idea of a drawn-out investigation and need for a "measured" response.
MICHAEL VOSS
Bit harsh given the new Carlton coach is 3-0 and being hailed as the messiah but he will know Sunday's match-up against Gold Coast is what they call in the caper a "banana skin" game. There are red flags everywhere for the Blues this week.
Obviously the outside noise about eight-zip starts and being declared premiership contenders is always a concern for a team on the rise. Then there is the old adage which a lot of coaches live by, in that the way you finish games says a lot about the following week.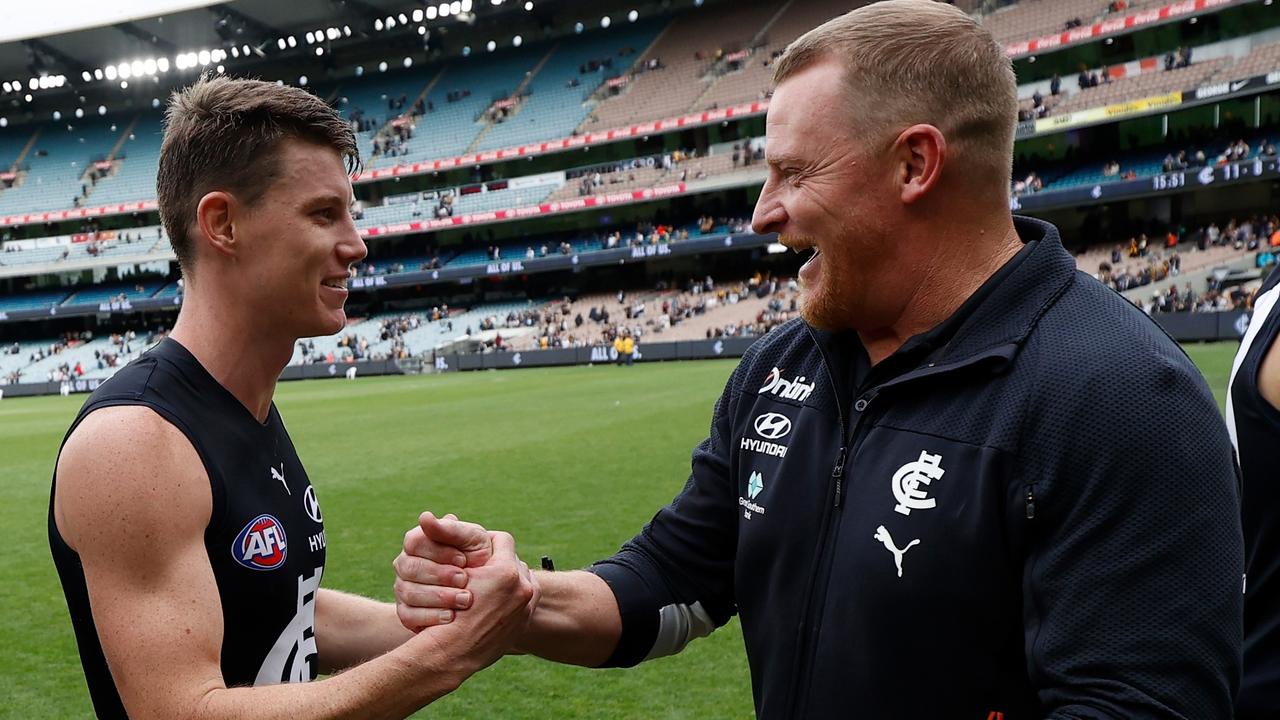 Michael Voss has rocketed out of the blocks with a three-zip start to the season but the Carlton coach faces a massive danger game this weekend.
Against the Hawks, the Blues looked tired and lethargic for most of the second half and apart from a few heroic acts late they probably would have lost.
The timeslot — 4.10pm on a Sunday — is the graveyard shift.
Players hanging around on the Gold Coast for the weekend waiting for game time has distractions written all over it. And then there are the Suns who historically are competitive in the first half of the season and are coming off a shocker last week, which you'd think would have them emotionally hyped to hit back on their home deck.
And don't forget, two weeks ago Melbourne had to work seriously hard to beat them at Metricon Stadium.
ADELAIDE'S SOCIAL MEDIA TEAM

Does the term "tone deaf" mean anything?
The Crows sent a tweet announcing the return of Taylor Walker with a big photo and cool sunglasses emoji stating: "He's back".
Given the reasoning behind his absence and the sensitivity around it, you would have thought the best course of action was to let him come back into the team as quietly as possible.
We understand it's news that he's back but dressing it up and making a song and dance about it was silly and understandably the Crows have been savaged on social media for it.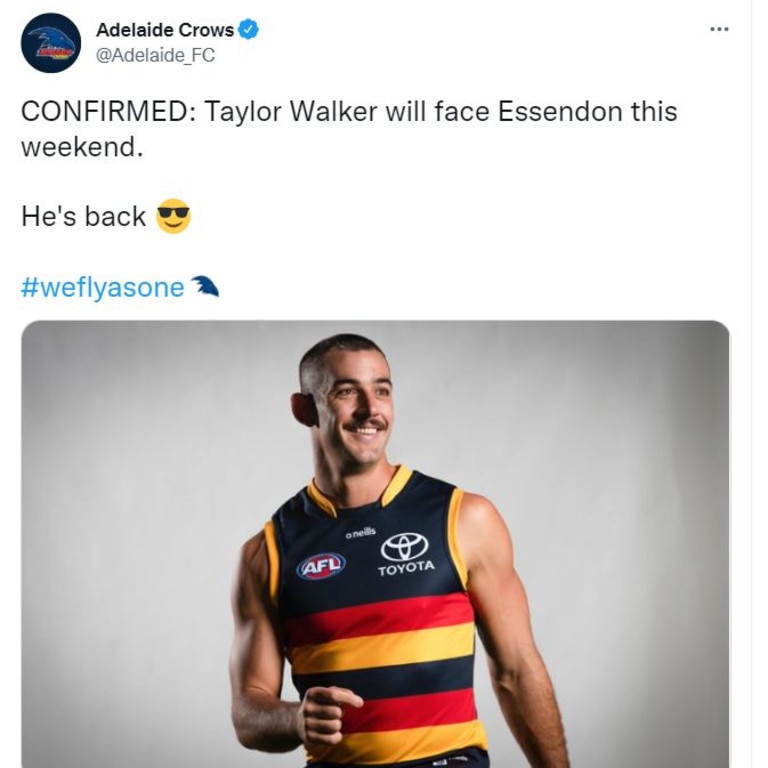 This Taylor Walker tweet from the Crows has been slammed. Picture: Twitter.
SHAUN HIGGINS
The Cats veteran looks like he's stuck in that cycle of trying too hard.
For such a skilful operator, the sight of him fumbling and missing targets has been hard to watch.
Being "rested" after just one game was strange for the 34-year-old and he wasn't one of the igniters for the Cats in that amazing comeback against Collingwood.
Chris Scott has already declared Gryan Miers is coming back which leaves Higgins' vulnerable.
Fellow small forwards Brad Close and Tyson Stengle are locked in while Luke Dahlhaus came on as the medical sub in the last quarter on Saturday night and was influential.
Youngster Max Holmes — it's scary how similar he is to James Kelly — isn't going anywhere so where does Higgins fit?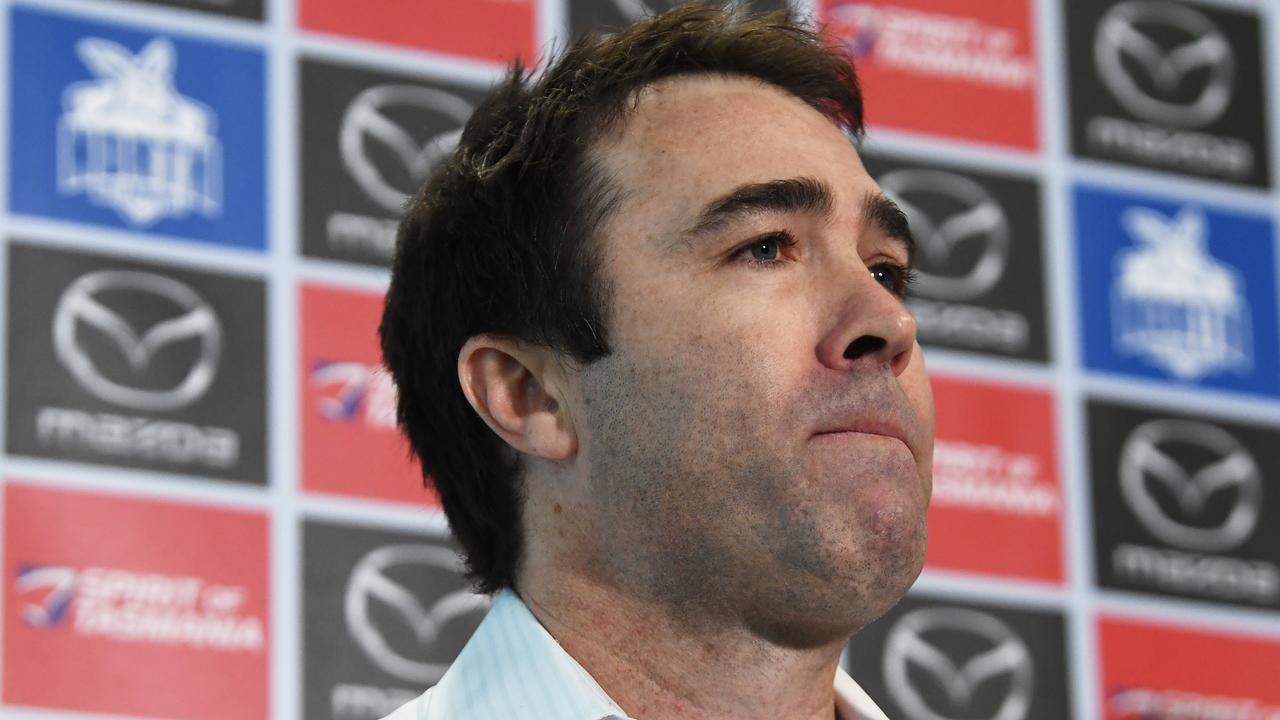 AFL footy boss Brad Scott has been challenged to make a clear ruling on the medical sub.
BRAD SCOTT
Time to put your big boy pants on, Brad.
The medical sub is being rorted, we know it, you know it, the clubs certainly know it.
At least two clubs used it over the weekend to great effect with Luke Dahlhaus and Jack Martin both conveniently coming off the pine to have a hand in crucial moments late in their respective games.
Changing rules on the run is never a great look but you'd get a lot of kudos if you came out and declared the sub is now tactical for both teams after three-quarter time.
That takes away any grey area because at the moment the medical sub is as grey as the clouds which seem to permanently live over Randwick racecourse at the moment.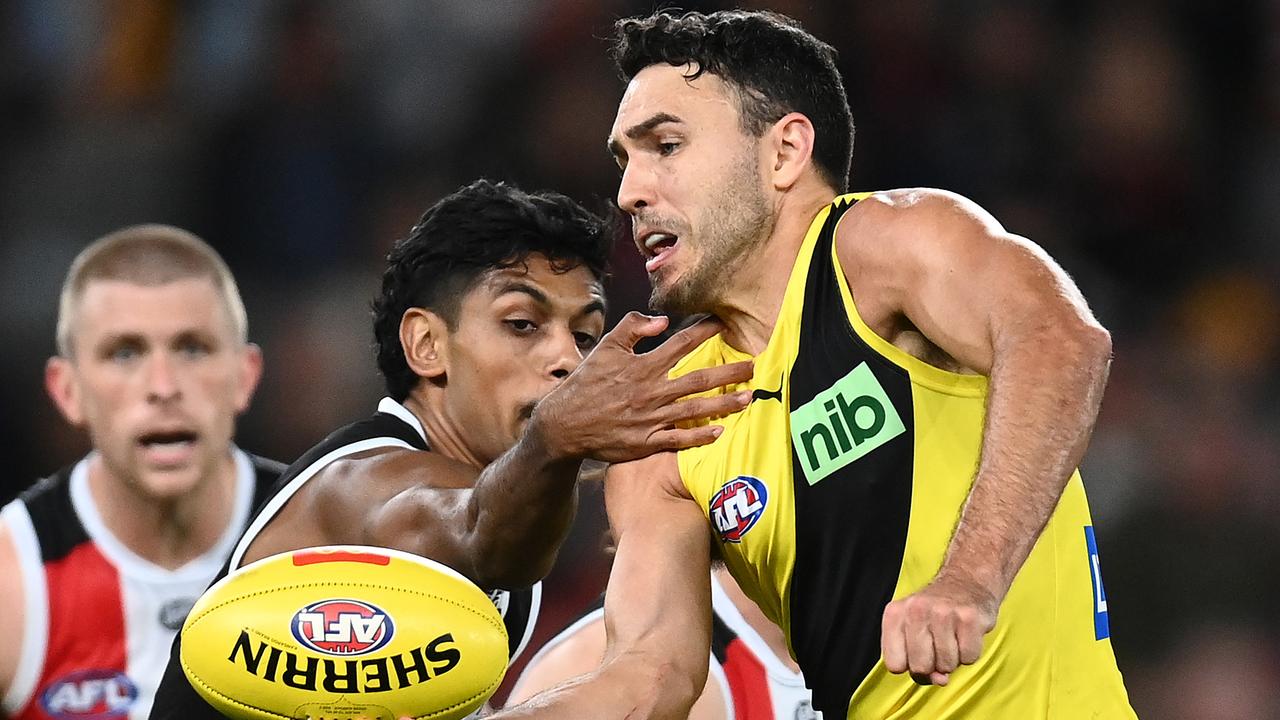 Richmond's Shane Edwards is nearing the end of his career at age 33.
SHANE EDWARDS
Richmond fans will say wash your mouth out by even mentioning their favourite player here but Edwards is missing something this year.
Possessions have never been a gauge for his influence given how clever he is but the 33-year-old seems to have lost his spark.
The trademark sidestep, the classy tap on or manic attack on the man hasn't been sighted in the opening three rounds.
Edwards' form and former skipper Trent Cotchin's struggles are going to start making Damien Hardwick's life even harder given at some point — and it could come quicker than we thought — he will have to make a call about the old firm and give the kids a chance to build the next dynasty.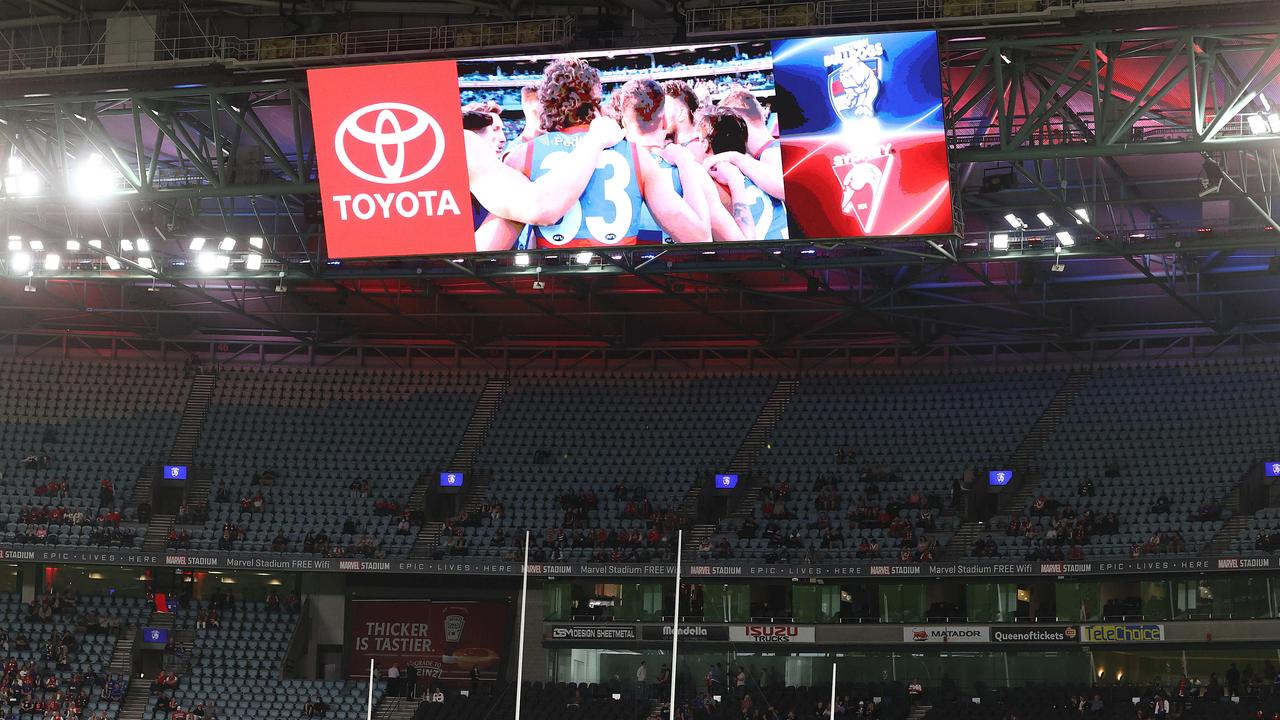 The sexy scoreboards at Marvel Stadium have covered the names on the stands.
GILLON'S SEXY SCOREBOARD
The AFL boss was particularly excited about the new scoreboards at Marvel Stadium in the lead-up to the start of the season and to be fair they certainly stand out. But are they too big? We say that in the sense that some eagle-eye punters have noticed the names of the legends who used to own each end of the stadium are missing. The northern end is normally the Lockett End, after Tony Lockett, and the southern end is the Coventry End after Gordon Coventry.
Some clubs mix it up with Essendon putting Matthew Lloyd's name up for their home games but the names seem to have been a casualty of the new renovations.
When we approached the league to suggest, "Surely we can still have sexy and tradition together?", we were assured that the legend's names will return to their rightful place in coming weeks.
Originally published as On Notice: Scott Gullan takes aim at Adelaide's Taylor Walker tweet, Jeff Kennett's members letter and more