All the Port Adelaide news this pre-season campaign
The mainstays of Port Adelaide's midfield — Travis Boak and Brownlow medallist Ollie Wines — are in line to be joined by a host of young stars in 2022.
AFL Round 10. 23/05/2021. Collingwood vs Port Adelaide at the MCG, Melbourne. Lachie Jones of the Power. Pic: Michael Klein
New Port Adelaide midfield coach Brett Montgomery says he is looking forward to the challenge of growing the Power's on-ball stocks.
But he says a perceived lack of midfield depth wasn't necessarily the reason for the Power's preliminary final horror show against the Western Bulldogs, despite it being the main criticism of how Port Adelaide's 2021 campaign ended.
After midfield coach Jarrad Schofield went to West Coast, and senior assistant Michael Voss became Carlton's senior coach, Montgomery has been tasked with the Port Adelaide engine room for 2022.
He walks into the job with many believing the Power needs to improve their midfield depth, especially after being blown away by the Bulldogs.
Montgomery said he was looking forward to helping the Power build their midfield depth but said necessarily wasn't why Port fell short against the Bulldogs.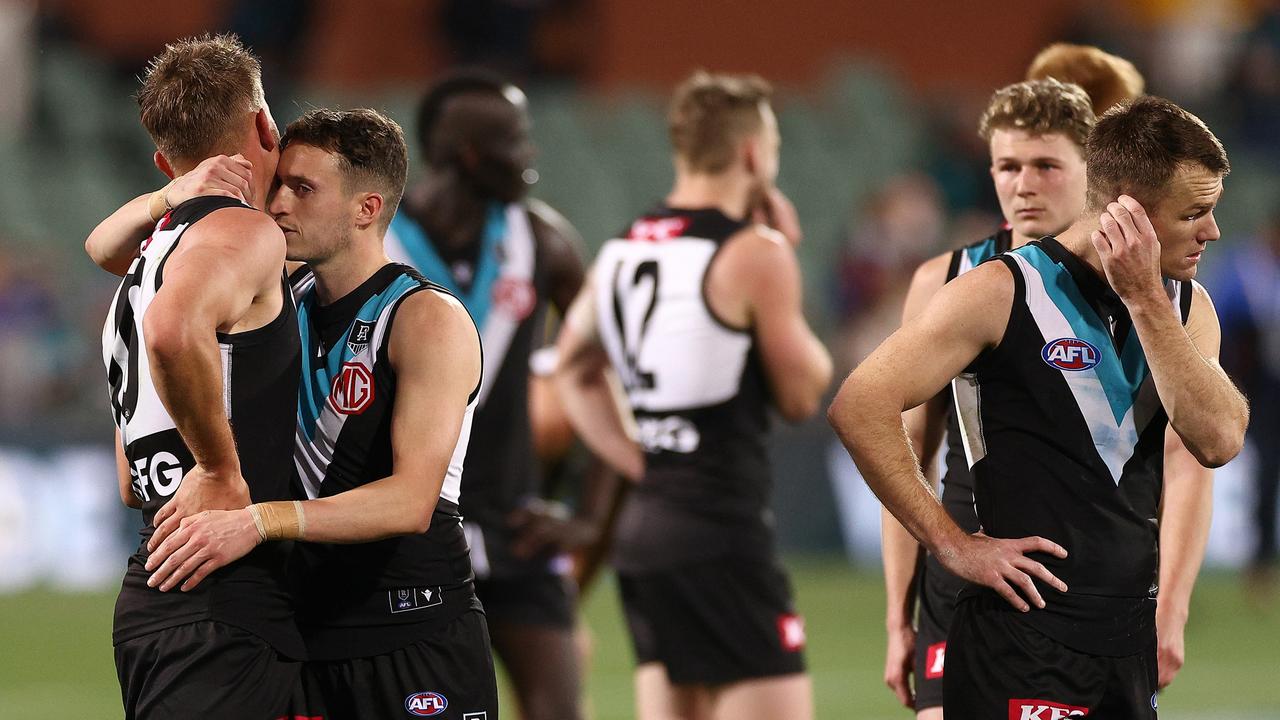 Port Adelaide players after the preliminary final. (Photo by Daniel Kalisz/Getty Images)
"It would be tempting to really bite at that narrative, I'm not sure that it is really the issue," he said.
"I think we are talking about one game where it was dysfunctional across the ground for whatever reason.
"But what I can tell you today is that I'm interested and passionate about growing the depth in the midfield, I'm passionate about making them a little bit more detailed in what they do in all facets of the game."
Zak Butters, Connor Rozee and Xavier Duursma have all been earmarked for more midfield minutes in 2022.
Montgomery said they weren't the only young players in line.
"There is some young talent that hasn't gotten a look that perhaps they have deserved such as Miles Bergman, Jackson Mead, Jed McEntee is another one that might get some time as well as well as some of the new players that we have brought into the club such as Josh Sinn," Montgomery said.
"We have to make sure they are ready. We don't want to displace an older player who has runs on the board just for the sake of it but we think there is some merit in improving that group and making sure we share the load."
Cult hero Lachie Jones could be another to get a chance.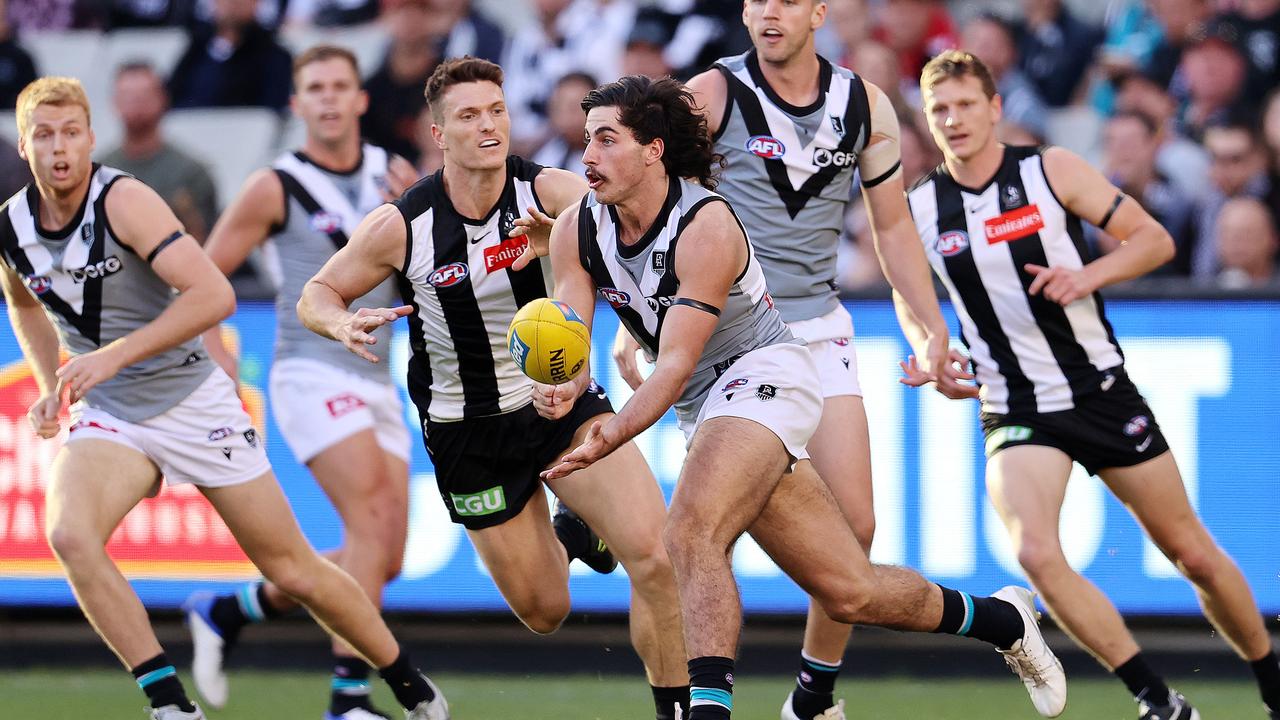 Brett Montgomery said he believed Lachie Jones could eventually play in the midfield. Pic: Michael Klein
"I don't see why not, I think someone like Lachie and those guys like Jackson Mead and Miles Bergman there shouldn't be any limitations on what they can do," Montgomery said.
"And talking Lachie specifically I have no doubt that with some experience and some exposure I think Lachie Jones can play in any of the areas (of the ground).
"I've got a keen eye on him for the midfield, I think he will get his first go as a defender because that is probably fairer on him."
After a quarter of their squad were in the AFL's Covid-19 protocols, the Power have had nearly their entire quad back at Alberton this week.
Montgomery said despite a couple, most players were not having any real effects when they were returning to training.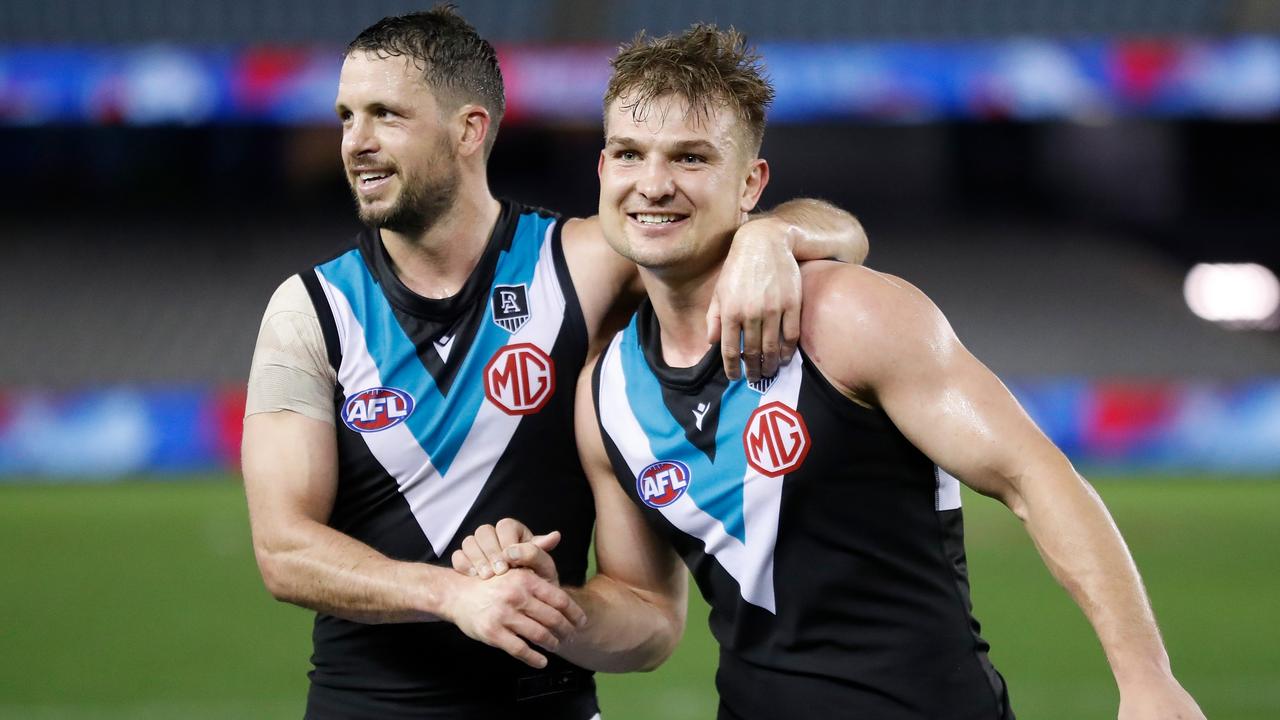 Port Adelaide midfield mainstays Travis Boak and Ollie Wines enjoy a win.
"If we look at it on an individual basis they may be one or two that we need to be reasonably vigilant around who have had more of an impact than others," he said.
"We know in line with the community some people have been hit a lot harder than others … so we have a case-by-case mentality here but for the most part everyone is really good and is tracking nicely.
On return there has been no fears
"We have some guys who need to tick off some things when they get here and those are usually the guys who have carried more symptoms than others.
"But to be perfectly honest we are committed to push forward, we are not letting the day to day role call weigh us down in any way."