AFLW: Round one set for a shake-up after WA ramps up border restrictions
The AFL will once again have to prove its agility after the WA government ramped up border restrictions leaving the fixture in chaos just over a week out from round one.
Adelaide and Brisbane are now waiting on where they will play, and even who they will play, in the first round of the AFLW season.
Just over a week out from the first game of the 2022 season the Western Australian government had forced the AFL to shake-up its Round 1 fixture.
Following rising Covid-19 cases in South Australia and Queensland the WA Government has moved both states to an 'extreme risk' category meaning no travel from those states unless extraordinary circumstances.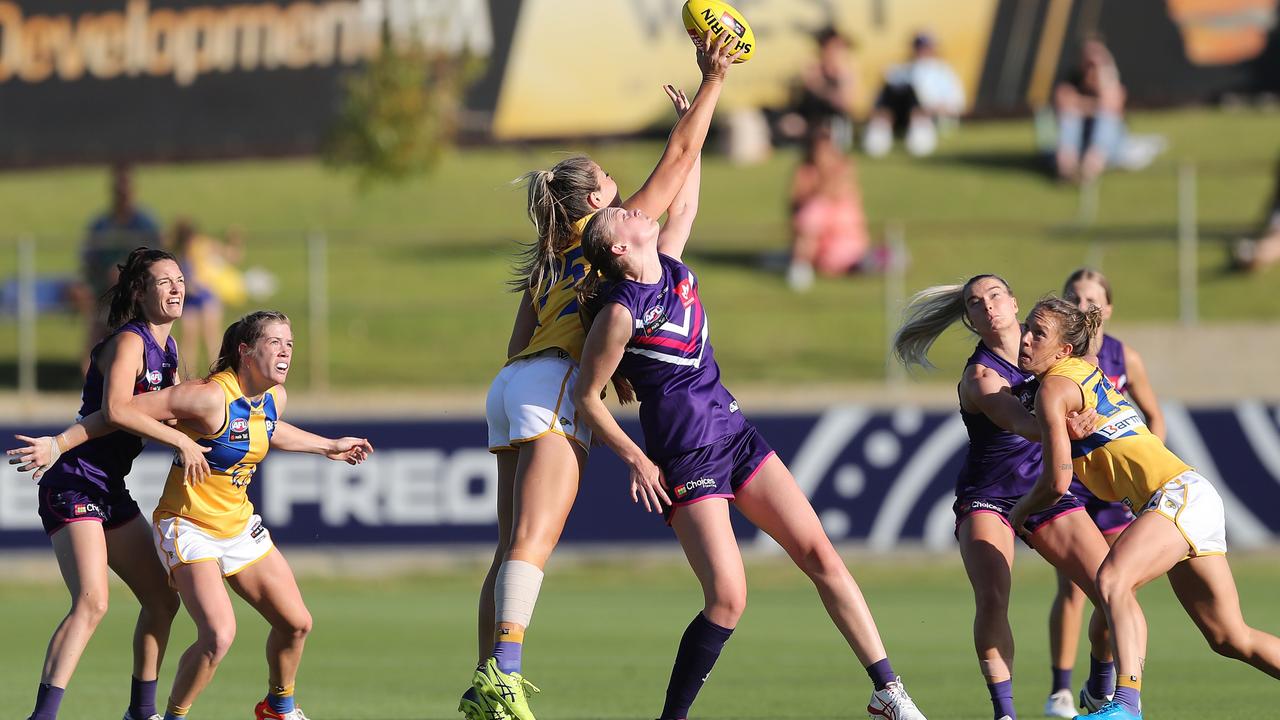 The Western Derby may be moved forward to help buy the AFL time. Picture: Will Russell/Getty Images
The Crows were due to take on Fremantle on January 8 at Fremantle Oval and the Lions were to play West Coast at Mineral Resources Park a day later.
An AFL spokeswoman said the league was now working on backup plans.
"The AFL understands the decision made by the Western Australian government and are now working with clubs and venues on implementing contingency plans," she said.
"An updated fixture will be released once confirmed, and we look forward to the 2022 NAB AFL Women's season getting underway next week."
Already a Fremantle game has had to be shifted to Melbourne because of the WA border situation.
The league could shift up the Round 1 fixture and schedule a Western Derby first up to allow the Eagles and Dockets to remain in the state for as long as possible.
The 2022 AFLW season kicks off with a clash between St Kilda and Richmond on January 7.
When Port's Covid positive player will re-join pre-season
Port Adelaide has recorded its first player testing positive to Covid-19.
The Power confirmed on Wednesday that one of their players was currently isolating after testing positive to the virus.
A Port Adelaide spokesman said the player was experiencing mild symptoms and it was expected that they would return to training with the rest of the playing squad when the Power players return from their Christmas break on January 10.
"The player is currently isolating and is adhering to all South Australian Government health protocols," the spokesman said.
"He is fully vaccinated and experiencing mild symptoms. We expect the player to join the playing group when training resumes on January 10."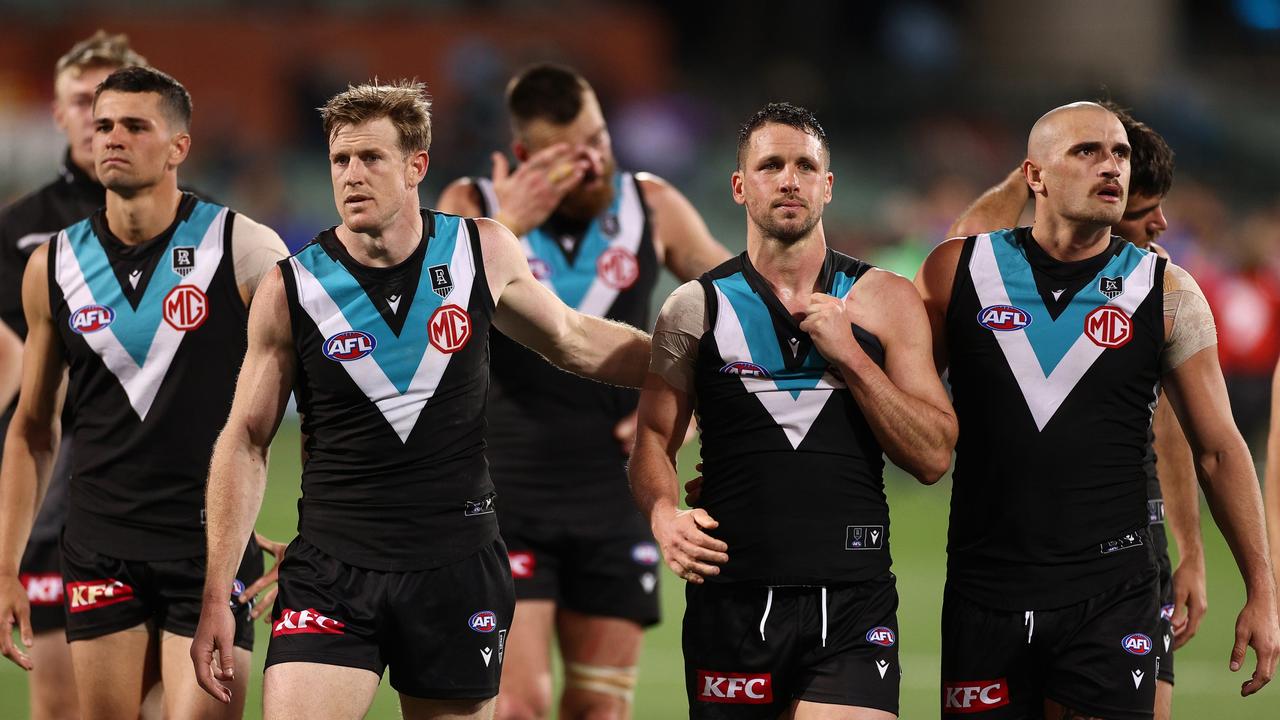 Port Adelaide has had its first Covid positive. Picture: Daniel Kalisz/Getty Images
It comes after Adelaide confirmed on Tuesday evening that one of its men's players had tested positive to Covid-19.
The Crows said the player should be able to return on January 10 when they also resume training.
Two members of the Crows AFLW program are in isolation at home after they tested positive prior to Adelaide's women's side returning for training on Monday.
The two cases in the AFLW program, not players, were not related.
There have been no positive cases among the Crows AFLW playing group.
The Crows' first AFLW game of 2022 is on January 8 in Fremantle but Western Australia's hardline border stance on South Australia could impact where the game is played.
On Wednesday South Australia recorded a record 1471 new Covid-19 cases as the virus spreads rapidly across the state.
This has prompted the Crows AFLW players to be advised to be wary and assess the risks associated with where they go.
Suns AFLW side in isolation after positive test
Gold Coast's AFLW group has gone into isolation after a player returned a positive Covid-19 test.
Despite the positive case and isolation coming less than two weeks from the Suns' first AFLW game of the 2022 season, against GWS, the club says the Round 1 clash is not under threat.
In fact some players could be able to leave isolation and return to training as early on Thursday if the Queensland government deem them as casual contacts and they return negative PCR tests.
The positive test came after the Suns players returned to training on Monday.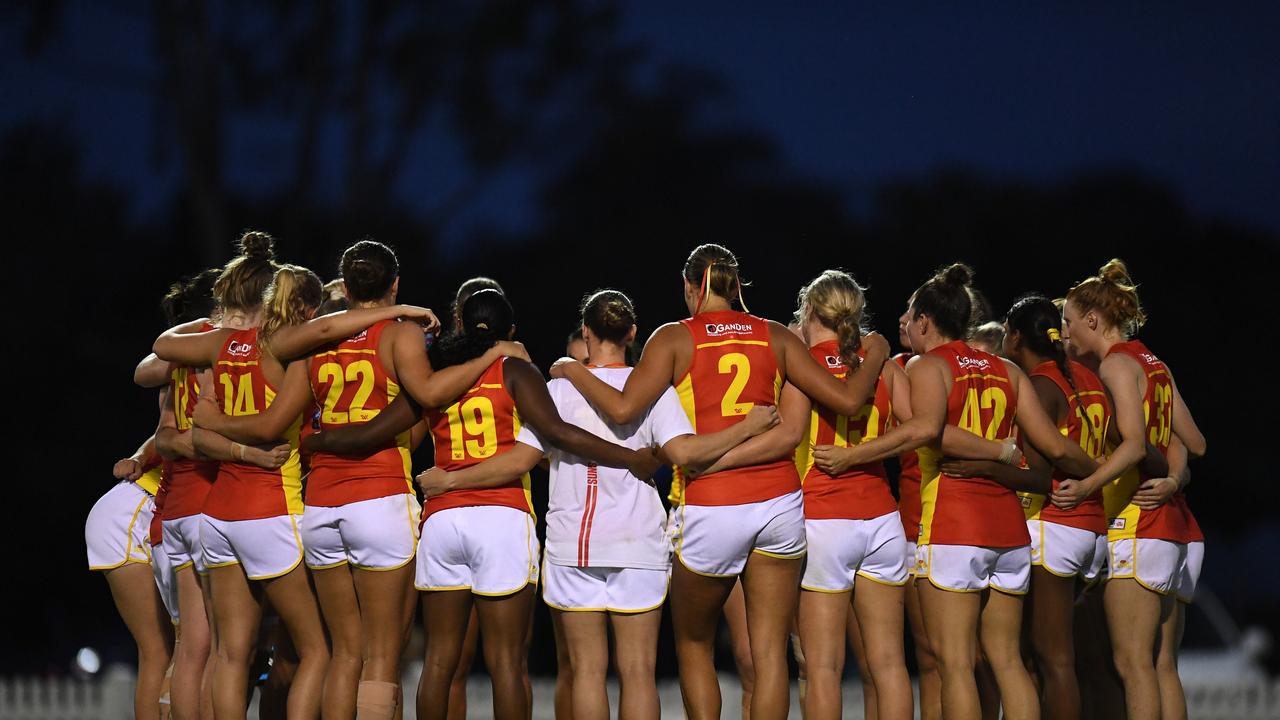 Gold Coast's AFLW team has been forced into isolation. Picture: Albert Perez/Getty Images
The players did rapid antigen tests and then PCR tests, which uncovered the positive test.
The club took a cautious approach with the players self-isolating.
Players undertook further PCR tests on Wednesday.
If these come back negative then players could return to training on Thursday or Friday.
Worst case scenario for the Suns would be that the players are deemed close contacts.
If so and they are vaccinated, they will need to quarantine for seven days under Queensland Health rules.
This means they could be able to return to training on Monday.
The Suns are confident even if this occurs that they could still prepare for the Round 1 clash.
Crows player tests positive for Covid
An Adelaide Crows men's player has tested positive to Covid-19, The Advertiser has confirmed.
The Crows men's side is on a break and returns to pre-season on January 10, so the infected player may not miss any training.
In November, Richmond premiership players Dion Prestia and Noah Balta caught Covid. Both have since returned to pre-season training.
The news comes days after two members of the Crows AFLW program tested positive.
The two members, not players, are isolating and their cases aren't related.
The Crows' AFLW season begins on January 8 with a trip to Western Australia to take on Fremantle.
But it is unclear whether the match will be played in WA because of that state government's strict border restrictions.
AFLW season on high alert
Two members of Adelaide's AFLW program have tested positive for Covid-19 less than two weeks before the start of the 2022 season.
The news will have league bosses on edge, and broke as the Crows women returned to training on Monday evening following their Christmas break.
The Crows released a statement on Monday afternoon saying the two non-players were both fully vaccinated, reported to be in good health and were adhering to all relevant SA Government health directives by isolating at home.
It comes as South Australia recorded 842 new cases on Monday following a Christmas weekend outbreak.
The Crows said they did not expect the positive test results to impact on either person fulfilling their duties for Round 1 of the AFLW season.
The Crows kick off their campaign on January 8 against Fremantle.
That game is still scheduled to be played at Fremantle Oval even though the Western Australian government has South Australia classed as a high-risk state.
Brisbane is also due to go to WA for its first match, against West Coast at Mineral Resources Park on January 9.
The AFL has announced that if AFLW sides cannot field at least 21 players in the event of an outbreak, games will be postponed or even cancelled.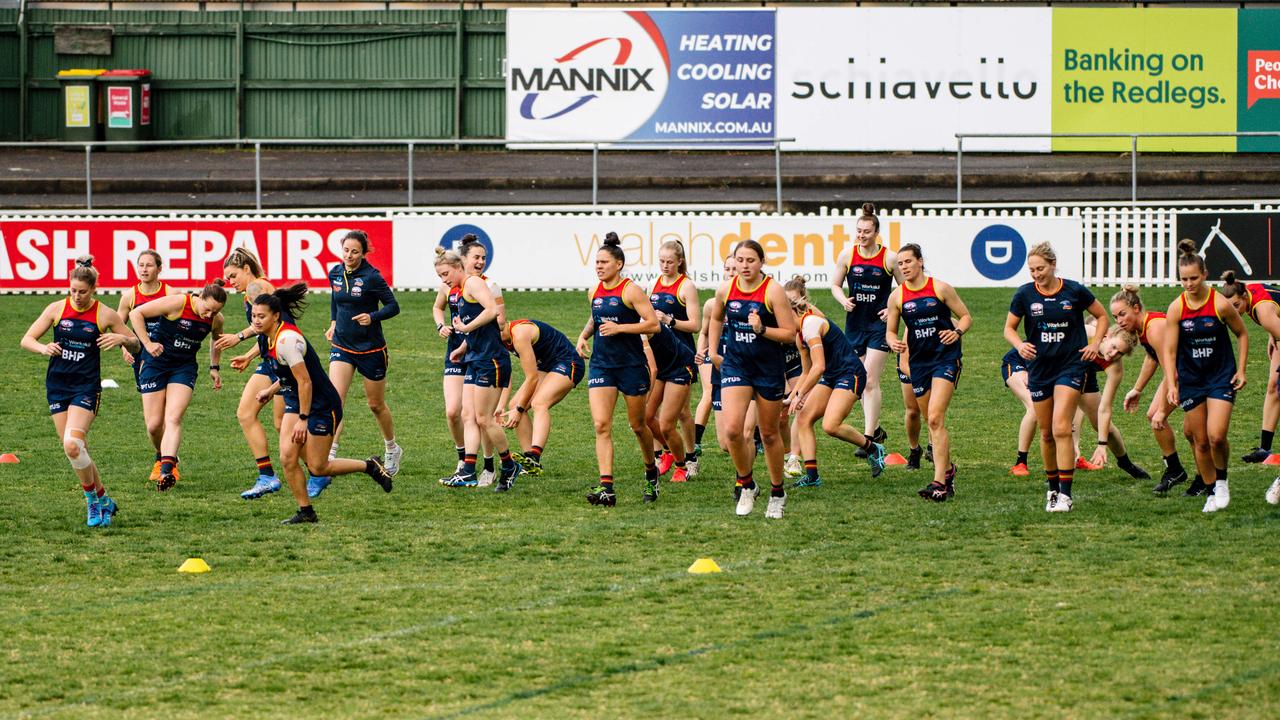 The two positive tests came from Crows staff members, not players. Picture: Morgan Sette/The Advertiser
The Lions said on Monday their AFLW program was continuing to follow all AFL protocols.
This includes mask wearing at training and in the community, rapid antigen testing prior to each session, and weekly PCR testing.
This is in addition to all Queensland Health advice given to the community around mask wearing and the use of QR check-in codes.
In addition, anyone travelling for the Lions' Round 1 match in Perth cannot travel interstate in the 14 days prior to travel due to the WA Government quarantine period.
Last week Crows captain Chelsea Randall told the club's website that many players had decided to stay in Adelaide and train with one another over the Christmas break because of the state's Covid situation.
"They are making a lot of sacrifices with their families to give everything they've got to this AFL program," she said.
The Crows have told their AFLW players to assess the risk of every outing outside the club to avoid the virus.
Last week it was revealed 10 Sydney AFL players had tested positive for Covid.