Port Adelaide vs Melbourne: Power needs functional forward line to make finals
Charlie Dixon's injury blow has come at a massive cost to the Power. And they need to learn to live without him or they can kiss finals goodbye.
Ken Hinkley still has belief that Port Adelaide can do what many now think is the impossible and still make finals despite a 0-4 start.
But if the Power are to be a chance of doing what just one other side has done in the AFL and somehow make the top eight then they need to find a forward system that works without Charlie Dixon - and quick.
There are issues all over the ground for the winless Power right now.
The defence is badly missing Aliir Aliir and has been cut open way too easily, although they did keep Melbourne to just 68-points at Adelaide Oval on Thursday night.
Stream every match of every round of the 2022 Toyota AFL Premiership Season Live & Ad-Break Free In-Play on Kayo. New to Kayo? Try 14-Days Free Now >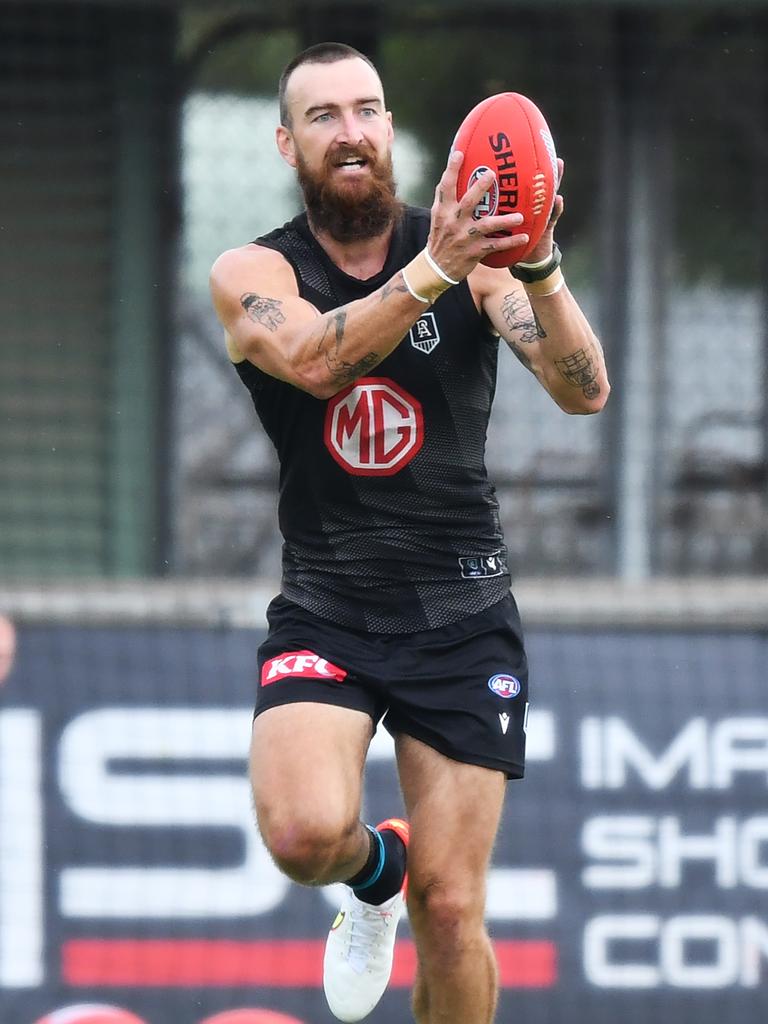 The Power must learn to live without Charlie Dixon. Picture: Mark Brake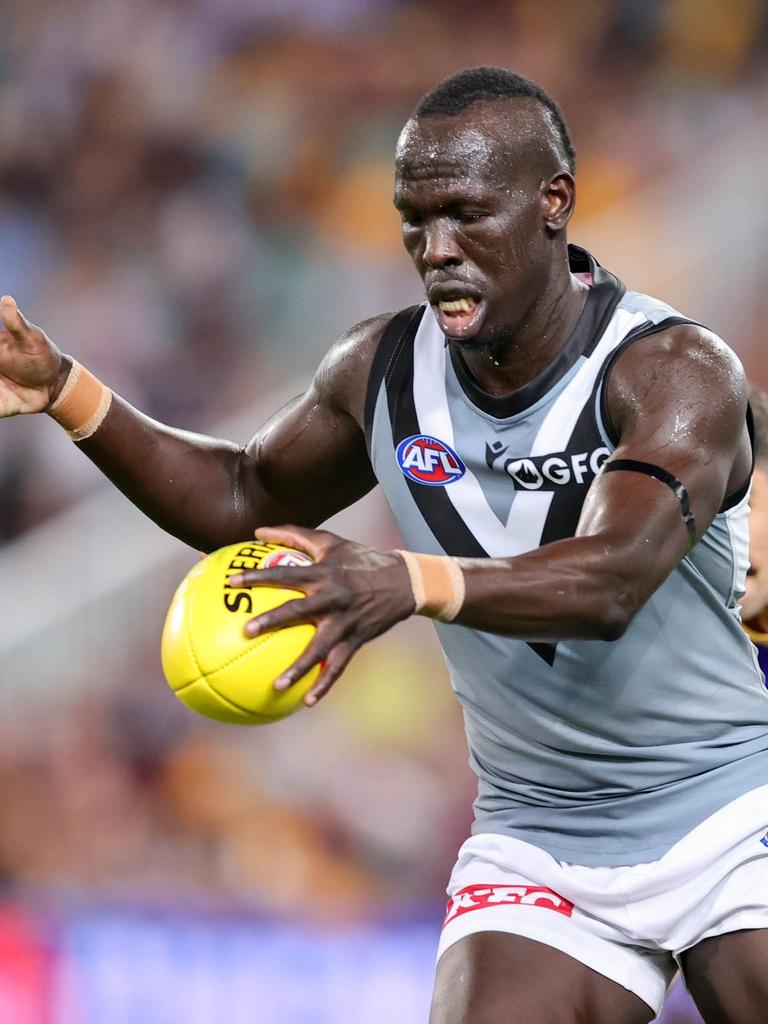 They have also been missing Aliir Aliir. Picture: Russell Freeman/AFL Photos via Getty Images
The midfield was beaten by Melbourne 39-30 in clearances and 31-20 in stoppage clearances - while the Demons finished with 147 contested possessions to the Power's 123.
Prior to the season Hinkley was confident his side could bridge the gap to the Demons and grand finalists the Western Bulldogs.
Right now the Power look miles and miles away from the best sides in the competition.
"I think they have lost their mojo and their confidence," Hawthorn legend Jason Dunstall said on Fox Footy about the Power.
"For me it is about the midfield and because the midfield has been good in the past them being poor is putting pressure on them at both ends.
"If they can't fix the midfield very quickly it will be a long season."
As well as the midfield it was the Power's blunt attack that really stood out against the Demons - a common theme of Port's winless start to the season.
It wasn't just that the Power scored no goals in the first half, the first time this has happened since they joined the AFL, that would have fans fuming and wondering where the first win is actually going to come from.
It was the way that the Port just kept bombing the ball inside 50, which the Demons gleefully gobbled up and their defence rarely looked troubled despite the Power arguably having the game on their terms for large periods.
The Power didn't take a single mark inside 50 in the first quarter, while their efficiency was 18.8 per cent from 16 inside 50s.
Melbourne's was 66.7 per cent from nine entries.
And it didn't get better for the Power with their efficiency going inside 50 in the second quarter.
The Power came in with a new game plan to maintain possession to try to beat the reigning premiers - go mark heavy and ease up on the handballs.
And it actually kind of worked in the first quarter and the opening half of the second, as the Power made the Thursday night contest into a real arm wrestle and took it to the reigning premiers.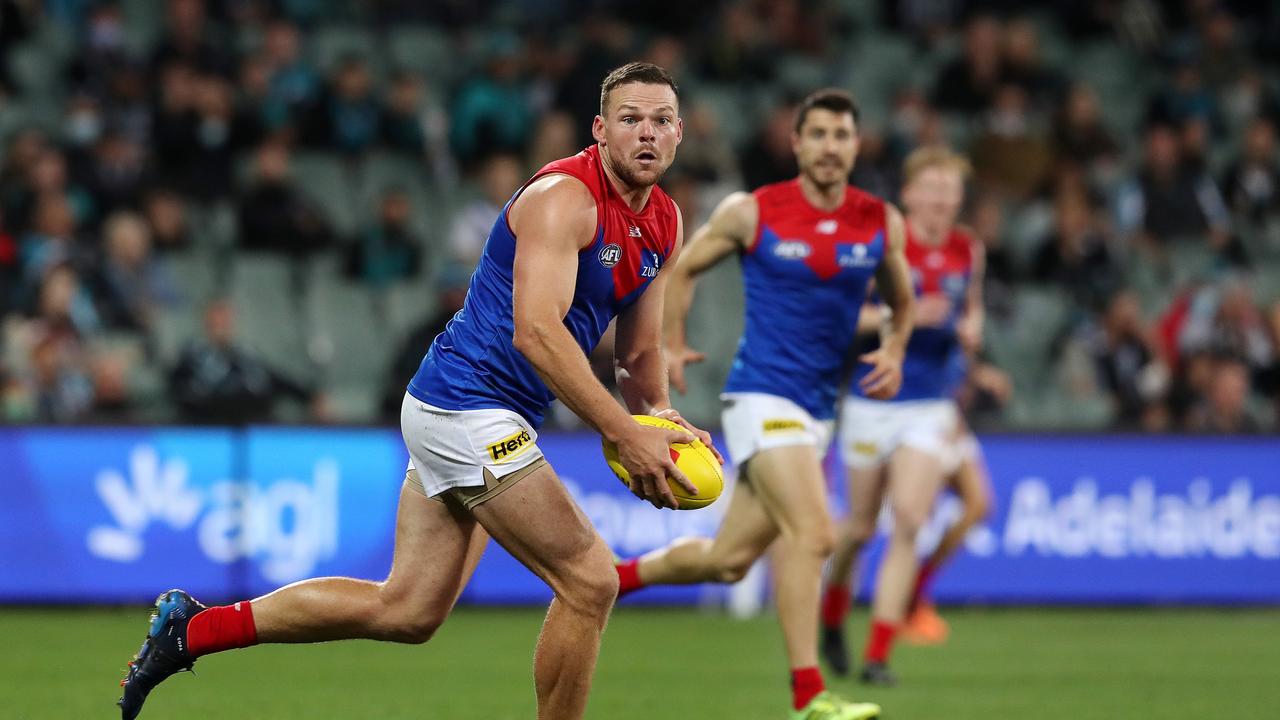 Steven May gobbled up Port Adelaide's poor entries. Picture: Sarah Reed/AFL Photos via Getty Images
"We wanted to make sure they had to defend harder," Hinkley said.
"It was hard to say it was clearly working because of the scoreboard but we were having bits of the game played the way we wanted it to be played."
But with no pressure on the scoreboard from the toothless Power, the Demons were able to break the game open in eight minutes in the second and the game was over from there.
St Kilda champion Leigh Montagna said unless the Power found a new approach going forward he was concerned for their 2022 campaign.
"It is the final kick inside 50 that has cost them all season," he said.
"They've won the inside 50 count the previous three weeks but their efficiency inside 50 has been horrible and they probably have been a side that has relied on Charlie Dixon.
"Not only to kick their goals but to also be a bailout and compete.
"I think it is now starting to affect the midfield, they seem to lack confidence where to kick it and the connection with their forwards.
"And when that happens the rest of the game breaks down, they are really struggling to find any potency going forward."
WHO CAN FILL THE VOID?
The bad news for the Power is Dixon is a month away from returning to training after more surgery, so could be six weeks away from playing.
This means Hinkley will have to find a way to salvage the Power's 2022 campaign, and ease the pressure on himself, without arguably Port's most important player.
Gun small forward Orazio Fantasia is also out for six to eight weeks.
So with Mitch Georgiades (13 touches and a goal) and Todd Marshall (nine touches) needing to find separation and mark on the lead rather than crash and bash, will the Power move from bombing to a contest.
Sam Mayes, 187cm tall, was often the deepest forward for the Power when the ball went long, but couldn't compete with Melbourne star Steven May.
Jeremy Finalyson was supposed to provide a chop-out in the ruck for Scott Lycett, who looks banged up, as well as hitting the scoreboard but has been in the SANFL for the past few weeks.
There are question marks over untried ruckman Sam Hayes' ability to contribute around the ground but it might be time to give him a chance at AFL level, especially after Max Gawn and Luke Jackson dominated the Power across the ground with Marshall backing up the banged-up Lycett.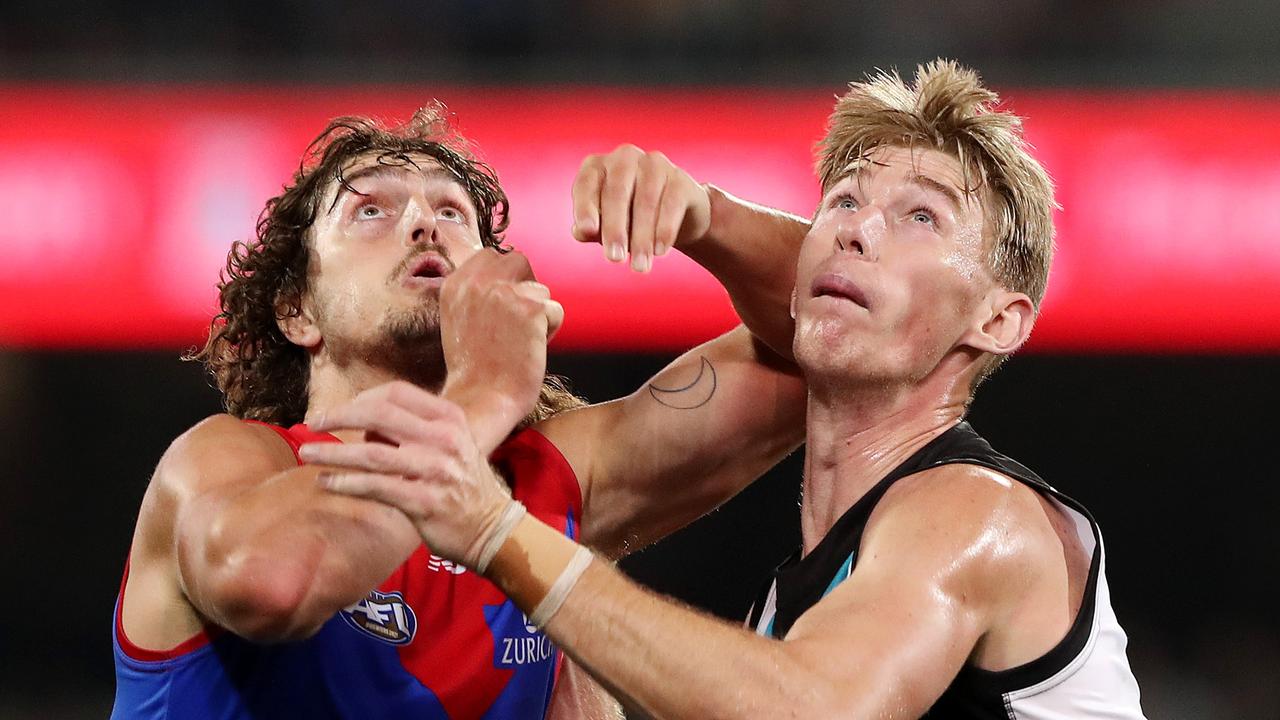 Todd Marshall had the nine disposals against Melbourne. Picture: Sarah Reed/AFL Photos via Getty Images
And if the Power continue to go with a forward line of Georgiades and Marshall alongside mediums and smalls such as Mayes, Steven Motlop and Jed McEntee - Robbie Gray should be back next week in good news for Port - why aren't they going with the "chaos ball" and forcing the Demons' talls to work at ground level.
It was no coincidence that the Power were able to kick goals in the fourth, two to Motlop and one to Georgiades, when they were able to get the ball to ground and actually trouble the Melbourne defenders.
"Clearly we are trying to improve our scoring and we know that we are having some challenges," Hinkley said.
"Because we are a side who has been used to doing that a bit differently normally, and we have been challenged, and we are trying to look at different ways to score."
Breaking Connor Rozee out of his funk would also go a long way towards this.
Rozee had 16 touches against the Demons but didn't lay a single tackle.
Earmarked as one of the players to take Power to the next level this year, Rozee is still having to play as a small forward rather than the midfielder it is believed he can eventually become.
But he isn't providing the spark in the way he did in his debut season in 2019 up forward, which led to debate about if he was the best player in his draft class.
Brownlow Medallist Gerard Healy said the Power needed Rozee to lift.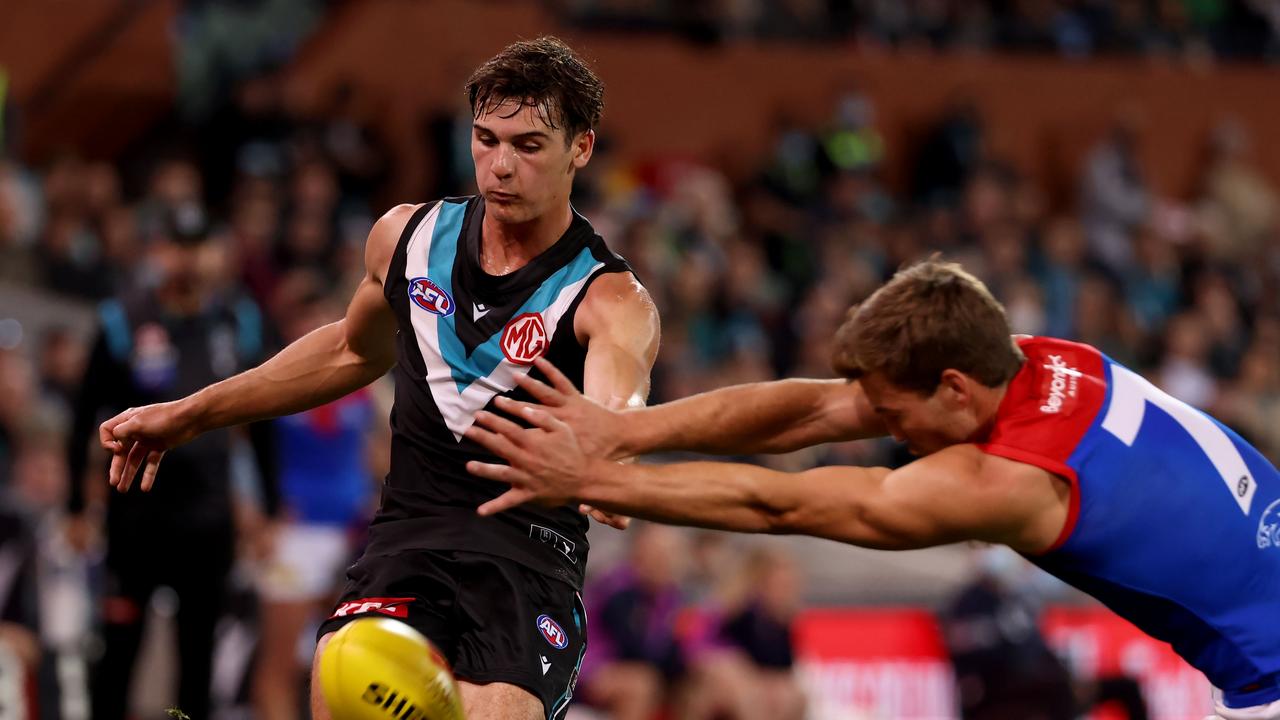 Connor Rozee hasn't had the impact some expected this year. Picture: James Elsby/AFL Photos via Getty Images
"They can't go on with someone who potentially could be an All-Australian or an A-Grade player going so poorly," he said.
"Come on, you've been compared to Sam Walsh, it is time to lift up."
Hinkley said he could hang his hat on the way the Power finished the game, reducing the margin to 32-points, rather than capitulating to the Demons.
But the truth is that when the game was actually alive, in the first and second quarters, the Demons' defence wasn't really troubled at all by the Power.
"It is a high quality defensive team who has a great defensive shape and a maturity about them and we are the opposite with our forwards," Hinkley said.
"We are a bit younger and we are not quite at the level we would like to be at our forward end.
"It's a struggle, but I can guarantee you that we are working on it and working hard and I'm confident that we can continue to get better in that space.
"We've been challenged a little bit to play the way we have in the past. I think it's a great learning for us as difficult as it is to hear, it's a learning for us and it will help our players that are taking a bigger responsibility get better quicker."
"Learnings" for players won't satisfy the disgruntled Power fans that were expecting an improvement on consecutive preliminary finals.
Only wins will, but can the Power kick the goals required.
Hinkley's shock finals call after Port's 14-year low
— Simeon Thomas-Wilson, Jason Phelan
Port Adelaide coach Ken Hinkley says he still has belief that his side can play finals this year despite a 0-4 start to the season, which only one team has overcome in the AFL to finish in the top eight.
The Power registered their first ever first half without a goal against Melbourne at Adelaide Oval on Thursday night, with the Demons running out comfortable 32-point winners to pile more pressure on Port and Hinkley.
The loss to Melbourne has now consigned the Power to their worst start to a season since they went 0-4 in 2008.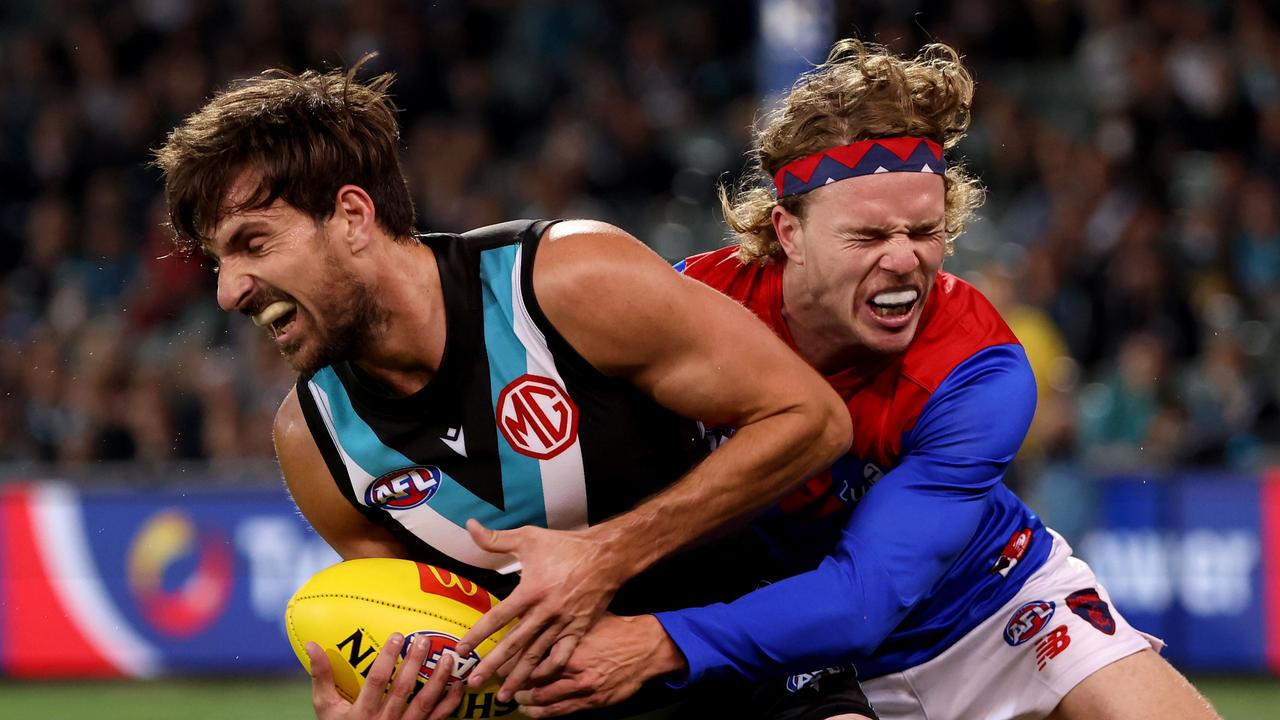 Sam Mayes is tackled by Jayden Hunt as Port failed to kick a goal before halftime for the first time in its history. Picture: AFL Photos via Getty Images
Only Sydney (0-6) in 2017 has overcome the start to make finals, and when asked Hinkley said his side should still aim for finals.
"That means two can," he said. "Absolutely, why not.
"It is a long season, I get that people are going to question my belief but I am strong in it."
The loss to Melbourne means Hinkley has lost five games in a row as a senior coach for the first time.
He said the Power's horror start to the season was down to a number of factors.
"I think there are some obvious reasons unfortunately, there are some personnel reasons and there are some challenges around what we have been trying to achieve," he said.
"The challenges are real but we have some people trying to step up, I don't know we are on our fifth debutant for the club again already so we can't quite get the continuity of players which then flows on into confidence.
"It is too simplistic to put it down to one issue."
The criticism Power players, staff and Hinkley got after the loss in the Showdown from supporters prompted Port chief executive Matthew Richardson to write to members saying that the club was backing their senior coach.
Hinkley said the Power would get out of the funk through hard work.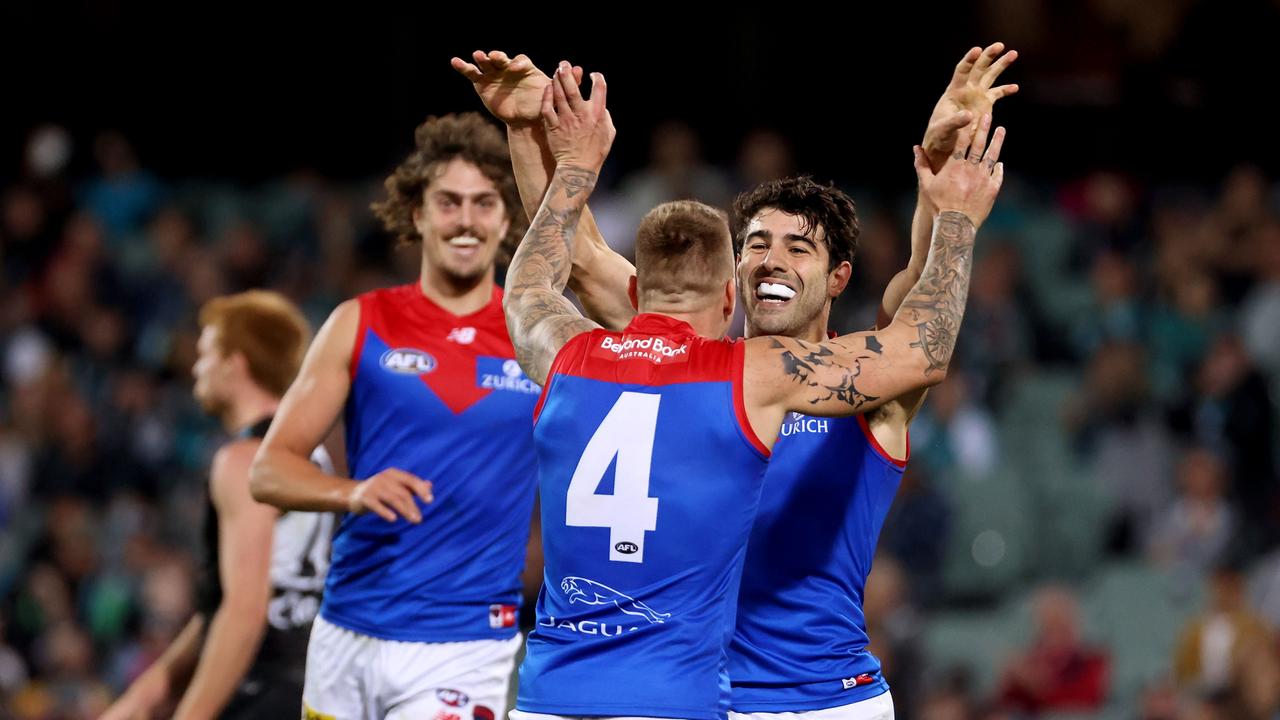 James Harmes celebrates a goal as the Demons race away with the contest in Adelaide. Picture: AFL Photos via Getty Images
"No-one is more frustrated than us and we understand the frustration because they want their team to be playing well," he said.
"So our players, our coaches and staff will stick together and work really hard to make sure that we quickly get back on track to somewhere near the way they want us to play as a footy club.
"No-one wants it more than the people at the club."
Reigning Brownlow medallist Ollie Wines was taken to hospital after he was withdrawn from the game at halftime due to nausea.
"Ollie wasn't well, so he has actually gone off to hospital," he said.
"We are being really cautious with that."
It followed on from Trent McKenzie being a late scratching due to a knee injury.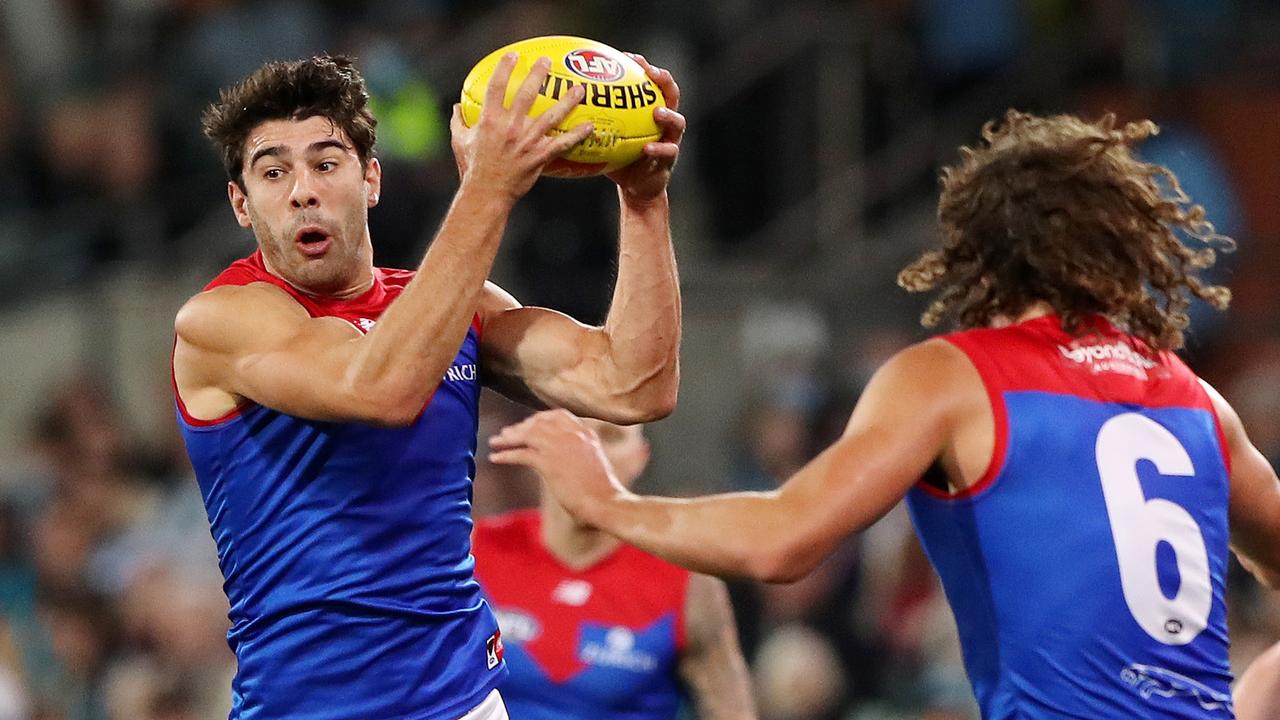 Christian Petracca takes a mark as it becomes apparent it's all one-way traffic. Picture: AFL Photos via Getty Images
"His knee just didn't come up, talk about being in the wars Trent has been in them in the games he has played and he's had another little incident between last weeks game and this weeks game," Hinkley said.
"So we will investigate that."
Scott Lycett hurt his shoulder in the second quarter but returned to the field.
In some good news for the Power they could get All-Australian defender Aliir Aliir back for next week against Carlton.
Never in their 575 outings at AFL level had the Power failed to kick a goal in the first half.
And the Power even had an opportunity to not claim this unwanted record when Todd Marshall was set to have a set shot after the siren.
But keeping in line with the Power's 2022 campaign to date, Zak Butters' infringement on Jake Bowey resulted in a reversal and created the unwanted bit of history.
"Just when we thought it couldn't get any worst for Port Adelaide it did there," former St Kilda champion Leigh Montagna said on Fox Footy.
"They didn't even get a chance to kick a goal, it almost seemed like Melbourne were half laughing at Port Adelaide there with what they have dished up there."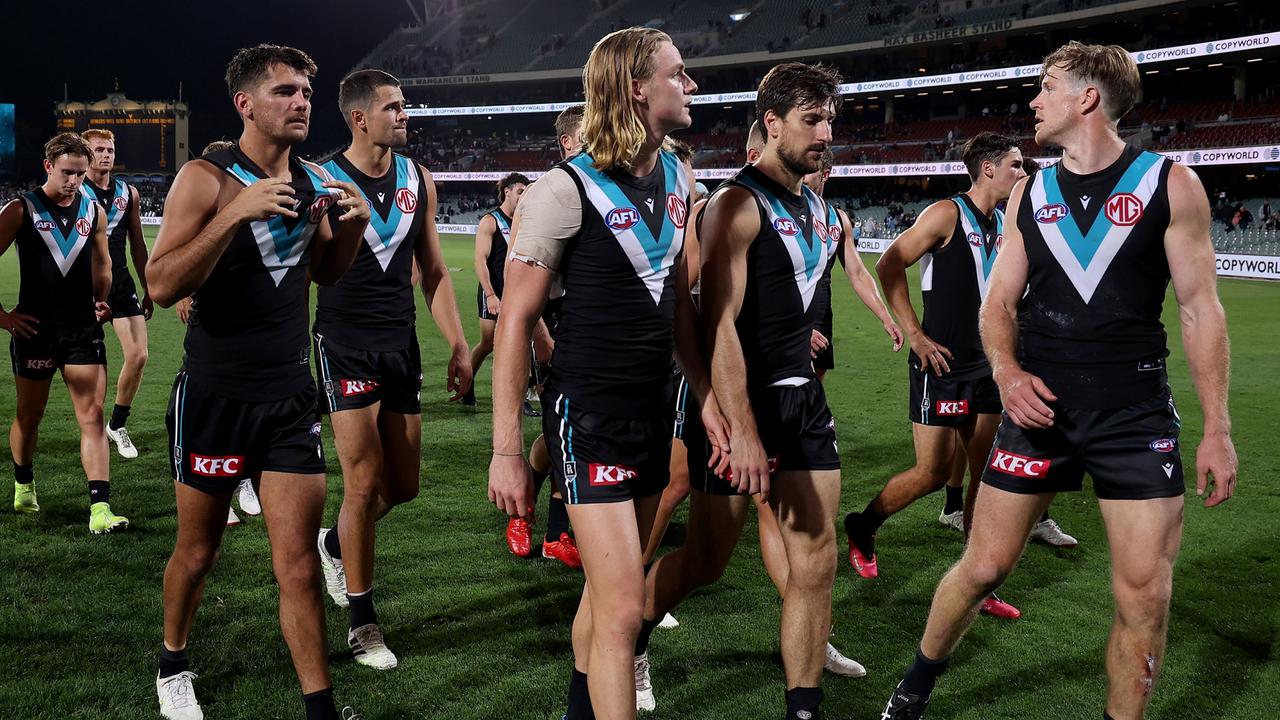 The Power players make their way from the field after another disappointing performance. Picture: AFL Photos via Getty Images
Port's premiership campaign in shreds
Port Adelaide's premiership campaign is in tatters after methodical Melbourne cruised to a convincing 32-point win.
Port's top-four ambitions were ruthlessly exposed as folly by the reigning premiers who kept the home side goalless until deep into the third quarter at Adelaide Oval in a 10.8 (68) to 4.12 (36) result that improved the Demons' record to 4-0 and consigned Port to 0-4.
The Demons had winners across every line.
Max Gawn and Luke Jackson monstered their opposition, marathon man Ed Langdon worked tirelessly on a wing and Steven May repelled everything that came his way.
"I think our players are really confident in the way that they play … they know that they can score when they need to score," Simon Goodwin said.
"More importantly, they can defend for long periods of time and we saw that (against Port).
For the Power, Tom Jonas and Tom Clurey stood tall in an embattled defence and Willem Drew worked hard to limit Christian Petracca's influence.
"Against the best defensive team in the competition we found it really hard to get a score," Ken Hinkley said.
"I thought early in the game we were playing the way that we wanted to play … albeit we weren't scoring goals."
Ken Hinkley tries to lift his players as they take on a red-hot Demons outfit. Picture: AFL Photos via Getty Images
NEW PLAN
Hinkley tweaked his game plan in a bid to break down the Demons, with the Power coach foregoing the more typical handball-happy, free-flowing style in favour of an uncontested approach.
Port averaged 181 kicks and 66 marks in their three losses going into the match, but had registered 127 kicks and a whopping 76 marks by halftime in an attempt to maintain possession and dictate play.
The home fans became increasingly restless as the stop-start Power struggled to find a way through Melbourne's well-organised zone, but at least the approach frustrated the Demons as well.
Simon Goodwin's side kicked one goal in the first quarter to lead by six points at the first break.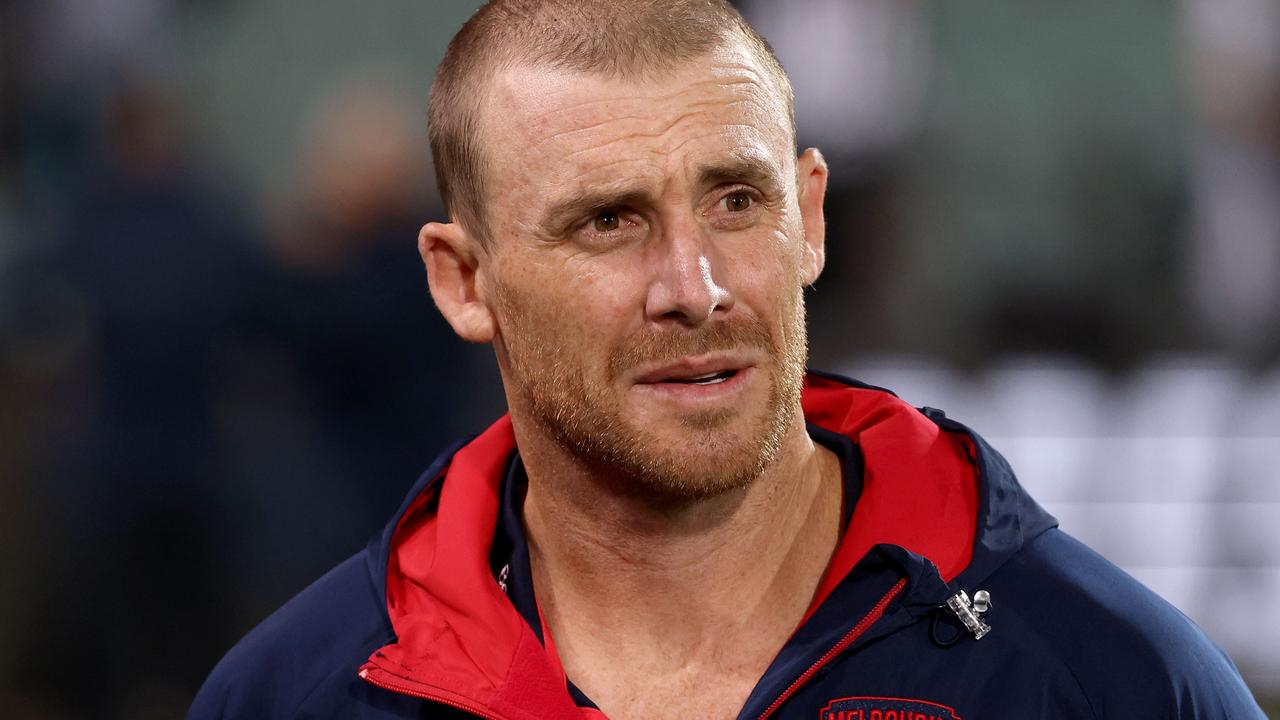 Simon Goodwin after the Demons extended their winning streak to 11. Picture: AFL Photos via Getty Images
GOODWIN SAYS BEST STILL TO COME
Melbourne coach Simon Goodwin said his side was by no means a finished product despite the dominant win.
"I think one thing we have been really conscious of is not trying to be perfect," he said.
"We had a dominant finals series, which all came together at once but once thing we maintained through the whole season was our ability to win contest and that is our identity as a footy team over the last 18 months.
"That's what we are at the moment and we are really happy.
"I think our players are really confident in the way they play and they can score when they need to score but more importantly they can defend for a long period of time.
"And we saw that again tonight, we defended really strongly and when we got our opportunity we were able to break the game open.
"It's the power of the group that they can do that when they need to and in that second quarter they really felt the game and broke it open which was great."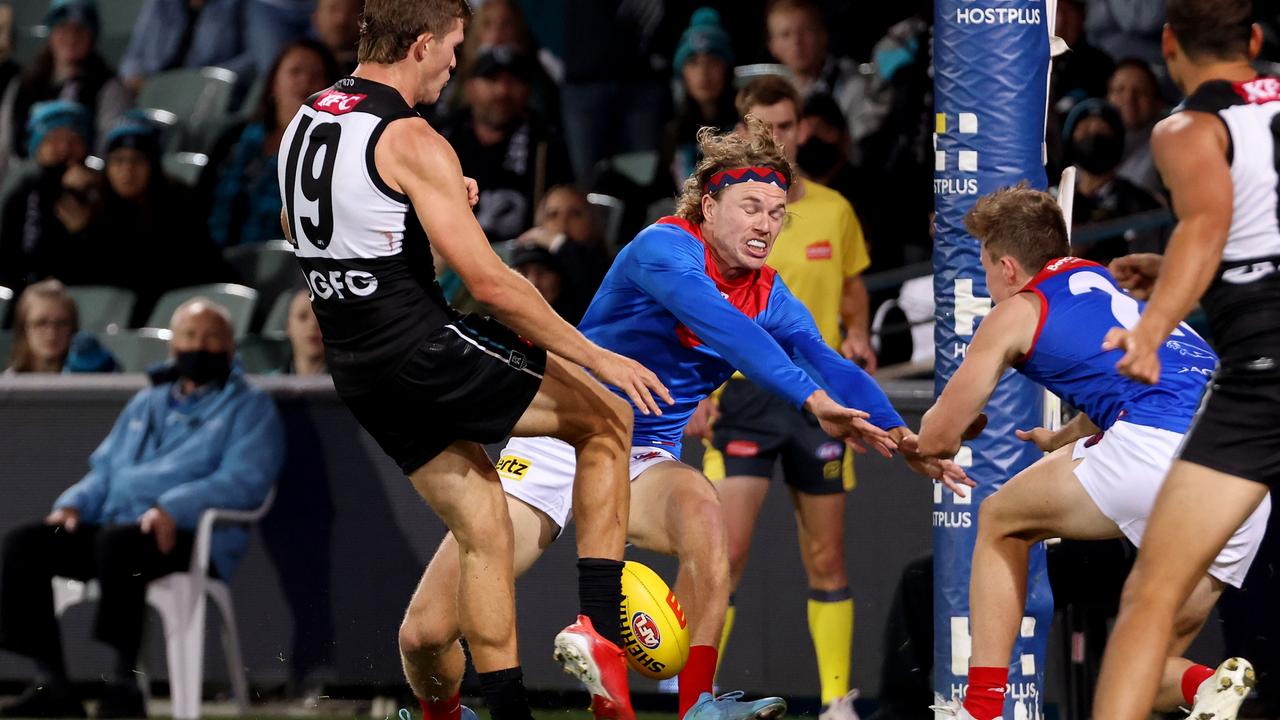 Mitch Georgiades will have nightmares over this moment after running into trouble in the goalsquare following a sustained gallop downfield.
POWER OUT
Fifteen minutes had elapsed in the second quarter without a goal from either side, but the visitors blew the game wide open with four goals to take a 37-point lead into halftime.
Todd Marshall had the opportunity to kick his side's first goal from just outside 50 after the halftime siren went.
But Zak Butters gave away a free kick in a scuffle behind the goal line that meant Port was kept goalless in a first half for the first time in the club's 576 AFL games.
The margin was 37 points at halftime and the Power were their own worst enemy again in the third quarter when Mitch Georgiades steamed towards goal.
An opening major beckoned, but the big forward ran himself into trouble in the goalsquare and handed off a panicked handball to Sam Mayes, whose hurried snap was touched.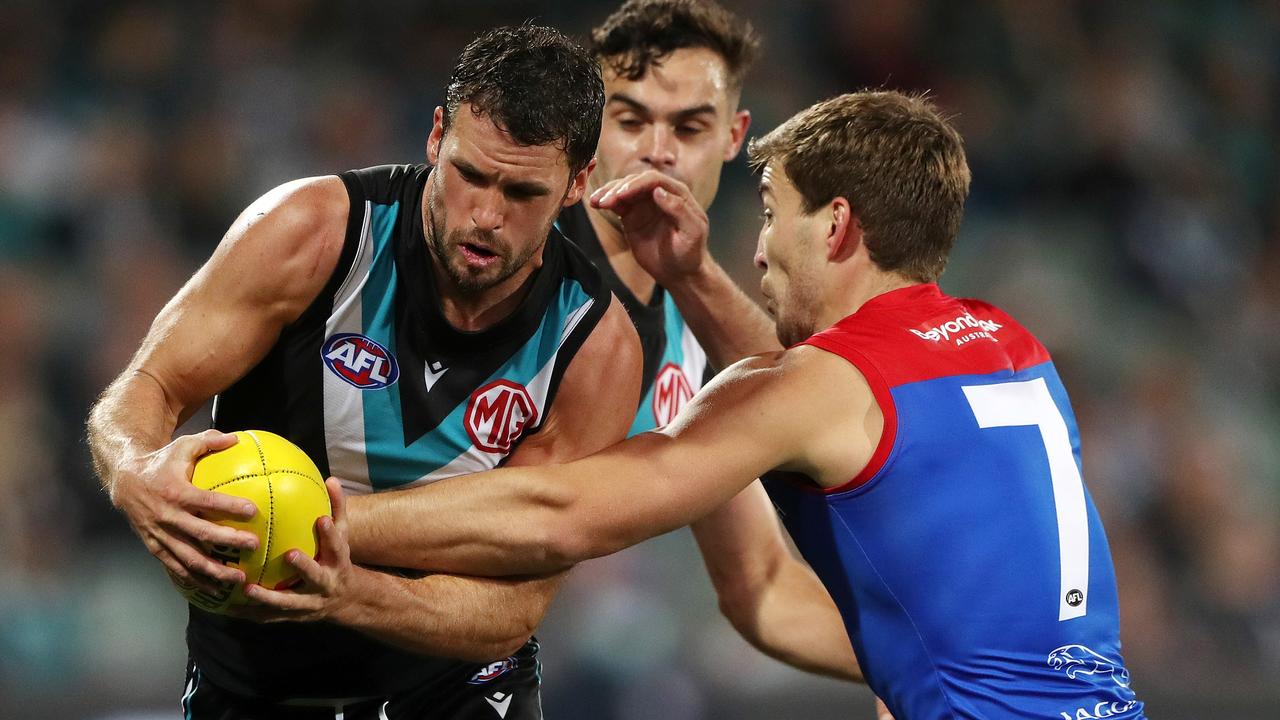 Travis Boak is tackled by Melbourne midfield counterpart Jack Viney. Picture: AFL Photos via Getty Images
AT LAST!
Port's barren run finally came to an end with four minutes remaining in the third term.
Sam Powell-Pepper won a free kick on the 50m line at the river end and handed off a quick handball that Dan Houston stroked home beautifully from just inside the arc.
The Power trailed by 47 points at the last change and kicked the last three goals of the contest, but Hinkley will take little consolation.
The task facing the under-siege Power doesn't get any easier with a clash against the red-hot Blues at the MCG looming in round five, while the Demons will host GWS at the MCG.
SCOREBOARD
POWER 0.3 0.5 1.8 4.12 (36)
DEMONS 1.3 6.5 9.7 10.8 (68)
PHELAN'S BEST
Power: Jonas, Clurey, Boak, Drew, Bonner.
Demons: Gawn, May, Langdon, Jackson, Harmes, Jordon, Brayshaw.
GOALS
Power: Motlop 2, Houston, Georgiades.
Demons: Fritsch 3, Harmes 2, Viney, Jackson, Gawn, Langdon, McDonald.
INJURIES
Power: Wines (ill), McKenzie (knee – late withdrawal).
Demons: Nil.
UMPIRES
Fisher, O'Gorman, Fleer
VENUE
ADELAIDE OVAL
PLAYER OF THE YEAR
JASON PHELAN'S VOTES
3 Gawn (Mel)
2 May (Mel)
1 Langdon (Mel)
Originally published as Port Adelaide vs Melbourne: Power needs functional forward line to make finals