Remembering Billy Picken and footy's greatest cricketers, such as Dick Reynolds, Craig Bradley and Peter Bedford
For most of the 20th century, cricket teams were full of footballers and footy teams full of cricketers. NEIL CORDY recalls and speaks with some champion cross-coders.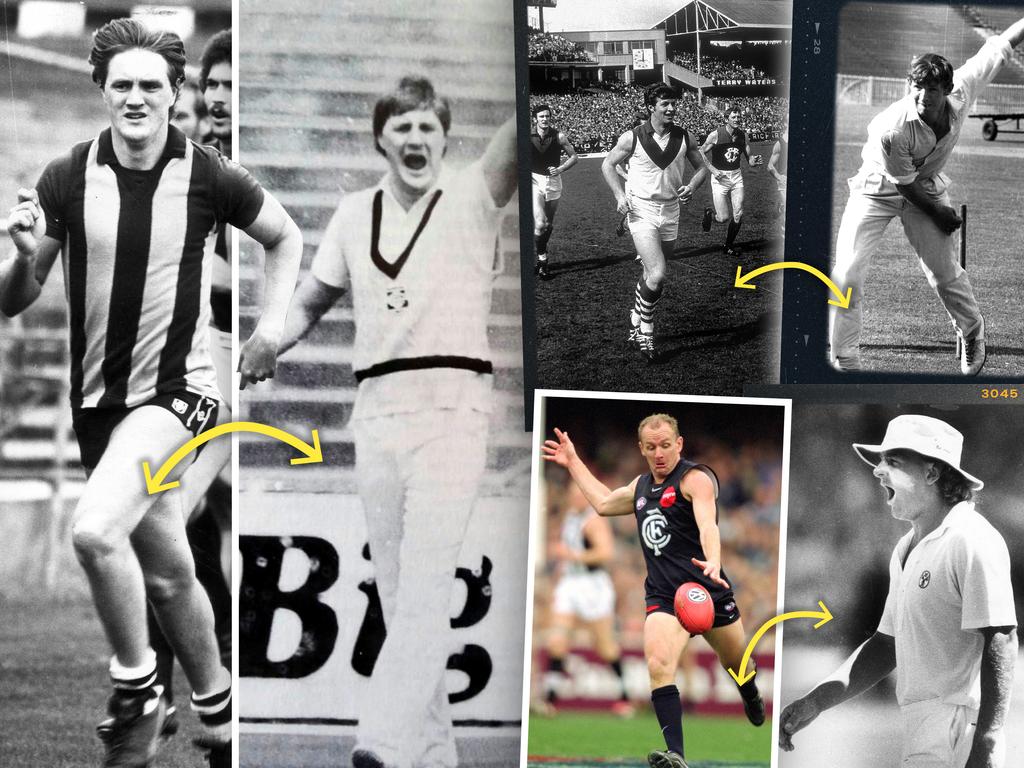 Billy Picken (left), Peter Bedford (top right) and Craig Bradley (bottom right) all excelled with Kookaburra and Sherrin.
Footy lost one of its great players and blokes in Billy Picken last month - and sport lost one of its great all-rounders.
Billy came from an era when players regularly went from footy boots to cricket spikes and back again in a flash and didn't miss a beat.
The former Collingwood and Sydney centre half back also played for the Magpies in cricket. At the time it was commonplace. Test star Max Walker played footy and cricket for Melbourne. John Douglas was another who competed year-round with Sherrin and Kookaburra.
Just a few weeks after Billy played in the 1977 grand final draw against North Melbourne - and the replay the following weekend - he scored 108 for Collingwood Cricket Club. His love of both sports was shared by many in his era. Three of his teammates on the day he scored his ton included two he played footy with at Victoria Park: Doug Gott (Collingwood, 97 games) and Colin Tully (Collingwood, 92 games) plus another who would join him there a few years later in Neil Peart (Collingwood, 13 games; Footscray, nine games; Richmond, 40 games).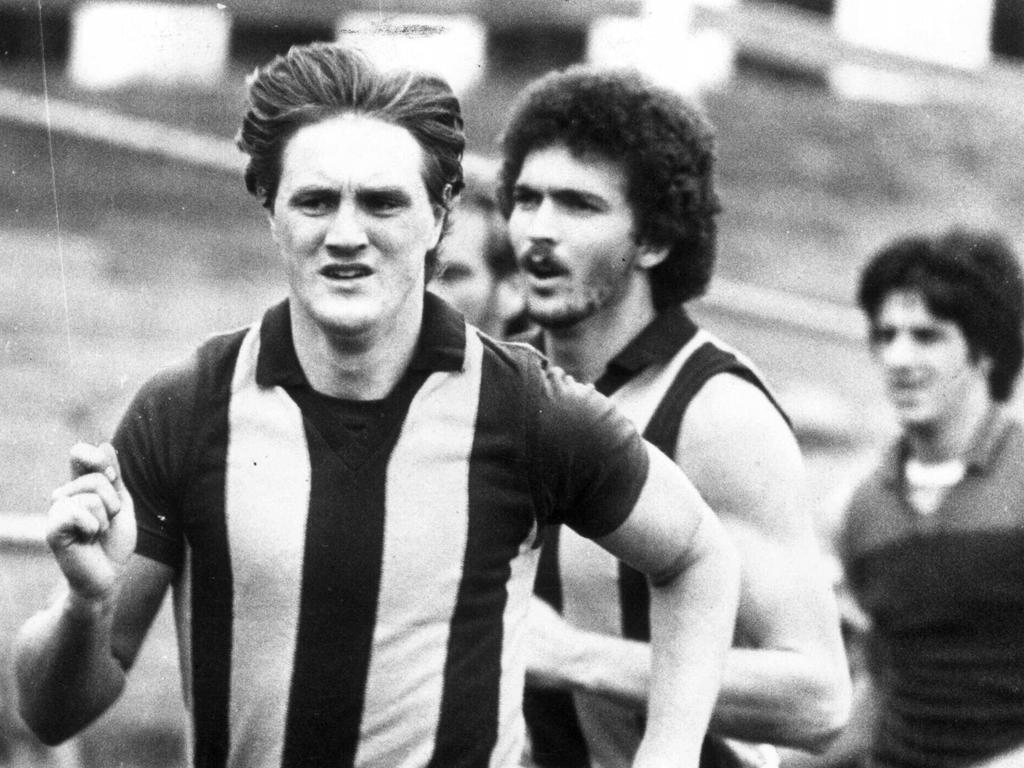 You could find Billy Picken on an oval all year round.
For most of the 20th century, cricket teams were full of footballers and footy teams were full of cricketers.
In the 1940s, the Essendon Cricket Club once fielded a team which featured Test players Ken Meuleman and Ron Hamence and the rest, all nine, were all Essendon footballers.
One of them was the legendary triple Brownlow Medallist Dick Reynolds who was a fast bowler and capable middle order batsman.
Windy Hill folklore tells the story of a District Cricket (now Victorian Premier Cricket) match against Melbourne at the MCG, which was played on a pitch on the extreme eastern side of the ground (the central part of the wicket was reserved for test and Shield matches).
Reynolds hit a shot through mid-wicket to the westerly side and reportedly ran for seven. He was so fast that he almost overtook his batting partner and the confused umpires only gave him five.
Reynolds and Picken follow a grand tradition which probably started when Australian Rules Football was created by Tom Wills. After all, it was a sport invented to keep cricketers fit during the off season.
Laurie Nash took that concept to another level when he sandwiched a VFL premiership for South Melbourne (1933) between two Test matches for Australia in 1932 and 1937.
Simon O'Donnell (St Kilda and Victoria/Australia) played 24 games for the Saints before starring for the country with bat and ball.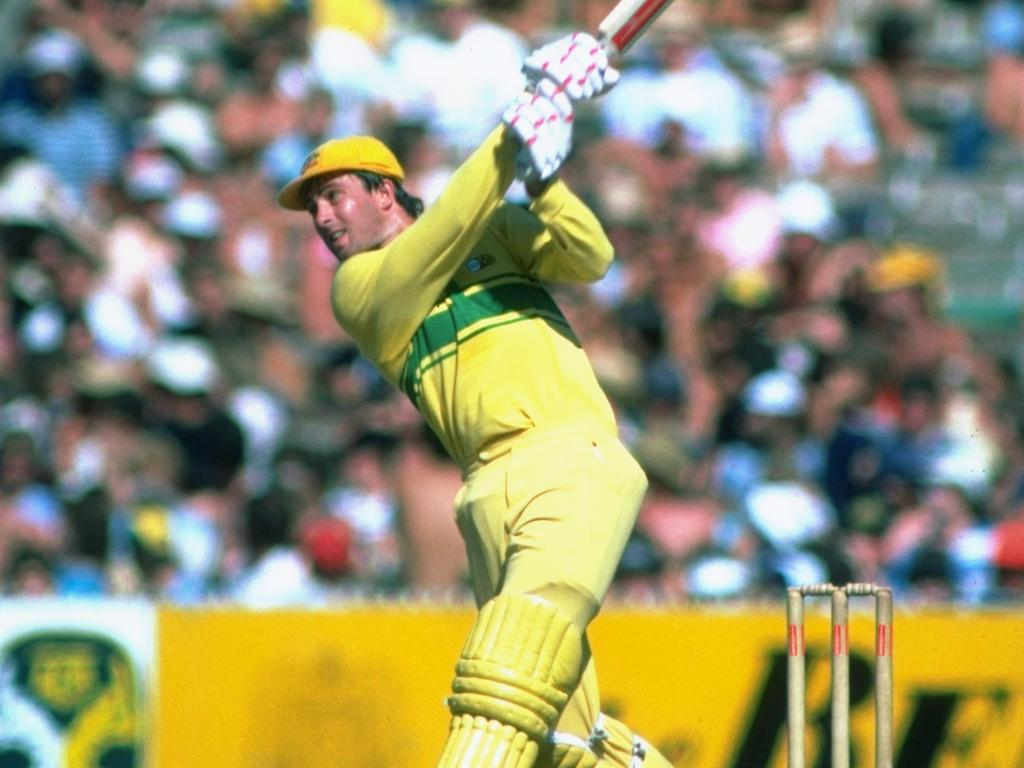 Before he was an international cricketer, Simon O'Donnell played for the Saints. Picture: Adrian Murrell/Allsport
Carlton's Craig Bradley was the last to play AFL football and Shield Cricket. He played two Sheffield Shield games for South Australia and two for Victoria before quitting cricket to concentrate on his footy for Carlton.
It was the right move – he played a club record 375 matches for the Blues including two premierships (1987 and 1995).
Bradley also made the All Australian team four times and was inducted in the Australian Football Hall of Fame.
He loved cricket and footy equally and initially tried to juggle both sports when he moved from Adelaide to Melbourne.
"I remember one day playing a District Cricket match and a footy practice match on the same day," Bradley told CODE Sports.
"It was a stinking hot day in February and I was playing for Melbourne against Waverly. Rodney Hogg was Waverly captain and he knew I was playing that night against Collingwood.
"He won the toss and batted so I had to spend the whole day in the field sweating it out. I was young so I got through both matches OK.
"Hoggy is a Magpies supporter and I think he even went to the game.
"I would have loved to have gone on and played cricket at the highest level but when I knew it wasn't possible I said that's enough."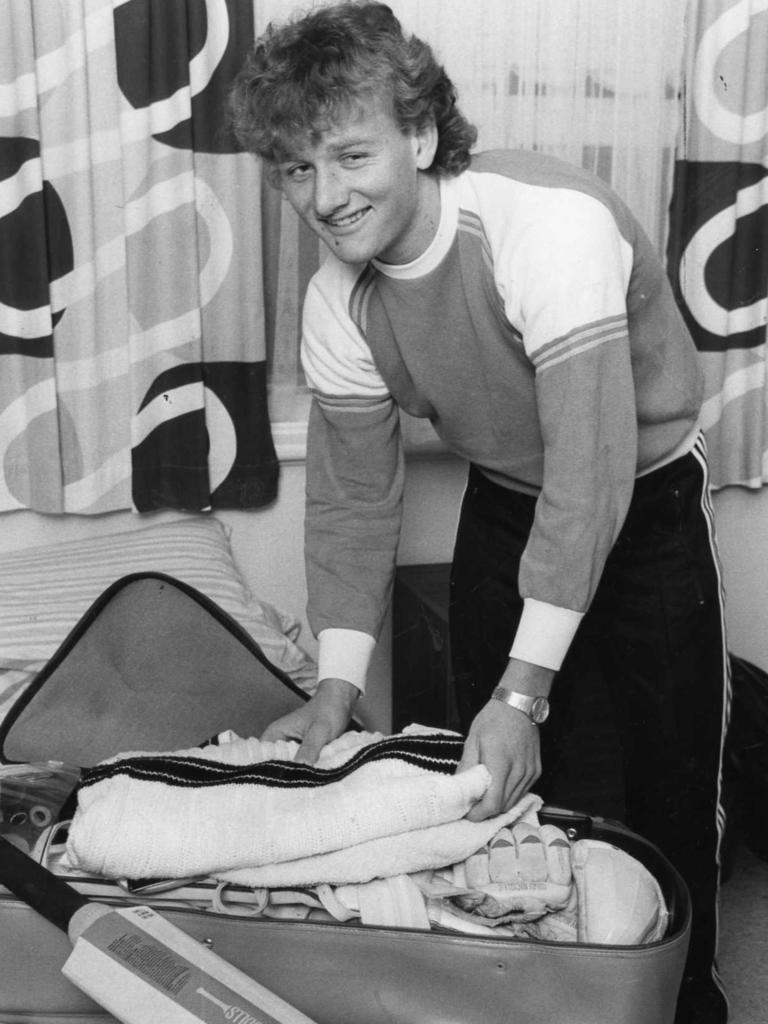 Footballer Craig Bradley packing his cricket gear into a bag in 1983.
But as impressive as Bradley's efforts in both sports were, along with Picken, Walker, Douglas, Nash, O'Donnell, Reynolds, and all the other great cross-coders over the years, no one has ever produced a year like Swans champion Peter Bedford did in 1970.
His purple patch started at Adelaide Oval in February when Victoria and South Australia faced off for the Sheffield Shield.
There were no grand finals for the Shield during this period, but the clash between first (Vic) and second (SA) amounted to one.
With front line spinner Blair Campbell injured, Bedford, a leg spinner, produced a career best 5/40 in the second innings to secure the Shield for Victoria.
A few weeks later, he was at the Lake Oval lining up for South Melbourne in round one against Melbourne.
They lost the match but, with the great Bob Skilton still a force and legendary coach Norm Smith at the helm, the Swans won 14 of the remaining 21 games to secure their first finals berth in 25 years.
Bedford's finals celebrations got even better when he claimed the Brownlow Medal, polling 25 votes to beat Footscray's Gary Dempsey by four.
Unfortunately for the Swans and Bedford, they went down to St Kilda in the semi finals in front of a record breaking crowd of 104,239 at the MCG.
Bedford went on to play 186 games over eight more seasons, with the last eight coming at Carlton.
That final would be the only one he would play, but looking back on his remarkable sporting life, it is his cricket ambitions which remain unfulfilled.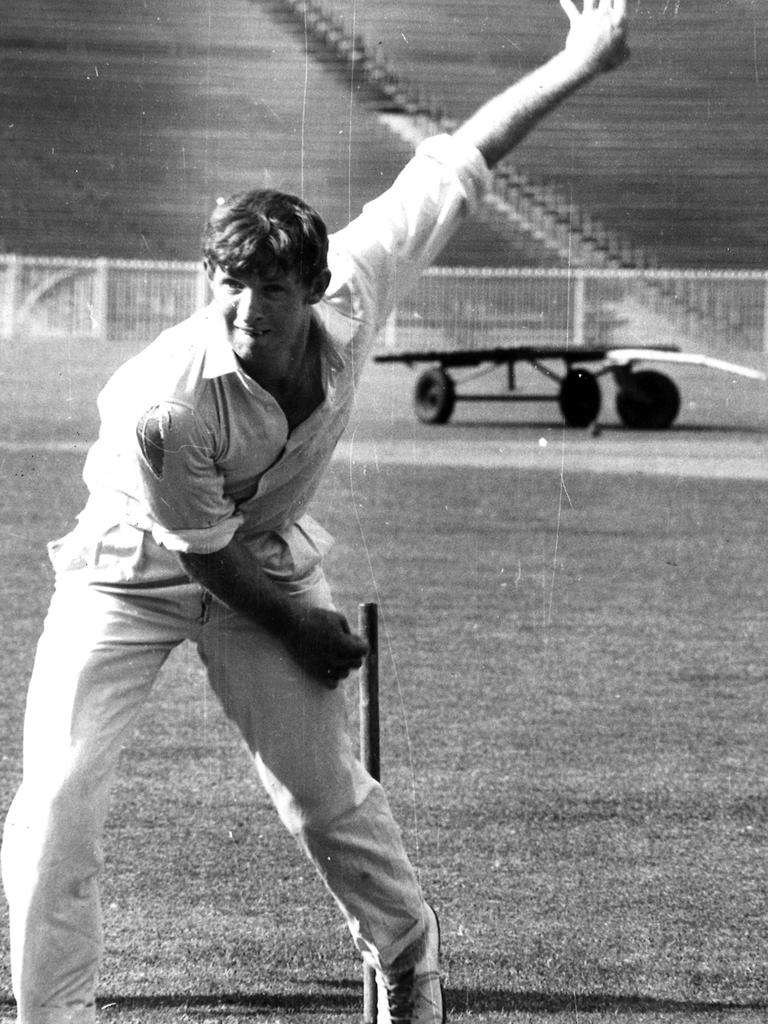 Peter Bedford was handy with bat and ball.
"I would have loved to have played cricket for Australia," Bedford told CODE from his home in Port Melbourne.
"As a youngster, cricket was my passion. Yes there is a little regret."
Bedford came very close to national selection and it was well before his 5/40 against South Australia.
In 1967, when he was playing football for Port Melbourne and Cricket for Victoria, he received an offer to move to Adelaide to play football for Port Adelaide and cricket South Australia.
"The offer came in a letter from Bob Mclean from Port Adelaide and it was to play under Fos Williams at Port but it was ostensibly to play for Cricket for SA," Bedford said.
"It also included a job working for Phil Ridings, who was Chairman of Selectors for Australia and it mentioned Don Bradman giving his full support to the move.
"I knocked the offer back and stayed in Melbourne to play with South and cricket for Victoria. I don't think many people say no to Sir Donald."
The decision to stay at home was made easier by the paltry $7 per day he was paid to play in the Sheffield Shield. His sign on fee at South Melbourne would provide the deposit for a home in Port Melbourne.
He was also enjoying his studies at Toorak Teachers College.
Bedford scored 134 not out in a match against Western Australia that featured Dennis Lillee. He also took four wickets against a SA side including the prize scalps of Ian and Greg Chappell.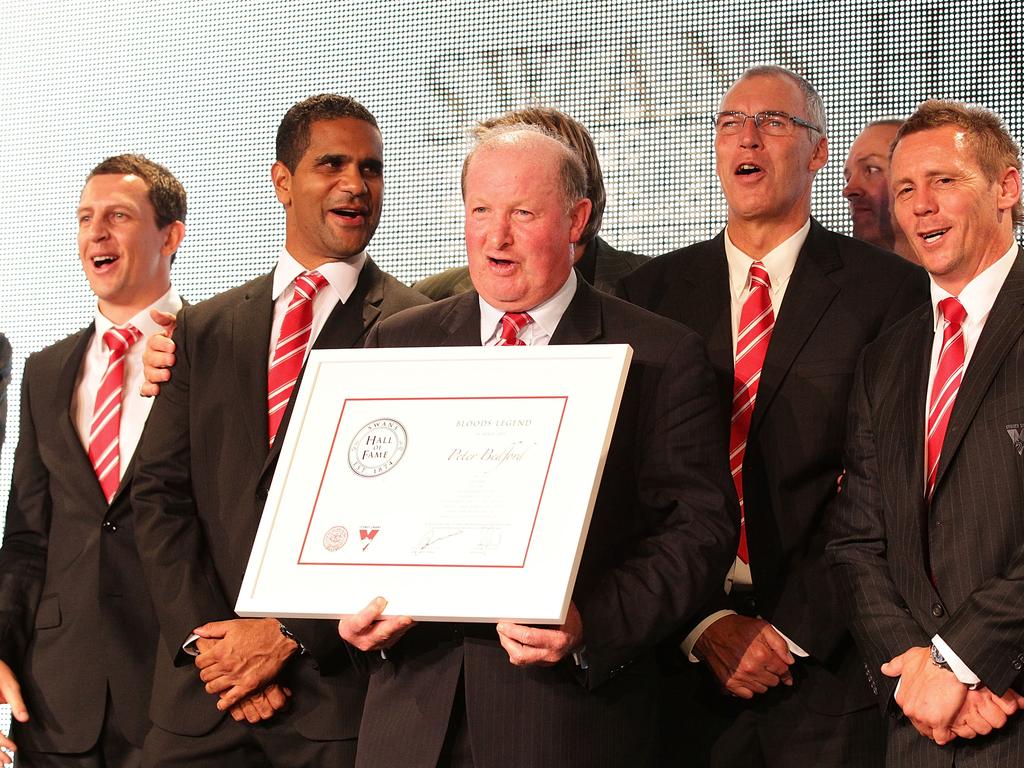 Peter Bedford was inducted into the Swans Hall Of Fame in 2011. Picture: Matt King/Getty Images

Legendary journalist Greg Hobbs declared that Bedford could pack his bags for an upcoming tour of New Zealand, but the call-up for Australia never came.
A face-to-face meeting with Don Bradman finally happened after Bedford's match winning effort in 1970. Honouring a long held tradition at Adelaide Oval Shield matches, he was nominated to sit alongside The Don at lunch.
"Let's just say the conversation didn't flow very freely," Bedford said.
"I didn't play for Australia but I look back with a lot of pride at my career, winning the Sheffield Shield twice and having some memorable moments like taking the wicket of Greg Chappell twice and scoring a hundred against Dennis Lillee.
"There were some memorable social occasions as well. I had afternoon tea with Gough and Margaret Whitlam at Kirribilli House and met the Queen when I played in a touring XI played against the Royal Palace team at Windsor."
Now 75 and still living in his native Port Melbourne, Bedford remains actively involved in cricket as an assistant coach with Malvern's Craig Shield team.
He was also elevated to Champion status at the Sydney Swans recent Hall of Fame induction in June.