How Damien Hardwick's personal life took its toll and Richmond coach's plan for resurgence
Richmond coach Damien Hardwick has revealed all, opening up on his marriage, missing the finals and how he plans to bounce back with Richmond this season.
Damien Hardwick has conceded he "wasn't at his best" throughout 2021 as he dealt with a marriage breakdown and the Tigers' dramatic form slump.
The three-time Richmond premiership coach has revealed the backing of his players helped him through the toughest year of his coaching career.
Hardwick bristled at suggestions his personal life and new romance with a Richmond staffer impacted on the relationship he had with his players.
"That was challenging to cop," he says.
"The one thing I really relied on that time, I'm not going to lie, there were certainly some struggles from my end, was the players and our footy club. They are family.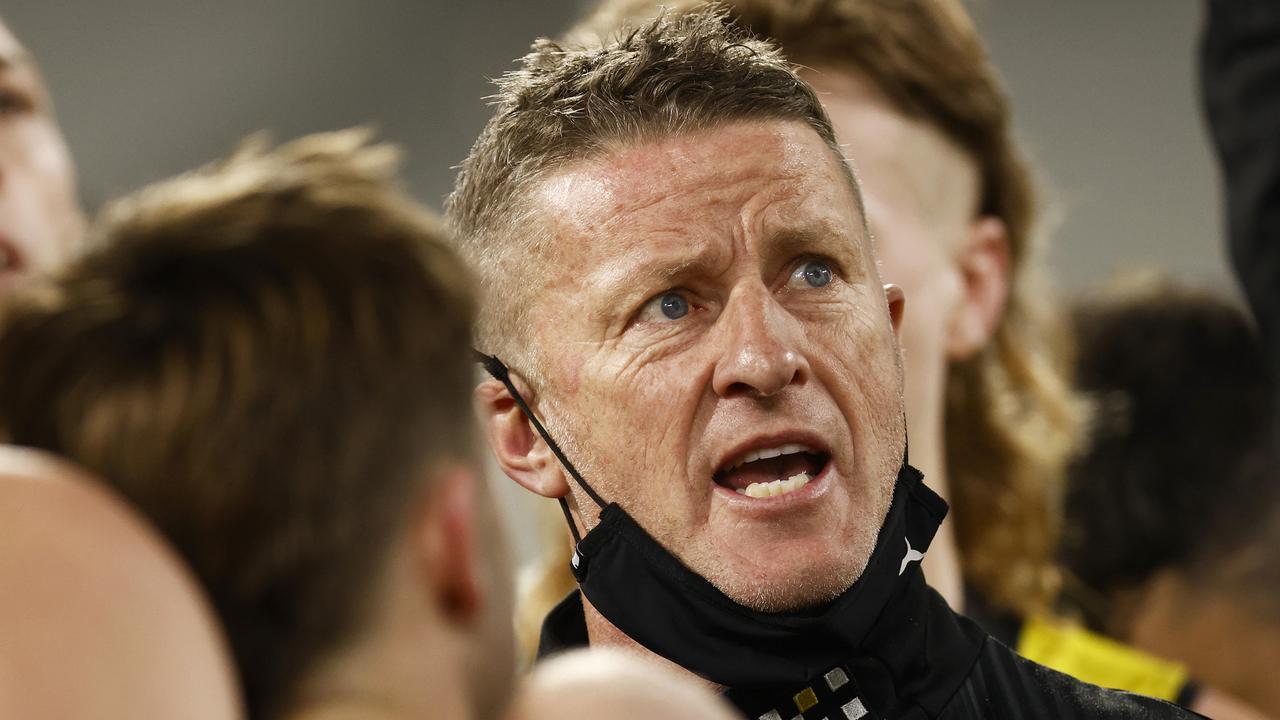 Damien Hardwick marshalls his troops during a game late last season. Picture: AFL Photos/Getty Images
"Families have arguments, don't get me wrong, but the fact of the matter is, regardless, we are always there for each other.
"Some of those guys really helped me get through, me and Trent (Cotchin) had some good conversations about what it looked like.
"We delved deep as we always do and we came through it in the end.
"That is part of the strength of our footy club, we will have the big boy conversations and it is what drives greatness a lot of the time."
Hardwick, 49, said it was challenging to deal with the fallout of his marriage split from wife Danielle and the impact it had on their three children.
"My personal life is my personal life and that was a challenge dealing with it, not so much for me but for Danielle and the kids," he said.
"It was a challenge at times but you just try to ride the punches as best you can.
"The nature of our industry is sensationalism, you know that and unfortunately it is part and parcel of what comes with it."
Hardwick had a fiery year in the media, clashing with the AFL over his dislike of Marvel Stadium and then taking umbrage at Brisbane legend Jonathan Brown's criticism of Tigers forward Tom Lynch.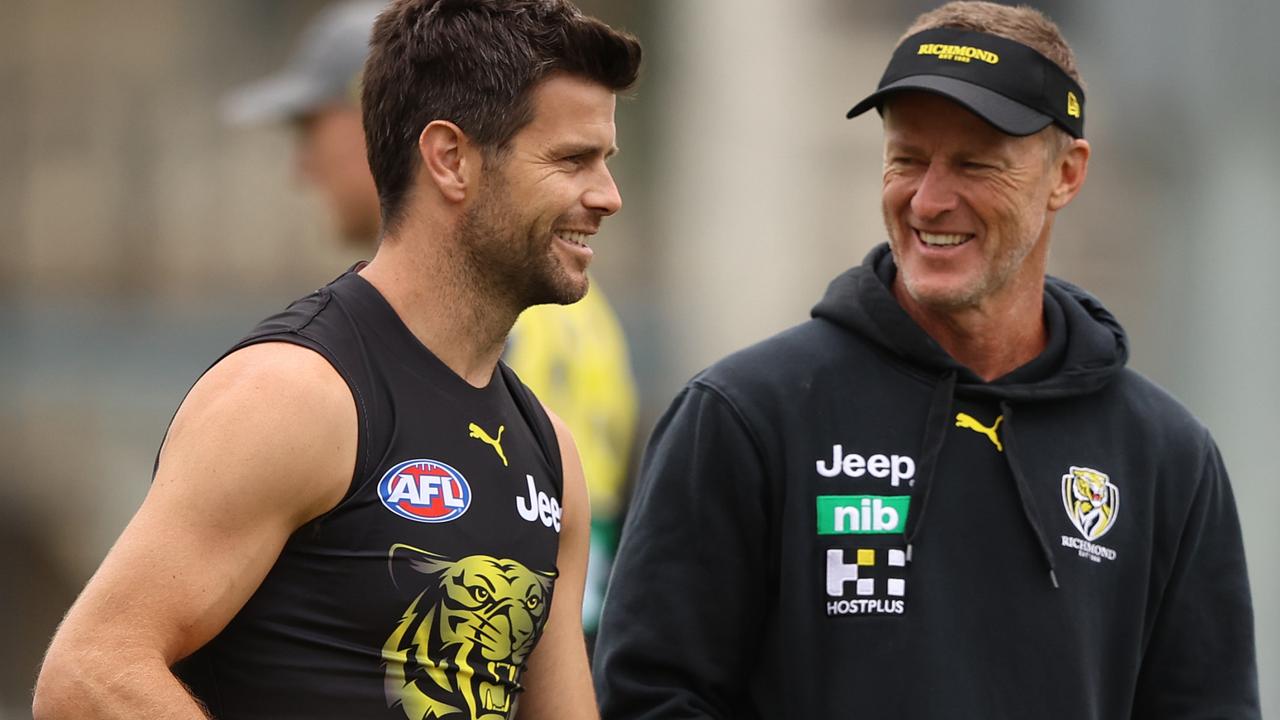 Trent Cotchin and Damien Hardwick had hard conversations last season. Picture: Getty Images
"I am very protective of our footy club and very protective of our players," he said.
"I will always go into bat for them, I don't really care who is talking about them. I will just back in our lads and our players.
"They can have a go at me. Sometimes, it gets on my nerves? Yeah, maybe a little bit but the fact of the matter is we are all in the game and we know what it's like."
Hardwick said the late finish to the 2020 season because of Covid and Richmond winning the flag had his team always on the backfoot last year.
The Tigers' coaching staff identified the shortened pre-season, combined with injuries to key players as the reasons for the club's slide to 12th, the first time they'd missed the finals since 2016.
After some soul-searching the longest serving coach in the AFL – Hardwick is going into his 13th season – understands he was also below his usual standard throughout 2021.
"If I am being completely honest I didn't have the greatest of years from a coaching perspective," he says.
"We didn't get some things right along the way and you have got to be upfront and honest with that.
"Probably last year there were a couple of times where I wasn't at my best but I didn't recognise that quick enough.
"I'm not going to tell you a mistrust when I say last year I was tired … we needed the off-season. I needed the break and I feel reinvigorated."
He said Cotchin's replacement as captain was "purely in the hands of the players" with the process close to being finalised.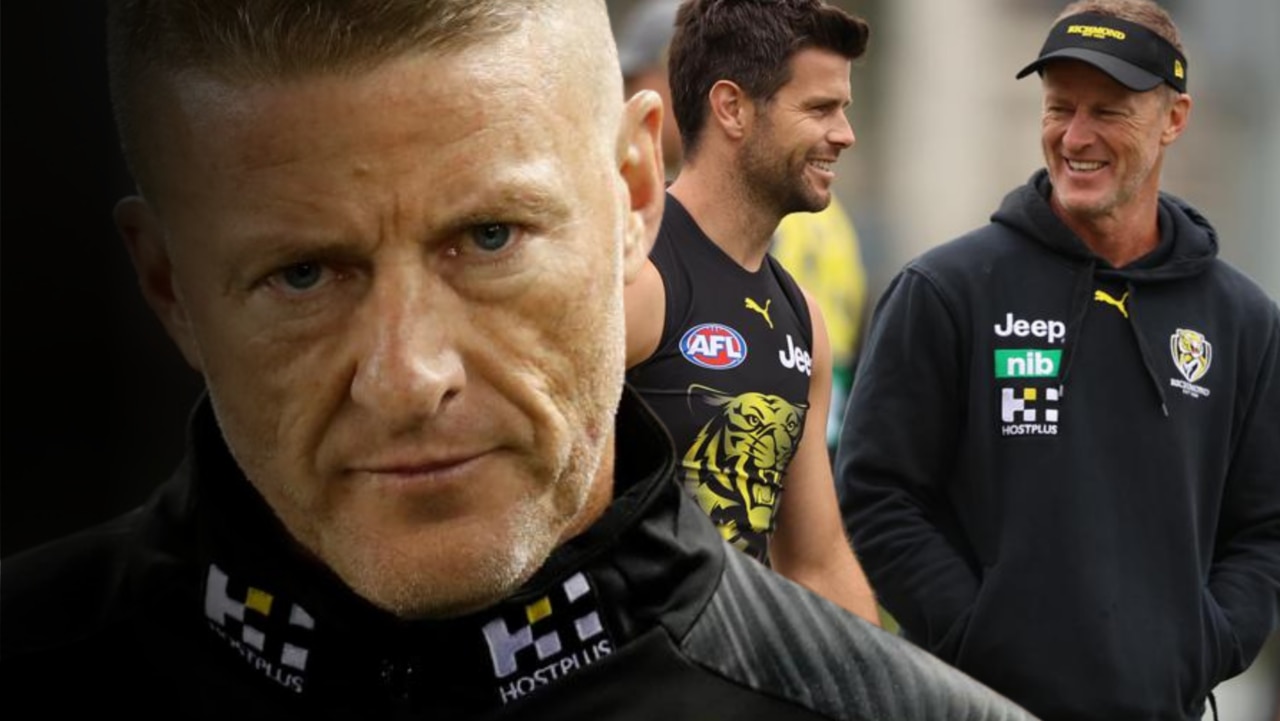 Damian Hardwick has opened up on his tough 2021 and his optimism heading into the new season.
WHAT IS DRIVING DIMMA FOR FOURTH TIGERS FLAG
Damien Hardwick's alarm goes off at 4.52am every morning.
First on the agenda is an exercise class at the local gym followed by a coffee from his favourite Elwood cafe Miss Alex and Co which he consumes on the 10-minute drive to Punt Rd.
Before the sun comes up, Hardwick is sitting behind his desk at Richmond's headquarters planning his team's premiership assault.
And the best part about the ritual? "It is quiet," he says.
The gym, the coffee shop, the roads and the football club are all quiet at that time which puts the Tigers premiership coach into a Zen-like state.
"Coaching is challenging and so is life. You have got to find things that make you happy and do those things first and foremost," Hardwick explains.
"Exercise, reading, journaling, coffee drinking, it makes me happy first thing in the morning and then I can start my day.
"I am already in a good place and I can be my very best for when the players come in."
This is the reinvigorated version of Hardwick, 49, and there certainly wasn't the same spring in the step when the alarm went off last year.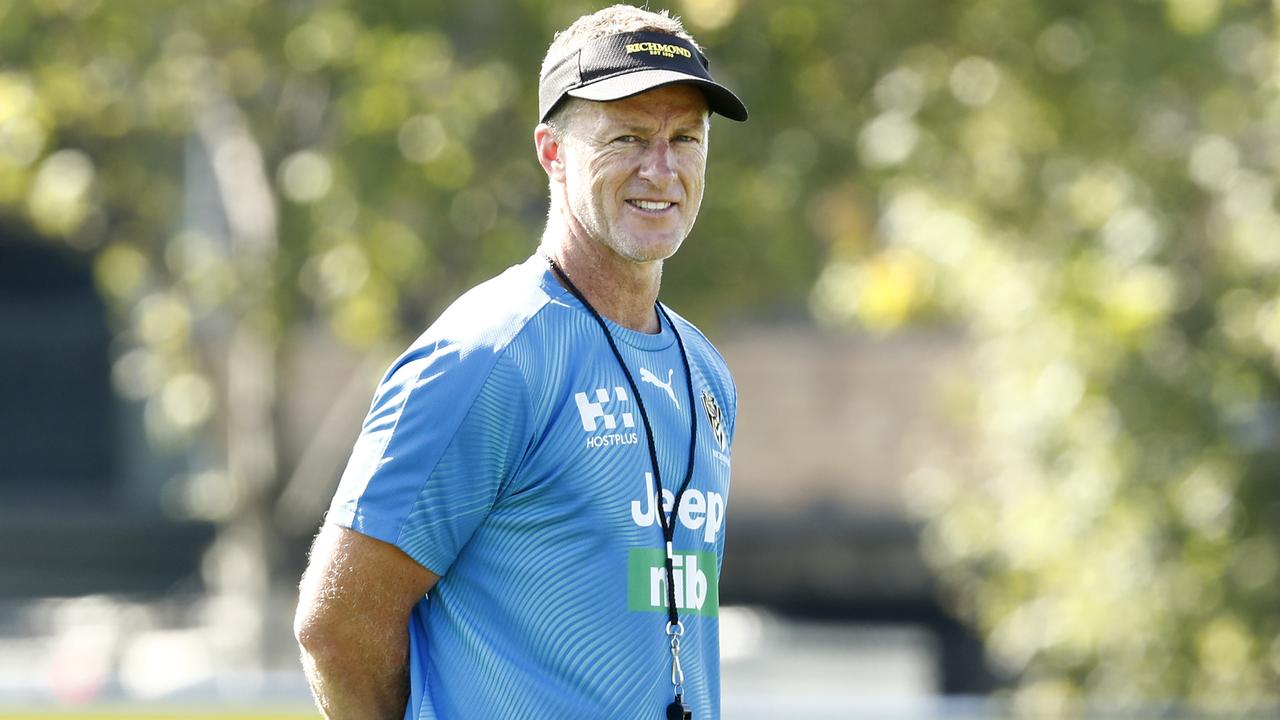 Dimma relishes his quiet time. Picture: Getty Images
On many levels 2021 was one of the toughest years of his career with the AFL's current longest-serving coach – he has taken over the mantle following the departure of his good mate Alistair Clarkson – under fire on a number of fronts.
A very public split from his wife, Danielle, had the spotlight on his private life and when his football team had a dramatic fall from grace, many were keen to group the two together.
It was ugly, messy and tiring.
"I'm not going to tell you a mistrust when I say last year I was tired," Hardwick explains. "It was hard as you felt you'd just finished (the 2020 season) and then you were sort of back into it. It was like, 'Wow, where are we again?'.
"We just needed the off-season. I needed the break and I feel reinvigorated."
An off-season fact-finding mission to the US where he tapped into contacts from previous visits has helped Hardwick get his mojo back.
"When anyone goes overseas it's exciting and it's the same as a coach. You're excited to be there, you see things, look at stories and things that you take back into the game.
"My journey overseas opened up my eyes again because obviously I hadn't been able to do it for a number of years so it sparked my interest to start doing a lot of reading and journaling again.
"I think the off-season is a great time for self-reflection and to analyse yourself, what you did really well and some areas that you need to improve.
"If I am being completely honest I didn't have the greatest of years from a coaching perspective. We didn't get some things right along the way and you have got to be upfront and honest with that, with yourself, with your group of coaches and your match committee.
"But it's a great learning curve and I look at the similarities between our season in 2016 and the learnings I got from that as compared to last year as well.
"We went back and looked at the things that we did well and we will amend the process and hopefully get a better outcome this year."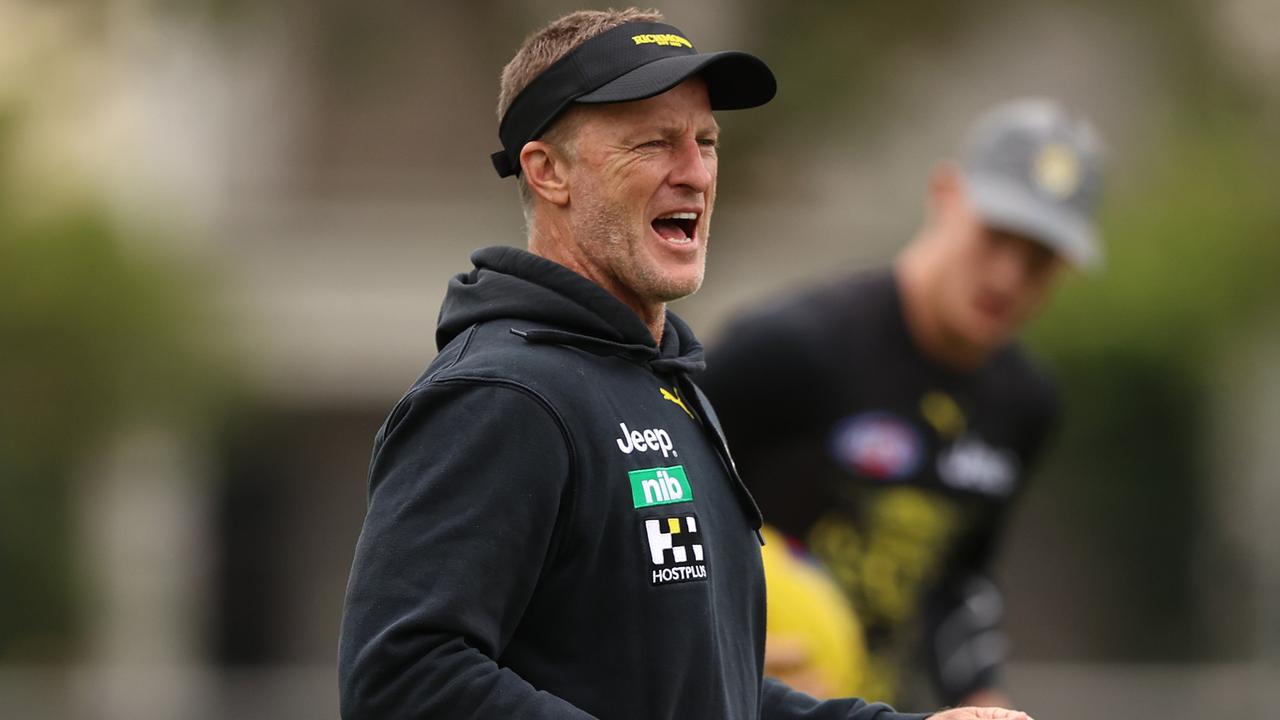 Hardwick in full voice at Tigers' training. Picture: Getty Images
When pressed on what he found out about himself, Hardwick says he got bogged down in the details as he searched for answers to the Tigers' form slump which saw them miss the finals for the first time since 2016.
"While you can get some great feedback from other people which is really, really important, I get a great deal of enjoyment out of the fact that if you look inside yourself you can generally find the things that you do really well when you're at your best but also when you're not at your best.
"Probably last year there were a couple of times where I wasn't at my best but I didn't recognise that quick enough.
"I went into a period of my coaching where I'm not as productive as what I like to be when I get caught up in the detail.
"I was trying to dig deeper into things, trying to find out what went wrong but sometimes it just happens or we're just not playing well or sometimes the opposition is just too good.
"But when you can't find a solution you continue to look and that is when I am at my absolute worst.
"Driven people do that, they look into things deeper and try and find a better outcome but sometimes it's just a matter of being patient and waiting for all the pieces of the puzzle to arrive and then realising it's not as bad as what you thought it was.
"Sometimes it is things you can't fix."
The review of the trainwreck season has identified the shortened pre-season as a major cause of problems with the injury toll throughout 2021, which included superstar Dustin Martin, exposing the Tigers young players who weren't ready to step up.
"Generally you break up your pre-season into fundamentals and your game style but because the pre-season started a lot later for us, later than normal, we completely bypassed the fundamentals part of the game and went straight into game style.
"If you think about the way we played, we got beaten in the contest a lot, our defensive pressure was nowhere near where we wanted it to be and they are the fundamentals of Richmond DNA and we just failed to train those.
"Unfortunately once the season starts there's no catching up."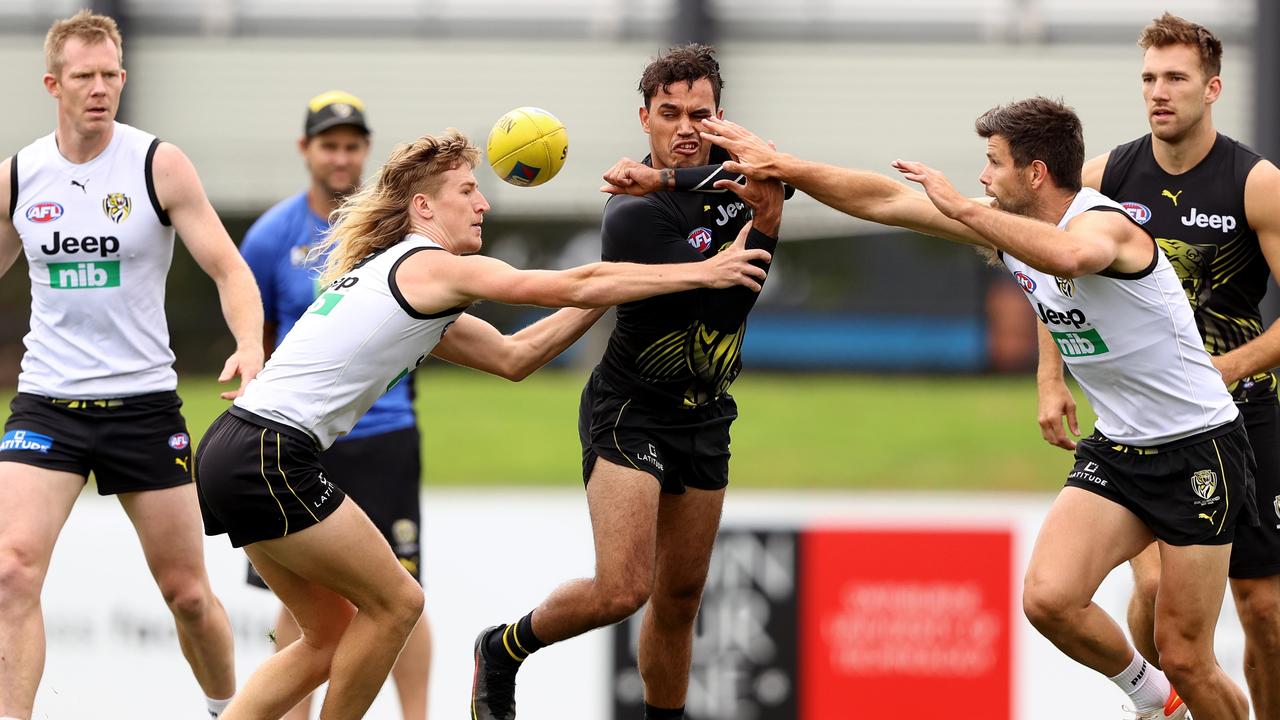 Can the Tigers bounce back in 2022? Picture: Getty Images
The best thing that happened to Richmond was Melbourne winning the premiership given it reinforced to Hardwick and his coaching group that their game style didn't need an overhaul.
"We asked ourselves the question: 'Do we need to change style?," Hardwick says. "The greatest bit of reinforcement for us was watching Melbourne play.
"The way they play, I love the style of game they play, it's hard, it's tough, it's forward footy, it is heavily contested, it's defensively very solid and they have got incredible talent which shines when they need to.
"For us as a footy club and as a coaching staff it was the greatest reinforcement that we needed."
Hardwick is excited about the new era his football club is about to embark on. Trent Cotchin's decision to step down means there will be a new captain for the first time in almost a decade while the Tigers draft haul – they had five picks inside 30 – has the coach genuinely pumped.
"It is as excited as I have been about a group of young players and they have all shown signs in our matches," he says.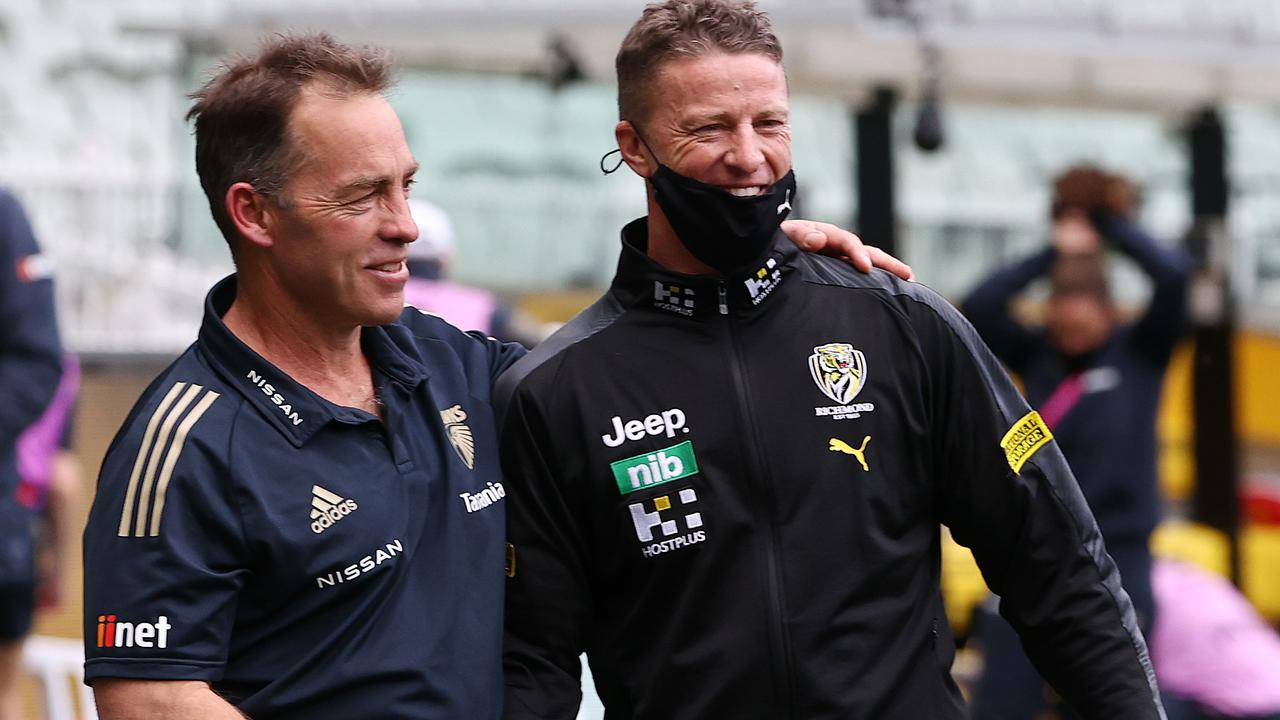 The master and the apprentice. Clarko and Dimma. Picture: Michael Klein
Last week Hardwick caught up with Clarkson for dinner and a couple of quiet beers. He loves tapping into the mind of his friend – he worked under him at Hawthorn – who knows a thing or two about coaching longevity.
"I am very, very lucky to do what I do, it is a tough job but it's a great job," Hardwick says. "I get to do something that I have grown up loving my whole life, playing footy and coaching footy.
"It has been a great ride and hopefully it continues for a little while to come."
"In 2022 Richmond Football Club are celebrating the "Year of the Tiger Army" and looking forward to welcoming members back to the MCG. Take your place in the Tiger Army by visiting strongandbold.com.au or calling 1300 742 466".