Ivan Soldo on missing a grand final through injury and his road back to Richmond side
Ivan Soldo had toiled hard to entrench himself in the Richmond side. Then, he tore his ACL on the eve of the finals and had to undergo rehabilitation many miles from home. The experience only made him stronger, writes DANIEL CHERNY.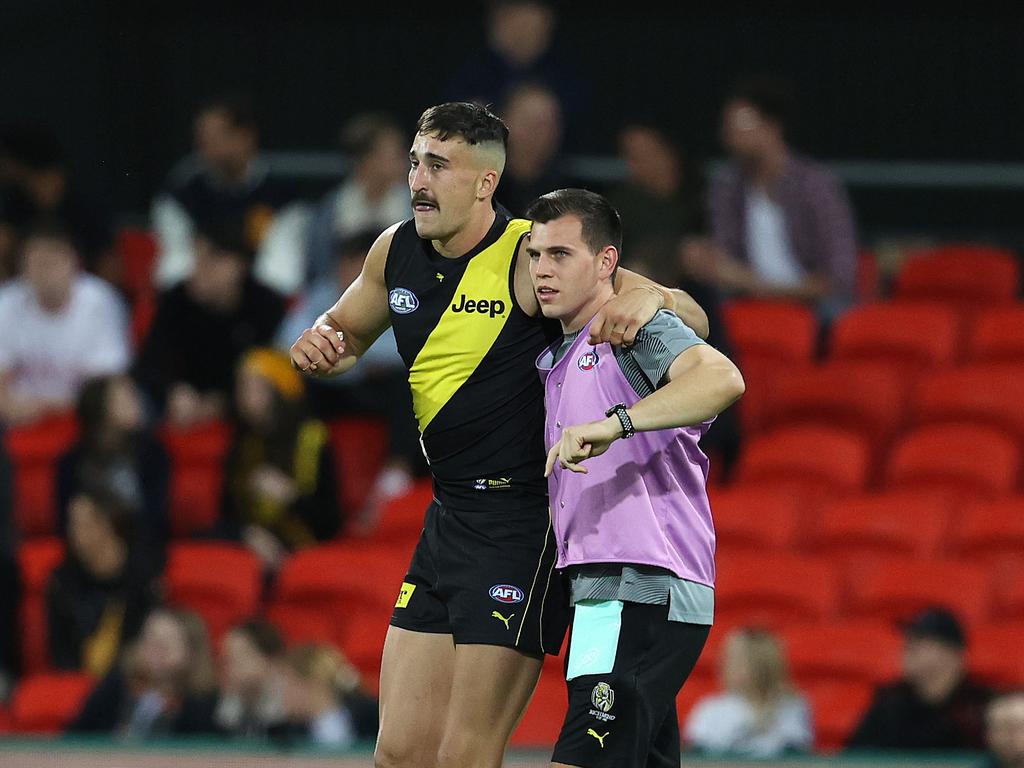 AFL Round 17. 10/09/2020. Geelong vs Richmond at Metricon Stadium, Gold Coast.. Ivan Soldo of the Tigers is helped off the ground late in the 2nd qtr . Pic: Michael Klein
There is never a good time to tear an ACL. But when your team is vying for a third premiership in four seasons, and the finals are only a couple of weeks away, it is particularly hard to stomach. Add to that the strain of being stuck in a Queensland hub during a once-in-a-century pandemic, away from loved ones, and it's understandable why late September and October of 2020 was a trying time for Ivan Soldo.
The Richmond ruckman had come so far in football, having arrived at the club in 2014 as a Category B rookie from Canberra without a game's experience in the code. In one of the more remarkable stories of the Tigers' 2019 flag, ex-soccer player and basketballer Soldo had become a cornerstone of the Richmond side, part of the team that thrashed Greater Western Sydney on the last Saturday in September.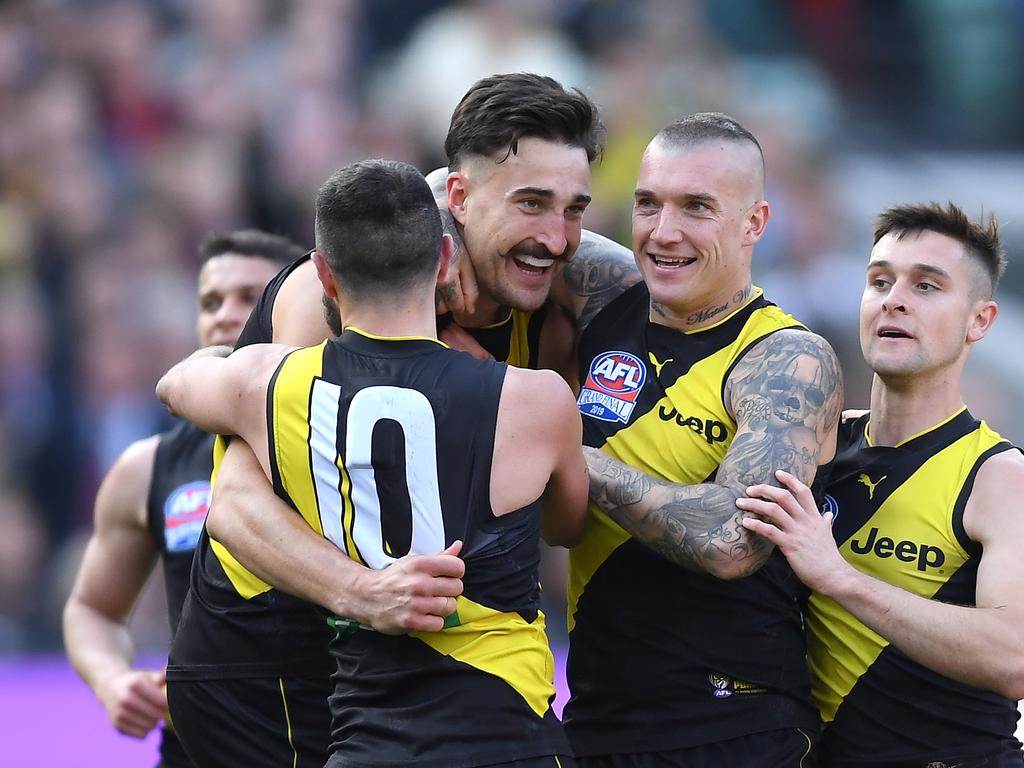 Ivan Soldo has been through the best and worst of times with the Tigers. Picture: Quinn Rooney/Getty Images
He was a regular again in 2020, playing 14 AFL matches before limping off the ground in the penultimate round of the season against Geelong after colliding with teammate Noah Balta in a marking contest.
The scan results were not good. Not only was his ACL ruptured, so too was his medial ligament. That meant his hopes of being a part of back-to-back premiership teams were gone, and given the late finish to the 2020 season, his 2021 was likely to be wiped out as well. But with Victoria locked down, there wasn't any point heading home. Instead Soldo remained in Queensland, beginning his rehabilitation with his teammates in the hub, so close but so far from adding a second premiership medallion when the Tigers beat the Cats at the Gabba in late October.
Teammates rallied around him, although he concedes it was a challenging period.
"The year itself with Covid was pretty hard. We were aiming for that reward at the end. To miss out, pretty much the game before the finals was hard. It's OK, I've let it go, I've moved on. The team won, which was the main thing. I was a part of it," Soldo says.
"It's a bit of character building. I learnt a few things about myself.
"Instead of going to see family, I had to learn to lean on some friends in the hub. We connected really well in the hub."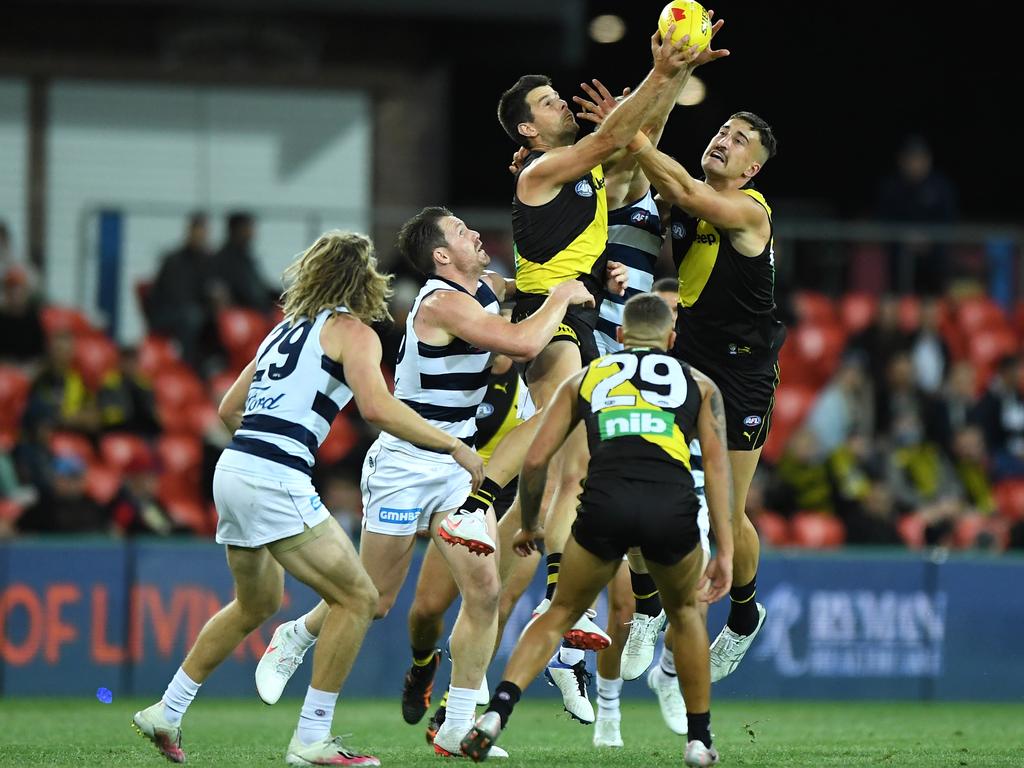 Soldo's last game of the 2020 season came against the Geelong Cats, as the Tigers built towards their second premiership in a row. Picture: Matt Roberts/AFL Photos/via Getty Images
When you are 204 centimetres and 106 kilograms, recovery is not necessarily straightforward. And realising they still had a long-term asset on their hands, the Tigers were in no mood to rush the process with Soldo, who turned 26 in April.
"They do say longer limbs [take] more time," he says.
"The club gave me the time. They gave me a whole year to get better. They weren't going to push me. It's a gruelling process, letting it heal."
He is now keen to help others afflicted by the dreaded knee injury.
"I'm more than willing to share some advice. You're never alone, there's always people who can help you."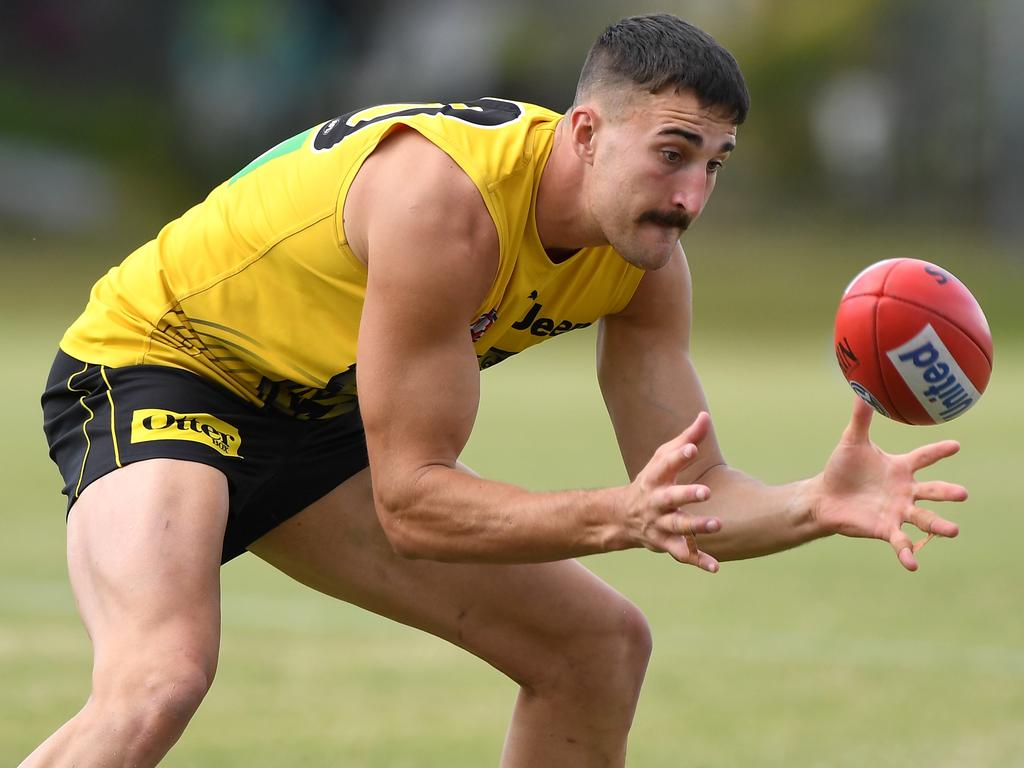 Soldo focused on training and rehabilitation through the 2021 season. Picture: Matt Roberts/Getty Images
The silver lining however was that Soldo could have a clean run into the start of the 2022 season. Despite interest from the Western Bulldogs he remained at the Tigers, all the more important following the departures of Callum Coleman-Jones and Mabior Chol.
Coach Damien Hardwick backed Soldo to start the season, but after an underwhelming first few rounds, the big man was sent back to the VFL to find some touch. Recalled in round seven, Soldo's self-belief is growing, with Thursday night's win over Port Adelaide his sixth-straight AFL appearance.
"A bit of a stop-start first half of the year … I'm building confidence every game, but my body feels fine," Soldo says.
"Dimma really had in confidence in me coming back.
"He wanted me to play in the team … he was always willing to put time into me. This time of year is when talls are pretty important. Start of the year might have been stop-start but this is where the hard part of the year starts.
"You want to be playing your best footy from the bye onwards."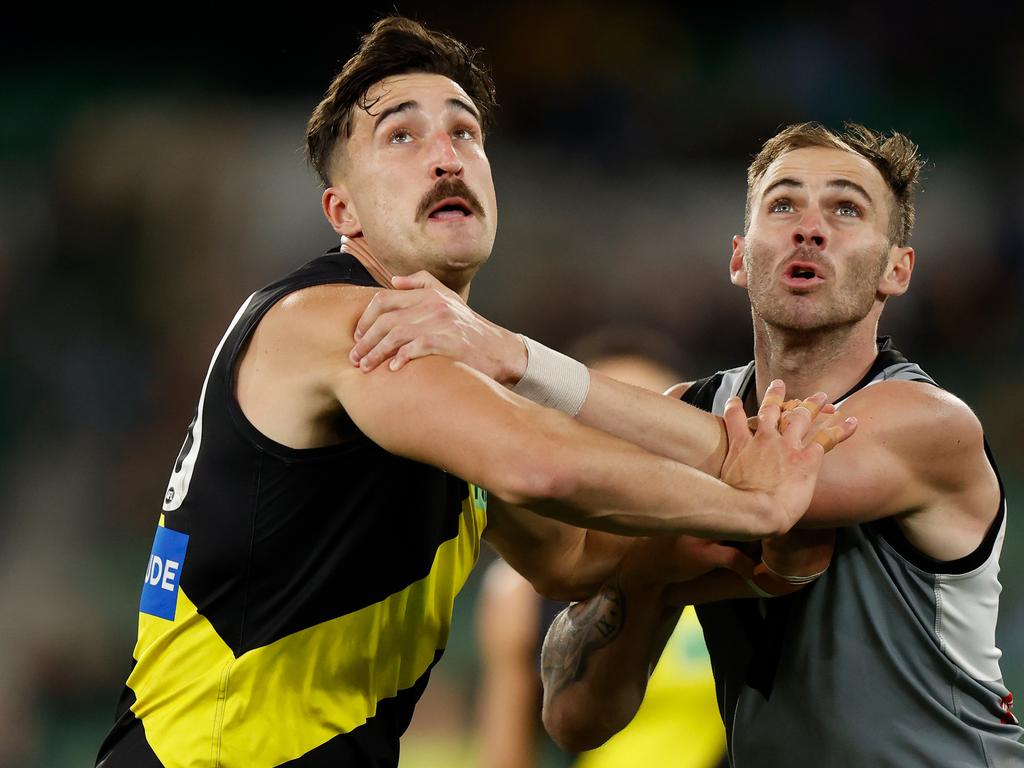 Soldo's recovery turned a corner after his round seven recall from the team's VFL side, playing six straight matches since returning. Picture: Michael Willson/AFL Photos via Getty Images
And he continues to work well with co-captain and fellow ruckman Toby Nankervis, the pair complimenting each other's strengths.
"Toby's a great captain and a great ruckman … It's a team responsibility, I'll play my role," Soldo says.
While Soldo is still donning his trademark moustache, the face of the Richmond team continues to change. Judson Clarke kicked two goals on debut against the Power, with triple-premiership player Kane Lambert named medical substitute as he deals with a persistent hip issue.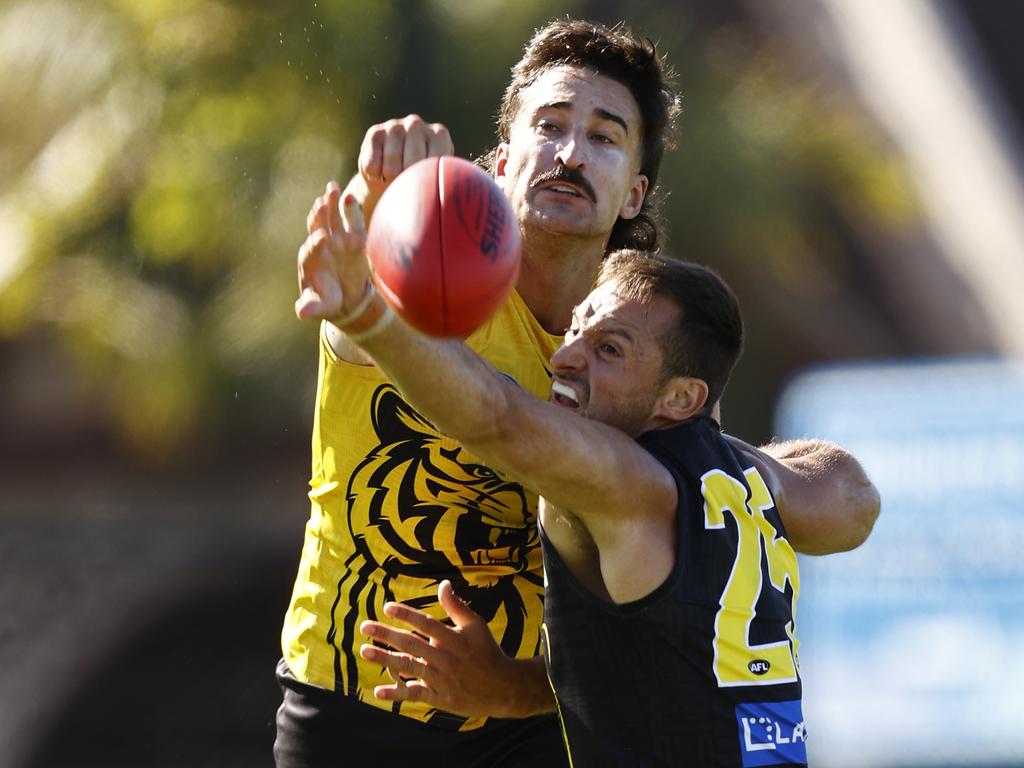 Soldo enjoys a close working relationship with Tigers co-captain, and fellow ruckman Toby Nankervis. Picture: Darrian Traynor/Getty Images
Soldo paid tribute to Lambert's selflessness.
"Kane Lambert's putting a lot of work into making sure [Clarke] can be the best player he can be, because that's the role (midfield/forward) Judson would like to play in the future." Soldo says.
"Kane cares a lot about the team. He's willing to coach anyone. He's not only a great person on the field, he's a great person off the field. It's just in his nature to try to help people get better.
"It's what he does behind the scenes."
And Soldo could have a laugh too about the profligacy of star Shai Bolton, who kicked 0.5 – including a horror miss from point-blank range late in the game – against Port.
"I mean it was actually pretty funny. We just laugh about it now. If we'd lost the game it would have been a different story."