Sacked 2022: Spida Everitt opens up on his controversies, coaches and playing career
On the latest episode of the SACKED podcast, a key player in Tim Watson's reign as St Kilda coach details what led to the Essendon great's coaching downfall.
It seems fitting that Peter "Spida" Everitt played a part in one of the most audacious, rollicking coaching recruiting coups in the history of Australian rules football.
It was staged on the Gold Coast in late 2000 as St Kilda attempted to land one of footy's biggest fish, two-time premiership coach Malcolm Blight.
The bait was simple. The catch was a reluctant footy coach who was seeing more of the golfing fairways not far from the glitter strip than he was of the football field at that time.
A million dollar contract; a Chinese meal at Jupiters Casino; a posse of Saints hierarchy and players that included Everitt; and a boozy session, finally hooked Blight.
Watch every blockbuster AFL match this weekend Live & Ad-Break Free In-Play on Kayo. New to Kayo? Try 14-Days Free Now >
Everitt takes up the story, unveiling fresh details about what must constitute as one of the most unusual nights in the club's history.
"I still remember when we came up (to the Gold Coast) to get 'Blighty'," Everitt told the Herald Sun's Sacked podcast.
"(President) Rod Butterss went to the Chinese place at Jupiters.
"We all came across on the monorail — myself, 'Loewey' (Stewart Loewe), 'Burky' (Nathan Burke), Barry Hall … we had a few drinks and they said, 'No more drinks'.
"Then we went into one of the private rooms in the Chinese restaurant. We were all in our suits and Blighty was like, 'What are you doing? Loosen your ties and get a drink into you!'
"We were like, 'This could be a good coach, for sure'.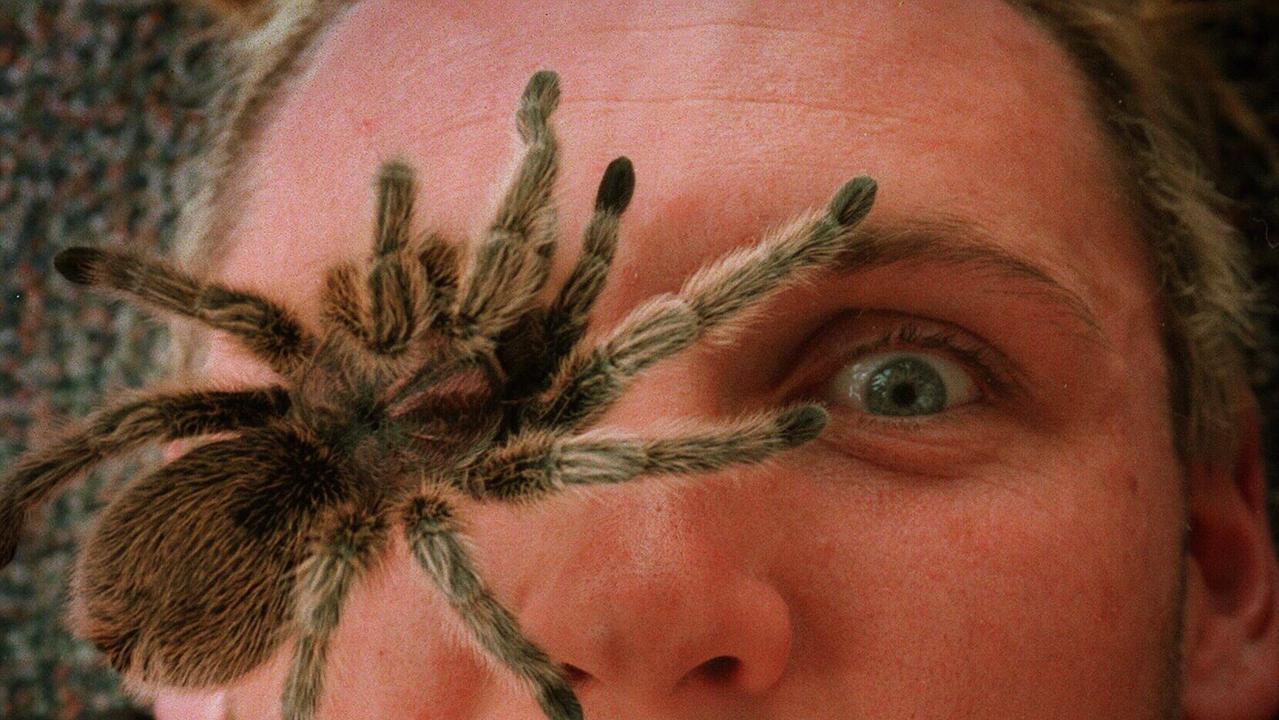 St Kilda footballer Peter Everitt goes to great lengths to confront his fear of spiders with a tarantula.
"He had already been at dinner with Butterss then he had about three hours (drinking) with us. Burkey was trying to pass him a contract to sign after about 15 reds."
Everitt wondered in hindsight: "If we needed to do that to get him, he was probably not there for the right reasons."
"He was on the Gold Coast, he's playing golf and he's got his life there. But (the club thought), 'Let's entice him to Moorabbin'. It was actually quite a big push to get a coach that lasted only 10 months."
The hangover from that wild Gold Coast night lasted just 15 games, before Blight was sensationally sacked.
Everitt liked Blight as he encouraged players who weren't confined by old conventions, as the big ruckman/forward was.
If you think that the Blight chase was one out of the box for Everitt, think again! A triple All-Australian who played 291 games with three clubs, Everitt rode the highs and lows during his journey.
Peter Everitt played 10 seasons and 180 games with St Kilda.
He had fallouts with coaches for a variety of reasons, a season-ending injury that may have cost the Saints a flag and he balanced controversy with an athletic gift in his 203cm frame that made him one of the most exciting players of his era.
Everitt, 48, is not sure whether the chaos helped or hindered his career. But he has minimal regrets, other than the two racial vilification incidents that he wished never happened.
"Everybody would love to be a one-club player and if I had been a bit more mature and come through different systems when I was young, I probably would have been," he said.
INJURY THAT MIGHT HAVE COST SAINTS A FLAG
It remains one of the sliding door moments in St Kilda's modern history and it still pains Everitt more than a quarter of a century on.
As the Saints swept to a qualifying final win over the Brisbane Lions, Everitt broke his collarbone, ending his 1997 season. His absence cost the Saints dearly as they ultimately went down to Adelaide in the grand final.
Everitt said: "Darryl White hip and shouldered me … it was a hip and shoulder you get each and every day (at training). There was no malice in it.
"I could just feel the bone rubbing against bone. When the physio came out I said: 'I'm no good'. He said: 'Give me a look'. I said: 'Man, I know it is broken'."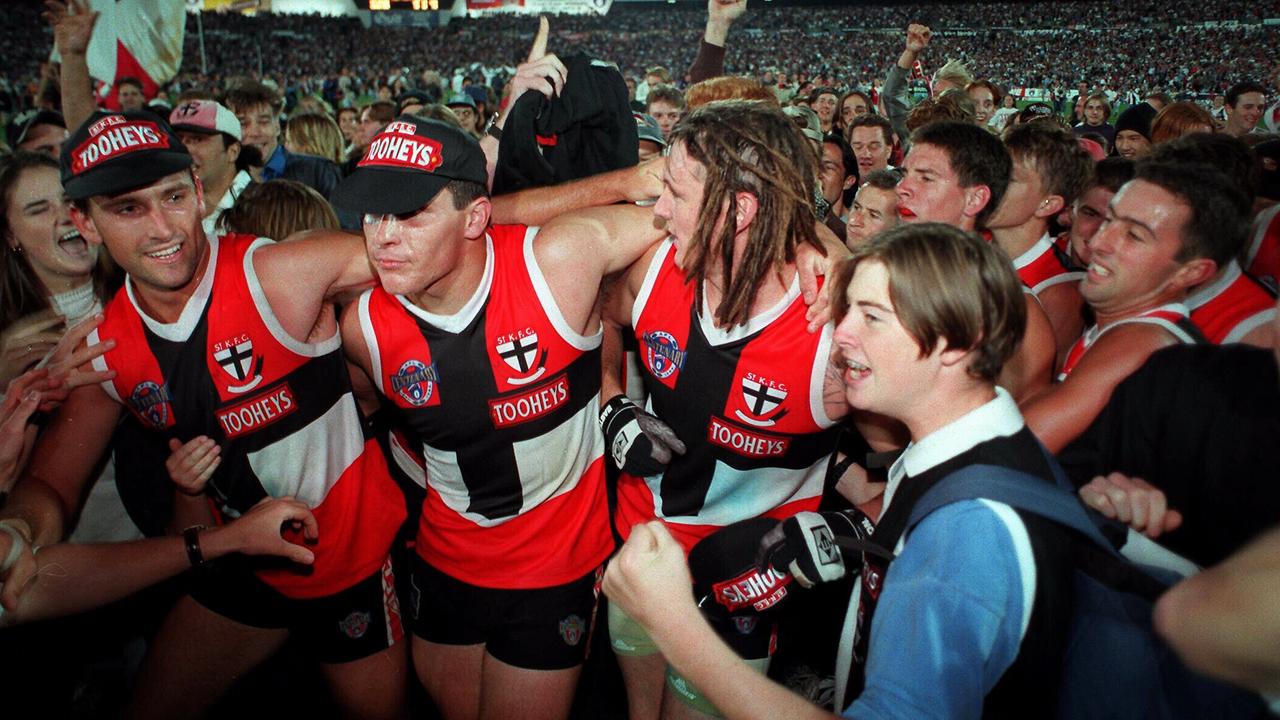 Peter Everitt and his teammates celebrate winning the 1996 Ansett Cup against Carlton.
Everitt watched as the Saints were overrun in the second half by the Crows.
"The sad thing is we thought it would happen the next year," he said. "You know, 'we've got a young team', 'we've got some great older players', 'we're up and about', 'we'll be back next year'. Maybe it was me being naive.
"The older you get, the more you look back. I'm still a Saints fan and you're just desperate to see them win a flag. You see other teams that haven't won one for 30 or 40 years and you just know what it would mean to so many suffering Saints' fans.
"It hurts more now than it did then."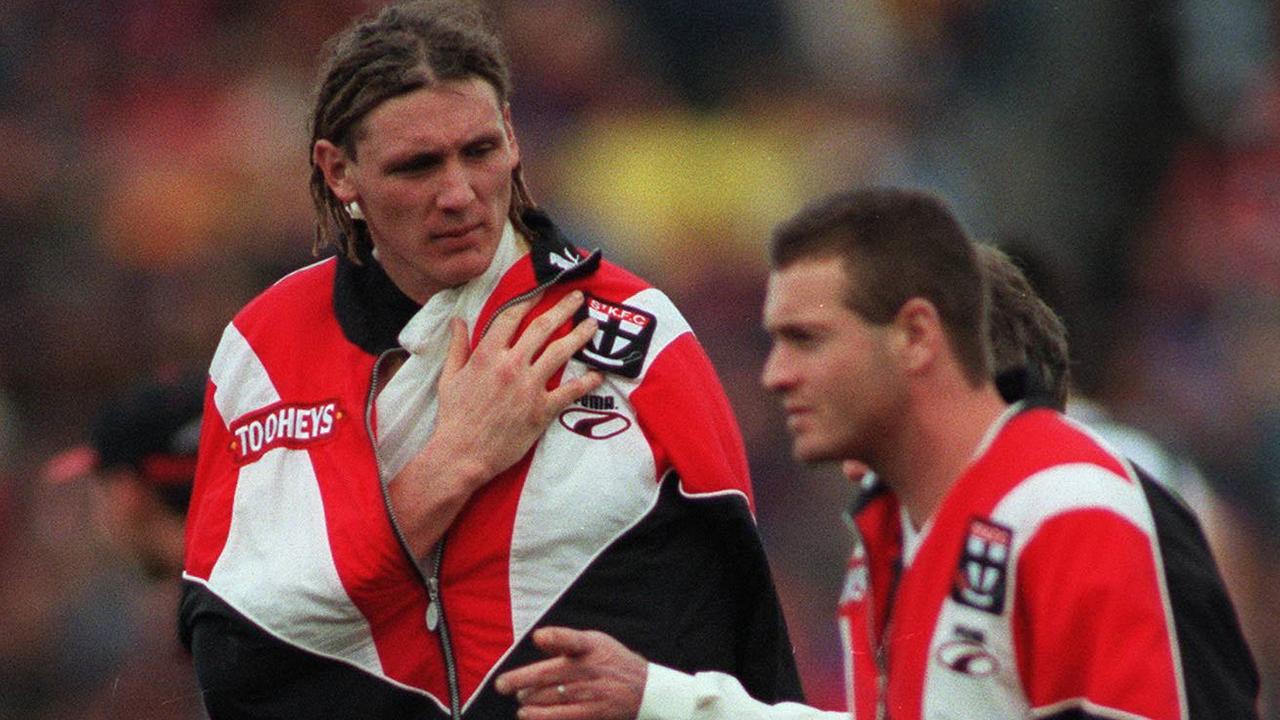 Peter Everitt nurses his broken collarbone during the 1997 qualifying final against Brisbane Lions at Waverley Park.
RACIAL VILIFICATION
Everitt's fourth AFL game came in the famous Nicky Winmar-Victoria Park game against Collingwood in 1993 when the Indigenous star pointed to his skin and said, 'I'm black and I'm proud to be black'.
To Everitt's eternal regret, he went on to racially vilify two opposition players.
The first happened in 1997 against Essendon's Michael Long.
"I had a crack at Michael Long and he brought it to the attention of the umpires," Everitt said. "So we went in for mediation with Kevin Sheedy and myself and Michael.
"With mediation, I went in to listen but I still went in there pretty naive and pretty cocky."
The second came in 1999 when he made shocking comments about petrol sniffing to Melbourne's Scott Chisholm.
"I racially vilified him, it was heard and the complaint was made," Everitt said. "We didn't know anything about it during the game.
Peter Everitt still regrets the offences he caused to the Indigenous community.
"Then after the game we saw the umpires coming down into the rooms and heard there was going to be a case."
He blames himself for bringing the heat on his family, but more so for the offence he caused to the players and the Indigenous community.
He stood down from football for a month and agreed to pay $20,000.
"It was no doubt the hardest time with my footy," he said. "I was able to go to a facility in Melbourne and get proper education for several weeks.
"I was able to sit down with Scotty, which he was very reluctant to do, which I understand.
"I was able to slowly educate myself.
"The hardest thing was walking back into your own changerooms. We had Nicky Winmar, we had Gilbert McAdam and all these great Indigenous players who I was very close to, but I didn't understand the history and background."
His relationship with Winmar was "strained", but from his lowest moment, he emerged with a new perspective and a greater understanding.
He went on to play with Adam Goodes at Sydney and couldn't have been more pleased to see the Swans superstar back at the footy last weekend for the club's 2012 premiership reunion.
"As hard as it was at the time, I've learnt so much," Everitt said.
"I still remember (meeting) an Indigenous lady (at the Swans in 2008).
"I asked her where she was from and she said she lived about three hours west of Alice Springs in a place called Haasts Bluff.
"I said to her, 'I'm going out there at the end of the year, I'll come out and say hello'. She goes, 'You will not'. But I did and it was one of the best trips I've ever done."
STAN AND TIM
Everitt says he had a "love-hate" relationship with Stan Alves, but he respected his passion.
"He was very passionate, but he ran his own ship," Everitt said. "It was his way or no way.
"There was a lot (going on) at board level. They thought he had pretty much run his race and said, 'We'll get new blood in and rejuvenate the side'."
Alves was sacked. Essendon champion Tim Watson was installed as coach for 1999. But that appointment lasted only two seasons before Watson resigned.
"He (Watson) made us go full-time from eight to four. We did media training and other kind of training rather than just concentrating on football," Everitt said.
"Tim tried to model us into more rounded footballers on and off the field rather than concentrating on what was really important — and that was what was happening on the field."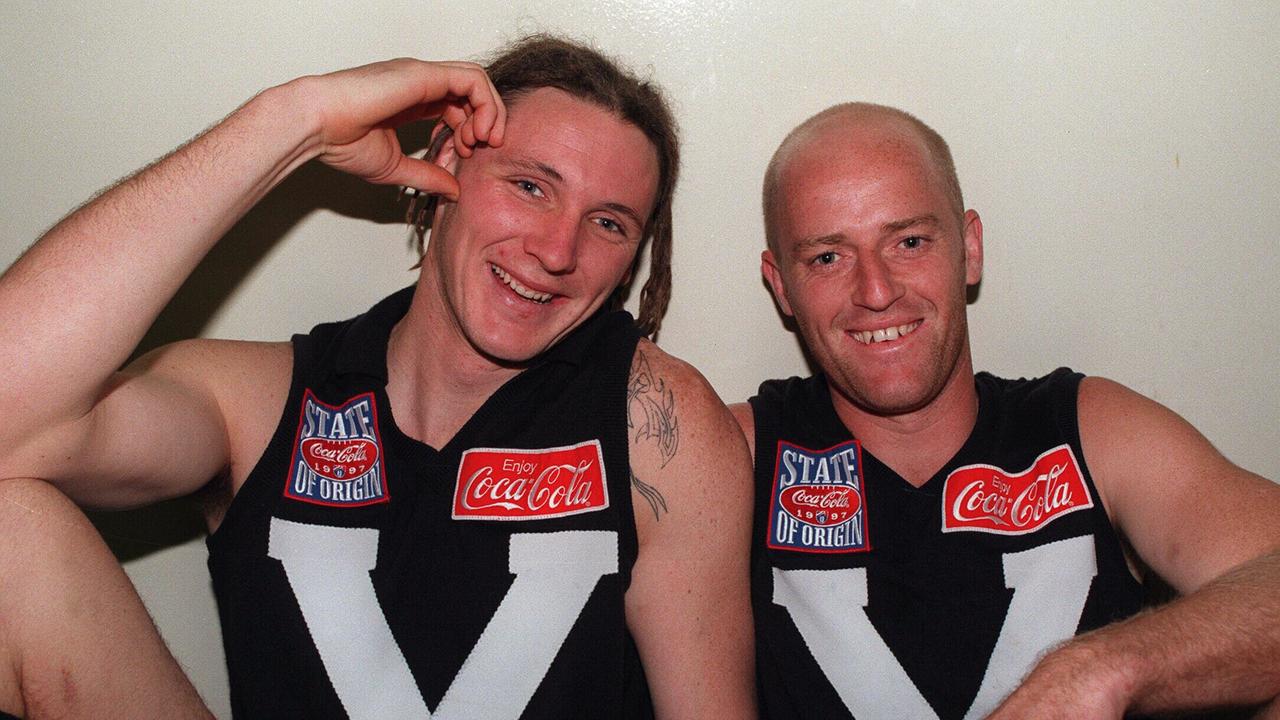 Three-time All Australian Peter Everitt takes time out from Victorian State of Origin training session in 1997.
HOW SAINTS STOPPED A SPIDA MOVE
After 10 seasons and 180 games with St Kilda, Everitt knew he had to leave — and he wanted to go to Collingwood.
But the Saints refused to do business with the Magpies in the 2002 trade period.
"I was going to Collingwood. I met with Mick Malthouse and Neil Balme … but the (St Kilda) footy club wouldn't deal with Collingwood," he said.
"Hawthorn came into play late. There was around five minutes to go when the deadline was two o'clock. They said: 'You've got five minutes (to make up your mind). Are you happy to go to Hawthorn?' They had come into play a day earlier. I said: 'Absolutely'."
Peter Everitt spent four seasons and 72 games with Hawthorn
Everitt knew his future at St Kilda would be limited as long as Grant Thomas remained coach. He knew Thomas was "best mates" with the club's president Rod Butterss.
"There was a perception out there that I wasn't fully committed," Everitt said.
"I thought if I went to a different club, I was hopeful I could change that perception.
"The other reason was myself and Thommo didn't see eye-to-eye. I challenged him and he challenged me.
"A coach is there as a coach. But Thommo was everything. He would do all the contracts, he would do all the football department stuff, and he wanted to be the coach as well.
"I knew he was going to be there for a long time as his best mate Butterss was at the top of the tree."
Everitt ended up at Hawthorn, a move that lasted four seasons and 72 games.
PAYING THE FINES
Footy's infamous "Line in the Sand" game between Hawthorn and Essendon in 2004 resulted in suspensions that totalled 16 matches and record fines of $70,000.
Everitt had a plan to collectively pay for the fines, including his own $4500 penalty.
Realising that one of the few things the two bitter rivals had in common was their Puma sponsorship, he turned entrepreneur by having 10 one-off jumpers created. He then had the fined players sign them and auctioned off the jumpers.
"We actually got into trouble with the AFL," Everitt said. "We got Puma to make 10 jumpers that were half Essendon and half Hawthorn and whoever got fined signed those jumpers. We sold them to pay for the fines.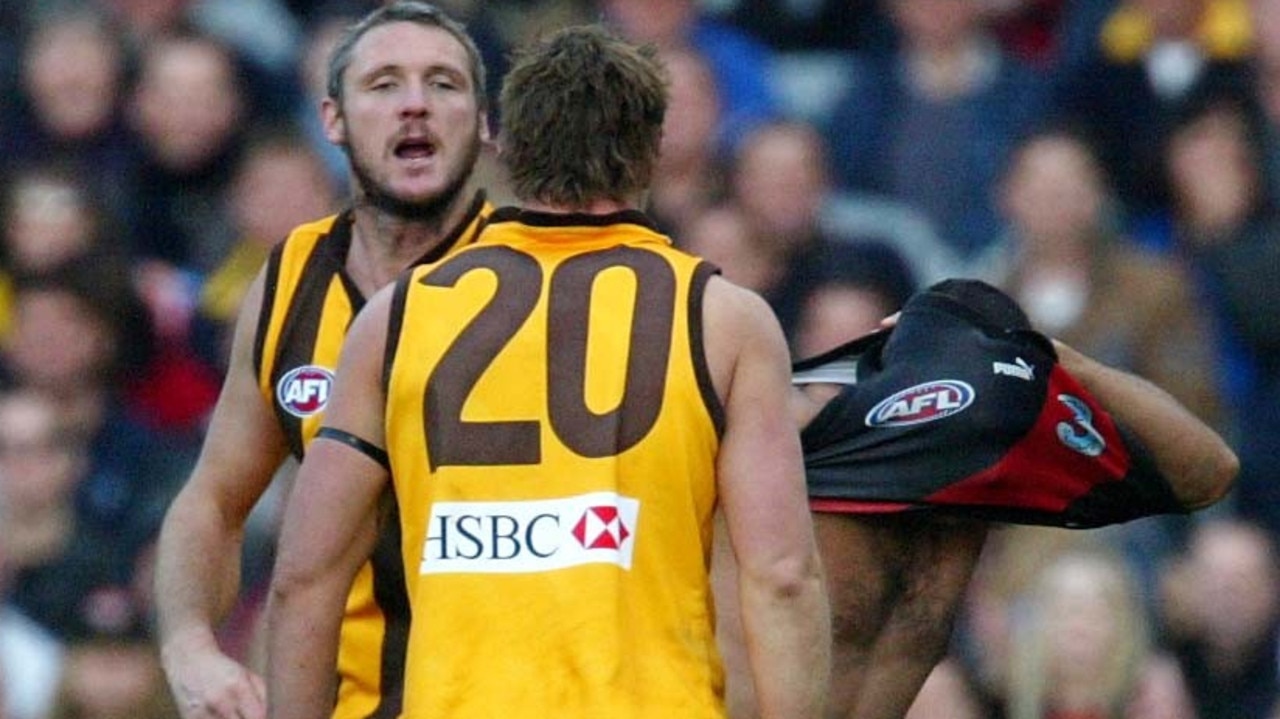 Peter Everitt auctioned off 10 jumpers to help pay for his "Line in the Sand" fines.
"I was a marketing guru. Then the AFL said you aren't allowed to do that, that's ridiculous. They would still be out there (as collector's items); there were only 10 of them made."
Everitt was called annually into AFL chief executive Andrew Demetriou's office.
"Andrew Demetriou used to ring me once a year and he would say, 'Spida, what are you doing on Thursday? Do you want to come into my office?'
"We had our yearly meeting and he would say, 'You can say this' or 'You can't do this'. We had a few laughs on the way. He was actually helping me and trying to educate me."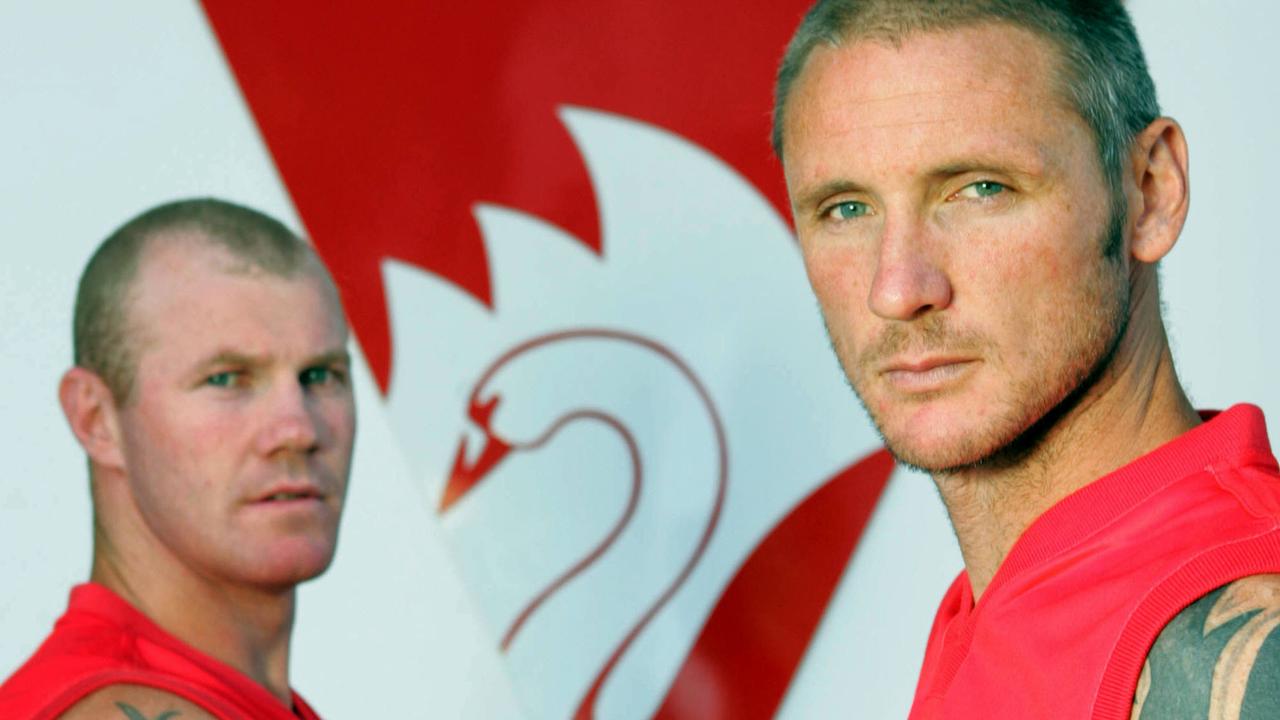 Sydney Swans players Barry Hall and Peter Everitt were both former Saints footballers.
LIFE AT THE SWANS
Everitt was nothing if not an opportunist.
Hawthorn played Sydney in the final home-and-away game of 2005 and as the final siren sounded he wished Swans ruckman Jason Ball all the best for the finals.
Ball floored him when he said regardless of what happened in September, he was retiring.
"We were finished and Monday came around and I rang (Swans boss) Andrew Ireland, and I said to him, 'I hear Bally is retiring' at the end of the season' and he said, 'What?'
"I said, 'I am willing to come up and try to have a crack at winning a premiership. I saw an opportunity and threw it out there."
Hawthorn repelled the move at the 2005 trade period, but froze Everitt out in the second half of the following season, frustrated by the big man's attempts to leave.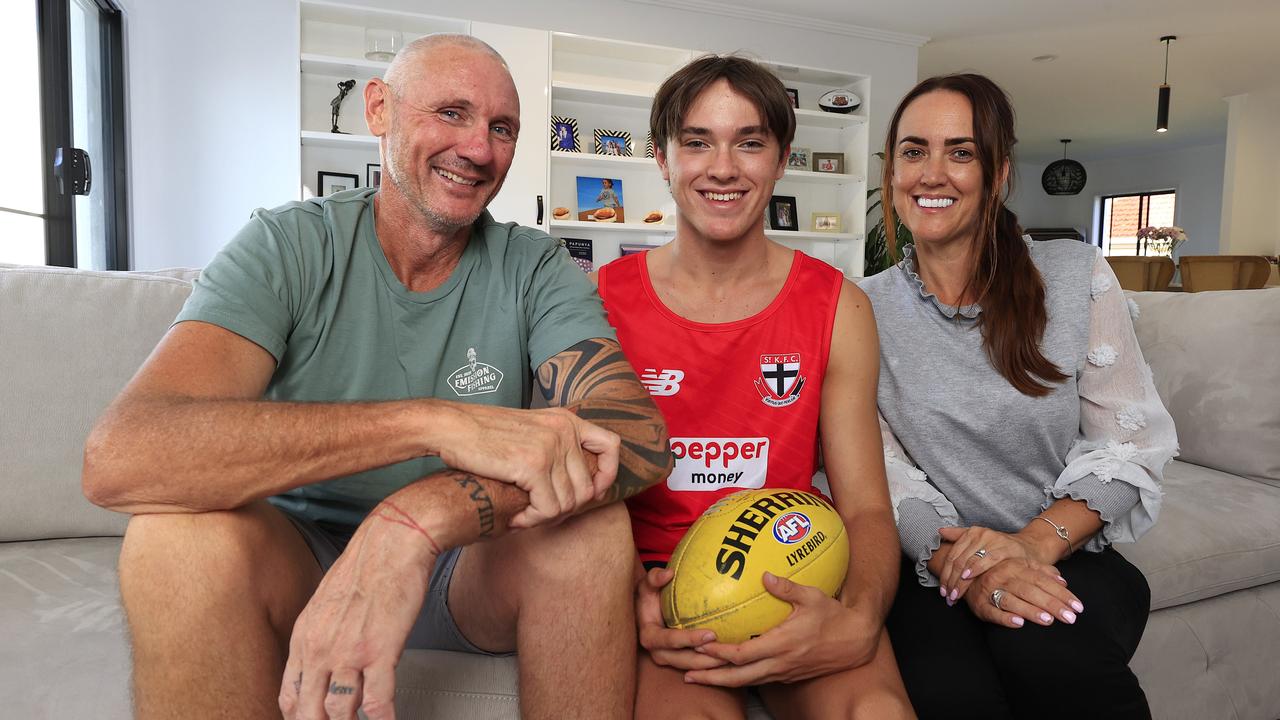 Spida, wife Sheree, and son Boston are selling up in Queensland and moving to Melbourne in the hope his son can get drafted into AFL. Picture: Adam Head
Having won the 2005 flag, the Swans lost the 2006 playoff by one point, which left Everitt wondering what might have been if he had been allowed to move when he wanted to.
He got to Sydney in 2007, but wished he had been able to make more of an impact than his 39 games in two seasons.
"I loved that football club … I felt privileged to go and play in the Sydney colours," he said.
"It was probably that (one year) too late."
His last game came in the 2008 semi-final loss to the Bulldogs.
"I remember sitting down with Paul Roos and he said, 'Can you do another pre-season?' I said, "No, I am out'."
SPIDA MARK II
Everitt's teenage son, Boston, will move from Gold Coast to Melbourne next year to chase his AFL dream.
"He is going to live in Melbourne for the next two years, doing Year 11 and Year 12 down there," Everitt said. "He has got his mum's brains and he is a bit smarter than I was at school. He is going into the APS system and we will see how he goes."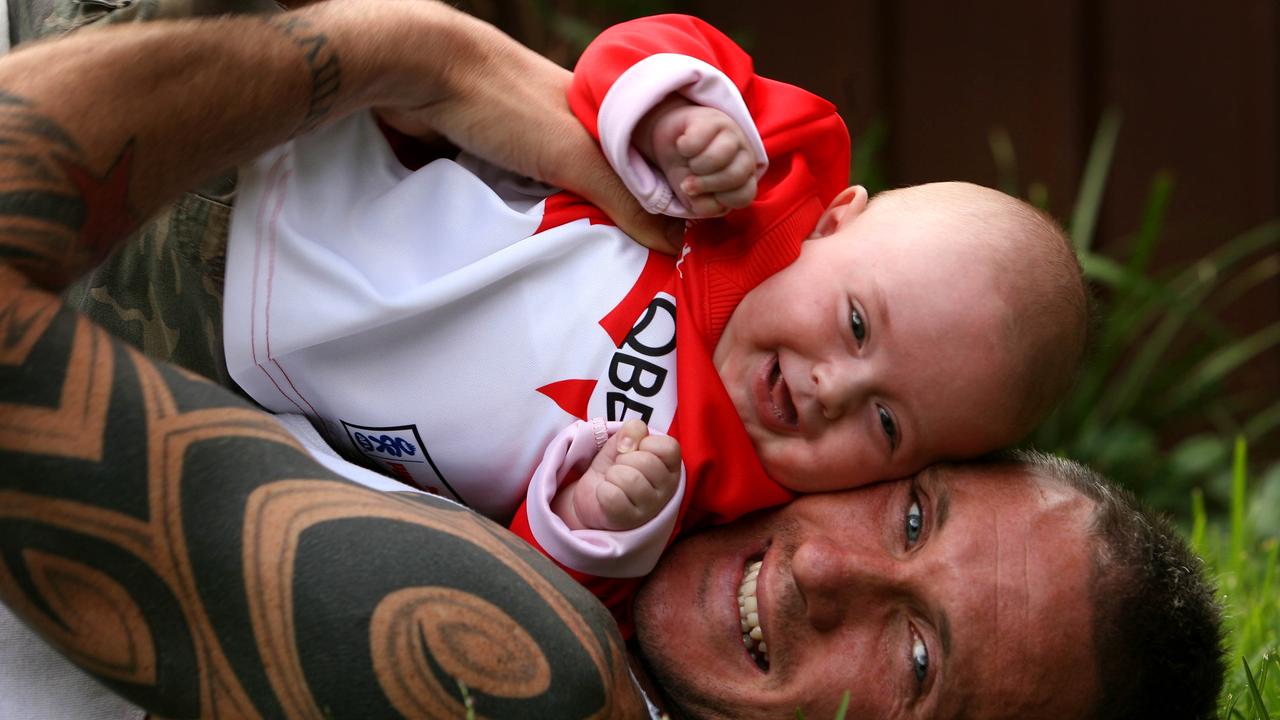 Peter Everitt with his four-month-old son Boston after joining the Swans.
Boston is a member of St Kilda's father-son academy and the Gold Coast Suns academy.
Everitt grew up idolising Collingwood's Peter Daicos; Boston idolises Nick and Josh Daicos and dreams of one day playing with or against them.
That led to Spida ringing Peter Daicos recently to get some advice on the best pathway.
"He is a lot more disciplined than I was and I've got him on the 5am wake-ups," Everitt said.
"He is really passionate about his footy and he wants to have a crack."
Originally published as Sacked 2022: Spida Everitt opens up on his controversies, coaches and playing career