Sacked 2022: How Clarko fast tracked Spida's secret mid-season exit from the Hawks
Peter Everitt sought a trade to Sydney following the 2005 season. And even when it didn't come through, there was no coming back from the division it created among his Hawks teammates and coach, Alistair Clarkson.
Peter Everitt has revealed he was excommunicated from Hawthorn in his last months at the club amid anger from coach Alastair Clarkson and the senior players about a Sydney trade request.
The colourful and at times provocative Everitt admits he was no choir boy in his time at Hawthorn but says in the last few months of the 2006 season Clarkson told him not to bother turning up to training any more.
Watch every blockbuster AFL match this weekend Live & Ad-Break Free In-Play on Kayo. New to Kayo? Try 14-Days Free Now >
He told the Herald Sun's Sacked podcast he still felt some embarrassment returning to the club despite his achievements as a best-and-fairest winner and 72 games across four seasons.
The club was angered he had asked to be traded to Sydney given the Hawks were rebuilding and also less than thrilled at his heavy media commitments.
A decade later Clarkson ended up moving senior players to rivals after honest conversations, with most of those players now in the AFL media.
Everitt acknowledges he had his failings in that final year but says he would love to have finished his time at Hawthorn on better terms.
"We played Sydney in the last game of 2005 and I was playing on Jason Ball and shook his hand and he said no matter what I am retiring at the end of the year," he told Sacked.
"I rang (Sydney CEO) Andrew Ireland and said I heard Bally is retiring and I am willing to come up and have a crack at winning a premiership.
"Hawthorn were going to be rebuilding with Clarko and I was happy to get that foot in the door to try to win a premiership.
Peter Everitt wanted to play in a Premiership and sought a trade from the Hawks who were rebuilding under Alistair Clarkson.
"Clarko and Hawthorn wouldn't do the trade. So I was in a leadership group at that time and the boys frowned upon that, me trying to get to Sydney and it not coming off.
"I was no longer required or warranted in the leadership group. I don't disagree with that.
"It didn't work out and quite a few players didn't like it. Outside of the racial vilification, it was the second toughest time of my footy career.
"I ended up hurting my ankle and that's when everything fell apart. I wasn't going to be playing again for the year and we pretty much came to terms, myself and Clarko.
"From that moment when I had surgery, Clarko said, 'Let's be honest, you are gone at the end of the year, there is really no need for you to be around the footy club and around the boys'.
"The last half of the year, even without the media knowing it, I didn't even go to training, I would go to the physio outside of times when the boys were training, and I would do my own thing the whole time.
Peter Everitt in happier times before falling out with the Hawthorn leadership group.
"It was a sour way to leave a football club that gave me a real opportunity when I left St Kilda. You feel a bit embarrassed going back there now."
Everitt was eventually traded to Sydney for pick 33 where he spent the final two seasons of a 291-game career, and admits he shared some of the blame for the Hawks exit.
"For me to bag myself out, I can't say I was a golden child at the team meetings," he said.
"For that last part of the year when you are training by yourself, it was hard.
"The shining light was I was able to get to Sydney in 2007 but unfortunately they played off in the 2006 Grand Final which they lost.
"I know there were players there and some at St Kilda who were opinionated behind closed doors about myself and my role in the media and how much media I did do. But what are they doing now? They are in the media.
"I remember Clarko having a go at me because I commentated on one of the games there once and he went absolutely ballistic. Then a few years later he has players doing it, I thought, 'Hang on, am I ahead of my time?'"
Dusty would put GWS 'back on the map'
Three time All Australian Peter 'Spida' Everitt says the city of Sydney would be a perfect landing spot for Dustin Martin to finish his career if he decided to escape the Melbourne fishbowl.
Everitt played 291 mostly exceptional games but was always keen to finish his career in Sydney before moving to the Gold Coast to become a breakfast radio host.
He told the Herald Sun's Sacked podcast if Martin were keen to escape he would quickly be welcomed by New South Wales fans.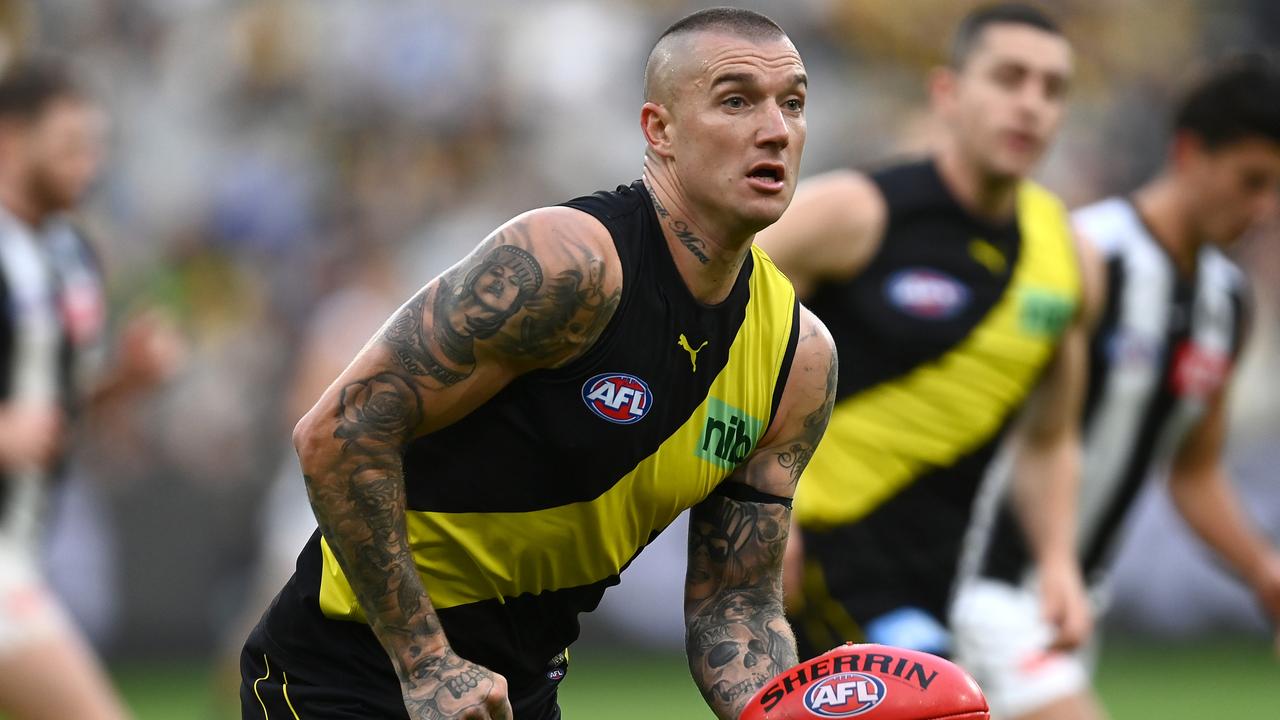 Dustin Martin has enjoyed down time in Sydney during his break from the game.
Martin's manager Ralph Carr has previously said that Martin, who has two years of his contract remaining at Richmond beyond this season, loves spending time in Sydney but has no knowledge of any plans to make a trade request there.
Greater Western Sydney chief executive David Matthews said this month many players moved north for lifestyle reasons, describing Martin as a "genuine superstar of our game" who the club had spoken to several years ago.
But AFL chief executive Gillon McLachlan made it clear on Friday that players were only able to access third-party or ambassadorial deals after they moved clubs and not as part of any incentive to leave their existing clubs.
Everitt told Sacked he could see Martin playing in Sydney to finish off his career.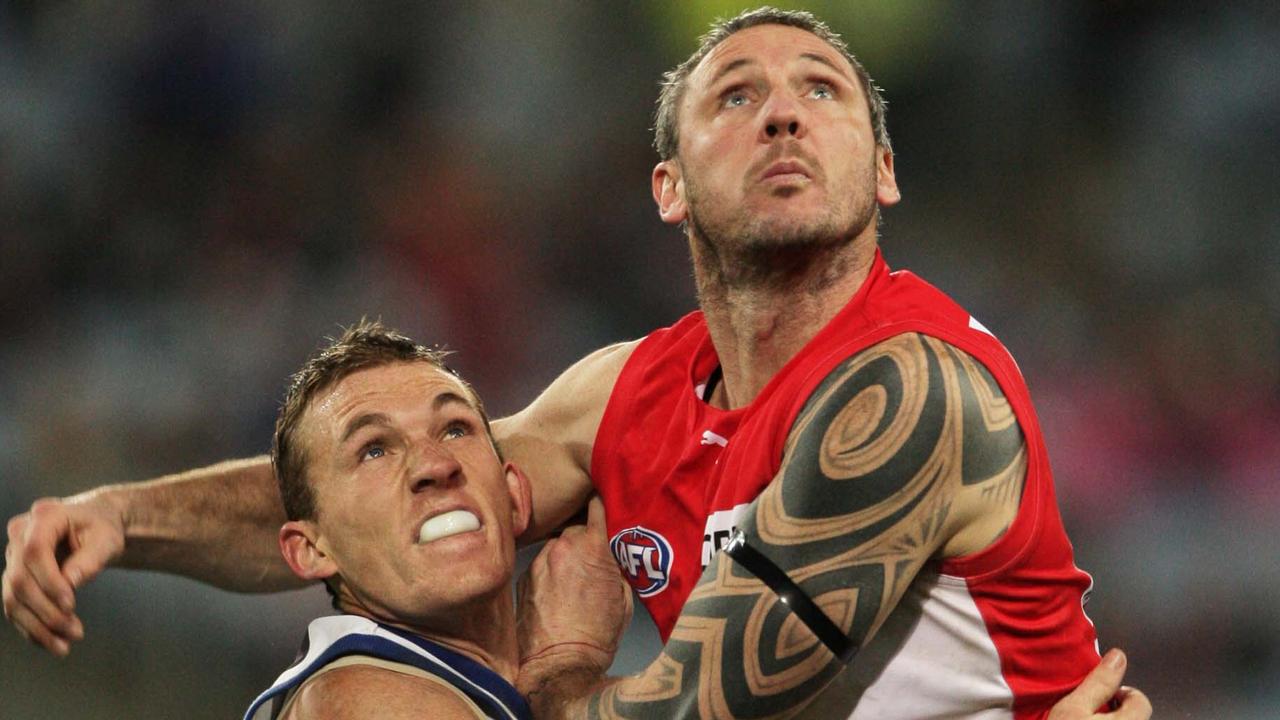 Peter Everitt spent the twilight of his career in the ruck for Sydney.
"Dusty would love it. He would be a driving force. We know how many fans are passionate Swans fans and at GWS he would put them back on the map, absolutely," he said.
"I think it would be a massive coup for any of those NSW teams to get him. They would love it, they would embrace you. Everyone is in good spirits there.
"I don't want to recommend it to every player.
"People say footballers don't read the papers or know what is happening. Of course we read the papers, we want to see what people are saying about us. But in Sydney you don't get that, you get that step away.
"Even when interstate teams come up and it's a weekend away, it's a different vibe around footy."
McLachlan told 3AW on Friday he believed Martin would stay at the Tigers, with Martin due another $2.5 million over the final two seasons of his seven-year deal.
Sydney's cap is always tight — with the Swans due to negotiate with Lance Franklin on a pay cut on his 2022 salary of $900,000 — and GWS already has too many inside midfielders.
So Martin might have to take a pay cut if he did want to be closer to family, with the triple Norm Smith medallist also turning 31 next month.
Richmond would be desperate to keep Martin in all circumstances but if he did ask for a trade they would restock their midfield by asking for a young gun such as Tom Green or the uncontracted Tim Taranto.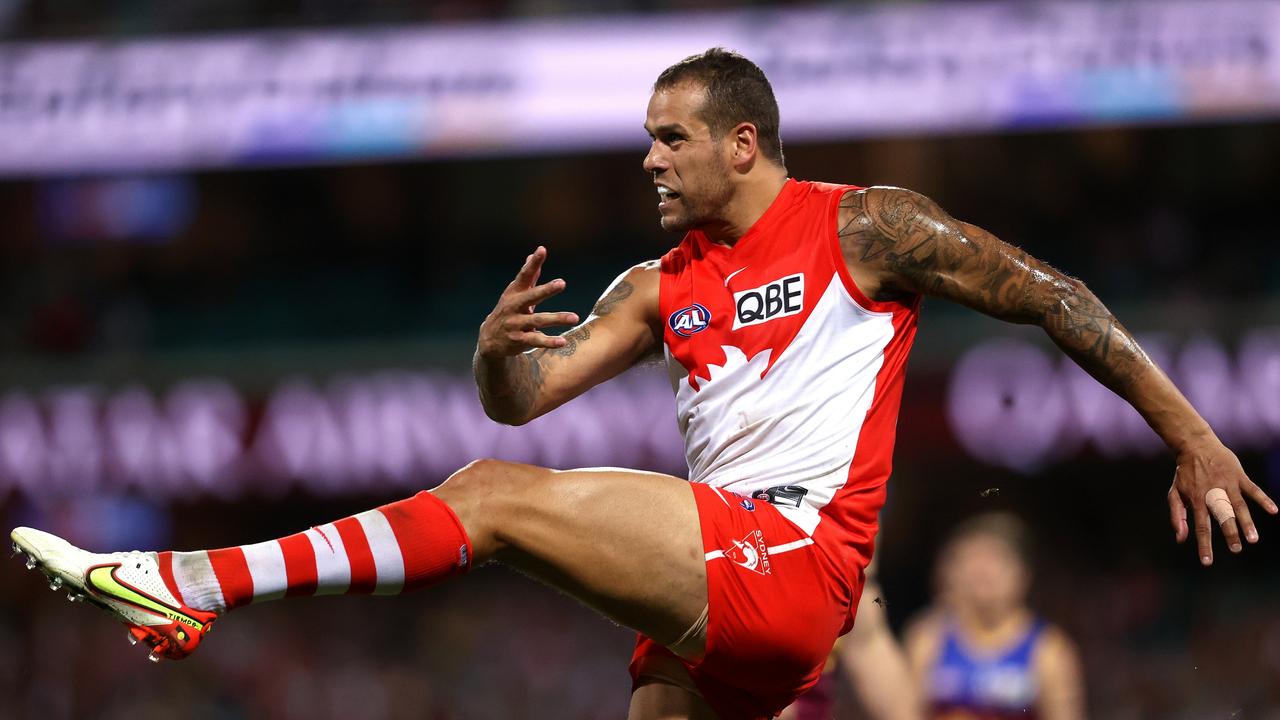 Sydney's Lance Franklin kicks a goal in Round 7 of the 2022 season. Picture: Phil Hillyard
The prospect of Lance Franklin and Martin playing in the same forward line together would be a promoter's dream but finding a trade deal that didn't break the salary cap would be extremely challenging.
"Well, the decision on whether Dustin wants to go to any other club has to be purely on agreements in front of him," McLachlan said.
"There are players in every state who have third-party agreements but they don't come into any form of discussion to inform a player on whether he wants to go or not.
"They make decisions based on their own factors. He is contracted to Richmond for a long time, he seems like a Richmond player."
Martin spent several weeks on his mental health break training with former NRL player Paul Gallen.
Giants boss Matthews told New Corp of the AFL star this month: "Lifestyle has increasingly become one of the most important components for athletes when considering their playing career, which is why Sydney is such an attractive option.
"Dustin Martin is a genuine superstar of our game and Australian sport more broadly and that's why he generates as much interest and excitement as he does.
"We spoke to him a number of years ago given his Campbelltown background."
Originally published as Sacked 2022: How Clarko fast tracked Spida's secret mid-season exit from the Hawks