Corey McKernan had some infamous setbacks and not much got to him, but one skit on the Footy Show irks him 25 years later.
Corey McKernan has always focused on his achievements and flint-edged resilience rather than dwell on what he may have lost or been denied.
This has been fuelled by a belief that for every footy setback he endured across his 12-season, 237-game career with North Melbourne and Carlton, he was always able to fight back harder each time.
Only a few moments got to him.
One came when he was blindsided by The Footy Show after being invited on to the program not long after he had been denied a "footy grand slam" that no other player had achieved.
That moment still rankles him 25 years on.
SUBSCRIBE TO THE 'SACKED' PODCAST
In an ill-timed skit that surprised McKernan but brought a few laughs from the audience, he was presented with a "What Could Have Been" trophy display meant to contain the footy medals he had been cruelly denied.
"You go on The Footy Show with good intentions, but you're a bit disappointed that if you are gonna go on there and give them the time of day, they're going to effectively take the piss out (of you)," McKernan told the Herald Sun's Sacked podcast this week.
"In some regards, would it be great nowadays to say that you would have the 'grand slam' of all the awards you could win ... Yeah, but I don't ever look at it that way.
"I look at it when the North Melbourne footy club or the games that are most important that I ever played for any team were on the line and the pressure was at its greatest, I know that I stood up the tallest."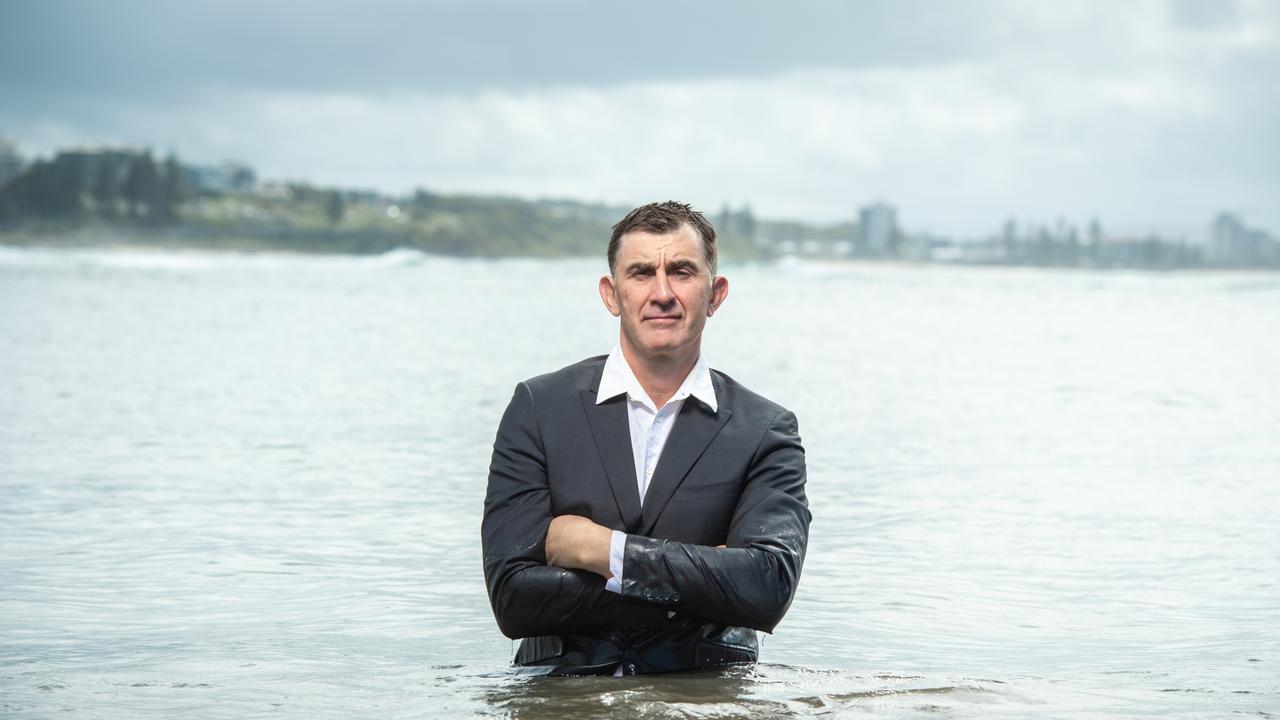 Corey McKernan doesn't think about the medals he was denied. Picture: Brad Fleet
The "grand slam" could have – perhaps even should have – gone something like this.
# The 1994 Rising Star. McKernan was ruled ineligible after a one-game tripping suspension during an AFL crackdown that was shelved by the start of the following season.
# The 1996 Brownlow Medal. If he hadn't clumsily fallen into the back of John Barnes in round 6 that year – with no malice, he insisted – he would have been a joint winner alongside Essendon's James Hird and Brisbane's Michael Voss. Instead, he became the first player in Brownlow Medal history to be ruled out under the "fairest and best" criteria.
# The 1996 Norm Smith Medal, which he was stiff not to wrest off teammate Glenn Archer after an inspirational 29-disposal game in the grand final, all while carrying a PCL injury.
# Then, there was the 1996 premiership medal that the AFL "couldn't take" off him, as he reminded the North Melbourne faithful in the afterglow of the grand final win over Sydney.
He added a second premiership medal three years later.
If he had won all four of those signature medals, it would have made him a football unicorn – a one-out among a field of champions.
Some players have won three of those four trophies since the Rising Star was added in 1993, but no one has collected the quadrella.
McKernan, now 48, always kept his focus on team goals more than individual accolades, which was incredible for a player who wasn't initially in love with footy.
His passion was golf; his dream was to become a pro; his hero was Greg Norman.
He can see the delicate irony in all that now.
"I've always said that with Greg Norman being my idol as a kid, I probably share a lot of similarities with 'The Shark' in that I found new ways to lose major things," McKernan said.
'THESE GUYS ARE NOT GOING TO BEAT US TODAY'
WAYNE Carey dominated AFL in the 1990s, working often with McKernan as an almost unstoppable force.
The Kangaroos skipper predicted early in 1996 that his teammate could become one of the game's greats.
McKernan would arguably be the most dominant AFL player in 1996.
"People have asked me that before, did you ever see yourself in the same category as Wayne," McKernan recalled. "I don't ever think of myself being in the same category as Wayne Carey … maybe I should have at different times."
But McKernan, who was just as proficient in the ruck as he was forward, felt the power of working alongside Carey.
"There were times when I loved the fact that (Carey) and I would talk to the forward line together and have a mentality of 'Well, these guys are not going to beat us today'," he said.
"That was the best feeling, knowing that when we were both in our prime and through those '90s-type periods of whoever was going to play on us, it was going to be a handful.
"I just went out and focused on 'If I play at my absolute best, I don't need to worry about my opponent'. And maybe that's what Wayne did at different times. If that's having Wayne's mentality, that's probably the best way to be as a player. Don't be too focused on what your opposition is doing. I probably got lulled into doing that too many times."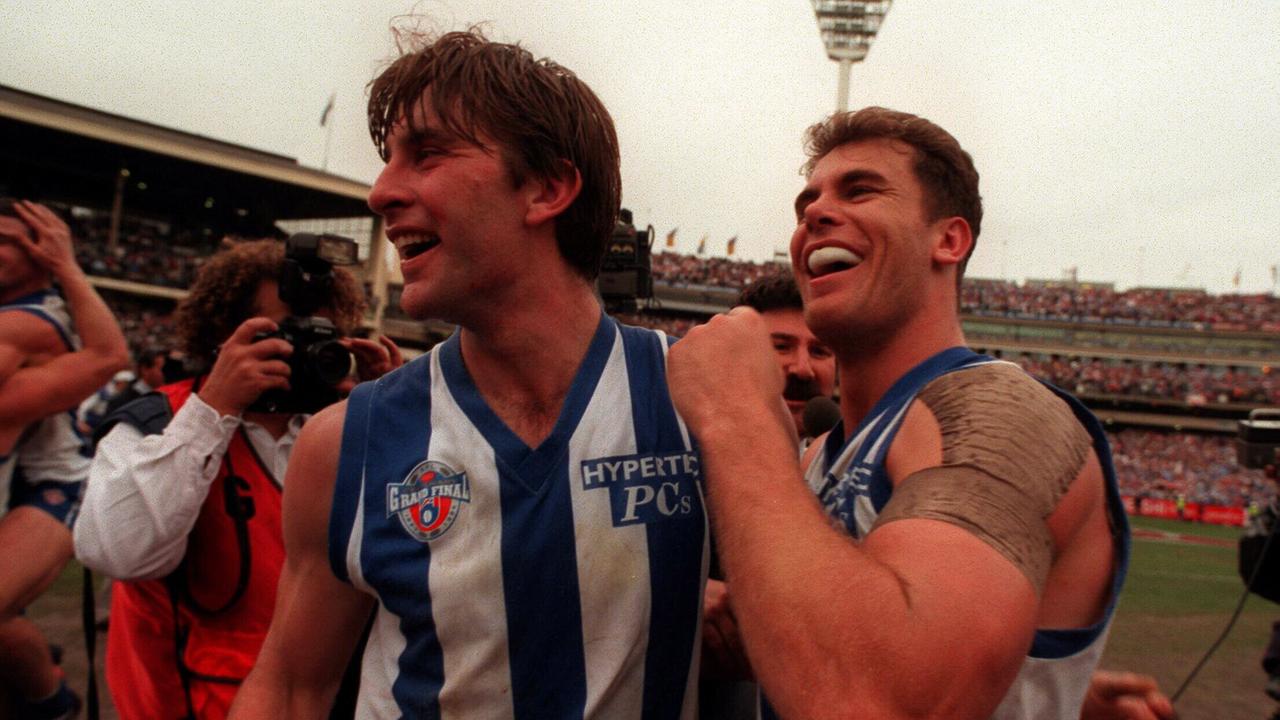 McKernan and Wayne Carey after the 1996 grand final.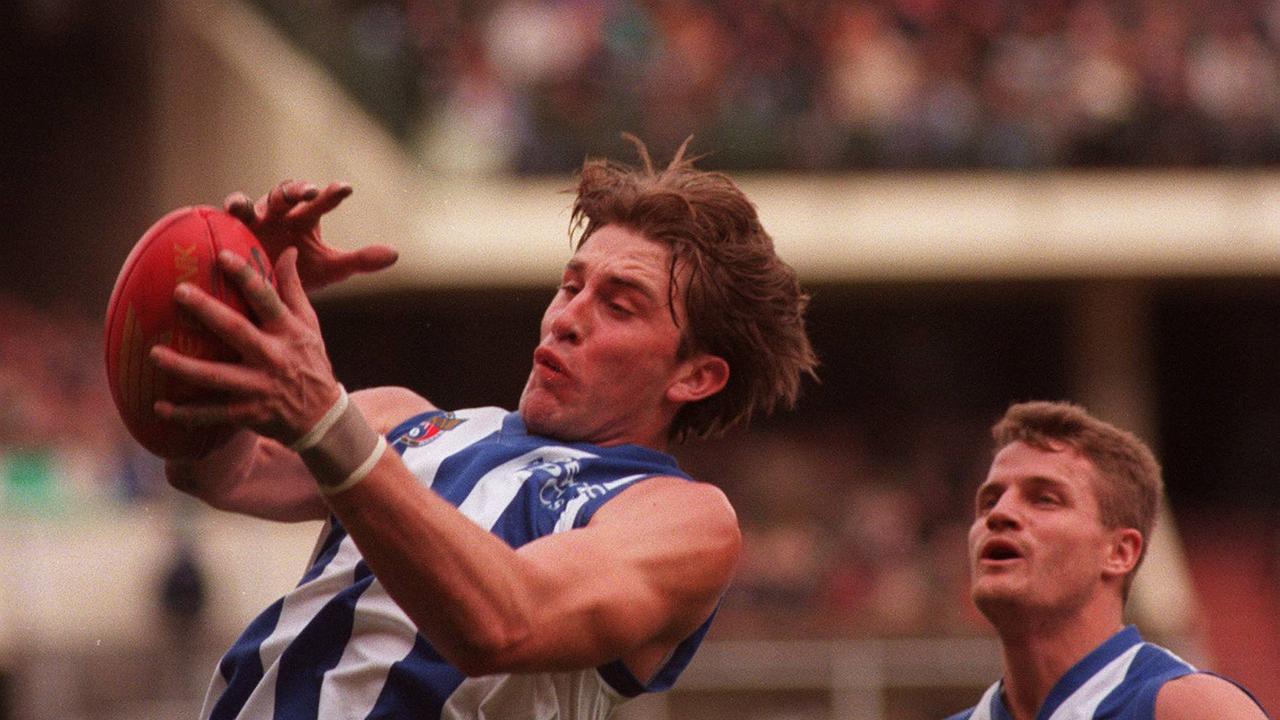 McKernan takes a grab.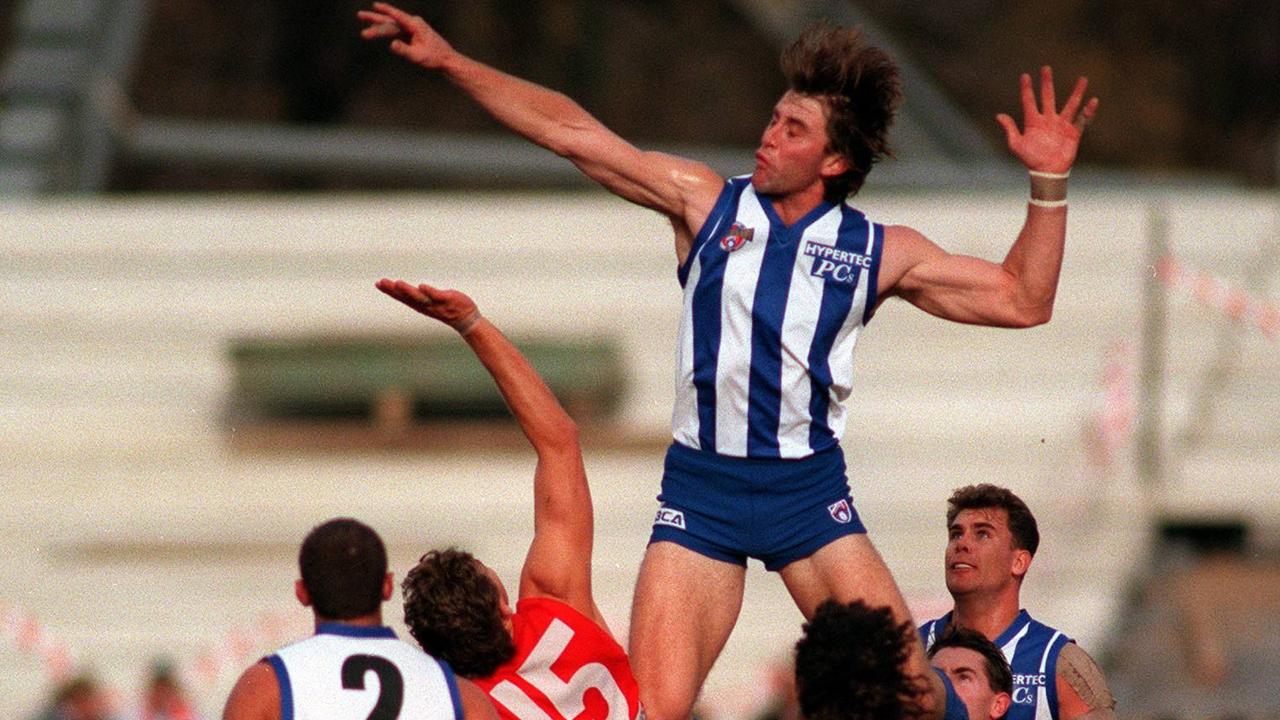 McKernan leaps over an opponent in the ruck.
RELUCTANT ROO
THE kid from Gladstone Park dreamt more of the majesty of Augusta and St Andrews more than Arden St.
Footy was never his greatest love.
But while his golf talent saw his handicap in low single figures, his cameo appearances in school football pricked the attention of the Kangaroos … and their under 19s coach Denis Pagan.
"Denis used to come out to the house in Gladstone Park," he said. "I could see the silver Camaro coming down the court.
"It's not that I was being disrespectful to Denis at the time, but I didn't have a lot of interest in playing footy. There would be one or two times I reckon Denis came out that I told Mum to say I wasn't home, and I'd be up in my bedroom hiding and trying to steer clear of him.
"I think he got me on the phone and he said 'Listen, Son, I'm going to break one of my rules. All you have to do is come down and train on Thursday night. You get through training, then you can play on the weekend and if you don't like it, well, that's it'."
McKernan kicked 11 goals in his first under 19s game. He was a star in the club's 1991 under 19s premiership victory at Waverley.
A burst appendix hampered McKernan in his first senior season in 1993, but managed one senior game that season as an entree to what was to come next.
'BY THE LENGTH OF THE FLEMINGTON STRAIGHT'
McKERNAN resolved to make it impossible for the North Melbourne selectors not to choose him in 1994.
"(My mindset was) 'I don't care if it's your problem and you have to play five talls'," he said. "Well, I'm gonna make sure I'm still playing because I'm going to play well enough that you have to play me."
That's what happened, with the clash with Collingwood in his 7th game, the catalyst for McKernan's ability to fire in front of big crowds.
"That game for me was massive because then I went into every large game or important game we ever played in, they were the ones you'd put in the memory bank to go 'Hey, this is what I do … I played well in front of big crowds'."
A clumsy trip on Eagle Jason Ball proved costly in Round 21. "He (Ball) took off out of the backline and I lunged to get him," he said. "I got the bottom part of his shin and tripped him over."
McKernan's timing was terrible. He was banned for a week and it cost him the Rising Star award.
The crackdown lasted only one season before it was eased.
"Gerard Healy walked up to me and said 'If we were voting on this, you would have won it by the length of the Flemington straight," McKernan detailed.
BYE BYE BROWNLOW
McKERNAN'S highest and lowest moments took place in 1996.
He had been suspended for a week in Round 6 for falling into the back of Barnes, ruling him ineligible for the Brownlow Medal.
He already had 10 votes to his name at that time.
"I was furious on the night that I got a free kick paid against me," he said.
"If I really wanted to drive my knees into Johnny Barnes, he probably wouldn't have got up."
Come Brownlow night, he was the first ineligible player to poll enough votes to win.
"It's a surreal experience to see something that's evolving on TV that you're a major part of, but yet you're sitting at home in your tracksuit pants with ice on your knee, preparing for the biggest game of your life."
The only 'Brownlow' he got was a McDonalds replica, given to him by Anthony Rock and Wayne Carey.
He still has it.
Instead of wondering about what might have been, McKernan went for a drive and listened to the many phone messages on his mobile.
He wishes he still had them.
Having injured his knee in the preliminary final, he resolved that no matter the pain he was going through, he was going to win a premiership for his teammates.
"It's funny, I would not trade (that week) for anything in the entire world … you talk about having a purpose that's bigger than yourself," he said.
"I wanted to win a premiership medal for 'Laids' (Dani Laidley), 'Sholly' (Craig Sholl), 'Rocky' (Anthony Rock), 'Croc' (Darren Crocker) and all those guys who had been at North Melbourne forever."
The Kangaroos knocked off the Swans in the Grand Final with McKernan dominating.
He was also important three years later when he kicked three goals in the 1999 premiership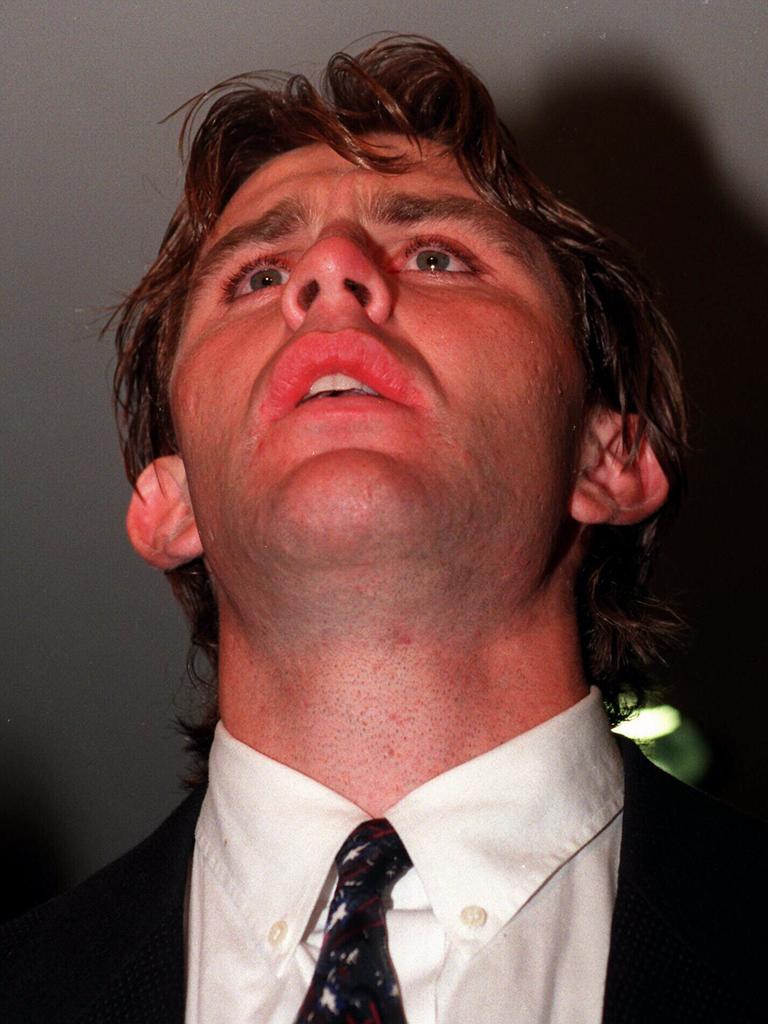 Corey McKernan after being suspended in 1996.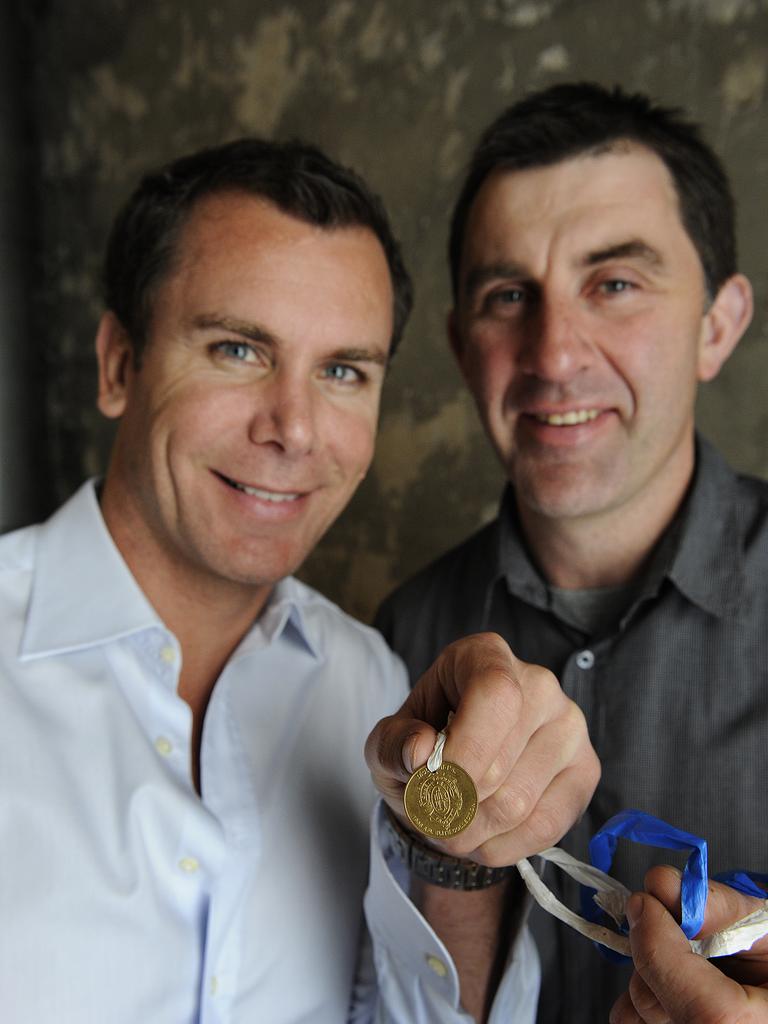 McKernan and Wayne Carey with the fake Brownlow Medal.
McKernan with the 1999 premiership cup.
TOUGH TIMES
THERE were some tough moment in McKernan's last few seasons at North Melbourne, as his relationship with Pagan was strained at times and his own form wavered.
In Round 6, 2001 against Richmond, he failed to have a single disposal.
McKernan says he shouldn't have played and that he would have benefited from the kind of mindfulness that helped sweep Richmond to three flags in four seasons.
"I was not in a head space to play football and that reflected in my performance that night," he recalled.
"The best way to put it is that I was … fried. I didn't touch the ball.
"I still remember sitting upstairs when I lived in Port Melbourne. It was getting late in the afternoon and I'm trying to work out how the hell I was going to go and play footy.
"If it was nowadays, I would actually put my head up and say, 'Hey, I'm not right. I'm really not in the right headspace to go and play football here'."
McKernan chose to leave the Kangaroos for Carlton.
'I'M NOT GOING TO DROP YOU'
McKERNAN made a slow start at Carlton in 2002, but the support of coach Wayne Brittain brought a stunning reversal of fortune.
"I remember the conversation I had with Wayne Brittain when I walked off training one day," he said. "He was standing next to me and he actually put his arm around me. He goes: 'You know what Corey, those guys (fans) can burn the grandstand, but I'm not going to drop you.
"I went away from that thinking I can't let this bloke down."
He didn't.
As the Blues crumbled, McKernan went on to win the John Nicholls Medal.
Brittain was sacked at the end of that season. Pagan was signed to the Blues in a reunion McKernan hadn't anticipated.
In hindsight, he says he should have left the club as soon as he knew Pagan was coming. Having reconnected with his former coach in recent seasons, he says it wasn't a toxic relationship, but they just didn't bring the best out in each other at times.
He played 19 games in 2003, but returned home to North Melbourne for two more seasons before "sacking himself".
"We respect one another but it didn't work where I got the best out of myself and I should have retired after that first year but instead went back to North Melbourne and really just drifted into retirement."
A recent Herald Sun article rating great finals performances warmed McKernan's heart.
Pagan said McKernan's performance under duress in the 1996 Grand Final was one of the best he had seen.
"It meant the world to me," McKernan said. "I wished Denis had said something like that when I was playing."